Taurus just released a new offering that builds upon its long-standing history of quality revolvers.
The Executive Grade 856 distinguishes itself by being a bit more upgraded and sophisticated wheel gun — something worthy of the vaunted executive.
Any gun is better than no gun in a self-defense scenario, but does the Executive's refinements qualify it to serve in this role? 
We headed to the range in order to find out and we'll share our thoughts with you below. So saddle up!
Table of Contents
Loading…
Pros & Cons
Pros
Reliable
Accurate
Pelican Vault case
Cons
Limited capacity
Not speed loader compatible
The Bottom Line
The Executive Grade 856 is a well-functioning, beautiful, example of what can be accomplished with a revolver. That said, the technology is somewhat limited by modern comparisons.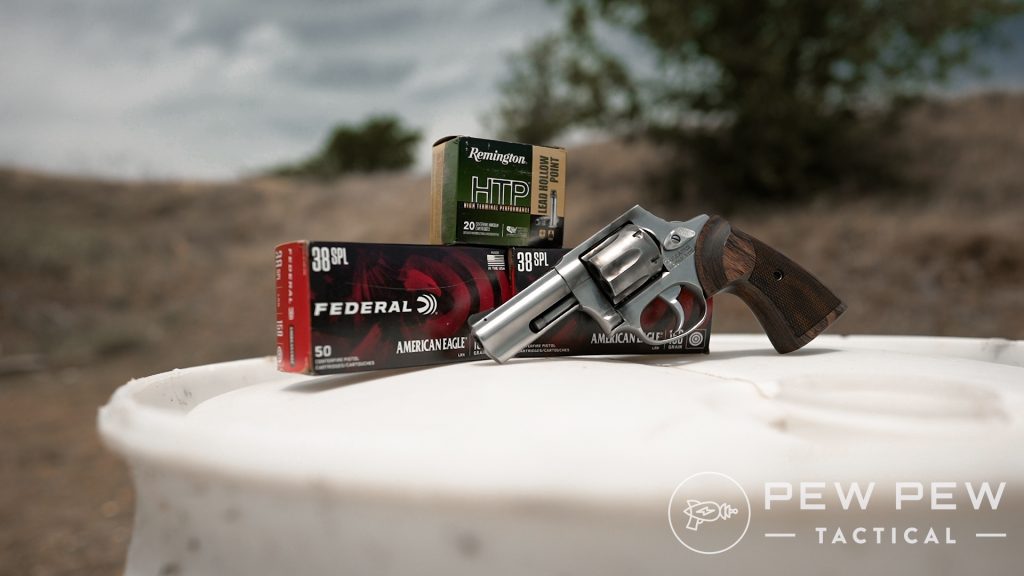 Specs & Features
Specs
Caliber: .38 Special +P
Capacity: 6
Width: 1.41"
Length: 7.5"
Barrel Length: 3"
Height: 4.8"
Weight: 25 oz.
Features (H3)
Chamfered cylinder chambers
Altamont walnut grip
Hand-tuned trigger
Concealed hammer
Background
The 856 model has been a workhorse for Taurus for some time. There are currently around 30 models of the gun on the company's website.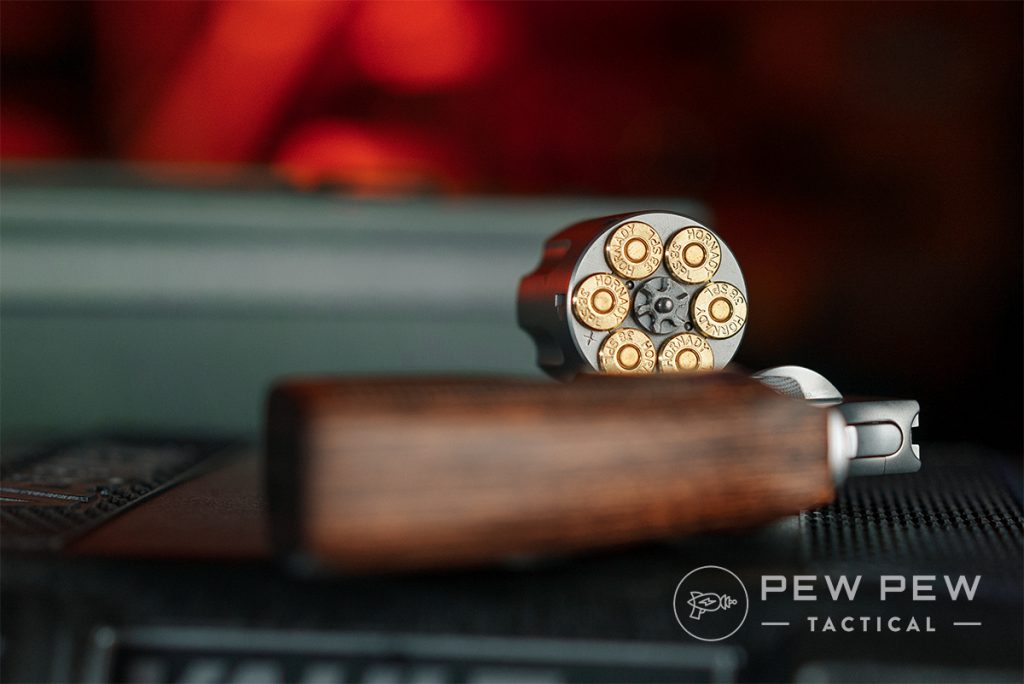 Taurus' base 856 is a small framed, 6-shot, 38+P, with a 2-inch, or 3-inch barrel. The bulk of the other options are variations of this theme with differing colors, finishes, and grips.
Who Is It For?
Although this is marketed as "Executive Grade" this gun is really for anyone who appreciates a more polished approach to a revolver. In addition, the gun is designed with concealed carry in mind.
Fit & Feel
The Altamont walnut grip is very nice with smooth contours on the front strap and back strap. Comfortable curves are also prevalent in the areas at the top of the grip where your thumbs rest.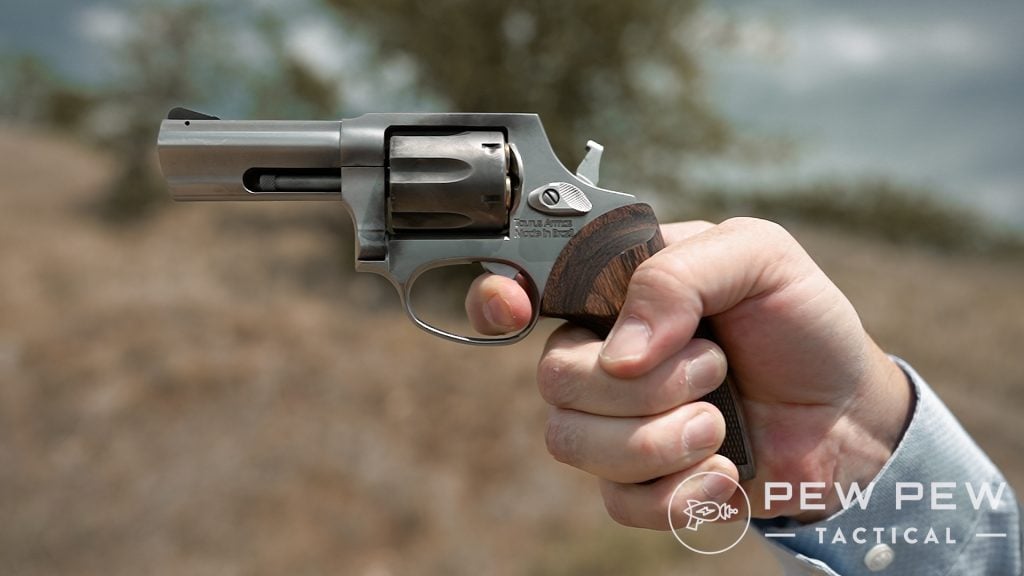 Along both sides of the grip, there is a section of checkering (diamond pattern) that provides extra friction for the palms. The grip, overall, is smooth for a concealed draw, but still provides adequate traction to control recoil.
The sights are revolver classic, a black, blade adorns the front while the rear is a simple square-shaped notch in the top of the frame. Compared to modern semi-autos, it's less to work with but you can get used to it.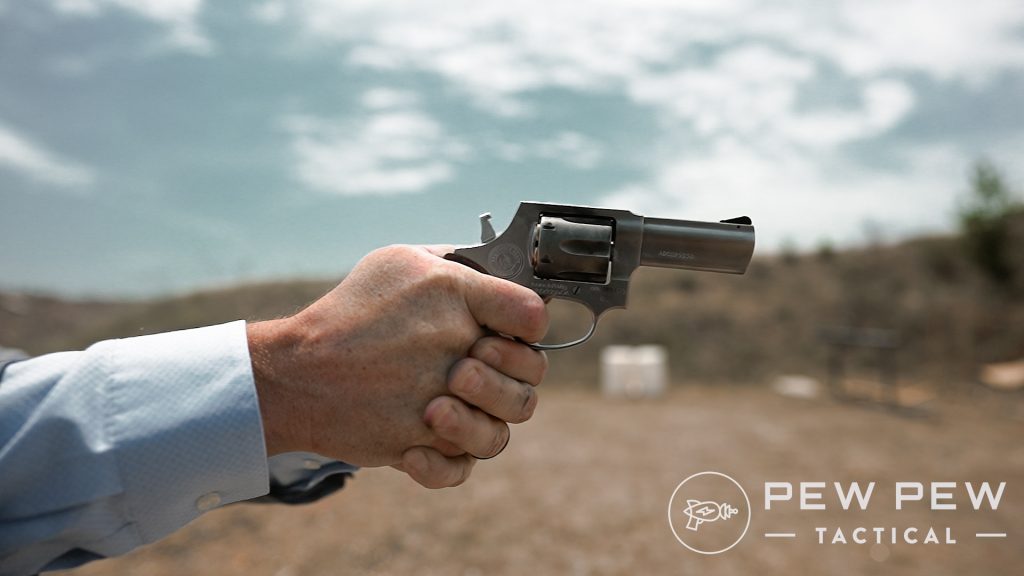 While the sights took some reacquainting, the trigger was a blast from the past. I'm so used to semis now that a double-action trigger took some work to refamiliarize myself.
After some dedicated work, I found the much longer pull to be pretty smooth and I was able to net some good accuracy as a result. The Lyman Digital Gauge rated the pull at an average of 8 pounds.
How Does It Shoot?
Once I adjusted my grip to accommodate the revolver angle, I worked on the trigger, getting used to the longer pull. Shooting from 7 yards I put some 3-shot groups together to test accuracy.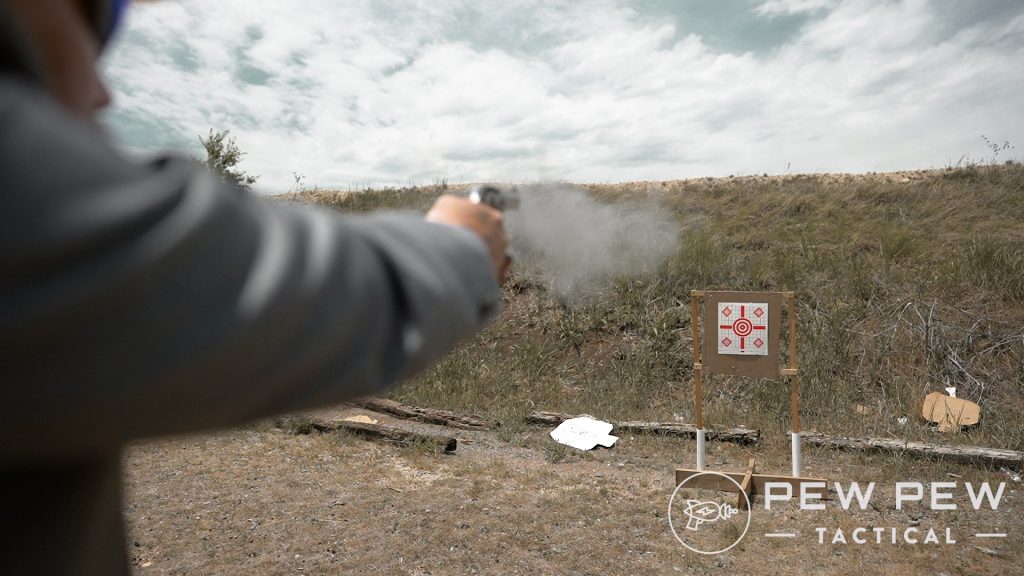 My first group was just over an inch but my second was around a half-inch. I was impressed with the accuracy.
Muzzle flip was very manageable with the grip design and when I transitioned to other drills, I was able to speed things up with repeated shots. While my groups did spread a bit, I was able to get follow-up shots off pretty quickly.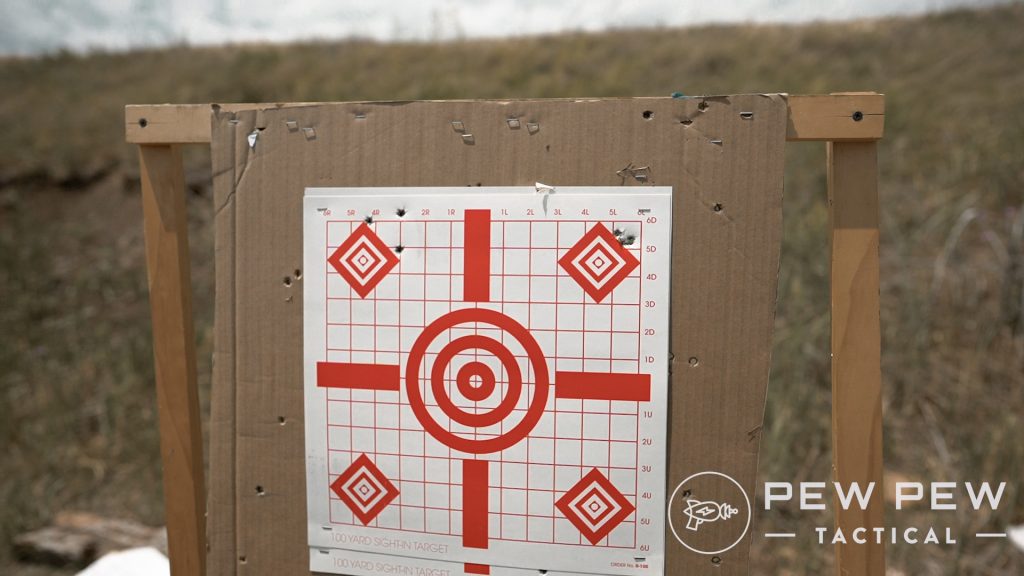 For reloads, the cylinder swung out on its arm nicely and locked back in securely once done.
Unfortunately, the curvature on the upper portion of the grip prevents the use of speed loaders, but the chamfered edges on the cylinder made dumping and loading go smoothly.
When operating the extractor, I sometimes needed a couple of stabs on the plunger to get the empty shell casings to fall clear.
What Sets it Apart?
Just being a revolver in a world inundated with semi-autos makes the Executive Grade 856 different. Besides that, the quality materials and attention to detail set this pistol a bit above its peers.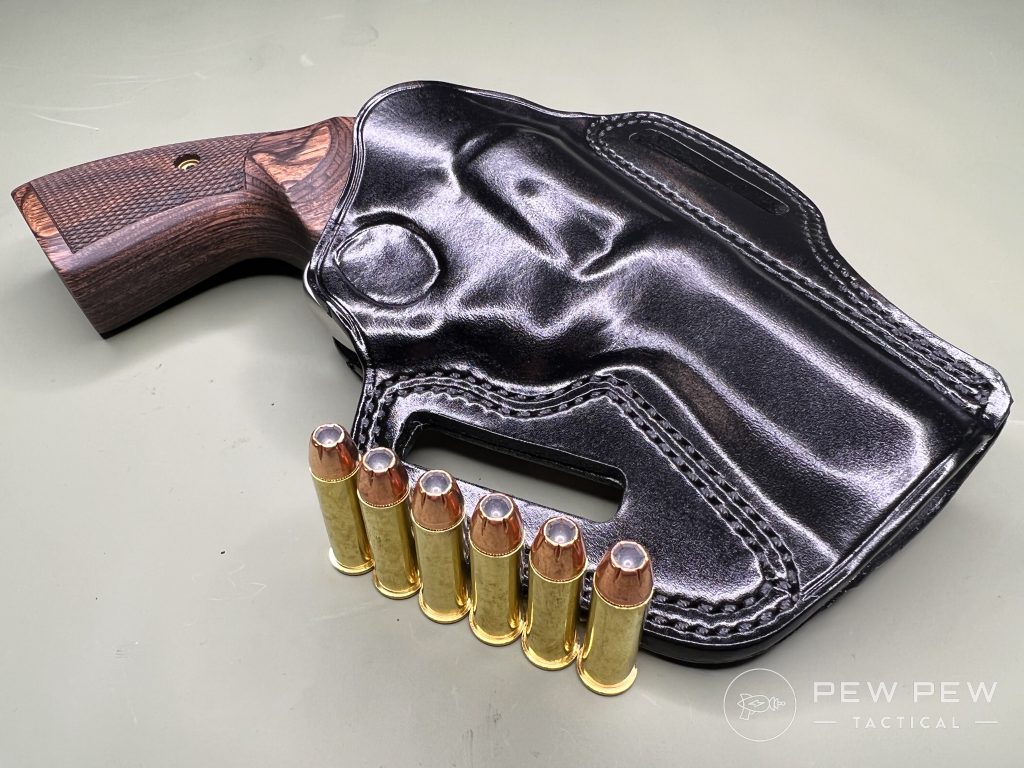 The satin finish on the stainless steel frame and cylinder combine well with the Altamont walnut to create a classic look.
By The Numbers (H2)
Reliability: 5/5
In the classic trade-off that is the revolver, you only get six rounds but malfunctions are limited to slim and nil. I tested around 250 rounds of Federal practice ammo and a handful of Remington defense rounds without failure.
Ergonomics: 5/5
I was able to reach all the controls easily and the grip was very comfortable in my hands.
Accuracy: 4/5
The accuracy I was able to achieve with this gun impressed me. I struggled to get reacquainted with the long trigger pull at first, but once that was done the accuracy was really good.
Customization: 3/5
I'm not sure exactly what might be available for the Executive Grade 856 because this review was conducted before it was released. However, there is pretty decent aftermarket support for the 856 in general, with different grips, holsters, E-Z loaders, and the like.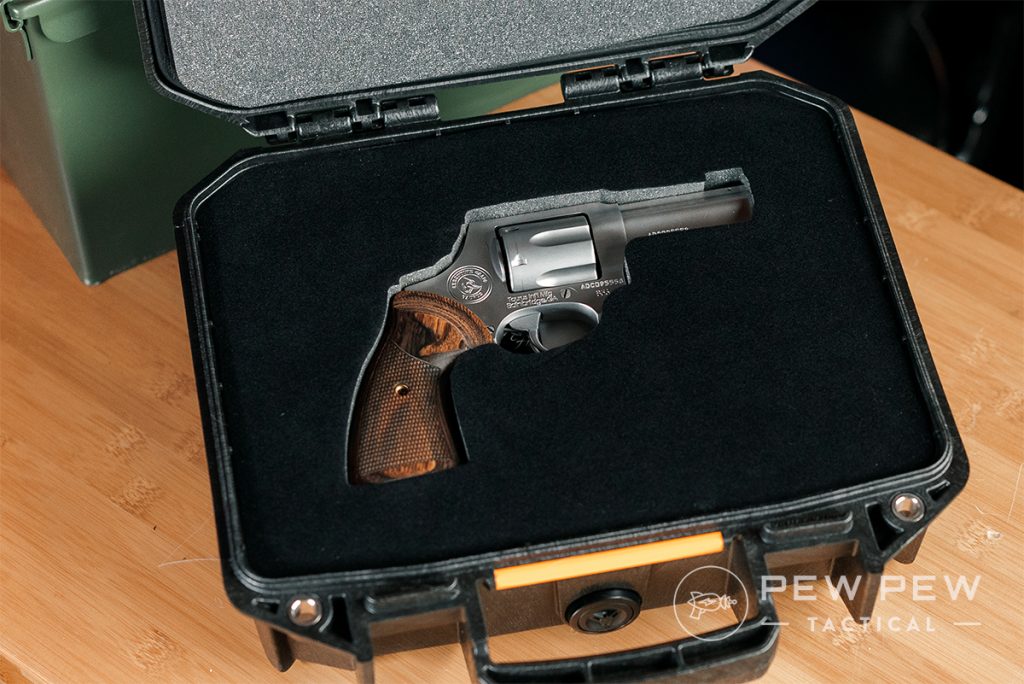 One really cool feature about this 856 is the Pelican Vault pistol case it comes in. Anyone wanting to fly the friendly skies will already have a TSA-approved case to bring their Executive along.
Value: 4/5
At an MSRP of $689, the Executive Grade 856 is around $200 cheaper than comparable models from Smith & Wesson and Ruger.
Overall: 4/5
Final Verdict
Though some may argue, the validity of the revolver as a defensive tool is not really up for debate. The old west taught us that much.
What remains for each individual to determine is whether that's the best option for them to carry — a debate that may rage long after we're dust.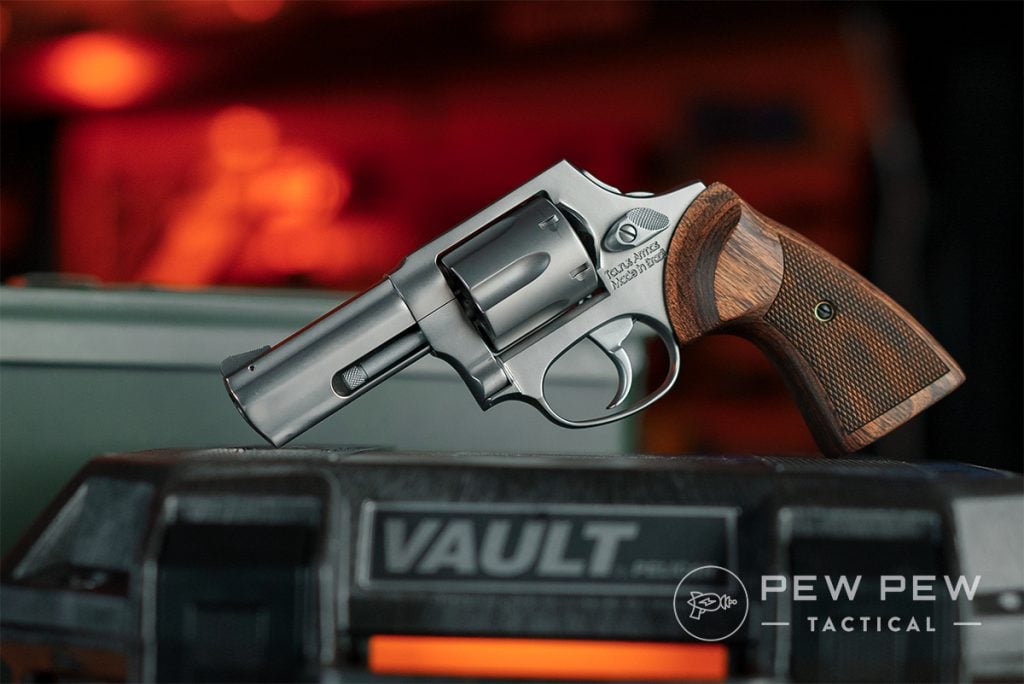 All that aside, the Taurus Executive Grade 856 is a solid performer that delivers reliable fire very accurately. And it does so with an elegant flare.
Would you carry the Executive Grade 856? Let us know in the comments below and be sure to check out our 8 Best Concealed Carry Revolvers!