Prism optics offer shooters an interesting option that sits between red dots and LPVOs.
In 2021, Vortex expanded its prism optic lineup with two new Spitfires.
Originally, the Spitfire series included a 1X and 3X model, but the latest Spitfire Gen 2 models deliver a 3X and 5X model.
We were lucky enough to get our hands on both the Vortex Spitfire Gen 2 3X and 5X models to test out.
We spent plenty of time with these models and took them to the range all to bring you our thoughts and opinions.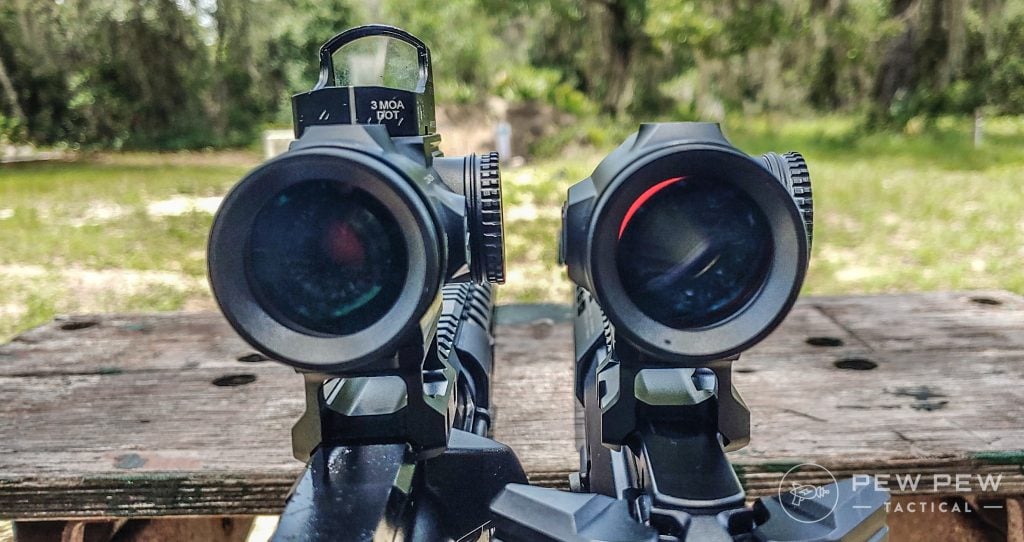 We'll walk you through their functions, pros/cons, and how they tackled a range day.
So, keep reading if you're on the hunt for a prism optic and curious about the Spitfires. 
Table of Contents
Loading…
Review at a Glance
Pros
Impressively lightweight
Useful 3/4 circle AR-BDC4 reticle
Better for those with astigmatism
Bright enough for daylight use
Doesn't require batteries for etched reticle
Cons
Stricter eye box and shorter eye relief compared to red dots, especially the 5x.
The Bottom Line
Small, lightweight, and with a very useful reticle. The Vortex HD Gen II prism sights in both 3x and 5x varieties bring it all. Clear glass and reasonable fast acquisition make these a good substitute if you have astigmatism or want something that doesn't require the use of batteries. Both models have roughly the same eye box but eye relief on the 5x is much less forgiving.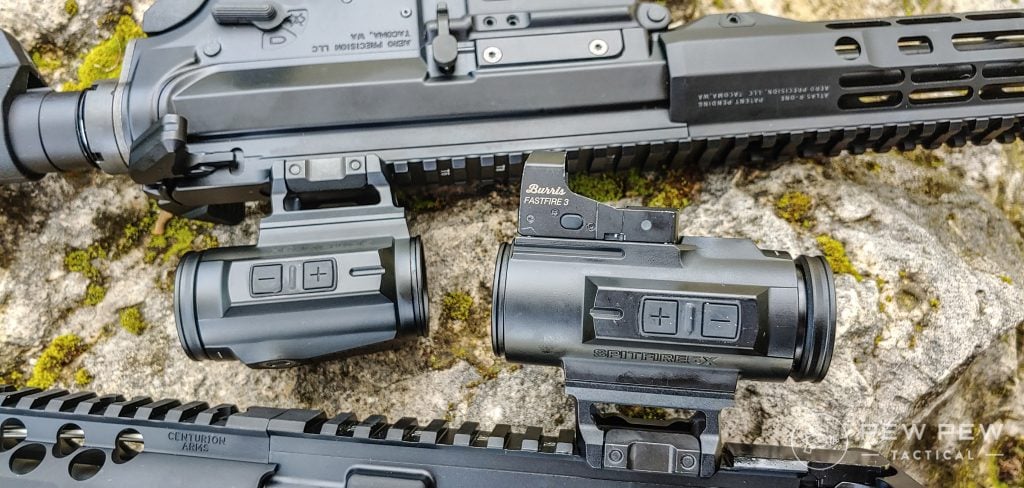 Background: Why Prism Scopes?
Prism sights are traditionally fixed power optics that utilize anywhere from no magnification to 5X magnification.
These optics are aimed at the carbine market and offer an option between a variable optic and a red dot and are roughly the same size as a full-size red dot. But they can provide a good degree of magnification.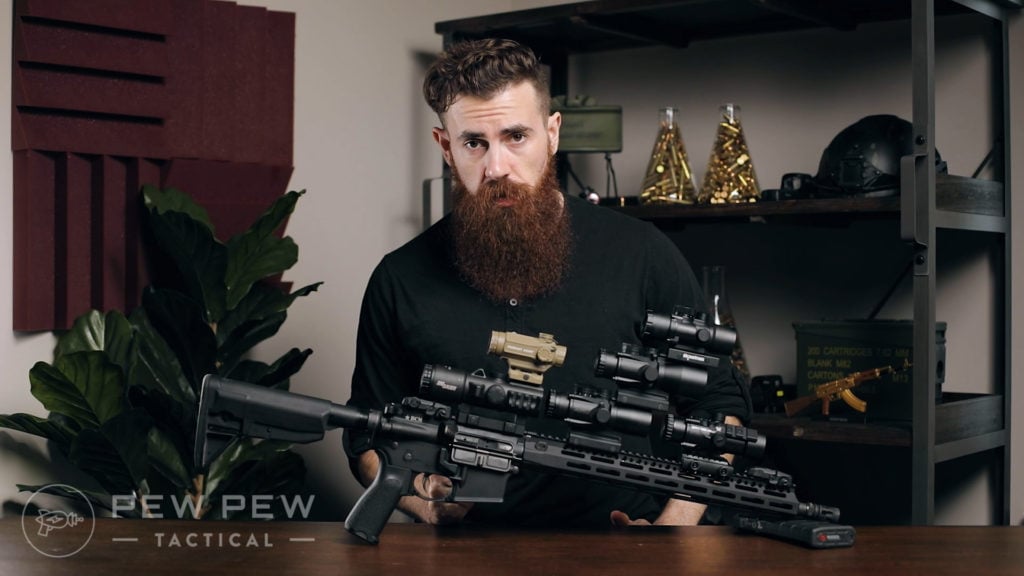 Prisms are half the size of an LPVO or magnifier and red dot combo and typically lighter than both.
Not to mention, they also provide dynamic reticles that are glass etched. Prism optics are almost always illuminated, but if electronics break or batteries die, the reticle still works.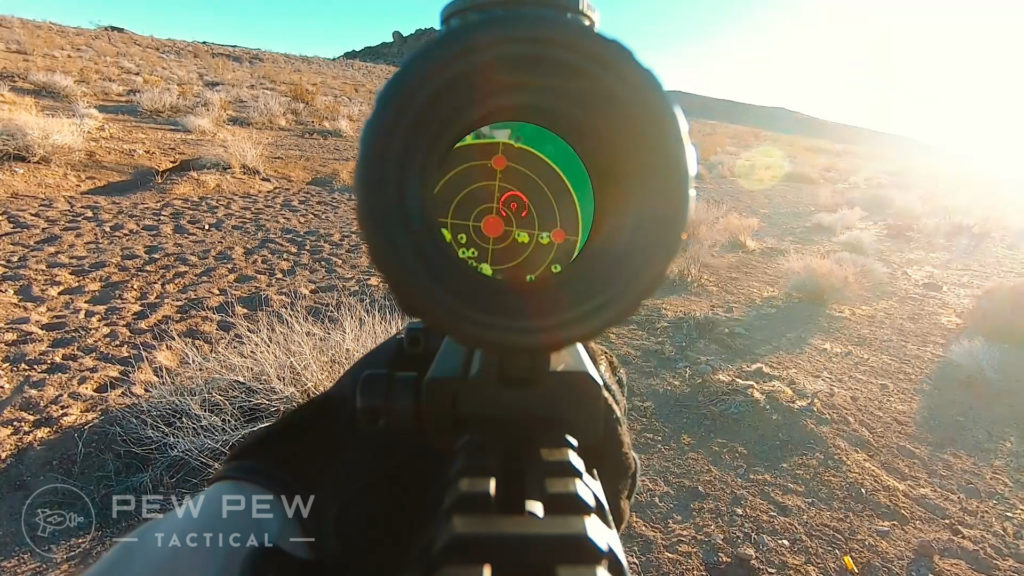 Simply put, prisms work best for shooters who want an optic the size of a red dot but with some magnification.
Need a further breakdown? Check out Red Dot + Magnifier vs. LVPO vs. Prism.
Vortex Spitfire Specs
Spitfire Gen 2 3X Specs
Magnification: 3X
Objective Lens: 21mm
Eye Relief: 2.6″
Field of View: 37.9 feet at 100 yards
Length: 3″
Weight: 9 oz
Spitfire Gen 2 5X Specs
Magnification: 5X
Objective Lens: 25mm
Eye Relief: 2.7″
Field of View: 23.3 feet at 100 yards
Length: 3.6″
Weight: 10.3 oz
So, what about the Vortex Spitfire HD Gen 2 models? Well, they provide an impressively lightweight optic solution.
Pay special attention to the weight and length of each optic.
As far as I can tell, these are the smallest, lightest prism optics on the market for their respective magnifications.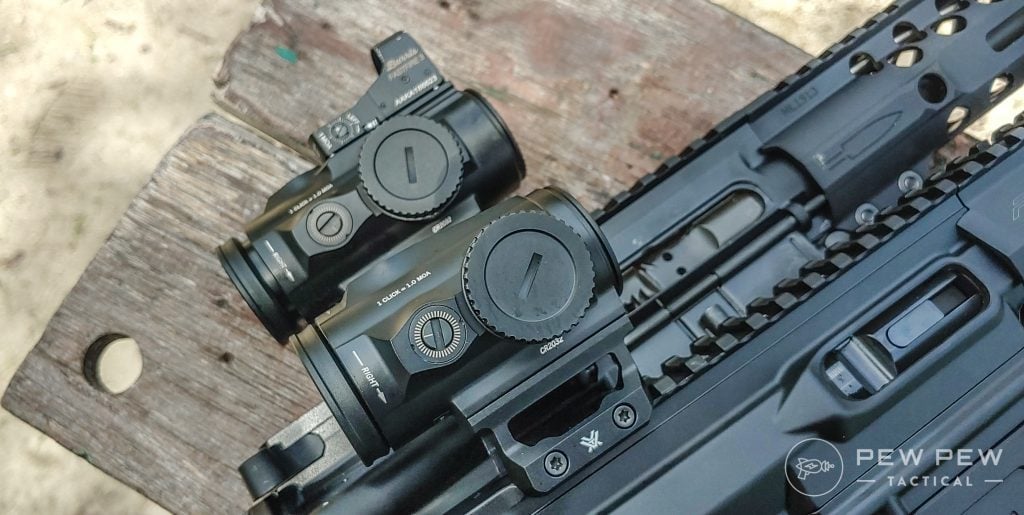 The 5X weighs less than an Aimpoint Comp M4, less than an EOTech XPS3, and lighter than the 4X ACOG.
In fact, the 3X weighs a mere 9 ounces! That's nothing for a 3X optic.
Also, look at those lengths! These are red dot-sized optics that give you a magnified perspective. It's truly an impressive feat.
Vortex Spitfire HD Gen 2 Features
First, let's talk about reticles.
Well, reticle, because both optics use the same AR-BDC4 reticle.
Most prism sights utilize a BDC-type reticle, and the Spitfires are no different.
And like most prisms, Vortex clung to the AR platform to build their reticle. Specifically, they're based on a 55-grain round from a 16-inch barrel.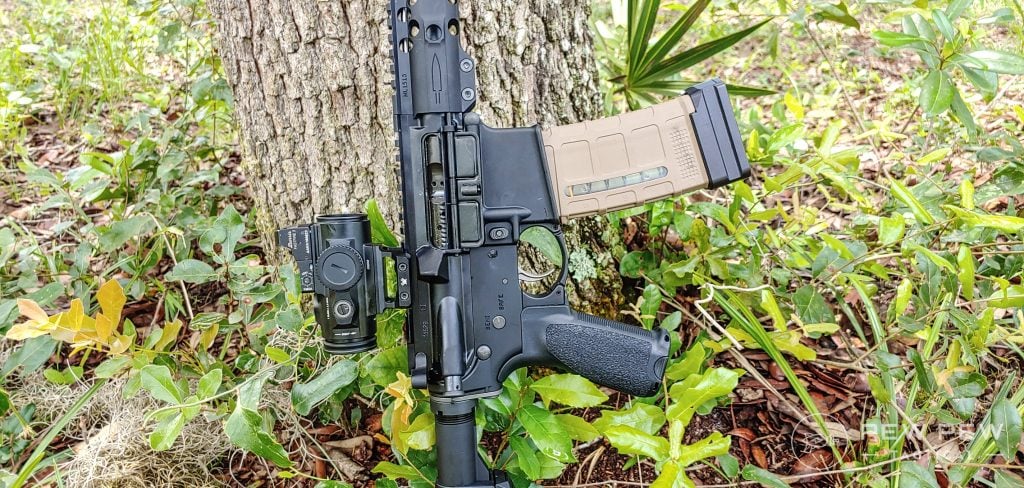 The good news is that Vortex lists the value of their subtensions and the BDC, so you can theoretically utilize it for other calibers…if you can do some ballistic math.
I did just that by tossing the 3X variant on a 9mm carbine and the 5X variant on a traditional AR-15 carbine.
The reticle utilizes a 3/4s illuminated circle that forms a dome around the 1 MOA center dot and the hashmark reticle.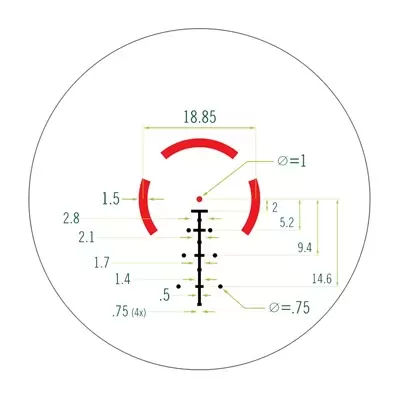 That 3/4 circle portion of the reticle works for close-range shooting rather well and grabs the eye. The glass-etched design ensures everything looks crisp and clear.
Illumination adds a red layer to the reticle, and each optic packs 12 brightness settings.
Neither optic is as bright as a traditional red dot, but I could see the illumination during the brightest part of the day without issue.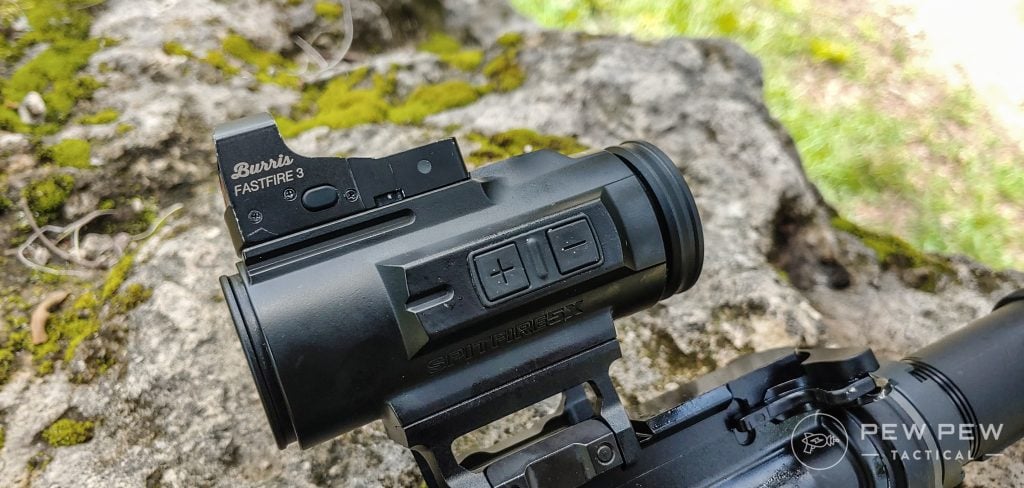 When you get to the highest or lowest setting, the reticle will blink three times.
Two settings work with night vision devices…but don't get your hopes up about looking through a PVS 14 and seeing the reticle. It's better with a forward, rail-mounted NVG.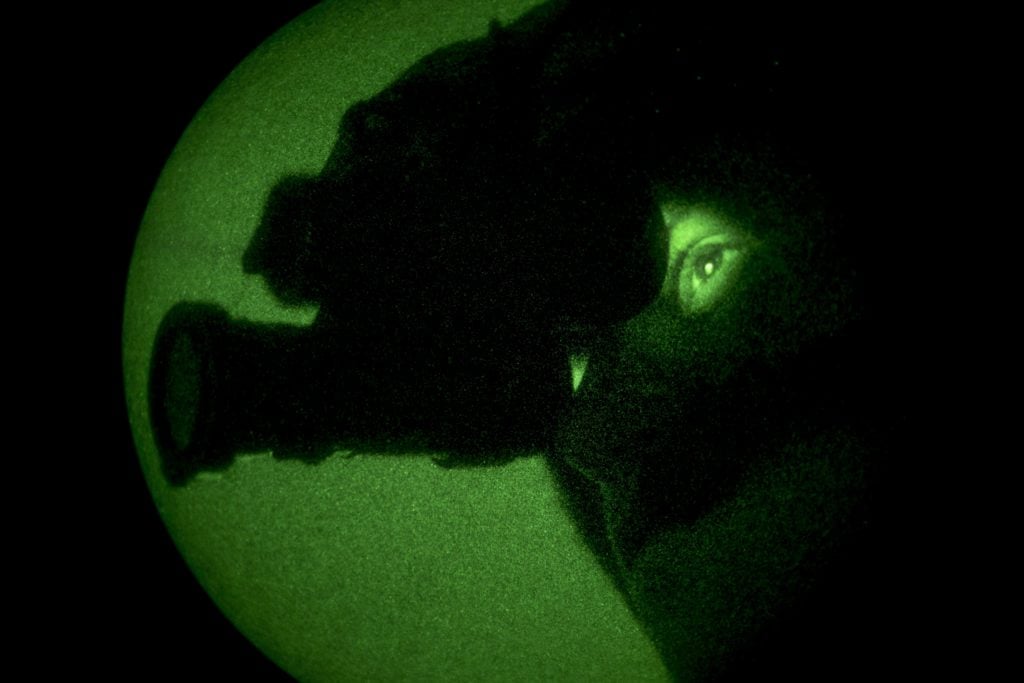 On top of the 5X Spitfire HD Gen 2 sits a mini red dot mounting plate compatible with Nobelx/Docter footprints.
Obviously, this includes the Vortex Venom and Viper red dots as well as the Burris FastFire 3.
This is a great feature that helps the higher-powered Spitfire work at close range.
Finally, the controls are very modern. Instead of having some top dial, you get + and – buttons.
These things are huge and easy to access and fire up. Not to mention, they allow you to make adjustments without breaking your sight picture.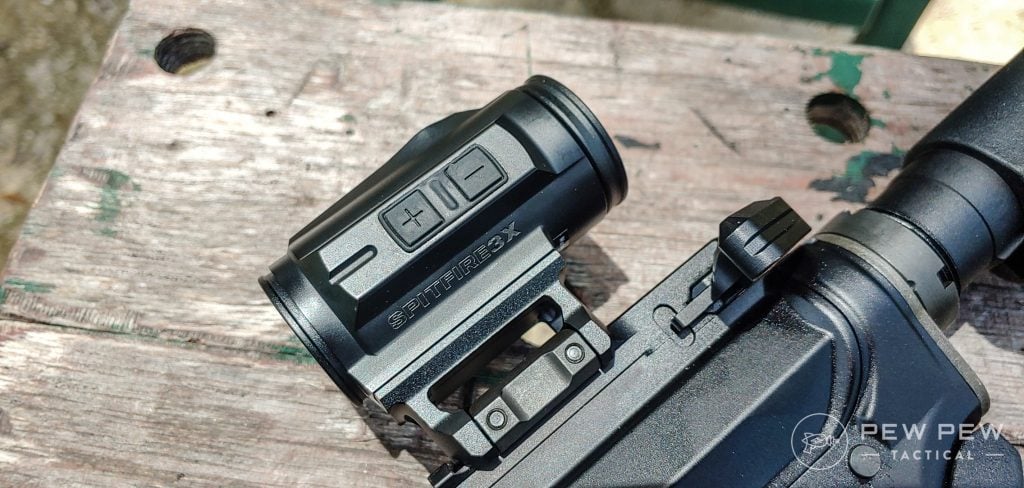 How It Performs At the Range
It's boom, bang, pow time, boys and girls, and I took both to the range. Well…I had to mount them first.
Vortex includes an AR height mount and a low mount. This allows you to move your optics to non-AR-type platforms.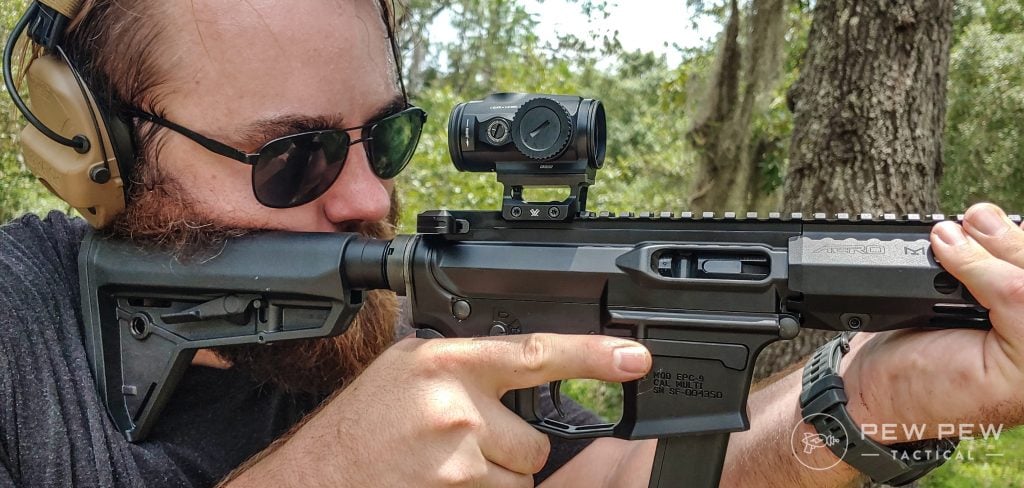 As someone who loves guns that aren't ARs, I like this feature.
The mounts are compatible with Aimpoint T2 mounts. Other options are out there if you don't like the included mounting options.
Included with both Spitfires is a small tool for mounting and zeroing.
The turrets are uncapped and recessed, and that flathead portion of the tool proves quite handy for adjustments and zeroing the optic.
Speaking of adjustments…Both optics utilize 1 MOA adjustment graduations.
I have some feelings about this…
First, it makes zeroing easy with MOA grid targets. Second, these are big adjustments — most red dots use 1/2 MOA adjustment graduations.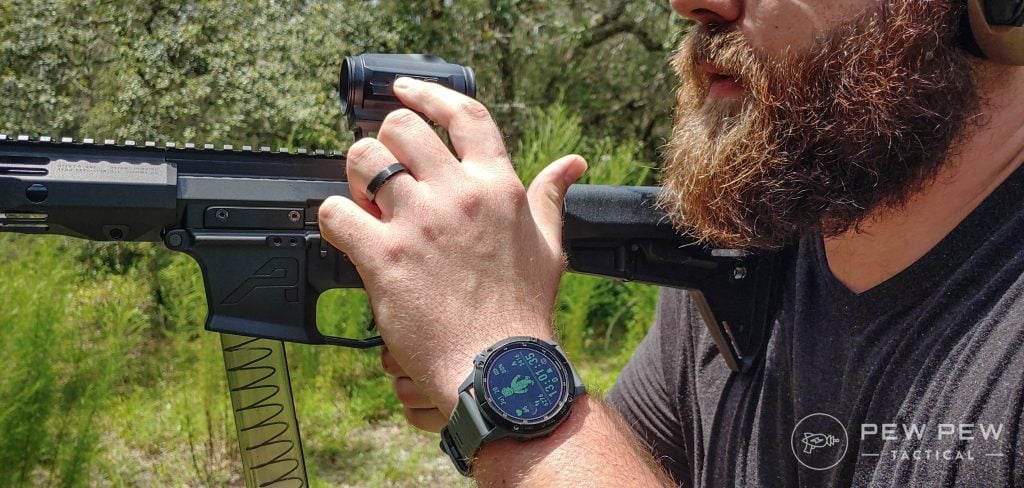 These are magnified optics, so you do expect some precision from them. With the 3X, it's not so bad, but the 5X certainly needs finer adjustment graduations.
That all said, I got on target with both guns and fine-tuned the zeroes enough to last repeated shots on the bullseye of my zeroing target.
The 5X Spitfire lives on my Colt/Bravo defense AR-15, while the 3X sits on my Aero Precision EPC 9mm.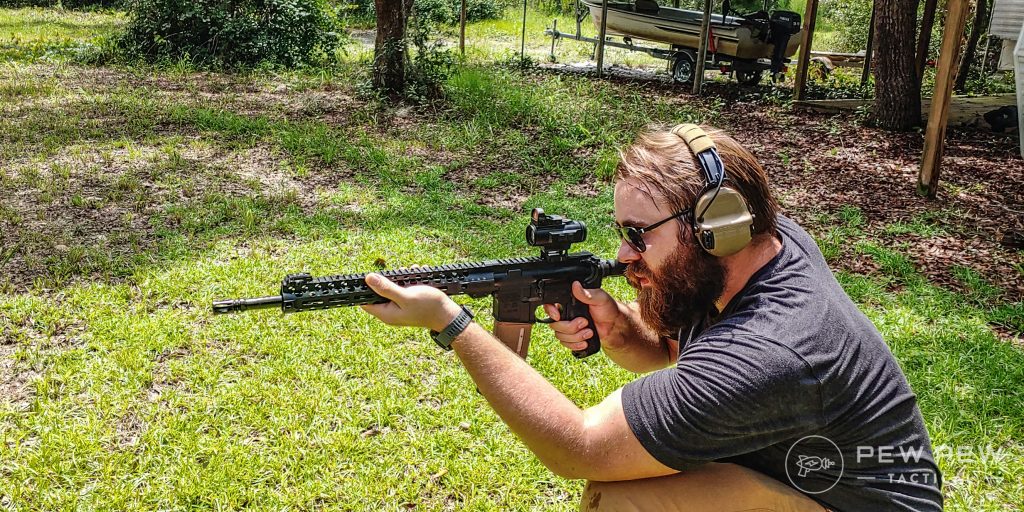 All Clear
Both optics provide an outstanding level of clarity — surprisingly so for optics that fall into a mid-tier price range. You can see nice vivid colors in HD quality.
The sight picture is bright and clear. Seeing the varied colors of the world as I gaze across the wilderness of my backyard proved impressive.
Spotting squirrels high in the trees and spying on Finches and their nests showed me that these are excellent optics.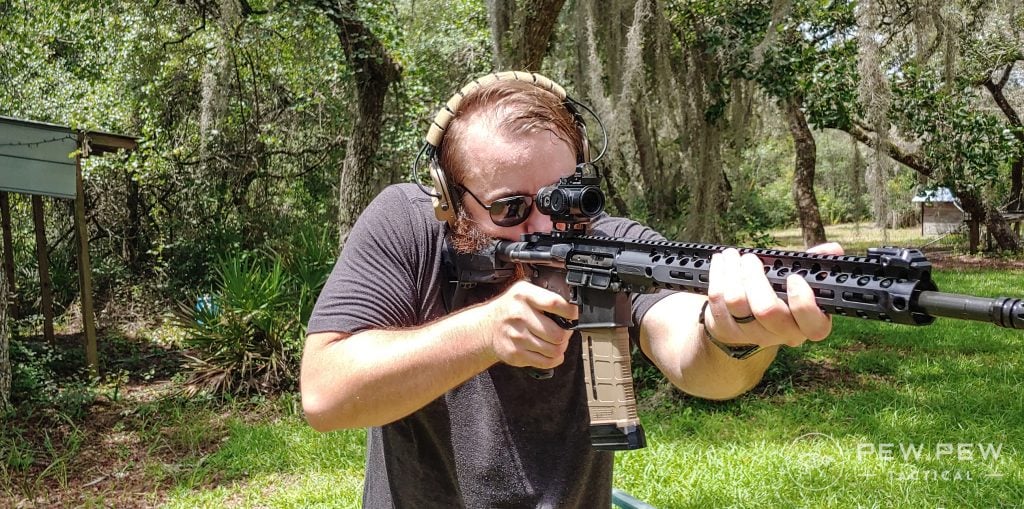 Even when I stood in the sun looking into a shaded area, I could see quite well.
The Vortex reticles glow brightly, and for daytime shooting, you will need it to be on the highest setting to see the red illumination.
As I gazed through the optic, I came upon the two main downsides to the prism optic.
First, unlike a red dot, you have a rather strict eye box – much stricter on the 5X model than the 3X model. You get a little leeway with the 3X model of the Spitfire Gen 2, but hardly any forgiveness with the 5X model.
Another big downside comes down to eye relief.
The Vortex Spitfire 3X grants you only 2.6-inches, and the 5X grants you 2.7-inches of eye relief.
While that's generous for prism optics, you have to run the optic as far rearward as possible on your optic's rail. Even then, you need to lean forward to look through the optic.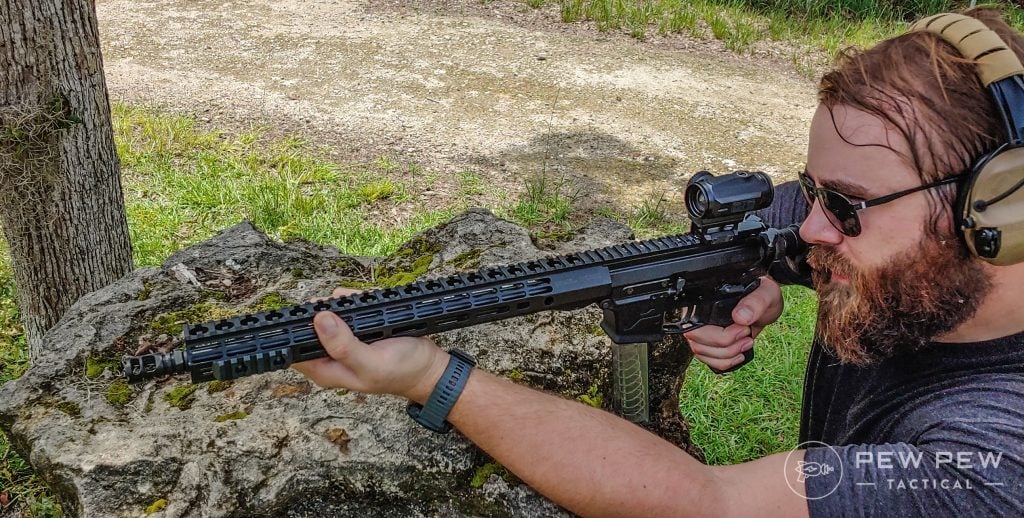 While I like the Vortex mounting options, I want a mount that pushes the optic rearward for a more comfortable fit.
If you look at the ACOG or the Sig Sauer Bravo series, they push the optic rearward for a reason. In short, prism eye relief sucks.
Getting Close
As you'd imagine, the Spitfire Gen 2 3X optic does a good bit better at close range.
To use these magnified optics for close-range shooting, you open both eyes and focus on the target.
With your eye behind the optic, the illuminated reticle will appear on target when you focus on the target with your non-dominant eye.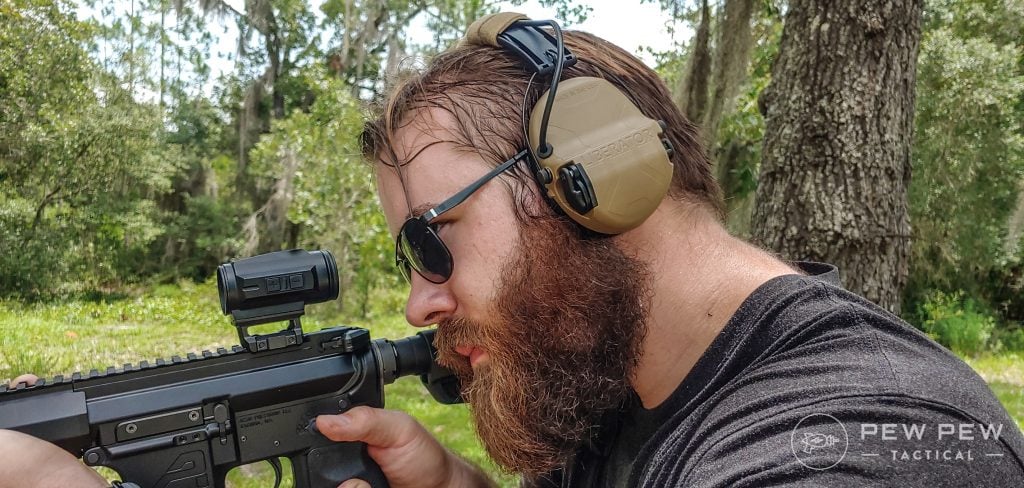 It's an occluded shooting method that's been preached since the 1980s.
In the Marines, we learned occluded shooting to work with ACOGs, so it was natural for me. However, with new shooters, it will take some practice.
You can still do this with the 5X model, but the tighter eyebox might make it tough to find the red reticle.
That said, why would you do it when you have a top-mounted red dot? Just switch to the top-mounted red dot and let the little red dot do its work.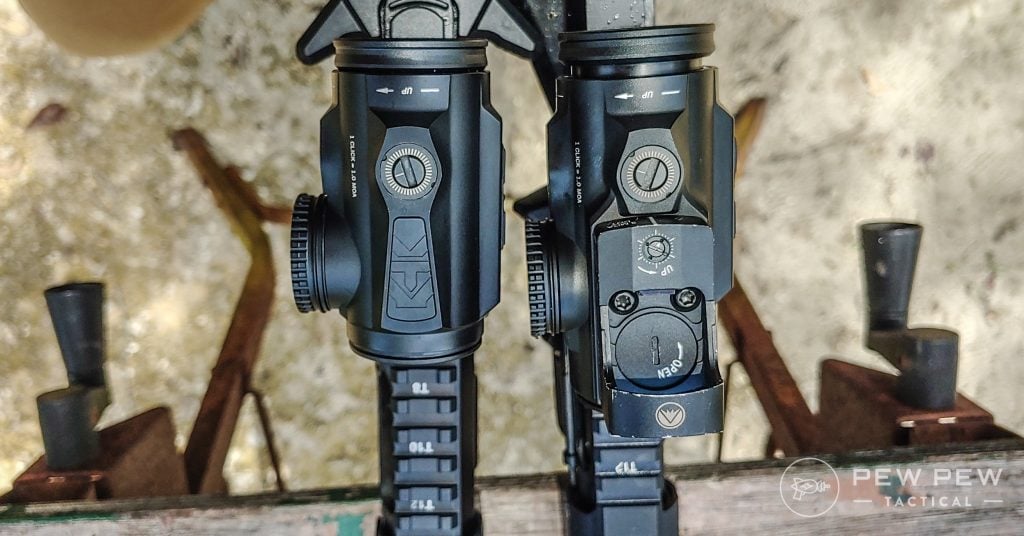 With the 3X, I can also take well-aimed shots at close range.
At close range, though, you have to compensate for mechanical offset. As such, I can aim with the bottom of the reticle and do just that.
Will I ever need to make a hostage-style shot? Nah, but I like having the ability to.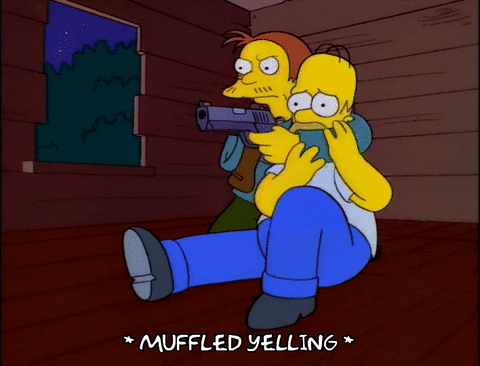 Theoretically, you can do this with the 5X model, but the increased magnification makes it a bit cumbersome.
Let's Back-Up
A 3X optic will easily carry a shooter out to 300-yards or so on a man-sized target.
On a PCC, ballistically, that range is considerably shorter. I took this optic out to 50- and 100-yards with a variety of target sizes.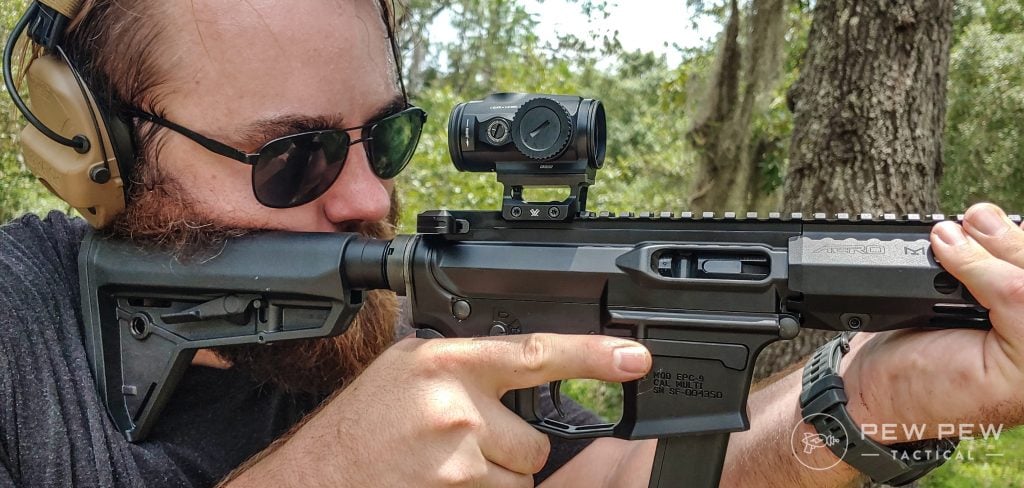 At 50-yards, the magnification put me up close and personal on a 6-inch gong, and I rang its bell in various positions.
The 3X puts me close enough to easily see it. I even tried my hand at the 4-inch gong. As you'd imagine, that was a prone-only target for me.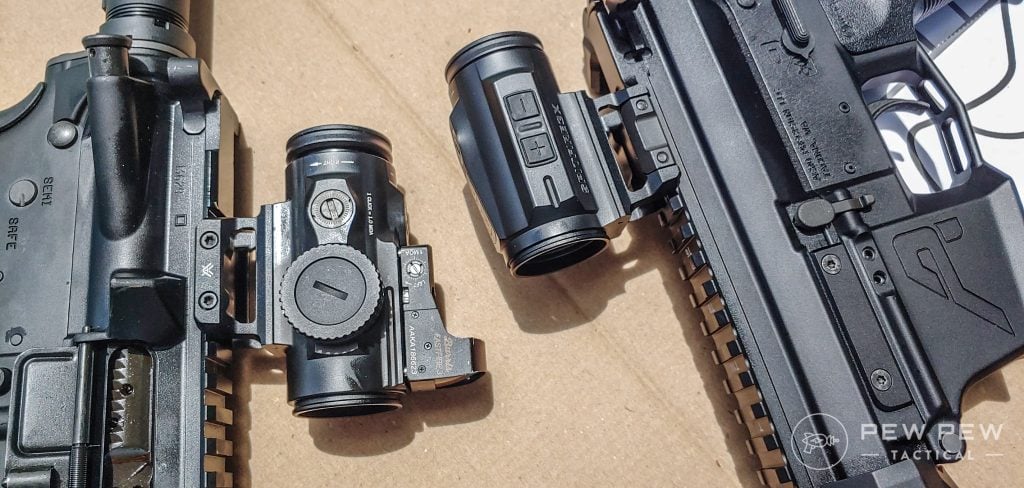 Back to 100-yards, I lit up an IPSC steel target standing with boring regularity. In the prone and supported kneeling, I hit a 10-inch gong with relative ease.
9mm dropped a good bit but knowing the reticle's BDC in MOA allowed me to use the second from the bottom hashmark to direct my shots.
With the 5X model, it was "go big or bust." Once you get to those ranges beyond 100-yards, the 5X magnification becomes quite handy.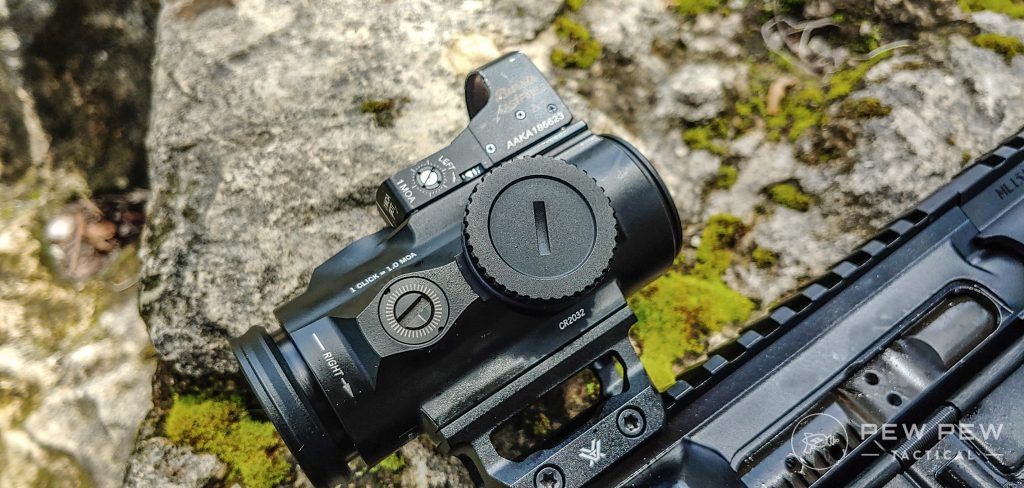 Seeing targets of varying shapes and sizes makes it extremely capable at 200- and 300-yards.
If you can see the target, you can most likely hit it, skill dependent and all. The 5X magnification allows you to stretch your legs.
I didn't have a 400-yard range available, but I can pop the optics off the rifles and take a peek down the road.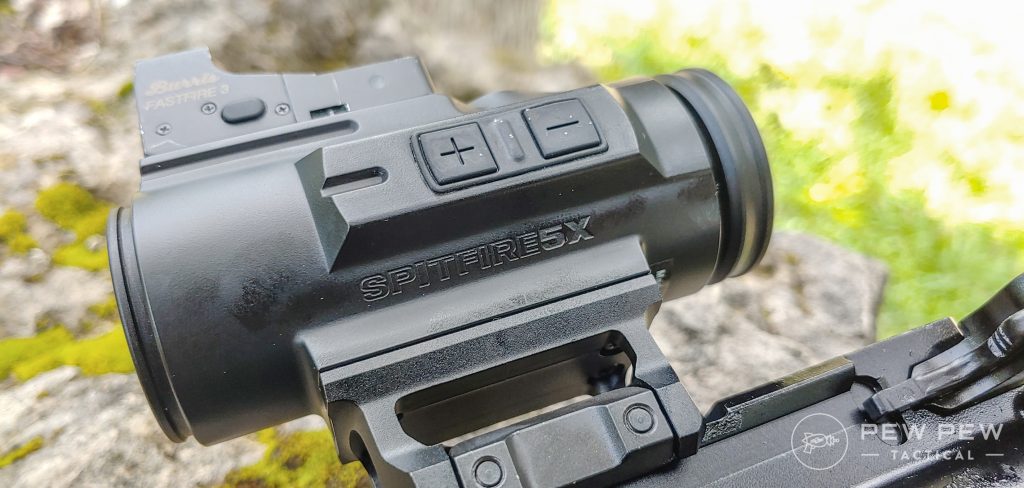 At 400-yards, I could still see the area clear and pick out a street sign. I can't read the sign, but I can see the green and silver that compose it.
The 3X seems to be best used within 300-yards or so, and the 5X allows you to stretch your legs to the 500-yard mark.
Like most BDCs, the final drop point is optimistic and peters out at 650-yards with both optics.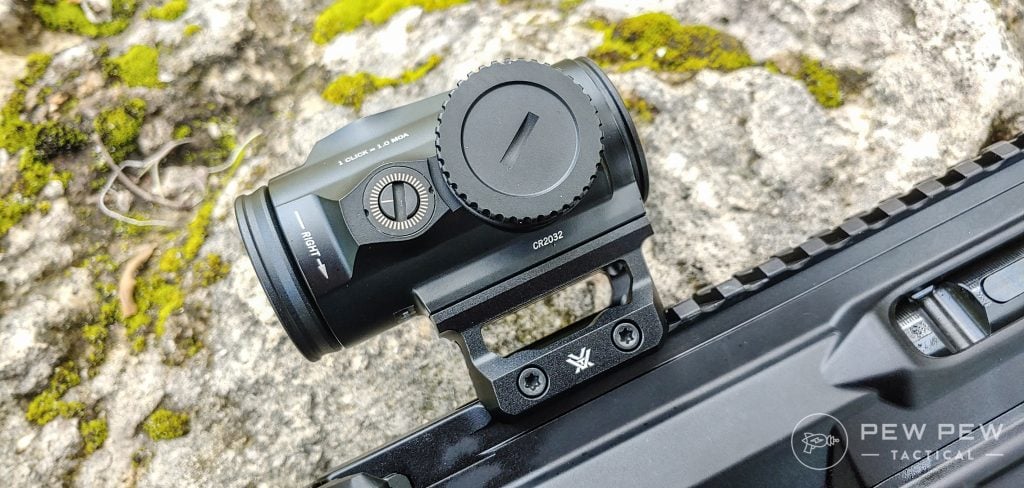 The Vortex Spitfire Gen 2 certainly fights above its price point when it comes to quality glass.
Who Is It For?
If you want to reach out and touch something…but don't want to mess with a traditional scope that has magnification rings…a prism scope is right up your alley and you can't go wrong with the new Vortex Spitfires.
They are smaller and lighter than LPVOs and combine an illuminated reticle that gets you reasonably close to the speed of a traditional red dot. Plus, you can't mount a micro red dot on top to get the best of both worlds.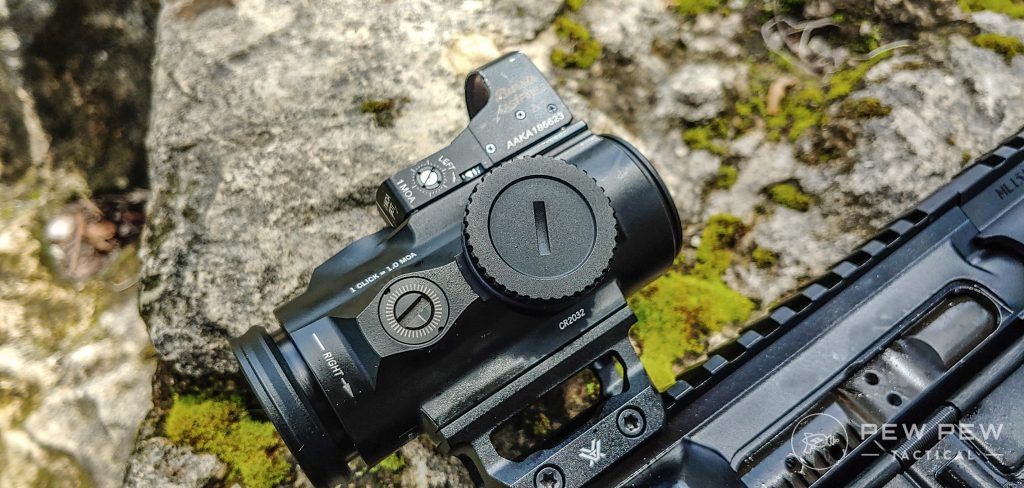 They are also great for those with astigmatism or those that want an optic that will work even without battery power.
By the Numbers
Reliability: 5/5
Neither optic failed in any way over several hundred rounds. Illumination stayed bright. The optics remained zeroed and never flickered, flinched, and ducked under stress.
Ergonomics: 3X Model – 5/5, 5X Model – 4/5
Size and weight wise these optics are winners. They are small, compact, and don't make it tough to dedicate rail space to them. The controls are perfect, and the adjustments are tactile and audible as well.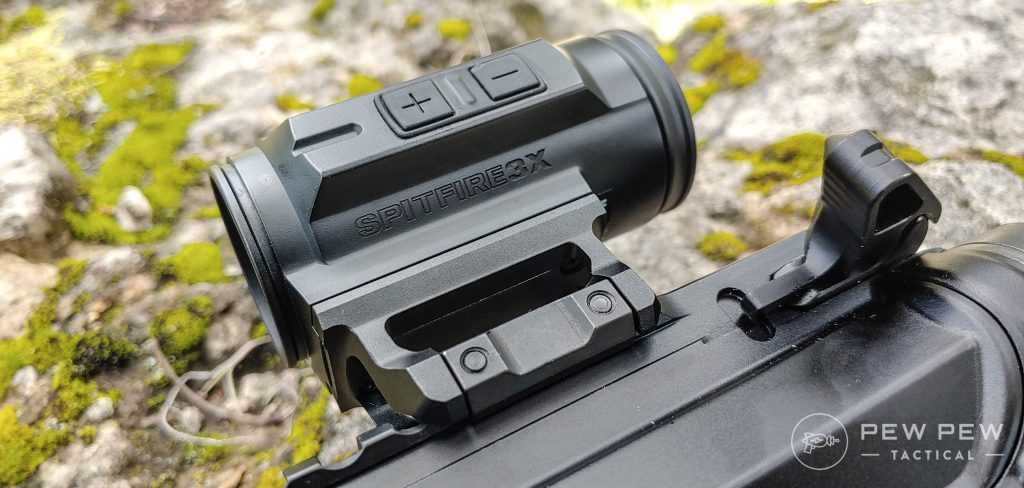 Where the 5X suffers is the restrictive eye box and the large adjustments for a 5X optic. 1 MOA is a big jump for a five-power prism scope.
Looks: 5/5
Both optics look modern with a minimalist flair that certainly keeps the weight down. The 5X and 3X avoid looking bulky like many other prism optics.
Bang for Your Buck: 4.5/5
Both optics come in at a low, mid-tier price point, offering a lot of capability for the price. They provide versatility, illumination, useful reticles, multiple mounts, and that helps buyers eat a beyond-budget price tag. Plus, the glass clarity is surprising for the price point.
Overall: 4.5/5
Final Verdict
If you are a fan of prism sights, I think these new models from Vortex are up your alley.
They provide clear and bright sight pictures, usable illumination, excellent size, and weight specs, plus they come with a multitude of mounting options.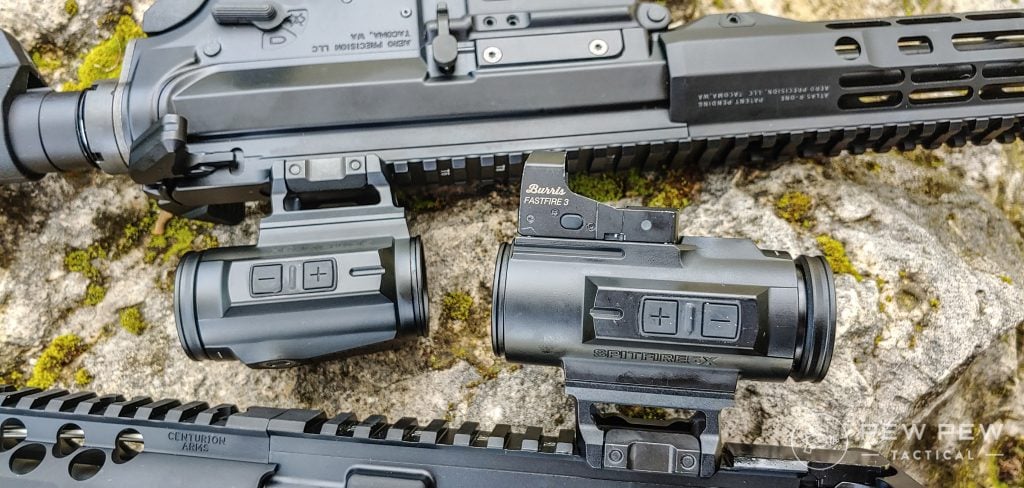 If you're looking for a mid-priced optic that can get you out to that infantry engagement zone, either optic will get you there.
Both offer close quarters' use capability, albeit in very different ways.
What do you think of the Vortex Spitfires? Let us know in the comments below. Need more prisms? Check out our list of the Best Prism Scopes.