The best tent for your winter camping adventures really depends on what you intend to do with it.
There are a variety of routes to go down, each covering a different camping scenario.
What to look for in a great winter tent
In this review, you'll find a lot of winter tents that may look similar to the ones you already have or the ones you see all the time during the summer.
However, there are some key factors that make them more suitable for winter camping than their fair-weather cousins.
What's the difference between 3 and 4 season tents?
Before we go any further, let's talk about 3 and 4 season tents.
After all, you may already have a great 3 season tent sitting at home that will manage perfectly well in less severe winter conditions.
Here's the difference:
3-season tents
Usually lighter than 4 season tents, these tents are designed for camping in spring, summer, and fall.
Many of the best 3 season tents will hold up perfectly well in high winds and bad weather, but they will struggle to compete with cold weather tents, especially in snowy climates.
The right 3 season tent will keep you nice and warm in the cold if there is very little chance of snow or gales. 
4-season tents
A 4 season tent, or cold weather tent, is designed to withstand heavy snowfall and high winds during cold winter months.
Compared to a 3 season tent, a great 4 season tent is heavier and has stronger poles (usually aluminum). There are also more poles and pole crossings in a 4 season tent.
It can keep snow from settling on steep walls; the fabrics are tougher and more durable. Four-season tents are also typically more expensive than three-season tents.
Although designed for winter camping, good 4 season tents should also be versatile enough to perform well for the rest of the year.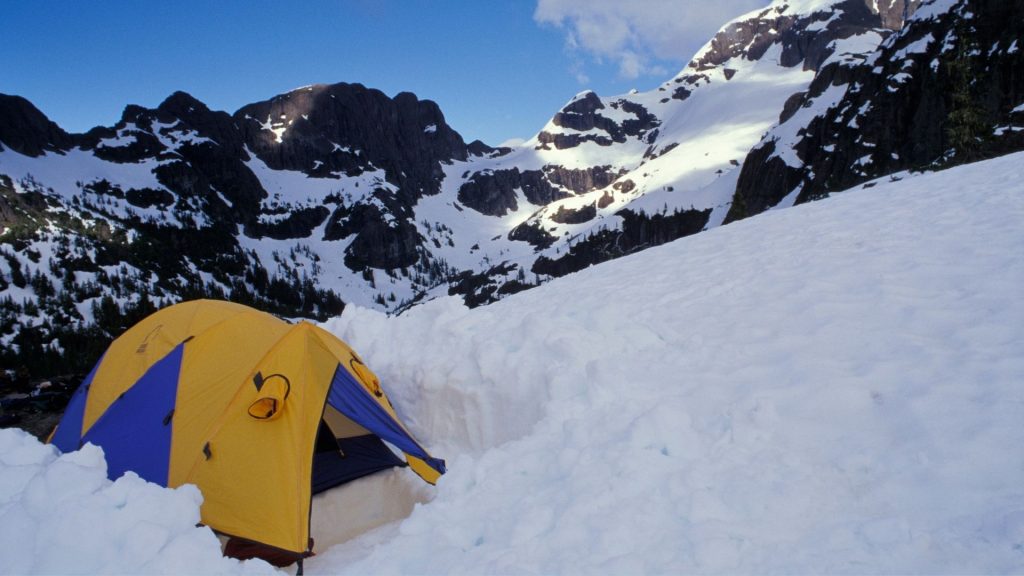 4-Season Tent Shopping Advice
A Four-season tent is the umbrella term for any shelter that can withstand inclement weather, especially during the winter.
However, there is still a fair amount of variation within the category, including bulletproof, spacious, and heavy tents (great for base camping), lightweight single-wall builds (great for alpine trekking), and everything in between. 
Below is a breakdown of our three main categories of 4-season tents: 
Mountaineering
The Base Camp
The treeline
Mountaineering
Mountaineering tents are built for high-alpine environments with weight as the primary concern.
Many of these tents have a single wall (more on that below) and are wind and weather resistant.
Base camping and treeline tents tend to have the smaller square footage, and their peak heights tend to be lower.
One exception is the lightweight Black Diamond Firstlight, which is not waterproof (or easily seam-sealed).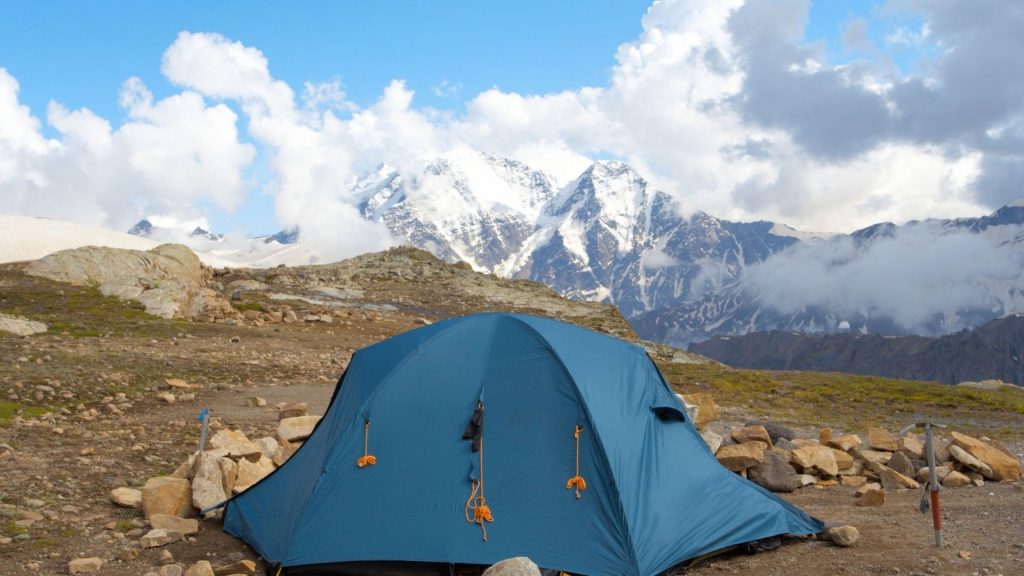 Base Camp
Base camping tents are more comfortable and heavier than mountaineering tents. You might not have to carry your tent farther (or higher), which allows you to pack more weight.
Also, you're likely to spend more time in a base camp tent. Base camping can be done in a variety of circumstances and conditions, but mountaineering tents are designed for quick and light adventures.
The double-wall design of these tents helps with space, ventilation, and condensation prevention, but without the additional weight.
Treeline
Treeline tents are the most compact 4-season models available. A tent-like REI Co-op Arete ASL is designed for winter camping, but not necessarily for exposure to the elements.
A treeline tent will have a more substantial bathtub floor, less mesh, and heavier canopy and rainfly fabrics than a 3-season tent.
Despite this, they don't measure up to base camp or mountaineering tents in terms of toughness and durability and thus shouldn't be taken on the trail.
Still, they're a great option for serious, three-season backpacking in unpredictable weather and light winter adventuring.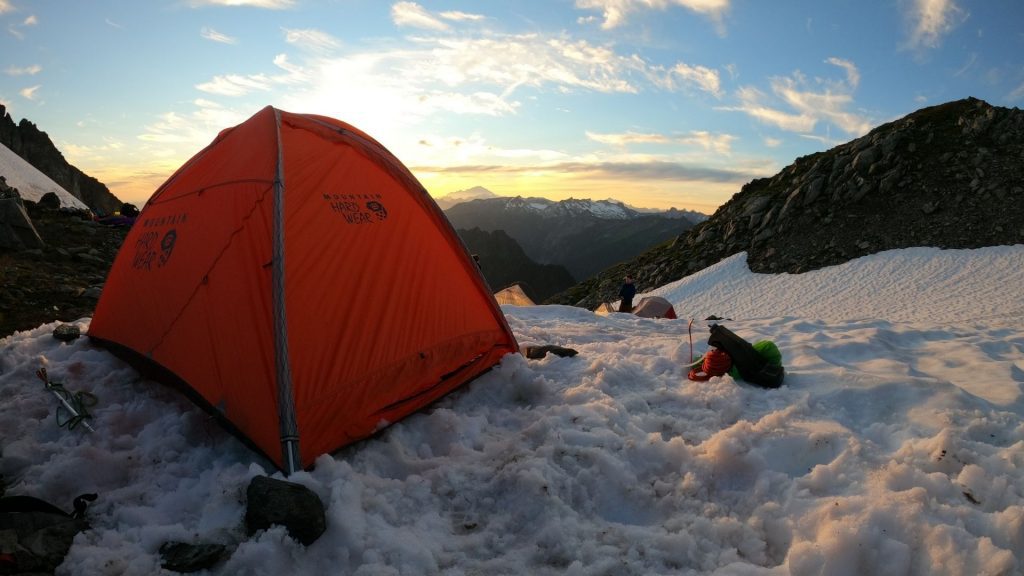 Weight and Packed Size
Because of the heavier fabrics, stronger poles, and beefier zippers, 4-season tents weigh more than their 3-season counterparts.
The minimalist Black Diamond Firstlight weighs just three pounds and six ounces in its package, while a heavy-duty model like the Mountain 25 is nearly ten pounds.
It still comes to close to nine pounds for a number of tents on this list if you consider the packaged weight instead of the trail weight (which doesn't include stuff sacks, stakes, and guylines). The three- and four-person models are even heavier.
Almost all types of outdoor gear benefit from increased weight. Most heavier 4-season tents are tougher and more weather resistant; these also have better ventilation and more features. 
There is a strong correlation between weight and packed size. Often, two or more climbing partners will split up the components of the tent to reduce the burden on each.
This process is more difficult for single-wall tents than double-wall models since the tent body covers a majority of the weight and bulk. In most double-wall tents, the canopy and rainfly can be divided fairly evenly.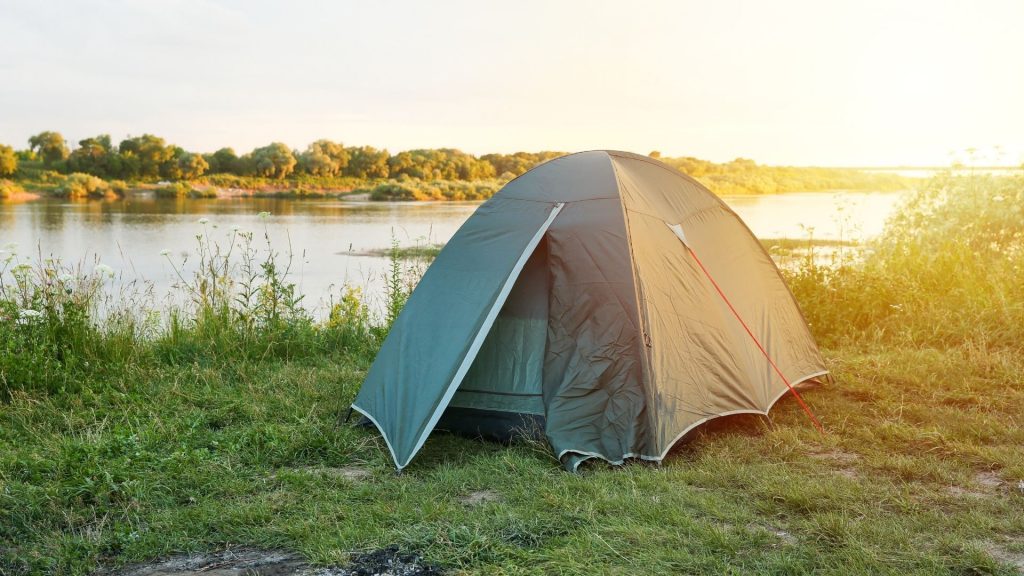 Double-Wall vs. Single-Wall Tents
The difference between double-wall and single-wall tents is critical when choosing a 4-season tent. The inner tent canopy and the outer rainfly are separate layers of a double-wall tent.
The single-wall tent, on the other hand, has one layer of fabric to protect you from the outside elements. While single-wall tents are significantly lighter than double-wall models, they can still be tough.
What type of 4-season tent should you choose?
Unless weight and packed size are the top priorities, a double-wall bag always wins.
Generally, you get more space, two doors instead of one, and a larger vestibule (many single-wall tents omit the vestibule entirely). Also, with two layers of fabric between you and the elements, you get more robust and reliable weather protection.
In addition, double-wall tents are far and away from the most breathable option, as air can freely flow between the tent body and waterproof layer.
In contrast, single-wall tents are simpler and better suited for weekend summit assaults on Mount Rainier or the final push to the top of a Himalayan giant.
On the other hand, double-wall tents are more suitable for 17,000-foot camps on Denali in heavy winds and snow.
If your trip or expedition lasts more than a couple of days, a double-walled tent is likely to be the best choice.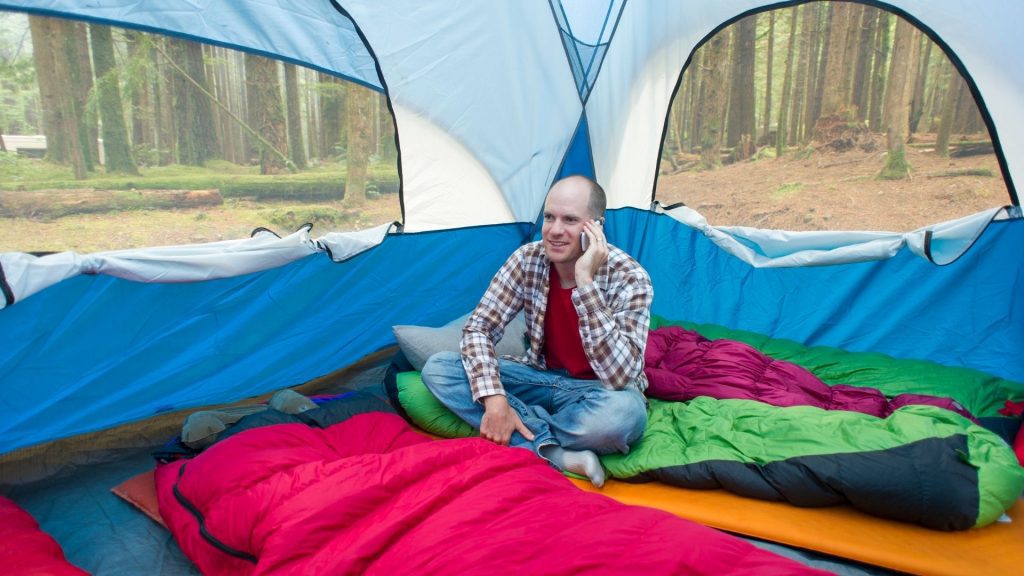 Size: Floor Area and Peak Height
An interior tent's space is most commonly measured by its floor area. Depending on their intended use, 4-season tents range from minimalist to roomy compared to normal backpacking tents.
As an example, a mountaineering tent like the MSR Advance Pro 2 measures just 24 square feet, but the Mountain Hardwear Trango 2 measures 40 square feet. The Advance Pro 2 is so confined that two climbers will feel cramped, while the Trango has more space. If you're looking for space, base camp tents or treeline tents win. 
However, square footage represents only the floor; you also need to take into account the peak height and slope of the walls.
The higher the peak, the easier it is to sit up and move around the tent, while heavily sloped walls tend to make everything seem smaller.
The cross-bracing pole on the tent ceiling provides lateral stability against wind and snow while also adding more headroom (think of a cube as opposed to a pyramid). When you're living in a tent, having more headroom can make things easier.
Last but not the least: make sure you find a tent that is a few inches longer than your height. Otherwise, you will have to sleep at an angle or in the fetal position, neither of which is comfortable.
There are plenty of 4-season tents that can accommodate people over six feet tall, but Hilleberg seems to be the most popular brand for tall individuals.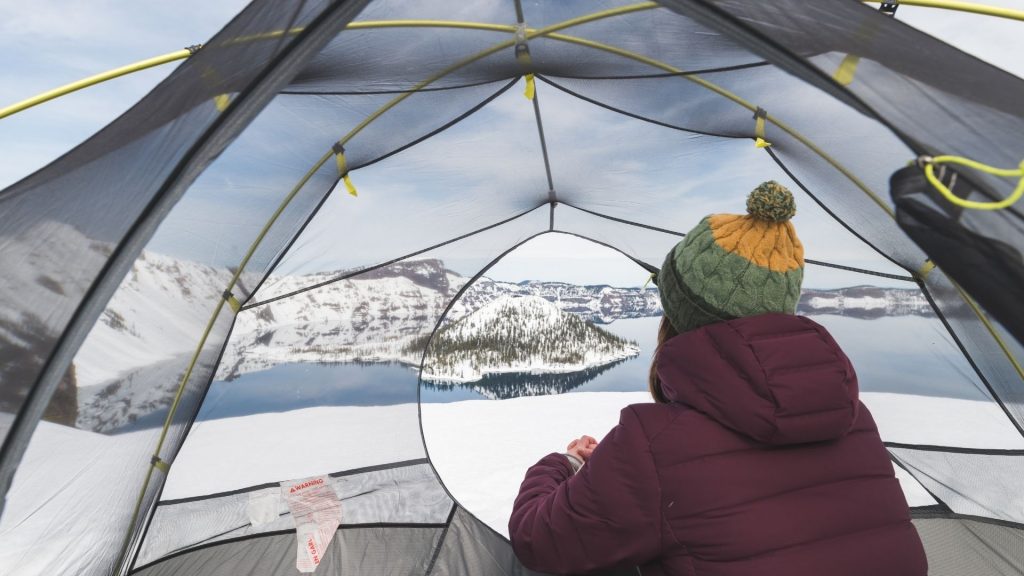 Ventilation and Condensation
The 4-season tent is warmer than the 3-season tent by nature; it has less mesh, makes sure you are protected from the weather, and retains more heat.
It's crucial to keep fresh air flowing, not only to stay dry but also to avoid smelling like your climbing partner's socks. Your breath will condense on the inner walls of the tent over time.
As the temperature rises, it will turn into beads of water on the ceiling and walls. Colder weather will turn it into frost feathers. Both can fall on your face while you sleep, soaking your sleeping bag and other gear. An enclosed tent can make you feel groggy since you will breathe stale air all night.
Many of these issues can be alleviated with proper ventilation.
Even the best 4-season tents are susceptible to condensation, but some do better than others. The more vents in the tent, the better the ventilation.
Double-wall tents tend to breathe better than single-wall tents. If drafts don't bother you, leaving doors and vents open can minimize condensation.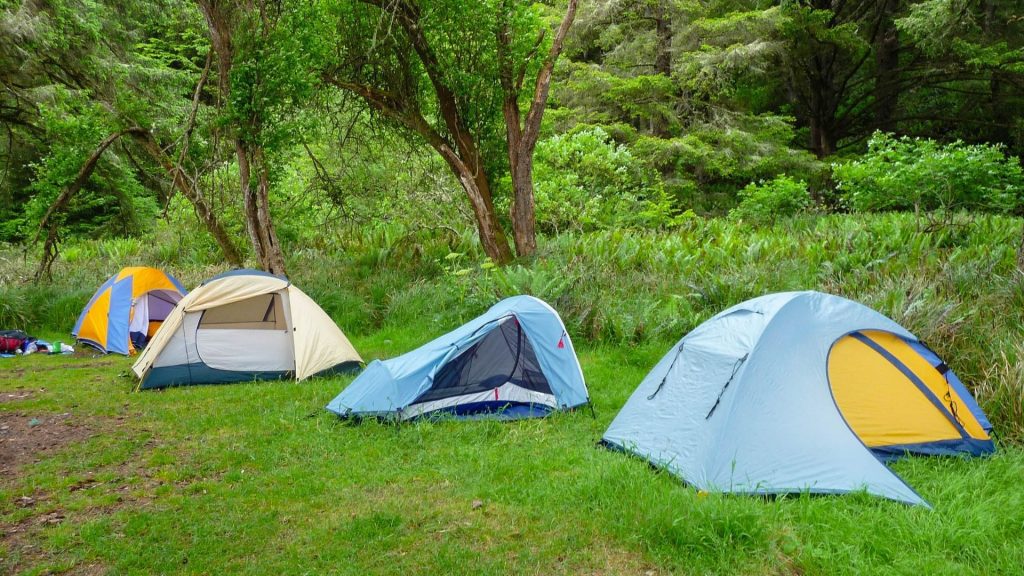 Durability
Tents must be able to withstand heavy winds and six feet of snow at 14,000-foot camps on Denali.
Furthermore, tents at higher altitudes and on glaciers will be subject to intense ultraviolet rays from the sun. Your tent will wear out faster in these situations.
Due to these reasons, many 4-season tents are made with heavy fabrics (such as 70D Nylon Taffeta with a quality coating) that can withstand the sun (which is stronger at higher altitudes because the atmosphere reduces greenhouse effects), wind, snow, and rain.
A tent such as the Mountain Hardwear Trango 2, The North Face's Mountain 25, and numerous Hilleberg models are known for their ability to withstand years of abuse in the harshest conditions.
However, many mountaineering-specific tents use thinner fabrics in order to save weight (the MSR Advance Pro 2 has 20D shell fabric versus the TNF Mountain 25's 75D fly), which means they don't stand up well to wear and tear.
It is also possible to determine a tent's longevity by comparing prices within categories. A tent's quality and durability tend to increase as the cost increases (for example, the $1,070 Hilleberg Allak is a much more durable treeline tent than the REI Co-op Arete ASL 2).
It's not a hard-and-fast rule, but cheaper tents tend to be less durable and reliable.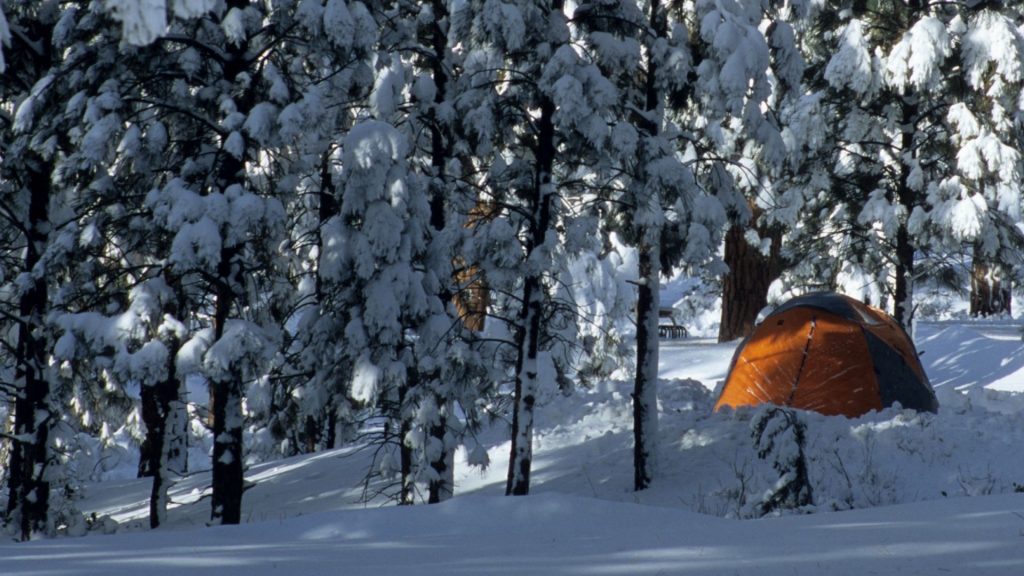 Silnylon vs. Polyurethane
The two basic types of coatings used on 4-season tents are silicone (also called silnylon) and polyurethane (commonly referred to as PU). Silicon-coated nylon is very expensive, typically weighs less, and packs down smaller; the siliconized Kerlon fabrics developed by Hilleberg have incredible tear strength and durability. However, even Hilleberg's tents have polyurethane floors.
Polyurethane is thicker than silicone, so it can resist punctures and abrasions better, is much easier to seam tape, and is less slippery than silicone, so you won't slide around in the tent.
The main downside is a shorter lifespan, particularly with low-quality polyurethane. In most cases though, the added cost of silicone outweighs the benefits, so polyurethane is usually used for rain flies and floors in non-Hilleberg tents.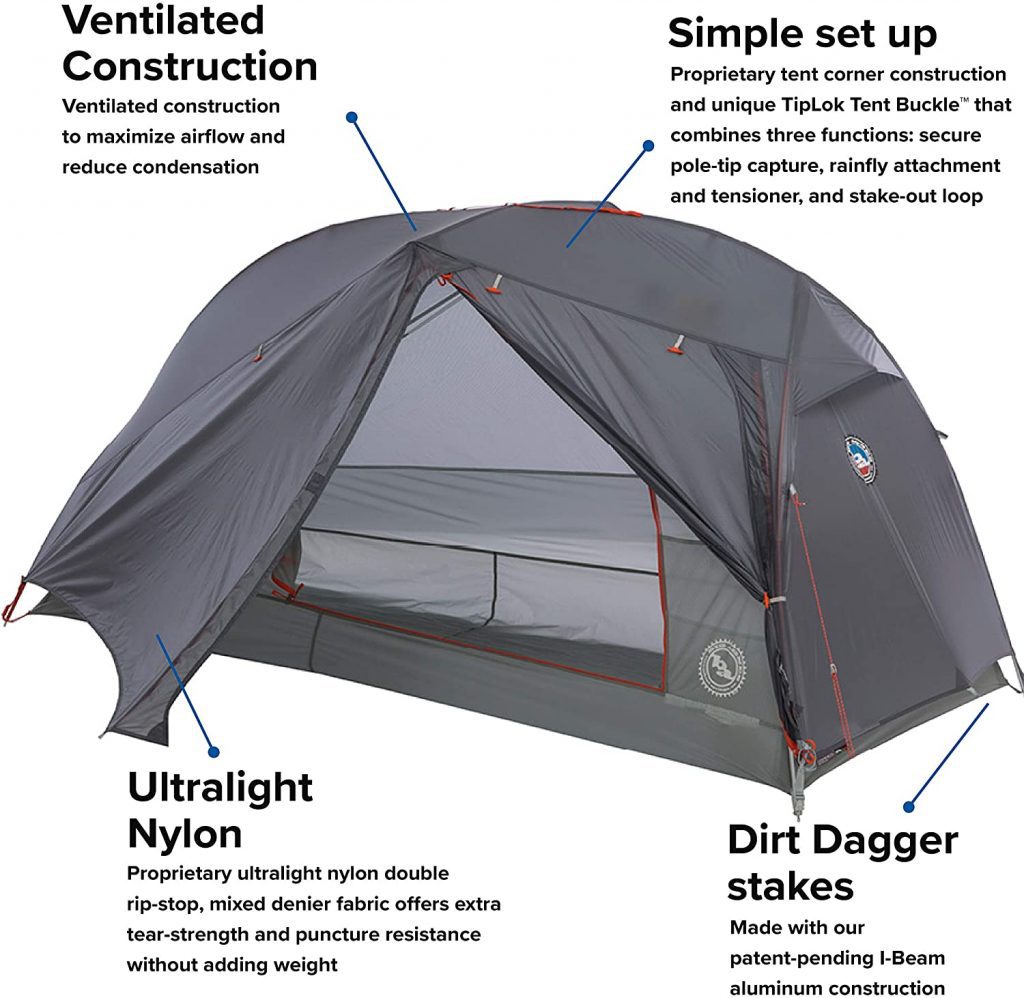 Storage: Vestibules and Interior Pockets
When traveling for an extended period of time in inclement weather, it is fundamental to have ample space to store and dry your gear.
Tents like the Mountain Hardwear Trango 2 and the Big Agnes Copper Spur Expedition have pockets galore. Then again, we never cease to be surprised at how many food items, gear items, and electronics we can fit into our pockets once our packs are empty.
The storage space is especially important on long trips since keeping your gear organized and separated from your partner's is essential (you wouldn't want him or her eating your snacks).
The majority of tents also feature small loops that can be used to string guy lines across the ceiling, which helps dry wet gear after a long day in the rain.
There may be no other component of a 4-season tent that is more important than the vestibule (when it comes to comfort).
In a tent, the vestibule acts as a separate room that protects the dry interior from harsh outside elements such as snow and rain.
It will aggravate your partner if you soak their dry-down sleeping bag with your wet Gore-Tex and snow-covered boots.
The vestibule is where you seal yourself off from the outside weather and prepare to enter the tent dry, similar to how you would take your muddy shoes off before entering someone's home.
Many tents have a rear vestibule that can hold a few backpacks, but it's not ideal for cooking or using as the main entrance.
Many mountaineering tents do not have vestibules to reduce weight, so be sure to choose accordingly if it's a feature you're looking for.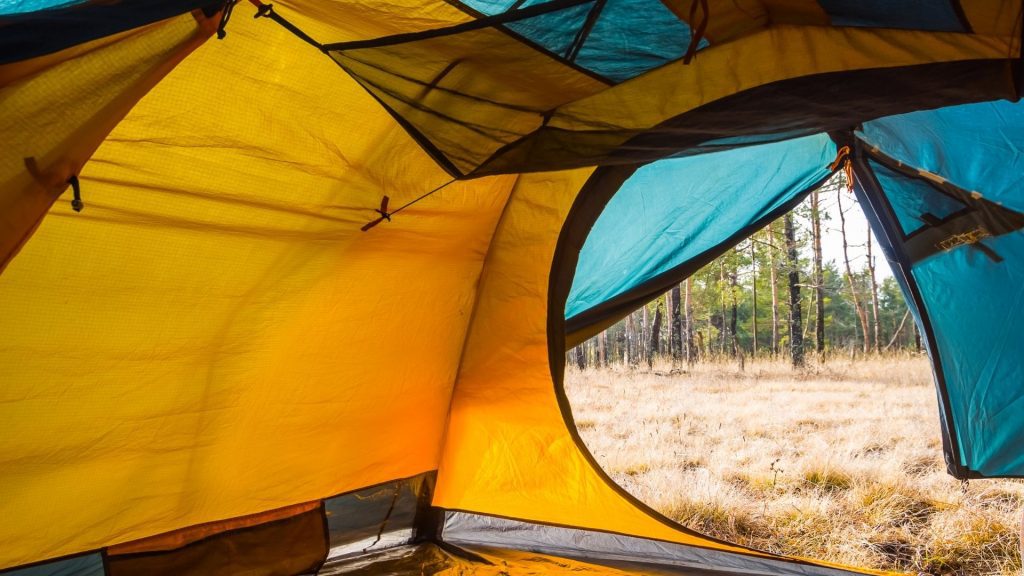 Doors
Every backpacker knows that the number of doors in a tent matters a lot. There is nothing more frustrating than crawling blindly over your partner at 2 a.m.
Their answer to nature's call would probably be the same. In general, lightweight mountaineering tents will usually have only one door for lighter weight, a small footprint, and less weight (and you're not likely to spend much time in the tent anyway).
Treeline and base camp tents are likely to have two doors, allowing people to enter and exit independently. Another consideration in relation to doors: a second door often means a second vestibule, which enhances storage capacity and comfort.
Tent Pole Quality
In general, 4-season tents have stronger (and heavier) poles that can withstand strong winds.
Tent fabric shrinks in cold weather; plastics and metals become brittle. If a tent pole snaps during a storm, it easily results in a shredded tent; but stout metal poles (Easton, DAC, etc.) with long connector joints will support the tent.
Don't use a tent pole with a plastic tip (the end part of the pole that connects to the grommet of the tent). On Denali, one of our gear testers saw over a dozen of the same poles get sheared off at the tip when a company switched from metal to plastic.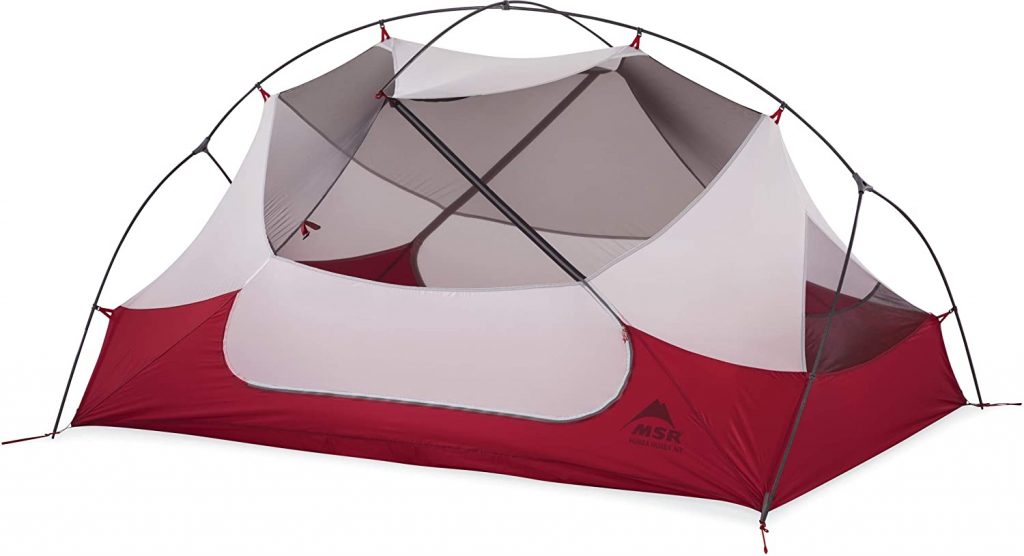 Stakes and Snow Anchors
For environments with unpredictable weather, it's crucial to make your tent storm-proof.
In alpine environments, it is not uncommon to use backcountry skis, ice axes, pickets, ski poles, bamboo wands, or anything else that can be securely buried and not bend or break when subjected to high loads.
On big mountains like Denali, it's a good idea to dig down two feet or more and fill around your "stake" with very compact snow.
When you don't have long skis or poles, you can make a "deadman" anchor out of any spare gear. Wrap a stick, rock, tent stake, or even a sack filled with snow with a guyline and bury it deep in the snow. You need to cover the deadman with heavy, compact snow so it will remain anchored.
When Waterproofing Matters 
You might wonder why we recommend a non-waterproof tent like the Black Diamond Firstlight here. Keeping you dry – isn't that a tent's main function, especially a four-season tent? Both yes and no.
In winter conditions wherein temperatures are well below zero, the likelihood of snow melting and seeping through a tent-like the Firstlight is slim to none (and if it does, the DWR coating provides a solid barrier).
Winter is the perfect time to skimp on waterproofing. As for warmer temperatures, you may be using your tent more as a shelter from wind than rain (think summer in Patagonia). A windproof tent is all you need in this case.
Forgoing waterproof material in a tent has a couple of benefits.
First, waterproof fabrics and seam taping increase weight and price – at 3 pounds 6 ounces and $370, the Black Diamond Firstlight is an ultralight, affordable option.
In addition, waterproofing generally reduces breathability – especially in single-wall tents – which means that the other waterproof models trap noticeably more condensation than the Firstlight.
However, these benefits come with a price. To prevent wet precipitation from penetrating your tent, seal the seams (Gear Aid's Grip Seam Sealer is a proven option). Second, shake your tent when it's snowing so that the snow does not melt and turn into water.
For those with unpredictable weather, opt for a true waterproof structure instead of your Firstlight.
4-Season vs. 3-Season Tents
The "take anywhere, do anything" tent is designed to withstand harsh environments.
We've watched entire vacations pass from inside a 4-season tent while inches of snow and rain fell outside (albeit stir crazy and disappointed). It's true what they say: "don't bring a knife to a gunfight." Likewise, don't bring a tent designed for the Pacific Crest Trail to the stormy Cascade volcanoes, Denali, or Patagonia's Torre Valley.
A 4-season tent is likely to be used in a climate prone to inhospitable weather. Unlike standard backpacking tents, 4-season tents are more robust, durable, and heavier, thus these tents are able to withstand heavy winds, rain, and snow.
In addition, there are flies that extend farther down the main body of the tent (and some models also come with snow skirts), high bathtubs on the main body to keep rain and snow from entering the tent, and large vestibules to store gear and other equipment.
The vestibule of big mountain expeditions in Alaska has intricate kitchens where teams have dug pits in the snow and can comfortably stand, cook, and socialize.
Winter Tents for Alpine Expeditions
Winter expedition tents need to be light enough to carry for a day or two of trekking, but also big enough to be comfortable for extended periods in the mountains. In addition, they are suitable for multi-day winter backpacking trips and for people who want a bit more comfort than superlight winter tents can provide.
Our list of the best winter tents for alpine expeditions includes the Nemo Tenshi. It has two key features uncommon on single-wall winter tents: a removable vestibule with window and tie-out loops and a tie-in anchor system.
With a removable front vestibule, the Nemo Tenshi offers a comfortable compromise between a spacious expedition tent and a lightweight alpine tent. While on an expedition, you can use the extra space at base camp but leave the extra weight behind.
The Nemo Tenshi also features an external pole system that allows you to pitch the outer first, which is ideal for rough weather as it allows quick pitching. The tent has a zippered door on one end, large enough for both campers to enter and exit without climbing over one another. Although it's a single-entry tent, a zippered window on the back wall can be used as an emergency exit, if necessary.
Pros
Light enough for trekking (without the front vestibule)
Decent ventilation system
External pole set up
Internal anchor system
Cons
The MSR Access 2 is one of the lightest four-season tents on our list, weighing under 2 kg. This tent is very versatile, just like the Nemo Tenshi. It has a double-wall design that holds up to moderate snow load and handles condensation fairly well.
It can be used on winter expeditions under a light snowfall, as well as summertime alpine expeditions and damp shoulder seasons.
This is a fairly spacious two-person expedition tent (in terms of living space). It's wide enough to fit two sleeping mattresses and small gear. You'll also find two entrances with outer vestibules on either side of the tent where you can store boots, poles, and wet gear.
Pros
Versatile usage
Quick to pitch
Spacious
Lightweight and compact pack size
Mid-range price
Cons
Outer vestibules have little weather protection (your kit may get wet)
Big Agnes Battle Mountain 2 is designed to handle the toughest weather conditions in mountainous terrain. It's also spacious and easy to set up. It has a 1,200 mm waterproof flysheet with storm flaps on the outer zippers.
Two closable vents in the flysheet reduce condensation, while dual-zippered windows with mesh offer additional ventilation.
There is enough space inside the tent's inner wall for two sleeping mats. The inner part also offers a generous number of wall and ceiling pockets and gear attachment points.
Most of your kit can be kept inside the main hub without sacrificing sleeping space. The tent has two entrances and two vestibules, one of which has a clear window and double zip door that can be staked out into a small porch.
Pros
Extremely strong
Two entrances
Plenty of inner storage
Cons
Set up takes some practice
This tent has 48 square feet of living space. This spacious three-person cold weather tent from The North Face has 25 sq. ft. of floor space.
Although it is the heaviest winter expedition tent on our list, its extra weight is well worth it for mountaineers who value comfort during storms. There are two doors in the vestibule with a poled middle section to provide stability. Additionally, there is a rear entrance for extra convenience!
Additionally, the configuration of four lightweight DAC poles produces a strength-to-weight ratio that is hard to beat. This tent also features multiple venting options to keep condensation levels under control, further adding to the relative luxury it offers.
Pros
Excellent ability to deal with snow and strong winds
Highly liveable
Two entrances
Cons
The Hilleberg Jannu is a bit pricey for a two-person tent, but for those looking for a reliable, durable, and super strong alpine expedition tent, the extra cost is well worth it.
A 4.4 sq m (47.3 sq ft) footprint, including the single vestibule, makes this double-walled tent ideal for pitching in small spaces. A Kerlon 1200 outer with a minimum tear strength of 12 kg (26.5 lbs) combined with four 9-mm poles produces a dome-style tent that is exceptional at weathering storms.
If you can afford the additional cost; however, the Jannu offers a tent that is slightly more suitable for alpine climbers and mountaineers, as well as winter trekkers, backpackers, and explorers.
Pros
Strong and powerful
Minimal footprint
The inner and outer pitches are the same
Cons
Pricey
There is only one entrance
Lightweight mountaineering tents
Alpine climbers and mountaineers require a lightweight tent, and many opt for a single-walled design to reduce weight. It should be freestanding so that it can be pitched in small and awkward spaces, and have steep sides to avoid snow from piling up.
Winter tents like the Eldorado are incredibly durable and weatherproof. The PTFE-coated fabric of the single wall tent puts it ahead of other single wall tents using a PU-coated fabric.
This two-pole tent creates a steep-sided, highly stable shelter that excels in windy and snowy conditions.
Even though the Eldorado weighs 2.3 kg (81 oz), there are lighter tent options in this category, but the Eldorado provides a more liveable space to wait out the storm, despite not having a vestibule and a second entrance. Long enough for tall inhabitants to spread out or get more gear storage, and with enough ventilation provided by zippered vents.
This compact and simple setup has a footprint of 30.8 sq ft, making it an attractive option for those on "sleep where you can" type expeditions, but the winter-specific design makes it less versatile for year-round camping.
Pros
Waterproof
Minimal footprint
Cons
Lighter than competitors
There is only one entrance
It weighs just 1.3 kg, making it one of the lightest cold-weather mountaineering tents on our list. This single-wall, dome-shaped tent with a small footprint is perfect when weight, pack size, and weather protection is top priorities.
Easton Syclone Poles are sturdy enough to handle strong winds and heavy snowfall. Furthermore, you can really anchor the tent on rough nights with the reinforced guy rope attachments. The tent itself is quick and easy to set up on your own.
There are no bells or whistles inside. Winter tents are designed to protect you from the elements without adding weight to your pack, so don't expect much comfort. It also performs poorly at lower elevations due to the lack of ventilation (just one small vent).
Pros
Lightweight
Minimal footprint
Strong
Solo pitches are possible
Cons
It's not very versatile
Not suitable for taller people
Winter tents for family camping and base camping
The weight of your tent isn't really an issue when car camping, and you can afford to prioritize the comfort of a marquee. Larger tents are even more vulnerable to high-speed winds, so smart tent design becomes even more essential.
The REI Co-op Base Camp 6 Tent is a six-person tent with a strong geodesic-dome structure that can accommodate the whole family or a group of friends. This is one of the few winter base camp tents with a generous head height of 74 inches.
Two wide roll-away entrance doors on either side make entering and exiting easy for every camper. During warmer months, two zippered side vents, a roof vent, and mesh on the upper section of each door help minimize condensation.
There are large mesh wall pockets for storing gear inside. There are two outer vestibules for your shoes and wet gear, one staked and one pole-supported. In moderate conditions, the REI Co-op Base Camp 6 Tent is a spacious tent that's tough enough for all four seasons.
Pros
Interior with plenty of space
Multiple internal pockets for storage
Easy setup
Cons
Heavy
I wouldn't recommend it for extreme winter weather
Flysheet ventilation is minimal
9. Mountain Hardwear Trango 4 Tent
The Mountain Hardwear Trango 4 Tent is a popular choice for family camping, base camping, and extended trips in cold weather conditions. Trango 4 features DAC Featherlite aluminum poles and a classic four-pole geodesic design. In harsh winter weather, it is extremely stable.
Four people can sleep inside with just enough headroom for sitting up. You can keep your gear organized and off the tent floor with mesh pockets.
The Trango 4 has the disadvantage of being inner-pitch first. If you arrive at your camping spot in rain or snow, you'll need to pitch quickly. The color-coded system does make pitching quick. It is also freestanding, so you can pitch it without the flysheet at lower elevations or in warmer seasons.
Pros
Interior with plenty of space
There are two vestibules
Extremely strong
Cons
Inner pitch first
On the heavy side
Cold weather tents with stoves
A "hot tent" that is compatible with a stove opens up a whole new world of winter camping. Car campers, as well as those hauling their gear into the wilderness on sleds, will enjoy this area.
There are also lightweight tents available for backpackers if they also have a lightweight stove. It is extremely important to know what you're doing before you light it up beneath flammable nylon, but when done properly, hot tent camping is a rustic yet highly comfortable way to enjoy nature even during winter.
This single-wall tent weighs just 1.96 kg (69 oz), even when compared to two-person, three-season tents. It may not look as stable as modern backpacking and mountaineering tents, but if properly erected, this Seek Outside Tipi can handle high winds without a problem.
A tent footprint (not included) will add a little extra weight, but the ability to set up the stove inside the tent and comfortably sleep (two people, four without the stove) makes this an excellent choice as a backcountry base camp tent.
Though relatively thin, the nylon 30D fly is impregnated with Ultralight silicone and has a waterproof rating of 3000 mm. Despite its single carbon pole appearing somewhat spartan on the stability front, the tent shape and guy-outs provide enough toughness to weather the storm.
A floor space of 115 square feet and 6'10" of headroom at the tallest point are also included, as well as a stove port and vents to prevent condensation.
Pros
It's incredibly light
Ample headroom
Stove-compatible
Cons
A maximum of two people can be accommodated
The groundsheet is not included
With a weight of 37 kg (81.5 lb), the Playdo 4-Season Bell Tent is almost as heavy as all the above winter tents put together, but it offers the ultimate luxury for those determined to hit the road regardless of the weather.
Waterproof cotton canvas is connected to a PVC floor with taped seams for a completely leak-free camping experience. Our largest winter tent measures 5 m wide and 3 m tall. As with the Seek Outside Tipi, the height doesn't translate into instability in bad weather – quite the opposite, in fact. Bell tents are exceptionally robust in bad weather and their steep sides handle excessive snowfall very well.
A Bell tent is a great winter tent alternative for families, groups, glampers, car campers, and hunters. With a 5-inch port for venting your wood stove and room for up to eight people, you'll be glad of the mesh vents in the roof and sides.
Pros
Luxurious and spacious
Weather-resistant
Contains a stove port
Cons
Heavy
Suitable only for car campers
Best All-Season Tent for Treeline Adventures
Many four-season tents are overkill for mild winter conditions especially when you prefer a lighter and more breathable design. Nemo Kunai is our top pick in the "treeline" category.
The double-wall Kunai tent is rated as a 3-4 season tent, with a combination of winter and summer designs (sturdiness and protection of a winter design in a streamlined and packable package).
In addition, portions of the canopy unzip to reveal mesh windows when temperatures rise, which means increased airflow when you need it and wind protection when you don't. The Kunai is a versatile and lightweight design that's ideal for everything – from spring volcano ascents to fast-and-light winter camping.
The Kunai might not receive that "four-season" rating, but it shouldn't be overlooked. With a third pole over the entryway to increase stability and four tie-downs that thread through the rainfly, this tent is built to be tough from top to bottom.
The Nemo has a relatively small footprint (the three-person Kunai boasts 36.5 sq ft at 5 pounds and 10 oz.) and only one door, which isn't our favorite design, but it helps save weight.
Finally, while the Kunai offers better protection and breathability than single-wall mountaineering tents, the double-wall design makes pitching tricky in inclement weather and doesn't fit on tiny ledges like the Eldorado above and Advance Pro 2 below. Despite the lower versatility, the Kunai is a great choice for both treeline camping and mountaineering. 
Pros
It is lightweight because of its double-wall construction
Cons
This mountaineering model has very tight quarters and takes longer to set up than most
Best Ultralight 4-Season Shelter
If you want to sleep in the snow, you'll likely want a fully-featured tent, but for dining shelters, gear storage, or simply a change of scenery when cabin fever sets in, the Black Diamond Mega Snow is a total base camp luxury.
It's far from the most protective tent out there, with just a single-wall construction and no floor. While camping on the snow, the value of this shelter really shines: the center pole can be used as a table, while the outer edges can be dug out to create seating for up to six people.
The Mega Snow includes vents (we encourage you to cook in this shelter!) and a nifty valence around the perimeter that increases interior space. Finally, it can double as a lightweight sleeping shelter in a pinch – we've fit four people in Black Diamond's Mega Light, while the Mega Snow is significantly roomier at 78 square feet.
But calling the Mega Snow a four-season tent is a bit of a stretch. The tough, 30-denier canopy has withstood winds of up to 50 miles per hour throughout our testing, but it just doesn't compare to burlier tents like the Hilleberg Nammatj 2 GT below or even the single-walled Black Diamond Eldorado.
In essence, it is a glorified tarp with no floor: in truly cold or windy conditions, it's prone to flapping around and will feel quite drafty (you can pile snow on the valence, but ventilation will suffer).
And keep in mind that Black Diamond also makes the much lighter Mega Light (2 lb. 13 oz.) with no valence, and the Mega Bug, which sets up underneath the pyramid shelter and adds a bug net and bathtub floor for an extra three pounds and ten ounces. 
See the Black Diamond Mega Snow
Pros
Incredible versatility for snow camping
Cons 
Floorless design means you're more exposed to the elements
Best of the Rest
Over the years, The North Face's Mountain 25 has proven itself even in the most inhospitable parts of the planet. Although it's the heaviest tent on our list, you'll be thankful for its weight (9 lbs and 15 oz) when you're dealing with weather conditions in base camp.
In a similar manner to the Trango 2, the Mountain 25 features a burly double-wall construction, stout poles, and time-tested fabrics that stand up to tough weather. There are two doors and a vestibule, providing multiple entry points and ample storage space. It also provides great ventilation, with a peak height of 41 inches (3 inches taller than the Trango 2), has lots of internal pockets, and sets up and takes down easily.
The Trango 2 and Mountain 25 were a close call for our top pick, but the Mountain Hardwear won out with a roomier floorplan in a slightly lighter build. The two tents, however, are head to head in practically every other category, including weather protection, durability, and price.
In addition, a footprint is now included with the Mountain 25 (the Trango's is purchased separately for $80), but it's unlikely that you'll need it for snow camping. There is also a larger three-person version of this tent, the North Face VE 25… 
Pros
Good value for a burly basecamp-style design
Cons
Heavier and less spacious than the Trango 2 above
Sweden-based Hilleberg designs and manufactures tents for everything – from solo fastpacking to high-altitude mountaineering to polar expeditions. With ultra-premium materials and a focus on small details, Hilleberg tents are some of the most reliable and expensive tents on the market.
Allak is one of their most popular offerings with a lightweight yet sturdy dome structure that's storm-resistant yet breathable in summer. It's one of the most versatile all-season designs available. With two doors and vestibules, the Allak's 7-pound, four-ounce weight is considerably lighter than competing models like the Trango 2. 
The Allak walks the line between our "treeline" and "base camp" categories, and Hilleberg's Red Label (one step below their legendary Black Label) alludes to a similar classification.
In other words, it's a step up from a tent like the REI Arete ASL (below), but not quite on par with the Trango or Mountain 25 above in terms of protection. But in our experience, the Allak is strong enough to handle gusty winds and heavy precipitation of winter, making it a just-right option for winter camping in the Lower 48.
Within Hilleberg's lineup, you can also bump up to the Staika for a similar yet more protective build (8 lbs 13 oz), or check out the tunnel-shaped Nammatj 2 GT below… Read in-depth review
Pros
Premium materials and construction, versatile for all-season use
Cons
Expensive and heavy for a treeline tent
Black Diamond's Eldorado offers bombproof weather protection in a streamlined design, but it's still too much tent for some climbers.
With a packed weight of just three pounds and three ounces (almost 2 lbs less than the Eldorado), the MSR Advance Pro 2 has a 24-square feet floor area that fits even on the smallest mountain ledges.
Setting up the Advance Pro is easy (MSR even has a video of how to set it up while perched on a bucket) and the external pole sleeves mean you don't have to crawl in and out. A waterproof coating on both the body and floor keeps most moisture out (we recommend sealing the seams, too). Side vents improve airflow.  
After several nights of dealing with wet walls and pesky drips in the Black Diamond Firstlight, we turned to the Advance Pro 2 as a more waterproof option (it doesn't hurt that it's a little lighter, either).
However, there are some compromises with regard to the design, namely the interior space. If the floor area is 24 square feet, you lose six inches off the width of the Firstlight, making the Advance Pro 2 barely livable for two people.
Therefore, we recommend the MSR solely for weight-conscious missions and stick with a model like the Eldorado otherwise. It's important to note that the Advance Pro 2 does not have a mesh door, which might be a deal-breaker for some.
Pros
The lightest tent here but still waterproof; easy setup
Cons
No mesh door and very limited floor area
The Nemo Chogori 2 tent directly targets the popular Trango and Mountain 25 tents. This new tent features combined double-wall construction and an external pole structure, making it easier to pitch in inclement weather (the Trango and Mountain require you to set up the body and rainfly separately, which is more time consuming and can result in moisture getting into the tent).
There are strong DAC poles and silicone-treated nylon on the fly for added durability and weatherproofing, as well as a wraparound snow skirt on the newest version. Among the lighter base camp tents on this list, the Chogori weighs just 7 lbs and 11 oz.
Are there any downsides to the Nemo Chogori? Its interior space is fairly ample for a two-person tent, but its 39-inch peak height means less headroom than most of the tents here (on the other hand, this is great for keeping a low profile during strong winds). In addition, the fly fabric is rather thin, at only 30 deniers, compared to the 70 or 75 deniers of many base camp tents.
At $750, it is more expensive than the Mountain 25 ($690) and does not have the long track record of the Trango in extreme conditions. In combination, the Chogori's simple and quick set-up, strong pole structure, and reasonable weight make it an attractive and versatile choice for mountaineering and other winter adventures.
Pros
External pole structure sets up fast and reduces weight
Cons
Low peak height and thin fly fabric
The Allak is a versatile treeline/base camp tent from Hilleberg, but for extreme mountain conditions, the Nammatj GT is very popular.
In addition to being a Black Label tent – a designation reserved for the company's most premium, protective, and comfortable models – the Nammatj combines Kerlon fabric and a tunnel-shaped design for remarkable stability and protection.
The GT version here adds 25.8 square feet of storage with its extended vestibule, which we've found indispensable for living in inclement weather. The standard Nammatj weighs only six pounds and ten ounces, so you won't find a four-season tent that does more while weighing less (and the standard Nammatj weighs eight pounds and three ounces).
The Nammatj GT's unique tunnel shape makes it aerodynamic in strong winds and sheds snow easily. One of our top picks for remote mountaineering, high-altitude expeditions, and polar explorations, its design gives up a bit of livability with only one door and a lower peak height (37 vs 41 in. on the TNF Mountain).
The Nammatj is well-ventilated with its double walls, two large vents on either end and a mesh door at the entrance. Additionally, if you're trying to shed some pounds, the Nallo (5 lbs. 5 oz.) is a lightweight mountaineering tent that features a more streamlined tunnel shape and thinner Kerlon fabric.
Pros
Super roomy vestibule and superb in high winds
Cons
Only one door and peak height is low for a base camping tent
There's a time and place for the Arete, just like the Hilleberg Allak above. The "all season light" tent has better weather protection than a traditional three-season model, but it's not built to withstand super-strong winds or heavy snow loads.
With a four-pole design, the Arete is a very stable tent, and headroom is 43 inches. With a weight of only six pounds and five ounces and a price of $399, it's an economical way to hit the backcountry on a ski or snowshoe excursion in mild to moderate conditions. You won't find a better deal anywhere on this list.
We love the REI Co-op Arete because it's a year-round option. Due to the double-wall construction and substantial mesh door and vents, it can be used for normal backpacking trips not involving the cold, but it can also handle snowfall. If you don't plan on taking the Arete on high-altitude or particularly stormy missions, it's perfect for shoulder seasons and mild winter expeditions.
Pros
A great value for a four-season tent
Cons
Not built for the toughest of conditions
Hilleberg's Allak is a more sophisticated version of the standard dome tent, featuring two doors and two vestibules for great livability.
However, for those pushing the limits in the alpine, the Jannu offers a sleeker footprint and slightly better structure. This mountaineering tent is a great competition for top models like the Black Diamond Eldorado above: it's compact, strong, has one door and one vestibule, and offers over 34 square feet of interior space. It is perfect for single climbers to spread out even with a lot of gear or as a double for summit pushes.
In comparison to the Eldorado, the Jannu's double-wall construction improves both protection and breathability, allowing it to perform better in various conditions (including on warm-weather expeditions).
Despite this, it suffers in terms of weight: for just two pounds less, most fast-and-light mountaineers will opt for the Eldorado (or even lighter models like the Kunai or Firstlight). But seven pounds and an ounce is very respectable for a double-wall design, and the Jannu is still lighter than any of our true base camping models. This Hilleberg mountaineering tent will set you back $1,075, but it is an extremely versatile and protective tent for the right user.
Pros
A highly stable double-wall design with a small footprint
Cons
Only one door and vestibule, heavy for a mountaineering tent
The four-season tents in our base camp category are the most stable, weather-resistant, and roomy among four-season models, designed to weather multiple days of storms in relative comfort (assuming you get along with your tent mates).
Consequently, most of them have double-wall construction and weigh between 8-10 pounds for a spacious two-person model. In contrast, the Black Diamond Bombshelter breaks free of this trend with a single-wall construction and a generous 50 square feet of floor space (that's ten square feet more than any other basecamp tent here).
The result is a tent that can allow three large humans (or four in a pinch) for the same weight as many two-person designs, with very little sacrifice. The taut build and minimal fabric give it excellent stability in the toughest conditions.
Even though the Bombshelter is a single-wall tent, don't let that turn you off; its ToddTex fabric is highly breathable (on par with double-wall tents), thanks to a soft liner that allows moisture to escape.
We hate having to crawl inside a single-wall tent to set it up (if you've pitched an Eldorado or Firstlight, you know what we mean). Furthermore, with only one layer between you and the elements, you may get wet when brushing up against the tent wall, which is why we rank the Bombshelter so low.
A lighter and more spacious option would be hard to find for a three-person team. In comparison, the four-person Mountain Hardwear Trango features 57 square feet of floor space but weighs in at 12 pounds, 12.4 ounces.
Pros
Very spacious and almost unflappable in high winds
Cons
Heavy, expensive, and not as luxurious as a double-wall tent
 
Overall, we've had positive experiences with Alps products, though they are budget products and definitely not among our best sellers.
You can't argue with the value, so the Alps Tasmanians made this list. Three hundred dollars already gives you a pretty good winter camping tent that will do the job for most casual campers. At 34.5 square feet, this tent is one of the largest two-person models on the market. Plus, the large mesh vent at the top promotes airflow and prevents condensation from forming.
For a tent in this price range, it is important to have reasonable expectations. First, the Alps Tasmanian is heavy at 7 pounds, 15 ounces, and is bulky and difficult to stuff into the included bag (although you'll likely have to separate the tent body and poles to make it fit).
Second, it is not recommended to use this tent in cold weather conditions. It should perform fine in the cold and light to moderate wind, but the tents above are made of better materials and have more complex designs.
Lastly, durability is always an issue with low-cost products. Under their warranty, Alps covers manufacturing defects, but not normal wear and tear.
Pros
Cons
Heavy, bulky, and limited performance capabilities
Final thoughts
Most of the tents above are pole-supported designs that offer 360-degree protection from the wind, rain, snow, and bugs. The four-season shelter offers weather protection almost as good as a treeline shelter at a fraction of the weight.
Popular four-season shelters like the Black Diamond Mega Snow and the Hyperlite Mountain Gear Ultamid 2 are floorless, non-freestanding, and utilize a center pole (often two trekking poles or ski poles) to form a pyramid shape. A properly erected tent can withstand moderate winds and shed driving rain and snow.
An extra living space on snow is our favorite use for a four-season shelter. If you dig out the base, you can create a sitting and standing area for four (or more!) that offers a welcome change from living in a tent.
It will also provide a place to escape from bug bites, wet ground, and seeping rain when you really need it. In the most adventurous cases, a four-season shelter can act as a dedicated sleeping area, but we only recommend this for trips in mild weather or when weight is really a factor, such as long ski traverses, fast-and-light climbs, and long backcountry treks.
All of these are cold-weather tents designed for family camping, and they're quite different from one another. The most expensive tent is around $5,000, and the most affordable one is just over $300. There are plenty of reasons to think twice about what you really need. 
Feel free to leave a comment below if you have any suggestions. We wish you all a happy camping season, preppers!