Mossberg's new 940 Pro Field semi-auto shotgun provides a rare combination of great reliability and an affordable price. Learn all the details about this new shotgun in my Mossberg 940 Pro Field review.
Most shotgunners will probably agree that, as good as many modern semi-automatic shotguns are, it's still really tough to compete with the reliability of a solid pump-action shotgun like the Mossberg 500 or the Remington 870. Even so, many hunters are drawn to semi-autos for their smooth and fast cycling.
As the saying goes though: when they're sweet, they're really sweet and when they're sour, they're REALLY sour.
I've spent a lot of time hunting small game, upland birds, and waterfowl with various semi-auto shotguns over the years and I've experienced most of the pain and pleasure associated with them.
On one hand, having an almost instant follow-up shot available has helped me fill my limit more than once. For instance, I've delivered a severe, but not fatal or crippling, hit on a duck with my first shot, and then brought it down with a second shot before it could fly out of range on many occasions.
I have a good friend and hunting buddy who is a lifelong Remington 870 devotee. As good as he is with that shotgun, that second or third shot is always a little slower. A motivated bird can cover a lot of ground in a hurry and every second counts out in the duck blind or the pheasant fields.
As much as he hates to admit it, he's lost a few birds over the years because he either flat out missed or wounded it with the first shot and couldn't make a follow-up shot fast enough.
On the other hand, his pump-action will gobble up almost any load he feeds it without a hitch while most of my semi-autos have been very picky about what they like and don't like. I also need to be a whole lot more diligent in my cleaning practices to ensure my semi-automatic shotguns continue to run smoothly.
This is especially important in inclement weather.
That has basically been the state of things with the pump vs semi-auto debate world for the past few decades. Sure, semi-automatic shotguns have gradually improved over the years and have gradually closed that gap in reliability, but I was never quite satisfied by any of the semi-automatic shotguns I'd hunted with.
Things changed when I got the chance to hunt with the new Mossberg 940 Pro Field semi-automatic shotgun last year though. I put that shotgun through the paces over the course of a few months and it changed the way I look at shotguns.
This article is an in-depth Mossberg 940 Pro Field Review where I go over the pros and cons of the 940 Pro Field in detail so you can make an informed decision regarding whether or not it make sense for you to pick one up for yourself.
Before we get started, I have an administrative note:
Some of the links below are affiliate links. This means I will earn a small commission if you make a purchase. This commission comes at no extra cost to you. This helps support the blog and allows me to continue to create free content that's useful to people like you. Thanks for your support.
What Is The Mossberg 940 Pro And How Does It Work?
Mossberg is best known for their shotguns, especially their legendary pump-action Model 500. While they've produced semi-automatic shotguns for a long time, none were as highly regarded as their pump shotguns.
The Mossberg 930 was their mainstay semi-automatic shotgun for many years and performed pretty well overall for hunters, amateur recreational shooters, and even professional shooters in 3 gun competitions. Even so, consistency issues seemed to plague the shotguns.
Some people ran their 930s really hard with no issues. Others reported various reliability problems. Religious cleaning and lubrication after firing a couple hundred rounds solved most of those malfunctions though.
With those things in mind, Mossberg decided to make a few improvements to the 930 and incorporate those changes into the next iteration of their semi-auto design.
The result was the Mossberg 940 JM Pro competition shotgun they released in 2020. Interestingly, they did not initially market the 940 JM Pro to the hunting and shooting communities at large.
Instead, they partnered with renowned competitive shooters Jerry and Lena Miculek who used their 940s in 3 gun competitions. By focusing on a small number of high volume shooters like world champion shooter Jerry Miculek, the folks at Mossberg were probably able to quickly work out any kinks in their design before releasing other versions of the 940 to the general hunting and shooting community.
Mossberg then announced their newest additions to the 940 line in late 2021: the Mossberg 940 Pro Field shotgun and the Pro Waterfowl shotgun. The company has since released their 940 Pro Turkey and Pro Tactical models in 2022 (and I'm sure more are on the way).
So what's different about the 940 Pro?
While the shotgun definitely looks a little different from the 930 at first glance, Mossberg made the biggest changes to the internal components and gas system of the shotgun to improve reliability and efficiency with the widest possible range of ammunition.
The 940 Pro gas cylinder has two ports that direct gas from a fired shell toward a short-stroke gas piston, which in turn moves the spacer tube, pusher assembly, and bolt assembly to the rear in order to cycle the action.
Designers at Mossberg made a few modifications to that spacer tube in the name of reliability. The 3.5-inch aluminum cylinder on the 940 is built with a series of grooves and holes designed to give carbon fouling and condensation a place to go instead of just sticking to the magazine tube. Those holes also allow air to dry any moisture in there to reduce rust and fouling.
This is in stark contrast to the smooth spacer tube on the 930.
Furthermore, 940 Pro has nickel boron-coated gas piston/rings, magazine tube, hammer/sear, and shell stop to further reduce friction and improve resistance to corrosion. The end result is a shotgun Mossberg claims will run over 1,500 rounds between cleanings vs 500 or so rounds for the 930.
Greater cleaning intervals aren't all that separates the 940 from the 930.
Additionally, the Mossberg 940 Pro buttstock can be adjusted for cast, drop, and length of pull. This is accomplished via included spacers and shims to alter drop and cast. The same goes for adjusting the modular buttpad for length of pull (LOP) from 13″ to 14.25″.
These are all excellent features to help ensure the shotgun fits a wide range of shooters precisely. When done correctly, this will make the shotgun "point" better and faster as well as help reduce perceived recoil.
Just like the 940 Pro JM, the other 940 Pro models have oversized controls to help with reloading and operating the shotgun, even when wearing heavy gloves at the range or on a cold late season hunt. The enlarged loading port helps in that area as well.
The 940 Pro has a side mounted bolt release button. In addition to releasing the bolt, it will also release a shell from the magazine tube so the shooter can unload the shotgun without cycling shells through the chamber. To use this feature, manually depress the loading gate on the bottom of the shotgun and push the bolt release button.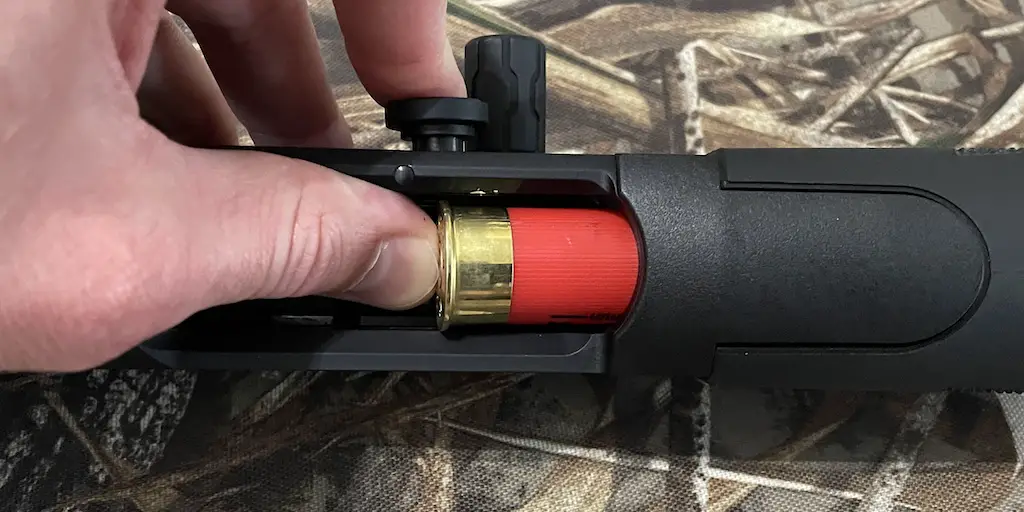 Specs on the various 940 Pro models do vary depending on the exact shotgun, but the Mossberg 940 Pro Field ships with a 28″ vent rib barrel with a matte blue finish, a red fiber optic front sight, sling swivel studs, and a set of interchangeable Mossberg Accu-Choke tubes (improved, modified, and full).
Now that we've covered the basics of the Mossberg 940 Pro Field, let's talk about what I like and don't like about it.
What I Like About It
In addition to spending lots of time at the range with the 940 Pro Field, I also had the opportunity to use one on a sandhill crane hunt out in west Texas in December of 2021.
I used 12 gauge 3″ Winchester DryLok BB plated steel shot in conjunction with a modified choke tube on my hunt. That set-up worked really well: consistent patterns, moderate recoil, no malfunctions, etc.
It also did a number on the birds and we ended up getting a 5 man limit of sandhill crane that morning.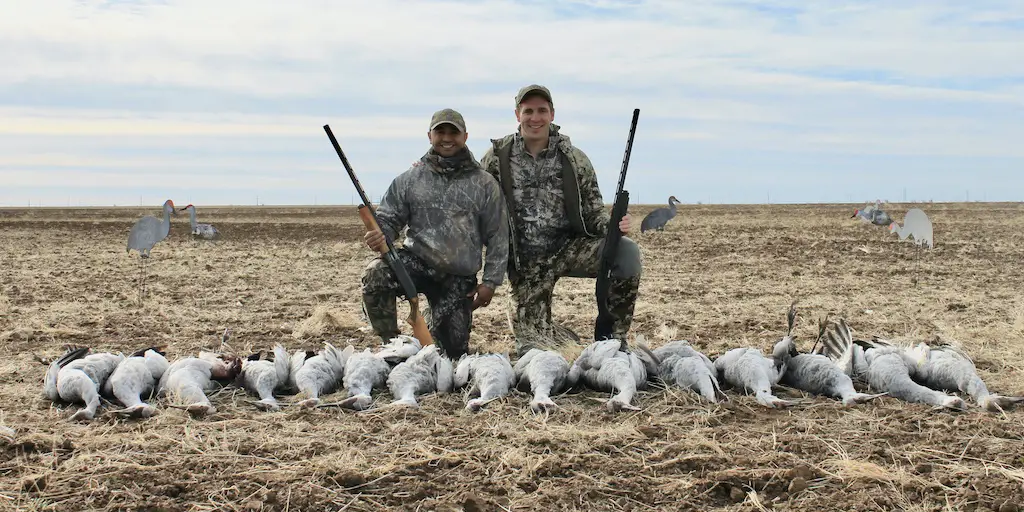 In addition to 3 other hunters I didn't know, my buddy referenced earlier in the article joined me on this hunt with his 870.
Crane are very big birds and are tough to kill. They are also pretty smart and cautious, so close range opportunities can be rare. The end result is that they often require more than one shot to bring down.
This was definitely a situation where having a semi-auto was a big advantage and I was glad to have a reliable autoloading shotgun on that hunt.
In addition to how things went on my crane hunt, the 940 Pro Field also treated me very well at the range.
The Mossberg 940 Pro Field is very easy to operate. I like that the beveled loading port, the oversized charging handle, and the bolt release button are still easy to operate with gloves on.
The tang mounted safety is also really nice and intuitive to operate (push forward to fire). Mine was a little stiff at first, but quickly smoothed out after I worked it back and forth a few times and it gave me no problems when I went hunting with it the first time.
I also like the trigger, though nobody will confuse it with one from a custom 1911.
The shotgun points really well and it comes to my eye naturally. This of course is a big help when shooting at fast flying targets.
If that's not the case for a particular shooter, a few minutes of work adjusting cast/drop or length of pull should fix the problem.
The same goes for recoil, which ranged from very light to manageable depending on the exact load used. At 7.75 pounds, the shotgun is not extremely heavy, but I'm sure the gas system and thick recoil pad both help in that area.
Once again, customizing the adjustable stock of this shotgun so that it fits the shooter is extremely important in this area as well.
It's a small thing, but I like that the anodized magazine tube follower is red colored because this helps me quickly verify that the shotgun is unloaded.
The fiber optic sight is very basic, but is simple to use and works well under low light conditions. The receiver is drilled and tapped for an optic or red dot sight in case you want to add one.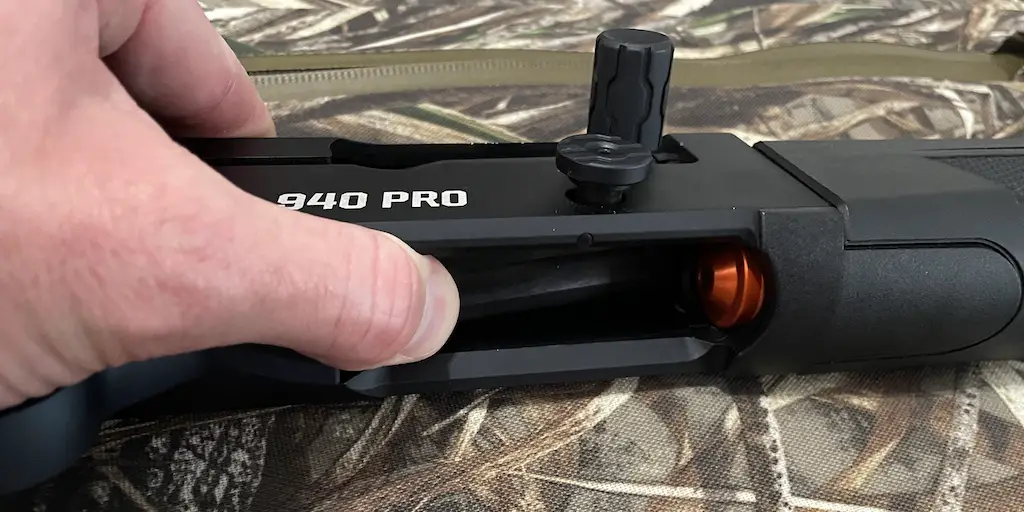 What about the $10,000 question: can you really shoot 1,500 rounds through the 940 Pro before cleaning it?
Well, I wiped down and lubricated this particular shotgun according to instructions in the manual when I received it from my FFL and have not done any maintenance on it otherwise since receiving it.
I haven't shot 1,500 rounds through it yet (nor have I participated in a 3-gun competition with it), but I've shot at least 700 rounds so far without a single malfunction.
These shells have varied from light 2 3/4″ target loads to heavy 3″ steel waterfowl loads. I even spent a day at the range intentionally putting a mix of alternating heavy and light loads ranging from 7/8 oz to 1 1/4 ounces through the shotgun to see if I could make it jam.
I'm happy to report that it ate them all up without missing a beat, even when I'd shoot long strings of shots in order to heat the shotgun up.
And no, I still haven't cleaned it yet besides that initial wipe down.
I will have to clean it eventually though, but the Mossberg 940 Pro Field is fortunately also very easy to disassemble, conduct maintenance on, and then reassemble.
In the meantime, I have no reservations about hunting with basically any 2.75-inch shells or 3-inch ammunition due to the shotgun's well designed and durable gas system.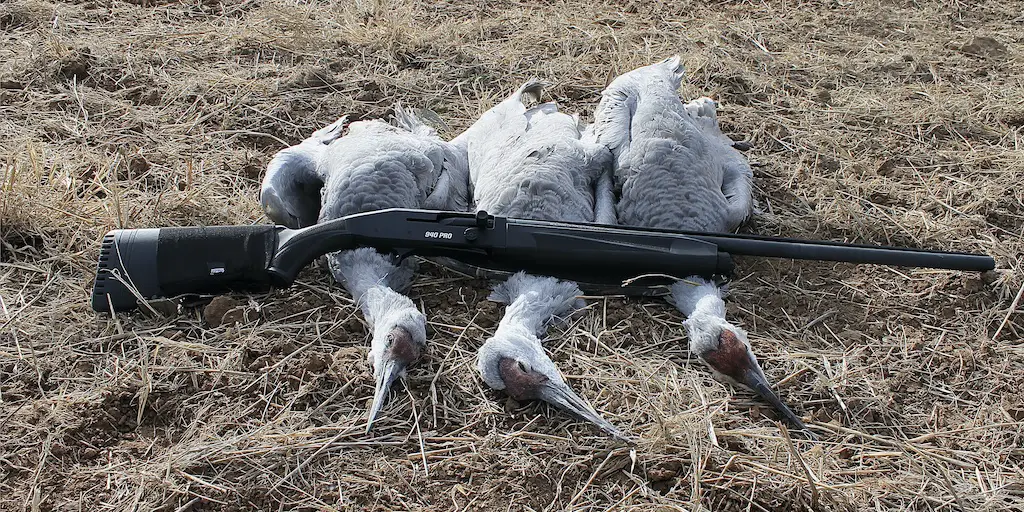 What I Don't Like About It
With all that said, no gun is perfect and there are a few things I don't like about the Mossberg 940 Pro Field that you should be aware of before purchasing one.
First, these shotguns normally ship with a magazine plug so they are legal to hunt migratory birds with in North America without any modifications.
Well, I did not initially realize that the shotgun had a magazine plug until I attempted to fully load the magazine (which should hold 4 shells plus 1 in the chamber) and shell #3 stuck three quarters of the way into the tube.
I had a heck of a time getting it out.
It's a minor issue to be sure and may be unique to this particular shotgun. In fact, I was able to replicate it a couple of times, but the problem eventually disappeared as I exercised the various components and controls of the shotgun at the range and afield.
Now shell #3 will go part of the way in the tube and just stop like it should without catching on anything with the magazine plug installed.
Next, I don't like that aftermarket barrels are not available for the 940 Pro at this instant. My 940 Pro Field is a very good all-around hunting shotgun, but I can't use anything other than the 28″ barrel it shipped with as I write this article in April of 2022.
This problem should resolve itself in the next year or so though. Reresentatives from Mossberg have stated that they intend to produce the 940 in all the different configurations the 930 is available in like a Slugster model with a rifled bore, a tactical shotgun or a security version with an 18.5″ barrel, etc.
They may even eventually produce a 940 Combo/Field Security model that ships with both 28″ and 18.5″ barrels for those who want to use their shotgun for home defense as well as for hunting. I also wouldn't be surprised to hear that Mossberg will eventually sell extra barrels for the 940 Pro as well.
So, just beware of this right now if you're looking for a semi-automatic shotgun to use for bird or deer hunting as well as home defense. The 940 Pro is not the shotgun for someone who wants to check all those boxes with a single shotgun, but that will hopefully be changing soon and I plan on purchasing a new barrel when possible.
Finally, I'm not a big fan of the stock. The 940 Pro Field has a very basic synthetic stock. While it is very functional and I love that it's adjustable, it doesn't feel great. However, I think that's a minor complaint as well and most other shotguns with nicer stocks also cost quite a bit more.
Mossberg 940 Pro Field Review: Final Thoughts
All things considered, I think the Mossberg 940 Pro Field is an excellent semi-automatic hunting shotgun, especially at that price point.
The North Haven, Connecticut based O.F. Mossberg & Sons made a name for itself by making no frills, rugged, and utilitarian shotguns that worked really well at a reasonable price. Well, I think the 940 Pro series of shotguns fits right in there with that line of thinking.
In addition to the 940 JM Pro and the 940 Field Pro, Mossberg currently manufactures 940 Pro Waterfowl, Pro Snow Goose, Pro Turkey, and Pro Tactical Models with different barrel lengths, camouflage patterns, and different magazine tube sizes at this instant.
Make no mistake: the 940 Pro Field shotgun will not win any beauty contests with a plain black synthetic stock, black synthetic forend, and a matte black finish on all exposed metal surfaces. Yes, there are other shotguns out there that may look prettier and have more bells and whistles, but they probably also cost a lot more.
I can say hands down that the Mossberg 940 Field Pro is the best semi-automatic shotgun I've ever hunted with.
If you're looking for a very functional, reliable, and no frills multi-purpose 12-gauge semi-automatic hunting shotgun at a reasonable price, then I highly recommend the Mossberg 940 Pro Field. It's just as at home in a duck blind as it is out in the woods chasing rabbits or in the prairie in the hands of a pheasant hunter.
If you want to buy a Mossberg 940 Pro Field for yourself, click the button below to see what's currently available.
BUY A MOSSBERG 940 PRO SHOTGUN HERE
Mossberg 940 Pro Field Specifications
Type: Gas-operated semi-automatic shotgun
Gauge: 12-gauge
Chamber Length: 3″ Magnum
Magazine: 5-round capacity (4 + 1)
Sights: Front Fiber Optic Hi-Viz bead
Stock: Synthetic user-configurable stock with adjustable length of pull, cast, & drop
Length of Pull: Adjustable 13-14.25"
Barrel Length: 28-Inch Vent Rib Barrel
Weight: 7 lbs. 12 oz.
Overall Length: 47.5″
Barrel Finish: Matte Blue
Chokes: Interchangeable Accu-Set Chokes (full, modified, & improved cylinder choke tubes)
Suggested 2022 Retail Price: $903
Enjoy my Mossberg 940 Pro Field review? Please share it with your friends on Facebook and Twitter.
Make sure you subscribe to The Big Game Hunting Podcast and follow The Big Game Hunting Blog on Facebook, Instagram, Twitter, and YouTube.
Endorsement Disclosure: Per the guidelines of the Federal Trade Commission, the product reviewed here is an endorsement and I received compensation by "in-kind" payment to review the product.