Editor's Note: The following write-ups were submitted by knife designers who work full-time in the self-defense and survival industry. Rather than simply explaining the physical characteristics of their blades, we asked each of them to give some background on why they devised them in the first place, as well as how they've changed over time.
Black Triangle
URL: blktriangle.com / Instagram: @BlackTriangleGroup
Above: The MK1 Mod2 and its sheath are both fully nonmetallic for enhanced concealability.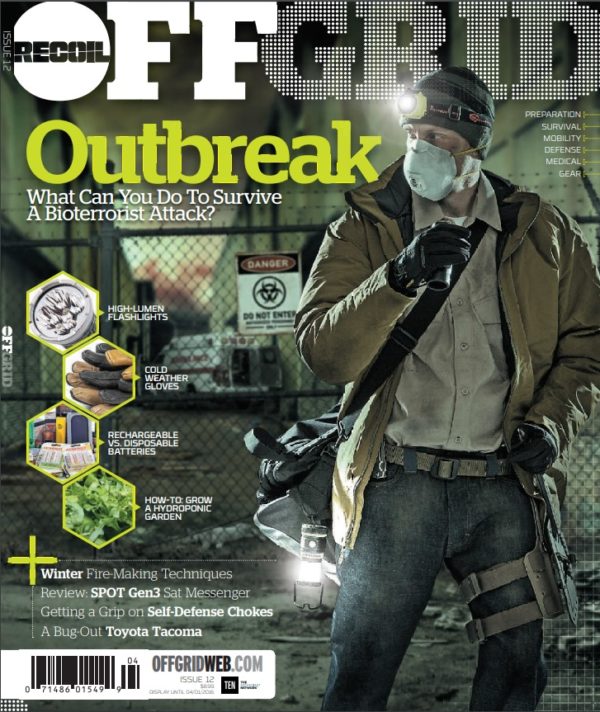 Subscribe Today and Save!
Tell us a little about your background and interest in survival skills.
My interest in survival skills peaked while working close protection. Most of the work was done in major metropolitan areas and because of many of the locations, I found myself poorly armed due to local law or company policy. Being a good driver and having soft skills such as interpersonal communication ended up being more valuable than the equipment I was carrying. I did, however, spend much of my downtime scheming how to carry items to save myself or the client while not drawing unwanted attention. These ideas ended up becoming the foundation for my brand, Black Triangle.
What's your knife of choice?
Five years and multiple modifications later, and we have the Black Triangle Midnight Creeper MK1 Mod2, my favorite knife to carry. It is a 7-inch-long fixed nonmetallic knife made from G-10. The handle is wrapped in gutted, epoxied paracord for a confident grip. The knife, sheath, and hardware are all 100-percent metal-free. G-10 knives do have their limitations compared to steel, but this is a fighting knife that has been proven in both controlled testing and out in the real world. It can simply go a lot of places where steel knives cannot.
What led you to choose this knife?
I chose the MK1 Mod2 for both practicality and sentimental reasons. This was our first knife so it holds a special place among the other models. It's also the knife that has been tested the most. It has withstood extreme low temperatures (-44 degrees F), been submerged in seawater with no adverse results, and performed exceptionally when tested on organic mediums. It can go many more places than just past a metal detector. You can take this knife into virtually any environment, and it will perform its duties as a defensive tool.
Is there anything you'd change about it?
One thing I would like to change about the MK1M2 is something that we are actually in the process of developing — adding an index point to the pommel. That variant is coming soon. For those end users who feel the MK1 is too large, or those who want further reduction in signature, MK2M2 and MK2M3 are the smaller siblings to the MK1M2.
Corvus Survival (Jerry Saunders)
URL: corvussurvival.com / Instagram: @corvus_survival
Above: The Corvus Carrion is a compact blade that caters to a variety of everyday and survival tasks.
Tell us a little about your background and interest in survival skills.
I'm a Marine Corps veteran, Scout Sniper, and former chief instructor of survival for the United States Marine Corps, Mountain Warfare Training Center. I'm an internationally recognized survival instructor for work in cold weather survival, and also a former Park Ranger, federal LEO, firefighter, EMT, and SAR Tech. I currently hunt, fish, farm, and forage while operating a small homestead in the upper peninsula of Michigan, and I make knives in my home workshop. (Editor's Note: If you haven't already, check out our full Survivalist Spotlight interview with Jerry Saunders.)
What's your knife of choice?
I call it the Corvus Carrion. It's a tool I carry every day regardless of whatever else I am carrying. For example, right now, I'm running a really cool prototype Sgian Dubh I've been working on, and my Carrion is still clipped down on the right leg pocket of my pants. I still grab it first. It not only performs great, it has a primitive look and feel that undeniably hardwires you to the past. The Carrion is a 6-inch knife with a 2.6-inch Scandi grind edge and 90-degree spine. The materials are 80CrV2, commonly nicknamed "Swedish saw steel," and thin hemp cord coated in a custom epoxy blend that provides a dry texture. Every Carrion comes with an ambidextrous deep-carry Kydex sheath.
What led you to choose this knife?
"Make a knife that complements a primitive scavenger mindset" — that was the thought that started the journey that is now the Carrion. I have always lived in very rural areas, about an hour from any town, and it's not uncommon to reach for a knife 10 to 20 times a day for various tasks and chores. These include making fire, foraging, and cutting meat. I wanted a knife that wasn't so big that it gets left on the nightstand but was robust enough that it would not break a sweat if asked to punch outside its weight class.
Is there anything you'd change about it?
Since its conception, there have actually been seven structural changes. Many are evidence of my growth as a knife maker, but others are just refinements from my own use and feedback from customers. One prime example: The original intent with Mod 0 was to be able to unravel a paracord-wrapped handle and fashion a spear out of it. I did it once, just to say I did it, and then I axed that idea. Today, my signature version Carrion now sports the iconic burnt hemp wrap, giving the knife a primitive look and feel. Over the past couple of years, there have been different one-off versions — double edge, custom handles, trainers, hammered finishes, and even a few flat ground Carrions. After the latest addition of the ambi Kydex sheath, I don't foresee any changes in the immediate future, however I'm always on the lookout for opportunities.
Delta2Alpha
URL: delta2alpha.com / Instagram: @delta2alphadesign
Tell us a little about your background and interest in survival skills.
I have always enjoyed the outdoors. From playing down at the creek as a kid — building traps, forts/shelters, and makeshift tools — to spending a weekend outdoors with only what I can fit into a 30L bag for gear testing. Getting out into nature and away from civilization makes me feel at peace.
What's your knife of choice?
I chose the Bravo 1 field knife, which I call "something your granddad would've bet his life on." It has that timeless feel, with 12-inch full-tang construction from 1095 carbon steel, a hardwood handle, sturdy metal guards (your choice of brass or steel), and a well-thought-out leather sheath. I'm especially happy with how the handle ergonomics turned out, since I believe a great knife should feel like a perfect extension of the wielder's hand. You should be able to focus fully on the task at hand, rather than the tool you're using to accomplish it.
Above: With a leather sheath, hardwood handle, and sturdy carbon steel blade, the Bravo 1 is intended to be a timeless design.
What led you to choose this knife?
The 1095 steel is a classic choice; it's very durable and easy to sharpen in the field. This blade design is great for general use in a variety of situations — big enough for real work, but light enough to carry on a belt all day. The handle is thick and easy to hang onto, reducing the chance for injury during chopping and other hard-use tasks. There's also a lanyard hole, because dropping your knife into water (or worse yet, onto your foot) can be disastrous.
Is there anything you'd change about it?
In the future, we may offer a different handle material, such as Micarta or stacked leather, as well as a different blade finish. Admittedly, these changes would be more about fashion than function, but I do think it's nice to have tools that look good.
FLDWRX (Ryan Atkinson)
Instagram: @fldwrx
The Variant One Wraith (pictured above) and MF Bladeworks Vandal (pictured below) bear some clear similarities to each other, since both are intended to be used in a Pikal grip.
Tell us a little about your background and interest in survival skills.
Raised in Los Angeles County, I played sports from age 5 to 22. High school coaches noticed me for my size and strength. I ended up earning a football scholarship to the University of Kansas. After playing college ball and graduating in 2002, I started working for a security firm out of Kansas City at age 22. Rock bands and pop stars on world tours were the specialties. After some short work exposure with The Eagles, Blink-182, and Korn, my first full-time gig was venue security director for the band Pearl Jam on their 2003 Riot Act tour. I learned the job from the inside out and had no prior relevant experience to pull from. Since then, I have worked for clients such as Good Charlotte, Linkin Park, Dashboard Confessional, Hilary Duff, Red Hot Chili Peppers, Motley Crüe, Dave Gahan of Depeche Mode, and KISS. (Editor's Note: For more on Ryan's background and lessons learned while protecting celebrities, refer to our Spotlight interview in Issue 48.)
Survival is relative to an individual's environment. My workspace is international, urban, fast-paced, chaotic, and almost entirely under the spotlight. A good security person learns to protect themselves first. Interpersonal and organizational skills, plus being relatable, keep us afloat.
What's your knife of choice?
Picking just one is impossible, so I'll pick two designs I've recently put out in collaboration with great makers. First is the MF Bladeworks Vandal, a 6.5-inch stonewashed S35VN steel knife with 2.5-inch blade. Second is the Variant One Wraith, made from 3V steel, with a 6.5-inch OAL and 3-inch blade. It has a black Cerakote finish by @candbqualitycoatings. Both blades are "backward knives," aka Pikal-style — they're meant for tip-down, edge-in use, and they're purpose-driven.
The handle of each knife fits entirely in my hand, with the angled punyo resting comfortably on the thumb for added grip strength. I like a 2.5- to 3-inch blade length, following "the rule of thumb;" if it's as long as an outstretched thumb, it's long enough to dig into a chest and touch the heart. Both knives have a dark finish to cut down visibility and are completely sterile with no maker's markings. Knives are meant to be felt, not seen.
What led you to choose these knives?
When I say they're "my design," I mean "built on the shoulders of giants." There's nothing new under the sun — I didn't come up with the ideas, I just put the things I've learned to be true into a cohesive package. I've done some intense training with Scott Babb of Libre Fighting, Ed Calderon of Ed's Manifesto, Doc Callidus of Callidus Collective, Johnny Primo of Courses of Action, and Bill Rapier of Amtac Blades. These men showed me their take on blade work, and I pulled from their knowledge and experience, as well as what makes the most sense to me.
Is there anything you'd change about them?
I like scales made from Sure Touch, a rubberized G-10 material that's not too sticky. I want to offer those on the Wraith in the future, and chamfer them a bit. I also like to have fun with colors and create a different narrative. So maybe in the future, I'll add some misleading goofy words like "for kitchen use" or "fruits and veggies only!"
One major thing I've noticed about knife design is that I always want to scale down a percentage. If it feels excellent in hand, I make it slightly smaller. Make sure the handle feels great in all grip angles. You never know how the knife will end up in your hand during a dynamic situation.
---
Prepare Now:
Disclosure: These links are affiliate links. Caribou Media Group earns a commission from qualifying purchases. Thank you!
---
STAY SAFE: Download a Free copy of the OFFGRID Outbreak Issue
In issue 12, Offgrid Magazine took a hard look at what you should be aware of in the event of a viral outbreak. We're now offering a free digital copy of the OffGrid Outbreak issue when you subscribe to the OffGrid email newsletter. Sign up and get your free digital copy Click to Download!
---