Do you associate Benelli with semi-auto guns?
Most of us do…from the famed inertia system to the gas-eating Marine Corps-approved M4, and even the weird combination pump and semi-auto M3, the company is well known for its semi-auto models.
But Benelli's SuperNova breaks that mold bringing a pump-action, 12-gauge shotgun that truly stands out in the very crowded pump-action market.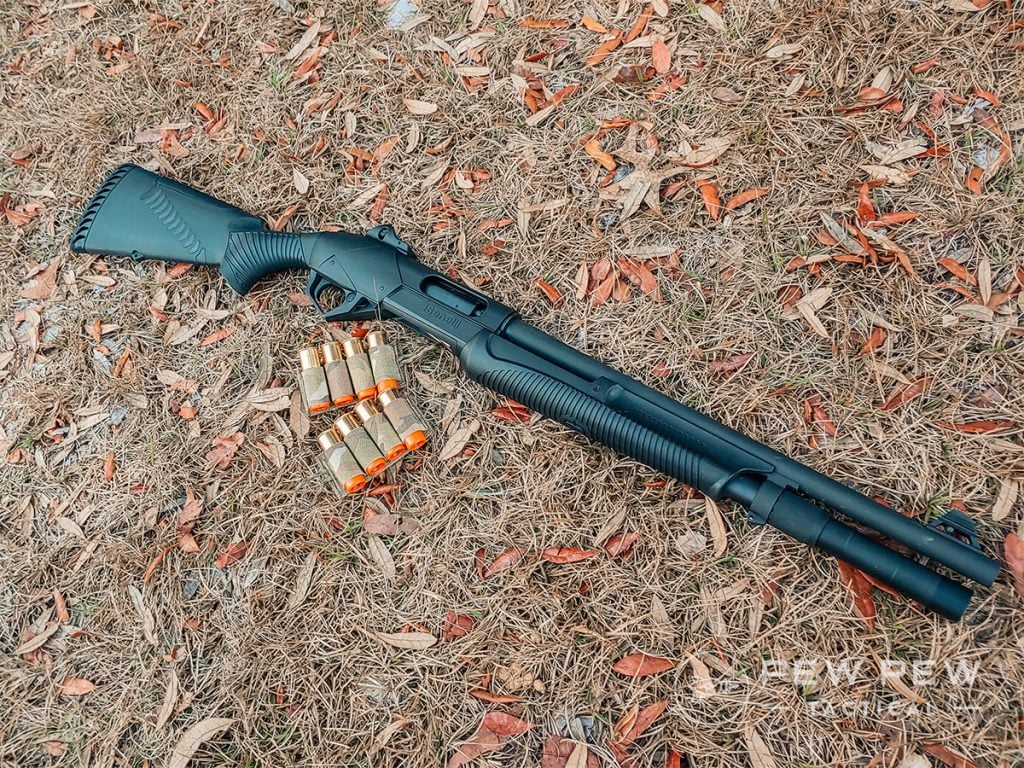 Unlike most Benelli's, the SuperNova doesn't break the bank either. It's often priced competitively with Remington and Mossberg shotguns.
So, you know we had to get our hands on this gun and give it a try. Today, we're reviewing the tactical variant of the gun with the field stock and ghost ring sights. 
Table of Contents
Loading…
Benelli SuperNova Tactical Review at a Glance
Pros
Compact
Ghost ring sights but also optics-ready
Ergonomic design
Cons
Not a lot of customization options
Length of pull is a little long
The Bottom Line
The Benelli SuperNova is an effective, comfortable-to-shoot option for those looking for a shotgun for both home defense and hunting. And the price isn't too bad either!
Specs & Features
Benelli doesn't waste space and keeps the barrel at a trim 18.5 inches.
That's the stock standard for a tactical 12-gauge, and while shorter is nicer, the NFA requires a stamp for anything less than 18 inches.
The 18.5-inch length gives some leeway for the inconsistent testing methods used by the ATF.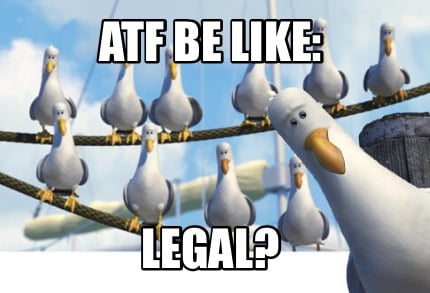 The overall length of the weapon is 39.75 inches, and it weighs 7.6 pounds. The length of pull is a long 14.75 inches. Even henchman-sized guys like me find that to be a long length of pull. 
We'll talk more about that later…
The Benelli SuperNova comes with a 4-round magazine tube. Oddly enough, the magazine tube comes plugged to only allow two rounds to be loaded.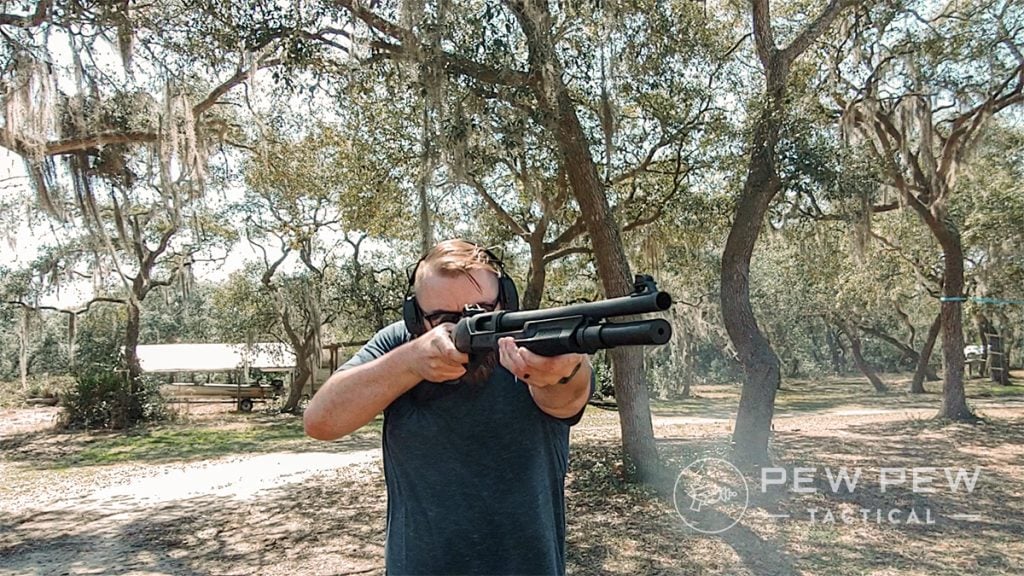 That's common in sporting guns, and the purpose is to keep the weapon legal when hunting certain species of birds. 
Removing the plug is easy enough. Four plus one is the absolute minimum for a tactical shotgun. I, like most, would prefer a little extra capacity in my defensive or tactical shotgun.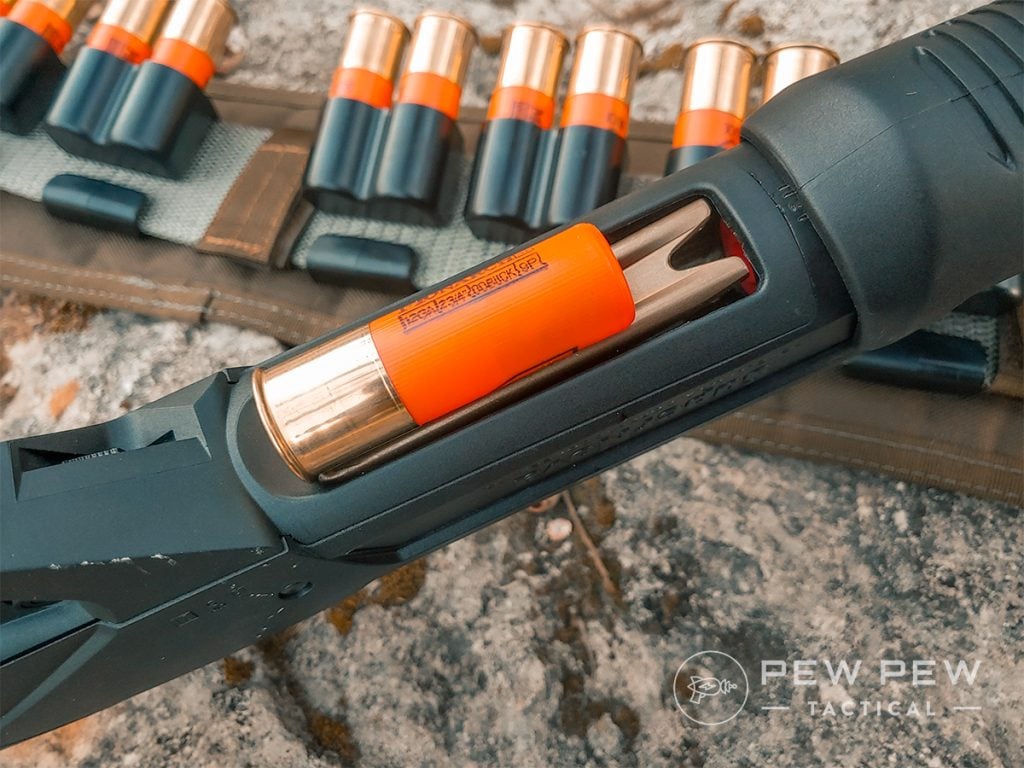 Luckily, adding a magazine extension is easy, and I did just that to get three extra rounds in the gun. 
Beads make great sights, but ghost rings are better, and Benelli believes in ghost rings. It's got a set of solid iron sights with a rear ghost ring and a big front sight. They are very well made sights, and very adjustable.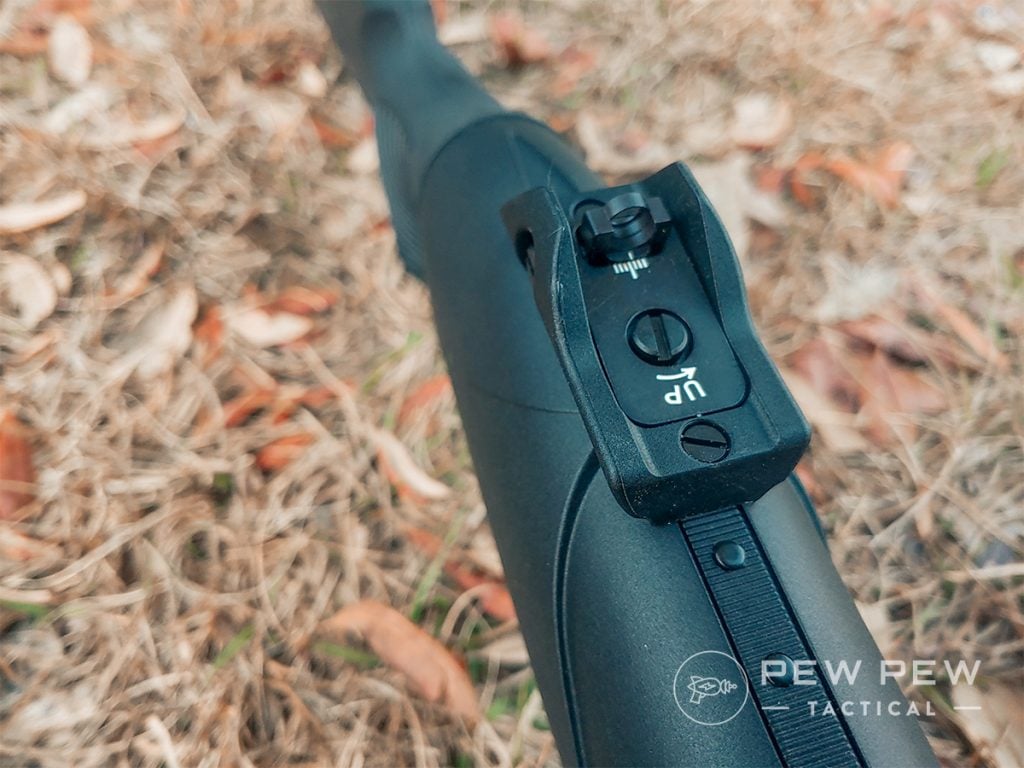 If you prefer optics, you're in good company. The top of the receiver is drilled and tapped for an optic's rail or mount.
The SuperNova works with Benelli M4-style optics mounts, just pop out the plastic plugs and pop on the scope mount with the screws.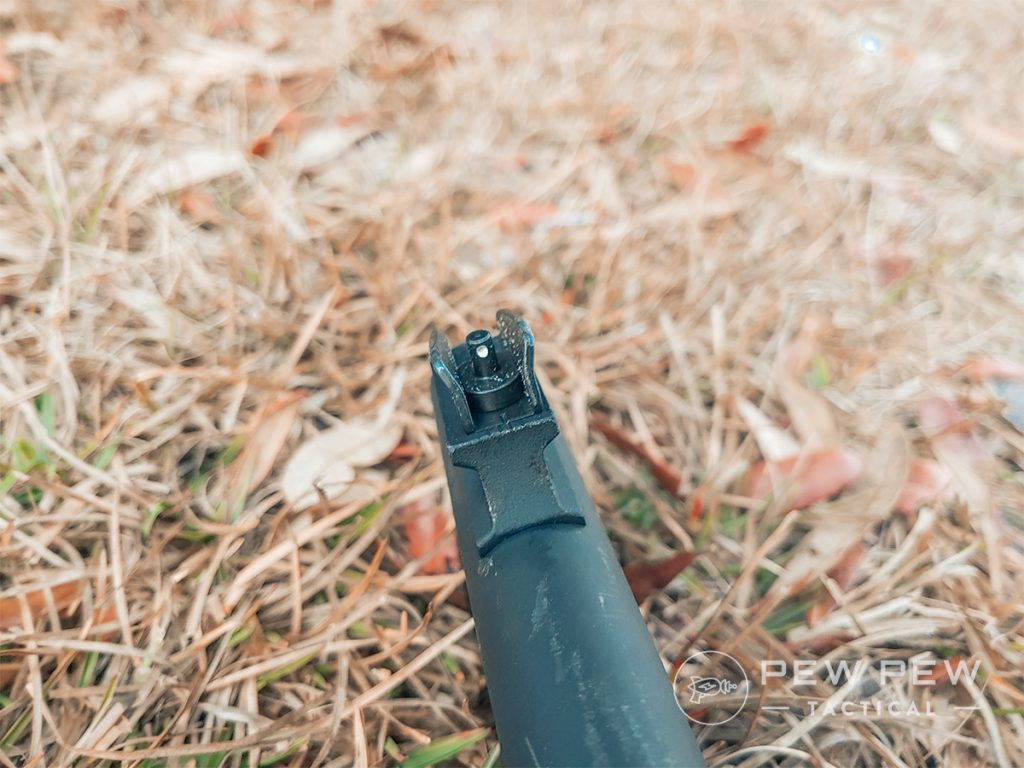 Who Is It For?
While Benelli markets the standard SuperNova towards hunters, the SuperNova Tactical is geared more towards home defense. With that said, it can still make a great hunting gun.
Fit & Feel 
Ergonomically the SuperNova provides a sound ergonomic experience. The trigger guard is massive, and your finger will find its way in. Its safety is reversible for lefties and is a push-button style that's rather large and easy to engage.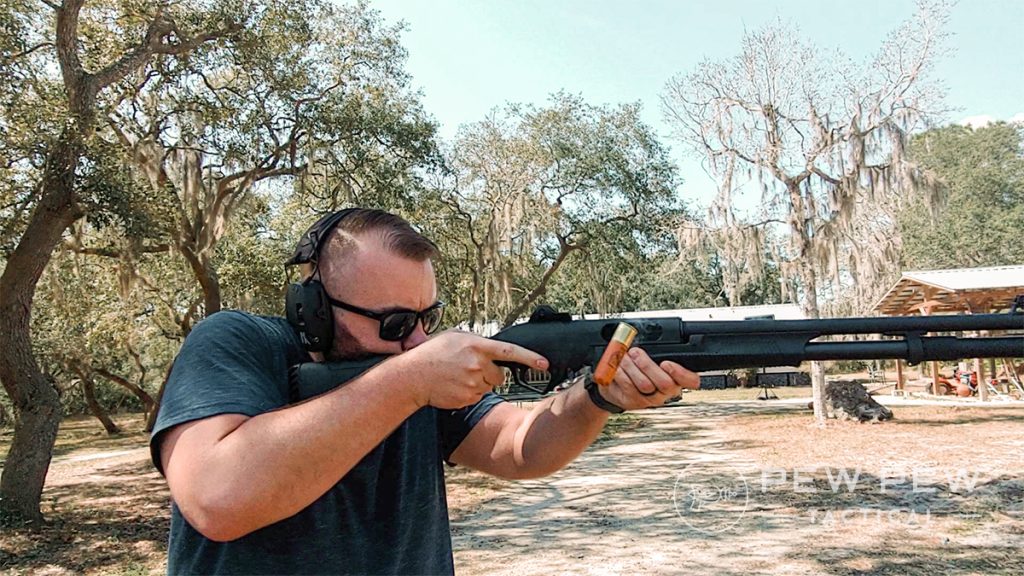 The pump release is forward slightly of the trigger, and it's intuitive. It's big enough, and I doubt it's an issue for lefties. 
Using the magazine cut-off isn't hard but takes a second to get used to.
You have to pull the pump slightly rearward, then hit the button and finish racking the pump rearward. Once the button's pressed, rounds won't feed from the tube, and you can do a hasty and intuitive slug select drill. 
Loading rounds directly into the port of the weapon doesn't pose a challenge either. That ejection port is massive and made for a 3.5-inch long shell. So shoving a 2.75-inch shell in the thing doesn't create an issue.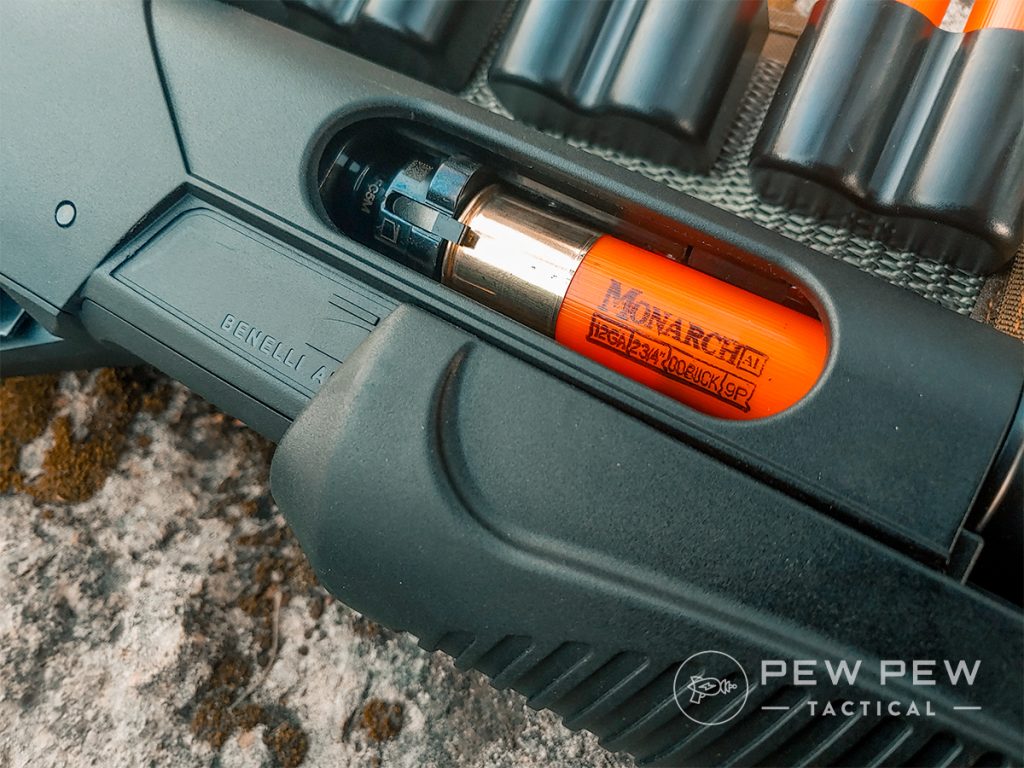 Port reloads are how you get a gun in action when it runs completely dry. Being able to get a quick reload in the pipe can be critical. Keeping the gun fed is also easy. It's got a big mouth in the form of a massive loading port. 
It's made for 3.5-inch rounds, and all that extra size gives you plenty of room to shove in standard 2.75-inch shells. It's easily the fastest reload I've ever achieved with a pump gun.
My main problem with the gun's ergonomics is the super long length of pull. It makes the gun feel unnecessarily long. The LOP makes it hard to assume a squared-off shooting position and forces a more sporting-style bladed stance to be used. 
How Does It Shoot?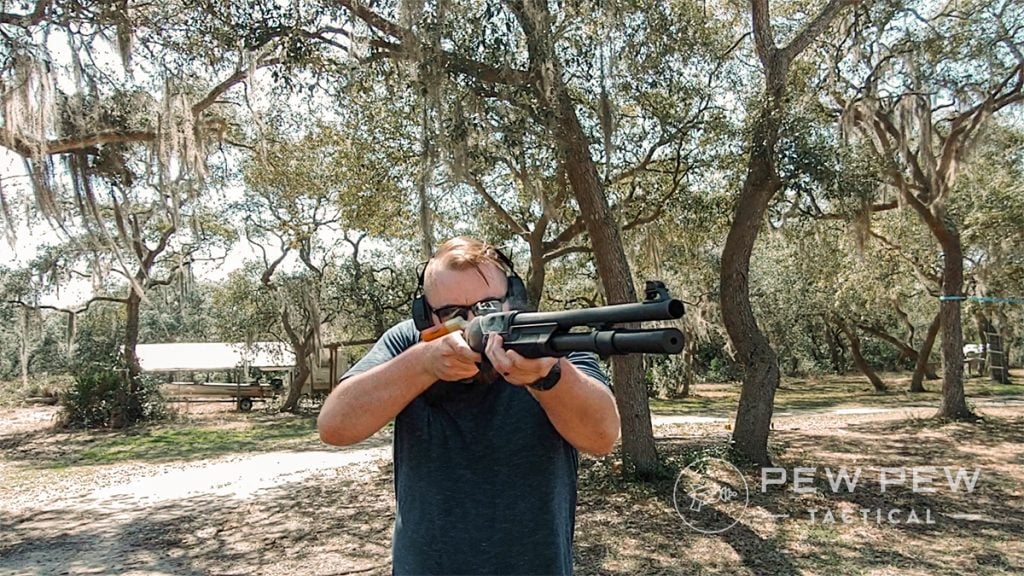 Speed means nothing without control. Banging hammers with the SuperNova and controlling the gun is quite easy. See those weird chevrons in the stock? 
That's part of the Comfortech stock, and those chevrons flex and cushion to reduce recoil and enhance control. With full-powered buckshot, the SuperNova stays comfy and won't beat you up. 
That long pump I mentioned earlier also features a good degree of texturing and a shape that makes it easy to get a grip on it.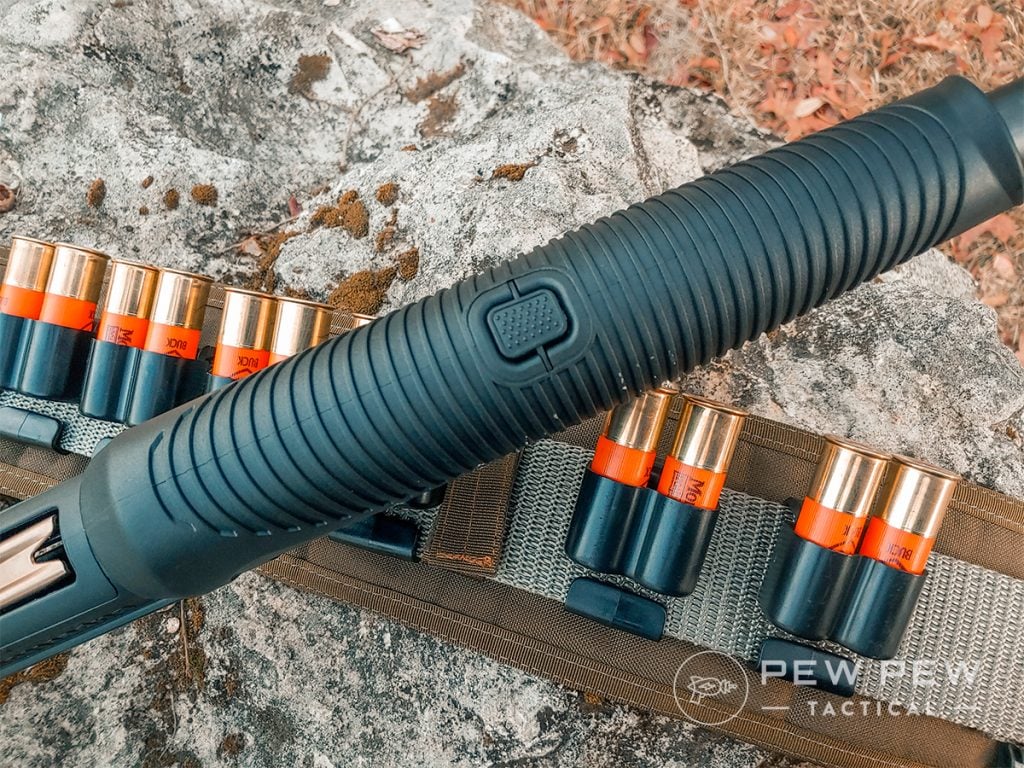 When you run a pump gun fast, your hand might slip rearwards and off the pump or into a compromised grip. That's not an issue with the giant Supernova pump. 
I use a push/pull technique to mitigate recoil. The texturing, shape, and length grant me a rock-solid grip to push forward on the pump and help maintain control. 
That long pump design also grants me more gun to grip. I injured my shoulders pretty bad when I was younger, and sometimes running a standard pump shotgun hurts.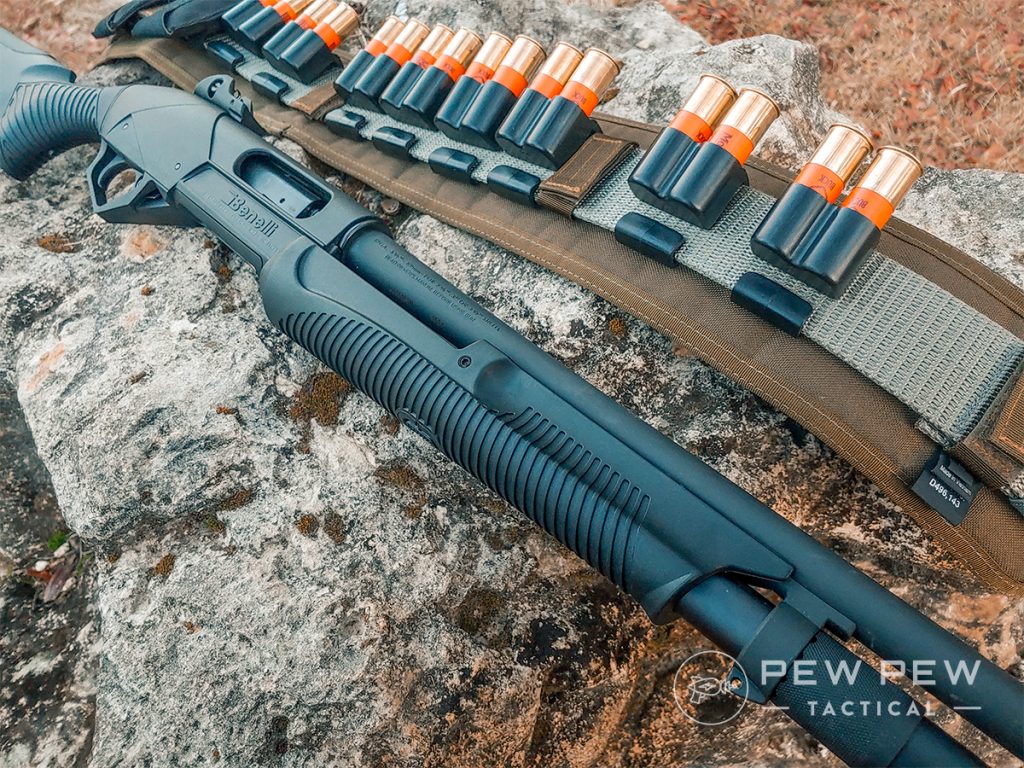 The longer pump allows me to grip closer to the receiver and resists stretching my arms out. 
It's less weight on my shoulders and a much more comfortable experience. 
What Sets It Apart?
The earlier Nova was a great gun, but not perfect. Benelli's SuperNova took the criticisms of the Nova and perfected it.
The Nova featured a one-piece construction receiver and stock, so switching stocks wasn't an option.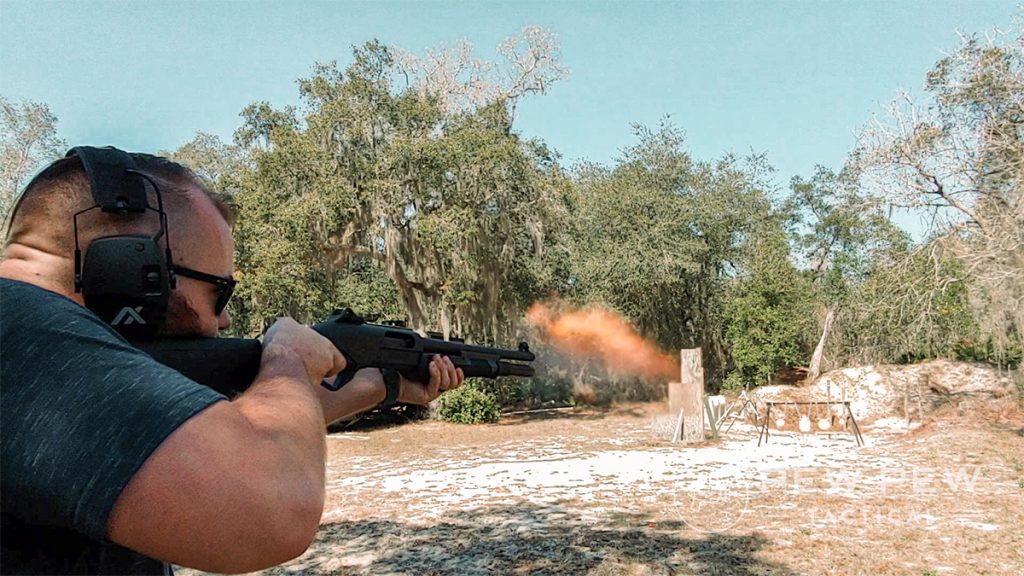 With the SuperNova, you can swap stocks. Additionally, the trigger guard is fairly large and accommodates gloved hands better.
The stock included with the SuperNova is Benelli's famed Comfortech design which claims to reduce recoil. 
The SuperNova comes with a shim kit that allows you to adjust drop and cast on the gun. It's an interesting idea and handy for those who like things to fit just right. 
How it stands apart from the Nova is one thing, but how does it stand apart from all the other guns on the market?
The most obvious difference is the polymer receiver. As far as I know, it's the only pump gun with a polymer receiver.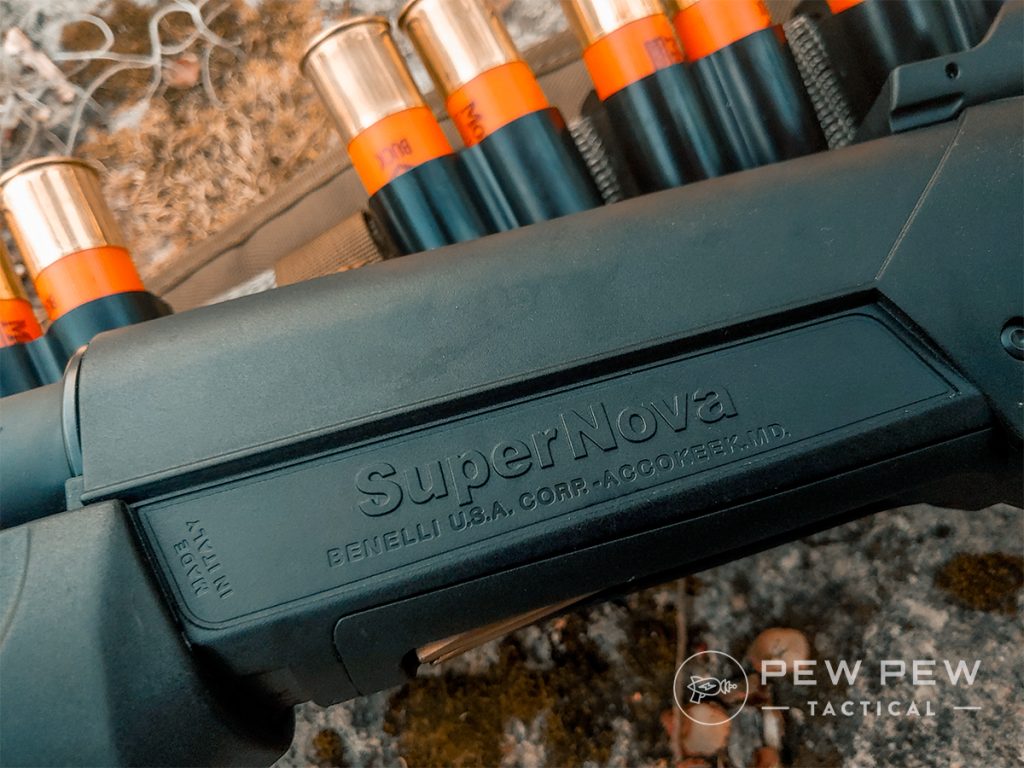 You might ask if this is a concern, will the polymer receiver crack under pressure?
Well, the Nova and SuperNova have been kicking around for over a decade, and that hasn't been an issue. Obviously, some metal sits into the receiver and forms a skeleton frame. 
Polymer's cool, but that's not the only awesome feature. The super-long pump is interesting and allows for a whole lot of grip on the gun. Most guns have a space between the pump and the receiver, and the SuperNova does not.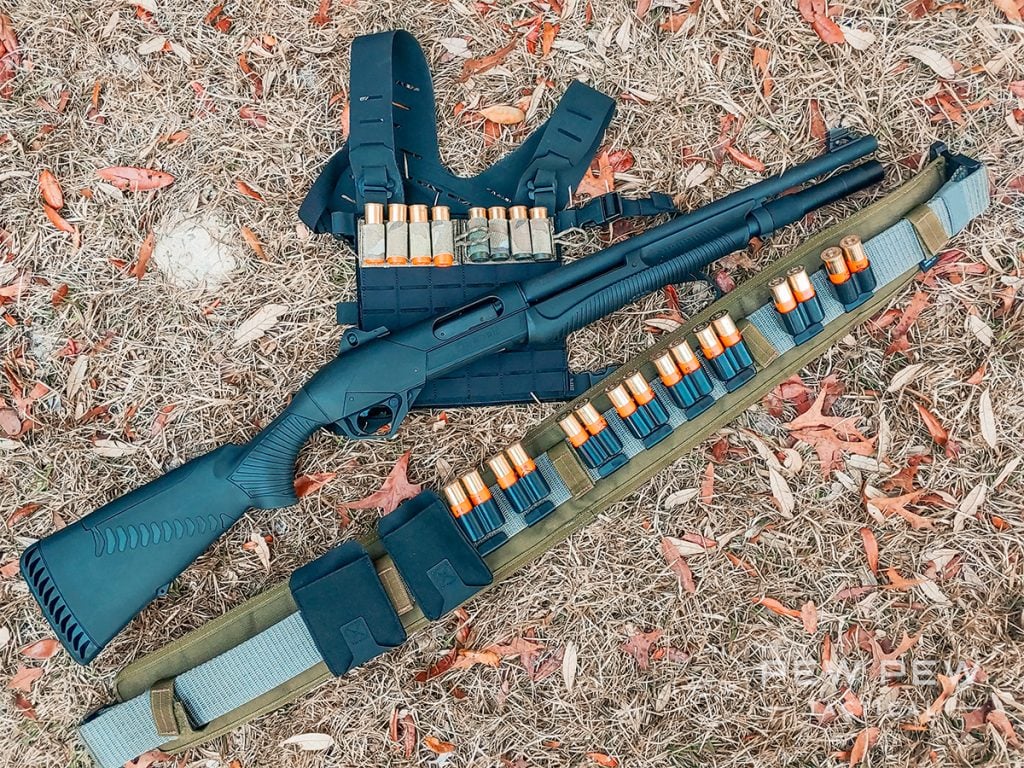 In fact, the pump goes so far back that it overlaps the receiver by about a quarter inch. The long pump means shooters with short and long arms can easily use the gun. We aren't done with the pump yet, either. 
In the center of it sits a magazine cutoff device. It's a button that, when pressed, prevents a shell from feeding into action. This is handy when you need to switch loads on the fly. 
The SuperNova also chambers 3.5-inch shells, which is rare for a shotgun.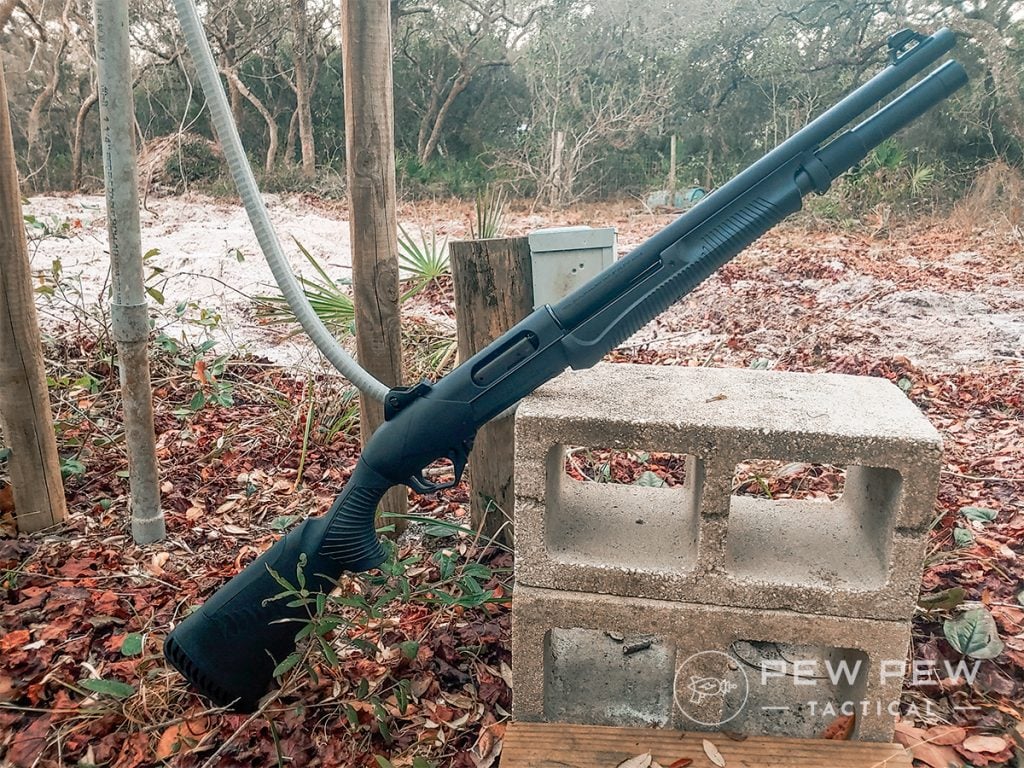 While 3.5-inch shells aren't commonly used for defensive shooting, it's always nice to have more versatility. The SuperNova could easily be a hunting shotgun, even if it's a "tactical" model. 
By The Numbers 
Accuracy: 5/5 
It's a shotgun that does shotgun things. The big sights make it easy to aim and easy to adjust for using slugs of high-end buckshot. I give the gun major credit for that. 
Reliability:5/5 
Pump-action shotguns are inherently reliable. However, the Supernova takes it a step further with a rotating bolt that flings those shells out of the gun with reckless abandon. 
Customization: 2/5 
Mesa makes a stock and a side-saddle, and that's about it. Not a lot you can do besides add an optic and extend the magazine tube. If you want customization, a Mossberg or Remington will take you a lot further. 
Value: 4/5 
It's not as cheap as a basic Mossberg or Remington Express. They tend to cost right around 870 Magpul or Mossberg 590 prices. Although, you get a much more modern shotgun. It's by far the cheapest Benelli. 
Ergonomics: 4/5 
The ergonomics mostly rule. I love the pump design, I love the huge ejection and loading port, and I love the reversible safety and the shim kit to change drop and cast. I don't love the length of pull, though. 
Overall: 4/5  
The Benelli SuperNova is one helluva shotgun. It's a sweet pump-action design that brings innovation into a market that hasn't moved far beyond the 1960s. 
Upgrades for the Benelli SuperNova Tactical
Unfortunately, there are not really a lot of upgrade options for the Benelli SuperNova. Mesa makes a great stock that shrinks the LOP down to 12.5 inches and adds a pistol grip.
Mesa also makes a nice side saddle that provides Picatinny rail and space for storing up to 6 shells.
Other than those two, however, there's not much out there.
Final Verdict
On paper, the Benelli looks solid, and it's not just good looks. At the range, it performs very well.
I've handled lots of pump-action shotguns, but I don't think I've ever had an action as smooth or as light as the SuperNova's. This includes a direct comparison to my 1971 Remington Wingmaster.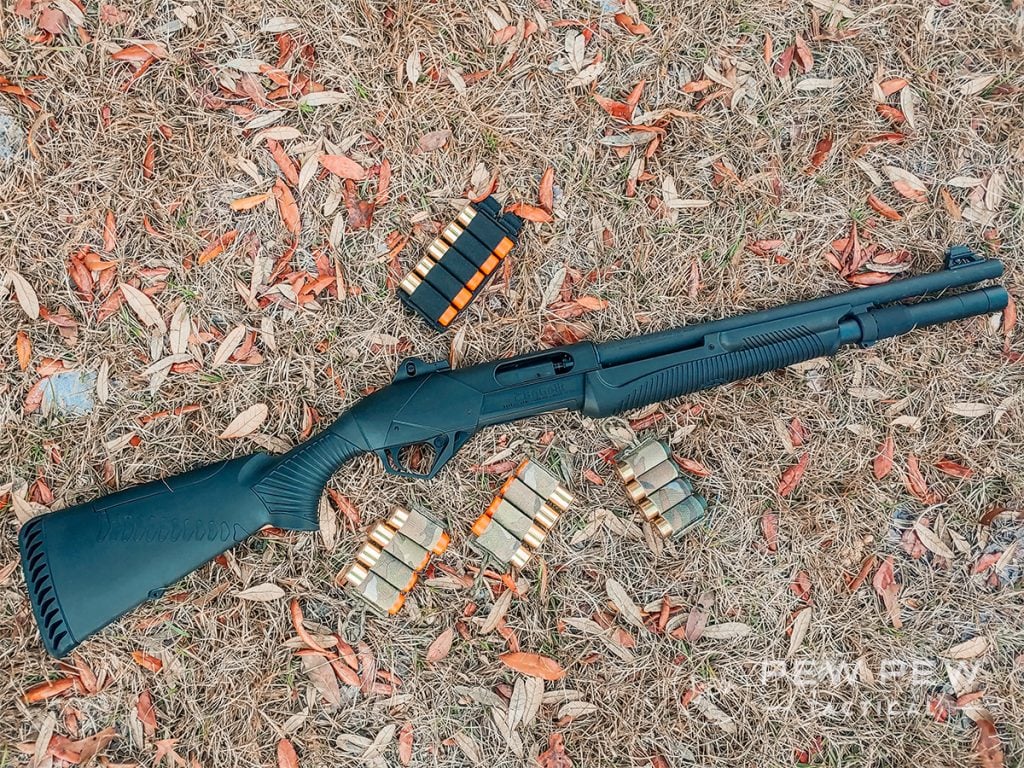 I'm surprised at how rarely I see the SuperNova mentioned in modern shotgun discussion. It's a well-built, modern, and easy shooting gun. Benelli put the same innovation in it that they do all their guns. 
It's well on its way to becoming my favorite shotgun and might become my home defense gun sooner rather than later. 
Have you shot the Benelli SuperNova? What did you think? Share your thoughts in the comments below. Want more tactical-style shotties? Check out our Best Home-Defense Tactical Shotguns.