The world is full of striker-fired 9mm defensive handguns with companies offering more sizes, models, capacities, doo-dads, and gizmos available than we've ever had. Not to mention, companies offering clones of all of the above.
It only makes sense that some gun makers would want to provide well-built guns based on an existing solid platform…and the Lone Wolf LTD19 looks to be one of those options.
Based on the Glock G19, the LTD19 is a 15-round 9mm, striker-fired gun poised to take on the carry and defensive worlds with the know-how of Lone Wolf powering it.
Is it a solid choice? We think so, but come walk through this gun with us as we look at the pros, cons, specs, and features.
Table of Contents
Loading…
Pros & Cons
Pros
Takes Glock mags
Familiar Glock feel but elevated style
Reliable and durable
Cons
Pricier than a stock Glock (MSRP is $749 vs. Glock's $559)
Grip is a little slippery during high volume shooting
Must pull trigger to break down for cleaning
The Bottom Line
The LTD19 can't beat the Glock price but it does deliver a similar gun with enough features to make it interesting and unique. It's best for those that like the Glock aesthetic but want a little more in terms of features.
Specs & Features
Specs
Width: 0.99"
Length: 7.16"
Barrel Length: 4"
Height: 4.77"
Weight: 21.3 oz (empty)
Capacity: 15+1
Features
Optics Ready Slide
Accepts Glock mags
Bladed Trigger
Source: Lone Wolf
Background
The LTD19 is built very well by a company with a really good reputation for barrels, pistol kits, and complete pistols.
With an obvious nod to the Glock G19, the LTD19 aims to provide more features on a familiar platform.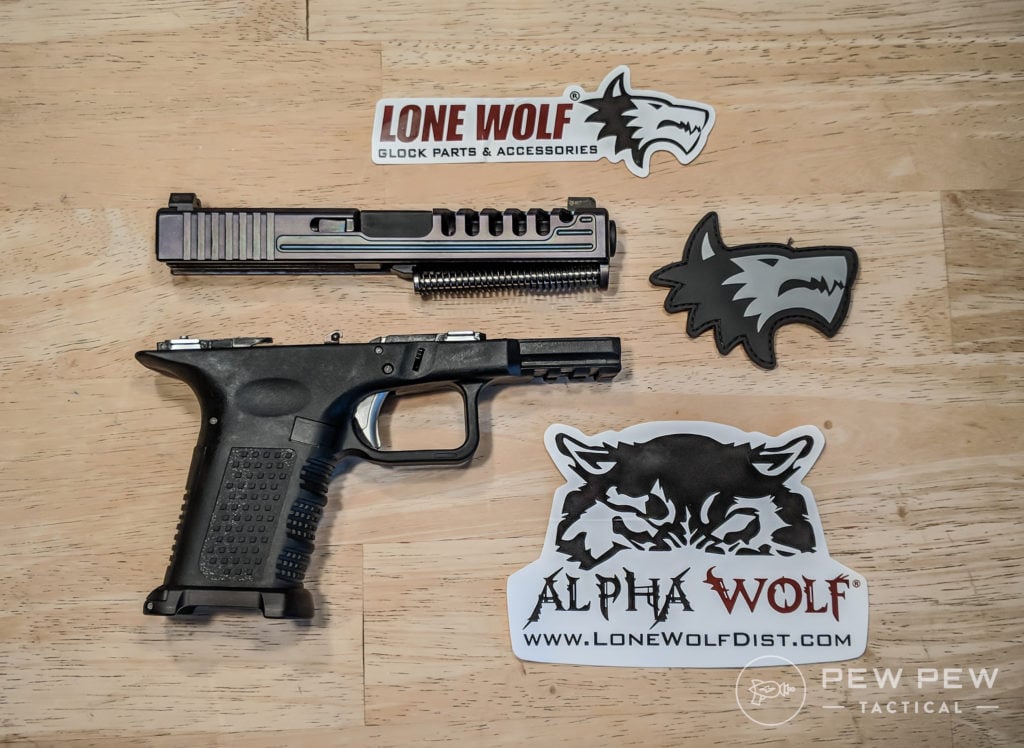 Lone Wolf has taken care to lighten its version, using angular cuts on the slide to lighten the load and reduce recoil.
Overall, it seems like a cool way to take on that Glock look but really kick things up a notch.
Who Is It For?
If you are a Glockophile that loves the general Glock vibe but you want something a little more, then the Lone Wolf is great for you.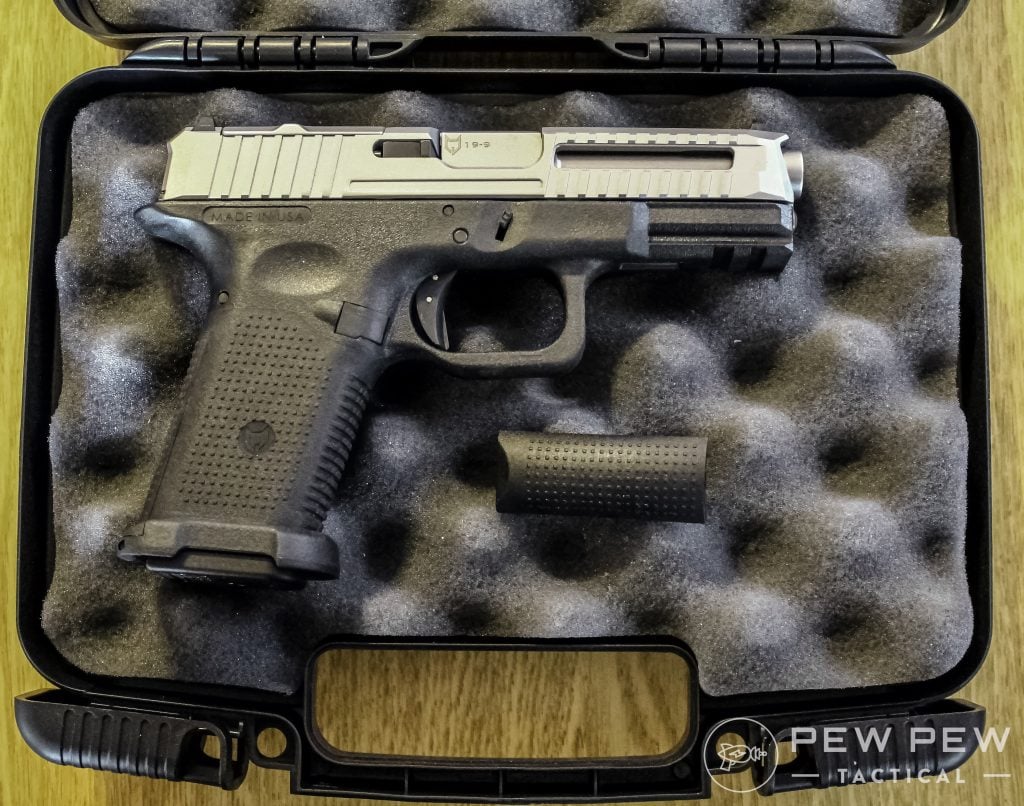 From home defense to carry, this gun will get the job done and do so in a way that feels familiar.
Fit & Feel
This is the second LTD19 I've gotten my grubby hands on…and I like it! Though the L1D19 series costs more than a stock G19, the quality of construction and materials feels top-notch.
Grip-wise, it features some moderately-effective raised texturing. If you're a fan of aggressive stippling, though, you might want to add some or toss on some grip tape.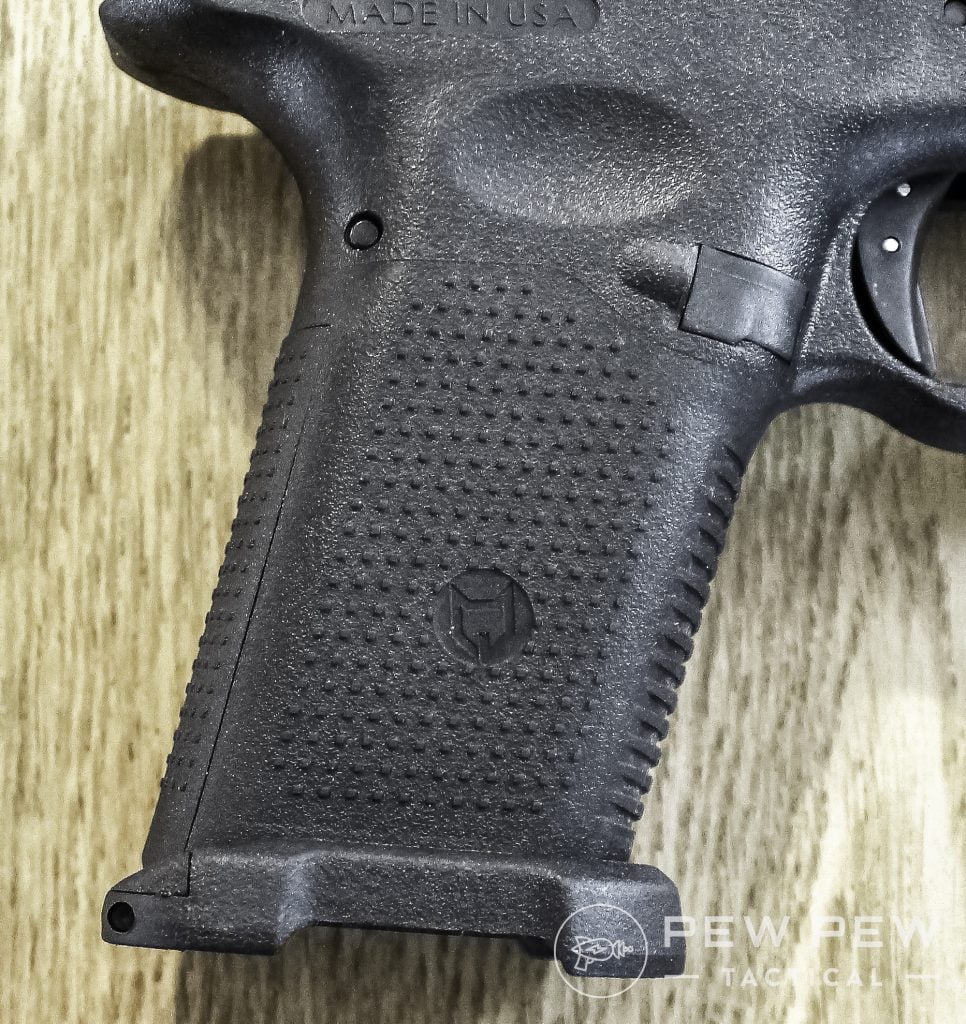 Not going to lie, it tended to squirm when I shot it.
The gun ships with an extra backstrap, so there's the option to swap out. Changing them is easy enough, just punch out the mag well extension pin, remove the extension, then punch out the backstrap pin. Put the new one on, then reverse the process.
How do you clean it? Exactly the same way you'd clean your Glock.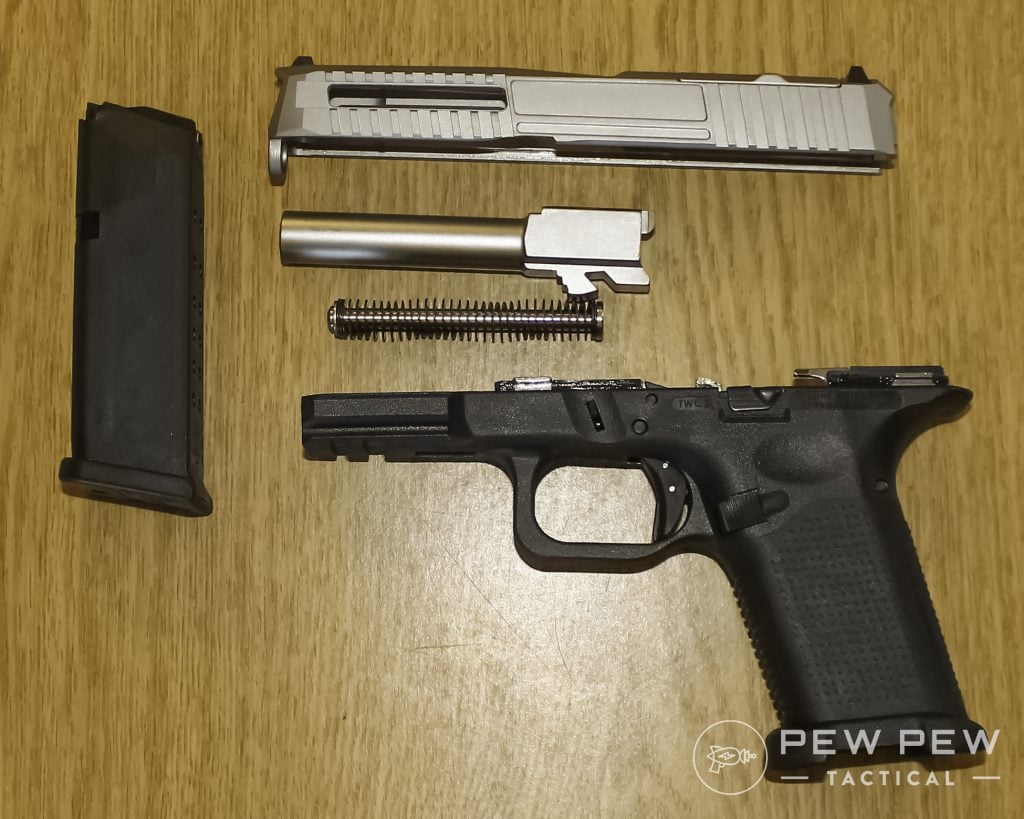 Remove the mag and make sure it's empty. Pull the slide back a half-inch or so, pull the trigger and drop the takedown tabs.
Slide the slide off and separate the barrel and recoil spring. Easy peasy.
How Does It Shoot?
I shot from a rest at 20 yards using Fiocchi's Range Dynamics and Training Dynamics 115-grain FMJ loads. All in all, the gun shot really well, averaging a velocity of 1,200 fps.
Though the loads offered up similar performance, one felt a little hotter in terms of recoil.
In addition to the Fiocchi loads, I also incorporated some handloads. I've been reloading for over 40 years, so I always like to try one load just to see where my bullets go.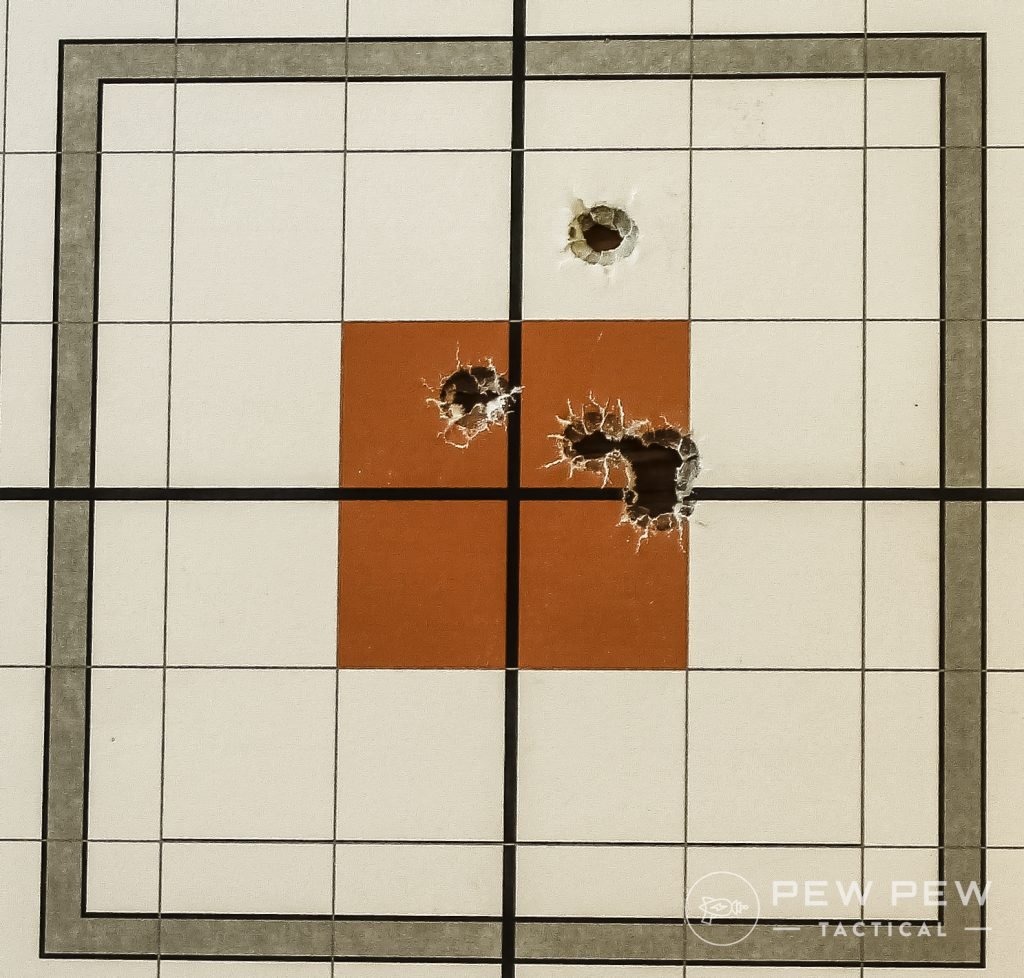 I tended to shoot just a little to the left, but not too terrible. It could very well be the loads I was using.
As I mentioned earlier, the slide cuts in this gun definitely lighten the overall feel. Additionally, they help mitigate some of that recoil.
All in all, this gun was pretty nice to shoot and a nice upgrade.
What Sets it Apart?
Why would you want one of these? Well, for Glock owners, they are enough like the G19 that you will have no trouble getting used to it ― everything is in the same place as it is on your Glock.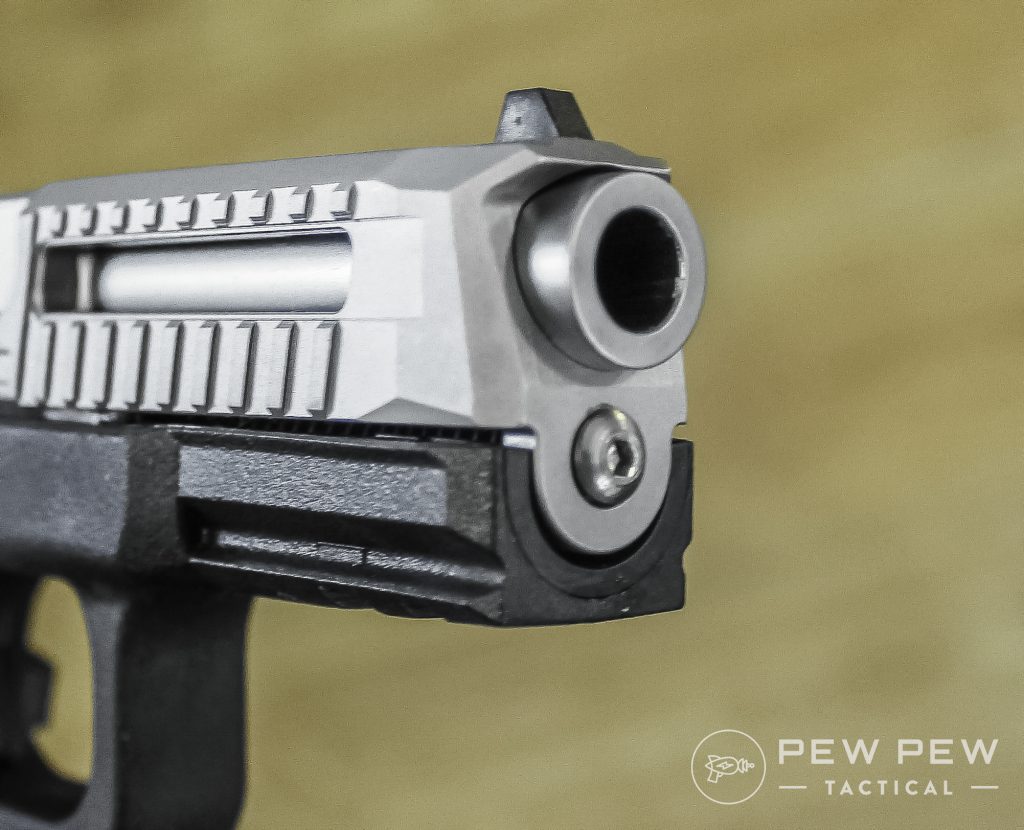 But these guns go the extra mile with slide cuts, angular styling, nice "overbite" at the muzzle, optics cut ― what's not to like?
It makes for one great carry gun or a good home defender with a long mag in it. Add a laser or a light to the rail for a dependable bed stand gun or stick a red dot on it for carry. It's a win-win.
By The Numbers
Worked every time I pulled the trigger.
The cut, angular slide gives the gun a distinctive look while the overall feel is great in the hand.
It's accurate enough for its intended purpose.
Lone Wolf is known for parts and the nice thing about a clone is there are a lot of ways to customize.
A bit steep for a Glock 19 clone, even with an optics cut
Upgrades for Lone Wolf LTD19
Having a Glock G19 profile means that you can use largely the same upgrades — from PMAGs to some holsters.
Final Verdict
If you are a fan of the Glock G19, then this gun will be totally familiar to you from the get-go.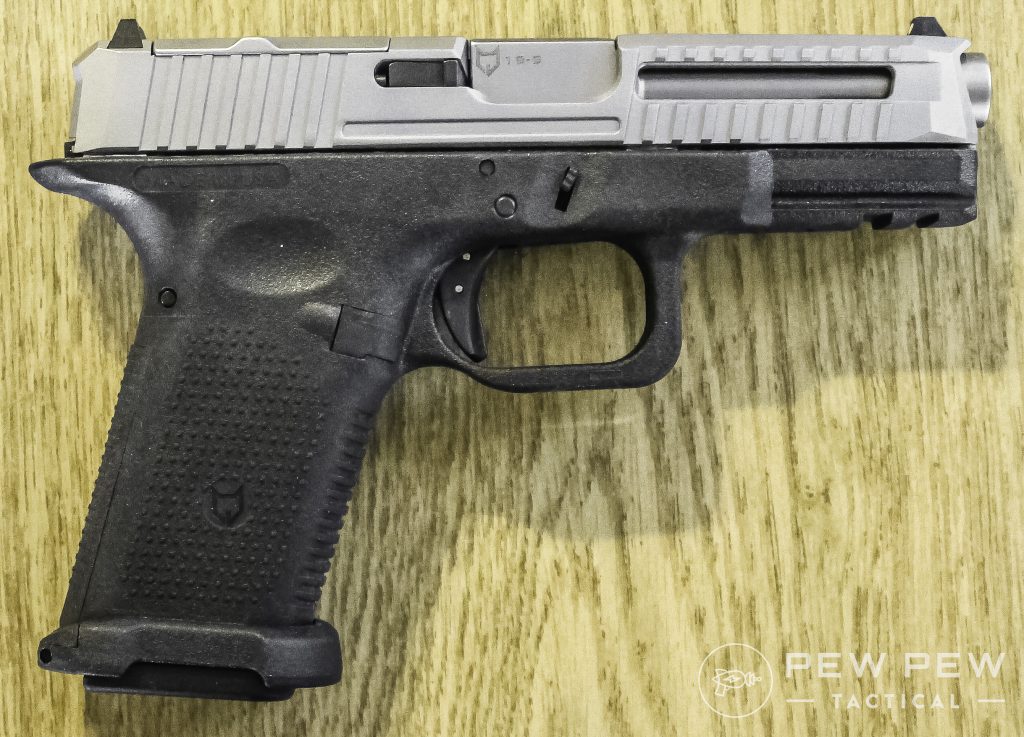 However, if you're not familiar with the G19, then this gun might come as a pleasant surprise. It doesn't matter which camp you're in ― the Lone Wolf LTD-9 is a gun that will put its bullets where it looks and will last a while.
I think you owe it to yourself to give this Wolf a try.
What do you think of the LTD19? Let us know in the comments below. For more pistols with a Glock style but without the Glock logo, check out our round-up of the Best Glock Clones.