Looking for a takedown rifle that's 3.5 pounds and can be assembled in under a minute?
Boom, I've got the Henry AR-7 Survival Rifle in .22 LR for you today.
I'll cover how this purpose-built little rifle might be your next gun for backpacking and general prepping.
Coupled with some super quick history and of course…shooting, reliability, and more! Keep reading!
Table of Contents
Loading…
Henry AR-7: Review at a Glance
Pros
Breaks down for easy carry while hiking
Fun to shoot
Cons
Buttstock is thick and can feel weird
Ammo can be finicky
The Bottom Line
Henry's AR-7 is perfect for those who like to backpack or hike but want a little protection along the way. It's lightweight, compact, and the perfect addition to a camping backpack.
Specs & Features
Specs
Caliber: .22 LR
Length: 35″
Barrel Length: 16.125″
Length of Pull: 14″
Weight: 3.50 lbs
Capacity: 8 rounds
Features
Two 8-round mags
Best for target/hunting/survival
Rear peep sight, front blade sight
Easy to disassemble
Source: Henry USA
Background
The AR-7 was another Eugene Stoner production (along with the AR-15) while he was at Armalite in the '50s.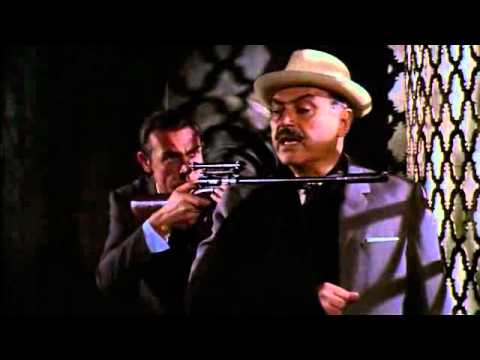 Armalite sold the rights of the AR-7 to Charter Arms in 1973 which kind of messed it up and contributed to a less than stellar reputation for the AR-7.
Henry Repeating Rifles got the design and production rights in 1980 and fixed it up a bit (more details coming up).
Who Is It For?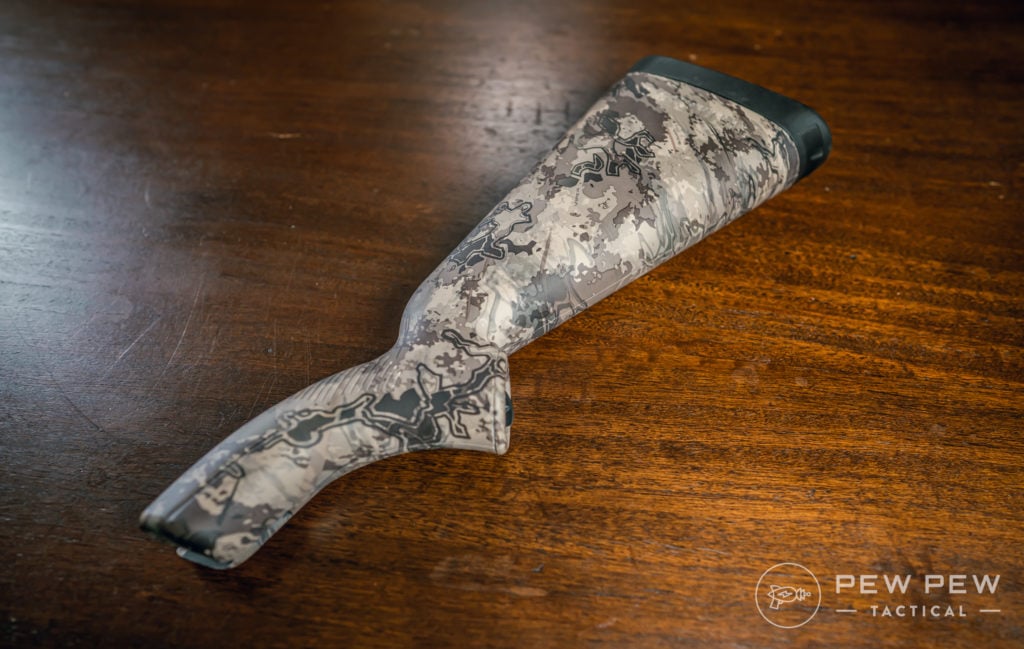 Pilots and crew who need to survive after bailing out (its original purpose)
Someone who wants a 16-inch takedown survival rifle for backpacking or prepping in their go-bag
Someone who wants a utility rifle in their vehicle in an emergency
Someone who wants a super-light 3.5 pound rimfire rifle for plinking at the range
Fit, Feel & Assembly
All the guts (barrel, receiver, mags) come in the ABS plastic buttstock.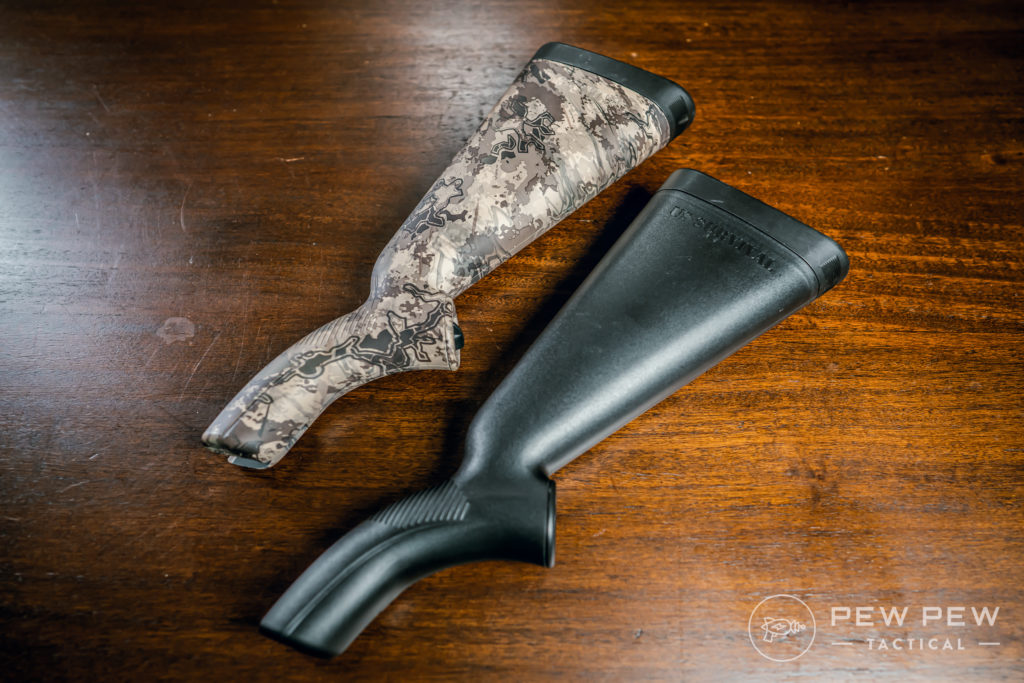 All you need to do is pry open the back.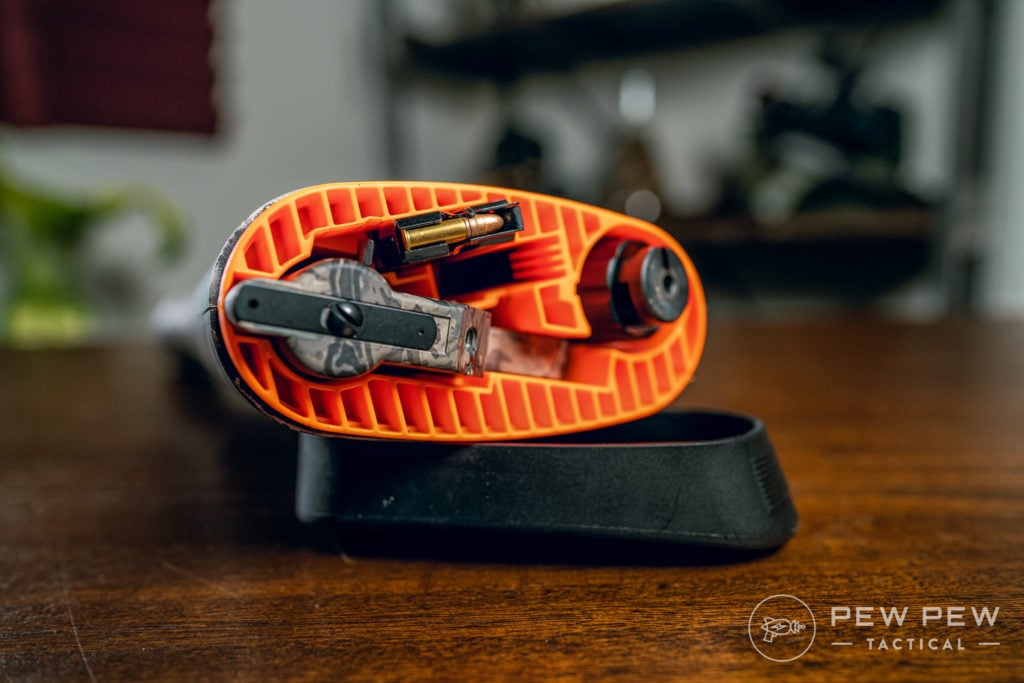 And dump everything out…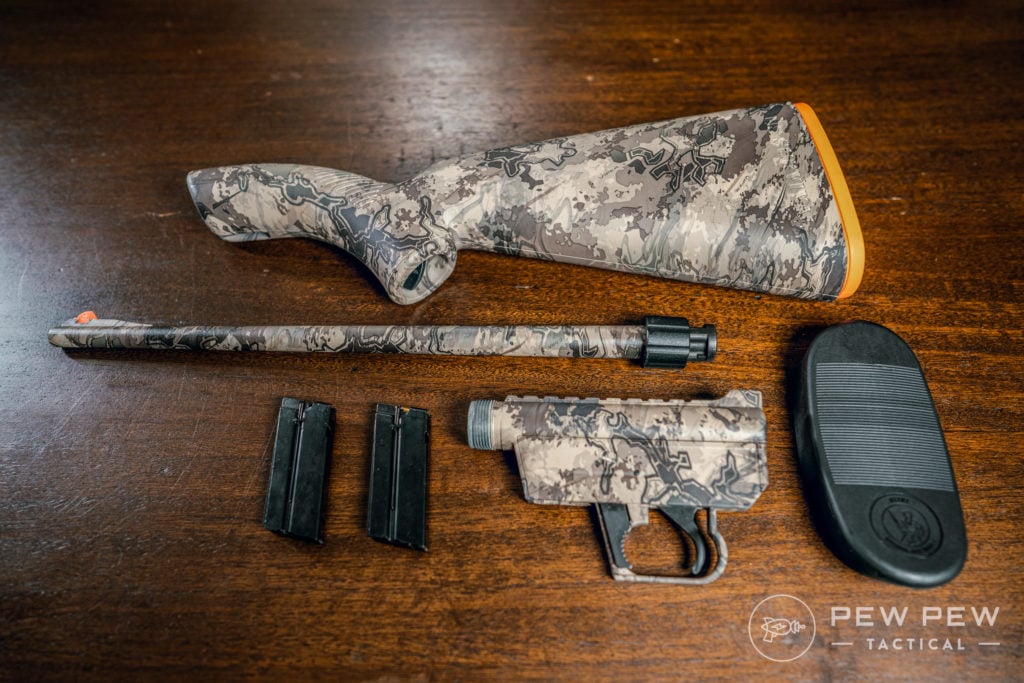 I like the orange back of the buttstock which lets you know if you didn't get a complete seal. It will keep a decent water seal that will keep the AR-7 afloat for some time.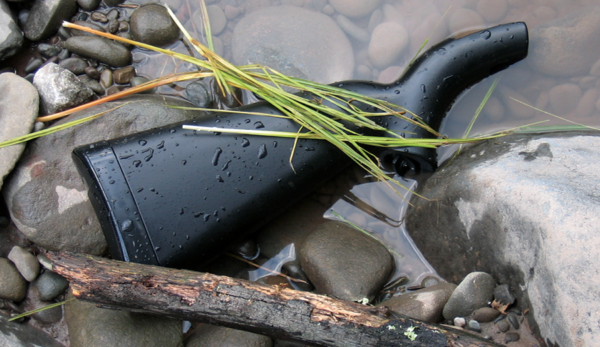 You can tape or add some Saran wrap before covering to give it an extra edge.
Assembly is super easy and once you practice a few times…easily under a minute.
I'm not quite sure if there's a proper order…but here goes!
Find the receiver screw and line it up with the buttstock and use the plastic knob on the bottom of the grip to get it tight.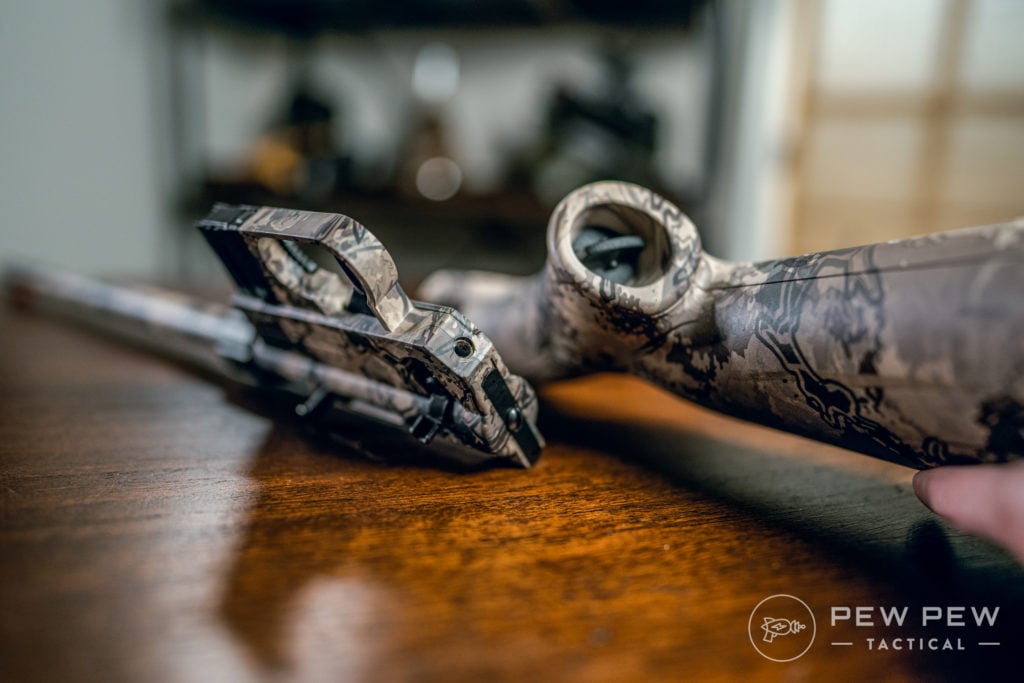 Then attach the barrel to the receiver…it has that indexing nub that's familiar to anyone who has built an AR-15.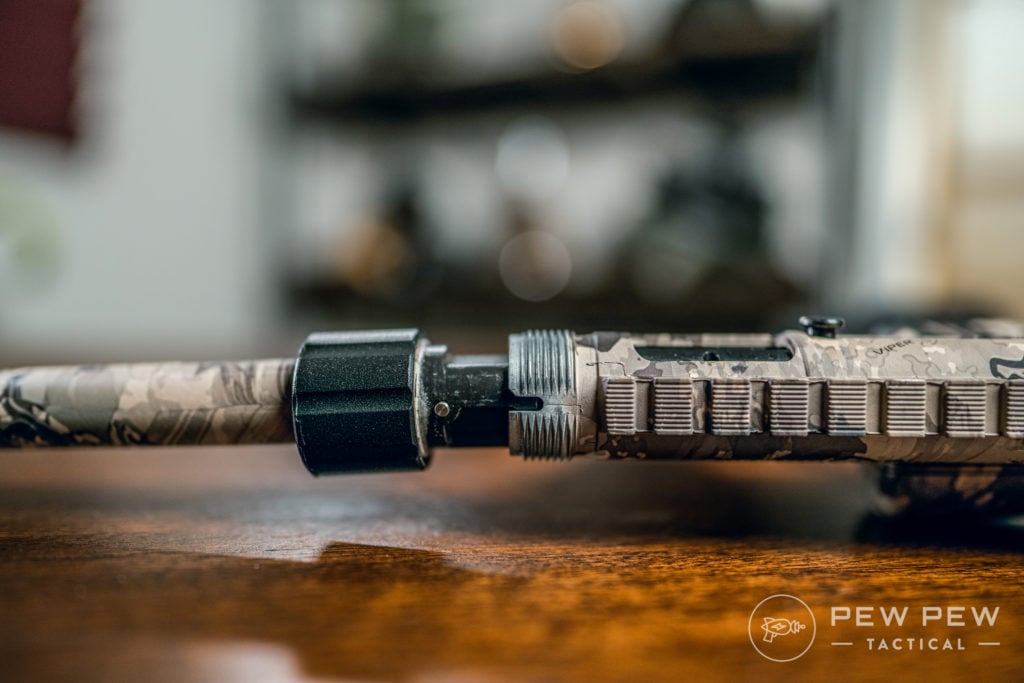 Hand-tighten the nut and that's it…but don't forget to put the buttstock plate back on.
Mags go in like mags do…and the mag release is on the left side.
The package comes with 2 8-rounders but you can easily fit three with one in the receiver.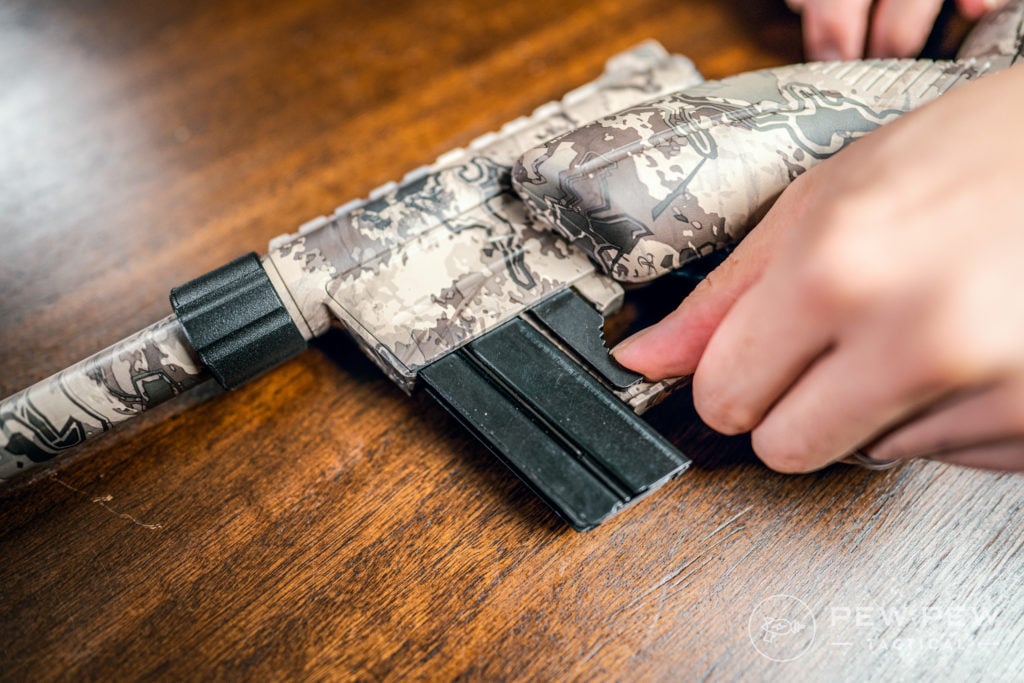 The bolt is pretty cool in that it's recessed…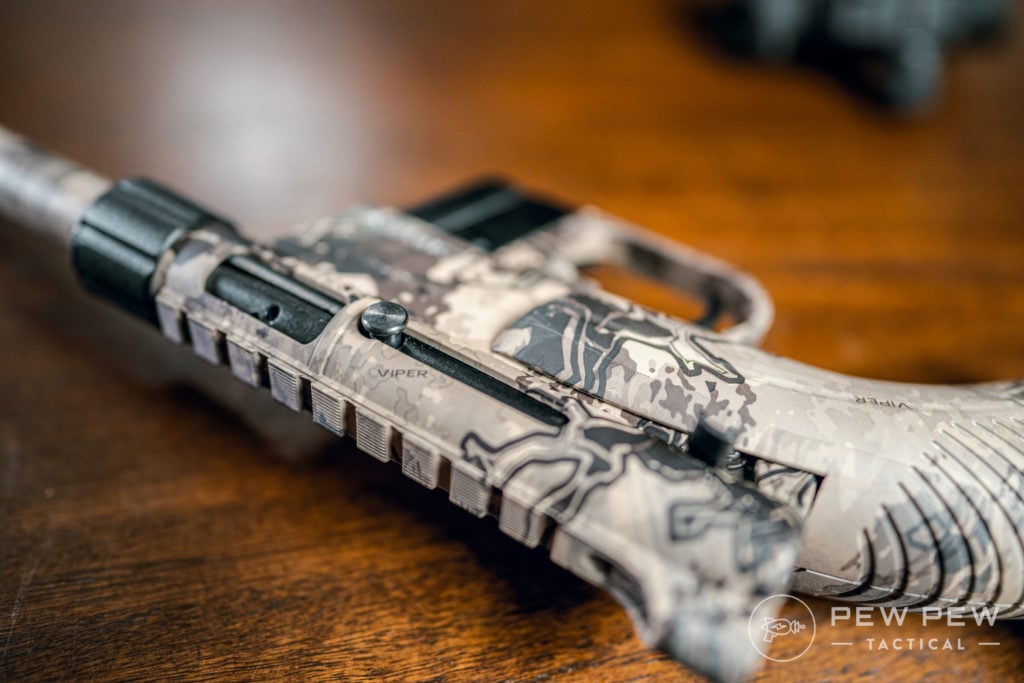 Until you need it.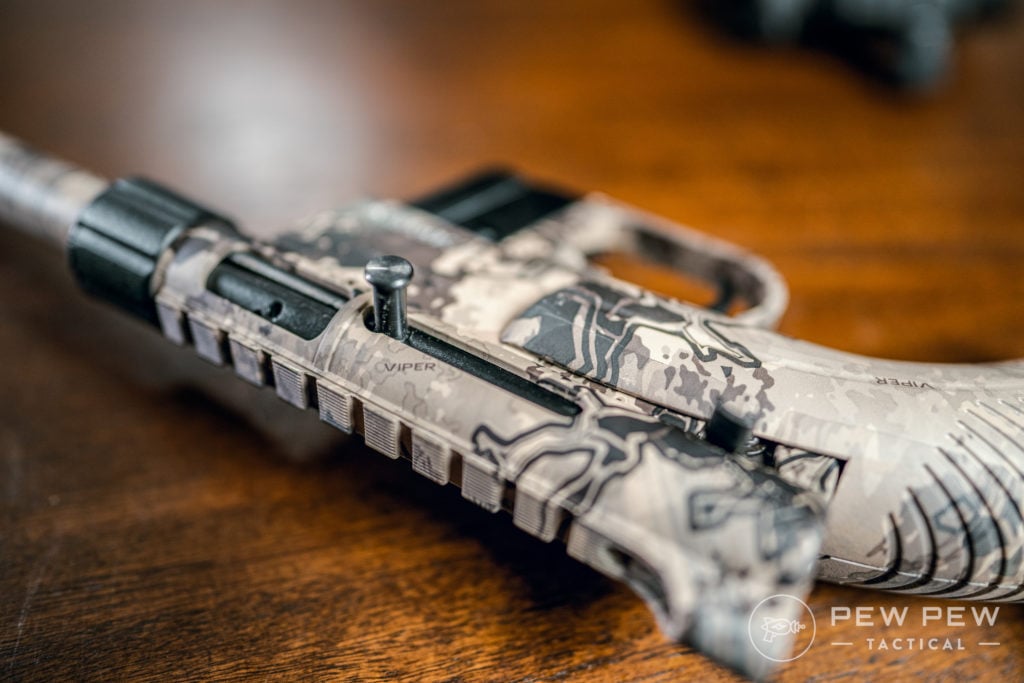 And finally…safety is on the right side with an easy lever.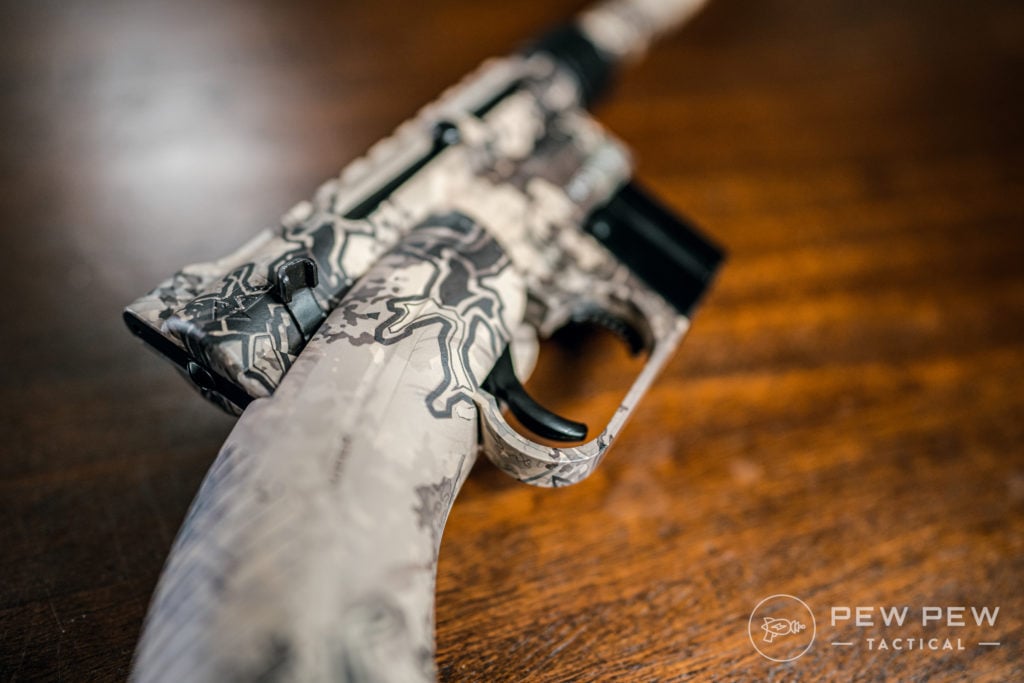 All in all, it feels pretty solid but let's get some rounds through it!
How Does It Shoot?
Now that's pretty cool!
As a .22 LR there's almost no recoil even in a lightweight 3.5-pound blowback gun.
And you can hear the super positive reset of the trigger.
Speaking of the trigger…it's surprisingly decent. Mine clocked in at around 3 pounds with some creep/grit but a clean break. And of course the very audible/tactile reset.
The one thing that surprised me was the thickness of the buttstock.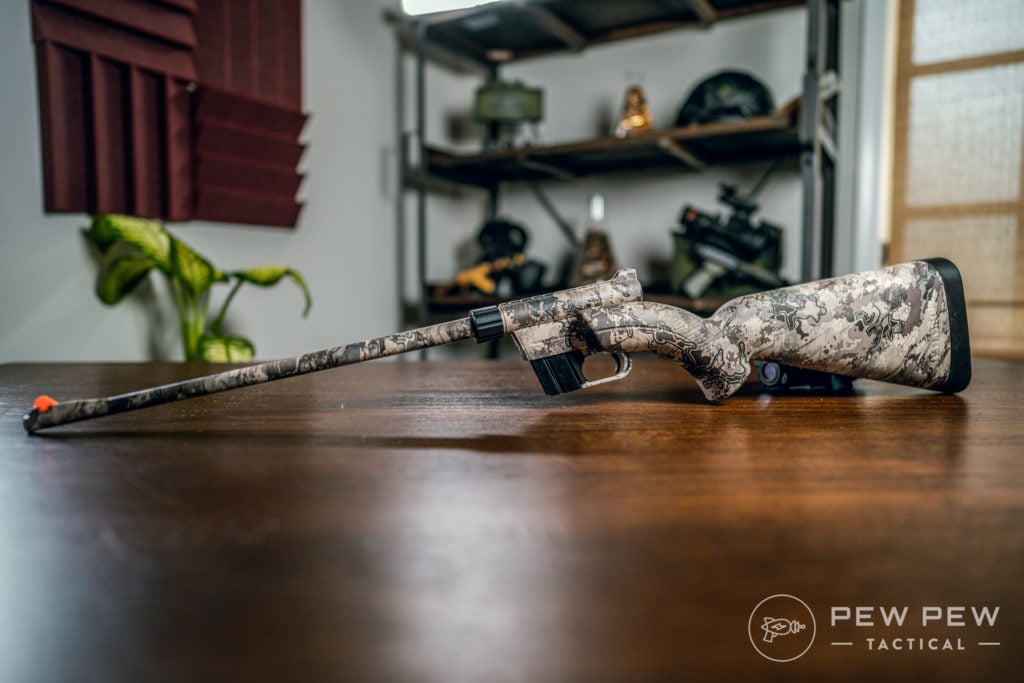 There's no way around it if you want to fit everything in it. It can look a little weird but you get used to it pretty quickly.
Accuracy
Accuracy was fine…you'll be able to hit small game at 50 yards if you do your thing. I was easily nailing clays at around 35 yards.
Rear sight is a nice peep.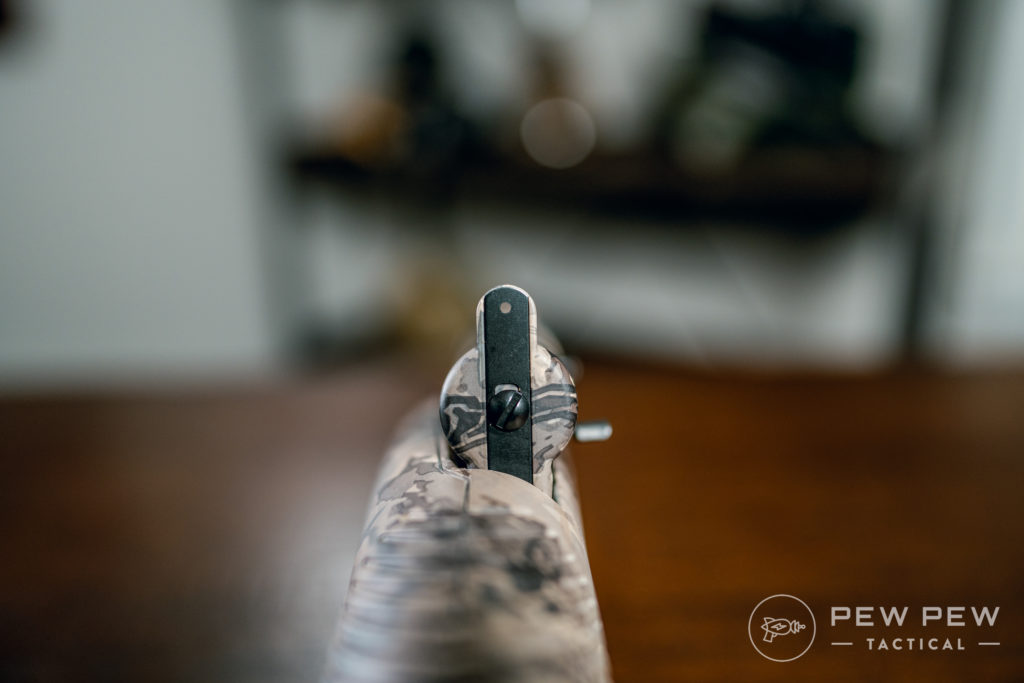 And a bright orange front sight blade.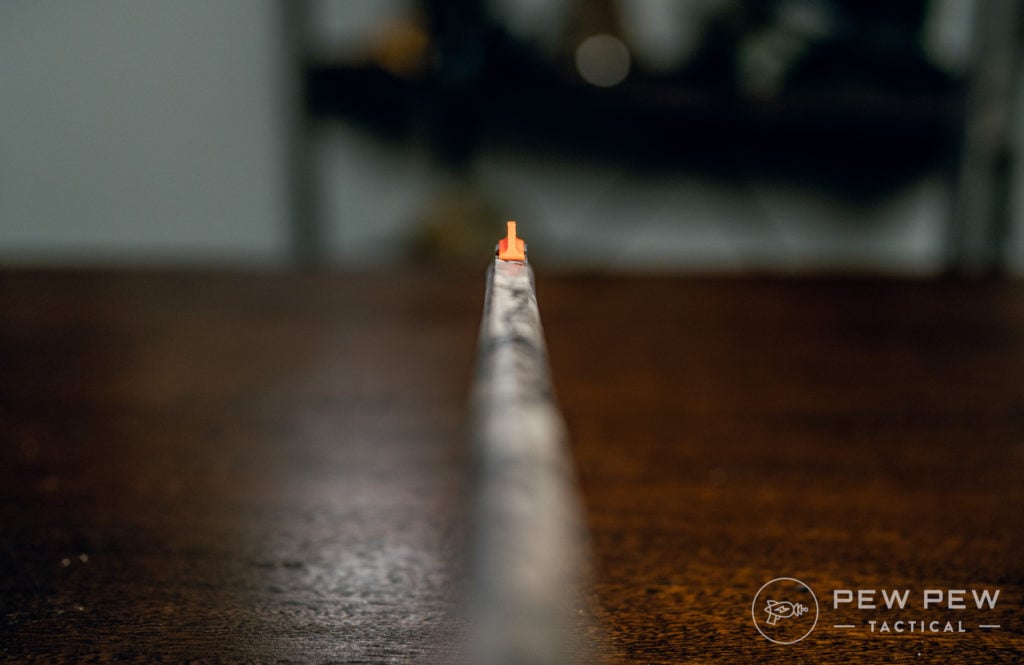 Want to add an optic?
You can with the 3/8-inch Weaver rail on the receiver.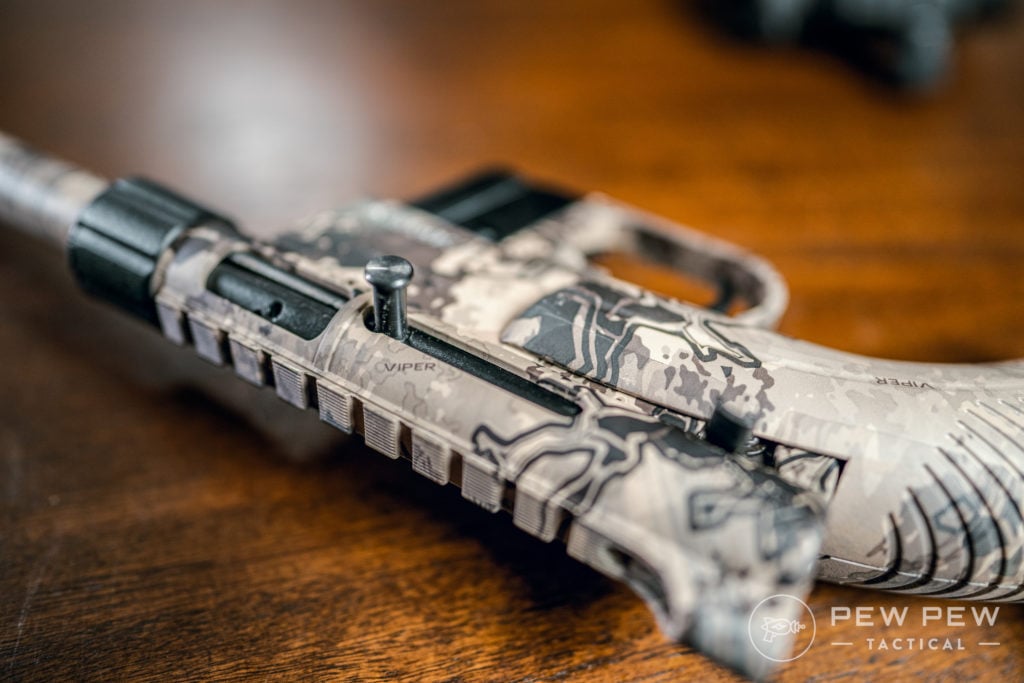 But where are you going to store the scope?
Reliability
Older versions of the AR-7 got a bad rep due to some design flaws…especially in the magazine.
The feed lips were easy to bang up and rounds started shifting in the mag.
Henry solved those things with a redesign that includes two wires that go along the side of each mag to maintain correct positioning.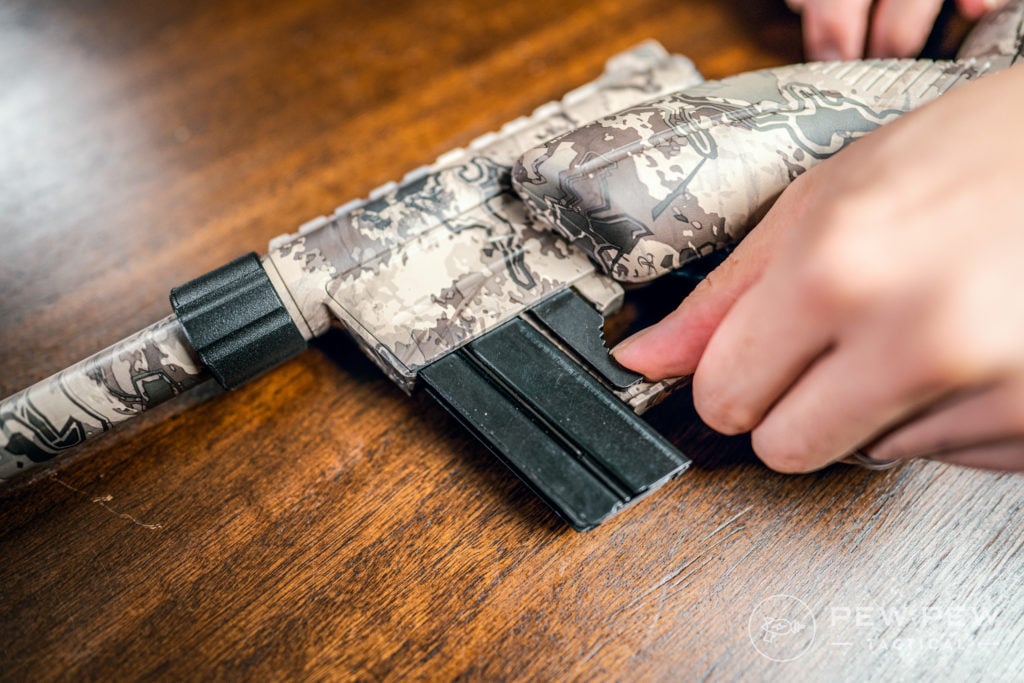 But ammo choice still matters in the world of rimfire.
It's highly recommended that you go with some hotter stuff like CCI Minimag.
I had zero malfunctions with those and you can check out more of my favs in Best .22LR Ammo.
When I dove into Walmart stuff…I started getting some jams. But nothing more than what I would also get in other rifles.
You can also handload individual rounds into the chamber if you're using really soft stuff (or forget to bring your mag).
One thing to note is that there's no land round bolt hold open. You might need a chamber flag for some ranges.
What Sets it Apart?
But what really makes this package unique? The Henry Survival Pack that you can grab with it.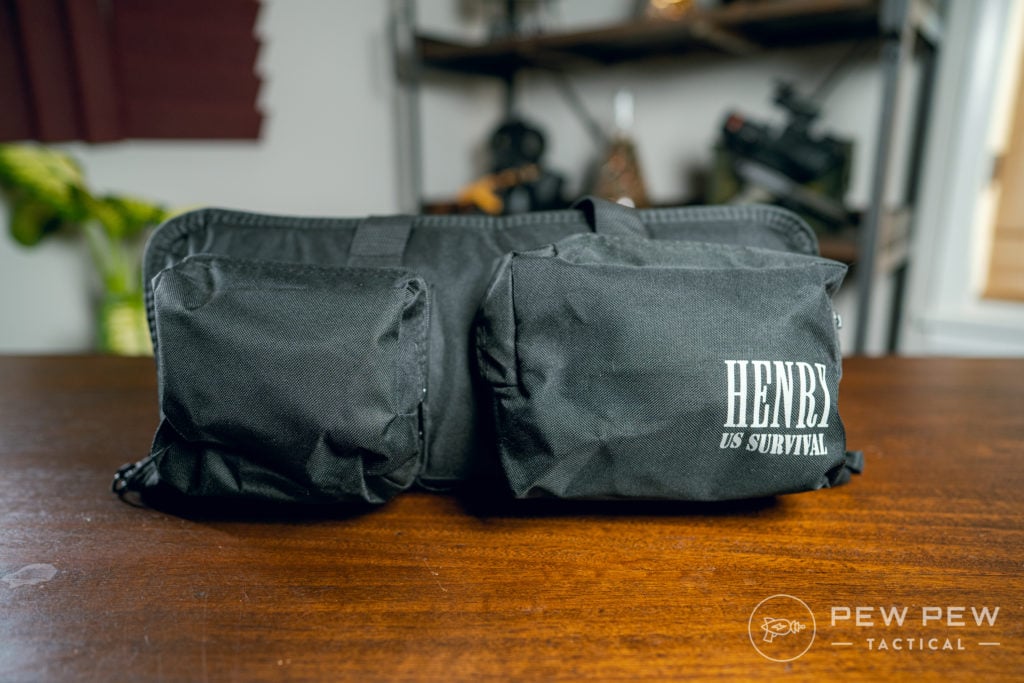 It easily holds an AR-7 and a bunch of included goodies. Plus with room to spare for more of your own things.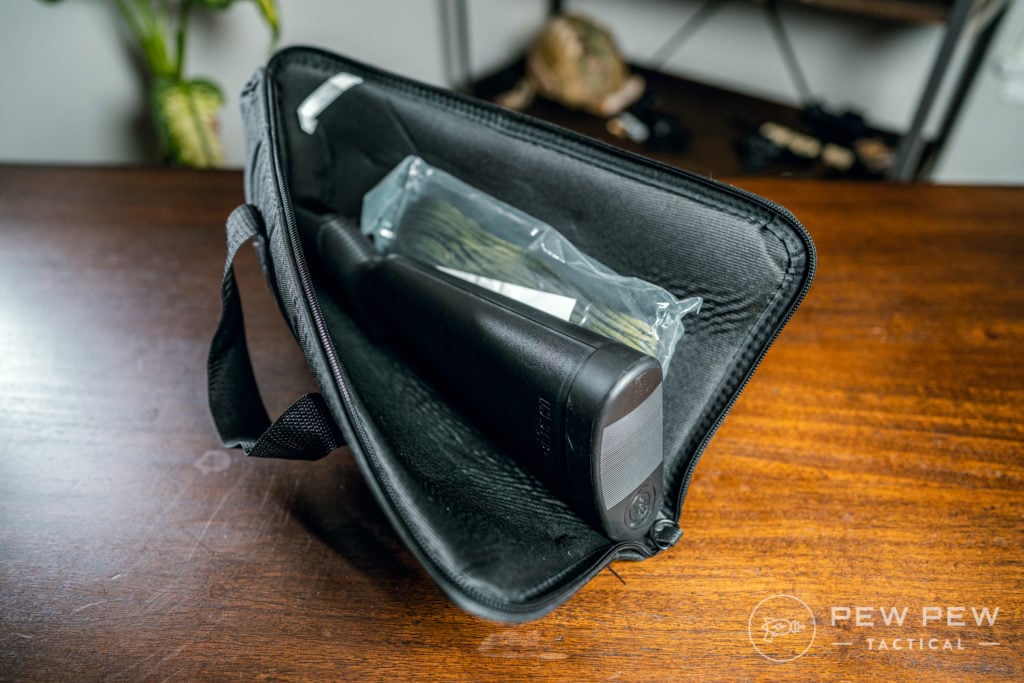 Included are:
100 feet of 550 paracord
Firestarter
Survival bar
Water filtration straw
Tourniquet
Mylar blanket
Knife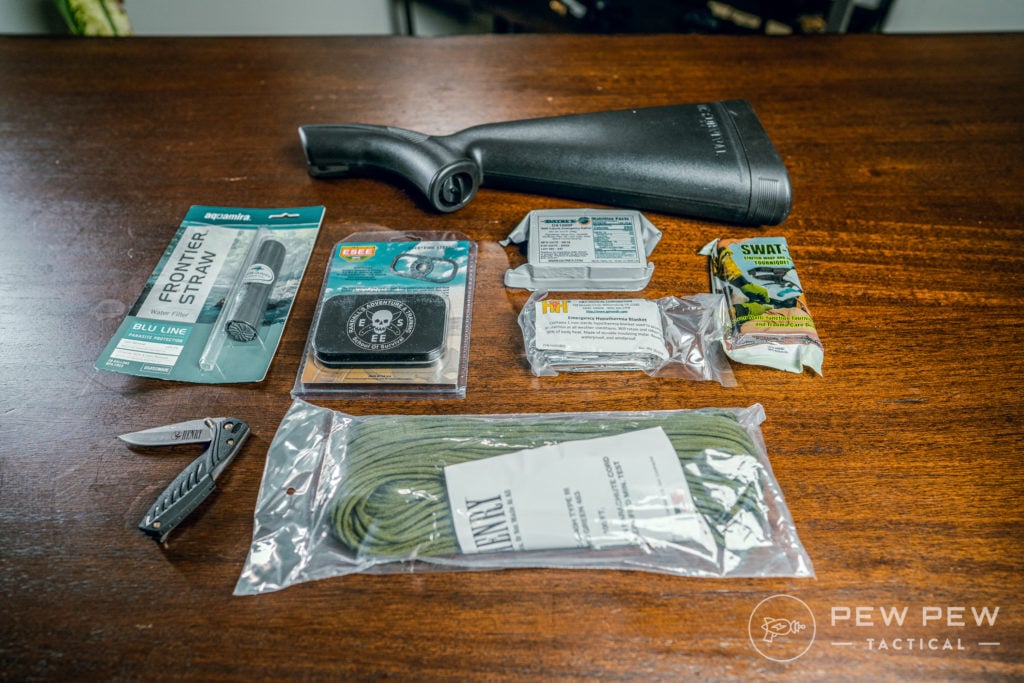 Pretty nice and a good basis for your own survival kit.
By the Numbers
Reliability: 4/5
No failures when I stuck with the good hot stuff but be prepared for a normal amount of issues with cheaper stuff.
Accuracy: 5/5
It's a purpose-driven rifle and you'll be able to hunt small game with it if needed. But it's not meant for NRL22 competitions.
Ergonomics: 4/5
The thickness of its grip only takes a few mags to get used to. Otherwise, you're not normally shooting hundreds of rounds through this thing each range trip anyways.
Looks: 5/5
There are three flavors and I really dig the camo.
Customization: 3/5
There are scope rings and you can try to make it waterproof. But it's well-designed for its purpose. Let it be or just buy more mags.
Value: 5/5
With a street price of around $230, it's pretty great.
Overall: 4.5/5
Final Verdict
The Henry AR-7 Survival rifle is a nifty purpose-driven .22 LR rifle that only weighs 3.5 pounds and stores itself in its buttstock.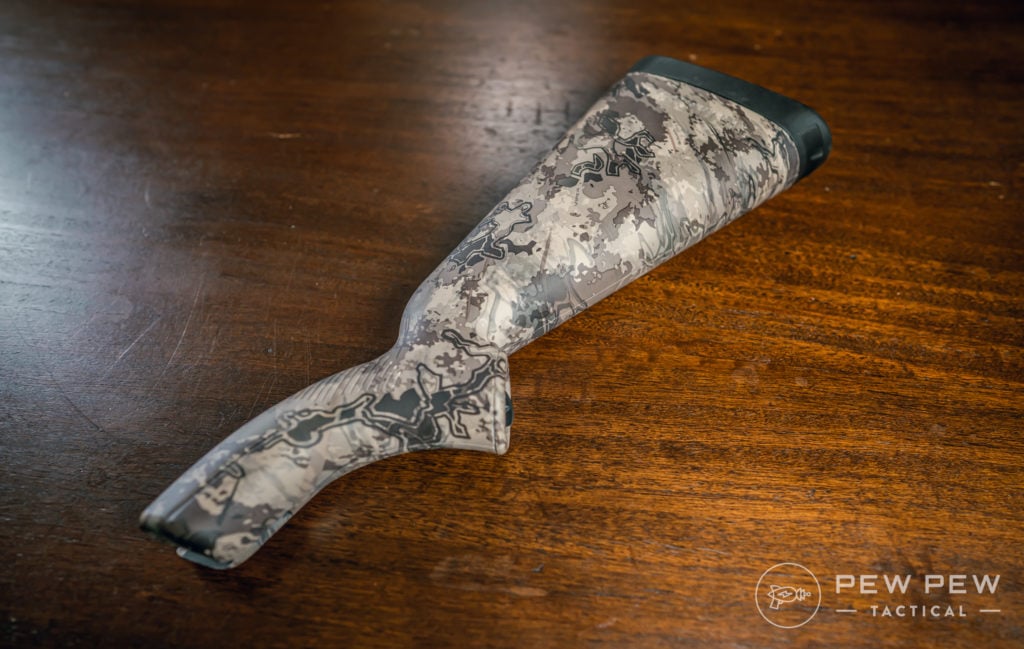 It has adequate accuracy and high reliability if given the proper ammo. A fun day at the range or a last-ditch survival weapon if you bail out of a plane.
What's your thought on the Henry AR-7? Would you use it as a "survival rifle" or would something else in our Best .22 LR Rifles fare better?