Find out the best 9mm ammo for self-defense based on ballistic gel tests that cover penetration depth and expansion.
Plus the best range plinking ammo for bulk shooting.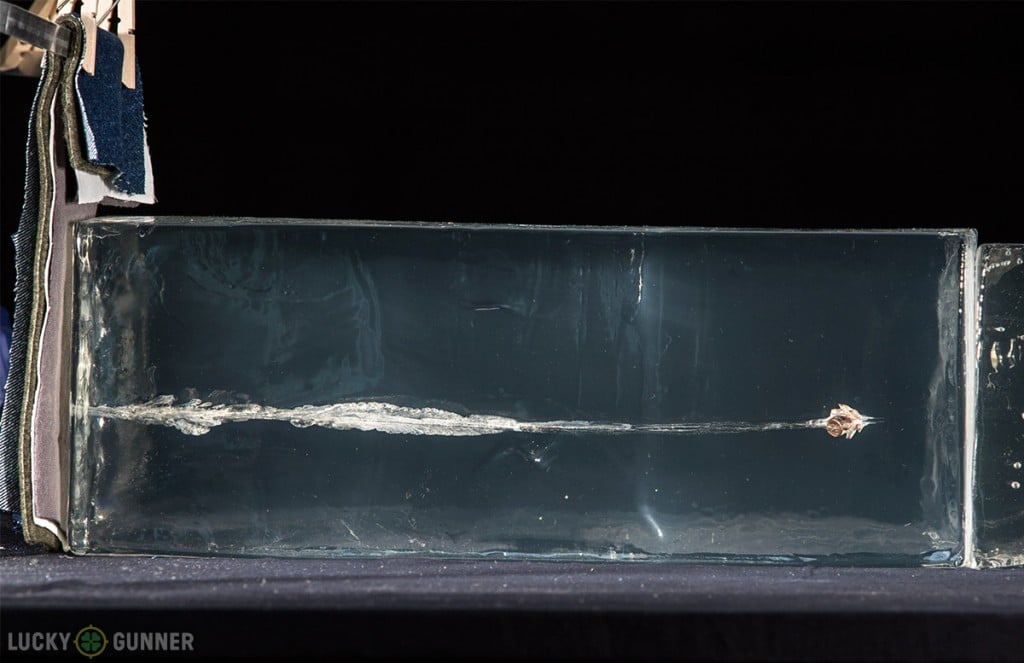 *Update*: Pricing and inventory was getting better but the Ukrainian and Russian war has kickstarted another round of mass ammo buying. Here's what we're seeing in stock at the time of writing:
PSA is doing a decent job of stocking up during weekdays. See all their 9mm.
As so does Lucky Gunner.
Brownells also has an in-stock ammo section.
Check out GunMagWarehouse as well.
How We Picked The Best Ammo
Read on to see how we chose them and the best place to buy them for cheap!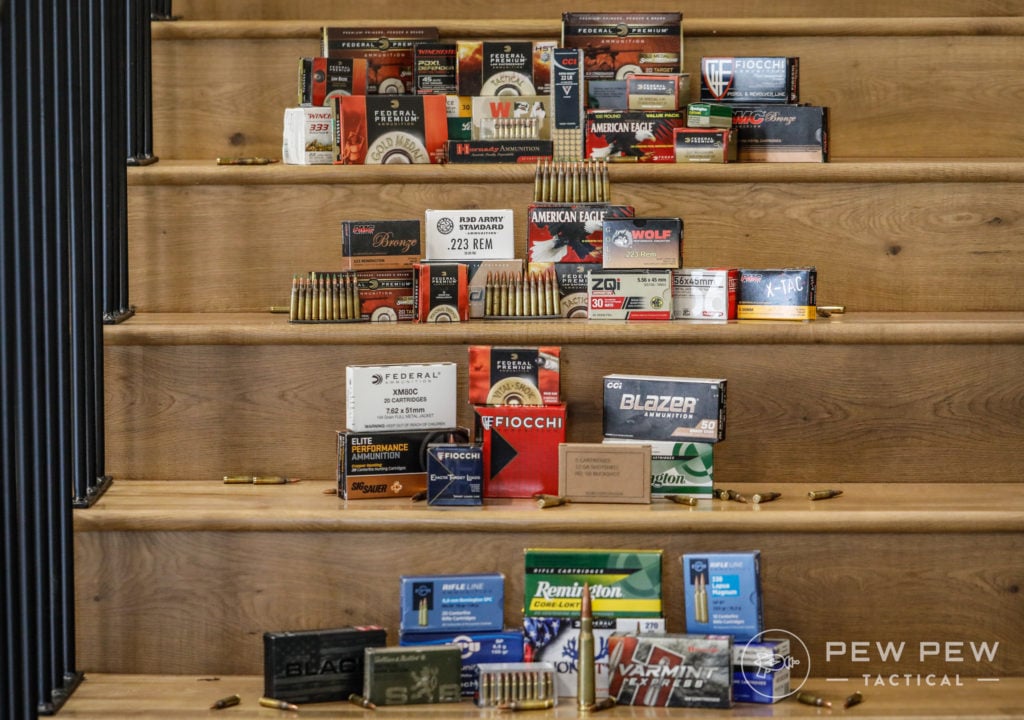 Testing Procedures
The below pictures and data are from a super in-depth post from Lucky Gunner plus a few of our personal criteria.  Here are some details of the test which closely mimic FBI protocol:
Shot 10 feet away
4 layers of fabric in front of the ballistics gel to simulate a "worst case" scenario of clothing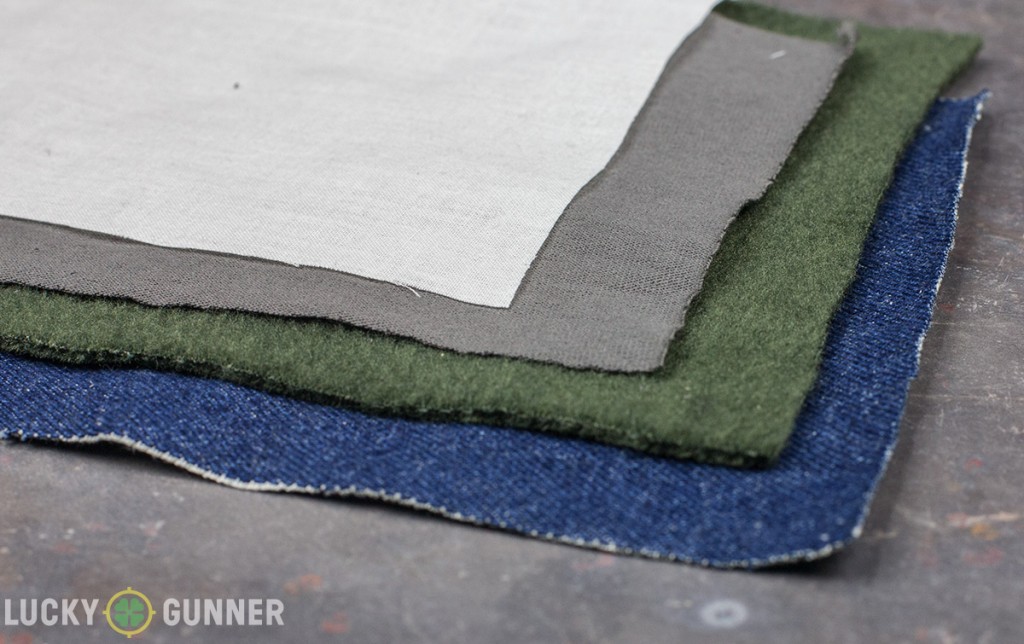 Ideal penetration of 12-18 inches.  More than 18 inches might go completely through the target and hit something beyond.  While a 12-inch minimum protects against thicker targets and possibly hitting something like an arm first before the torso.
5 shots for more data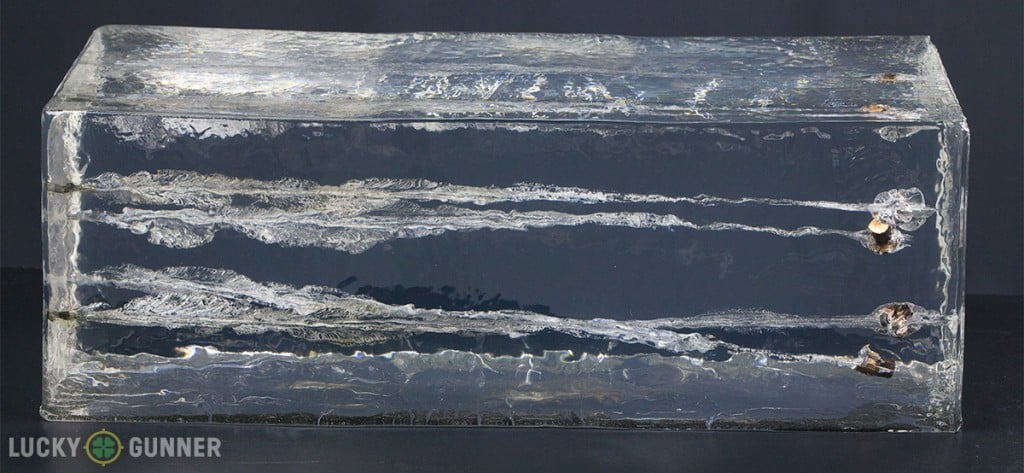 Shorter barreled gun.  Most tests are run with a full-size pistol, but Lucky Gunner used an S&W M&P9C which has a 3.5″ barrel.  Their thought was most people carrying a handgun most likely have a compact sized one.  So for those of you with a longer barrel, the penetration and velocities might be slightly higher.
Here are our recommendations for each of the most common weights of bullets: 115, 124, & 147 grain.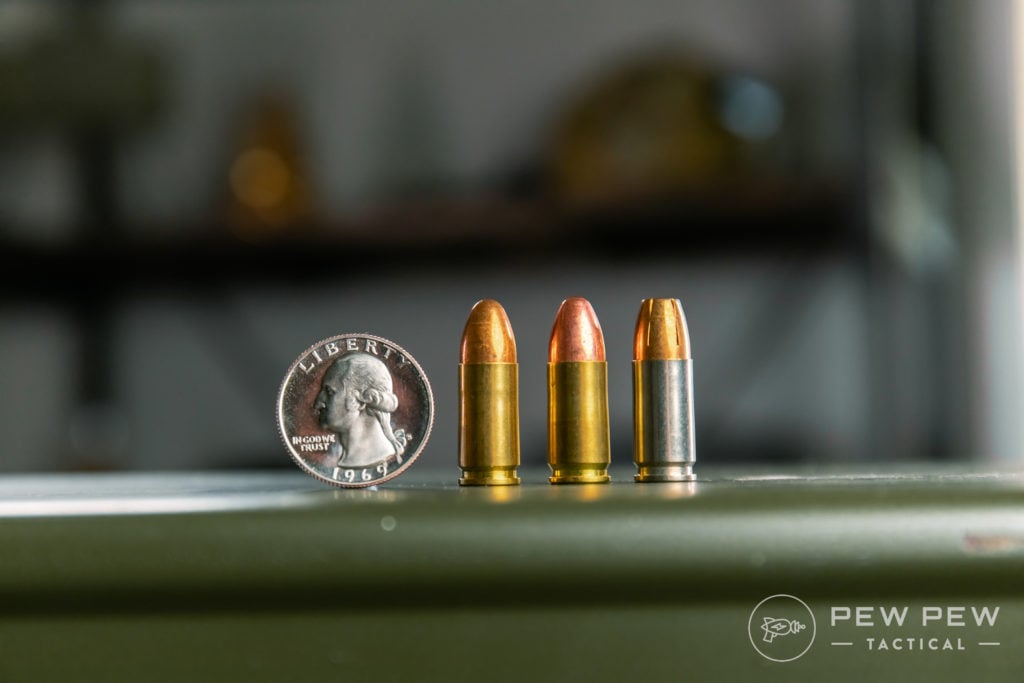 This way you can shoot the same weight of bullet as your more common range ammo.  And because these are self-defense rounds, they are all jacketed hollow points (JHP) for reliable expansion.
We personally prefer the 124 gr since it is less "snappy" than the 115 gr to us.   But we recommend you try a couple weights and make sure they cycle 100% in your self-defense gun.
Best 9mm Ammo
Self Defense
1. Gold Dot 9mm 115 gr
Penetration depth is right in the middle of the zone, great expansion, and good velocity for a short barrel.
Average Penetration: 16.4″
Average Expansion: .55″
Average Velocity: 1143 ft/sec

2. Magtech Guardian Gold 9mm 115 gr
The sweet spot of penetration, expansion, and velocity.
Average Penetration: 15.2″
Average Expansion: .56″
Average Velocity: 1175 ft/sec

3. Federal HST 9mm 124 gr
Great penetration, the biggest expansion, and velocity for those who like shooting the slightly heavier 124 gr rounds.  Overall best recommendation.
Average Penetration: 18.3″
Average Expansion: .61″
Average Velocity: 1135 ft/sec

4. Federal HST 9mm 147 gr
Penetration in the sweet spot zone, great expansion, and good velocity for the bullet weight.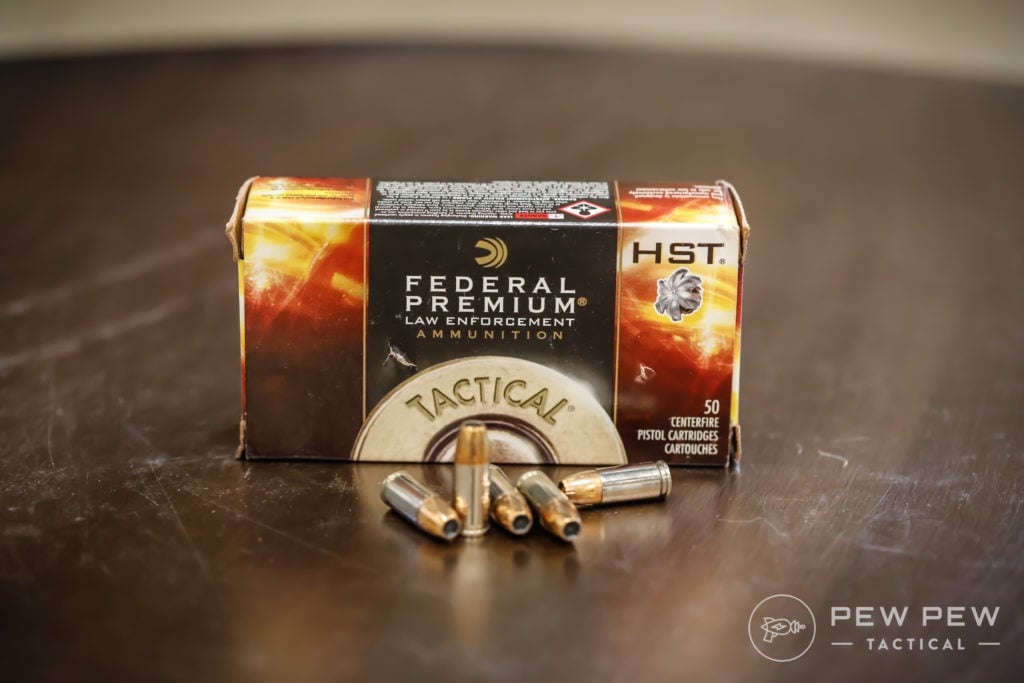 My personal favorite since I like the shooting impulse of 147 gr bullets.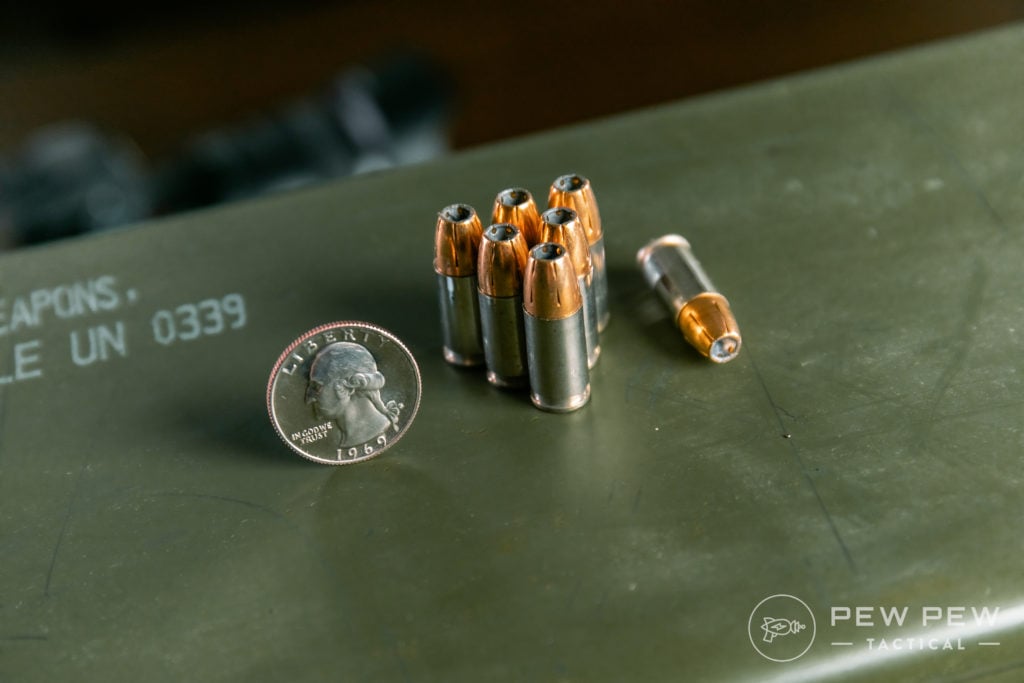 Average Penetration: 15.2″
Average Expansion: .61″
Average Velocity: 973 ft/sec

Best Range Ammo
Range ammo is more about reliability and cost-effectiveness.
Here are a couple of our recommendations for the common 115 and 124 gr bullet weights.  We've shot thousands of these and they are reliable, clean shooting, and economical.  We suggest trying out both weights to see what you and your gun prefer.
5. American Eagle 9mm 115 gr
Best deals on AE 9mm rounds so far since I think there's a huge surplus.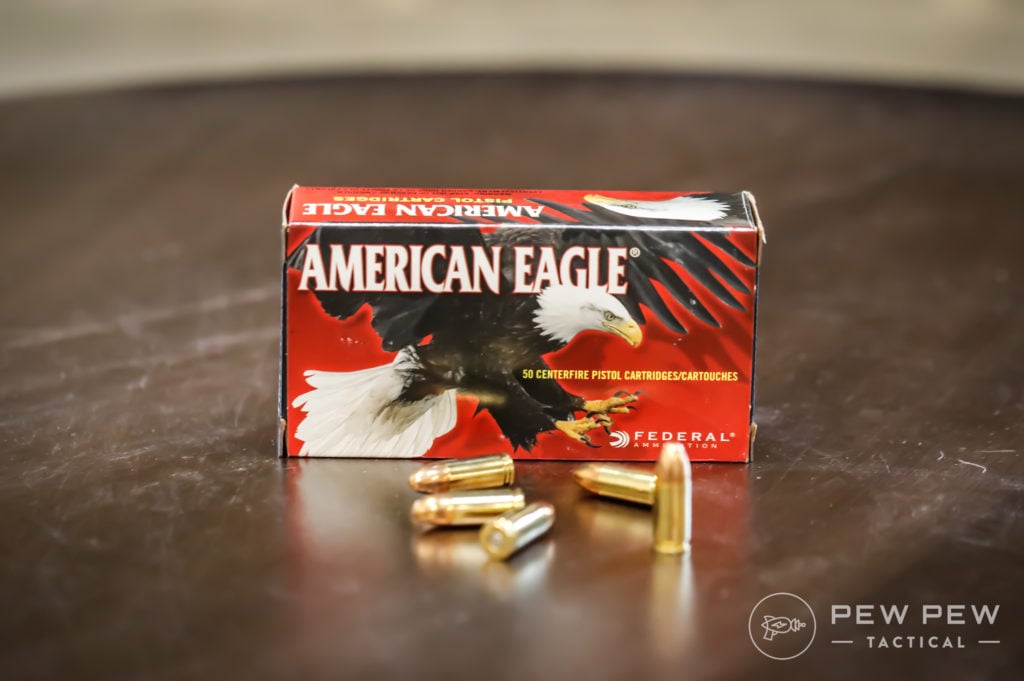 6. CCI Blazer Brass 9mm
When pennies count…the cheapest reliable brass cased 9mm.  But…the brass is a little difficult to reload.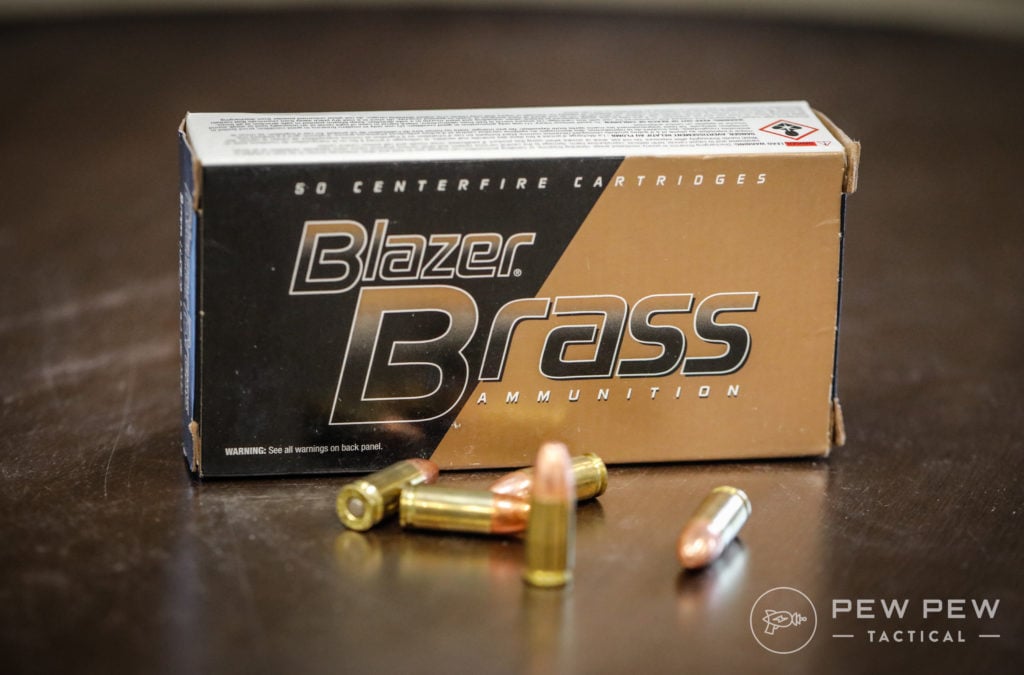 Perfect for ranges or classes where you can't pick up brass.
One of my favorites and what I shoot the most now.
7. PMC 9mm
What I've shot the most previously. 
Always goes bang and the brass is great for reloading.
Conclusion
These are our favorites for 9mm self-defense and range ammo.  If you want to see the full results from Lucky Gunner, check out their post here. Want more calibers and choices…check out Best Places to Buy Ammo Online.