When in public, you never know whether the person next to you is armed or not. This is why it's important that you protect yourself at all times, like carrying boot knives anywhere you go.
Boot knives are designed primarily for discretion or concealability. They don't necessarily have to be hidden in your boot. In fact, they can be worn around your neck or anywhere that is convenient, comfortable, and accessible for you. 
To know more about them, listed below are ten of the best boot knives on the market today.
Top 5 Boot Knives Comparision
| Boot Knife | Style | Handle Material | Blade Material | Total Length | Check Price |
| --- | --- | --- | --- | --- | --- |
| Kershaw Secret Agent | Dagger | Rubberized Co-molded | Stainless Steel | 8.7" | Check Price |
| Cold Steel Counter TAC Series Fixed Blade Boot Knife | Dagger | Kray-Ex | Japanese AUS8A w/ Stonewashed Finish | 9.5" | Check Price |
| SOG Instinct Boot Knife | Neck Knife | Fiberglass | Stainless Steel | 5.9" | Check Price |
| ESEE Candiru Fixed Blade Neck Knife | Compact | Carbon steel | Carbon steel | 5.13" | Check Price |
| Schrade SCHF19 Small Boot Knife | Dagger | Thermoplastic elastomers | 7Cr17 High | 7" | Check Price |
The 10 Best Boot Knives Definitely Worth Buying This 2022
Need something to protect yourself? Consider these top-rated boot knives in today's market.
1. Kershaw Secret Agent Concealable Boot Knife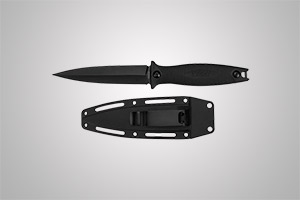 If you are looking for high quality, reliable, budget-friendly, and top-of-the-line boot knife, then look no further than the Kershaw secret agent concealable boot knife.
It is made of 8Cr13MoV which is a value blade steel offering hardness and edge retention. 
The Kershaw boot knife is covered with a black oxide coating that makes the blade look attractive, smooth, fierce, and tactical. It has a durable rubber over-mold handle which makes the knife non-slip and safe to use.
Also used for personal everyday use
The handle has a lanyard hole for carrying options
Offers a limited lifetime warranty
Can slice plastic, aluminum, kelp, rope, fiberglass, and jellyfish
No-shine matte finish
Contains chemicals causing cancer, birth defects, and reproductive health problems
May need both hands to remove the knife from the sheath
2. Cold Steel Counter TAC Series Fixed Blade Boot Knife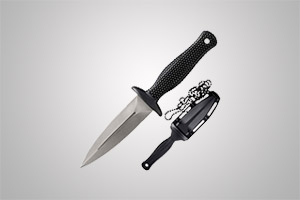 Cold Steel Counter TAC series boot knife prides itself on its highly functional knives.
The AUS 8A full tang blade is sharp, vacuum heat-treated, and is sub-zero quenched for durability and strength.
The handle is Kry-Ex which is ergonomically designed to provide a comfortable, non-slip, and adaptable grip. The handle has a textured surface that ensures non-slippage.
Care instruction: Hand wash only
Hand orientation: Ambidextrous
The set comes with a sheath, removable boot/belt clip, and lashing slots
California's Proposition 65 (product may contain lead)
The handle may feel like rubber plastic
3. SOG Instinct Boot Knife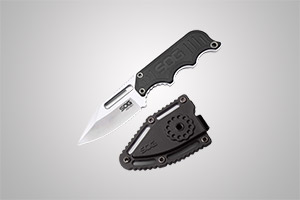 The SOG Instinct boot knife can be the perfect small and lightweight fixed blade knife that you are looking for.
It is 5.9" long which is convenient to carry around like a belt knife or boot knife. It is discreet and can be worn around the neck. 
The handle offers a quick-draw and non-slip handling. It is a versatile knife to carry around for utility, and rescue use. The SOG boot knife is the 4th best seller for camping fixed-blade knives and the 11th for fixed-blade hunting knives. 
Manufacturer accepts repairs and replacements
Comes with a swivel or rotating sheath clip
Comes with a lanyard ready sheath
California's Proposition 65 (product may contain lead)
Under constant use, the blade may not hold an edge long
Clip access hole may be quite small and stiffs
4. ESEE Candiru Fixed Blade Neck Knife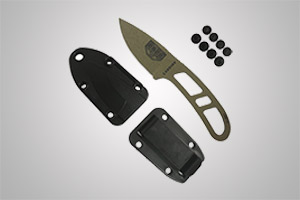 The ESEE Candiru fixed blade neck knife is designed as a lightweight survival knife.
It is named after a small and tough parasitic fish, the Candiru which is native to the Amazon River. It is made of a skeletonized handle and 1095 powder-coated carbon steel.
The 1095 steel is a top choice in professional cutlery. Though, if not maintained properly, this can stain and rust.
You need to maintain the Candiru knife regularly using cleansers and lubricants. A TUF-GLIDE or TUF-CLOTH are recommended dry film rust inhibitors. 
Hand orientation: Ambidextrous
Comes with a molded polymer sheath
Manufacturer accepts lifetime repairs and replacements
The blade can stain and develop rust
It may be difficult to remove the knife from the sheath 
5. Schrade SCHF19 Small Boot Knife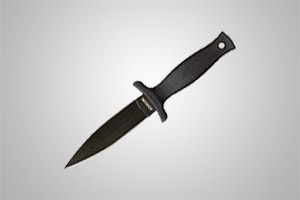 The Schrade SCHF19 boot knife is durable for it is made of AUS-10 high carbon steel and offers a non-slip grip.
The Schrade boot knife is a 3.6" double-edged, spear point blade and fixed blade with a powder coat finish. The handle comes with a handguard making the knife easier to hold.
It comes with a black leather sheath that can be clipped to your boot or belt. This boot knife can be carried every day with its convenient injection molded sheath.
Washing instructions: Hand wash only
Offers limited lifetime warranty
The handle has a lanyard hole for carrying options
Comes with a boot/belt clip
California's Proposition 65 (product may contain lead)
Possibly too small for large hands
Has weak edge retention
6. Smith & Wesson HRT Fixed Blade Knife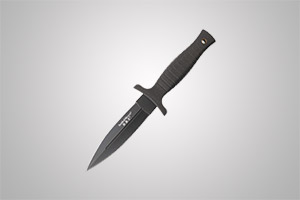 The Smith & Wesson HRT fixed blade knife is the number 1 best seller for fixed-blade knives. The blade measures 4.7" in length.
Its blade is made of 7Cr17MoV high carbon stainless steel and its handle is made of rubber. It features a handguard to prevent slipping.
It can be carried anywhere every day because it comes with an accessible and convenient belt or boot sheath. It comes with a heavy-duty stitched sheath, dependable clip, and thumb snap.
The Smith & Wesson blade knife is dependable whether you are a knife collector or hunter.
The handle has a lanyard hole for carrying options
Offers a limited lifetime warranty
Sharp knife
Heavy-duty sheath
California's Proposition 65 (product may contain lead)
It is too large to place around your neck or in your boot
Not ideal to carry every day for personal use
7. Cold Steel Hide Out Fixed Knife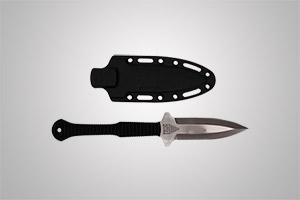 The Cold Steel Hide Out fixed knife is made of alloy steel. The blade is Japanese Aus 8A stainless steel that measures 3" in length.
It is a lightweight, double-edged, and fixed blade. This knife is primarily designed to be small, affordable, and highly functional. 
The handle of the Cold Steel Hide Out is made of alloy steel and is contoured and checkered to protect the hands.
This knife offers excellent cutting and piercing power despite being lightweight. You get a quality knife at a reasonable price. 
The handle has a lanyard hole for carrying options
It comes with a Secure-Ex neck sheath with bead chain lanyard
For self-defense, it can damage the attacker but not kill them
California's Proposition 65 (product may contain lead)
The tip of the blade may break if thrown
8. SZCO 8″ Stag Tip Boot Knife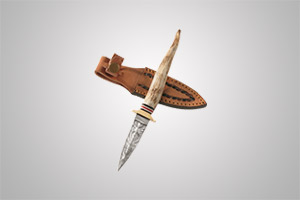 If you want a compact and easy carrying boot knife that you can use daily, look no further than the SZCO 8" long Stag Tip boot knife.
The SZCO boot knife is made of 3.2" of Damascus steel which makes this knife attractive.
The handle is uniquely shaped that is made from a combination of authentic stag and reinforced brass guards.
This boot knife is not only used for hunting activities but is an ideal survival knife for cutting and slicing. It can also come in handy during camping and hiking.
Comes with a leather boot sheath
Spear-point blade-style
Comes with a stag handle
The sheath may get caught on your clothes 
The blade may break easily due to non-existent tang
9. Gerber Gear 30-001005N Ghoststrike Fixed Blade Knife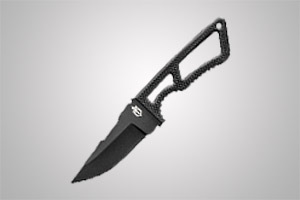 The Gerber Gear 30-001005N Ghoststrike fixed blade knife is proudly made in the U.S.A.
The Ghoststrike is designed for discretion while being able to hold the knife firmly once used. This knife is made of 420HC fine edge blade steel.
The knife's blade is covered with a black ceramic coating for protection against corrosion and minimal reflection.
The Gerber is ultra-lightweight because of its compact and contoured skeletal frame. The rubber handle gives the knife the capacity for a full tang grip.
Offers limited lifetime warranty
Comfortable to wear
Screws are available for belt loop attachments   
California's Proposition 65 (product may contain lead
The sheath and knife are not well-fitted
The handle's rubber coating may peel off after some time
10. Knifemaking BL7707 Boot Knife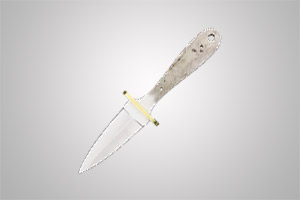 The Knifemaking BL7707 is a double edge boot knife made in Pakistan.
This double edge dagger blade is made of brass which is 7 7/8" long in total.
Its handle is also made of brass that features a full tang grip which makes it convenient to use. 
Brass guard
Bulk packed
Compact with a 3.5" long blade
Comes with a finger guard
California's Proposition 65 (product may contain lead)
It may need to be sharpened over time
Types of Boot Knives
There are three main types of boot knives: dagger, neck knife, and compact. The differences between these three types are indicated below:
Dagger Style
The dagger style is most common among boot knives. The dagger style makes wielding easy and maximizes the knife's functionality such as stabbing and slashing.
Dagger boot knives are often double-edged and spear-tip pointed. The handle is comfortable to wrap your hands around.
Neck Knife
Boot knives can also be neck knives that offer their users the same concealment advantage.
Neck knives have holes on their handles for chain or lanyard attachment. Neck knives are often single-edged and at most 4" long.
Compact Style
Compact style boot knives are characterized by a short blade and a handle that is comfortable for gripping.
Compact knives have thin handle coatings but are tough. Some compact knives have no handle coating, also called "skeletonized" handles. This is done to minimize bulk and weight.
What Are Boot Knives Used For?
Boot knives are used either for personal everyday use or self-defense. Aside from these, boot knives are also commonly used for survival and hunting activities.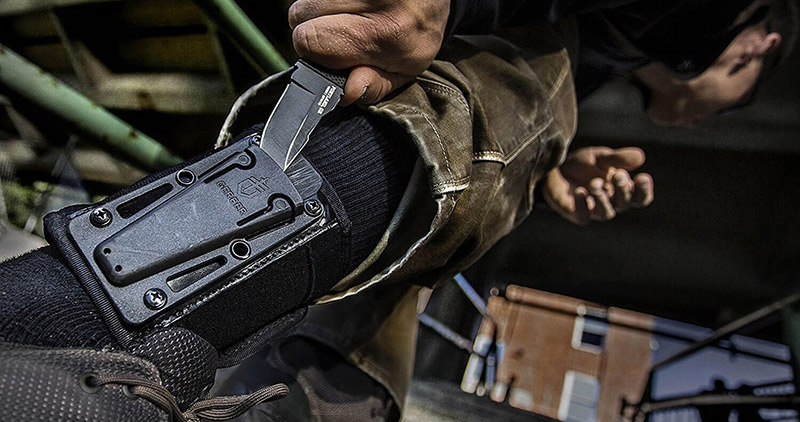 For Self-Defense
Even if you carry some self-defense effects such as stun guns and pepper sprays, you would feel more at ease when you have a boot knife as a secondary self-defense tool.
Using a boot knife would come in handy when your first line of defense fails. Boot knives are great tools for self-defense because of their concealability.
For Survival and Prepping
When you are striving to survive, the least of your worries is to carry around a heavy and bulky knife. This knife will serve as protection or for food preparation.
Boot knives are great during survival situations because they are compact and lightweight. 
In survival situations, your energy is gradually draining. A lightweight knife won't make you feel more fatigue.
A boot knife is very useful when you are in the wilderness or maintain trekking. You can use your knife to cut through vines and ropes. You can use it to slice wood to make fire and other conditions that may require cutting.
For Hunting
A boot knife would come in handy as a secondary knife during hunting. Boot knives are lightweight and are not burdensome to bring.
You wouldn't want to carry a bulk and heavy knife along with your already loaded and heavy backpack.
Most boot hunting knives are fixed-blade types. They don't fold and are relatively shorter in length.
A boot knife is versatile and can be used in skinning an animal or field-dressing during hunting activities.
What to Consider When Buying Boot Knives
When deciding which brand of boot knife to purchase, there are several key features that you need to consider.
Some of the considerations are the blade type and construction, knife and blade length, steel quality, handle quality, and sheath type. 
Listed below, in more detail are the factors your need to consider when buying boot knives:
Blade Material
As a secondary self-defense tool, a boot knife is oftentimes made using cheap steel.
Cheaper steel is used to balance the cost or price, durability, and sharpness of the knife. Some manufacturers also use alloy to trim down expenses.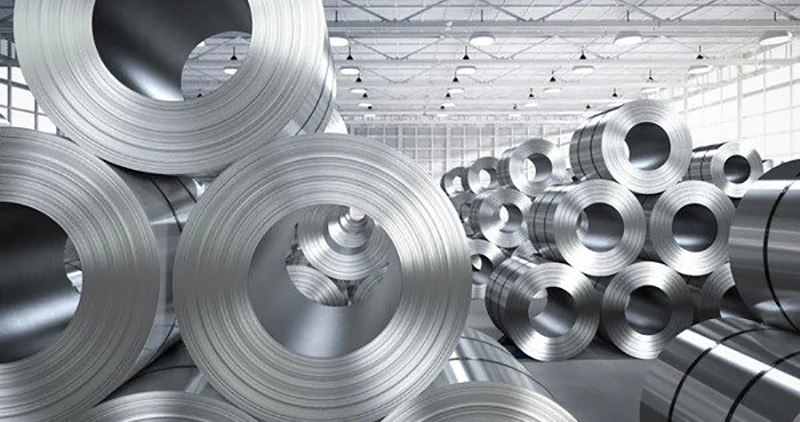 Despite trimming down costs, they still try to provide knives that are still corrosion-resistant, hard, and have edge retention.
However, it would be to your advantage if you can invest in quality boot knives because it has a flexible function. 
Blade Shape
All blade shapes have their set of pros and cons. There are four common blade shapes – drop point, American tanto, dagger, and clip point.
The different characteristics of each shape type are listed below:
Drop Point: This type of blade is usually used for everyday cutting and slicing activities. The drop point blade is characterized by both spine and edges narrowing down towards the point.
American Tanto: Combat and tactical boot knives often prefer the tanto blade shape. The tanto's sharp point is good for puncturing. It is characterized by its edges angle straight towards the near endpoint of the blade.
Dagger: This is characterized by having both sides of the blade to be equally sharp. Both edges of the blade narrow down toward the point.
Clip Point: This blade shape is quite similar to the drop point. The clip point on the one hand has an additional grind running from the spine to the point. This makes the point narrower, aids in drag reduction, and increases knife utility.
Blade Type
In looking for a boot knife, you may prefer those that are dagger types. It is best if you can have a spear-tip and double-edge boot knife.
Double-edge boot knives are effective for slashing, stabbing, and piercing. The blade should be full tang and thinner than survival knives. 
In choosing a blade, you have to understand the difference between a single-edged against a double-edged blade.
With a single-edged blade, you can make a slicing downward motion. While with a double-edged blade you can make a more lethal blow at every use.
Blade Length
There are three categories of blade length: short, medium, and large. Short blades are easy to conceal and could fit well inside your boot.
Short blades have a length that doesn't exceed 3". Medium blades range from 3" to 4" in length. They are minimally concealable and can efficiently cut things.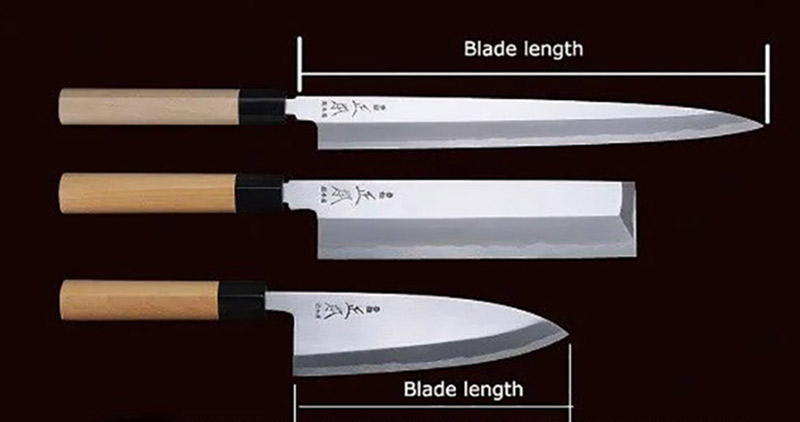 Large blades are blades longer than 4". Large blades are harder to conceal. Though these blades are easily controlled and can puncture organs.
Large blades are best handled by individuals who have extensive knowledge and skill in knife handling.
Edge Style
There are three edge styles, namely plain, serrated, and combo. Most boot knives have plain edges.
Some blades have both serrated and combo edge styles. Combo edge blades are handy for cutting even if the blade is dull.
Overall Size
The boot knife that you should purchase should be concealable. Even if it is compact, it should still be very accessible to use especially during emergencies.
Most boot knives available in the market range from 5.5" to 12" in total length. 
You have to check with state laws as to the legality of carrying a boot knife. Considering a small boot knife will most likely comply with most state laws.
This makes it easier for you to bring your boot knife anywhere in the country with peace of mind.
Weight
The weight of the knife is very important for it dictates your maneuverability. When the knife is lightweight, you can easily move around.
A heavy knife can cause leg fatigue. Also, a heavy knife is unable to comply with state regulations. Alloy-made knives are generally lighter.
Steel
Boot knives use soft steel types such as 420, 420HC, and 8Cr13MoV. Most manufacturers use soft steel because the prices are cheaper.
Steels are heat-treated to extend the blade lifespan and improve their general quality.
You may also look into the steel quality which allows a blade to be a full tang knife.
When a blade is a full tang it means that the blade extends all the way to the handle. A full tang knife is stronger and will less likely snap when used.
Handle
Your knife would be useless if you can't grip it properly and comfortably. A long knife blade will have a long handle.
The same is true with a short knife. The blade and handle are proportionate. A non-slip or well-gripped handle has a rubber coating or texture or is wrapped in gripping material.
Sheath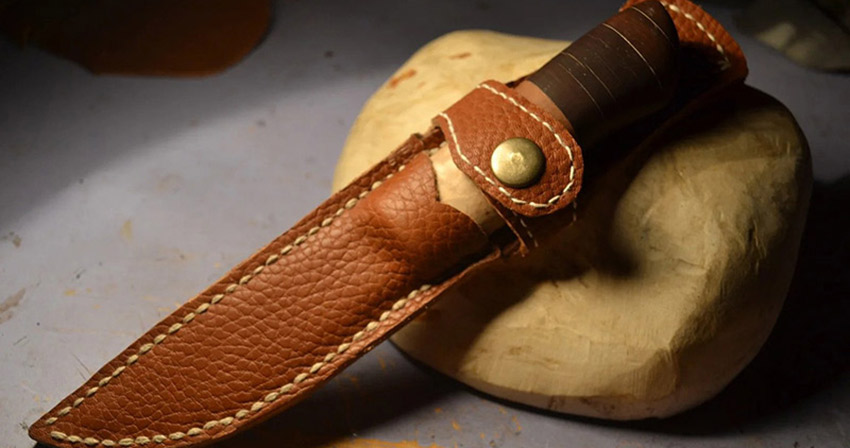 When buying a boot knife, you have to ascertain that it comes with a sheath. First, the boot knife sheath secures and protects the knife from incurring damages making it secure and snug inside.
The sheath shouldn't be too tight that you will have a hard time removing the knife when needed.
Secondly, the sheath serves as your protection from the knife's sharp blade. Sheaths offer different types of fasteners either clips or straps.
Most sheaths are made of leather, polymer, and hard molded nylon.
Legal Concerns
Legalities on the issue of boot knives are different in every state. There are states that don't allow the carrying of knives in public.
Some states allow their citizens to carry boot knives as a self-defense tool.
Before you decide in purchasing a boot knife for yourself, you may need to look into your state's particular regulations regarding the issue of ownership and carrying boot knives in public.
Here are some questions that you need to check with the State you live in and where you plan to go:
Is it legal to carry a boot knife in public?
Is it legal to carry a concealed knife in public?
Are daggers illegal?
Are double-edged blades considered daggers?
How long should the blade or knife be to be carried or worn in public?
You may refer to the American Knife and Tool Institute (AKTI). This is a comprehensive resource that gives you updated details on knife laws in each state of the country.
This is helpful when you are planning to go to another state.
Frequently Asked Questions
What should I look for in a boot knife?
There are three main considerations when buying a boot knife: overall length, blade, and handle.
The blade material should be of high quality and lightweight. It should be small enough to be concealable and comply with most state regulations.
Lastly, the knife's handle should be made of materials that are non-slip and is the right fit for your hand.
Are boot knives concealed?
Yes, boot knives can be concealed. They can be hidden under your pants or boots. Boots knives should come with a sheath to protect you from the knife's sharp blade.
Also, if boot knives can't be concealed, then it may be difficult to consider them boot knives.
Are boot knives real?
Yes, boot knives are real. Their blades are made from real steel and are well-sharpened for functionality. Boot knives are established tools for self-defense and survival.
Many manufacturers have been improving the designs of their boot knives for the appreciation of their market.
Are boot knives comfortable?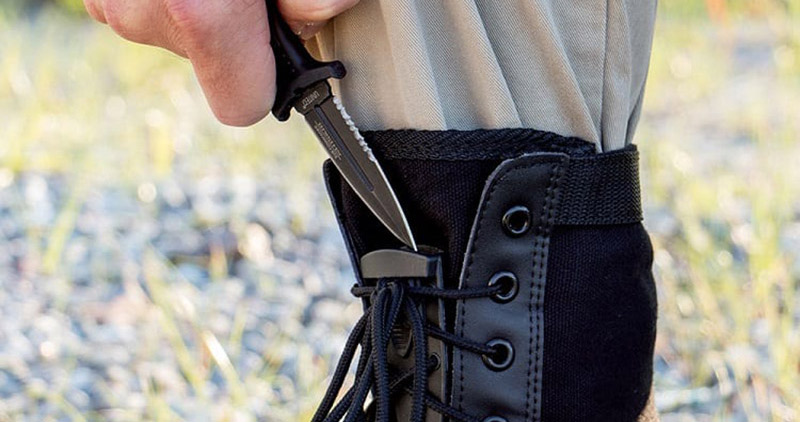 Wearing a boot knife can be comfortable if the size and weight are right for you. It would also be comfortable for you if it is protected by a well-fitted sheath.
There are different ways you can wear a boot knife comfortable such as positioning it inside your boot, strapped to your ankles, around your neck, and around your waist.
How practical is it to carry a boot knife?
A boot knife can be practical if you are trained in handling weapons, especially in hand-to-hand encounters.
However, if you don't have any prior training, it is best to resort to alternative self-defense tools. A knife would be useless if you don't know how to maximize its use and you might hurt yourself by owning one.
How do you maintain a boot knife? 
Always keep your blade dry and clean. Never store your blades wet and dirty or they may end up damaged and corroded.
Sharpen your blade regularly. Stones are recommended blade sharpeners because of their coarseness. Apply the same number of strokes on both sides of the blade.
Are boot knives illegal?
Legalities in carrying, usage, and ownership of boot knives may vary from state to state. Different states have different legislations as to how they regulate knives.
For instance, there are states that don't allow knives of any kind to be carried around in public for a long period of time.
It is best to check your state laws regarding this matter.
Summing It All Up!
There are several boot knife brands available in the market today. Each brand offers unique features to promote its boot knives.
No matter how many choices are available in the market, you can still choose the boot knife that is best for you by taking into consideration the different criteria indicated above.
Boot knives are meant to be concealed and carried by individuals as a self-defense tool. Aside from protection, they should be practical and used for daily cutting chores.
Choose the best boot knife for you while taking into consideration the legalities observed by your state regarding blades.