Anyone who has used a thermal optic while hunting at night can tell you the huge advantage these devices provide, but that's not their only application — they're invaluable for search and rescue operations, and recent conflicts such as the war in Ukraine have clearly shown that thermal optics offer an advantage on the battlefield as well. Whether you need to scan your property for four-legged predators, search for a lost pet, or defend against human aggressors, thermal optics can make low-light tasks much easier. The new Armasight Contractor thermals, which were unveiled earlier this year at SHOT Show, are now hitting the market.
The Armasight Contractor series is launching with two models, the Contractor 320 3-12x25mm (top) and Contractor 320 6-24x50mm (bottom). Both optics are designed and built in the USA, and feature Armasight's new made-in-the-USA ArmaCORE thermal core with 12-micron pixels (a large increase in sensor resolution over previous models). Each Contractor optic is contained in a lightweight metal housing and powered by CR123 batteries with a 4-hour maximum runtime.
The Contractor series of thermals offers six color palettes, some of which can be seen above. These images are rendered onto a 60 Hz 1024×768 display. There's also a digital compass, inclinometer, and a choice of eight user-selectable reticles: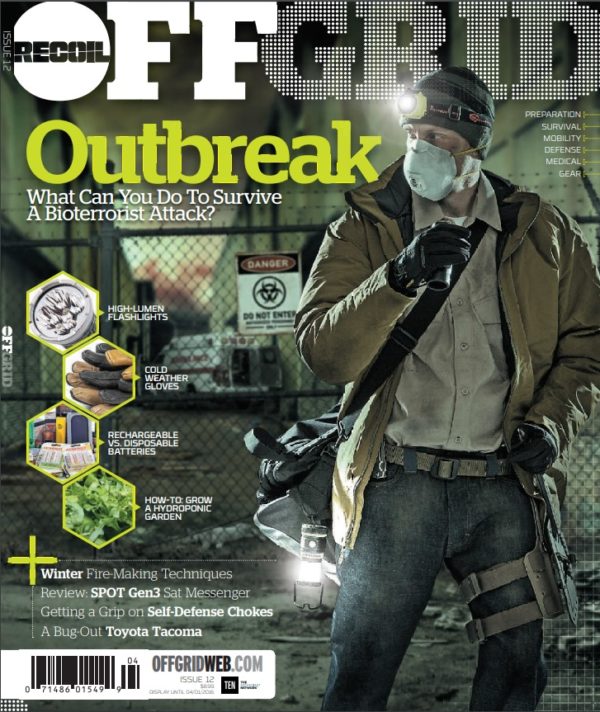 Subscribe Today and Save!
Still photos and up to 4 hours of video can be captured and stored in onboard memory. Alternatively, these photos/videos can be downloaded onto a computer via the USB cable, or transmitted over WiFi to your mobile device using the Armasight mobile app (available for iOS and Android). The app can also be used to remotely control the thermal optic, stream live video, check GPS location, and install firmware updates to expand functionality.
MSRP for the Armasight Contractor 320 3-12x25mm is $4,299, and MSRP for the Contractor 320 6-24x50mm is $4,799. For more information, go to Armasight.com.
---
Prepare Now:
Disclosure: These links are affiliate links. Caribou Media Group earns a commission from qualifying purchases. Thank you!
---
STAY SAFE: Download a Free copy of the OFFGRID Outbreak Issue
In issue 12, Offgrid Magazine took a hard look at what you should be aware of in the event of a viral outbreak. We're now offering a free digital copy of the OffGrid Outbreak issue when you subscribe to the OffGrid email newsletter. Sign up and get your free digital copy Click to Download!
---