We are truly fortunate to be living in times where brisk competition creates better options for consumers. This is particularly true in the crowded market of concealed carry options.
Companies innovate, are surpassed by competitors, then innovate again to keep their lead and drive sales — we all benefit from this lovely cycle. Sig Sauer already had what is arguably one of the best micro compacts in the P365XL, a product of this evolution.
But recently they released the P365XL Spectre Comp, possibly in an effort to show they are peerless at the top of the heap. Is the Spectre Comp worth the difference in price over the base model?
We've tested out both, side by side, and we'll share our thoughts with you below, so read on.
Table of Contents
Loading…
Sig Sauer P365XL Spectre Comp: Review at a Glance
Pros
30% recoil reduction
Marvelous grip texture
Improved optics ready
Cons
The Bottom Line
The Sig Sauer P365XL Spectre Comp is one of the best things you can put in your pants. It's expensive, but the price has fallen since it was first released.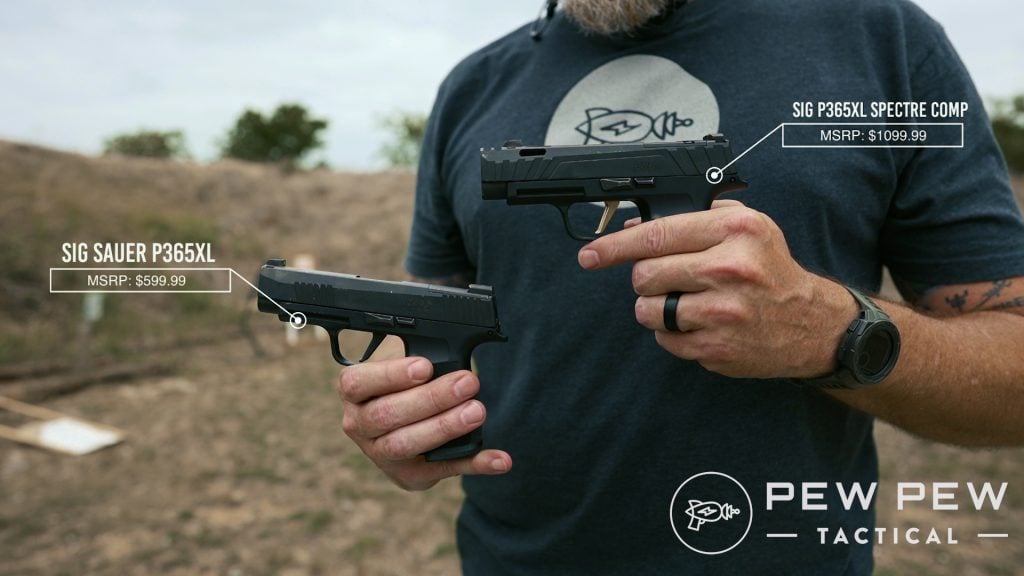 Specs & Features
Specs
Caliber: 9mm
Width: 1.1"
Length: 6.6"
Barrel Length: 3.1"
Height: 4.8"
Weight: 20.7 oz.
Capacity: 12+1
Features
Integrated compensator
Laser stippled LXG X Series grip module
Custom Works Spectre optic
Source: Sig Sauer
Background
When recent micro compact wars touched off a few years ago, Glock had a good jump on the market with their G42 and G43 single-stack guns. Not to be outdone, Sig answered with the P365 in January 2018.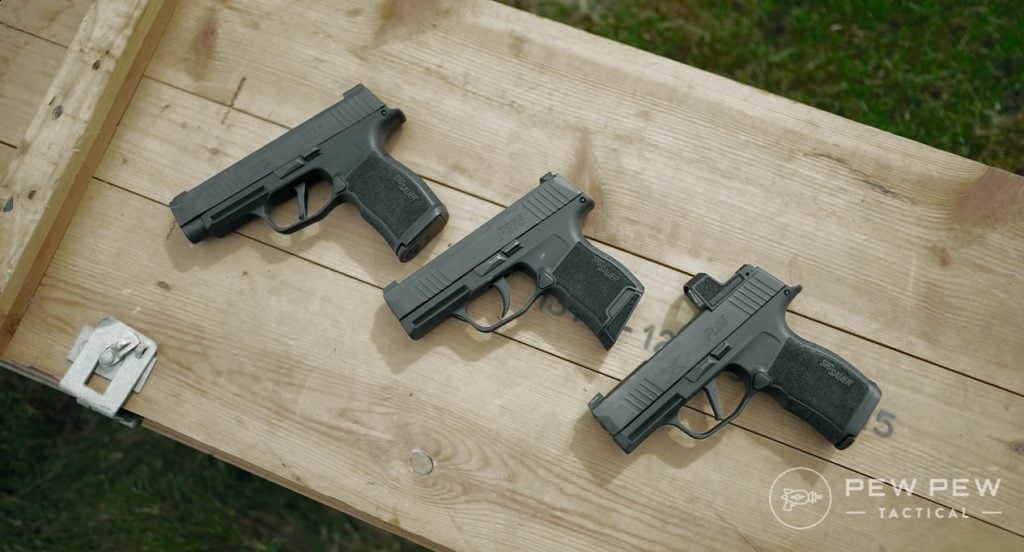 This counterpunch was significant because the P365 was comparable in size, but had up to double the capacity with an extended magazine (12+1). Knowing they had a winner, Sig began offering expanded variants of the gun.
The P365XL soon followed and the increased grip size allowed 12-round magazines to fit flush. The Spectre, and Spectre Comp — products of Sig's Custom Works division — came after.
Who Is the Spectre Comp For?
The Spectre Comp is for those who want a compensated, concealable pistol with a 12-round capacity, and they aren't afraid to spend north of $1,000 to get it.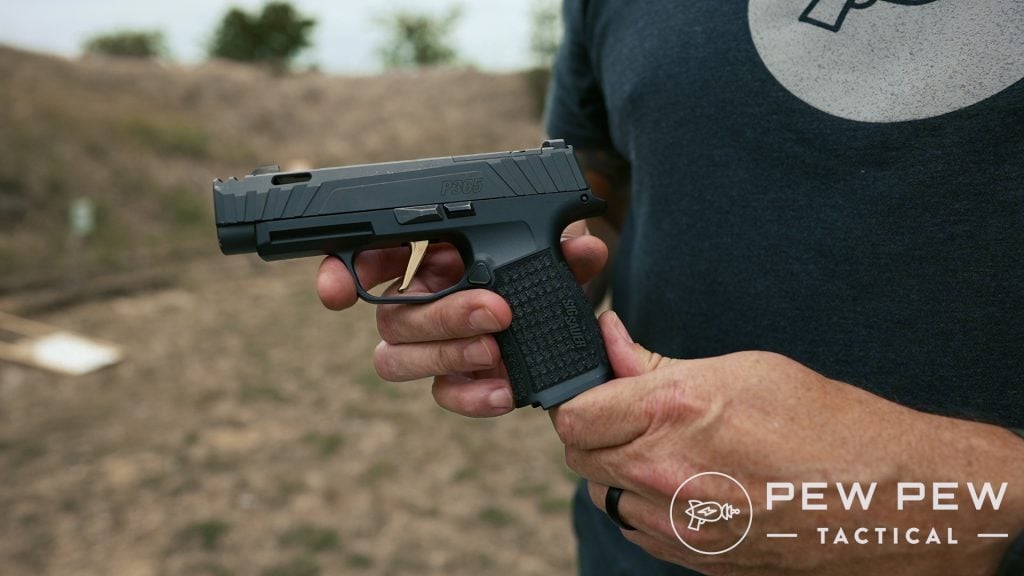 Fit & Feel
Many things about the two guns felt largely the same. The shape of the grip, the frame, even the weight were very similar.
However, by comparison with the standard P365XL model, the grip texture on the Spectre Comp is aggressive. It offers significantly more grab than the base P365XL.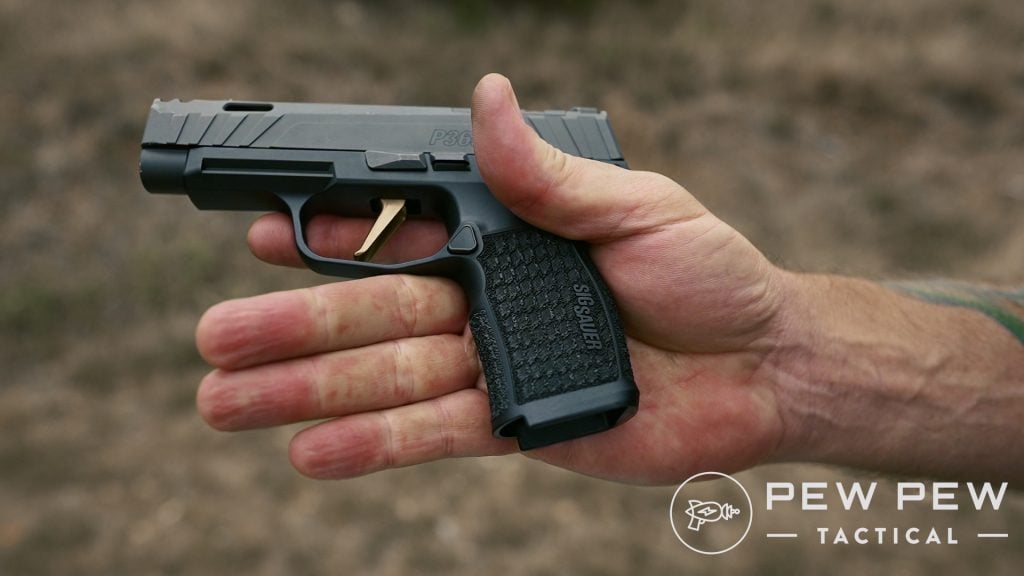 The slide serrations, front and rear, are broader and angled a bit differently. Other than these two differences, the guns feel largely the same.
How Does the P365XL Spectre Comp Shoot?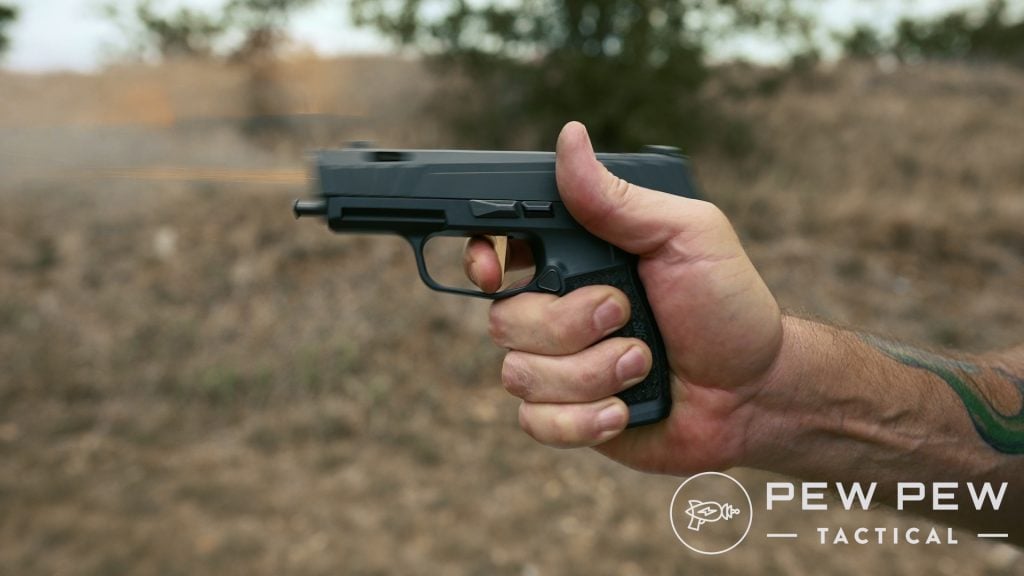 The differences in performance are subtle. The triggers feel the same to me and tested at around 4.5 pounds on my Lyman Digital gauge with a few millimeters of travel before a clean break reset.
The extra traction you get with the grip stippling is significant and that helps tame muzzle flip quite a bit, but when you combine that with the compensator, you get a little magic based in physics.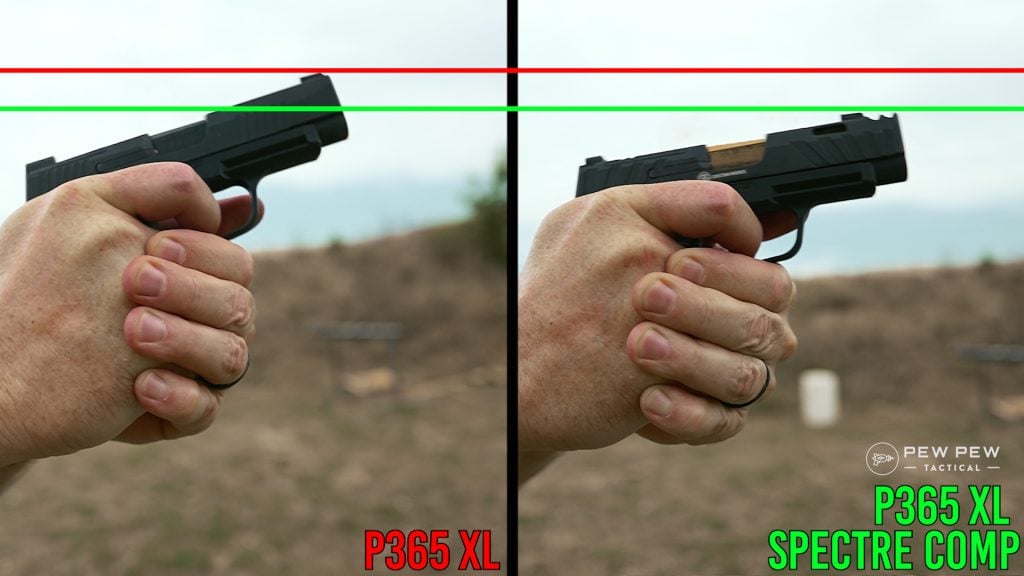 The bottom line is, it aims and shoots essentially the same, but the follow-up shots can happen quicker because recoil is less violent. You can still outrun it, but you really have to try to shoot fast in order to do it.
When you press the trigger with your sight picture established, the sights pop back onto your picture quicker and allow you to engage again quickly.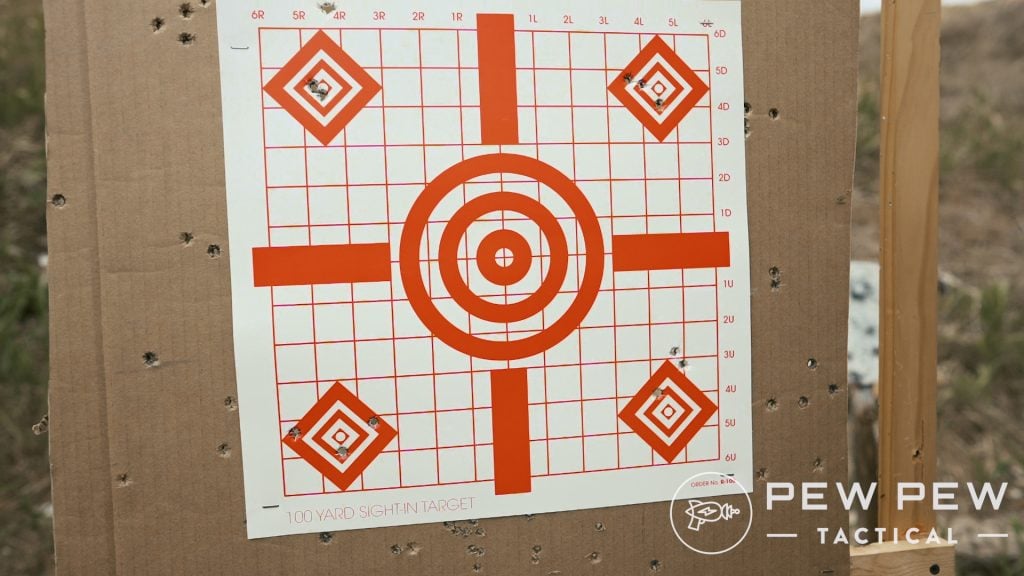 What Sets It Apart?
The grip texture, slide serrations, and integrated compensator set this gun apart from other models. In addition, Sig included a pretty big upgrade to the optics mounting system with the Spectre Comp.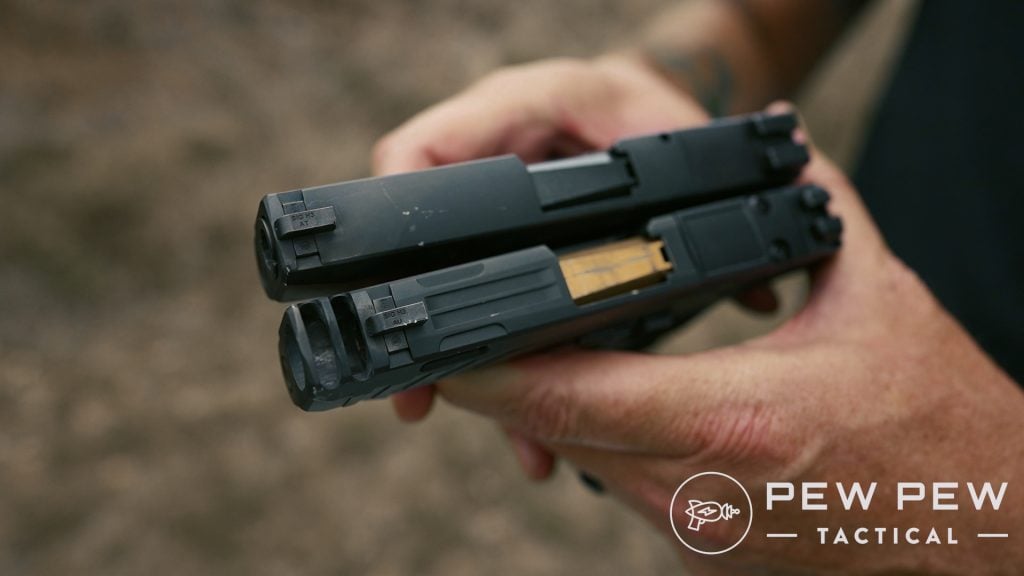 In the original P365XL, users had to remove the rear sight in order to mount an optic. If you used Sig's Romeo Zero red dot, it included a rear sight fixture.
Now, the Spectre Comp has an independent red dot mounting plate that is separate from the rear sight. The gun also includes a barrel and trigger shoe coated with gold titanium nitride that does not affect performance from what I can tell.
By the Numbers
Reliability: 5/5
We shot several hundred rounds through both the P365XL and the Spectre Comp with zero failures.
Ergonomics: 4/5
I really like the grip and frame on the P365XL though I often struggle to use micro compacts with my big hands. The mag release is a little subdued, but that's to be expected with a gun designed for concealed carry.
Accuracy: 4/5
I put together some 3-shot groups from seven yards with the Spectre Comp and they averaged around 1.5 inches. The Sig 3-dot sights were easy to pick up.
Customization: 2/5
This is a tough category for a gun already heavily customized. While Sig has created an impressive package with the P365XL and Spectre Comp, their proprietary accessory rail somewhat limits its customization. Companies like Mantis X have created accessory rail adapters to compensate for this, but they add more bulk along with their utility.
Value: 4/5
Each shooter will need to identify whether the juice is worth the squeeze for this gun. For the price, you are getting an integral comp, stippled grip, and more user-friendly optics mounting system.
There is value in the recoil mitigation as discussed, but you also don't have to worry buying a threaded barrel and bolting on an aftermarket compensator which you'll want to check tightness on every so often. When the gun was released, I saw prices around $1,600 though more recently they are closer to $1,100.
Overall: 4/5
Final Verdict
Is the Sig Sauer P365XL Spectre Comp worth the extra money? In my mind, it is but each shooter will have to make that decision for themselves.
The integrated compensator allows you to shoot more quickly without a doubt. This is great for controlled pairs, small strings of fire, or even faster than normal shooting.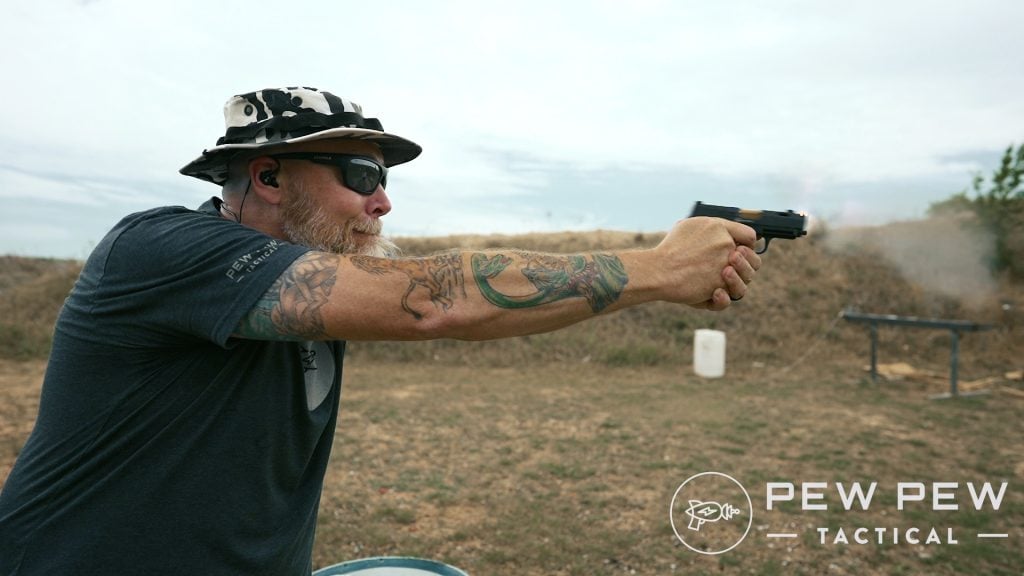 Being able to reobtain sight picture quicker and deliver rounds downrange is an advantage some folks are absolutely willing to spend a little more for.
Is the P365XL Spectre Comp worth the money to you? Let us know in the comments below. Be sure to check out our review of the original P365.