(Psst: The FTC wants me to remind you that this website contains affiliate links. That means if you make a purchase from a link you click on, I might receive a small commission. This does not increase the price you'll pay for that item nor does it decrease the awesomeness of the item. ~ Daisy)
If you've ever spent much time backpacking or camping, you know that there are a few hours of downtime every evening after dinner that are spent without a whole lot that one can do. Maybe it's the mosquitoes that drive you into your tent, the rain, the cold, or simply the lack of light.
In a grid-down situation where you need to bug out, there's a lot to be said for staving off boredom and for boosting morale. It's interesting to watch the show Alone and to see just how many contestants quit not because they've been beaten by the elements (though there are plenty of those as well) but because they've been beaten by their own minds.
Boredom has won out over them, and it leads them to make stupid decisions. There's much to be said for morale. Militaries throughout history have realized this. When morale drops, people do stupid things. They forget what is important. You don't want your family to end up doing the same thing. To stave off the boredom, I think there are a number of things one can do, but perhaps the easiest is to include some kind of small game in your bug-out bag.
Something easily packable, lightweight, and that doesn't grow too stale too quickly. I just returned from a backpacking trip where two of these options were utilized, but here are a few of my thoughts on easy-to-pack games for your bug-out bag.
(Want to learn more about bugging out? Check out our free QUICKSTART Guide to emergency evacuations.)
If you like Monopoly, this is the card version of it. For those that don't like Monopoly, this is the way to play the game without spending 15 hours sitting at a table. It's a good game for up to five people, and the gameplay only takes about 20 minutes.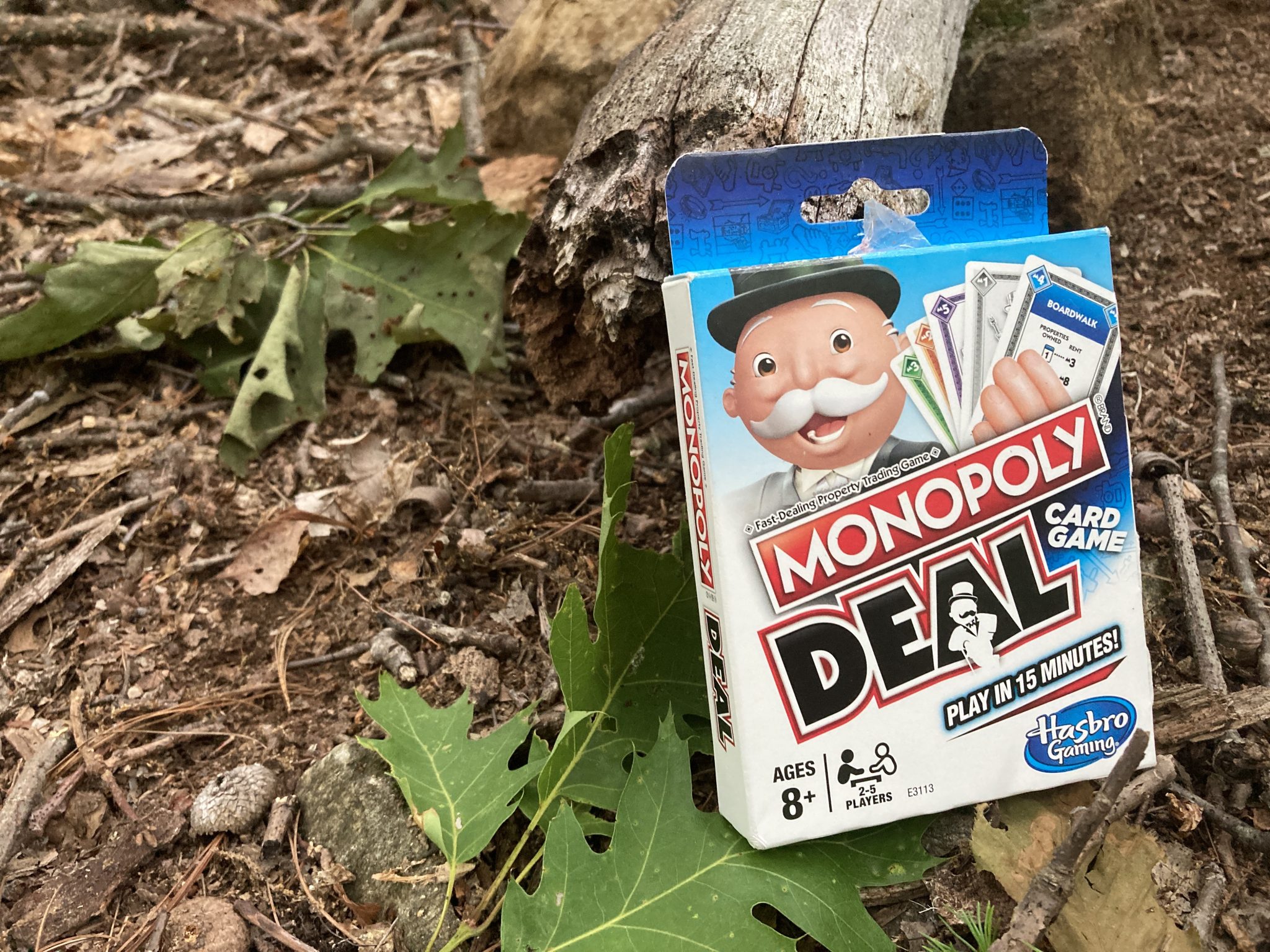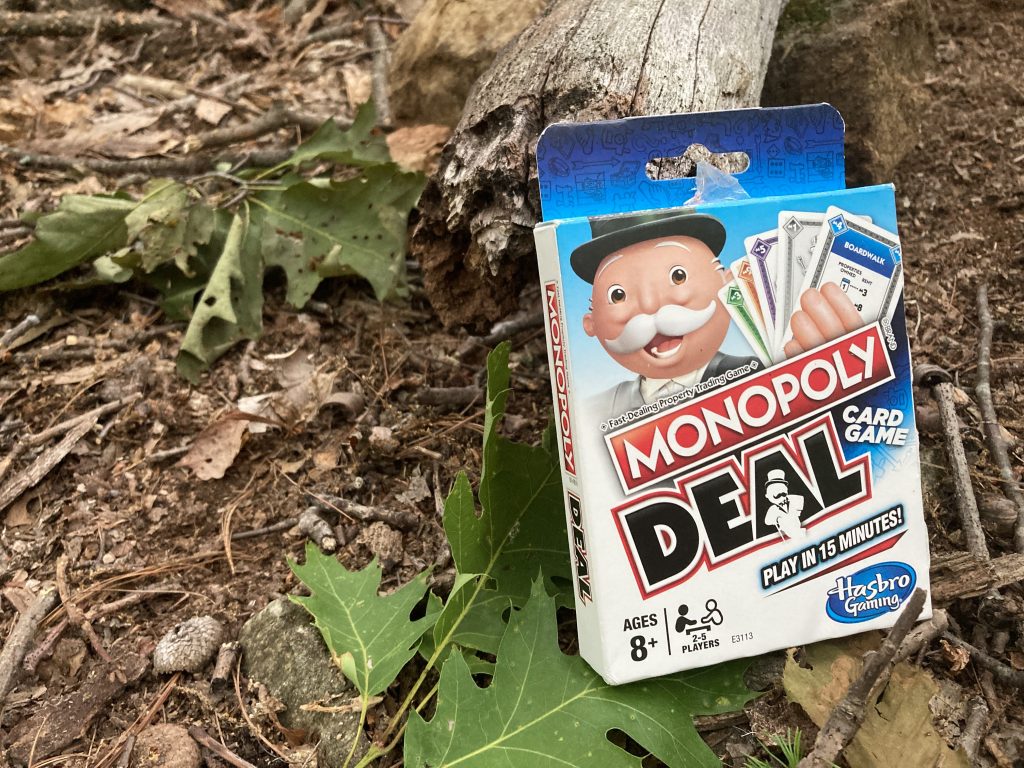 I actually prefer this version of the game compared to the board game version, I picked up my copy for $2 at the store, and the little cards easily stow away in the crannies of a bag. It's not the most strategy-intensive game in the world, but it's still a great, portable means of passing the time.
(If I play you, I'm going to win and then rub it in online.)
This is a really fun two-player game that I bet you've never heard of before. I really enjoy playing chess because of the strategy involved, and Quarto involves a great deal of similar strategies. Think of it as Tic-Tac-Toe on steroids.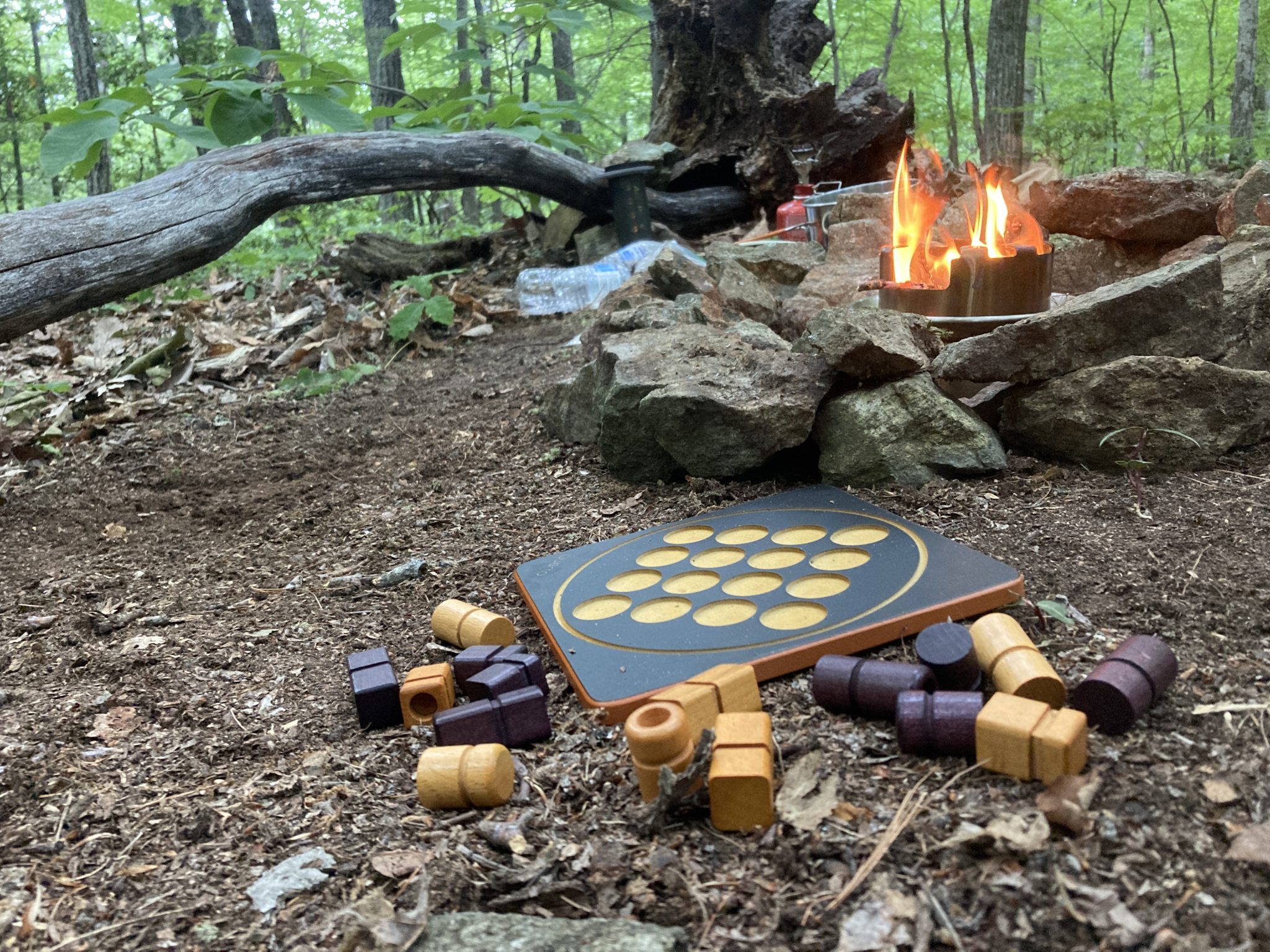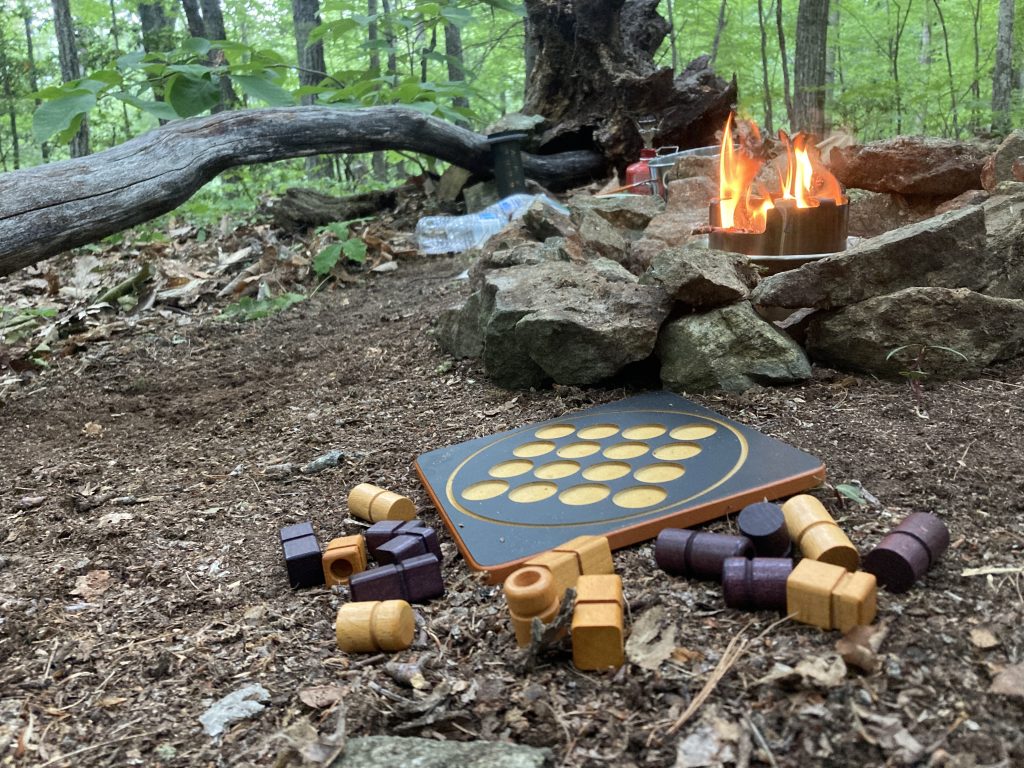 Each piece has four traits: the shape, the height, the color, and whether it's solid or hollow. The goal is to get four in a row matching any one of those four traits. The catch is that your opponent gets to pick what piece you lay down. This forces you to consider what pieces are still left in play, how to best trap your opponent, and how to avoid getting trapped yourself.
It's an absolute blast, and anyone can learn how to play it in 60 seconds flat. Leave the box behind at home and just pack in the little bag of pieces and the little board. If you don't want to pack in the board as well, you could draw one in the dirt or, like I'm considering, make one on an old bandana.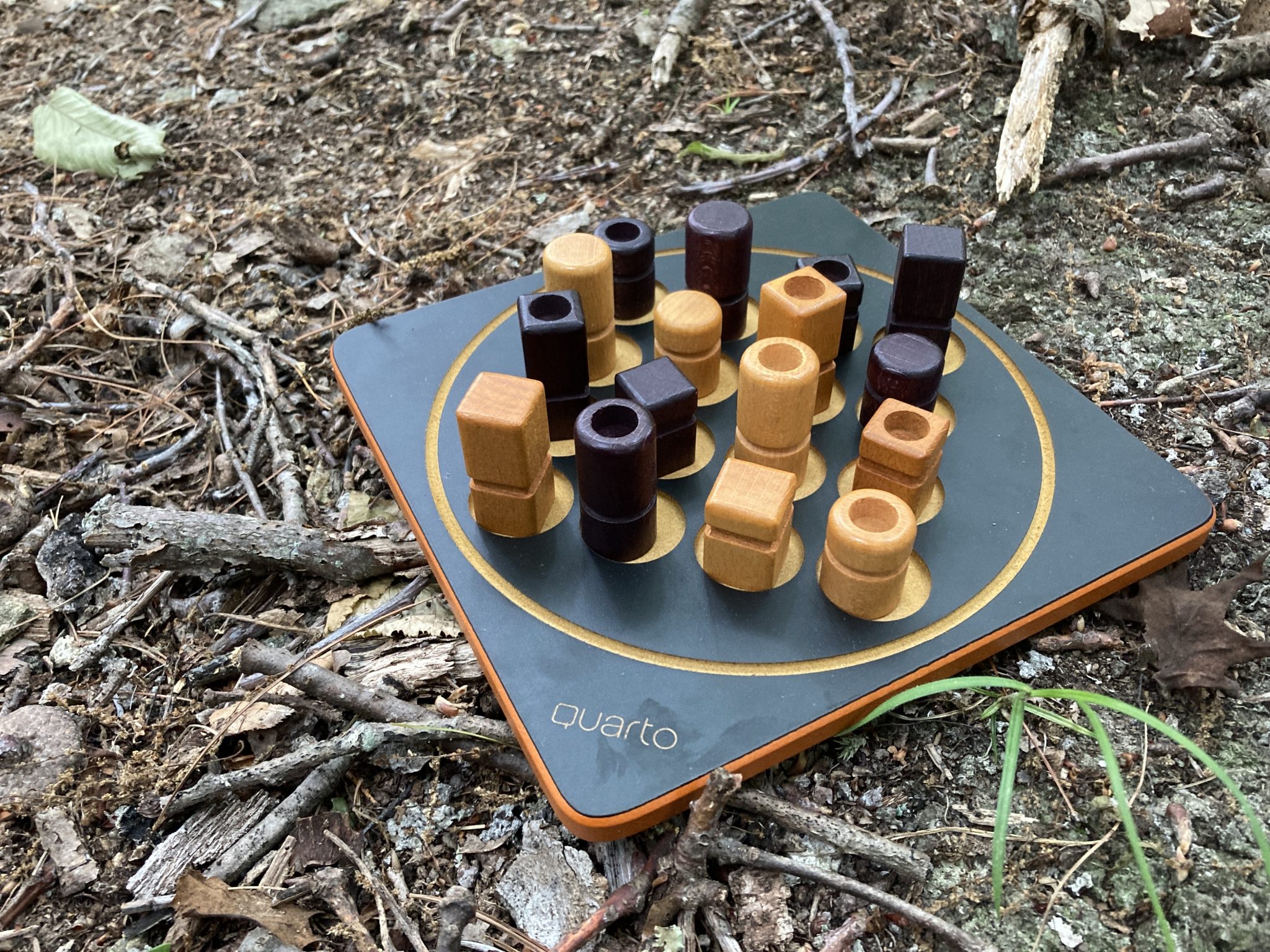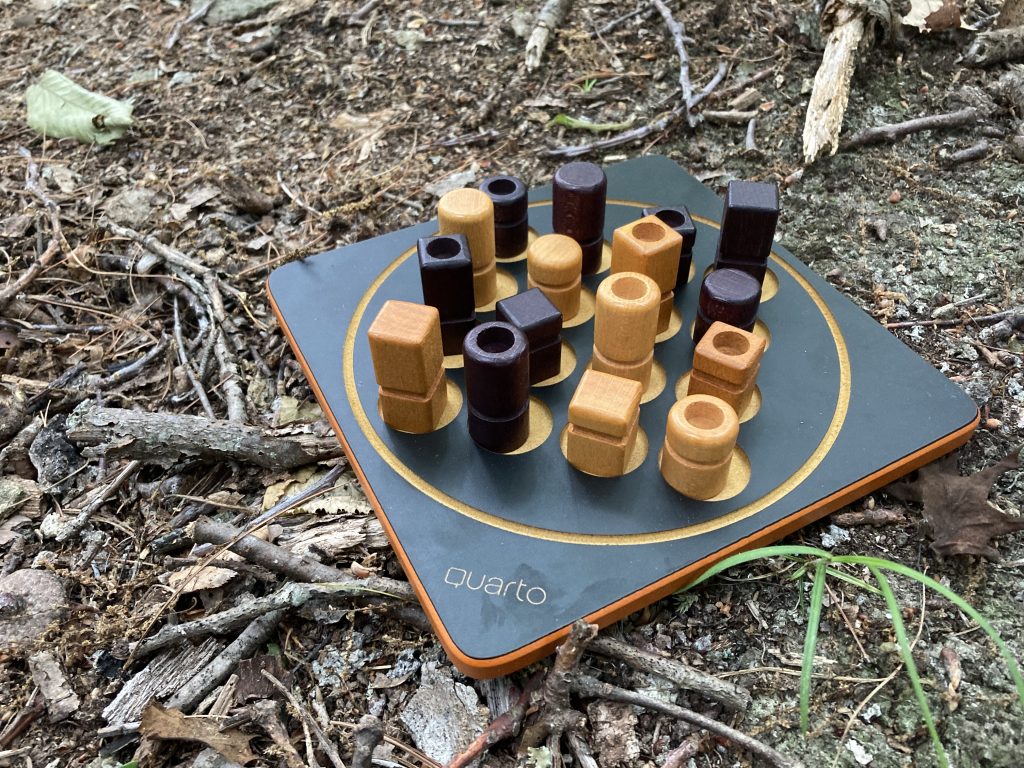 Flip over the board, and you've got yourself a little coaster while you're out in the woods too. You know, so you don't leave coffee mug rings in the dirt.

(If I play you in this too, I'm going to win and rub it in online even more.)
If you enjoy playing Settlers of Catan, this is the portable version of it, kind of like Monopoly Deal. You can have up to four players here, and it's the typical rule of "first to ten points wins," much like the board game version.
It still takes about the same amount of time as the board game (25-45 minutes), but if you're looking for a portable means of getting your Catan fix in, that invokes a bit of the strategy of the original game, this is it.
This is a classic, and I'd be remiss not to include it within this list. Personally, I find it kind of stale – it's been around forever – (I know, I know. Chess has been around even longer.), but there are a lot of people out there who really like it, it packs down easily, and it's easy to learn.
Personally, I think this is an even better Catan version to pack in a bug-out bag than the card game version of Catan. You can actually fit this one into a pocket. All it is is a few dice and a notepad. Provided you have some pens/pencils, you've got everything you need right there, and you don't risk people yelling "UNO!" at the top of their lungs while you're in the middle of the woods.
The only catch is that you can only play it with up to four players, which may not make it ideal for bugging out with a large family. If you have less than that in your party, though, I would highly consider adding it to your repertoire.
(Want uninterrupted access to The Organic Prepper? Check out our paid-subscription newsletter.)
What are your thoughts on boosting morale with your bug-out bag? 
There are a host of other games out there that may make a good fit here, but the above ones are the ones that are more down my alley than any of the others out there. Other games that almost made my list here were Play 9 (it has too many cards), Phase 10 (again, too many cards), and Conflicted (probably better pre-collapse? I'm still thinking on this one.).
Granted, you most certainly have other priorities when you're bugging out such as security, obtaining adequate food/water, and keeping people healthy. Playing Monopoly Deal really wouldn't be the first thing I'm thinking about in a bug-out situation. I'd be thinking about staying safe. But when security is set up, when all your bases are covered, and when you have as safe of a place to do so, I think there's something to be said for having packed in a game.
What are your thoughts on the matter, though? Are there small games you know of with big replay value that are easily packable for a game out in the middle of the woods? Let us know what you're thinking in the comments below.
About Aden
Aden Tate is a regular contributor to TheOrganicPrepper.com and TheFrugalite.com. Aden runs a micro-farm where he raises dairy goats, a pig, honeybees, meat chickens, laying chickens, tomatoes, mushrooms, and greens. Aden has four published books, The Faithful Prepper,  An Arm and a Leg, The Prepper's Guide to Post-Disaster Communications, and Zombie Choices. You can find his podcast The Last American on Preppers' Broadcasting Network.