Want faster target acquisition, easier 100-yard shots, and the upper hand in low-light situations?
You need a red dot for your pistol.
We hands-on review a few of the most popular and rugged red dots available.
We've mounted them on several pistols and rifles through thousands of rounds…and even shot them at night through night vision.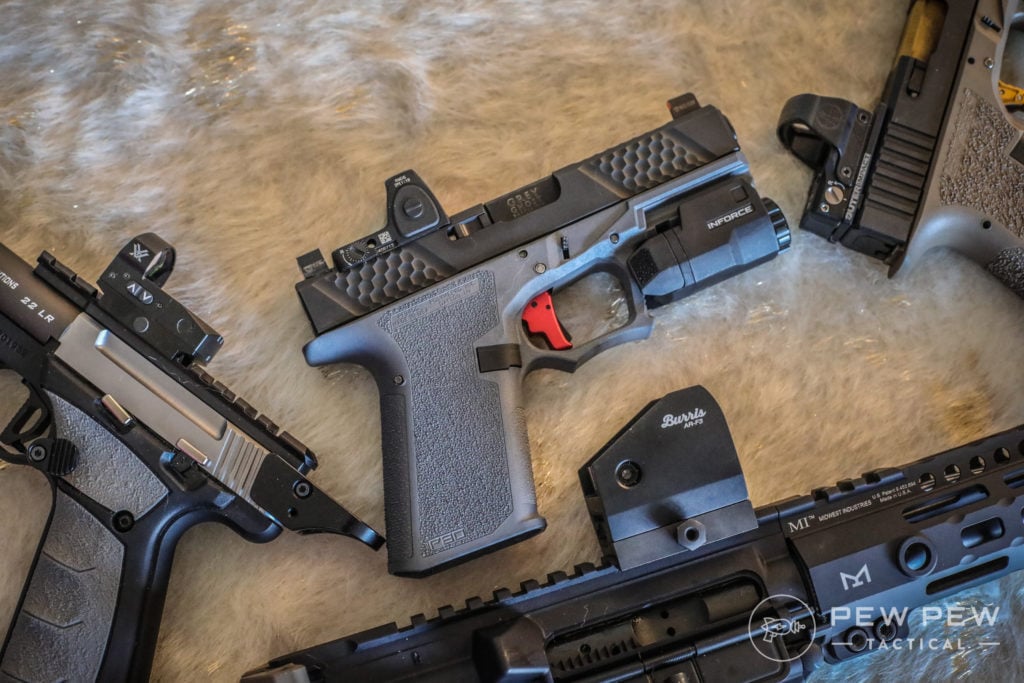 We cover "full-size" pistol red dots…and now smaller footprint "micro" red dots popular with concealed carry handguns.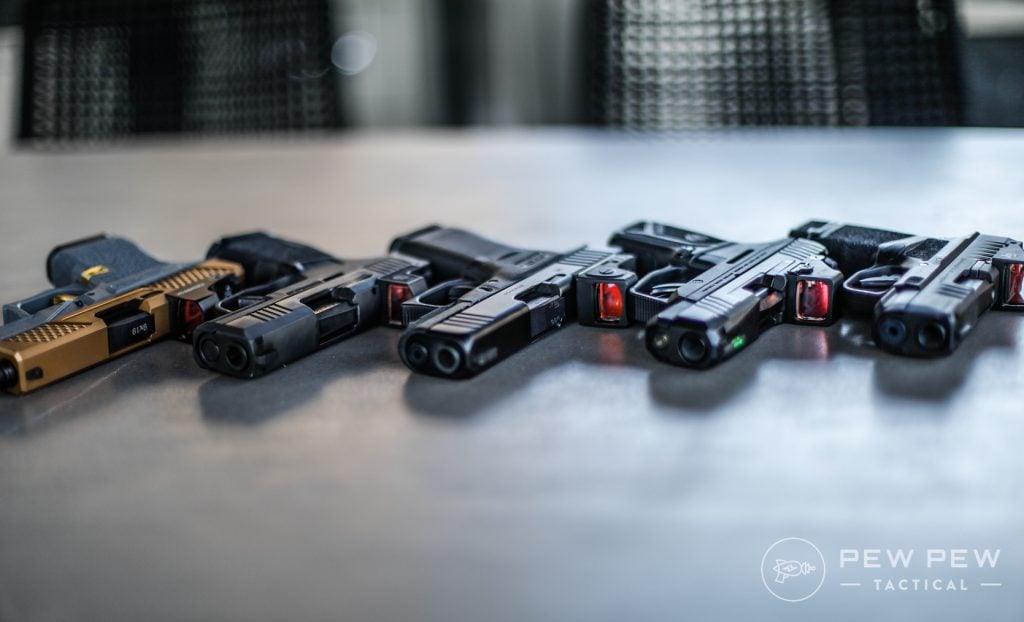 By the end you'll know if pistol red dots are for you…and which one to get.
Let's get started!
Summary of Our Top Picks
Best Red Dots for Pistols
Let's get started with pistol red dots for full-size and compact handguns.
1. Trijicon RMR Type 2 RM06
The RMR Type 2 is the gold standard of pistol-mounted micro red dots. Pricey…but super rugged and with extra features not found in others.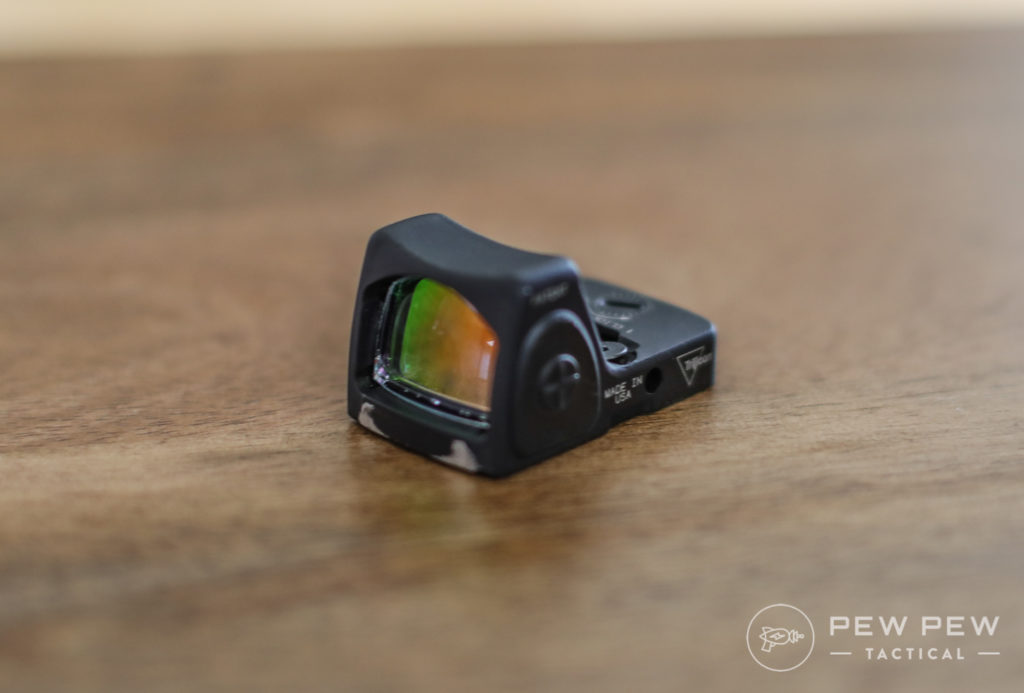 Quick Stats
Weight: 1.2 oz
Battery Life: 4 Years at Brightness Level 4
Night Vision Compatibility: Yes
Dot Size: 3.25 MOA
Waterproof: 66 feet for 1 hour with plate
Price: $469
Super Rugged
The most robust casing of all the pistol red dots out there and battle proven.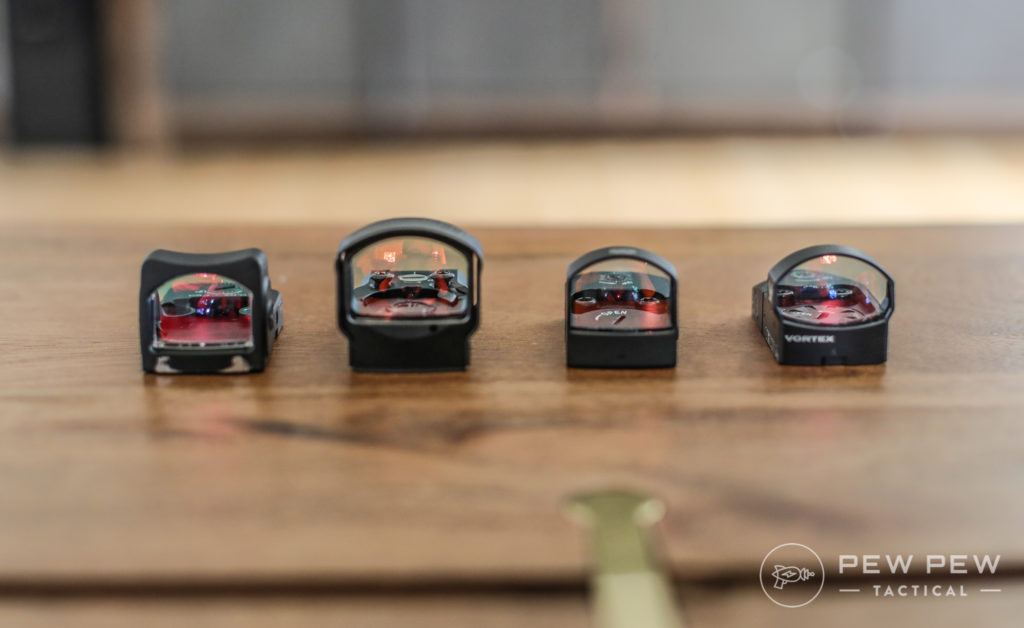 However, this leads to a smaller viewing window. But not that big of a deal when you have both eyes open and your brain superimposes the dot onto your target.
Battery Life
The longest-lasting as well with 4 years of continuous on at the very usable level 4 brightness level. However, if you're using this on duty or using it at higher settings, I'd change the batteries every year.
One con of the battery is that it is on the bottom of the sight…so you have to unmount and re-zero each year.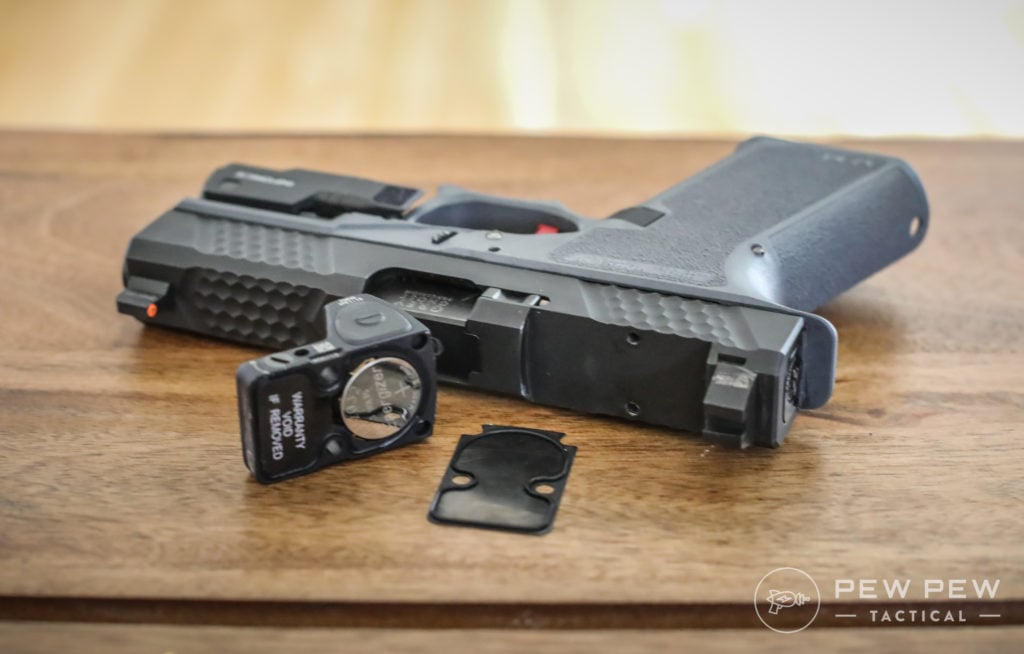 Also depending on your slide you might need a sealing plate ($18)to make sure water does not get in. I got one just in case for my Glock Grey Ghost Precision slide (full review) since the sides were a little exposed.
Look & Feel
Very quality feeling and compact. Everything you need and nothing you don't.
Buttons are easy to use (left side is higher brightness while right side is lower brightness; hold a few seconds to turn off).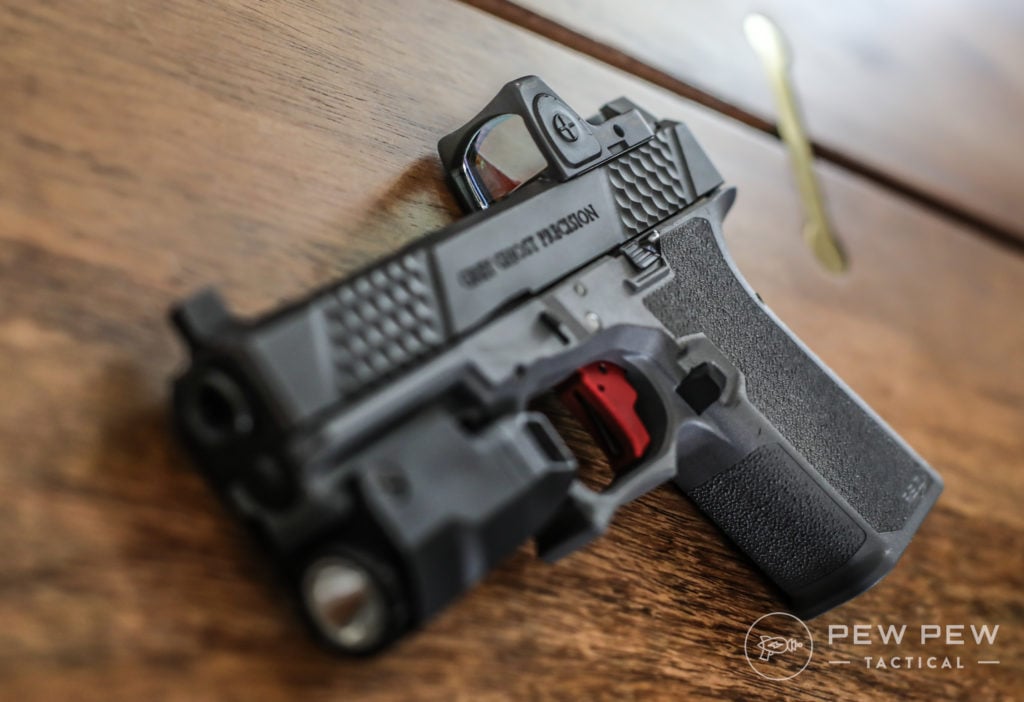 Adjustments are also very tactile feeling.
Glass is the most blue-tinted due to its special reflective coating that enhances battery life. However like the smaller viewing window…once your brain superimposes the dot it's not that big of a deal.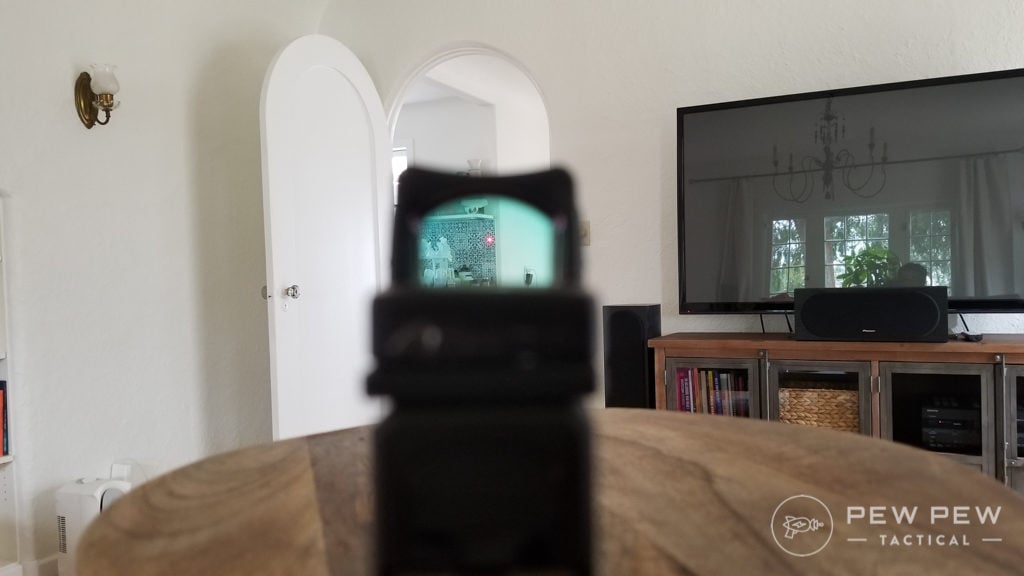 Compatibility
Another huge plus for the RMR series…there's the biggest selection of custom slides already milled for them.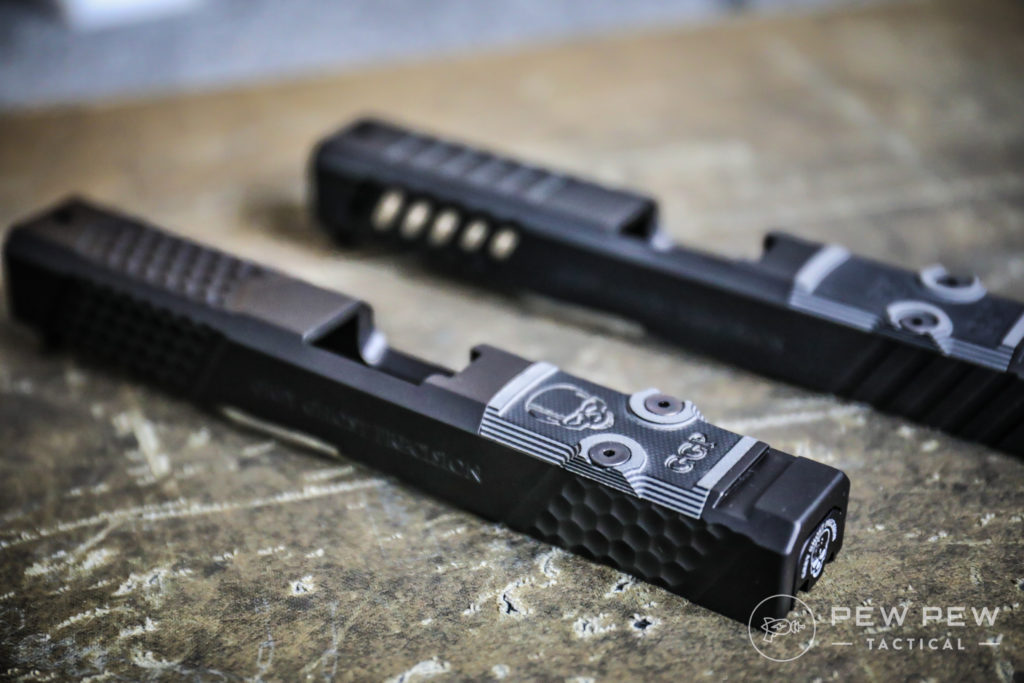 Otherwise, you will have to get more universal systems such as the Glock MOS, M&P Core, or dovetail attachments.
Night Vision
The only optic on the list that works well with night vision. All the other ones bloom too much since they are too bright.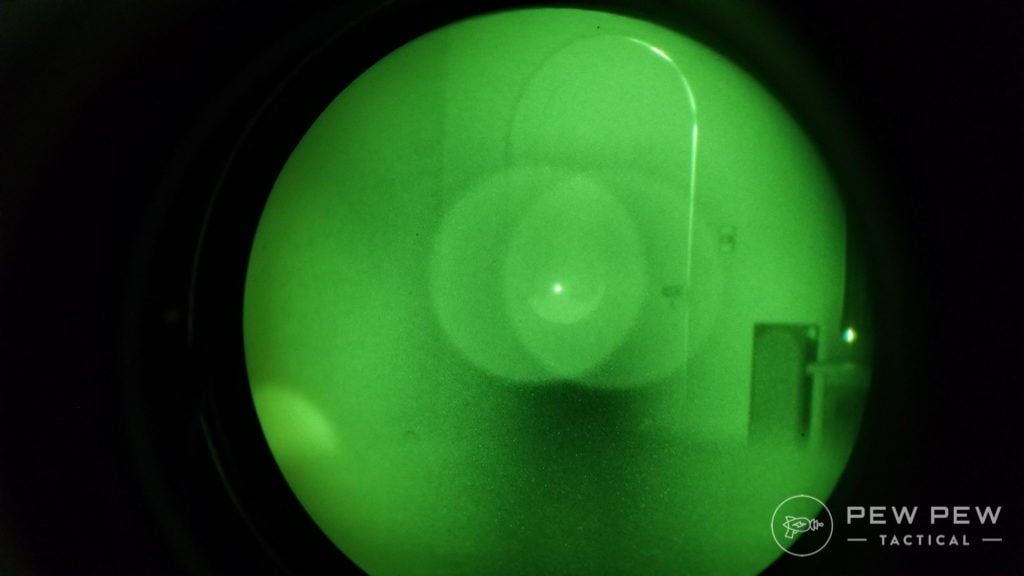 On the lowest brightness setting, the dot becomes like a laser on target. Makes NVG shooting pistols a breeze compared to only night sights.
Also…the least output from the front to other night vision devices. You know who you are if this matters.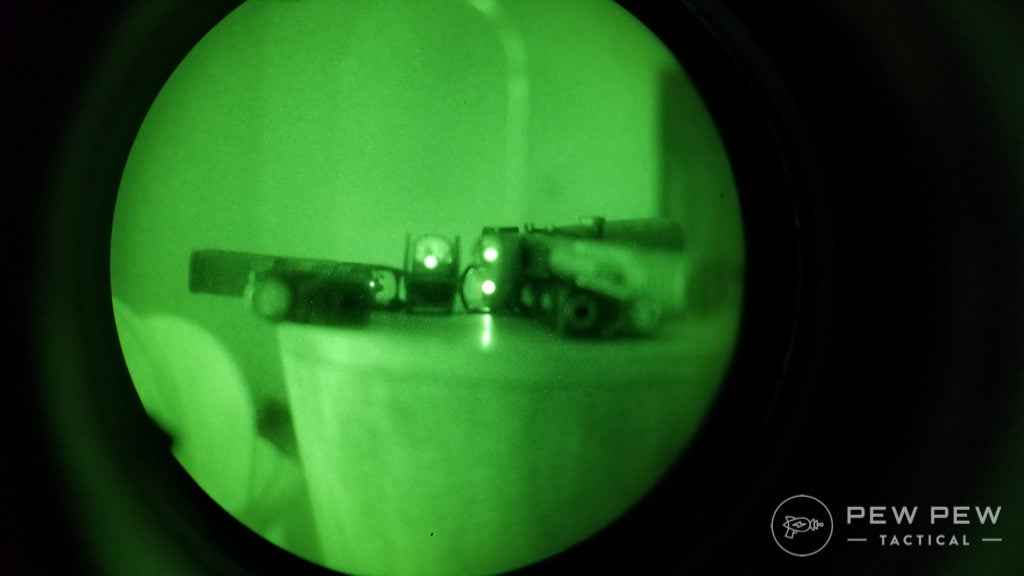 Difference from RMR Type 1
You'll see decent price savings from the Type 1…but the Type 2 has upgraded electronics that combat the semi-common flickering problem seen in Type 1's. Definitely go for the newer Type 2.
Recommended Model & Accessories
I recommend the most popular RM06 3.25 MOA model.
Big enough for quick target acquisition but small enough for 100+ yard shots. Other models have different-sized dots, mounts, and even tritium dual illumination.
It's also the manually adjusted brightness model so you can pick the best for your environment. I'm not a fan of self-adjusting brightness in my optics…it never really works well.
Also, be sure that if it's going to be on a serious firearm…to get suppressor height sights (preferably night sights too). Check out Best Glock Sights.
They'll help if your optic goes down…and also helps guide your eyes to the dot.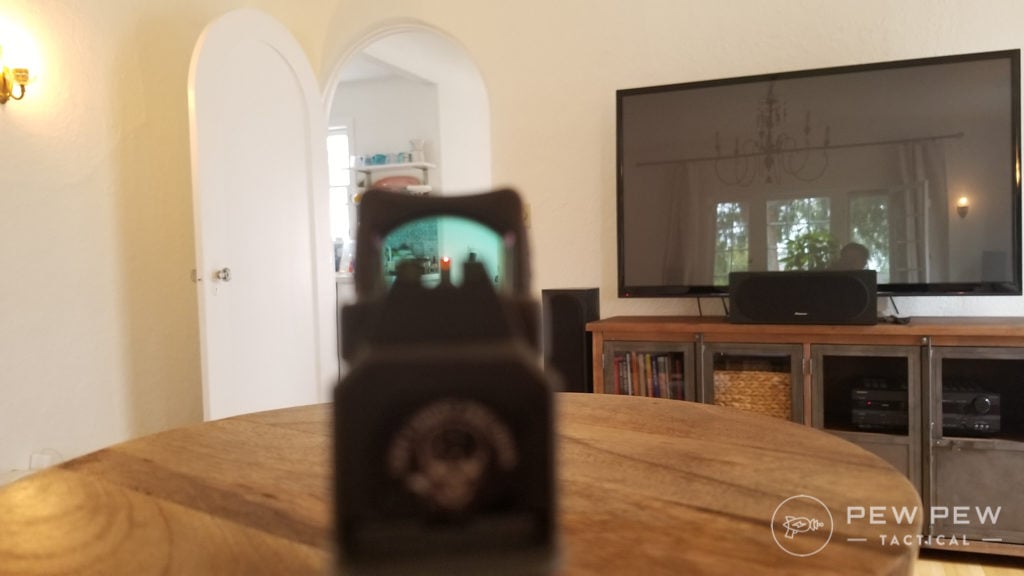 RMR Type 2 Summary
Most robust and proven pistol red dot on the market
Best battery life at 4 years on
Night vision compatible and lowest reflection out
Most custom slides are milled for it
Smaller window and bluer tint than others
Battery replacement on bottom
Most expensive
2. Leupold Deltapoint Pro
My runner-up overall recommendation is the Deltapoint Pro…but it's my favorite for competition shooting due to the clearest glass and largest view.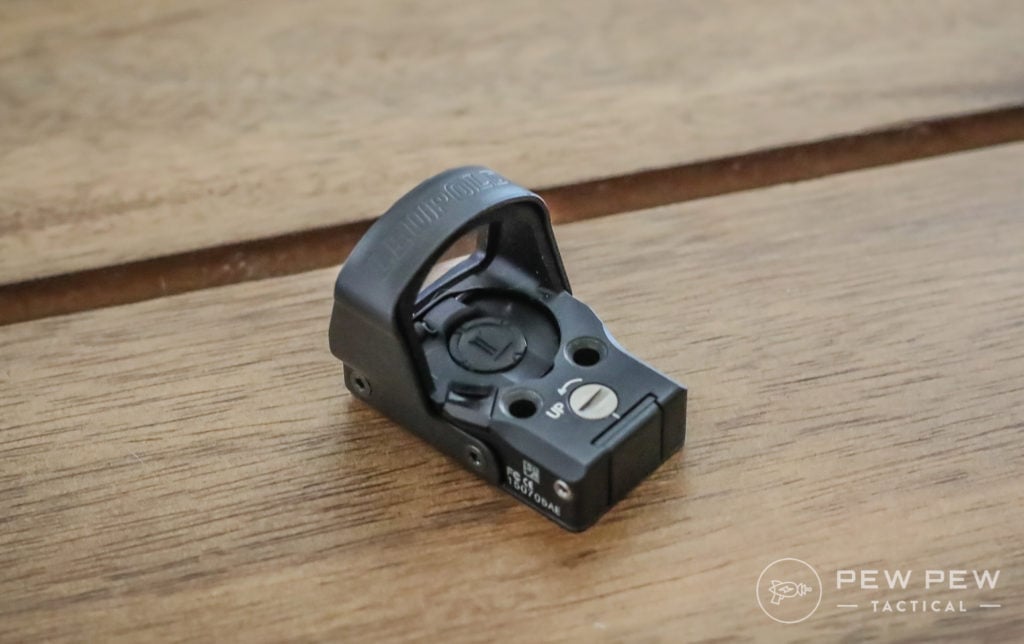 Quick Stats
Weight: 1.95 oz
Battery Life: Not listed, but most are saying less than RMR
Night Vision Compatibility: No
Dot Size: 2.5 MOA
Waterproof: 22 feet
Price: $360
Look & Feel
The biggest difference is that it's slightly bigger than the RMR but has a much better view…both in clearness of glass and size.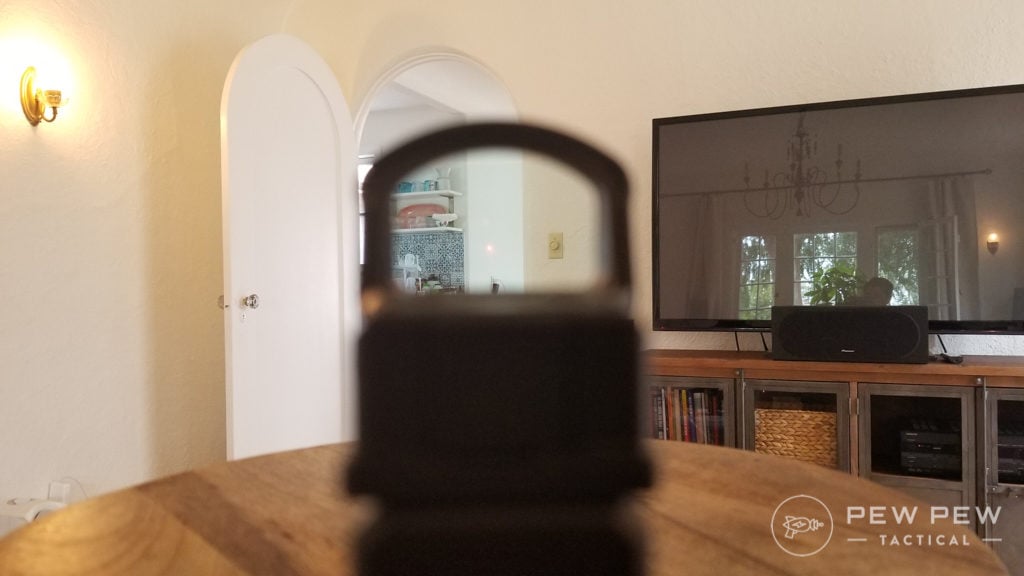 2.5 MOA is perfect for close-up work and longer range shots.
Although plenty rugged with its double hood…I'd still give the overall win to the RMR in that department.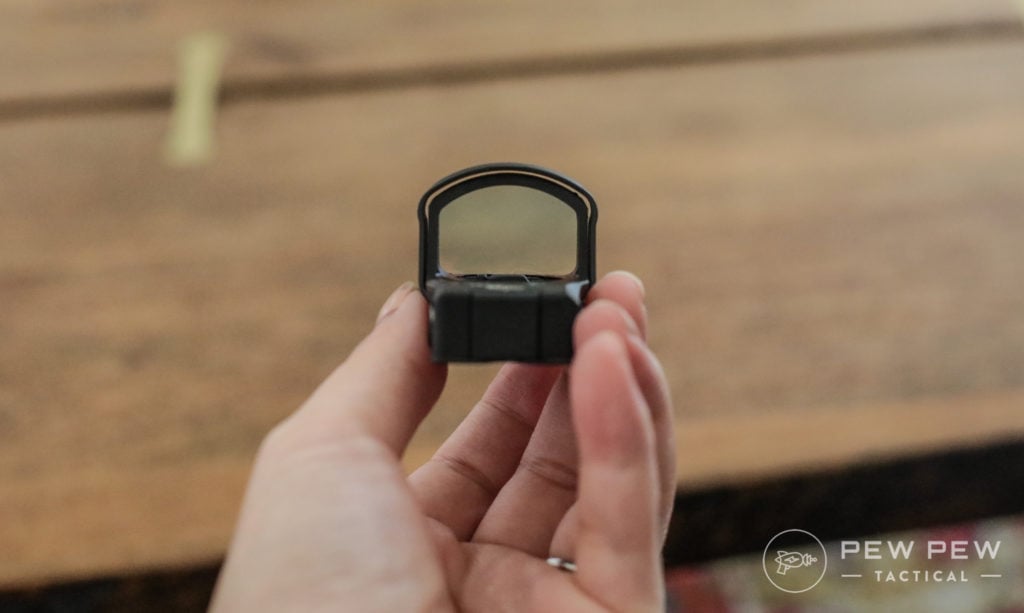 Battery Life
I couldn't find exact stats, but most people are saying the battery is not as great as the RMR.
BUT…it's top-loading so you don't need to remove your sight and re-zero.
Auto-On
Another great thing is that it has a motion-sensing auto-on function. It's plenty fast and when I used it…it was always on before I could finish my draw.
I really like the auto-on function so I won't fault its less-than-stellar button interface.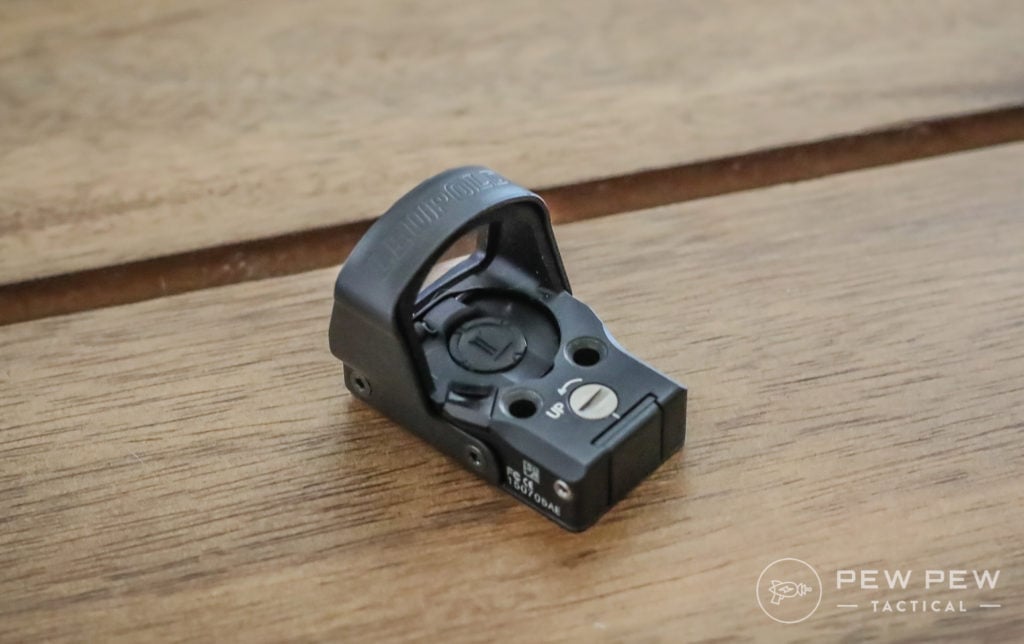 It's one big spongy button in the middle where you have to keep pressing to go up and down in brightness. And hold to turn it off/on if you're not using auto.
Compatibility
Not a lot of custom slides are milled for the Deltapoint Pro. But it's ready for the Glock MOS and M&P Core (with adapter).
Also has a nice Picatinny adapter for pistols with rails. Or go with a 1/3 cowitness mount for your AR.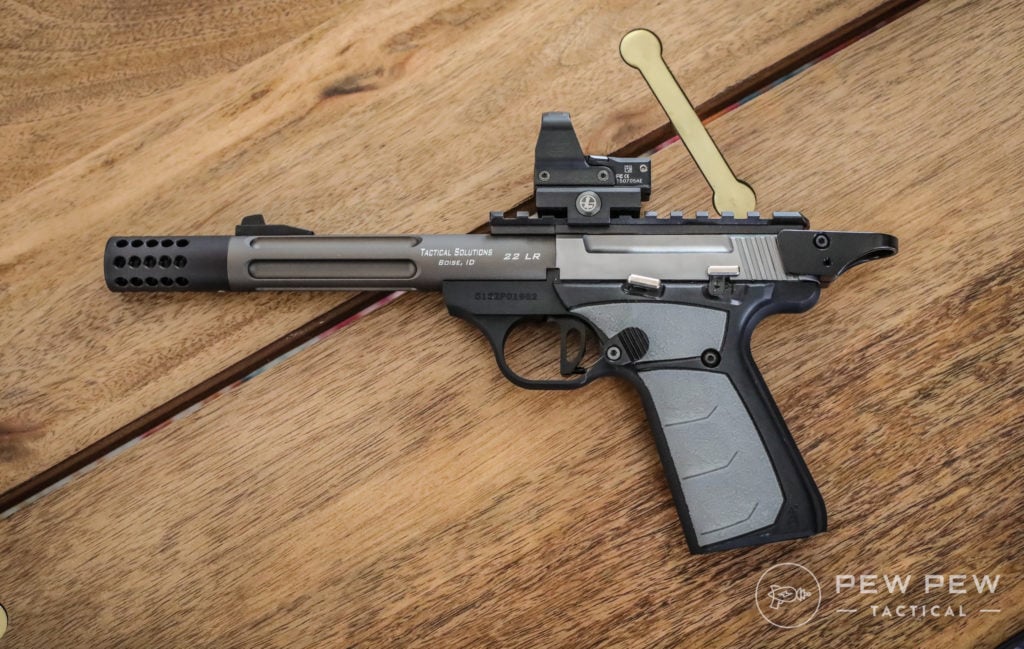 And works well with an Outer Impact dovetail mount shown on my Glock but available in other flavors.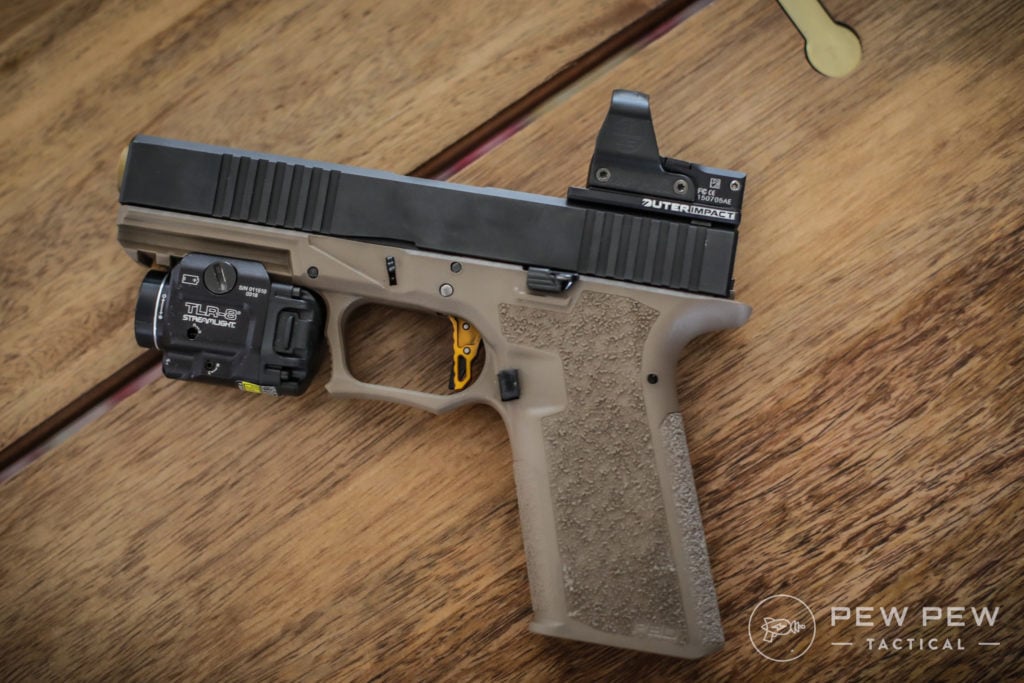 Check out our video for the full install:
If that helped, please subscribe to our YouTube channel since we're adding new videos every week!
Deltapoint Pro Summary
Plenty robust with double hood
Largest window and clearest glass
Easy battery change and decent life
Motion-activated auto-on
Larger and taller profile
Not night vision compatible
Runner Up, Best for Competition
3. Burris Fastfire 3
The Fastfire 3 is the most affordable reliable option for entering the world of micro red dots.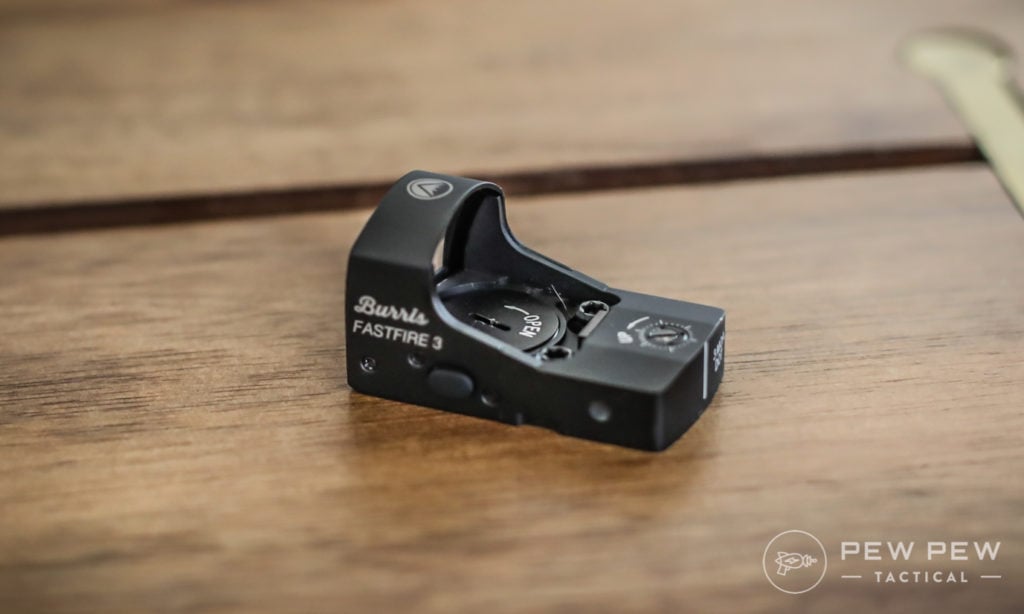 Quick Stats
Weight: .9 oz
Battery Life: Up to 5 years
Night Vision Compatibility: No
Dot Size: 3 MOA
Waterproof: Yes
Price: $180
Look & Feel
It's less than half the price of the RMR but doesn't feel cheap (especially in its AR-F3 Mount).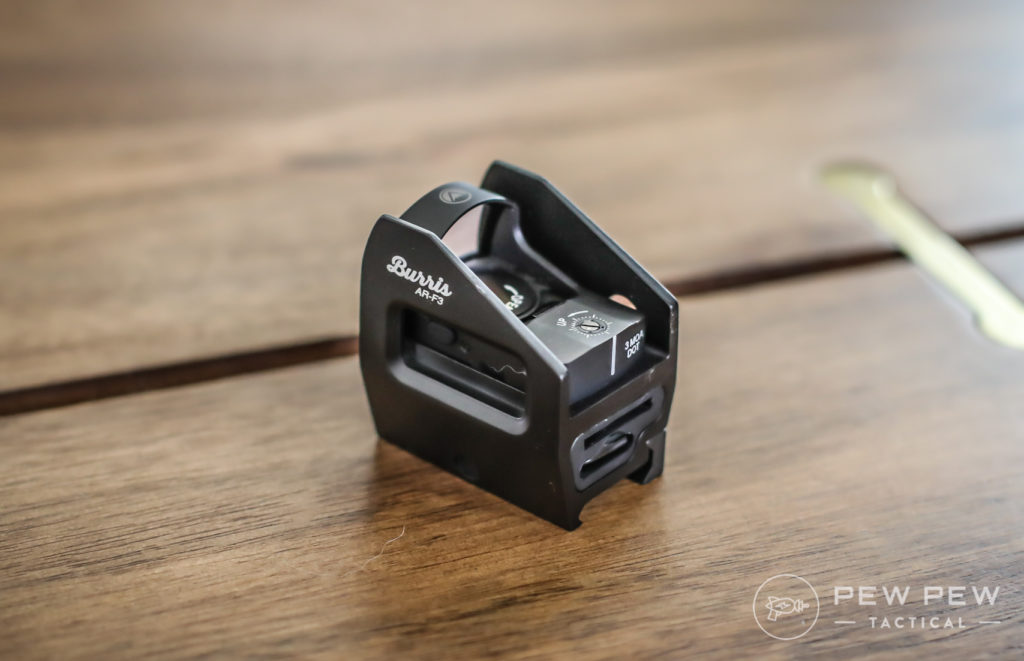 Glass is not as nice as the Deltapoint…but it's still way less green than the RMR. View is also slightly larger than the RMR.
Only one button that cycles through 4 settings (off and 3 brightness settings) that are enough for most non-night vision wearers. Also, an auto-adjustment function that you can turn on/off.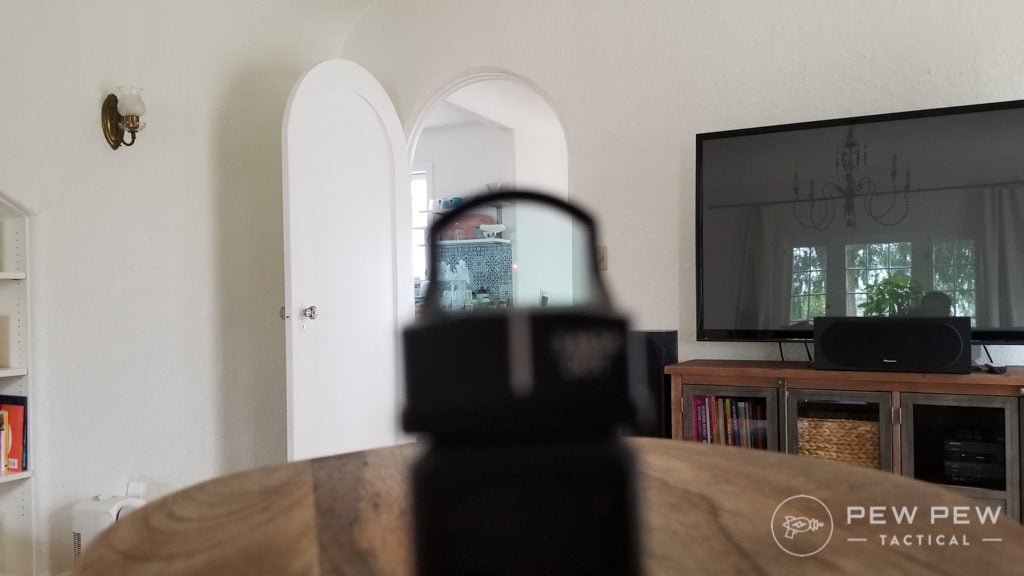 Battery Life
I couldn't find exact numbers on it…but it says it can be up to 5 years.
Also, a key thing to note is that there's an auto-turnoff function at 9 hours.
Great on the surface since the battery won't die if you forget to turn it off. But not the best if you're carrying.
For this reason, I wouldn't recommend it for CCW. But still perfect for a range/competition gun…especially with Burris' forever warranty.
Compatibility
Not a lot of custom slides but the AR-F3 model is a perfect co-witness on my AR-15 (and has handy slots for extra batteries and tools).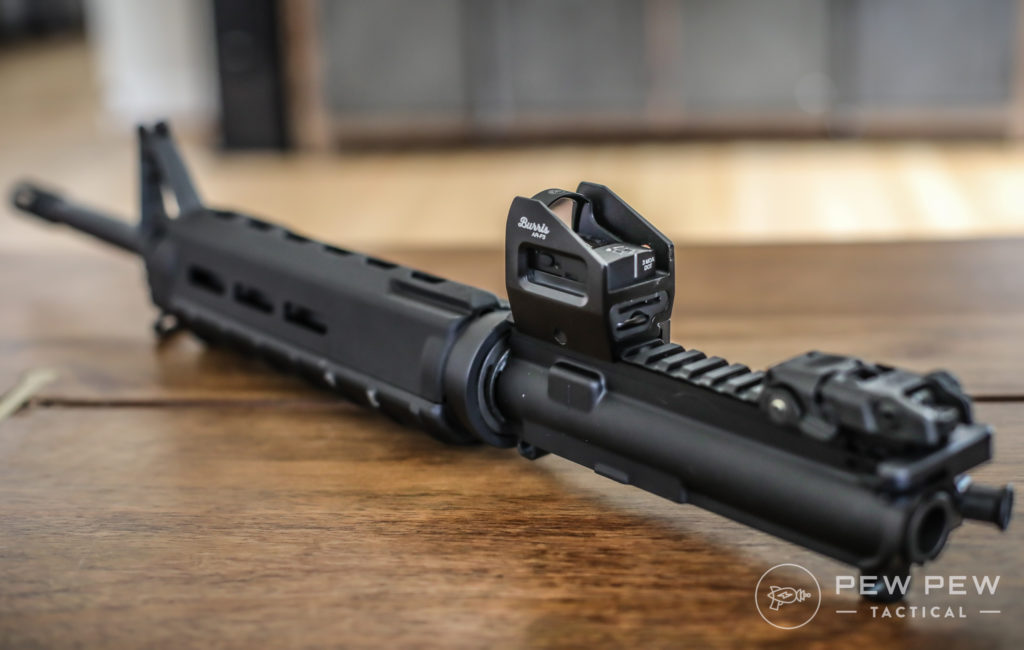 Here's the co-witness.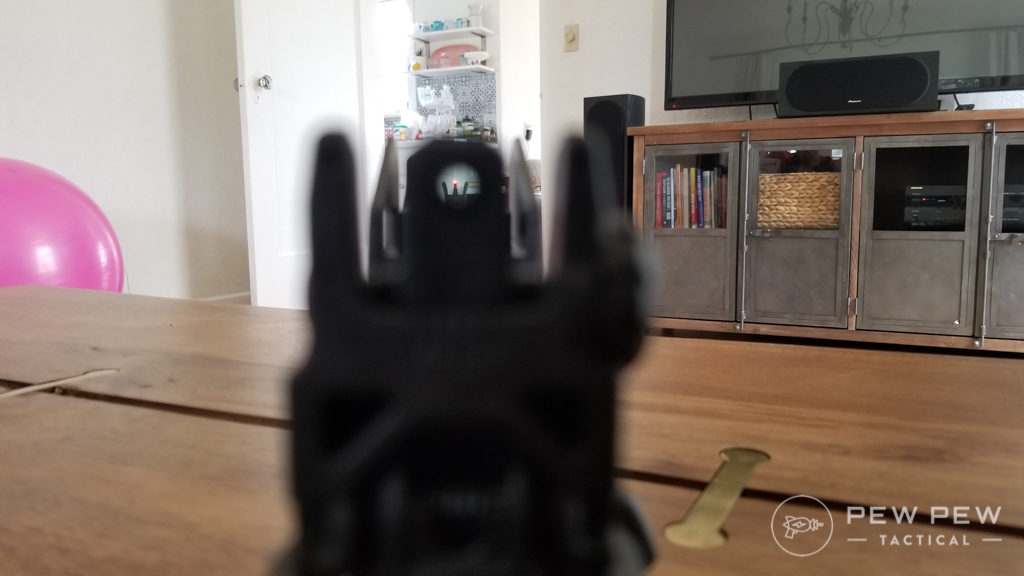 If you get the regular version, it comes with a low Picatinny rail mount that should do well with railed pistols.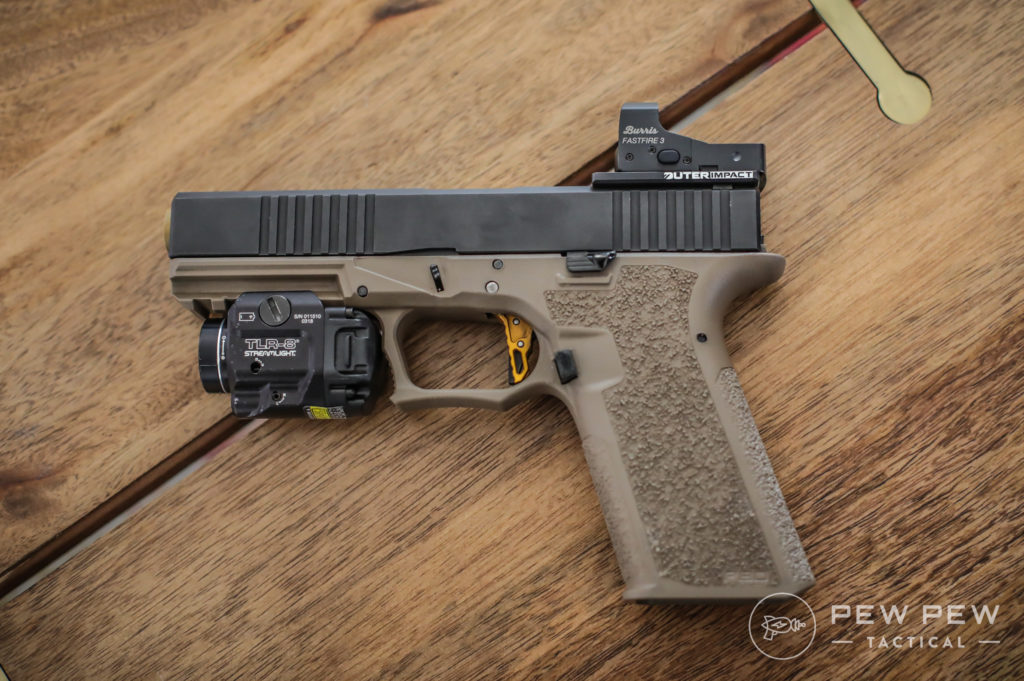 Plus it fits into the Glock MOS (exact width) and M&P Core systems. And of course the Outer Impact system as well.
Fastfire 3 Summary
Lightest on the list
Top load battery for easy changing
Auto-brightness and 9 hour auto-shutoff
Clear glass but smaller viewing window
Only 3 brightness settings
Most affordable
4. Vortex Venom
Another affordable option is the Vortex Venom that's just a little more than the Fastfire 3 and what I recommend as the best bang-for-the-buck pistol red dot.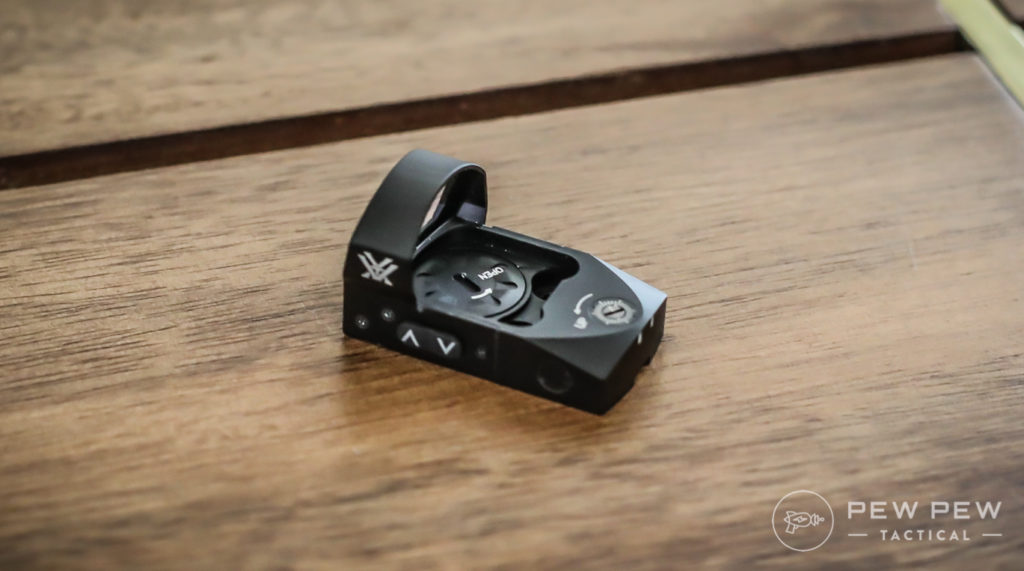 Quick Stats
Weight: 1.1 oz
Battery Life: 150 to 30,000 hours
Night Vision Compatibility: No
Dot Size: 3 MOA
Waterproof: Yes
Price: $229
Look & Feel
I've always liked Vortex products…and I've been rocking their scopes in my competition rifles for years. This one is no different. Feels quality in hand and still really light.
Glass quality is on par with the Burris. I like the slightly wider field of view.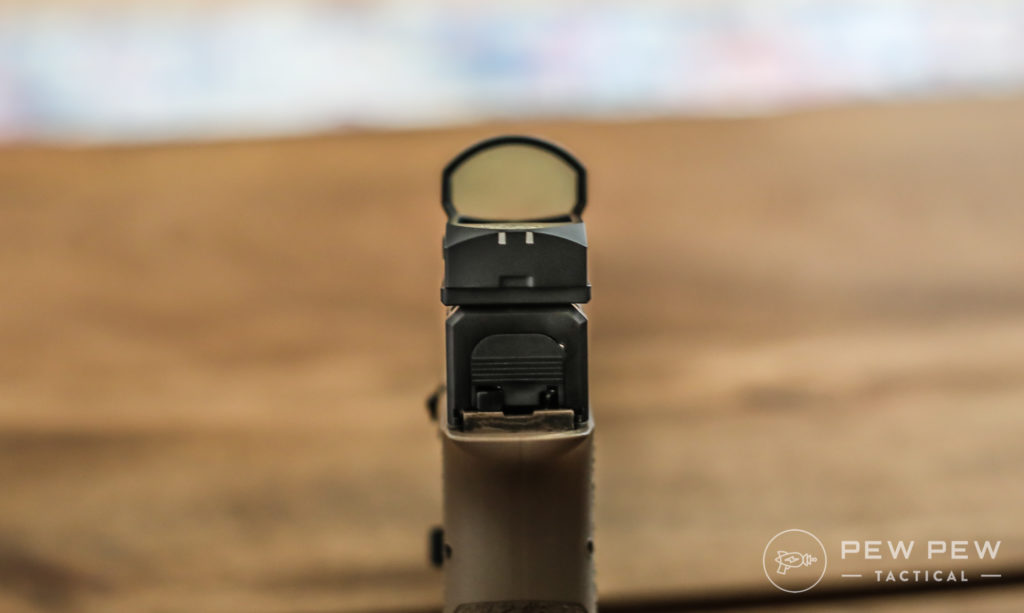 It does win in the button department…there's an up and down button to cycle through the 10 brightness settings. However, the lowest is still too bright for night vision use. Also, auto brightness function that's activated if you hold a button for 3 seconds.
Also an auto-shutoff function…but it's at 14 hours so it's acceptable for CCW use.
Battery Life
150 hours at the highest intensity and up to 30,000 at the lowest. Real-world use is probably somewhere in the middle which is good enough for me if you switch the battery every year or so.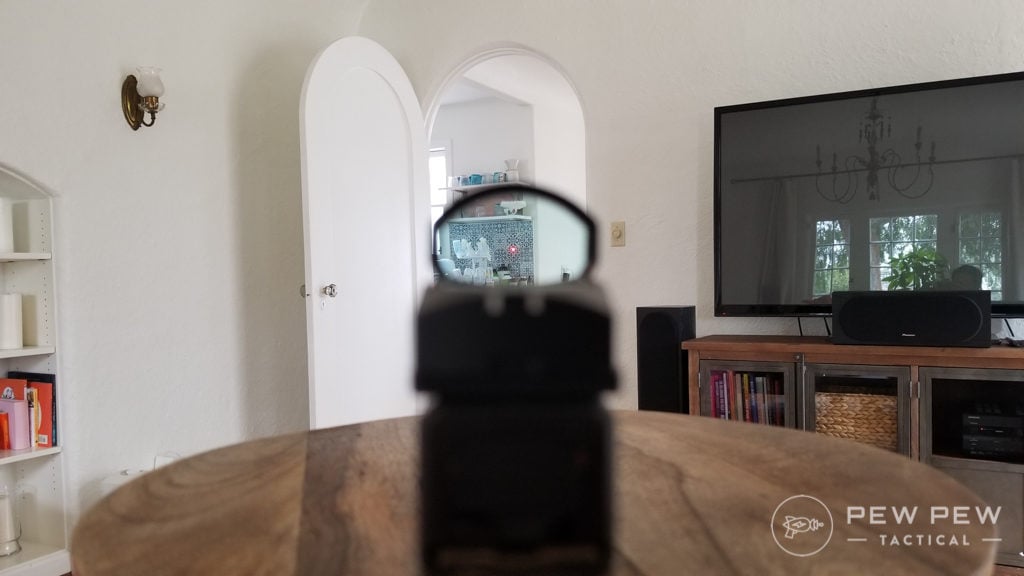 Plus…it's top-mounted for easy swapping.
Difference from Vortex Viper
The Viper has a slightly lower profile and comes in a strictly 6 MOA dot size.
But the Venom is a newer design and has slightly better ratings. The only con is that it uses CR1632 batteries compared to the more common CR2032 of the Viper. AND also comes in a 6 MOA flavor too.
Both have Vortex's famous lifetime warranty.
Again, please subscribe to our YouTube channel since we're adding new stuff every week!
Compatibility
It comes with an extra-low Picatinny mount that goes the best on railed pistols. I've been shooting it a lot with my Buckmark and it almost feels like I'm cheating!
Not a lot of pre-milled custom slides but works with the Glock MOS and M&P Core. Plus the Outer Impact system.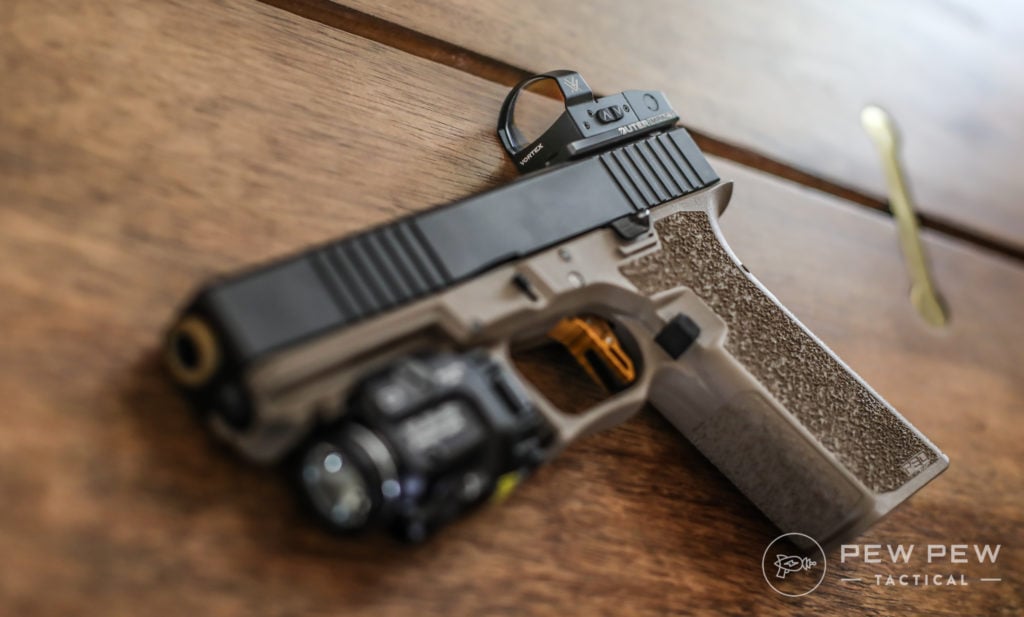 Vortex Venom Summary
Light and lowest profile with Picatinny rail
Clear glass and top-loading battery
Good battery life and 14-hour auto-shutoff
10 brightness settings and auto-brightness
What's your take on our best bang-for-the-buck red dot?
5. Holosun HS507C X2 ACSS Vulcan
The regular Holosun 507C was already a real contender that punches way outside its price point.
With massive battery life, RMR footprint, durability, and reasonable pricing.
Now enter…the collaboration with Primary Arms' reticle-smiths to make the HS507C X2 ACSS Vulcan.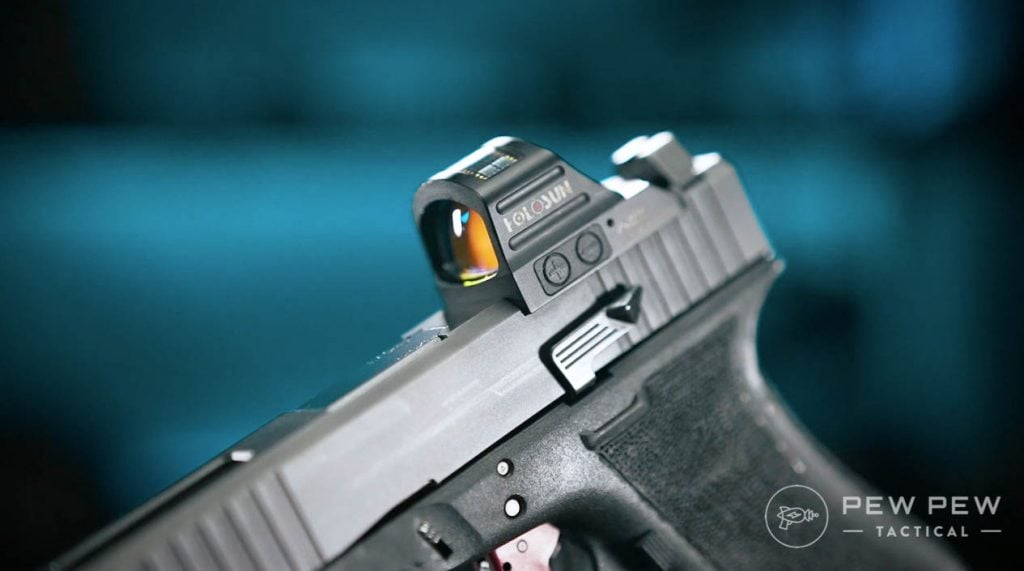 Quick Stats
Weight: 1.5 oz
Battery Life: 20,000 hours + Solar Backup
Night Vision Compatibility: Yes
Dot Size: ACSS Vulcan
Waterproof: Yes
Price: $309
Look & Feel
This is a solid unit.
You pick it up and you know that it has some beef on it and that it's ready to get banged around, much like how an RMR feels.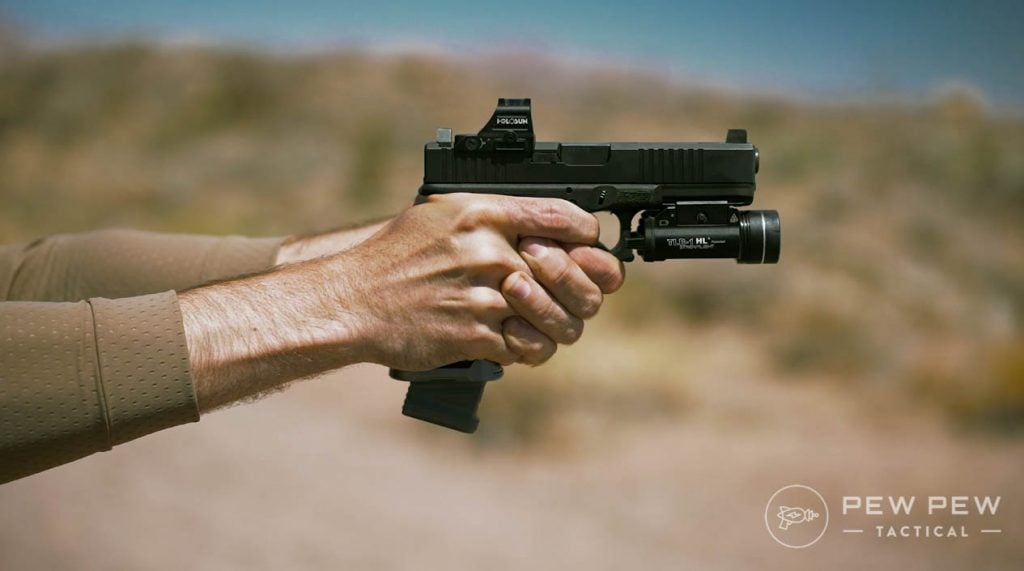 We really like it, like a lot.
For our use, nothing has slowed it down. It is robust and has stood up to the abuse we've thrown at it including things like using the optic as a contact point to charge our Glock off of a belt or table.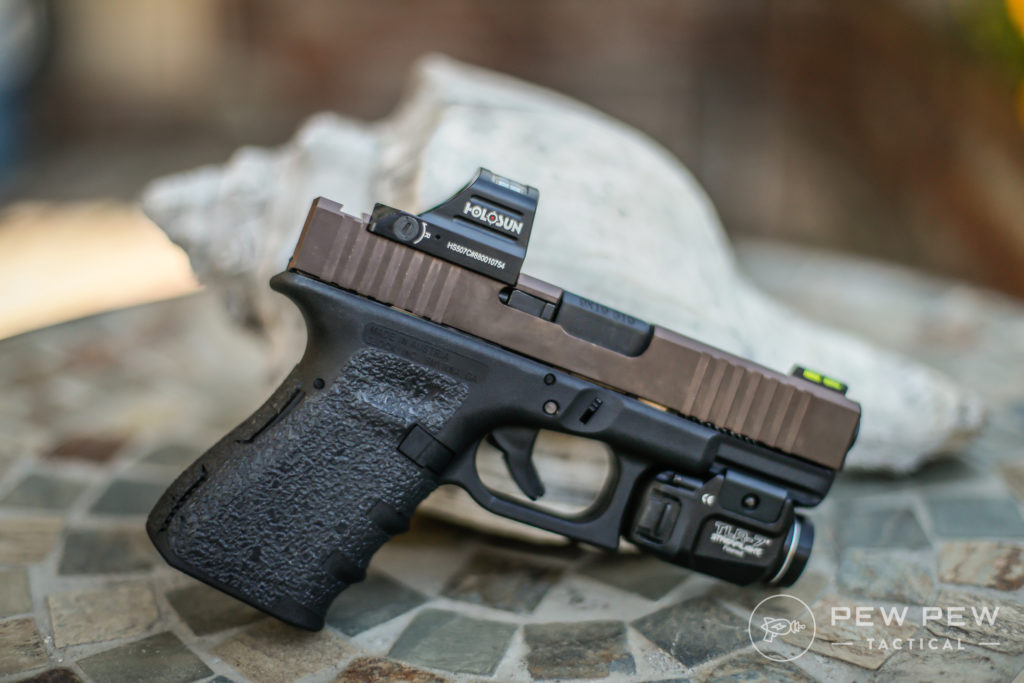 The glass has also been completely scratch-free thus far.
Buttons are easy to access and manipulate on the left side.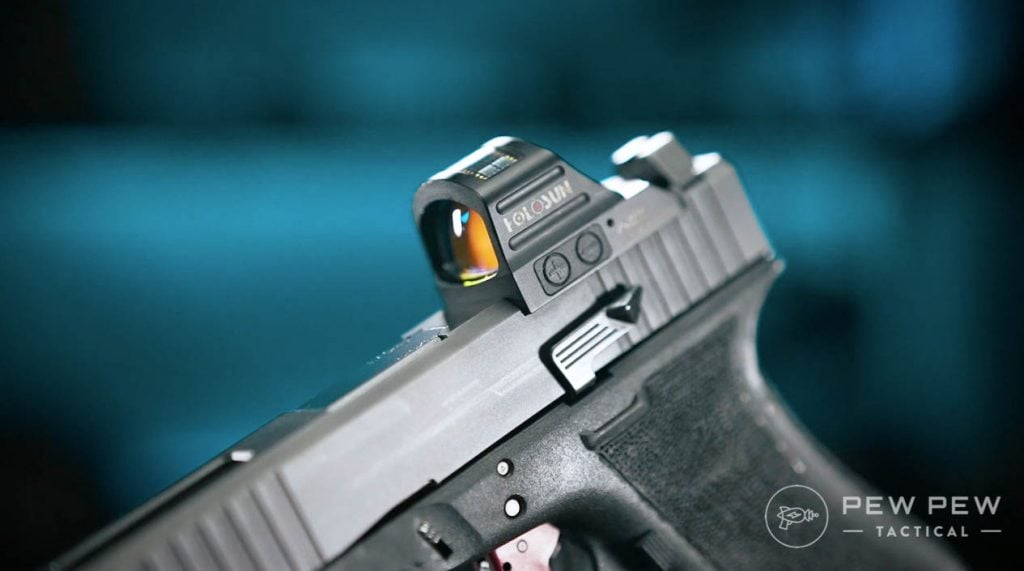 Battery Life
At over 20,000 of battery life, the Holosun 507C is an optic that you will likely never replace the battery on from use…just remember to change it every one to two years.
There's also a solar panel on top that gives another source of power for when the optic is in sunlight. However, the solar panel does not recharge the battery in any way.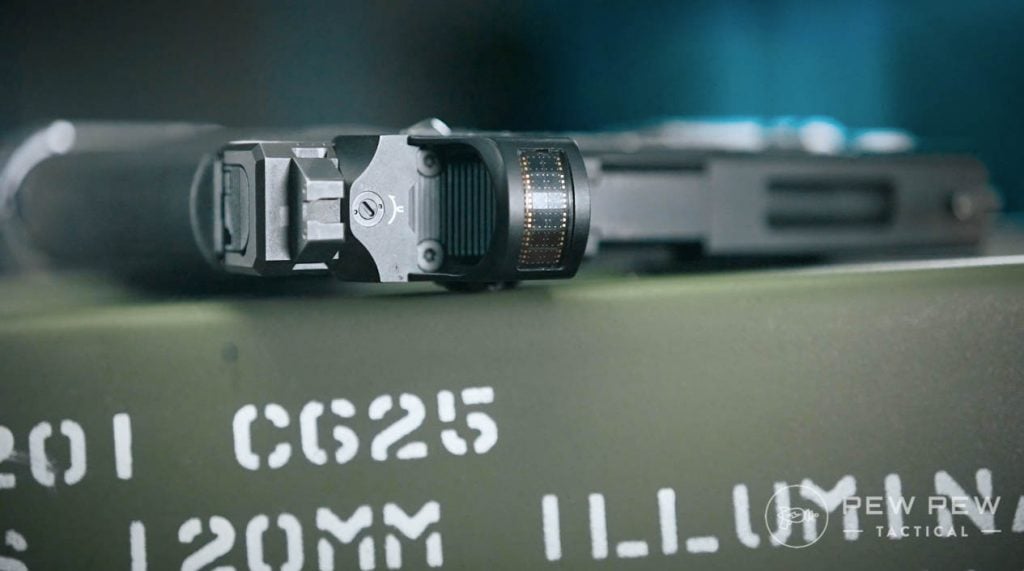 The 507C also features "shake-Awake" meaning it has an auto-off feature (you can choose how long it takes for the dot to turn off also!) and will auto-turn on when you move the optic. Very handy for setting and forgetting and for saving battery life.
Lastly…there's a nice tray that slides out for the battery…meaning you don't have to take the entire unit off your handgun and lose zero each time you swap the battery.
Reticle: ACSS Vulcan
What we truly love!
Check out that nice 10 MOA chevron reticle which draws you to the center.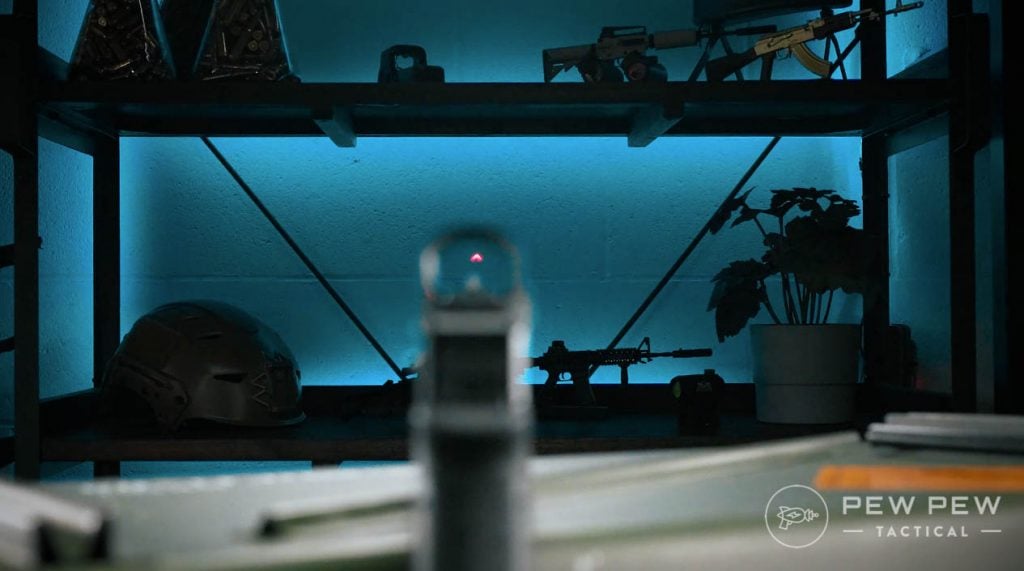 But that's not all (sorry…couldn't resist), there's also a ring on the outside to show you if you're off center.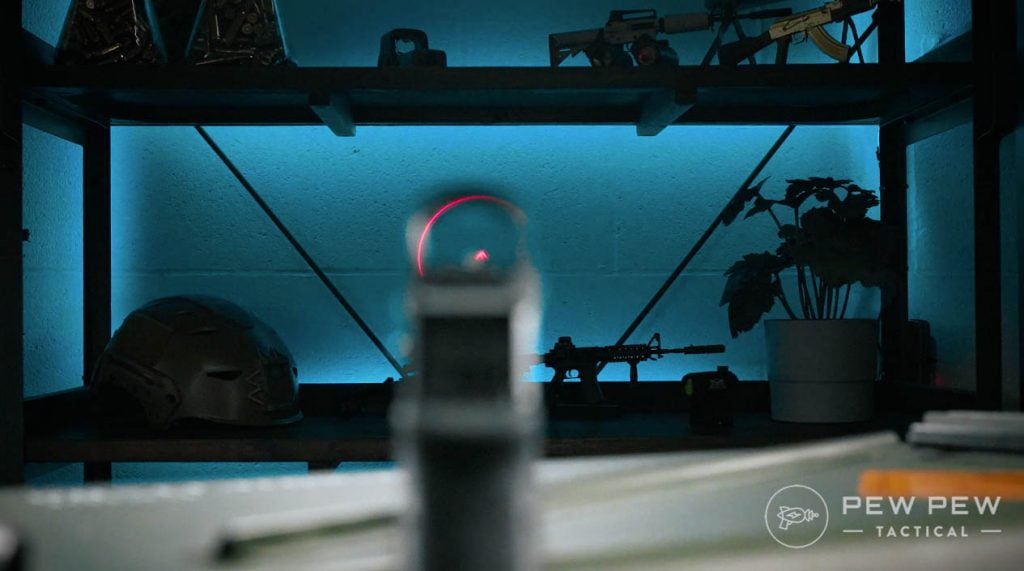 Once you really get the hang of it…you shouldn't see the ring anymore. And you can actually disable it to save battery life. But it's a great training feature.
Compatibility
Using the same footprint as the Trijicon RMR, the number of slides that can mount the HS507C without the need for adaptor plates is a huge blessing.
It also makes it a great option for people that have older-gen RMRs and are looking to modernize.
We've mounted our multiple 507Cs to both Brownells Glock slides, PDP, and more.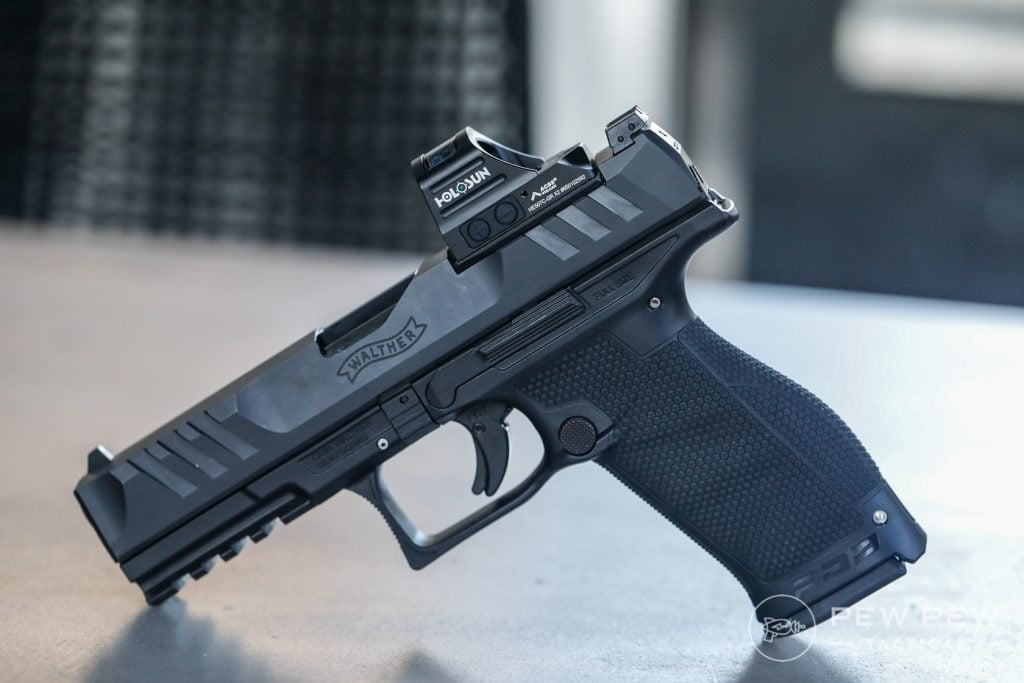 Holosun HS507C X2 ACSS Vulcan Summary
Robust build with 20,000 hour battery life, solar backup, and shake awake
Great chevron reticle with outer ring that helps beginner shooters
Night vision capable and waterproof
Great price for the features
This may be our favorite red dot yet.
We've got a lot more to say about it in our full review…as well as video review:
Now let's look at some micro red dots for concealed carry handguns.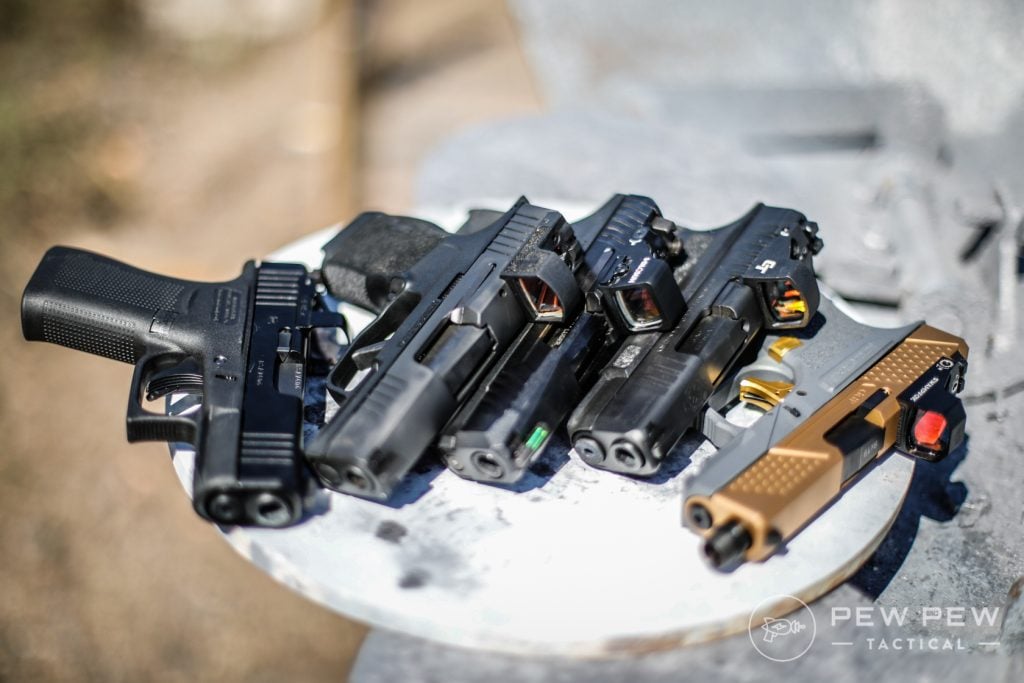 6. Holosun HS507K X2
Let's continue with Holosun's micro red dot with its K model…the HS507K X2.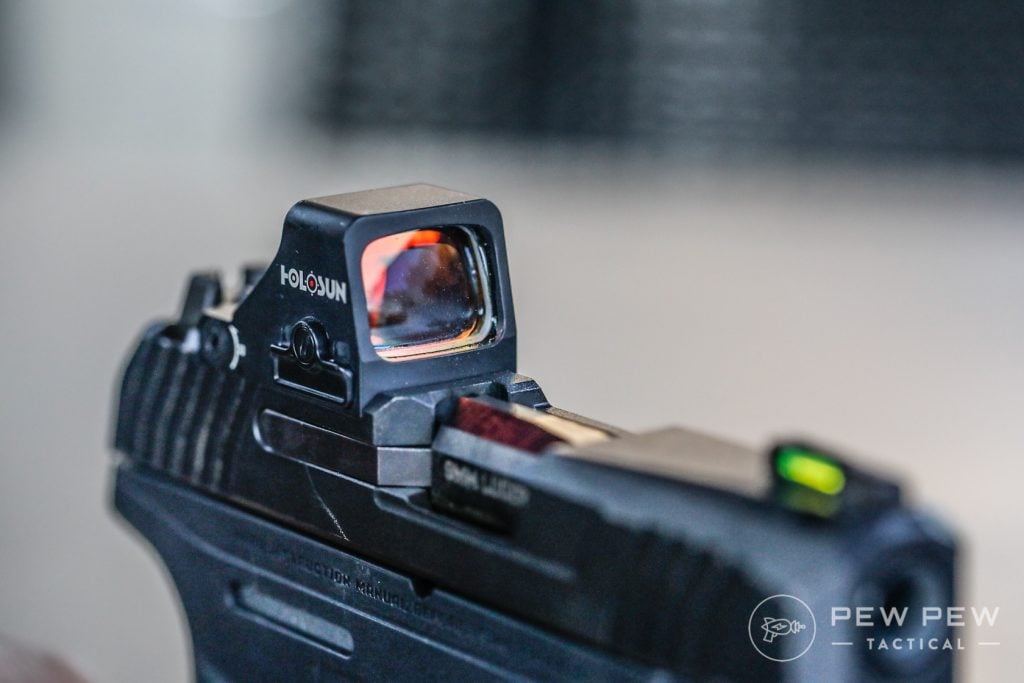 And just for comparison…let's see the full-size C model vs the K.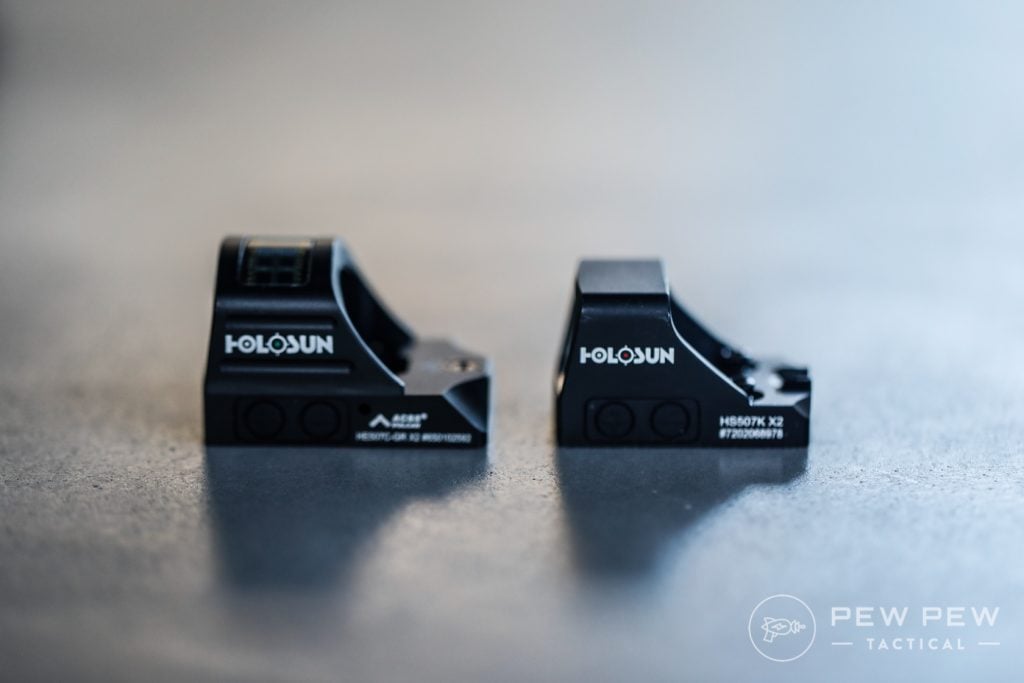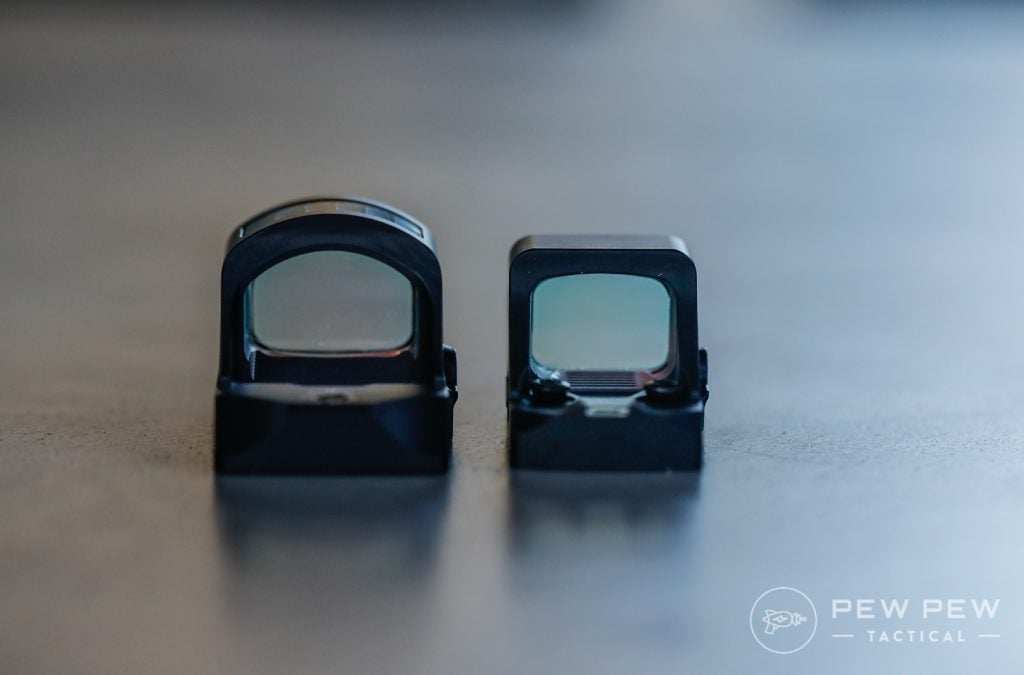 Quick Stats
Weight: 1 oz
Battery Life: 50,000 hours
Night Vision Compatibility: 10 daylight & 2 night vision settings
Dot Size: 2 MOA Dot & 32 MOA Circle
Waterproof: Yes
Price: $289
Look & Feel
Like its bigger brother, the all-metal housing HS507K feels great in hand and has a nice chunky enclosure that's sure to survive all but the worst abuse.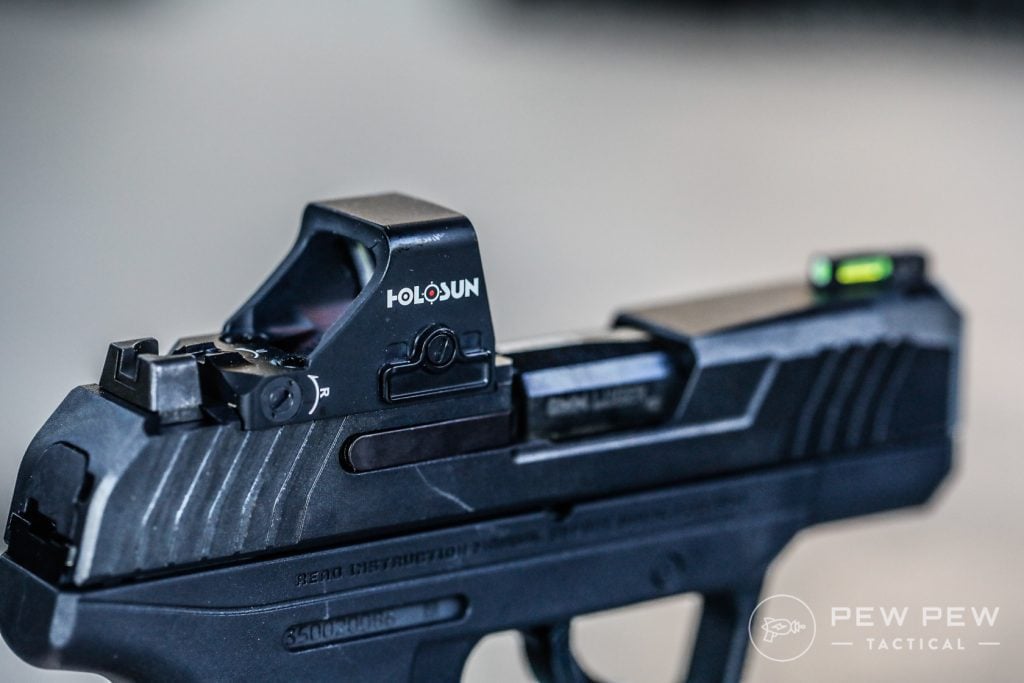 +/- buttons are on the left side and easy to activate…and also turn off by pressing both at once.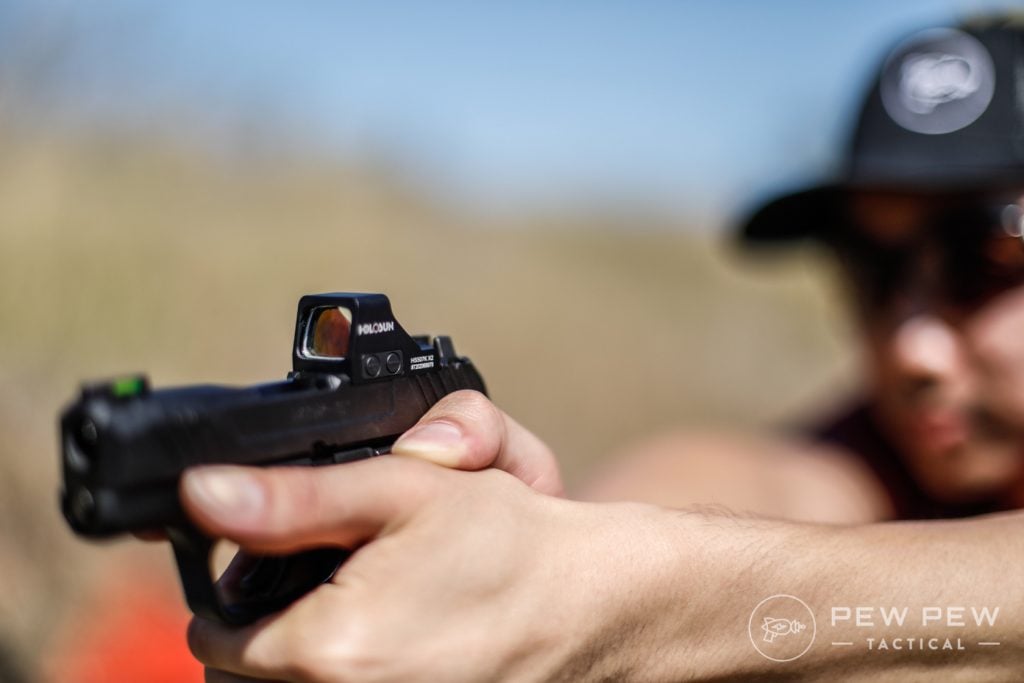 Battery Life
50,000 hours (on setting 6)!
There's also Lock Mode and Shake Awake tech to conserve even more battery life.
Reticle: Dot and Ring
One of my favorite reticles is the dot and ring that was pioneered by EOTech. Perfect for precise shots and also quick acquisition minute-of-bad-guy shots.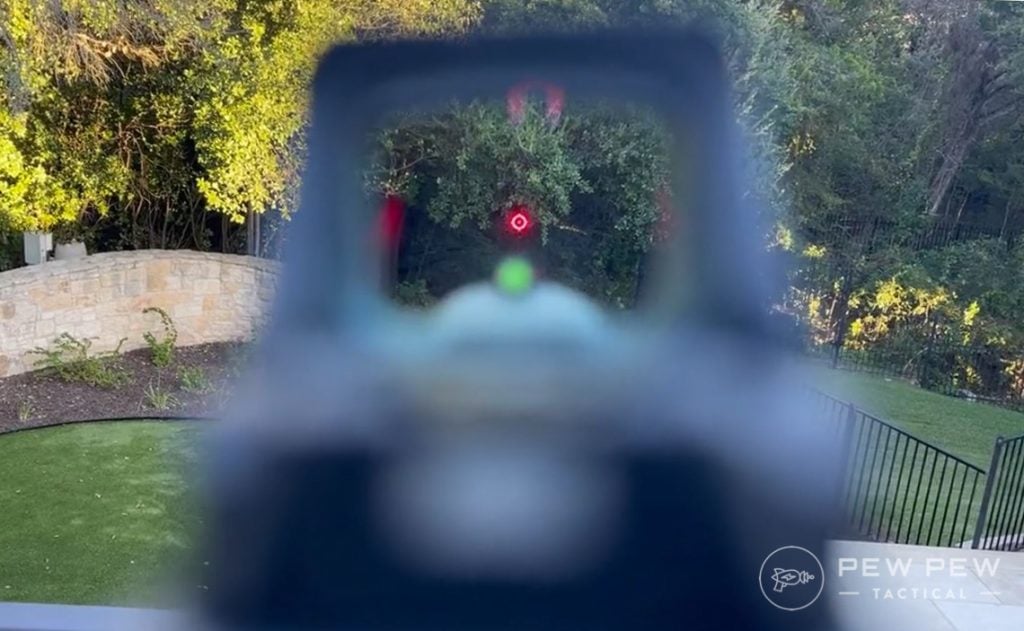 Everyone who shot the 507K thought it was cheating…if any part of the reticle was on target…it was a hit.
See it in action:
Compatibility
For the micro red dot market…the gold standard is the Shield RMSc footprint which the HS507K uses as well. It fit on all the guns we've tried…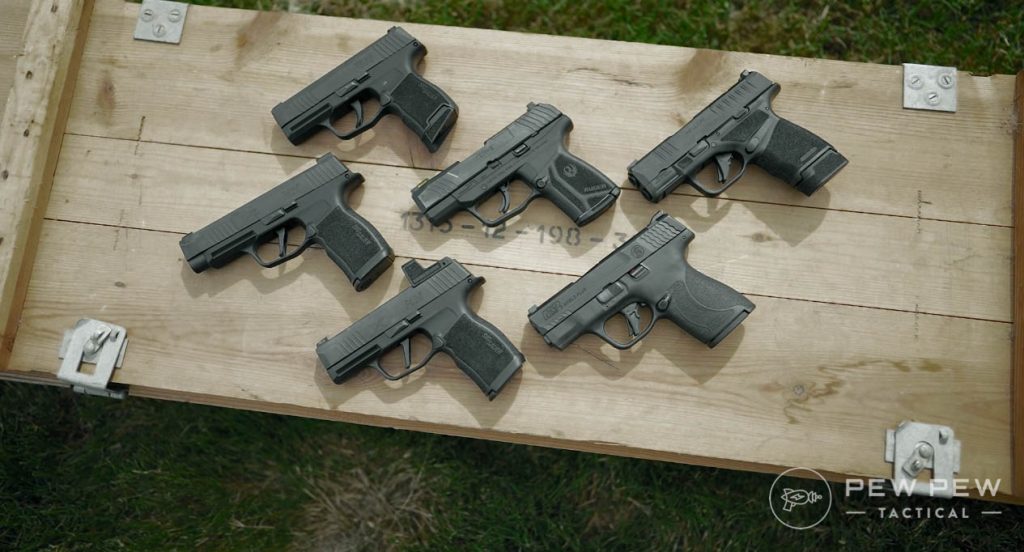 Don't have a micro yet? Check out our Best 9mm Micro Compacts.
Holosun HS507K X2 Summary
Robust build quality
50,000 hours and shake awake technology
1 MOA Dot and 32 MOA Circle reticle
Compatible with all tested micro compact guns
Overall our favorite micro red dot right now.
Most Affordable Micro Red Dot
7. Shield RMSc
Shield from the UK has been silently manufacturing red dots for a lot of big players…but now they're here with their own Shield RMSc micro red dot.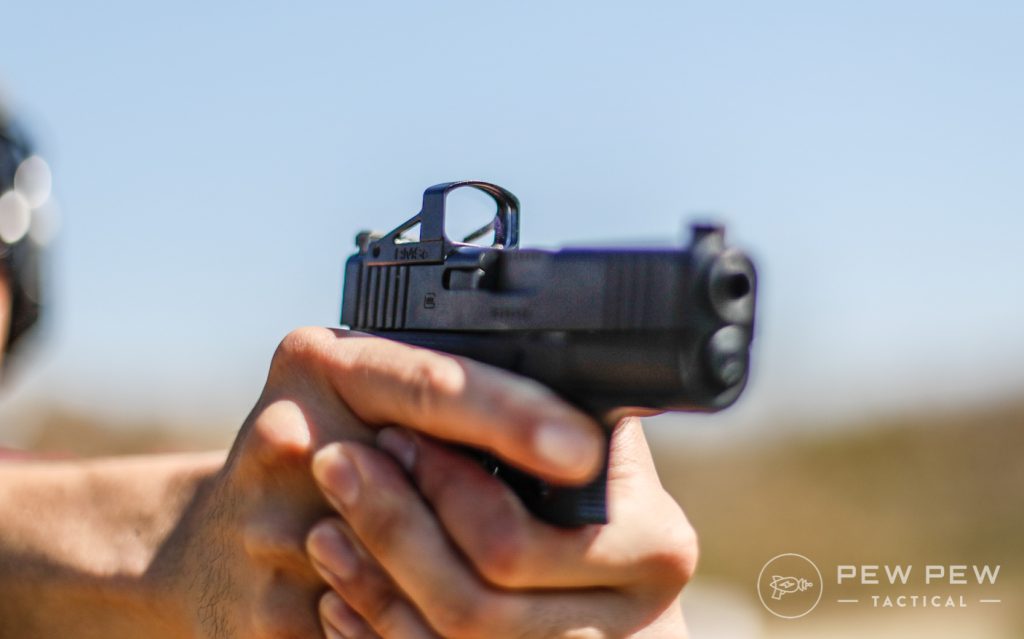 Quick Stats
Weight: .6 oz
Battery Life: 2-3 years, >4 years in dark storage
Night Vision Compatibility: yes
Dot Size: 4 or 8 MOA
Waterproof: Yes
Price: $319
Look & Feel
Probably the most unique looking out of our batch of micro red dots…the RMSc has a triangular cutout on the sides that definitely help with its minuscule .6 oz weight.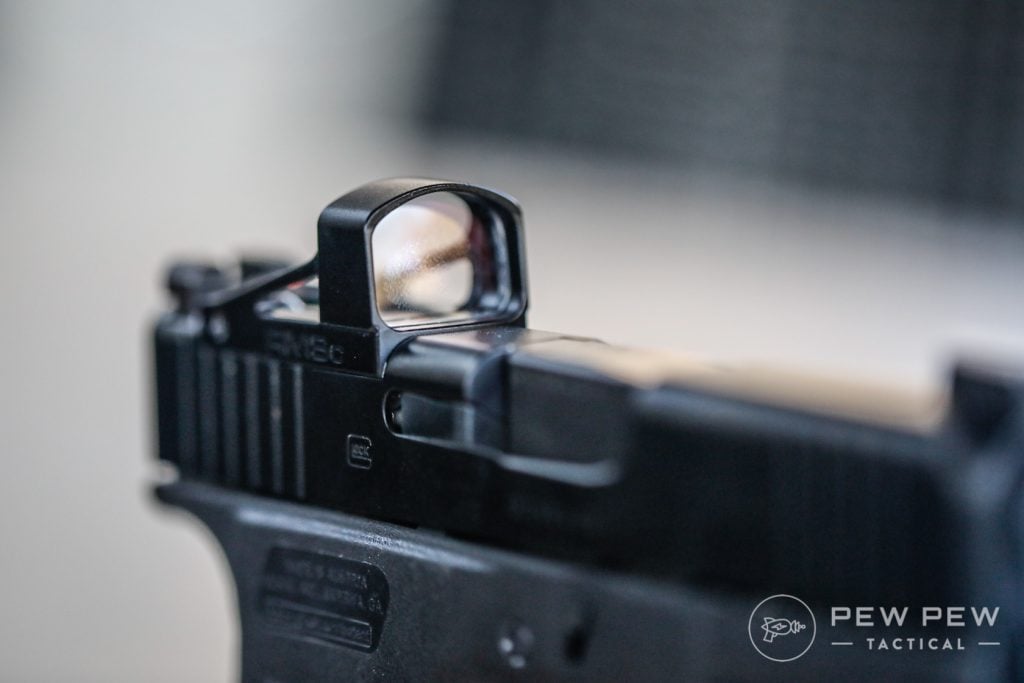 Battery Life
Shield went with 2-3 years as their timeframe which gives an upper limit of around 26K hours. And up to 4 years if the unit is in dark storage.
Why dark storage? Since it's an auto-on system with a light sensor on the side.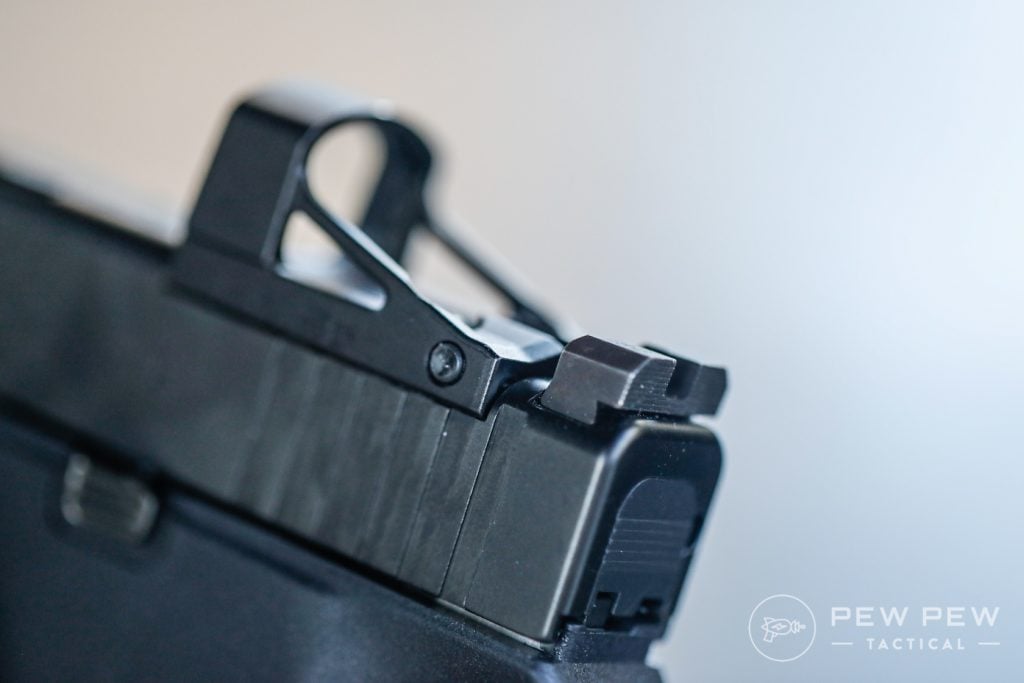 Its CR2032 battery is on the bottom so you'll have to remove the unit and re-zero…but that's par for the course for these tinier red dots.
And if you remember to do it every 2 years or so you're golden!
Reticle
We went with a 4 MOA dot and this particular model is their polymer (instead of glass) window. It's very clear and the dot is good but slightly orange.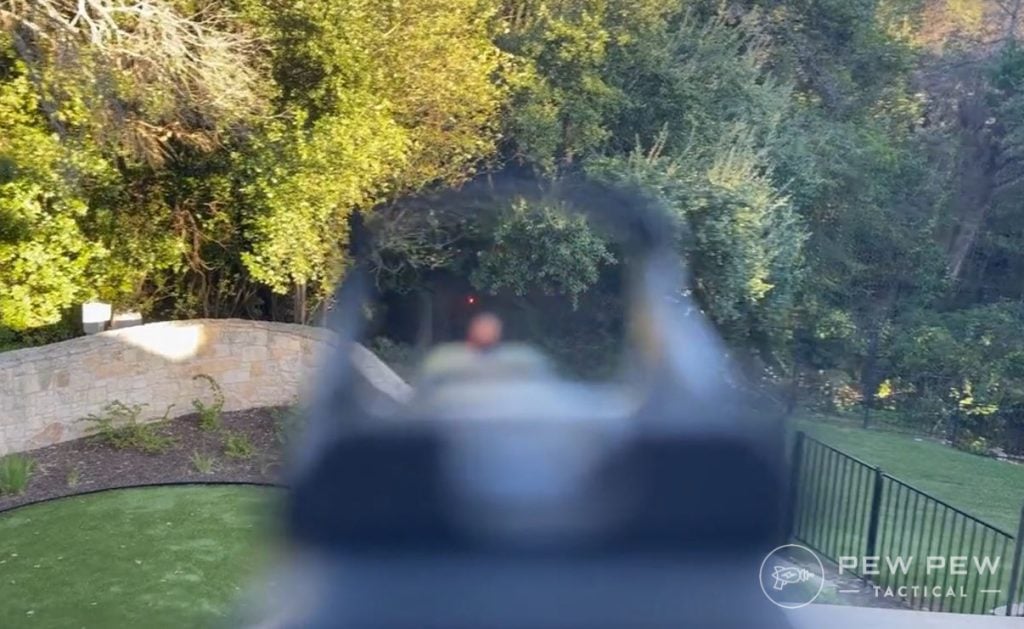 See it in motion here:
Compatibility
It's the basis of the standard RMSc footprint…so it's GTG for (almost) any micro compact handgun out there.
Shield RMSc Summary
Unique looking and super light
2-3 year battery life with more if kept in dark storage
Clear polymer window with a crisp albeit slightly orange dot
Night vision compatible
Compatible with all tested micro handguns
8. Sig Sauer Romeo Zero
Sig has been making waves with their red dots and now they've moved into micros with their Romeo Zero.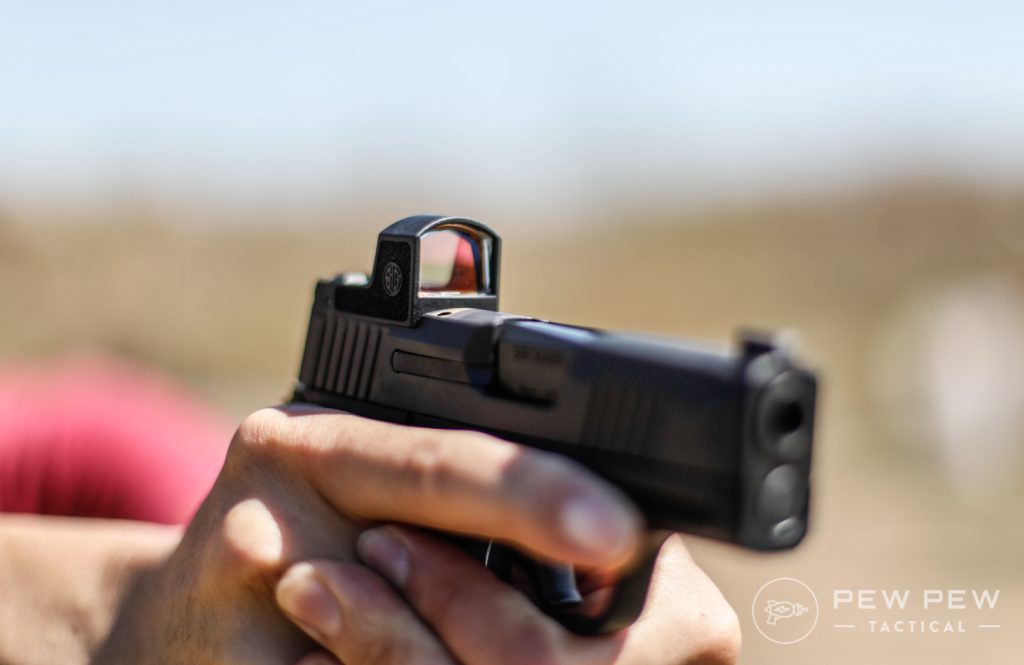 Quick Stats
Weight: .4 oz
Battery Life: 20K hours
Night Vision Compatibility: no, 8 daytime settings
Dot Size: 3 MOA
Waterproof: Yes
Price: $159
Look & Feel
Somehow we're going even lighter with .4 oz total…made possible by going with a polymer body.
And I really like the look and stippling of it which matches up with our Sig P365X. Plus the texture makes it great for slingshot-style slide manipulations.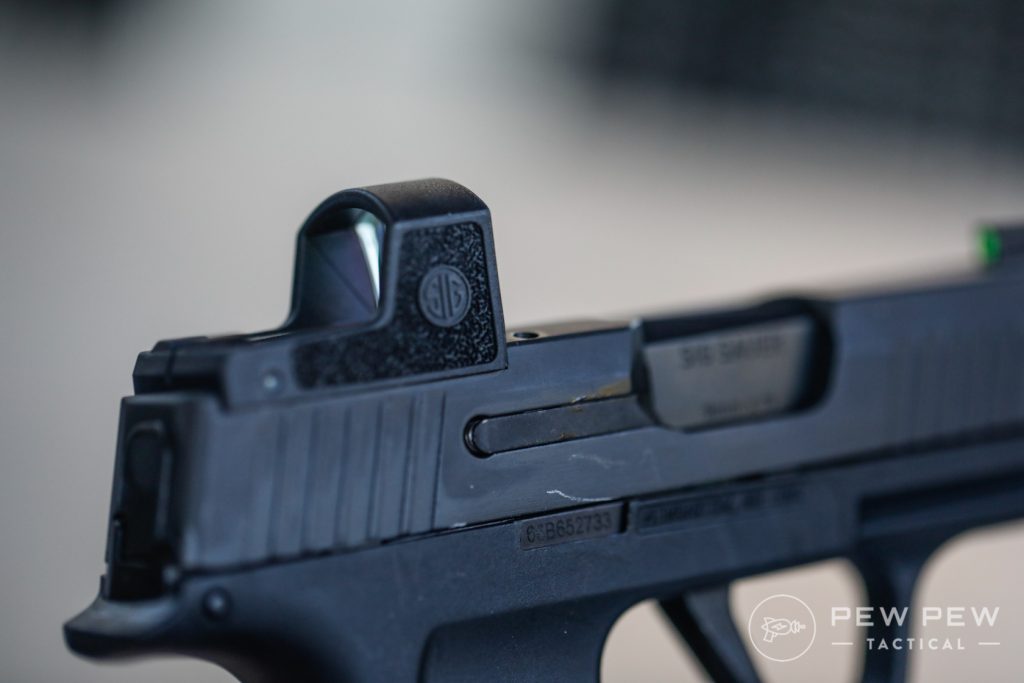 The sides are clean since there's only a single button in the middle. It's for both on/off and adjusting brightness so you'll have to get used to going through all the brightness levels.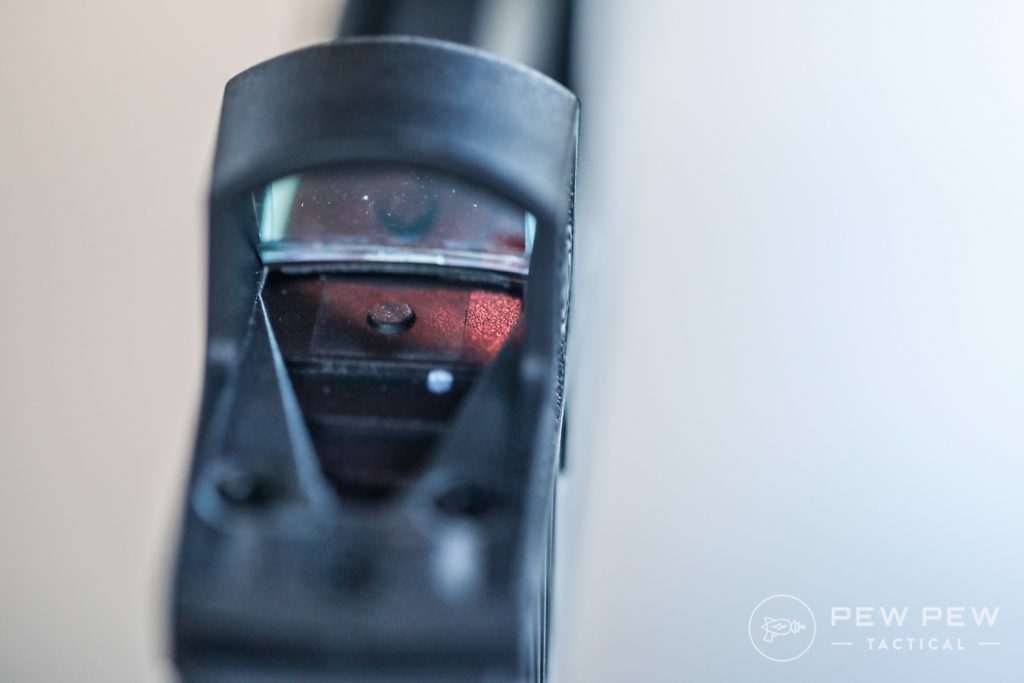 Battery Life
20K hours and a 10-year battery life…which means I keep it on and remember to swap out the batteries every 1-2 years.
Reticle
Very crisp and a good middle-of-the-road 3 MOA size.
The Zeros come with a polymer lens that Sig says has 10x the impact resistance of glass…but we haven't truly abused our micros yet.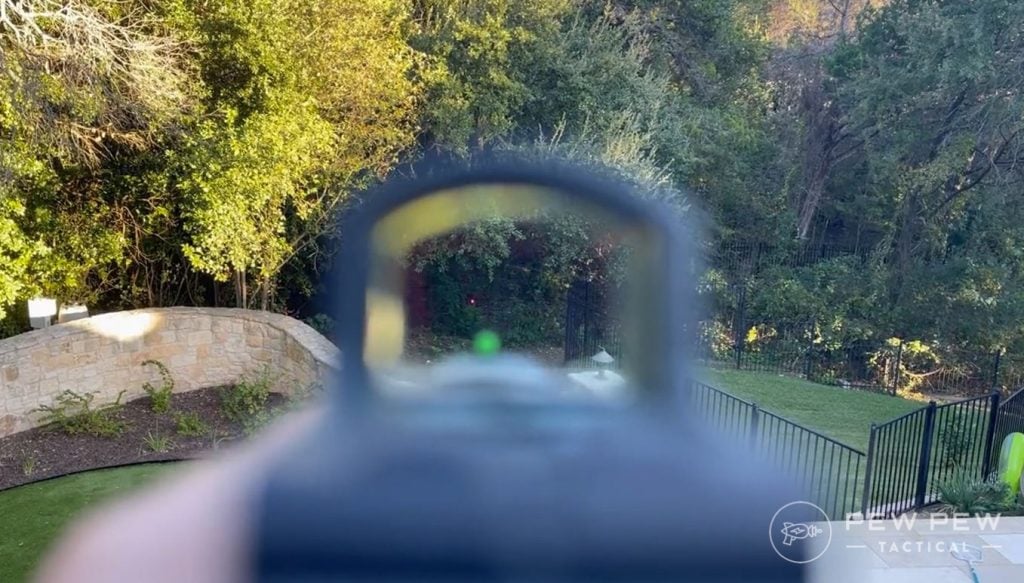 It's a good field of view with the rounded top but somehow doesn't feel as wide as others.
See it in live action:
Compatibility
Direct mount to our P365X and it's the standard Shield RMSc footprint that will fit on everything else.
Sig Sauer Romeo Zero Summary
Lightest weight with decent field of view and lens clarity
Only one button for on/off and daytime brightness settings
Clear 3 MOA reticle
Affordable at around $159
9. Crimson Trace CTS-1550
Want to ease into the world of micro pistol red dots with the least financial pain? Check out Crimson Trace's CTS-1550.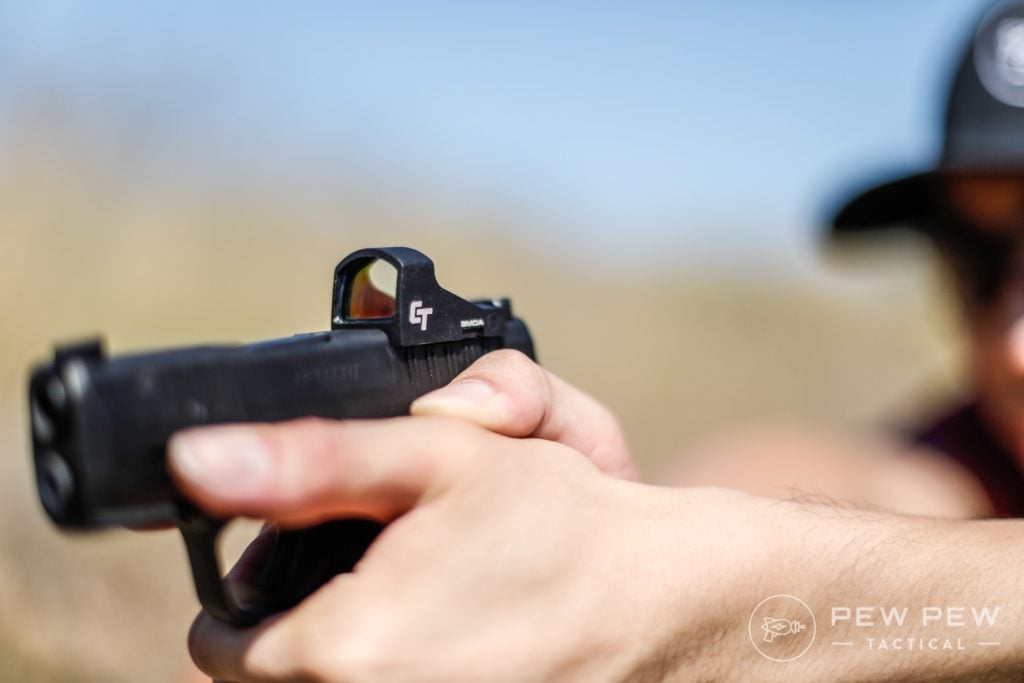 Quick Stats
Weight: 1 oz
Battery Life: 20K hours
Night Vision Compatibility: No
Dot Size: 3 MOA
Waterproof: Yes
Price: $120
Look & Feel
The CTS-1550 is from a slew of new options from Crimson Trace (originally known mostly for laser stuff). Check out our review of the larger RAD Pro pistol red dot and also RAD Max rifle optic.
Pretty average in terms of styling.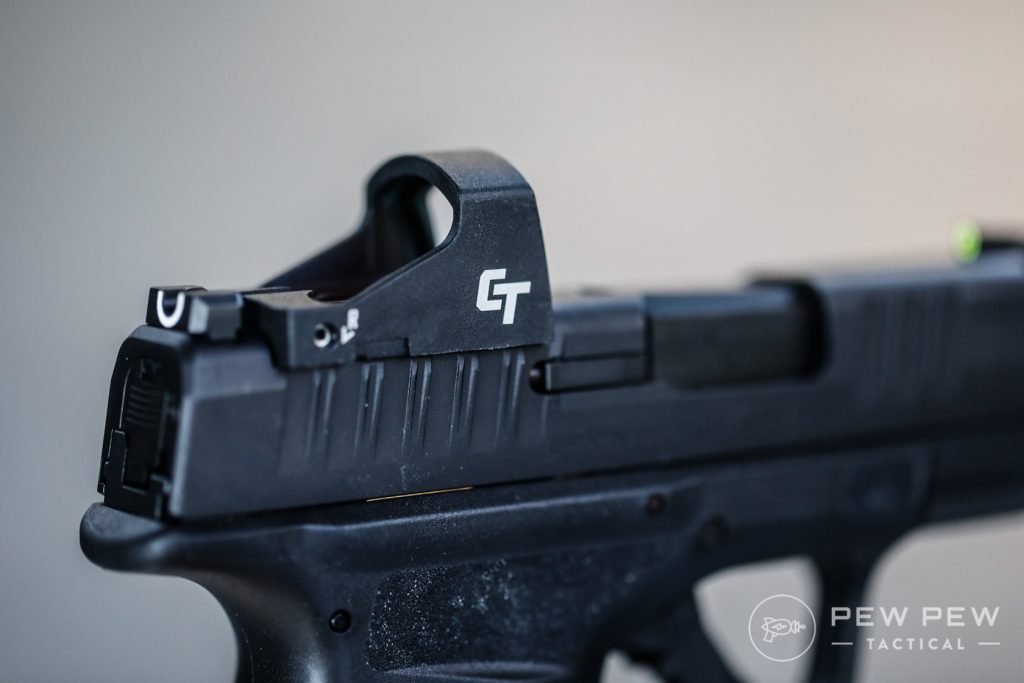 But I do have to let you know that it's slightly wide compared to "standard" micro compact handguns. So you'll have a little bit of shelf hanging off on the sides.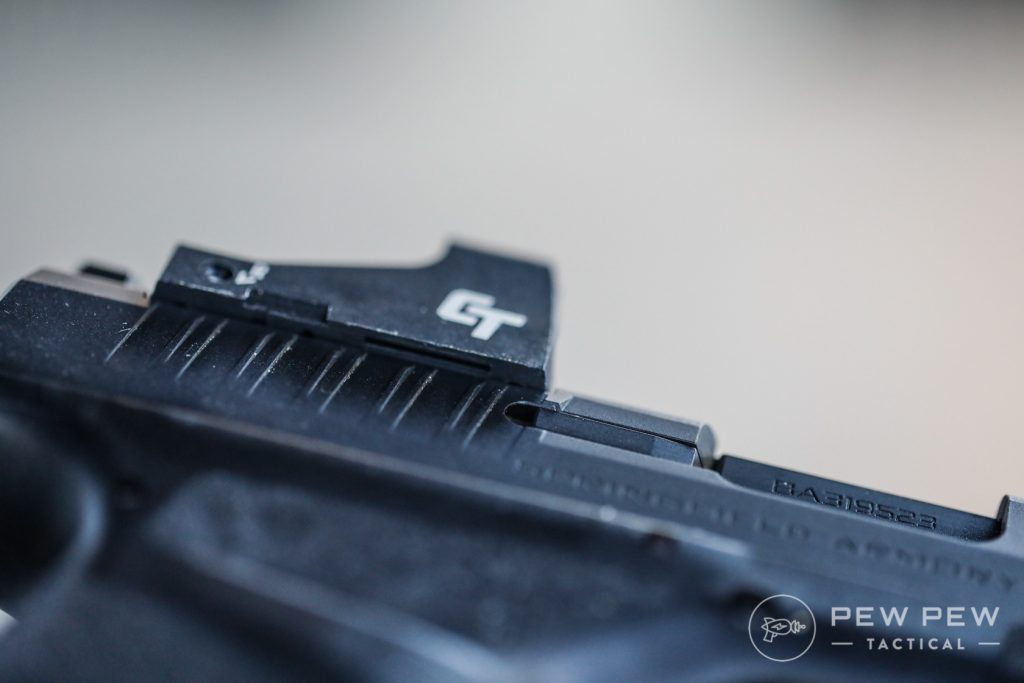 It doesn't seem to expose any electronics so waterproofness should still be fine.
Battery Life
20K, or over 2 years, is great.
You also don't need to mess with buttons since it has an ambient light sensor that turns the unit on and changes the dot intensity.
It also turns if off to further increase battery life.
Reticle
A nice crisp and bright middle of the road sized 3 MOA reticle.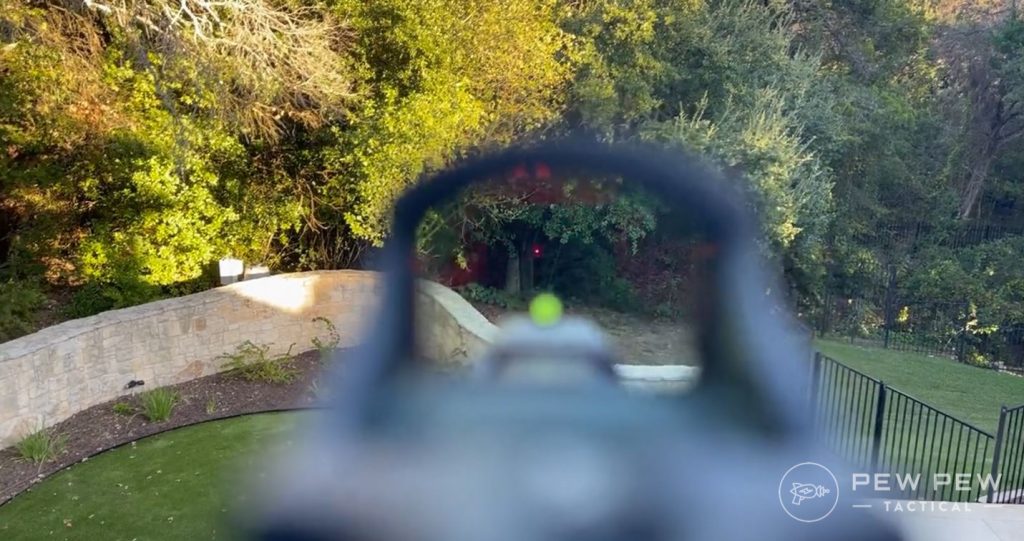 One good thing with the side overhang is that it grants you a slightly wider field of view.
See it in action here:
Compatibility
It's listed as a J-Point which as far as we can tell is the same footprint as the RMSc which is the standard.
Crimson Trace CTS-1550 Summary
Most affordable unit when you shop around
Good battery life with auto on/off functions
Slight overhang but gives you a wider field of view
Crisp/bright 3 MOA red dot
Want to try a micro red dot but not break the bank? The CTS-1550 is a good starting point.
10. Swampfox Sentinel
I've tested the Swampfox Sentinel for the longest since it's lived on my P80 G43 project…and it's a good Goldilocks micro red dot.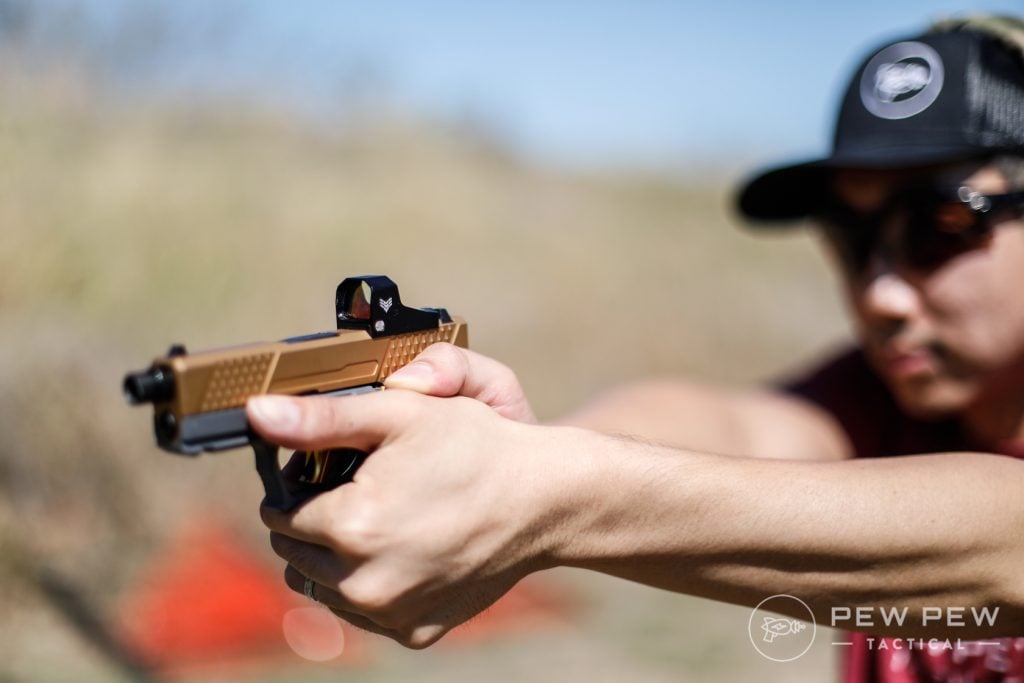 Quick Stats
Weight: .6 oz
Battery Life: 2 years real world
Night Vision Compatibility: No
Dot Size: 3 MOA
Waterproof: Yes
Price: $239
Look & Feel
I love the look of it with the rounded window.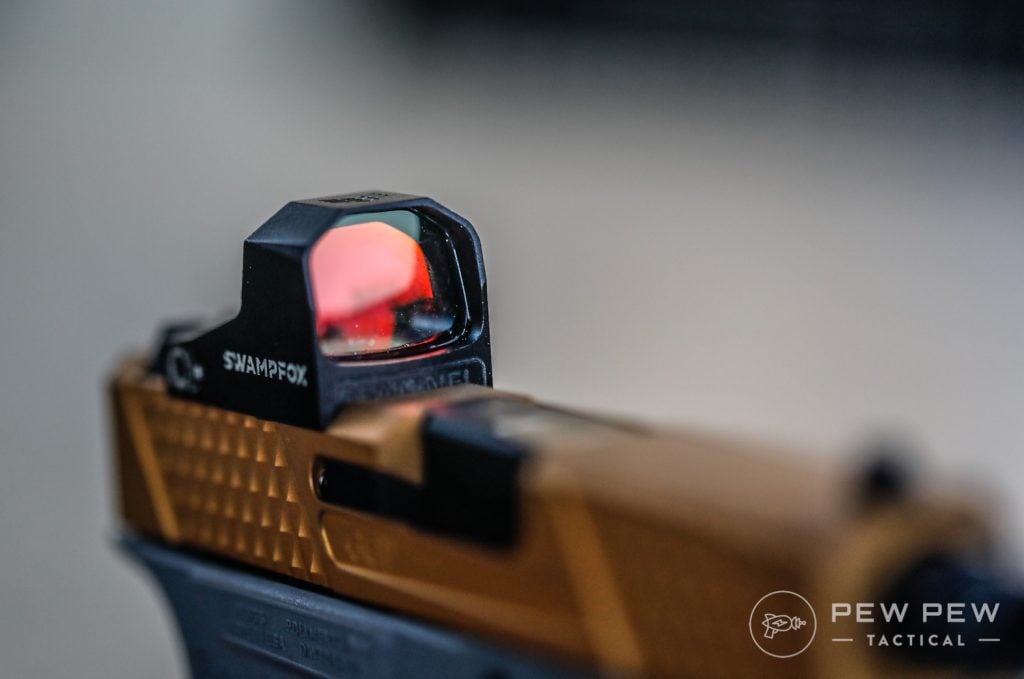 And for the most part I ran it with its optional "armor."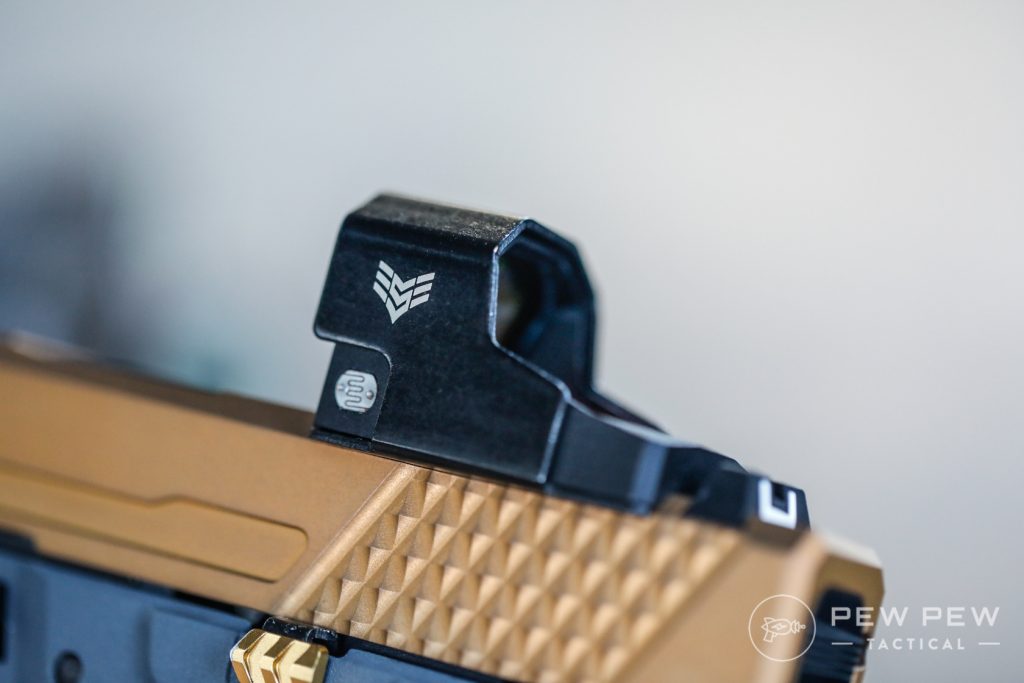 When shooting, I felt that the optic had a taller field of view which can make dot acquisition faster…especially for beginners.
The reason being you're likely pulling down from the top when learning to migrate from iron sights to a pistol-mounted red dot.
Battery Life
Battery life is par for the course with 2 years…and I like how they added real-world applications.
Reticle
A nice crisp/bright 3 MOA dot.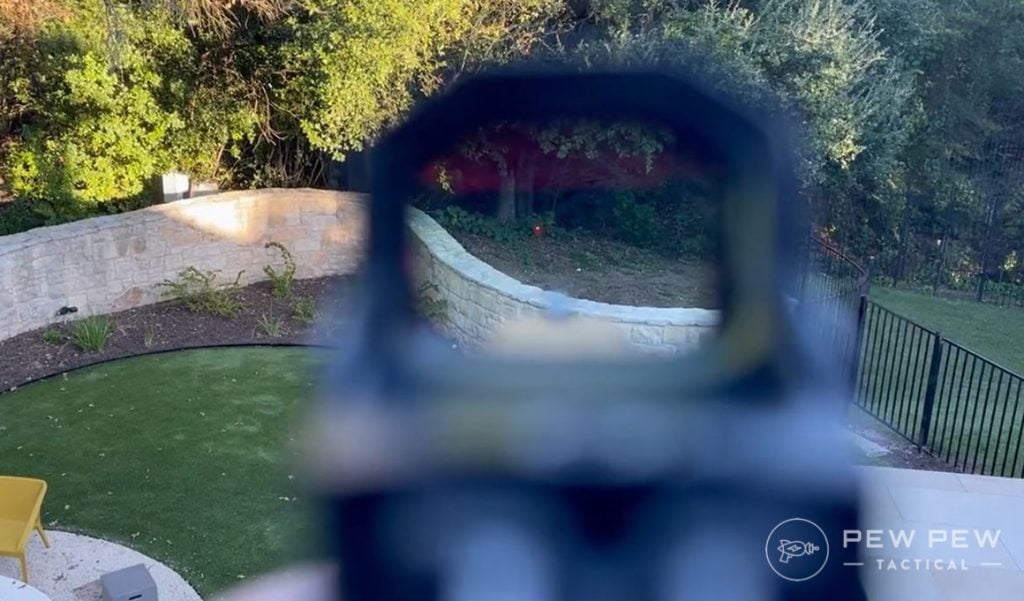 There's several models of the Sentinel:
Auto Brightness with Auto-On
Manual Brightness with Shake-n-Wake
Plus throw in red or green dot varieties and you've got a bunch of flavors to choose from…I went with the red Auto Brightness with Auto-On.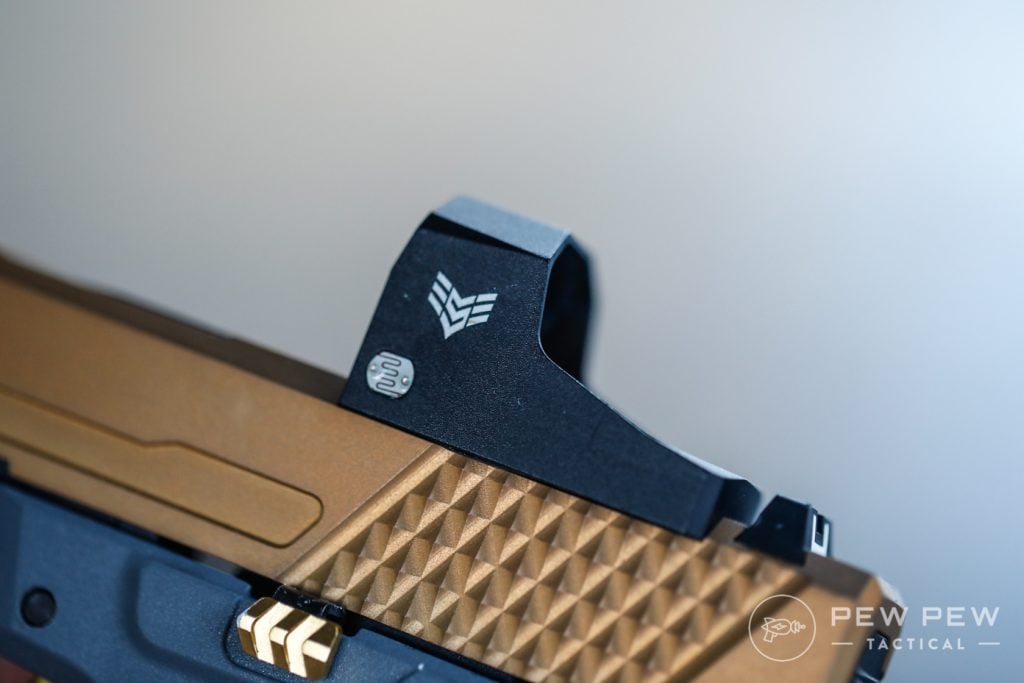 Compatibility
RMSc footprint that will fit on almost anything…plus a good amount of set screws.
Swampfox Sentinel Summary
Nice red dot with a slightly taller field of view that might help beginners
Good battery life with 4 models to choose from
Decent price with ability to uparmor for more protection
Best Bang for Your Buck Micro
11. Trijicon RMRcc
Does Trijicon still reign supreme even in the world of micro red dots with its RMRcc?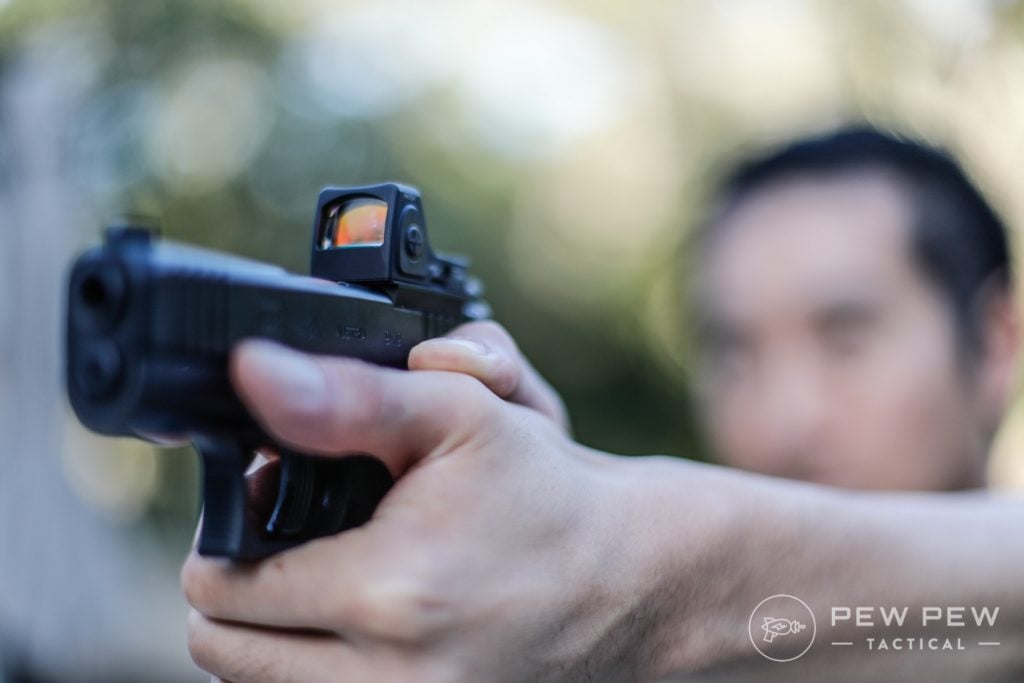 We love the red dot itself…but compatibility becomes the limiting factor for micros.
Quick Stats
Weight: 1 oz
Battery Life: 4 years
Night Vision Compatibility: Yes, 8 settings including 2 NV
Dot Size: 3.25 or 6 MOA
Waterproof: Yes
Price: $469
Look & Feel
It looks great and is essentially a smaller RMR. So it's built like a tank and will survive almost anything you can throw at it.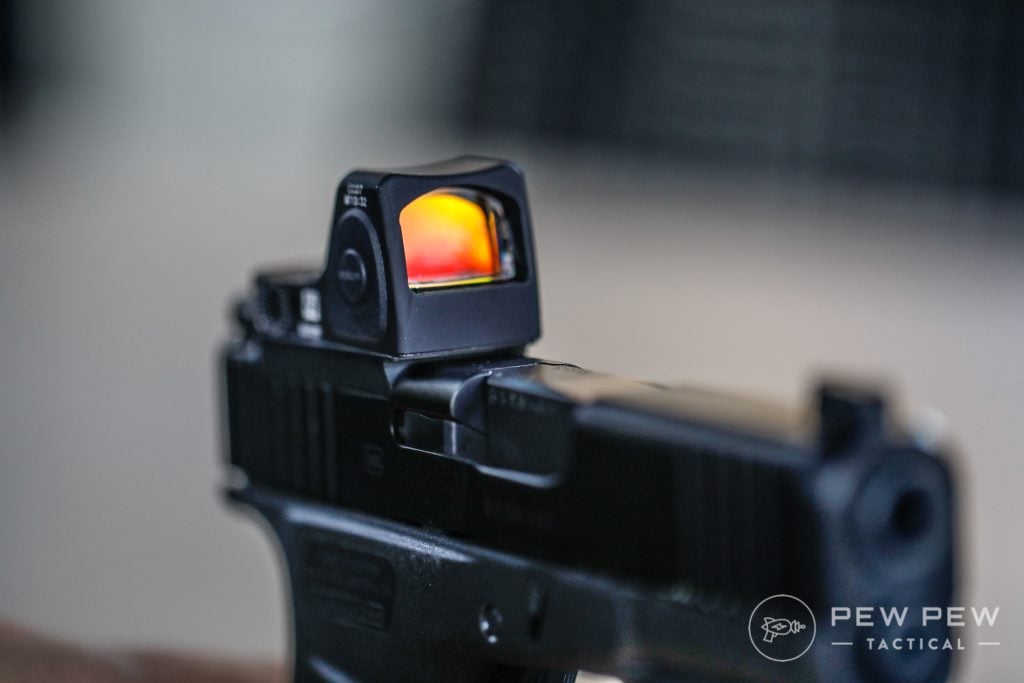 Nice tactile buttons on each side and essentially tool-less adjustment for windage/elevation.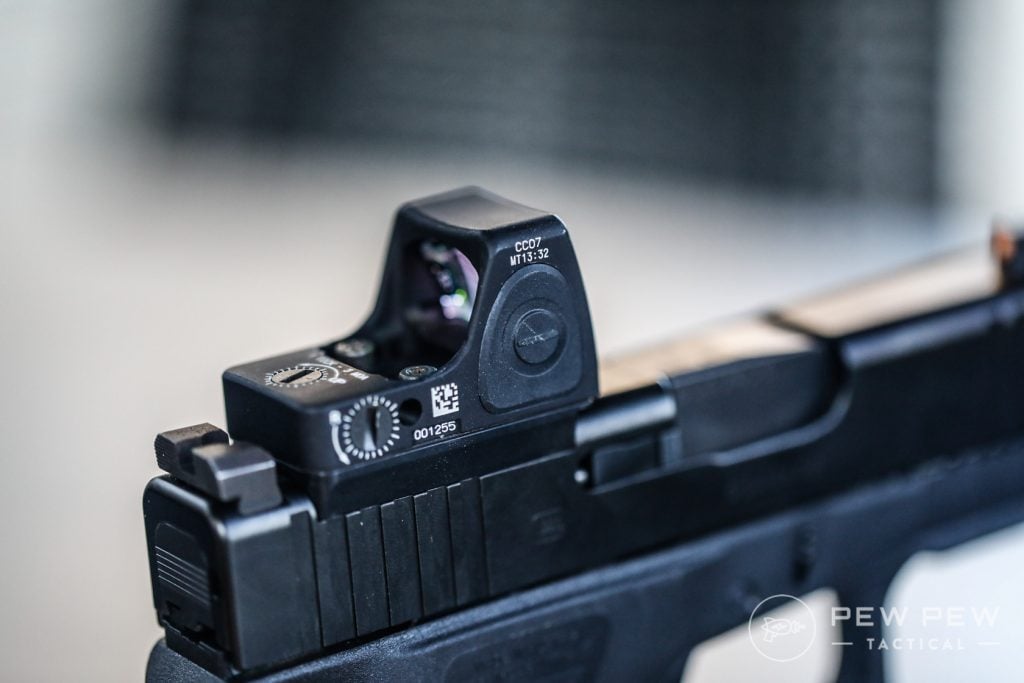 Battery Life
At the high end with 4 years.
Plus the ability to either secure auto-brightness for carry or a user-chosen brightness for competition.
Reticle
I like the option of having both 3.25 or 6 MOA reticles.
The dot is crisp and bright but window tint is slightly blue/green.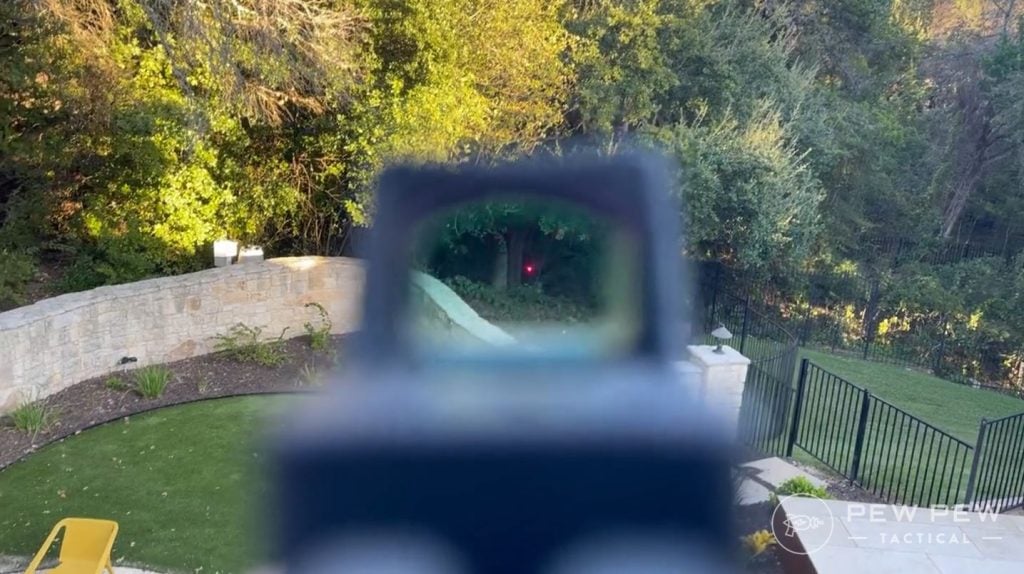 Compatibility
Here is where the RMRcc strays…it went with its own footprint instead of the RMSc standard (for micro compacts). Therefore, you'll need adapter plates that raise it up.
If it weren't for that…I'd love the RMRcc for a serious carry gun.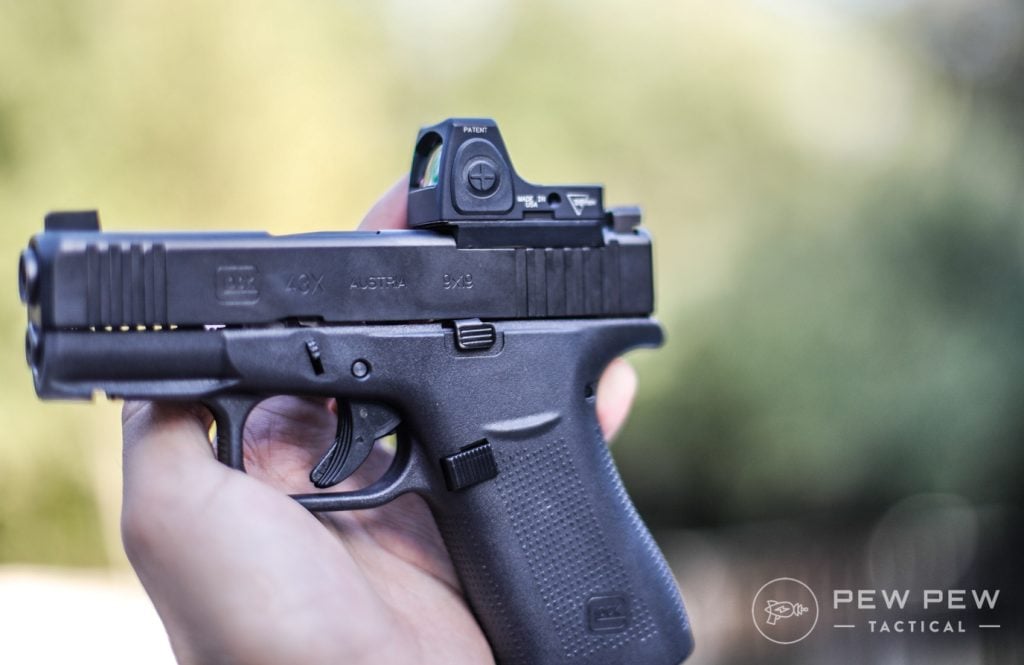 Trijicon RMRcc Summary
Trijicon build quality and battery life
Crisp 3.25 or 6 MOA reticle
Needs an adapter plate for most firearms (didn't directly fit any of our test micro compacts)
Pros/Cons of Red Dots
Now you know the best red dots for specific applications…but why even go with one on your pistol?
Pros
Sight acquisition: tracking a red dot is easier than rear and front irons…but you have to practice! The first time you try out a handgun with a red dot is going to feel really weird. The lower the mount (such as pre-milled slides)…the closer it's going to be to using irons.
Long range shooting: if you're running a 2-3 MOA dot…it's going to get MUCH easier to hit farther distances. If you have your trigger fundamentals down (How to Shoot More Accurately)… 100-yard steel gong hits will become the norm.
Low light shooting: much easier compared to regular irons or even night sights. Even more so if you're using NVGs (night vision goggles). Just make sure to choose the correct brightness setting with your goggles or your flashlight.
Poor eyesight: for many cases if you're eyes are a little older and focusing on the front sight gets harder…it can be great to use red dots. Make sure your astigmatism is in check otherwise the dot will look blurry.
Situational awareness: since you can have both eyes open easily…you get to see more of your surroundings.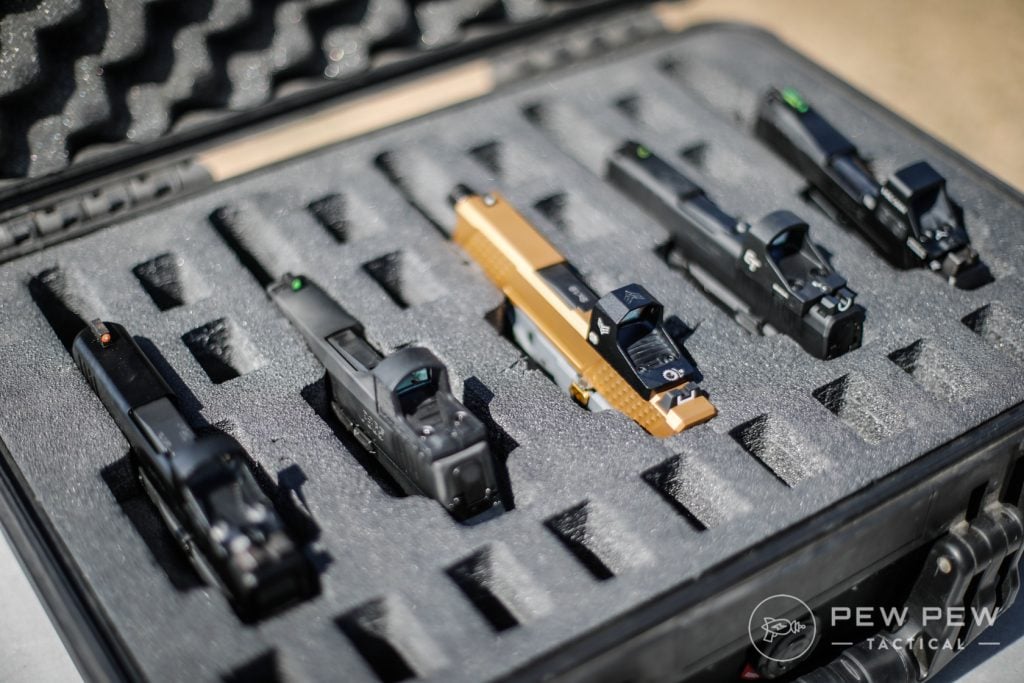 Cons
Electronics: more likely to fail than iron sights. Choose the correct ruggedness for your use and make sure to have fresh batteries. And/or have suppressor height irons as a backup.
Training: you have to practice with your exact optic and handgun to make sure you see the dot when you bring up your gun. It's an "all or nothing" optic…you either see your dot or you need to fumble around to get it in view.
Expense: first the optic which will run at least $200 for a proven reliable red dot…plus custom mounts.
Weather: droplets of water or temperature differences can mess up the projecting laser or fog up the glass
Conclusion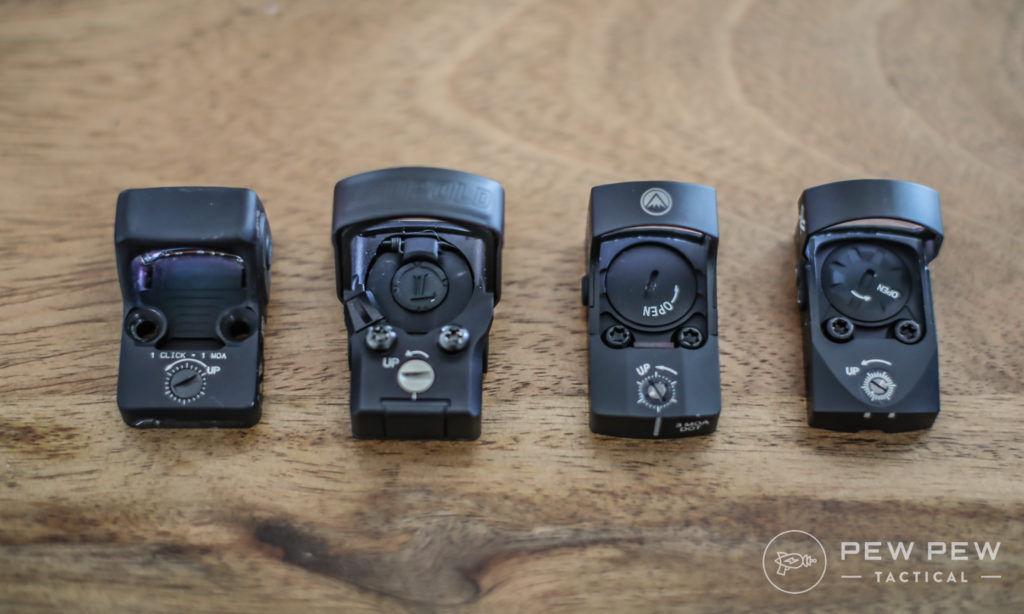 There you have it…the reasons why or why not to get a pistol red dot. And our favorite picks across some price ranges and applications.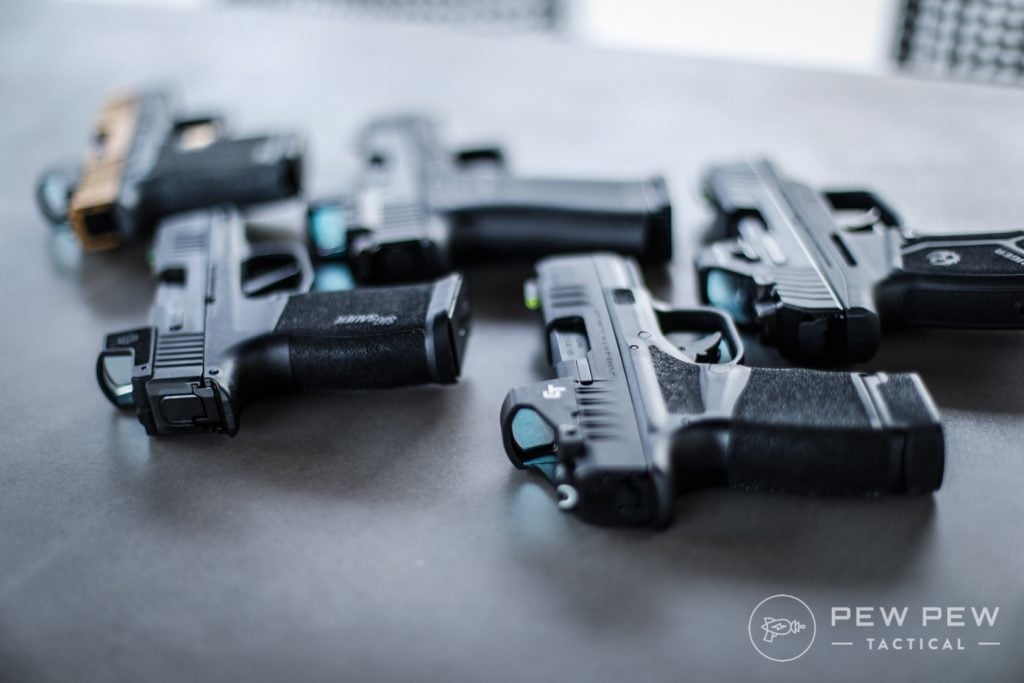 What are your experiences with shooting red dots on your pistol? Any tips for the learning curve? Check out our How to Shoot Pistol More Accurately for more tips that translate to iron sights AND red dots.