ACLIM8 Combar Foldaxe
NOTES
It's a bird, it's a plane, it's a nearly indestructible three-in-one folding ax, and potentially the Superman of multi-tools. Born from a fusion of the need for adventure and the creators' experience while serving in the Israeli Special Forces, the Combar combines strength, toughness, and versatility. The Foldaxe features a highly durable design, with the handle's body composed of glass-reinforced polymer and an over-molded head for a strong, safe head and shaft connection. Understanding that most outdoorsmen typically don't need a full-sized ax, the Foldaxe instead features a hatchet-size blade to tackle the most common tasks around the campsite. And as if an indestructible hatchet hammer wasn't enough, the Combar can store a knife, a folding saw, and small storage container, eliminating the need to carry a stack of extra tools.
MODELS
Titanium, Foldaxe Pro, Pro Titanium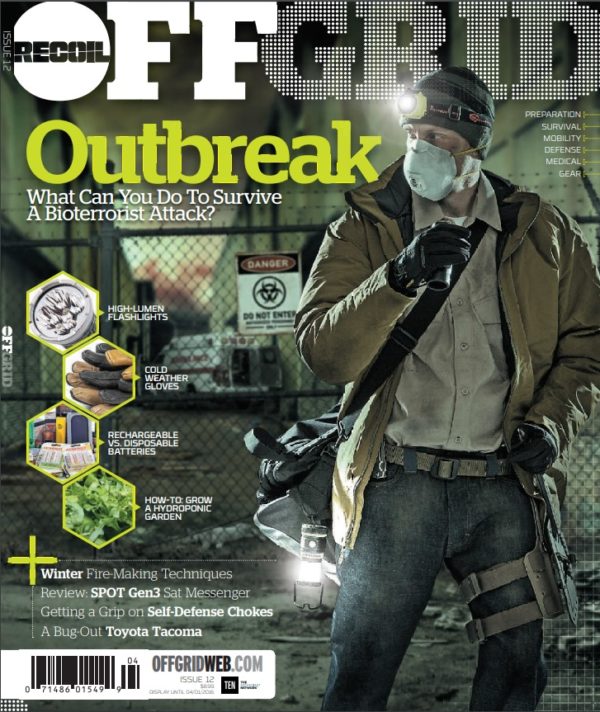 Subscribe Today and Save!
MSRP
$199
URL
aclim8.com
Garmont T4 Groove G-Dry Boots
FUNCTIONALITY
Hiking Multi-Terrain
MSRP
$140
URL
garmont.com
NOTES
Bridging the gap between a comfortable, everyday shoe and a serious all-terrain hiker, Garmont proves there doesn't have to be an aesthetic sacrifice between the two. With a 1.6mm suede leather upper, the FrameFlex footbed boasts a lightweight construction that combines excellent midfoot stability with effortless front flexion for enhanced comfort when walking. Garmont's G-Dry technology features a membrane that's both waterproof and windproof, keeping your toe beans dry even on the wettest of days. With a balance of breathability, lightness, protection, and stylish looks, this is a great pair of footwear that walks the urban-rural line with ease.
Meopta MeoPro HD 8×56 Binoculars
MODELS
MeoPro Air, MeoSport, MeoStar, Optika LR, Optika HD
MSRP
$699
NOTES
Not all binos are created equal, and that'll be glaringly apparent the first time you look through the MeoPro HD. High-definition, extra-low dispersion, fluoride objective lens elements eliminate chromatic aberration or color fringing in challenging lighting conditions and deliver pinpoint resolution, increased contrast, and vivid color fidelity. The 56mm HD objective lens makes it a powerful optic in both bright and low-light conditions. Meopta's proprietary ion-assisted lens multi-coating is applied to all air-to-glass optical surfaces, which eliminates distorting glare and reflections, and delivers an industry leading 99.8-percent light transmission per lens surface. One hundred-percent guaranteed to be submersible and protected against the elements. Once the focus is dialed in, it's more akin to a high-resolution telescope than your run-of-the-mill binos.
Wiley X Waterfall Women's Jacket
STYLE
Softshell
MSRP
$129
URL
wileyx.com
NOTES
Technical clothing is easy to overthink, but Wiley X has created a jacket that's beautiful in both simplicity and design. The women's Waterfall Jacket is perfect for those cooler days above freezing when you want a little extra warmth without overheating. It features a two-toned gray design, full-zipper with quilted front and back panels, water-resistant film insert, and 100-percent polyester microfleece lining to keep you both dry and cozy. This trend-right performance jacket is a hard-to-beat combo of light insulation on the torso and stretch knit fabric on the sleeves for better mobility. The Waterfall jacket is also great for layering in cooler weather. Adjustable-fit locking draw cords at the hem ensure optimal ventilation and temperature control, and the bindings at the cuffs provide extra warmth.
DICEROX Lagertha Knife
MODELS
Fenrir, Kalina
MSRP
$413
URL
dicerox.com
NOTES
This blade is named after the Viking Shield-Maiden who once ruled what's now Norway; a woman warrior so fierce, she had Ragnar fighting bears just to win her over. Lagertha, in the Viking tradition, is inspired by the saxe design, and is a versatile bushcraft knife made from premium components. Unlike many stamped-steel blades, Dicerox puts all the love and care you'd expect from small-batch, custom-made knives. The blade itself is Uddeholm Vanax steel, which is renowned for its strength and resistance to corrosion. Oak handle slabs are sourced locally from Swedish forests and processed with care by an ex-furniture-maker turned bladesmith. Swedish hide, vegetable-tanned sheaths are handmade by Dicerox and constructed from the remnants of a local saddle maker, ensuring no two sheaths will be the same. This is an heirloom-quality blade, made to outlast the one who holds it.
Fenix LR80R Rechargeable Searchlight
LUMENS
18,000
MSRP
$472
NOTES
If there were a king of the flashlight mountain, the LR80R would be a promising candidate. Built to withstand punishing conditions, this light can produce 18,000 lumens, creating a beam that reaches as far as 1,130 meters (nearly three quarters of a mile). Its USB-C rechargeable 7.2V/12000mAh Li-ion battery pack fully charges in approximately four hours and eliminates the need to carry extra batteries. Its 3.6-pound weight can be easily supported with the included shoulder strap, which can also be swapped out with a hanging ring in case you need it to illuminate a single area. Two output modes — low (300 to 1,000 lumens) and high (3,000 to 18,000 lumens) — ensure only the required amount of energy is being used. The light will run for approximately 300 hours in Eco mode, and the USB-C ports can be used to charge devices from the light's battery.
5COL Survival Supply Mini Survival Kit – ESEE Knives
DIMENSIONS
3.75 by 2.25 by 0.75 inches
MSRP
$35
URL
5col.com
NOTES
Take your mint-tin survival kit to the next level with 5COL's Mini Survival Kit. Everything included in the kit was designed to fit perfectly within the confines of a container the size of a deck of cards. This makes it ideal to stow in a hiking pack, roadside emergency kit, or in any number of EDC loadouts. It includes the foundational tools for survival basics like a ferro rod with striker and waxed tinder, button compass, and signal mirror. After the fire is started, catch some food with the provided fishing tackle, complete with several sizes of barbed hooks, fishing line, sinkers, and a weighted jig. To top it all off, there's about 10 feet of nylon cord, about 10 feet of snare wire, a sheathed razor, and a button light with a mini carabiner.
Survivor Filter Ultra Lite Active All Terrain Bottle
CAPACITY
1 liter
MSRP
$45
NOTES
Survivor Filter is releasing a lightweight performance bottle that'll keep you and your loved ones safely hydrated during your next outdoor excursion. After many years of feedback from customers regarding the previous version of this filtration bottle, Survivor Filter has created an improved bottle and an improved carrying case. This model features a Nalgene bottle and a water-resistant carrying case. As many of you know, Nalgene is BPA free, leaves no aftertaste, and is virtually indestructible. This system is also a win for the environment, as all the packaging is made with 100-percent recycled materials, printed with soy-based inks, and naturally biodegradable. The Active All Terrain Bottle has a filter capable of safely processing up to 25 gallons of untreated water, and it can remove any residual contaminants from up to 100 gallons of municipal tap water.
Brunton TruArc 20 Compass
MODELS
TruArc 3, TruArc 5, TruArc 7, TruArc10, TruArc 15
MSRP
$80
URL
brunton.com
NOTES
Being able to keep your bearing straight is a life-saving skill, and Brunton makes it possible with its most advanced baseplate compass. Its sighting mirror, quick-reference lid, and protective rubber foot that stores an array of map scales are just the tip of the iceberg. There are a ton of extra features that give this model more bang for your buck. The TruArc 20 has a Global Needle that tilts up to 20 degrees for balanced use across the globe, and a tool-free declination adjustment to quickly orient magnetic north to true north. Brunton's EverNorth Magnet also resists demagnetization over time. A dual azimuth ring provides reverse azimuths, eliminating intersection and resection calculations. This particular model can also come with luminous readouts, making night navigation a breeze. Made in the USA, Brunton will keep you heading in the right direction, no matter where you are.
SunJack 25-Watt Foldable ETFE Monocrystalline Solar Panel Charger
OUTPUT
2 x 5V/2A USB ports
MSRP
$80
URL
sunjack.com
NOTES
Living off the grid doesn't have to mean giving up electronic devices that can make life infinitely easier. Weighing in at just under 2 pounds, the SunJack Solar Panel Charger will keep lights, radios, phones, and any other USB chargeable device ready to go, even if the grid goes down. A weatherproof exterior layer improves performance and durability, making the Solar Panel Charger waterproof, shockproof, and dustproof. The panels fold easily and an integrated magnetic closure system keeps the panels closed during storage while eliminating the need for bulky straps. Its powerful 2 amps per USB port provides charging speeds that can approach those of a wall outlet and boasts a 95-percent UV permeability. Onboard technology intelligently identifies your device and maximizes charging speed to prevent overcharging. It's an awesome accessory for outdoor adventures, a bad-weather prep kit, or for disaster and emergency situations.
Adventure Medical Kits MOLLE Bag Trauma Kit 1.0
WEIGHT
0.9 pound
MSRP
$55
NOTES
Having a first-aid kit handy is a basic life-saving step, and Adventure Medical Kits makes it easy to be ready for most basic medical emergencies. Whether you're in the field, at the office, or in the car, the MOLLE Bag Trauma Kit has a ton of supplies that can easily treat one person for several days. The 2-foot QuikClot dressing included in the kit helps stop life-threatening bleeding fast. Bandages, dressings, and medications enable you to address other wounds, bleeding, and fractures or sprains, all while keeping the patient comfortable as you make your way back to camp or await rescue. Included in the kit is a wide array of medications to treat pain, inflammation, and common allergies. The kit also comes with a Wilderness & Travel Medicine Guide, which includes over 50 improvised techniques and 100 illustrations for treating outdoor injuries and illnesses. Lightweight and with integrated MOLLE straps, the Trauma Kit 1.0 makes it easy to be prepared.
Gatorz Eyewear ANSI Z87.1 Milspec Ballistic Magnum
FRAMES
Boxter, Delta, Skyhook, Specter, Stark, Wraptor
MSRP
$300
URL
gatorz.com
NOTES
Sick of carrying around multiple pairs of ballistic eyewear, or a multitude of lenses to adjust to changes in light? Gatorz Eyewear saves the day by providing clear eye protection that automatically darkens when exposed to UV rays from the sun. This makes for a great glasses option when transitioning from indoor to outdoor, or vice versa, and allows the wearer to maintain eye protection when transitioning from day to night. The lenses are impact tested to withstand two hits from a .15-caliber projectile between 700 and 725 fps without cracking, shattering, or dislodging. An antifog coating keeps vision clear despite abrupt changes in humidity or precipitation. The lenses are oil and grease repellent and provide UV 400 protection. This may be the only pair of protective eyewear you'll need.
---
Prepare Now:
Disclosure: These links are affiliate links. Caribou Media Group earns a commission from qualifying purchases. Thank you!
---
STAY SAFE: Download a Free copy of the OFFGRID Outbreak Issue
In issue 12, Offgrid Magazine took a hard look at what you should be aware of in the event of a viral outbreak. We're now offering a free digital copy of the OffGrid Outbreak issue when you subscribe to the OffGrid email newsletter. Sign up and get your free digital copy Click to Download!
---