How many micro compacts are there these days? Heck, it felt like 2021 saw the introduction of half a dozen of them from Taurus, Kimber, and even two from Ruger.
Sig Sauer popped the whole thing off with the P365 in 2018, and, since then, it's been America's favorite handgun. Competition is good, though, and the P365 currently has a butt load in that arena. 
Sig's first competitor came from a company called Springfield Armory by way of Croatia. The Hellcat premiered in September 2019 and gave the Sig P365 hell.
Since then, these two guns have more or less defined the micro compact genre, and it's only appropriate that we do a little side-by-side testing. 
So keep reading as we stack these two models up against each other, look at their specs and features, and ultimately help you decide which one is right for you.
Summary of Our Top Picks
Table of Contents
Loading…
The Models 
Oh boy, is this just as simple as the Sig Sauer P365 vs. the Hellcat? No, of course not.
Each gun has several models on the market, and when you're choosing one or the other, it might make sense to know all the versions available to you. 
In Sig's Corner!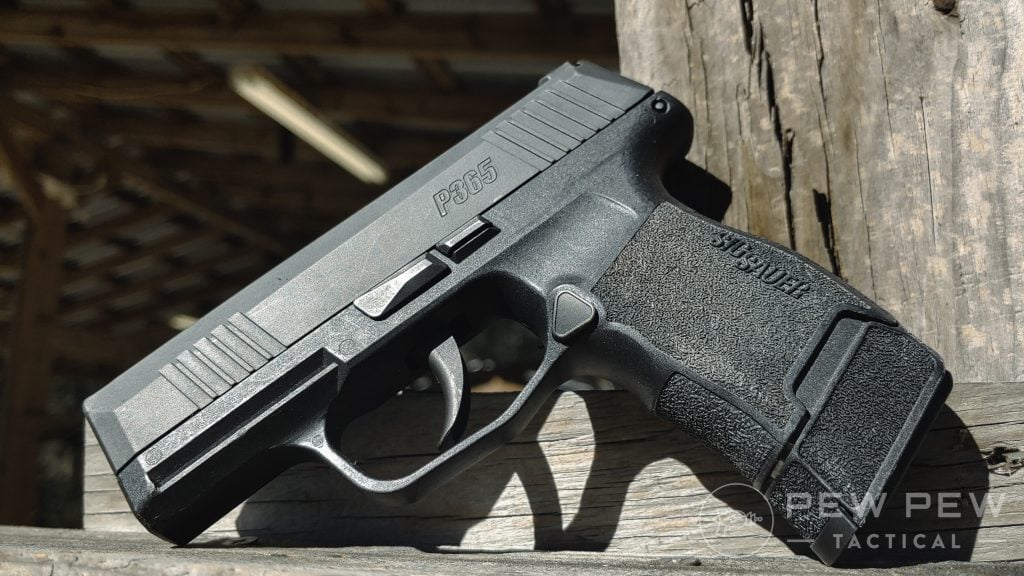 P365: Standard micro-compact model with a 3-inch barrel, 10-round flush fit magazine. 
P365XL: SIG Stretched the gun to accommodate a 3.7-inch barrel and a slightly longer grip. This gun is optics-ready and comes with a flat-faced trigger. 
P365SAS: Standard-sized model with every corner and protrusion melted, including the sights. Designed for deep concealment. 
P365X: Standard length slide with the longer XL grip and optic's ready capability. 
P365XL Spectre: Special model of the XL with slide cuts, a different grip texture, X-series trigger, and optics-ready capability. 
In the Hellcat's Corner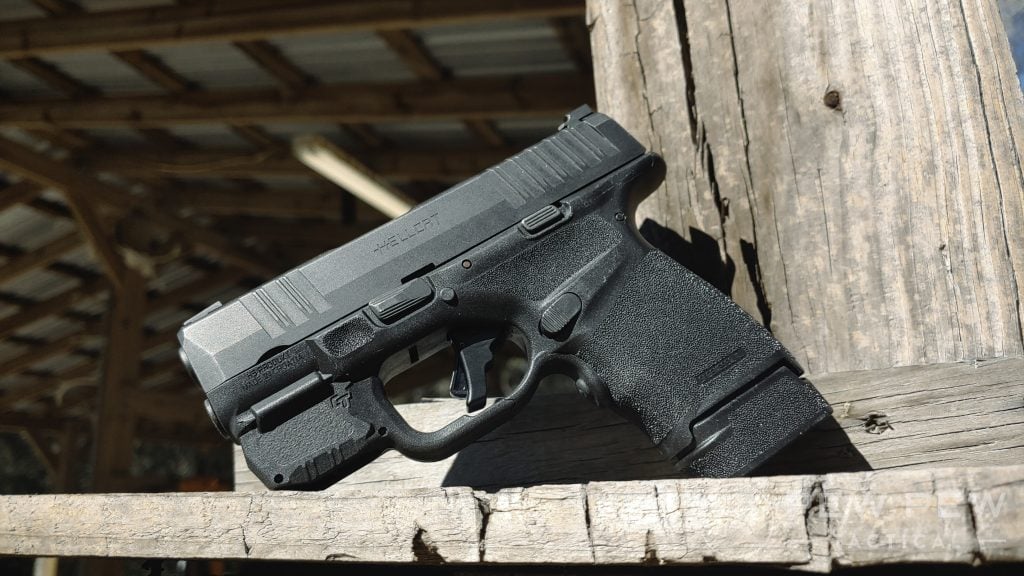 Hellcat: Standard model with a 3-inch barrel and 11-round flush-fitting magazine. Available in FDE or Black. 
Hellcat OSP: Standard model with a 3-inch barrel and 11-round magazine, but is optic's ready. Available in FDE or Black. 
Hellcat RDP: RDP stands for Rapid Defense package. This model uses a 3-inch barrel topped with a compensator and is optic-ready. Includes Springfield's WASP optic and a "Gen 2" refined trigger. 
Head to Head
So, which models are we comparing? Well, we are keeping it basic. Today we are stacking the standard P365 against the standard Hellcat. 
No optics, no compensators, no long barrels, just the two most common variants of these guns. It seems to be the closest match capability and design-wise. 
Size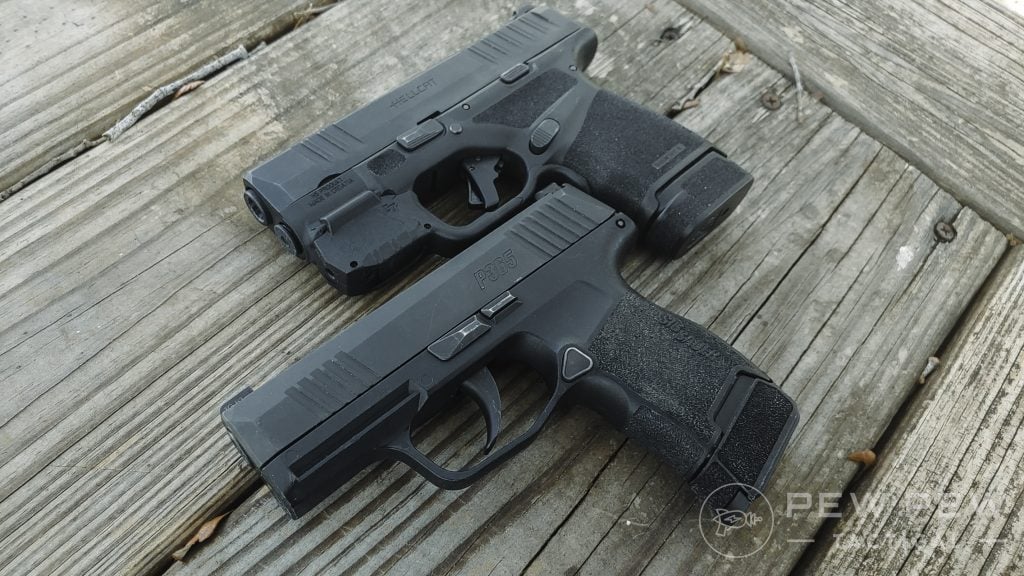 Micro Compacts are defined by their small size and relatively high magazine capacity. They are best described as a single stack-sized gun with the capacity of a double stack. Their small size makes them relatively easy to carry, so let's talk size. 
Since the Sig is the real O.G., it'll go first:
Barrel Length: 3″ 
Overall Length: 5.8″ 
Width: 1″ 
Height: 4.3″ 
Weight: 17.8 oz 
And here's the Hellcat: 
Barrel Length: 3″ 
Overall Length: 6″ 
Width: 1″
Height: 4″ 
Weight: 18.3 oz 
So as you can see, the Sig is a little shorter overall and weighs a little less, while the Hellcat is a little shorter height-wise.
It's worth mentioning that the Hellcat remains slightly shorter but also packs one extra round in its 11-round magazine.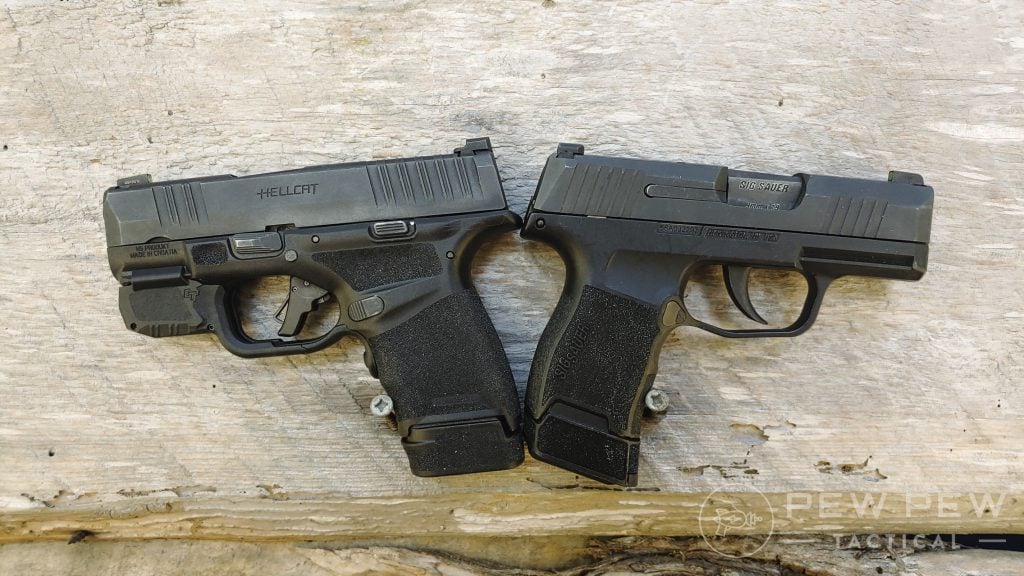 The differences are minimal, and when compared to guns like the Glock 26, they are both superbly small. The Glock 26 is bigger in every dimension and still only holds 10 rounds in its flush-fitting magazine. 
Both the P365 and Hellcat conceal very easily without any major differences between the two. If you choose one or the other, you won't have any issues finding holsters.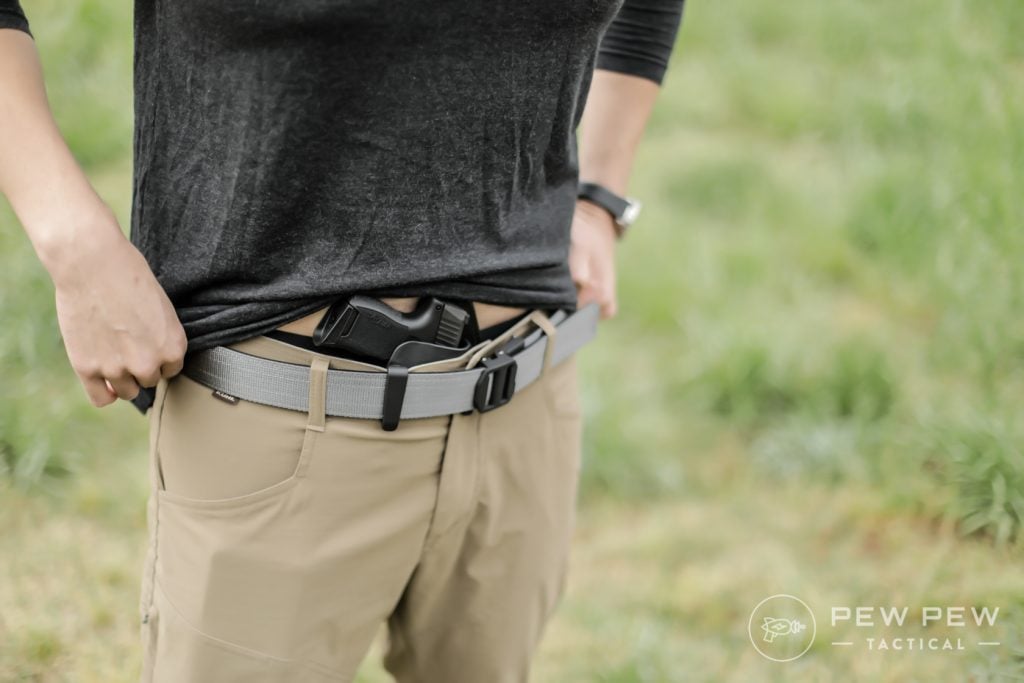 That said, the P365 seems to have more holsters available for it for a variety of different carry styles. 
Do you like the Sig? If so, rate it below!
Features & Magazines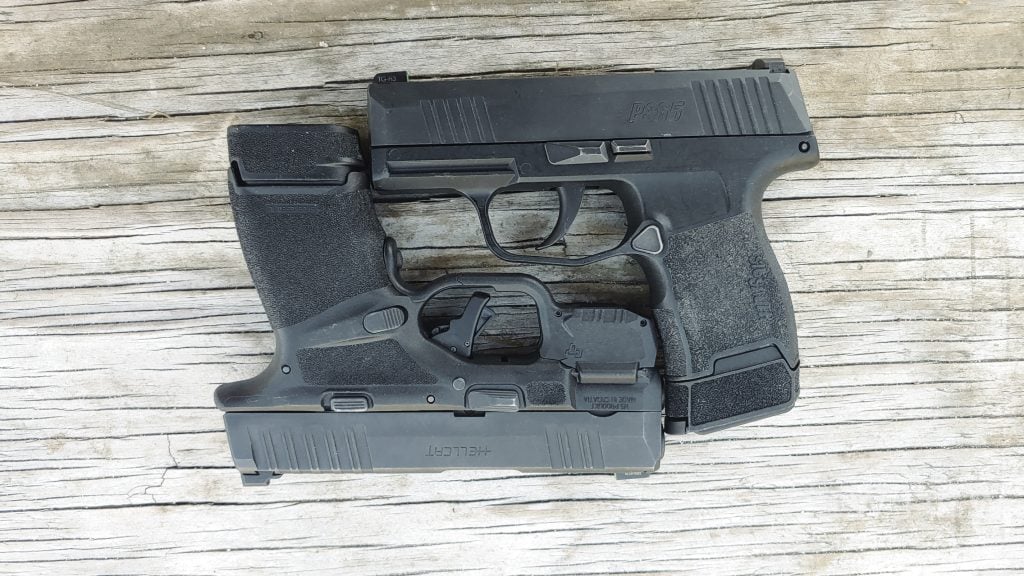 The Sig P365 and Hellcat are pretty dang similar. They hold a bunch of rounds, are small, and are both striker-fired, with polymer frames.
However, they both have a few features worth mentioning that set them apart…
Let's start with the rails. Sig installed a very small proprietary rail.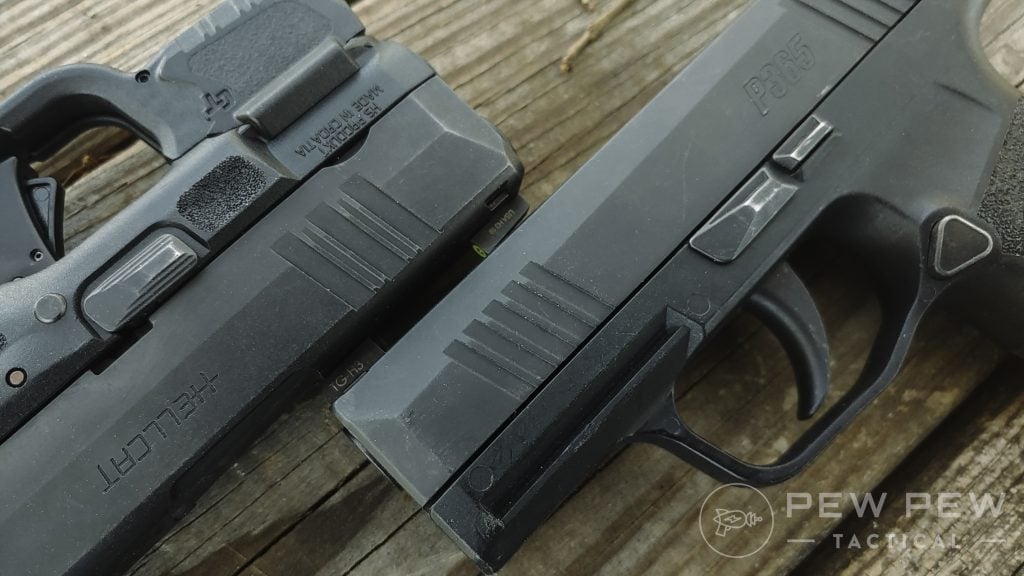 The main benefit of this is that the front of the weapon stays very slim, making it a little more comfortable to conceal. The downside is, well, predictably the fact that accessories are few and far between. 
Sig makes a laser, Streamlight makes two lights…and that's seemingly it. 
Springfield equipped their gun with a single slot Picatinny rail. These rails are bigger but do accommodate a wider variety of lights and lasers.
This includes options from Streamlight, Olight, Crimson Trace, and many more. 
Sig uses its famed chassis system that makes the FCU the legal firearm. This allows you to swap your FCU between grip modules and slide lengths. Plenty of aftermarket companies produce grip modules, and Sig themselves allows you to mix and match.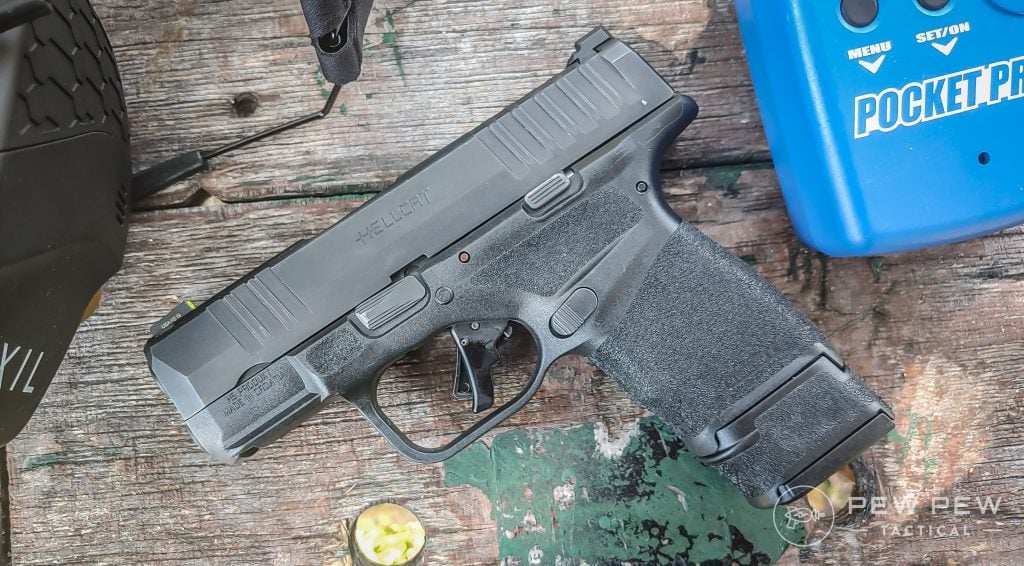 The Hellcat implements a standoff device at the front of the gun. This oversized recoil guide rod prevents the slide from coming out of battery when shoved into a bad guy in some extreme close quarter's work. 
In the magazine department, the Hellcat takes the lead. It ships with both an 11-round flush fit magazine and a 13-round magazine. Sig ships with 10 rounders for a flush fit, but it also offers an optional 12-round magazine as well.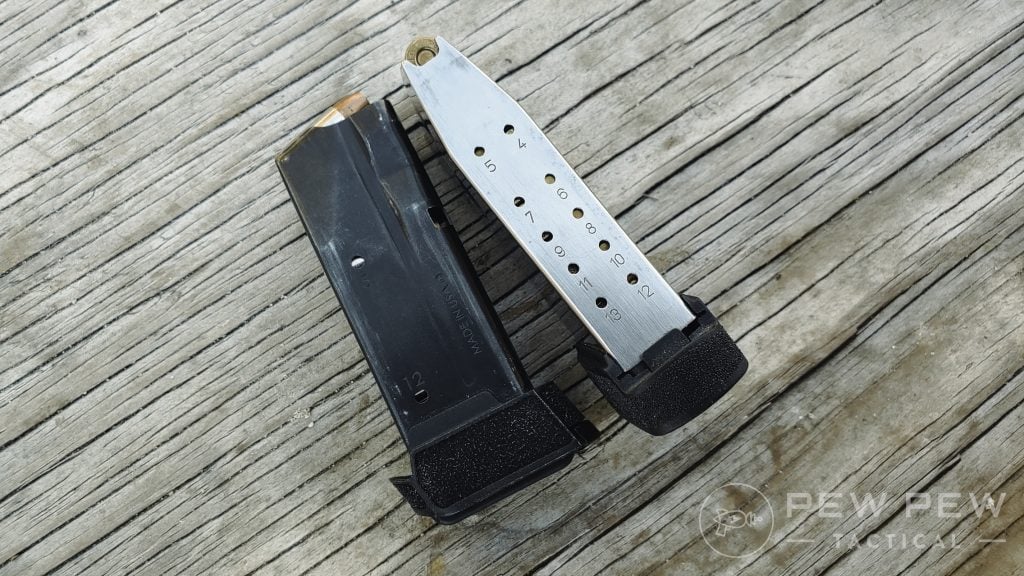 Hellcat stays a little ahead until you get to the 15-round magazines.
Both companies offer a 15-round option for their guns which gives you Glock 19 firepower. If you acknowledge the aftermarket, Mag Guts makes +2 springs that drive up the Sig P365's magazine capacity. 
One thing about the Sig magazines I hate is that they rust. I mean, they rust super easily.
The gun itself doesn't rust, but all of my mags rusted with minimal exposure to the elements. This is not an issue with the Hellcat magazines. 
Breaking Down The Egonomics 
Both guns are very similar in their ergonomics. The base models have a trigger, slide lock, and magazine release for controls. Sig produces a manual safety model with an ambi safety.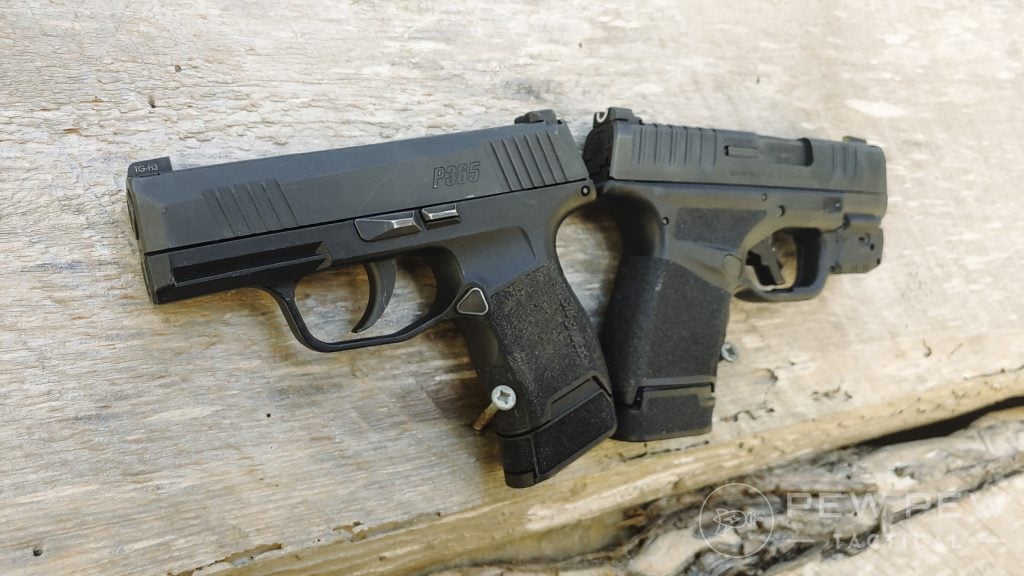 The slide locks are both relatively useless to me. My thumbs tend to pin them down when firing, so the slide never locks back to the rear anyway. Both are textured and plenty easy to use. 
The magazine release for both firearms is a simple button design. They vary slightly in shape but aren't much different. Sig's P365 features a broader magazine release, but the Hellcat is taller.
Both make it easy enough to reload.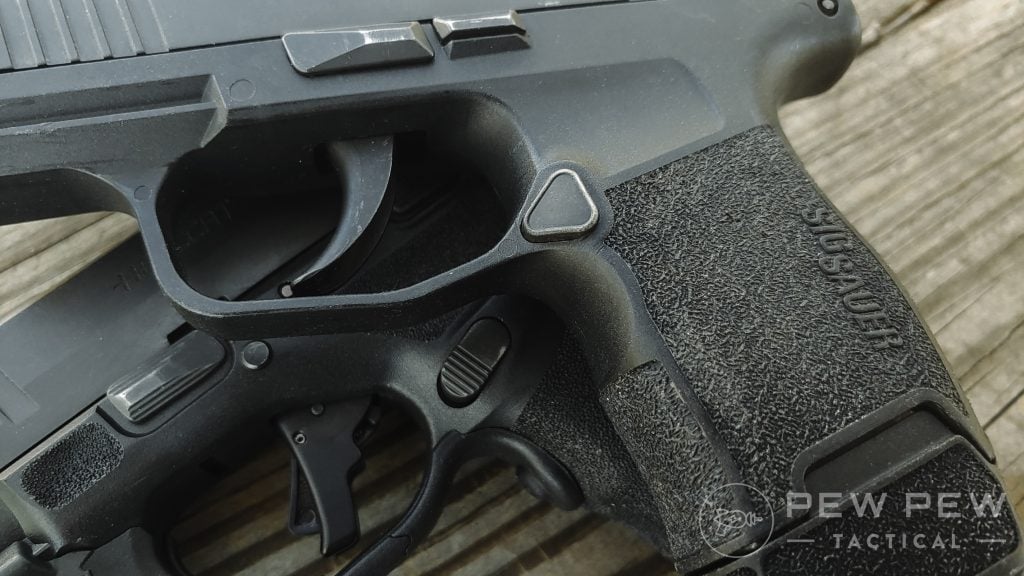 The slide serrations on the Hellcat are very aggressive and go over the top of the slide. This makes it easy to grip the slide and work it at a variety of angles.
The P365's slide serrations are plenty sufficient, but the Hellcat outshines them.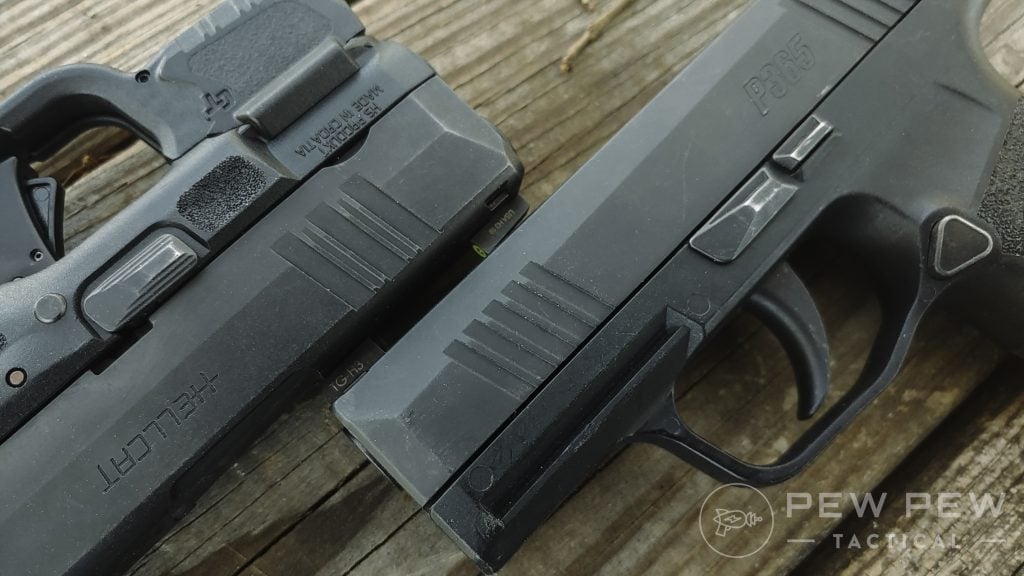 I also prefer the adaptive grip texture on the Hellcat. It's not so aggressive that it rubs your body raw or shreds t-shirts, but it does allow for a good purchase. You can grip tight, and the gun won't move. 
Springfield also brought their grip texture up and above the magazine release to greet more of the hand.
Sig's texture isn't bad, and the gun stays put. However, it's not as aggressive as the Hellcats. It also ends right below the magazine release.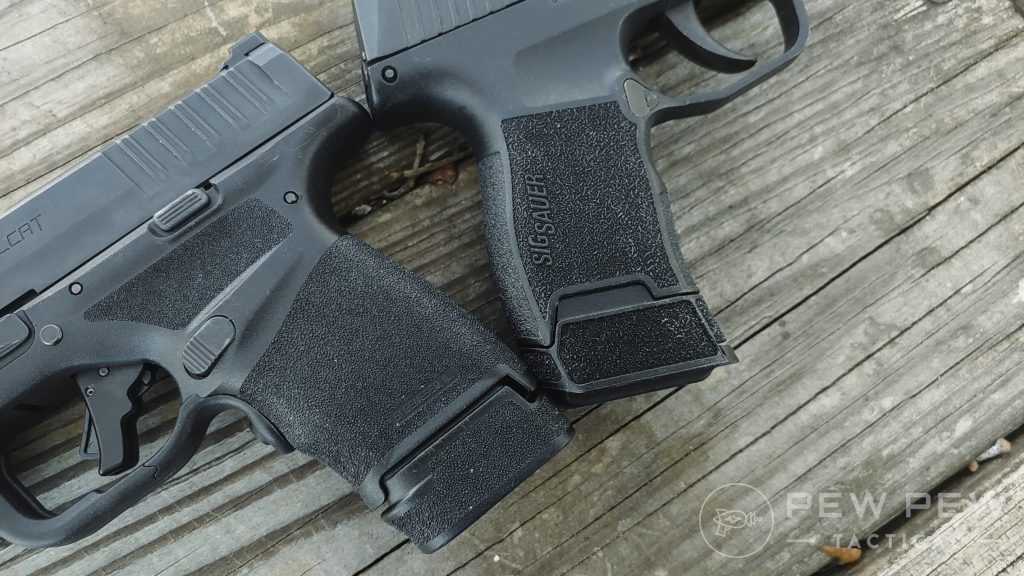 When it comes to the optic's ready models, I'm surprised Sig hasn't released something like the OSP — the standard small frame with optic compatibility. It'd make for the shortest, optically equipped version of the P365. 
Down to The Wire Accuracy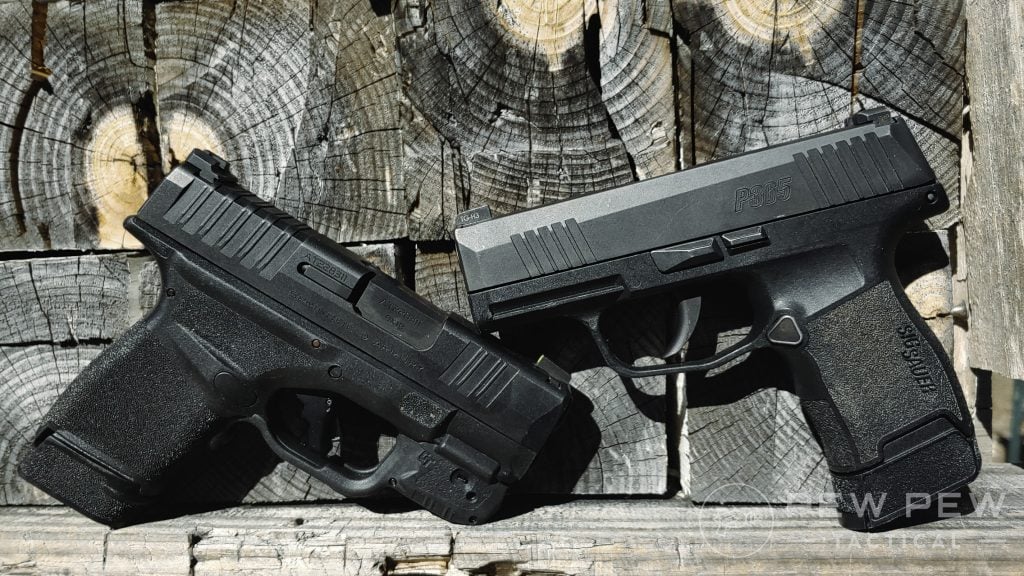 Small guns like this are not precision pistols…not even a little bit. They are designed for the traditional 15 yards or so concealed carry range. 
Skilled hands can certainly take them out further, but that is not their purpose. The Sig offers a lighter trigger pull, and that's something I most certainly appreciate.
The P365's trigger glides rearward, hits a slight wall, and breaks cleanly.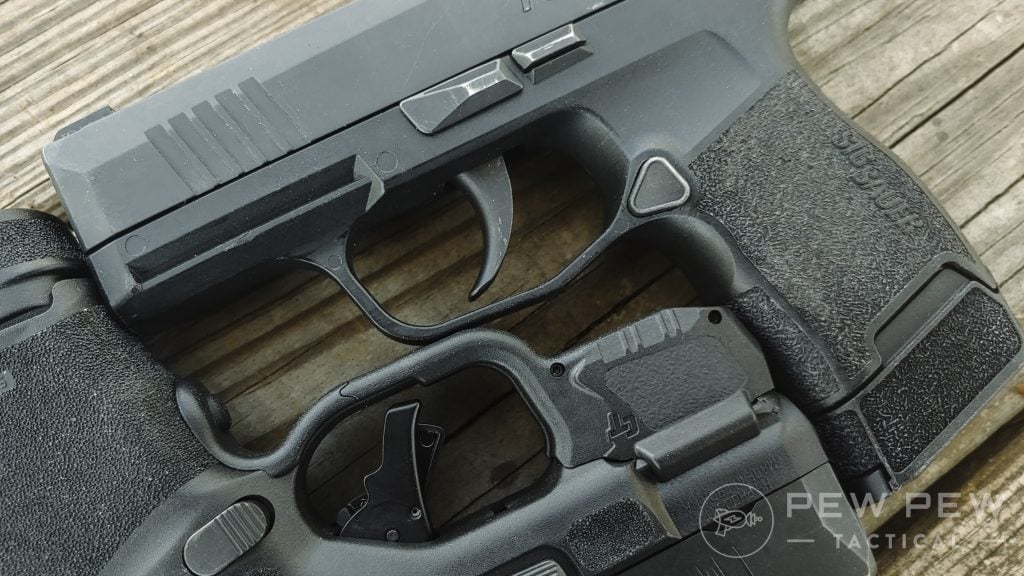 Springfield's Hellcat uses a flat-faced trigger. The pull is considerably heavier than the P365 but far from bad. Sig brings a 5.25-pound trigger pull, while the Hellcat offers a 6-pound, 10-ounce trigger pull. 
Trigger weight differences like that aren't massive, and if you can shoot one accurately, you can shoot the other accurately.
For me, the P365 shoots straighter — even at 25 yards, I can consistently land fast and consistent shots onto a gong. 
With the Hellcat, I seem to have less consistency. With drills like Dot Torture and the iHack, I tend to drop rounds with the Hellcat, but less so with the Sig.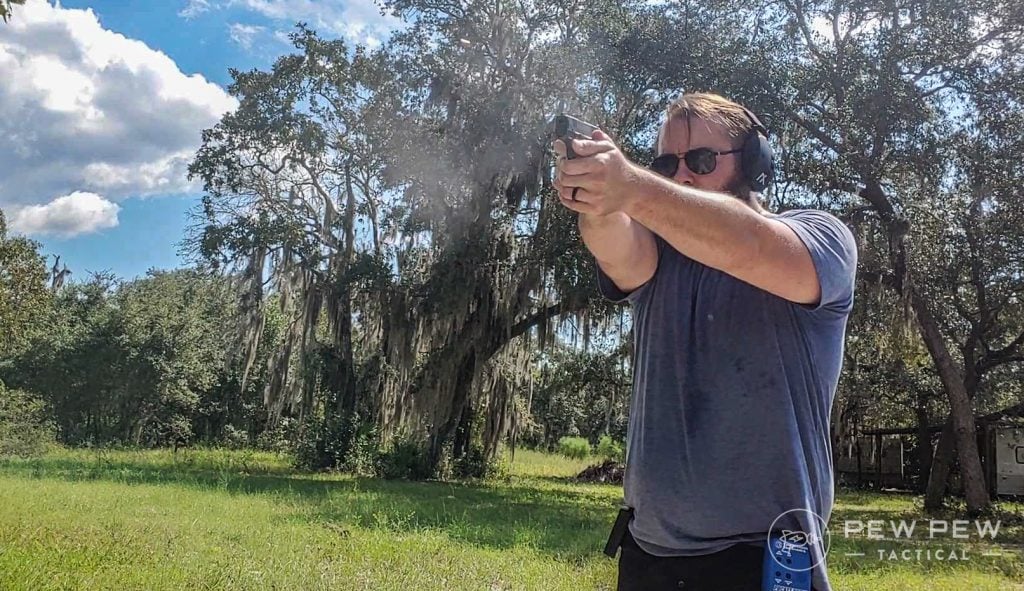 Trigger pull might be an issue, but the sights might be an issue as well. The P365's lower profile sights are smaller and allow me to see more of the target. 
On the other hand, the Hellcat's sights are both larger and taller which makes them obscure the target a little more.
On man-sized targets, there isn't any real difference, but on small dots, it's evident.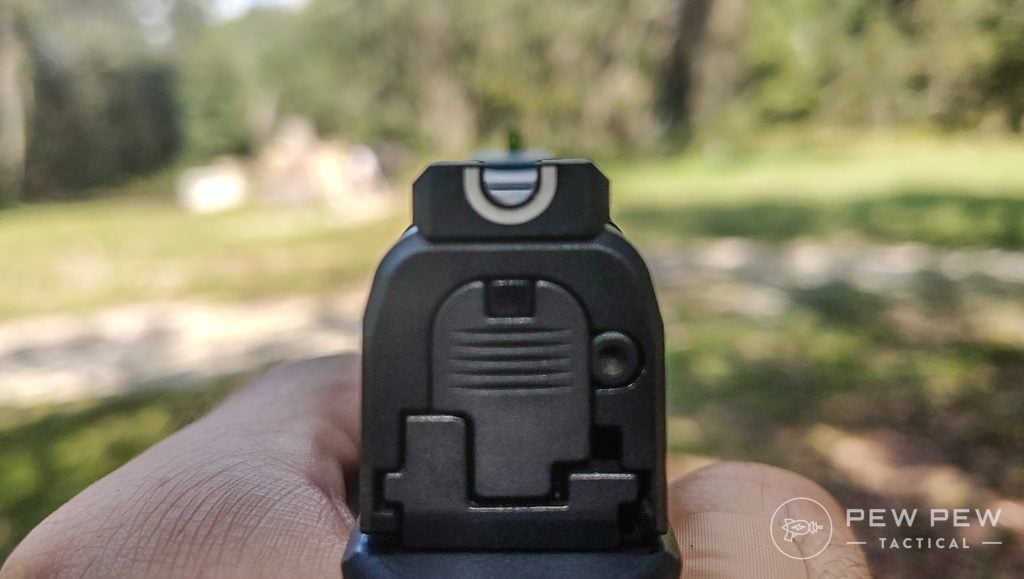 Sig's XRAY3 sights mix day and night time sights. The front and rear sights all feature glowing tritium vials, and the front sight has a polymer, high visibility green insert for daytime shooting. 
Springfield equipped the Hellcat with a very interesting sight setup. The rear sight is a black sight with a white U, and it's very Hackathorn style. Its front sight has a glowing tritium vial in the middle with a big yellow ring around it.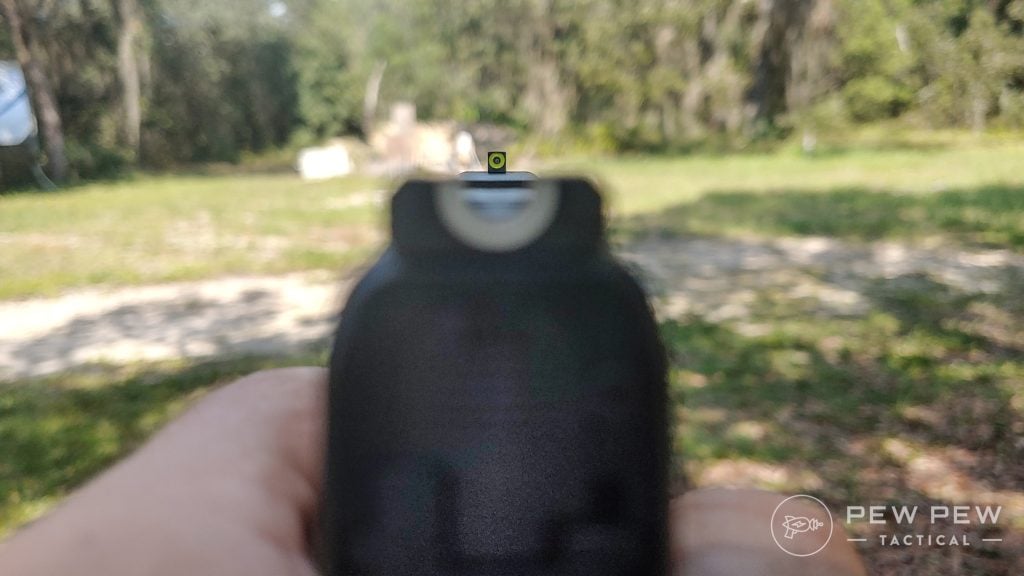 Hellcat sights are quite nice for practical shooting at close range. They are quick to align and rapid on target. The P365's sights are the same but a little lower profile. 
Getting sight focus with either isn't tough to do and getting lead on target quickly isn't tough to do either. However, the P365 does a bit better job with its smaller sights and better trigger when it comes to more precise shooting. 
In fact, I replaced the trigger in my Hellcat with one from Apex to make it a little more refined. 
Reliability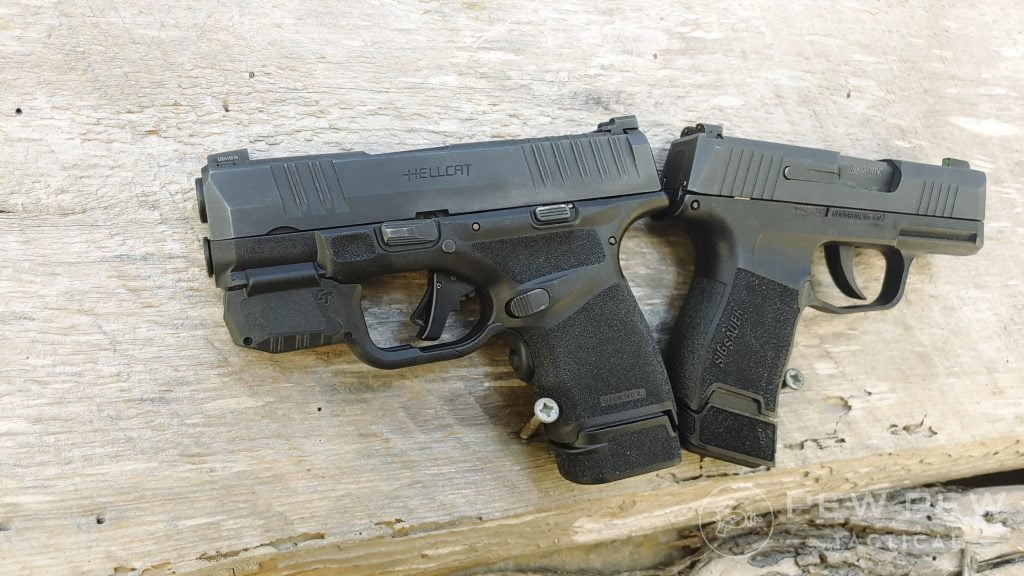 I've owned my P365 since a few months after launch, and in that time, I've had very few issues. Most of the issues I have had have been from bad ammo rather than the actual gun. I've run it hot and dry without issue over several hundred rounds during a defensive pistol class. 
I've shot the Hellcat a little less, well, a lot less, but it's also been completely reliable. One of the biggest issues with the XD series is that ridiculous grip safety. It's been known to break and seize the gun up. 
Springfield wisely did away with it for the Hellcat and likely helped increase its reliability.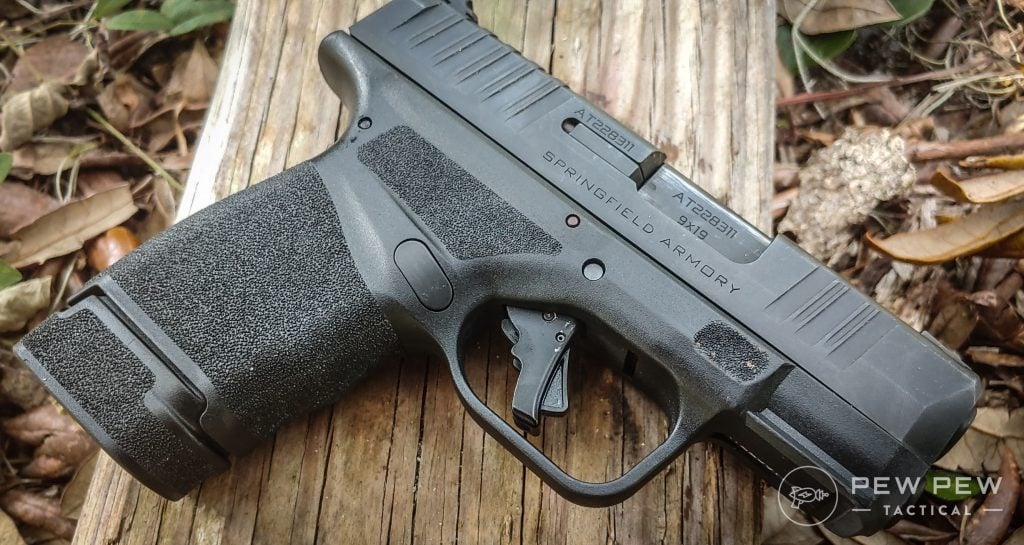 Final Verdict
So where does that leave us? Which one should you choose?
For me? Well, I carry the Sig Sauer P365. I like the Hellcat, but I like the P365 a little more. It has more customization options more holsters, and I have far more training on it than the Hellcat.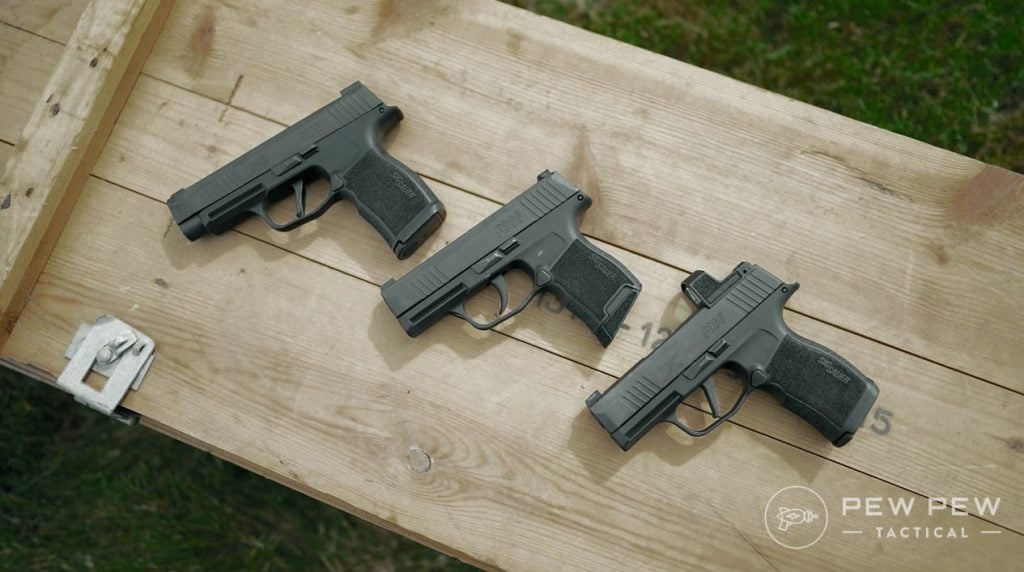 That said, the Hellcat is a solid pistol too. In fact, if my P365 broke tomorrow, I'd have no reservations about carrying the Hellcat, though. 
Which would you carry? Or which do you carry? Let us know in the comments below. For more carry guns, check out our comprehensive list of the Best Concealed Carry Guns.