Having recently been made aware of Nightstick and its products, I endeavored to see what else they had to offer.
Since I had checked out one of their rifle lights and really liked it, I wanted to see what they had for shotguns.
Often considered the ultimate home defender, even the shotgun can benefit from a proper application of a weapon light.
So how did Nightstick's SFL-13GL fare?
We mounted up this light and took it out to the range to test it. We'll share our thoughts with you below, so read on!
Table of Contents
Loading…
Pros & Cons
Pros
High output
Wide spread
Dedicated design
Cons
A little heavy (17.5 oz.)
Different grip angle (support)
The Bottom Line
Nightstick's shotgun forend is a great option that combines quality features and a high output light in a durable package that is still affordable!
Features
1,200 lumens
IP-X7 waterproof
Green laser
Source: Nightstick
Background
If you've ever had the notion to mount a light on your shotgun, you may have run into a couple of challenges.
First, recoil on a 12-gauge is pretty serious and only the hardiest of lights is going to stand up to those forces.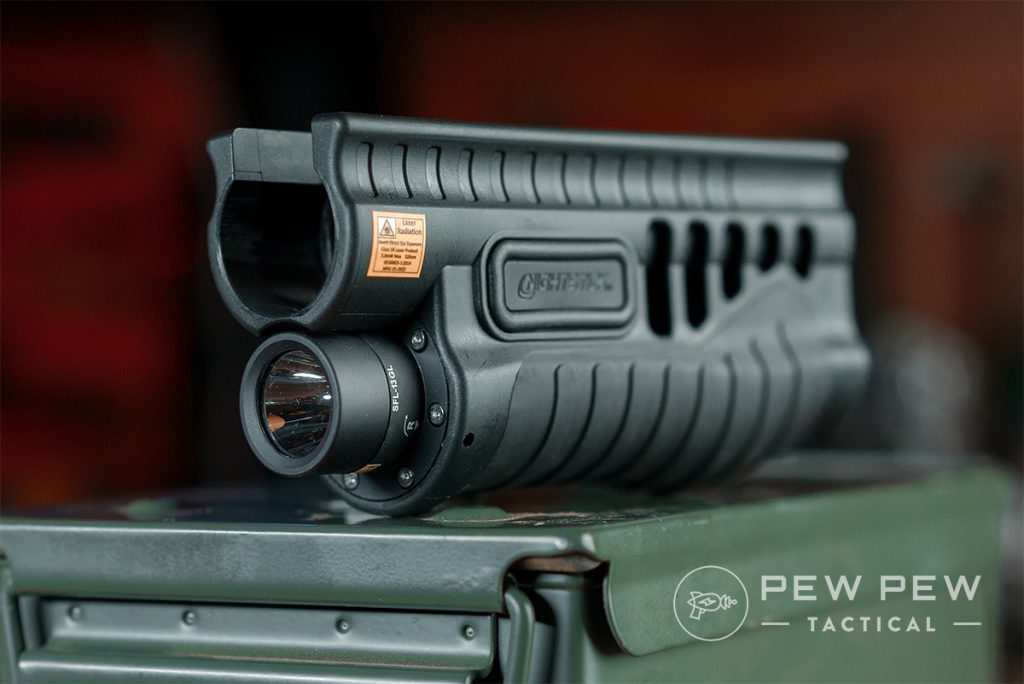 Second, you may come across some dedicated light options designed specifically for your model of shotgun that are very expensive. Shelling out over $300 may not appeal to you.
Who Is It For?
Nightstick has traditionally served the law enforcement community but a few retailers are selling them to the public now. This means anyone who wants a quality light on their shotgun can pick one up without going into debt.
Fit & Feel
The SFL-13GL is made of hard glass-filled nylon with a rubberized, ribbed grip. This portion has a curve and swell to it that fits the hand naturally.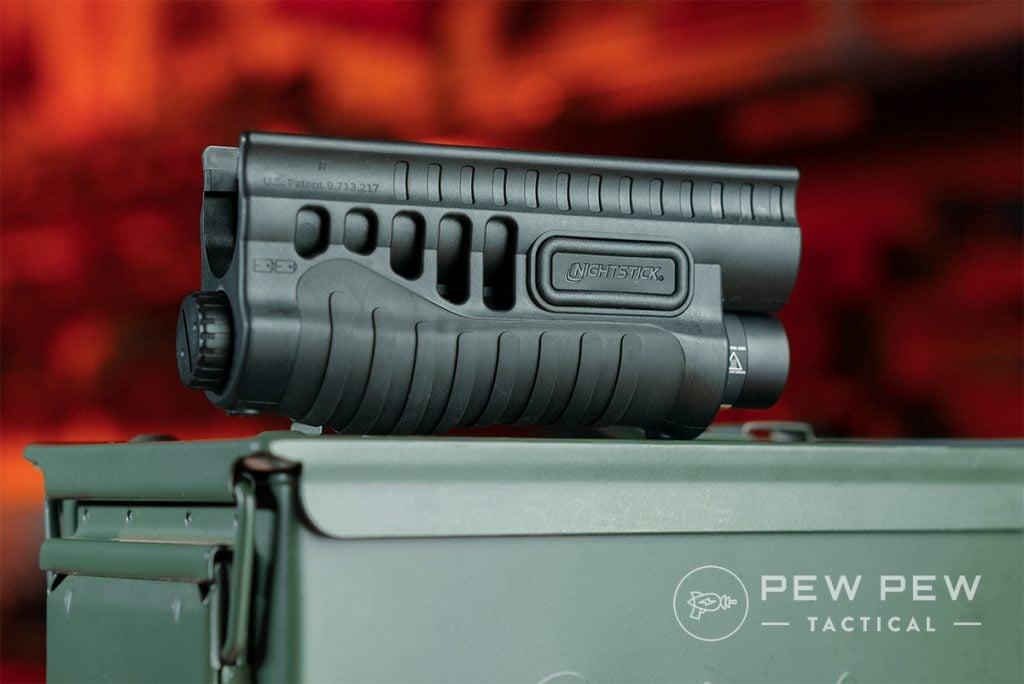 Light switches are located on both sides of the upper forend right where you would expect them. Left or right-handed shooters can use this light easily.
How Does It Perform?
Mounting up the SFL-13GL was not overly difficult, but the magazine tube and old forend have to come off. Nightstick provided a really nice castle nut tool that works for Remington and Mossberg shotguns.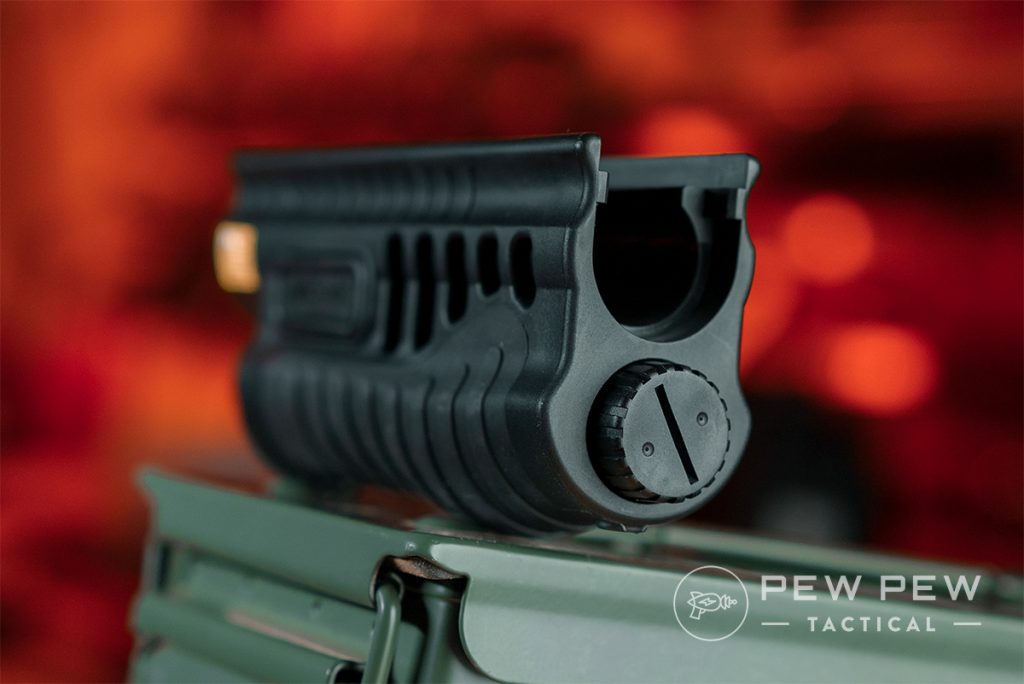 When testing out the actual light, I was impressed with how bright it was. Blasting out 1,200 lumens is quite an experience in confined spaces.
Casting the light about in my home, I quickly realized the SFL-13GL would give me an authoritative view in any lighting scenario. The spread on the beam is wide and fills hallways and rooms with a lot of light.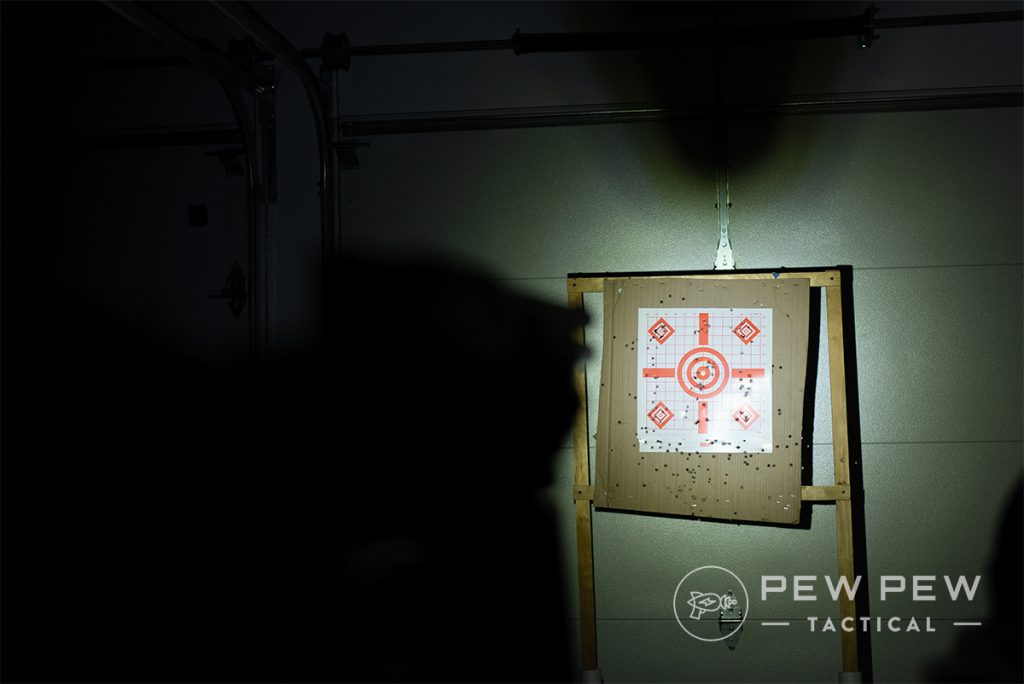 I then took the weapon light to the range and fired a lot of shells through my Remington 870 to test a couple of things. I was looking to see how the forend functioned as well as testing the light to see how it handled recoil.
The ribbing, rubber, and curved angles of the SFL-13GL's grip all combine to make a very tactile surface.
I was able to run the shotgun easily though the depth of the light housing does drop your support hand a bit lower than a standard forend.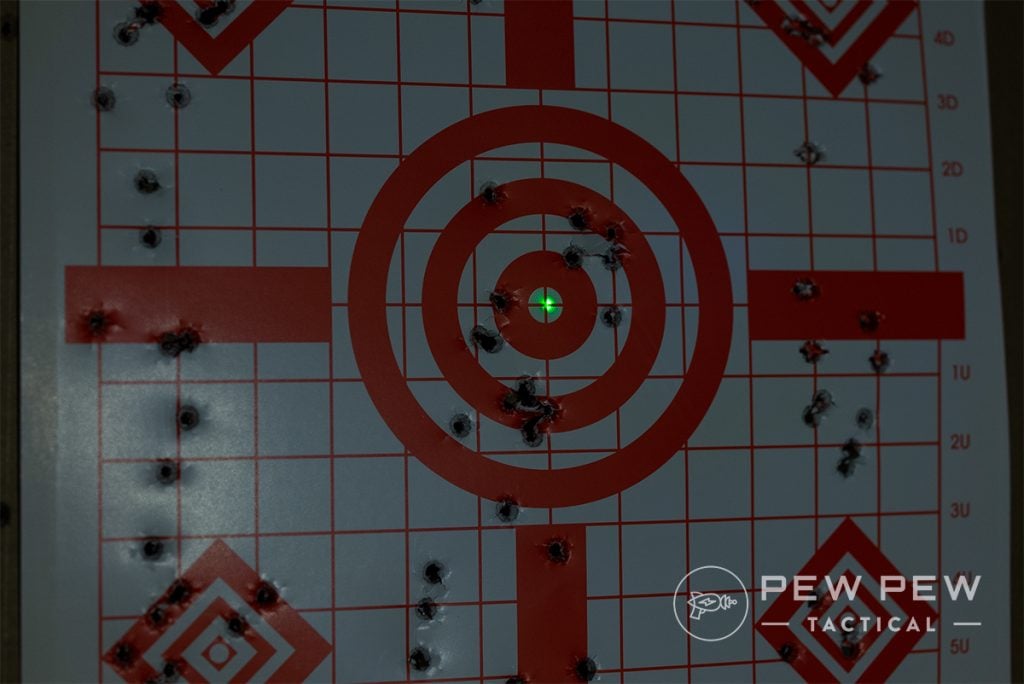 Under repeated 12-gauge recoil, the light held firm and did not flicker. In addition, the bright green laser, which activated at the same time as the light, was easy to spot and centered in the middle of the beam.
The beam itself has a wide, hot center that is not as rigidly defined as the rest of the spill, which is even more generous. The unit is powered by two CR-123 batteries and has a run time of 1.5 hours.
What Sets It Apart?
The SFL-13GL is a quality forend light with a good grip and a bright throw. The biggest thing that likely sets it apart from its competitors is the fact that you can pick it up for just under $200.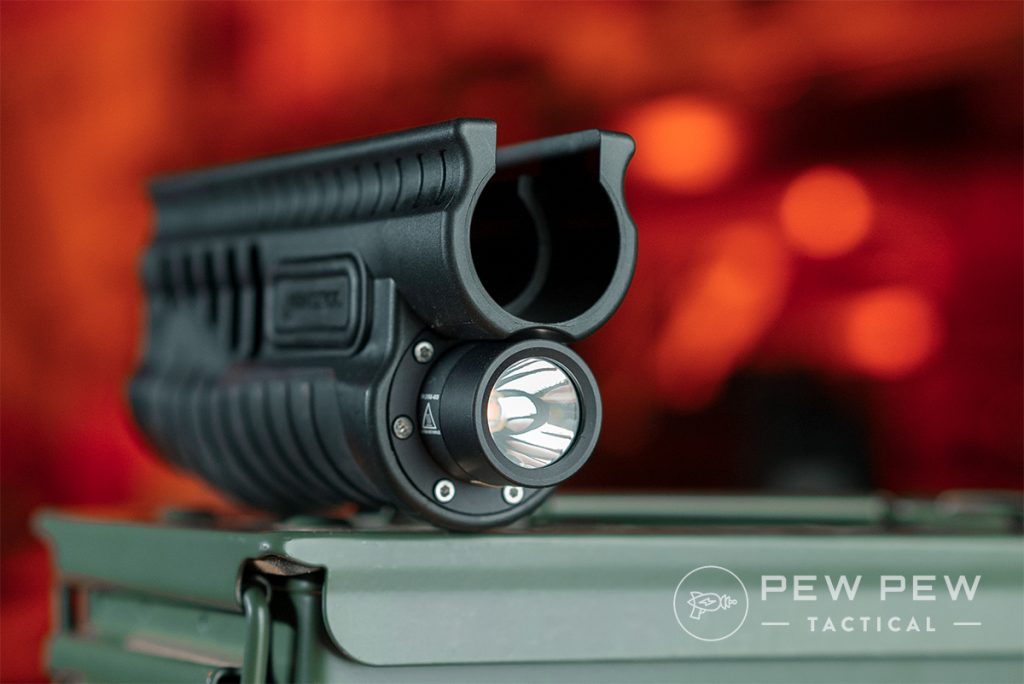 By The Numbers
Reliability: 5/5
So far, the SFL-13GL has held up extremely well. I will follow up on this as testing continues.
Brightness: 5/5
This light brightens a room and absolutely fills a hallway. Nightstick says it will cast as far as 203 meters.
Customization: 3/5
There isn't too much you can do with the SFL-13GL once you get it mounted – it is a customization itself. You can install an optional hand strap or use rechargeable batteries.
Value: 5/5
The price of this forend might make you wonder why other companies charge so much. This light is very bright and the housing seems very robust.
Overall: 4.5/5
Final Verdict
The SFL-13GL is an absolutely great option to mount up a light on your pump shotgun — Remington or Mossberg.
While it does change the angle for the support hand slightly, the grip is solid and the light is bright.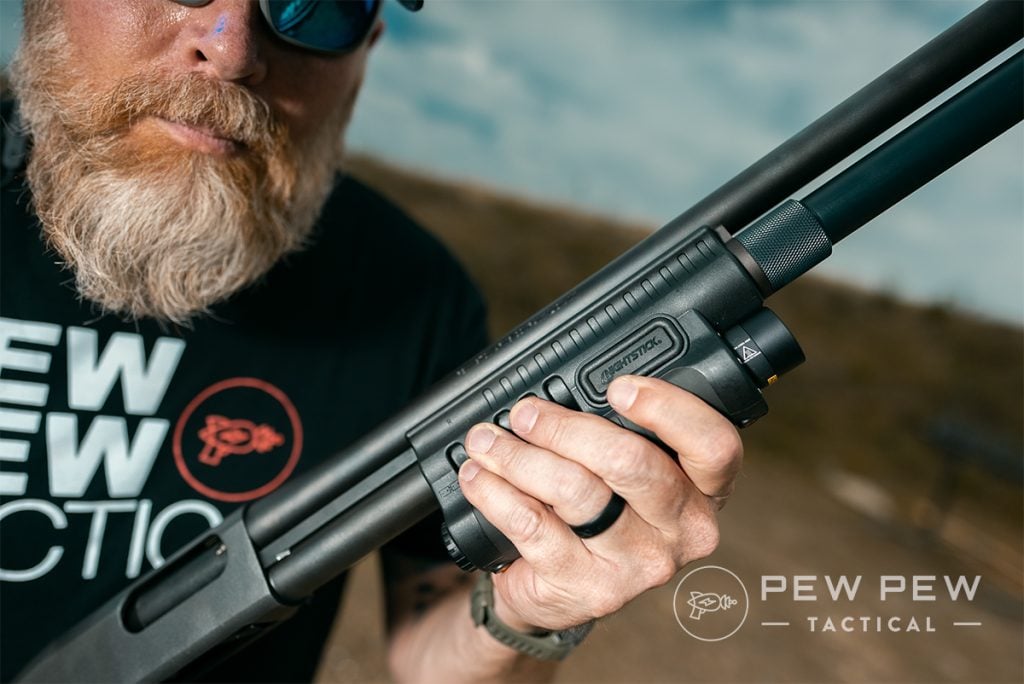 It held up nicely without flickering under repeated recoil and filled rooms and hallways with voluminous light. Finally, one of the best parts of the forend light was the reasonable price.
What shotgun would you install the SFL-13GL on? Let us know in the comments below, and be sure to check out our Best Shotgun Lights for Home Defense.