---
Recently, I came across the Ruger EC9s, and wasn't sure how I was going to react when I opened the cardboard box it came in.
When I saw it, thoughts of tuxedos, fast cars, and double-crosses floated through my mind.
Maybe it was the size, shape, or the two-tone silver and black that had me thinking of dry martinis and beach rendezvous. Unlike James Bond, I wouldn't fall for just a pretty face.
For many, a gun needs to look a certain way to enjoy it — but performance is critical to everyone. I took the EC9s out to the range to see if it would live up to its code name.
I'll share the results of this not-so-secret mission along with some features and pros/cons with you below, so read on!
Table of Contents
Loading…
Pros & Cons
Pros
Affordable
Concealable
Good trigger
Cons
Tool required for takedown
Fixed sights (cannot be upgraded)
Single magazine
The Bottom Line
Very simply put, the Ruger EC9s is a good quality gun for the price. There are many things that make it seem bargain basement, but the performance is there. If you're on a strict budget, this is a good option for concealed carry.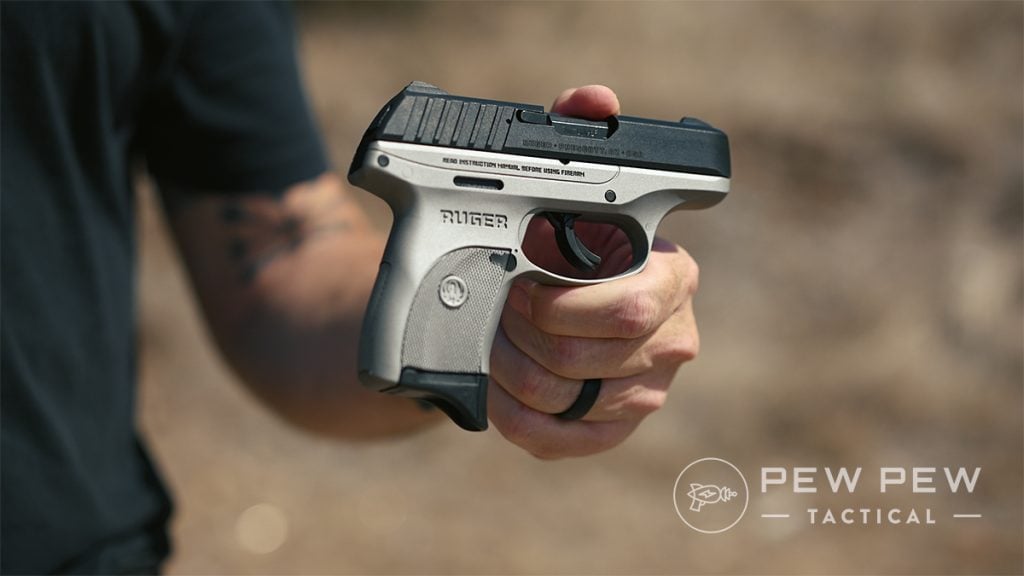 Specs & Features
Specs
Caliber: 9mm
Width: .90"
Length: 6"
Barrel Length: 3.12"
Height: 4.50"
Weight: 17.2 oz.
Capacity: 7+1
Features
Trigger safety
Manuel safety
Grip extension floorplate
Source: Ruger EC9s
Background
Ruger seems to have built upon the success of the LCP in the concealed carry market and went just a little bigger for capacity. At the same time, they kept the cost of the EC9s extremely low.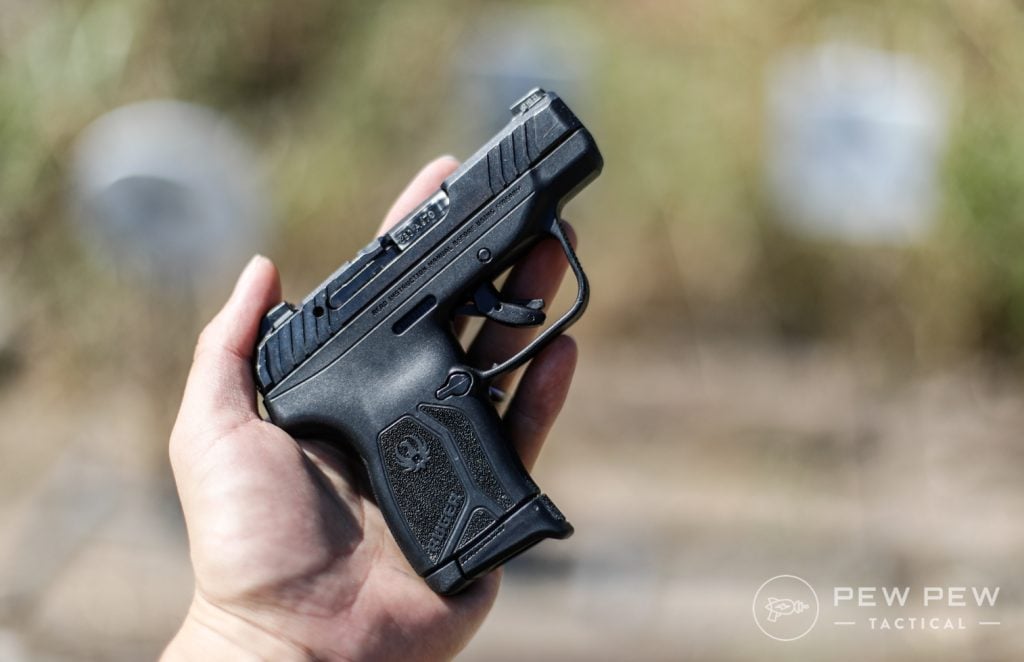 Some of those cost-saving measures make a lot of sense, while others ended up being pretty limiting.
Who Is It For?
This is a solid performer of a concealed carry pistol that is very inexpensive. Anyone looking for 7+1 capacity in 9mm coming in just above $200 would be well suited to select the Ruger EC9s.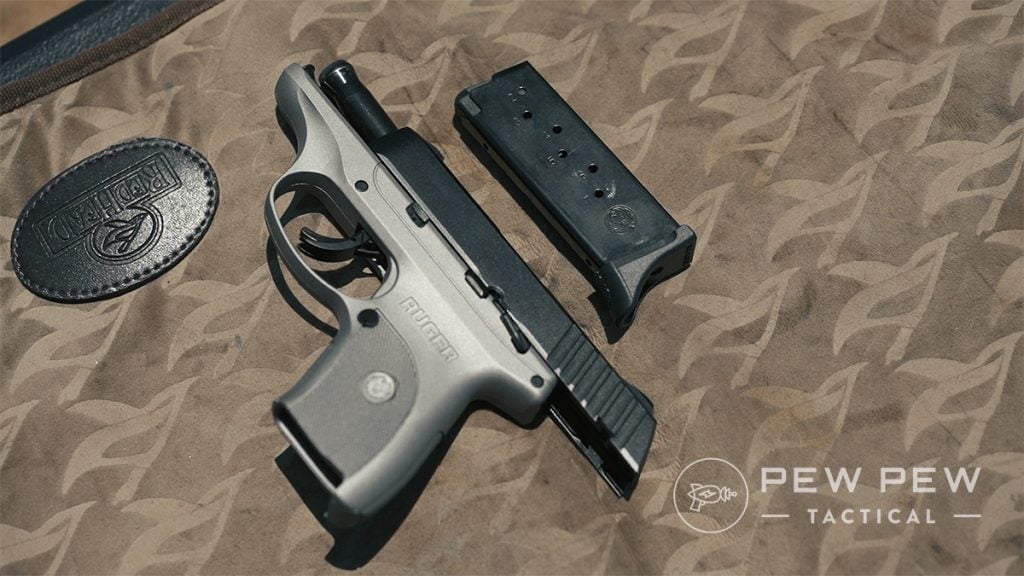 It also comes in a dizzying array of different colors so you can select the one that's right for you.
Fit & Feel
I was honestly surprised the ergonomics were as good as they were. Most tiny guns don't mix well with my hands, but the grip shape and trigger placement had my digits reaching all the controls.
The beaver tail is modest but does the job of keeping the slide off my hand. Grip texture is somewhat aggressive along the sides but smoothed on the corners to allow for an easier draw from concealment.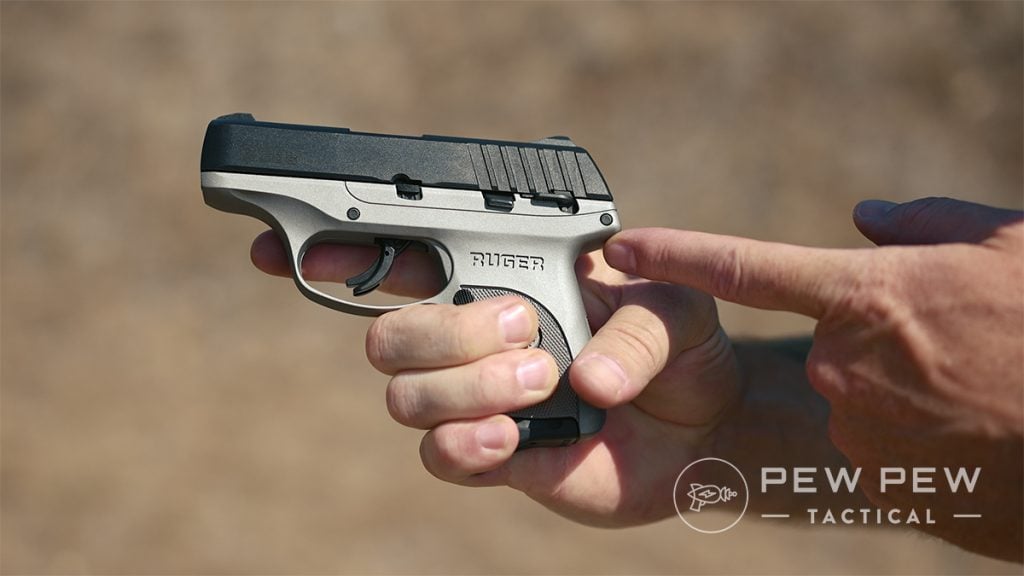 The extended floor plate is a must, though, in order to get all fingers on the grip. A standard one is included for people with smaller hands.
The sights were definitely not from Q Branch. Hewn from the very slide, they are no doubt tough and functional, but that's about it.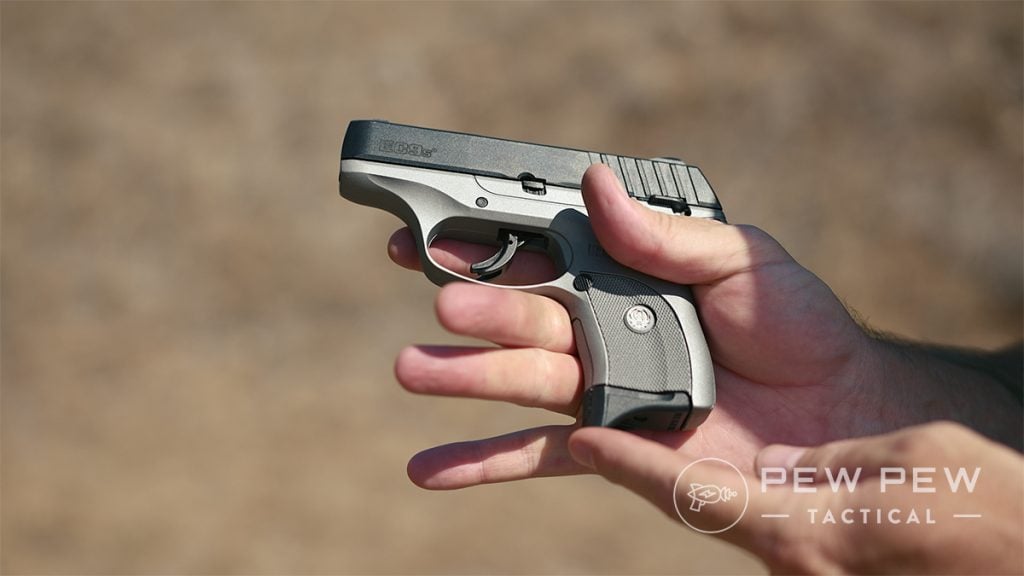 You get a post in the front and U-notch in the rear. Both are serrated but fully black and lacking when it comes to dots or contrast.
With the EDC9, they must have figured you'd end any conflict with your 7+1 rounds because you only get one magazine. However, this ejected cleanly and locked in solidly each time I loaded or dropped the mag.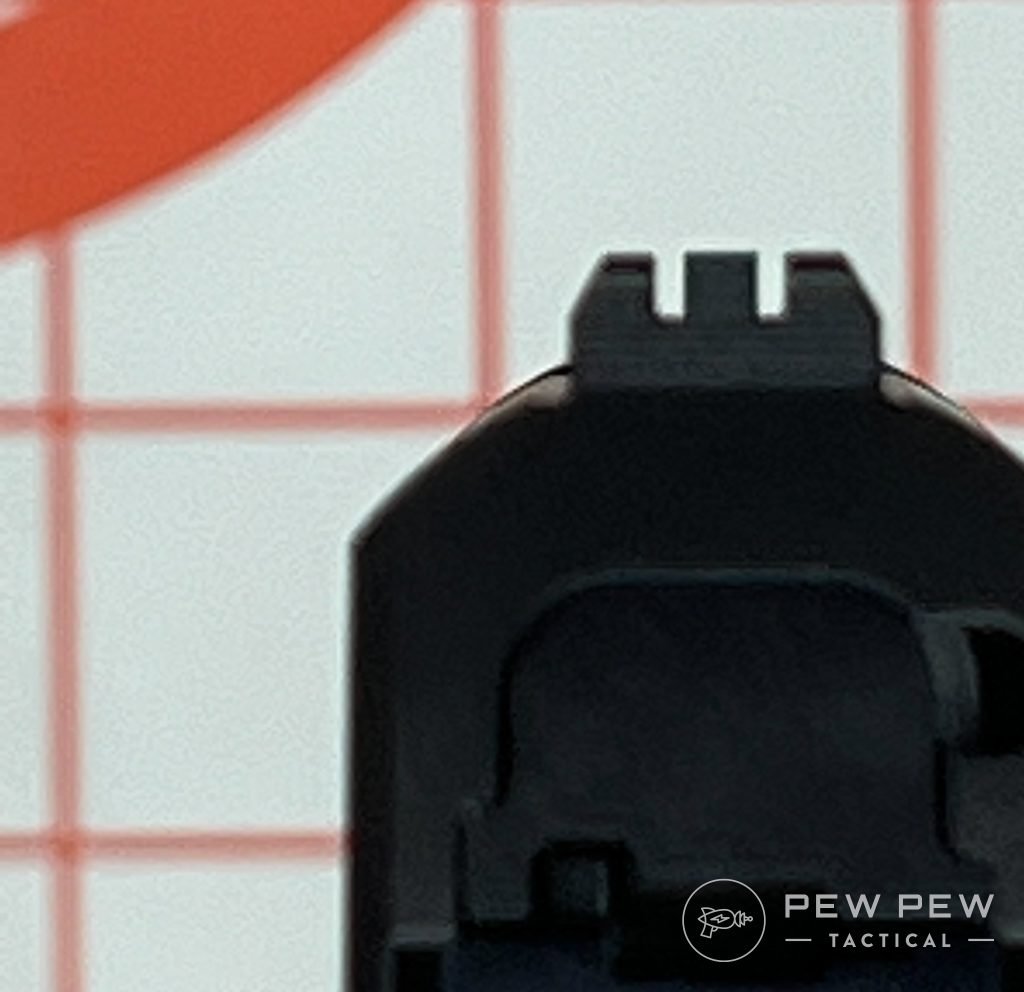 The trigger is pretty good for a striker-fired weapon. It came in at 3 pounds 5 ounces on my Lyman digital gauge and had a bit of travel before resistance, built to a wall, and broke cleanly.
Reset occurred after almost the entire return stroke of the trigger and was barely audible and not really tactile.
How Does It Shoot?
The EC9s shoots well for the bargain you get. It's reliable, and I got used to the trigger pretty quickly and was able to repeat a certain level of performance.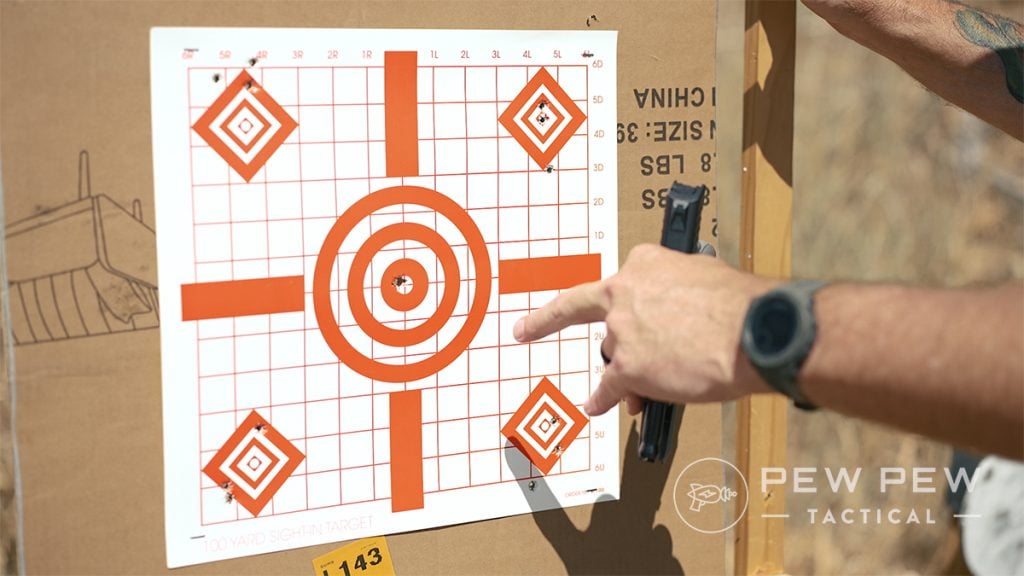 It wasn't incredible. Some three-shot groups were 1 inch at 7 yards, but most averaged between 2 and 2.5 inches.
The sights, somewhat challenging to see depending on the target, had pretty good gaps between them. Despite this, I was able to comfortably hit my targets and manage recoil thanks to good ergonomics.
What Sets it Apart?
Without a doubt, the thing that sets this gun apart is the capacity for the price. You can sometimes find yourself scratching your head over one feature or another, but when you really think about the cost of the gun, it seems silly to quibble.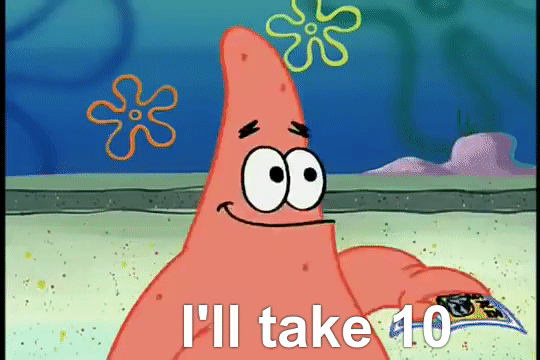 By the Numbers
Reliability: 5/5
For the 300 rounds of 115 FMJ we fired through the EC9s, there were zero malfunctions. The magazines fed reliably, dropped cleanly, and the weapon cycled perfectly.
Ergonomics: 3/5
Despite the size, the gun is designed well and accommodated my 2X hands nicely. While the controls were within reach, the EC9s takes a hit for lack of ambidextrous controls.
Accuracy: 4/5
The sights feel very old school and are functional, but nothing to write home about. The trigger is really pretty good for such an inexpensive firearm and salvages much of the accuracy potential in his gun.
Customization: 3/5
You cannot add upgraded sights. The most you could do would be to paint the front post. There aren't a great deal of accessories you can add to the EC9s either. However, I counted 17 distinct models, most of which were color options.
Value: 5/5
At street prices between $200 and $250, it's hard to complain about any of the gun's shortcomings. Ruger set out to provide good value at the price point, and they absolutely delivered.
Overall: 4/5
Upgrades for Ruger EC9s
There is an available 9-round magazine if you want to push the boundaries of what's concealable in exchange for more shots. Sadly, you cannot upgrade sights as they are machined integrally with the slide.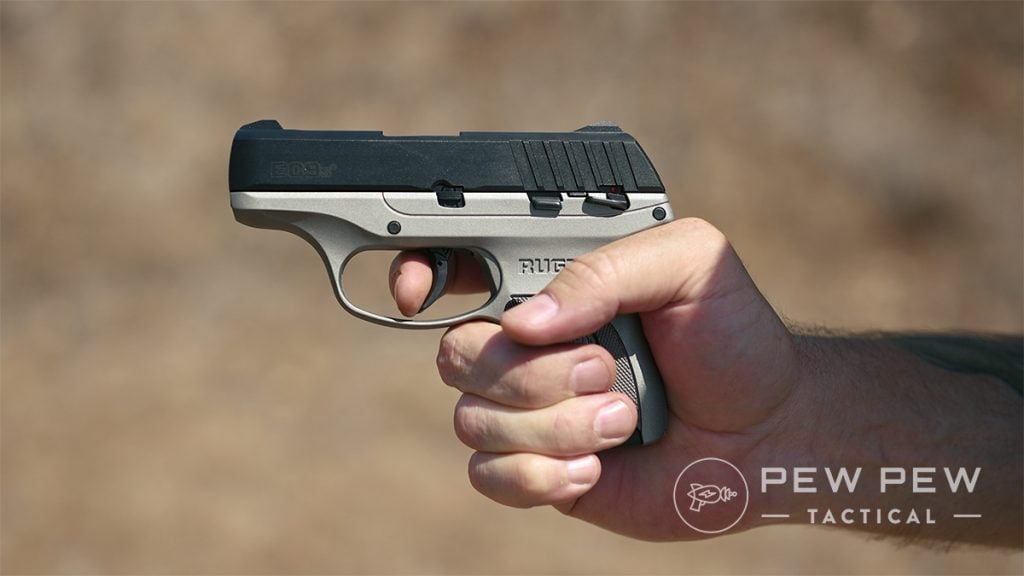 I was able to find a weapon light and laser (no Mr. Bond, I expect you to die) from Viridian, though, so that's encouraging.
Final Verdict
While I didn't care for the sights or sole magazine you get, the trigger was decent, and the ergonomics were surprisingly good. The overall package is thin and very concealable.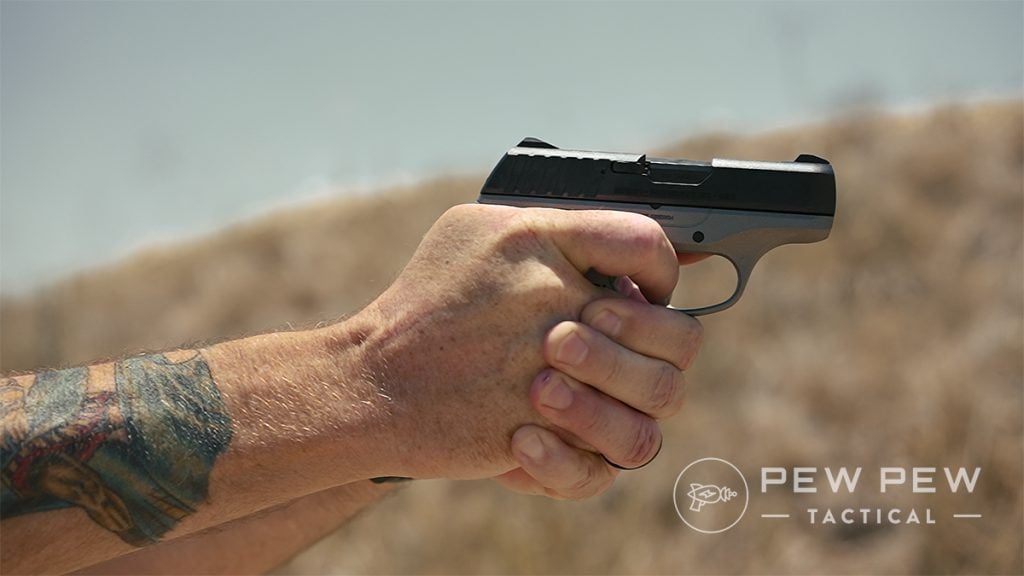 Whenever I found myself fussing about a feature, I remembered the price of the gun. I've seen far worse deals.
So, Bond on a budget? Now that's real government work in action!
Have you used the Ruger EC9s? Let us know in the comments below and for more concealed carry favorites, check out our 12 Best Concealed Carry Guns!