Want a sexier and better performing Glock?
Of course you do.
If you're upgrading your current slide, diving deep into the world of Polymer80 Glocks (Full Build & Parts Guide), or want to add a red dot, you'll need an aftermarket slide.
There are tons out there, and we've tried a lot of them.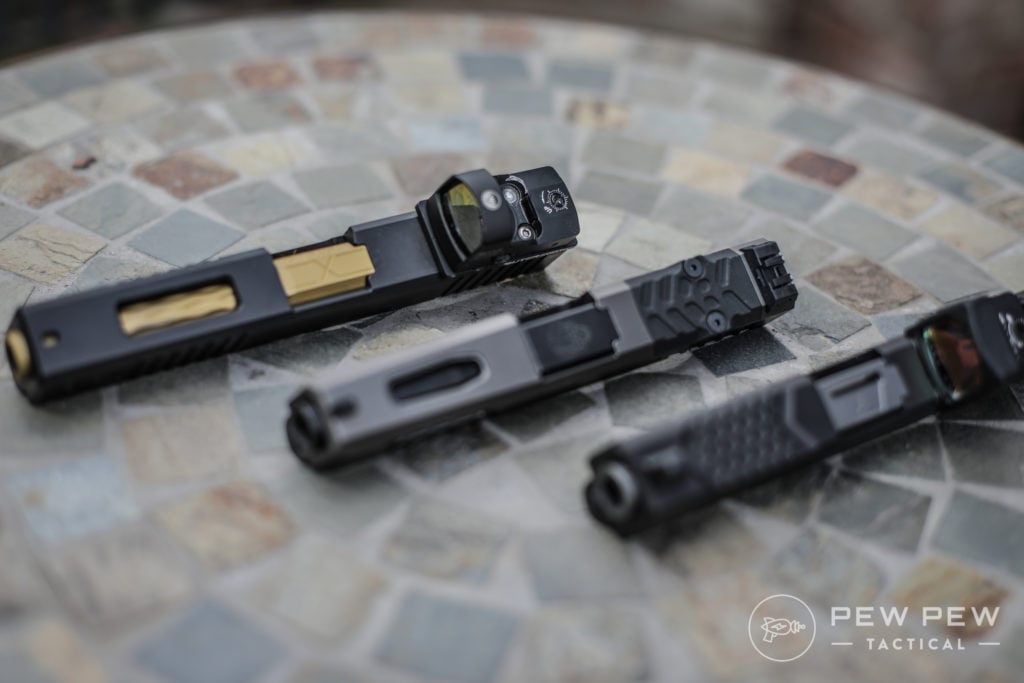 So we're bringing our expertise to you with a list of our favorite Glock slides spanning a variety of looks and budgets.
Keep reading…
Summary of Our Top Picks
Best Aftermarket Glock Slides
1. Brownells
Brownells has always been my go-to for gun parts. But I was surprised to see they made Glock slides in regular, optics cut, and windowed varieties.
I went with the windowed version, of course, since I was pairing it with a gold Faxon TiN barrel (full review…hint, it's awesome).
It fit well on two factory Glock frames plus two Polymer 80 frames.
They certainly got the tolerances correct. No need to strong-arm or fit any parts.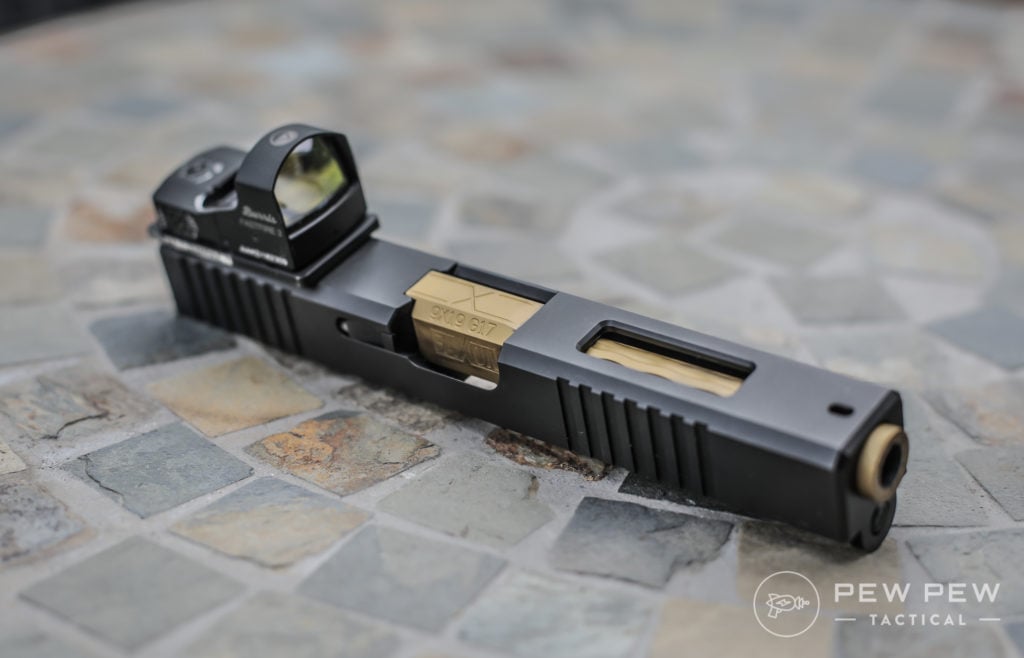 You'll see the one above isn't optics cut for the RMR, but instead, I went with an Outer Impact red dot mount that allows you to add almost any red dot to a normal slide (Best Pistol Red Dots).
For me, the best bang-for-the-buck slide at around $160, it still gives some coolness factor with the window.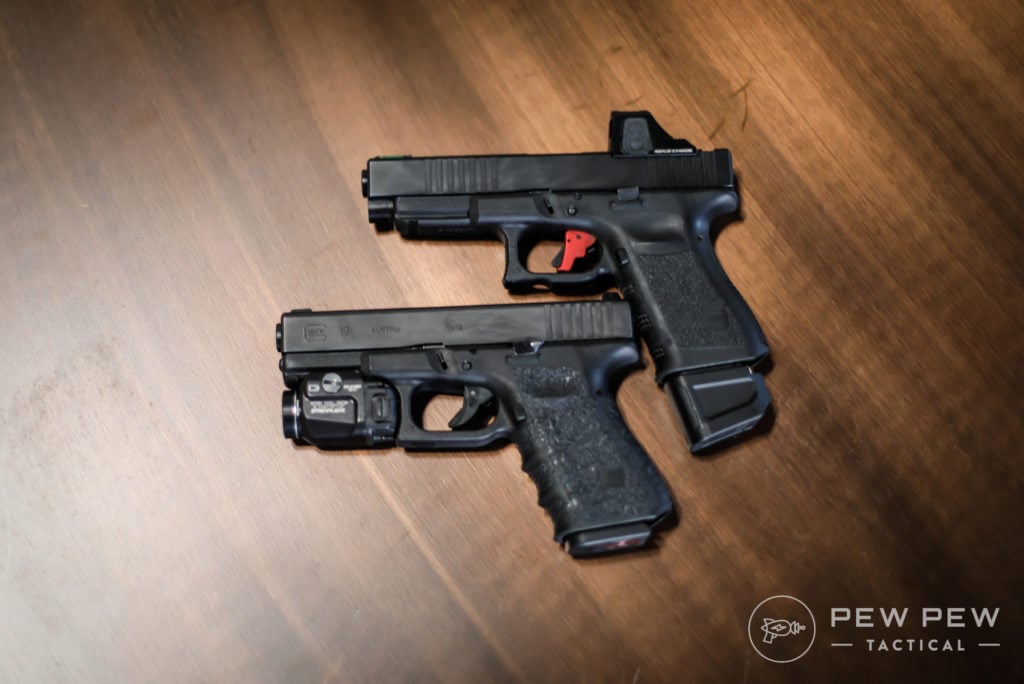 2. Lone Wolf Distributors
When it comes to Lone Wolf, they probably know Glock guns better than anyone, except maybe Glock themselves.
Maybe.
If you're looking for a bare slide for your 9mm that's similar to your factory slide, the AlphaWolf OEM profile ($210) is a great choice for you.
The AlphaWolf G17 is almost identical to your original slide, except this comes with no sights.
The AlphaWolf G17 is made from 416 stainless steel and has a sleek matte finish to it. It's designed to fit the G17 (Gen 1-3 compatible) but is also able to convert to other models.
The great thing about Lone Wolf is that you have some control over the design of your slide. Along with laser engraving, you can also have your Lone Wolf slide painted black, custom ported, and even completely customized.
And for a little extra, you can also have your AlphaWolf cut to support RMR optics.
Need something insane?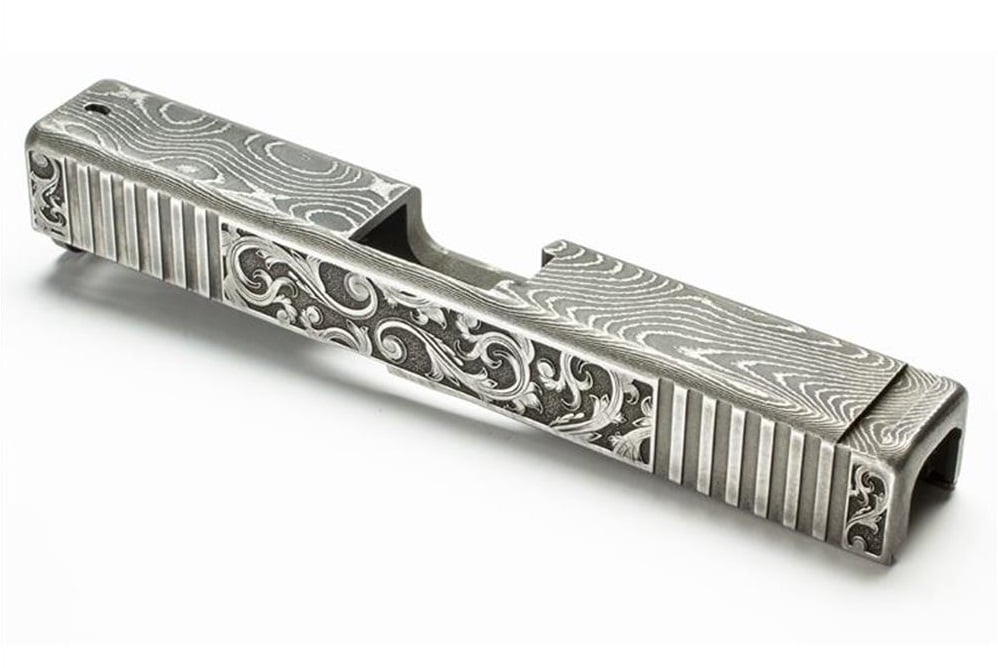 Oh yes…that's a Damascus steel slide. Check it out along with their other custom creations.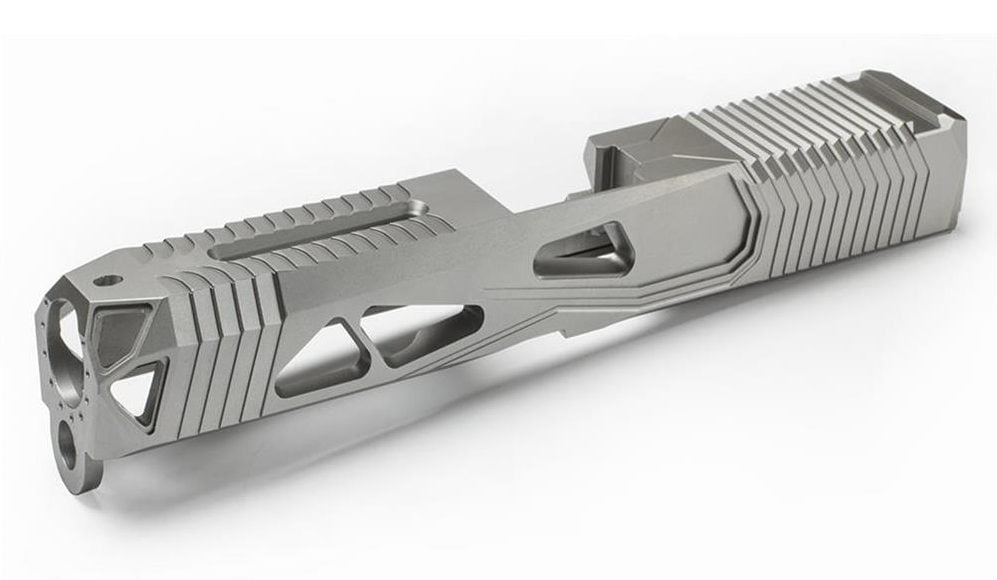 Also, when buying bare slides from Lone Wolf Distributors, don't forget to buy a slide parts kit along with your slide.
You'll also need a barrel to finish up your slide or if you plan on converting your current Glock into a different caliber. We cover all those in Best Glock Barrels.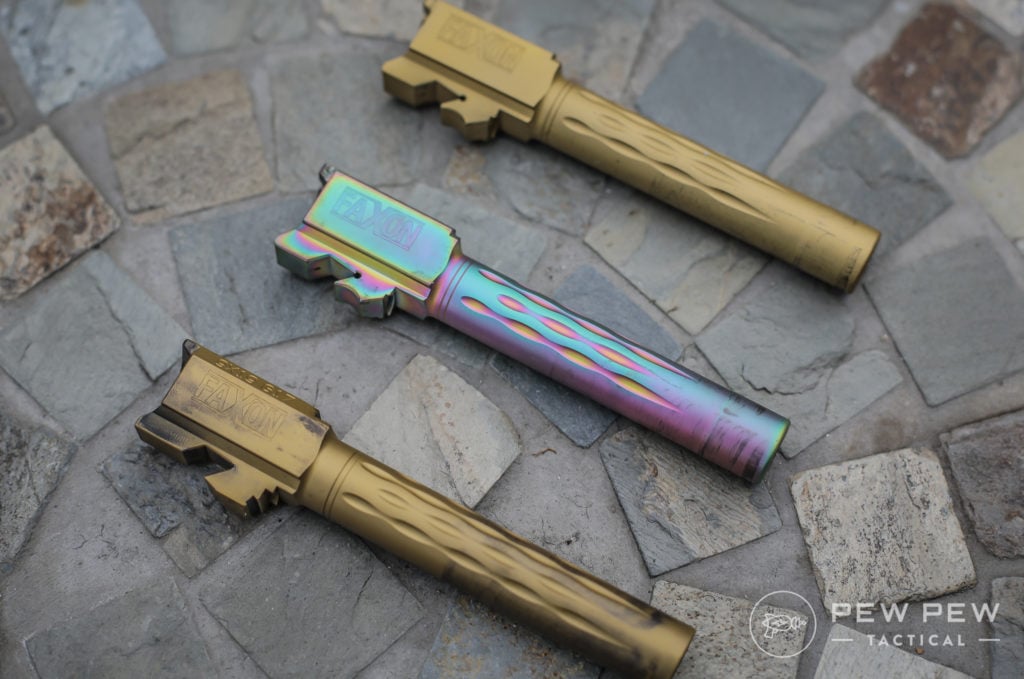 Tried a Lone Wolf slide? Give it your rating below!
3. Killer Innovations
Makers of awesome barrels and really cool compensators, Killer Innovations also has a badass Glock slide.
Focusing on giving you the best slide possible, KI has the Velocity Glock Slide "Enhanced Grip Feature." These aren't your normal slide serrations. Instead, these are deep-cut scallops that give you a rock slide platform to pull against.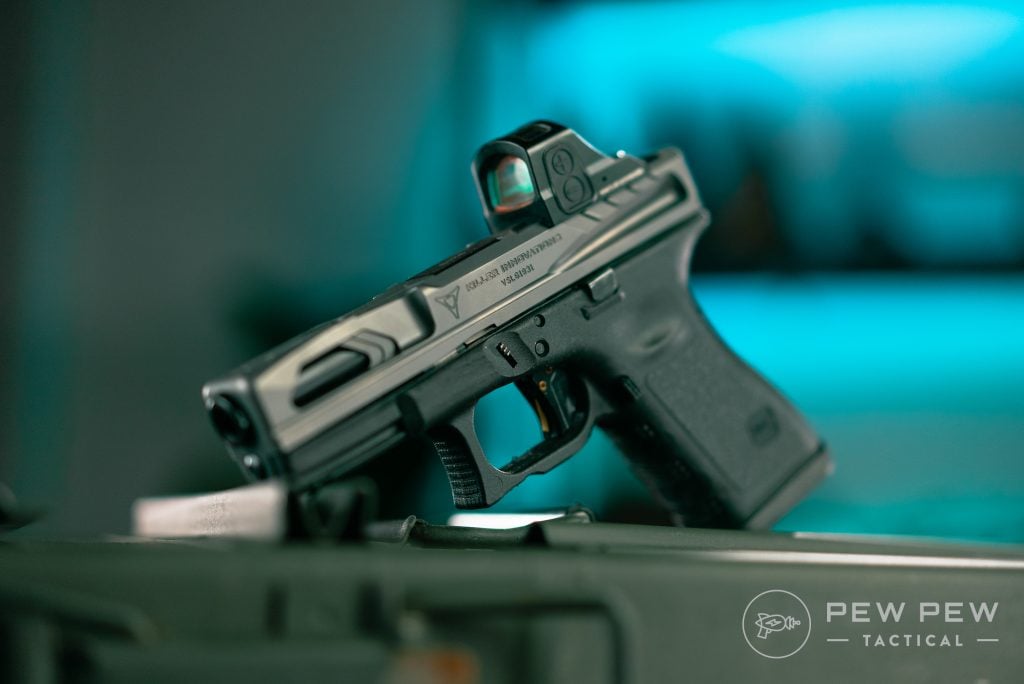 They take a little getting used to after years of the same feel on almost every slide — your fingers aren't sure where to grab at first.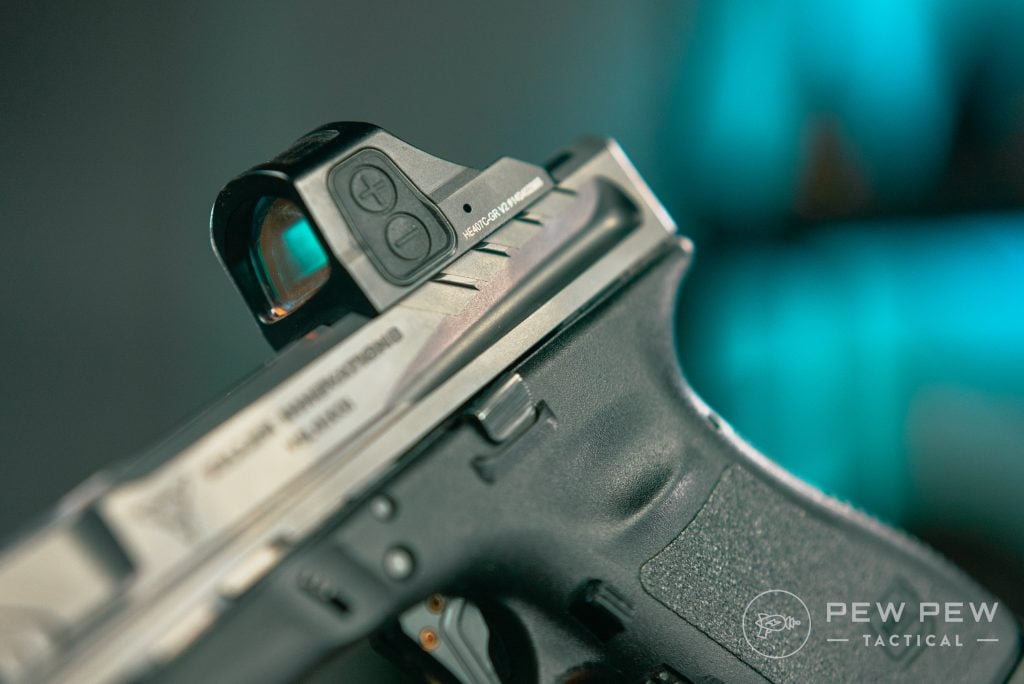 Once you get over that after a few pulls, it's smooth shooting. From gripping or rear gripping, the slide is much easier to get a hold of, even with gloves or wet hands.
We're big fans!
Great for Gloved Shooting
4. Agency Arms
A relative newcomer that's taking over by storm with their sexy looks and enhanced performance.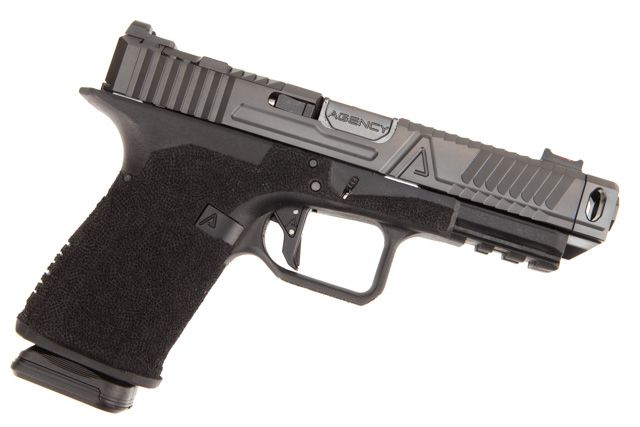 Sage Dynamics is an outstanding content creator and full-time instructor. He has a lot of positive things to say about Agency Arms and even has a Sage Dynamics edition pistol.
Take a look!
5. ZEV Technologies
Zev Technologies is known for customizing and reinventing Glock handguns. The company offers a number of custom parts and modifications that can turn your plain-looking Glock into a radical handgun.
Most of the slides accommodate all generation models, so no one has to worry about being left out.
The Dragonfly is one of Zev's first customized slides, as well as one of its most popular. While much of the material in this stainless steel slide is removed, the slide still maintains its structural integrity.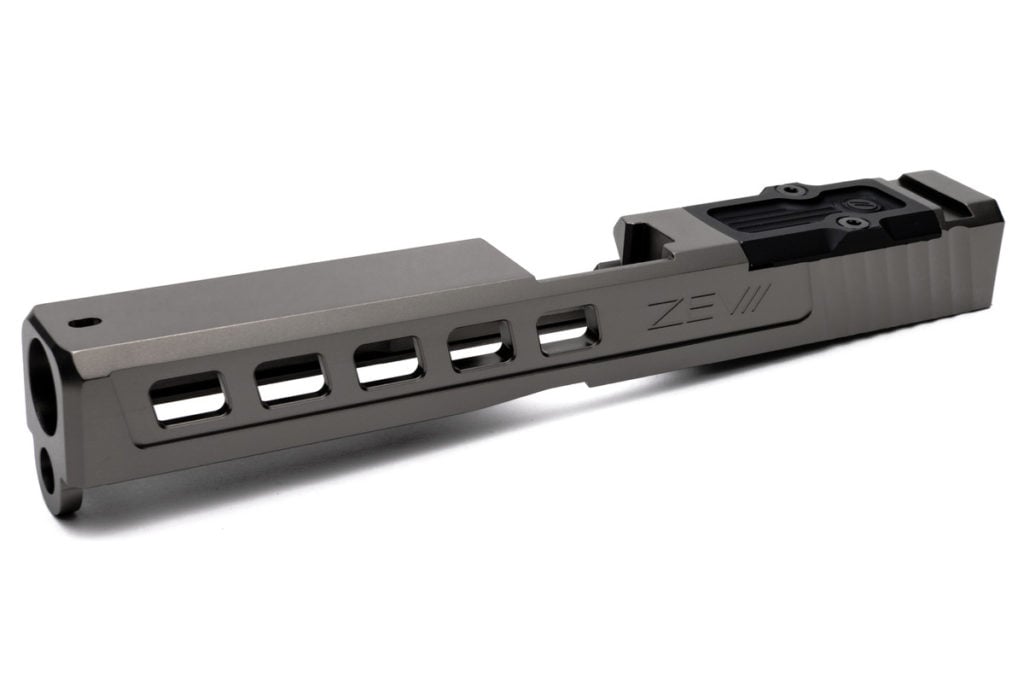 Its cutouts are said to make the barrel cool more effectively, and like other Zev slides, it also comes RMR ready.
We're also big fans of their newer Orion slide that focuses less on cuts and more on futuristic styling.
See the rest of Zev's slide creations.
6. Grey Ghost Precision
These don't just look amazing, they run amazing too. Tested on both a Glock frame and a Polymer80, Grey Ghost stood out on both.
From ultra-tight tolerances to being able to be ordered with an RMR cut, there is a lot to love about these.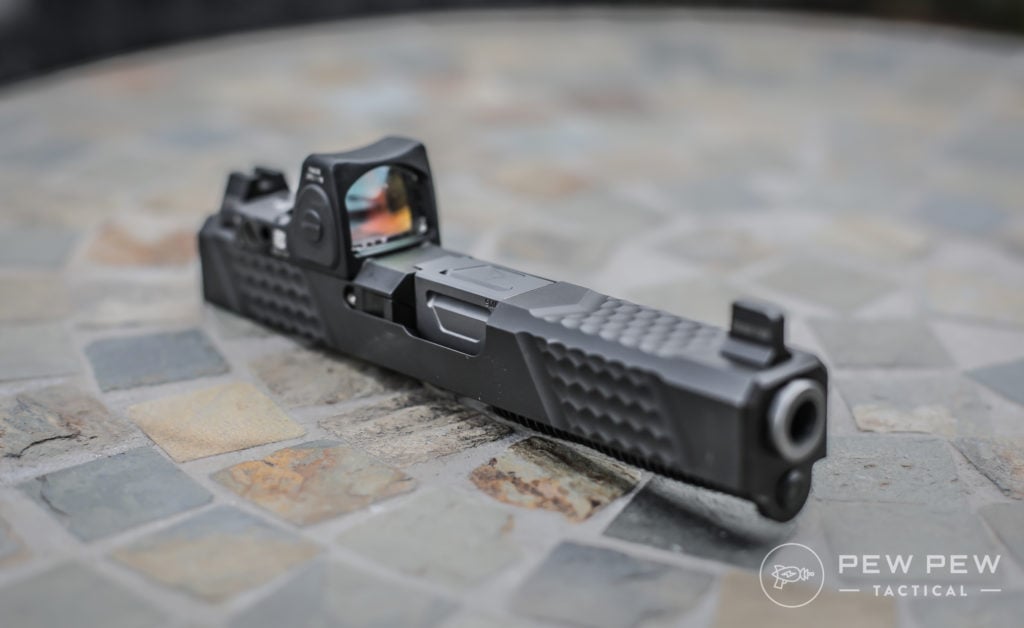 You can get the whole story from our In-Depth Review.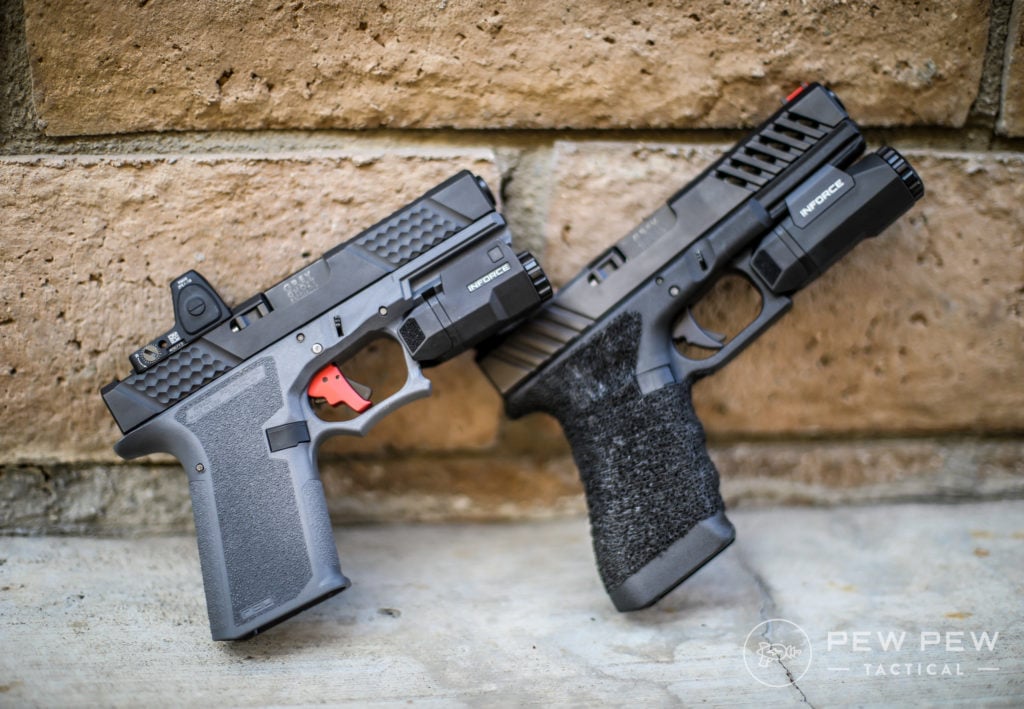 In addition to their Type V1 and V2 shown above…they also have an exclusive with Rainier Arms.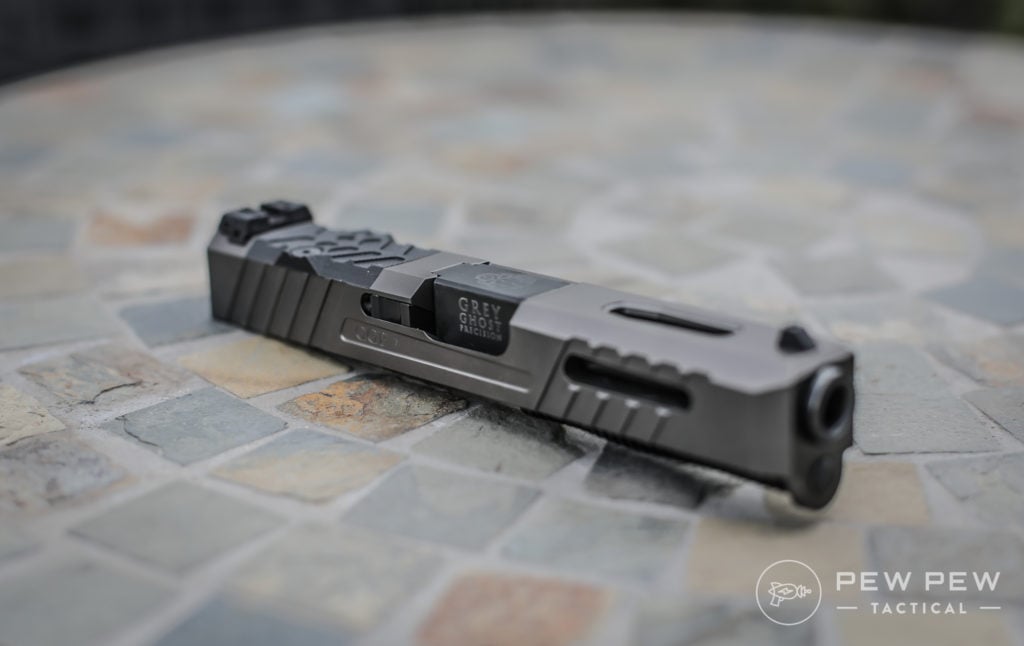 This might be the coolest slide yet with nice serrations, visible windows if you're going with a sleek-looking barrel, and RMR compatibility.
And now, they also have G43 slides we've used for our Polymer80 PF9SS project!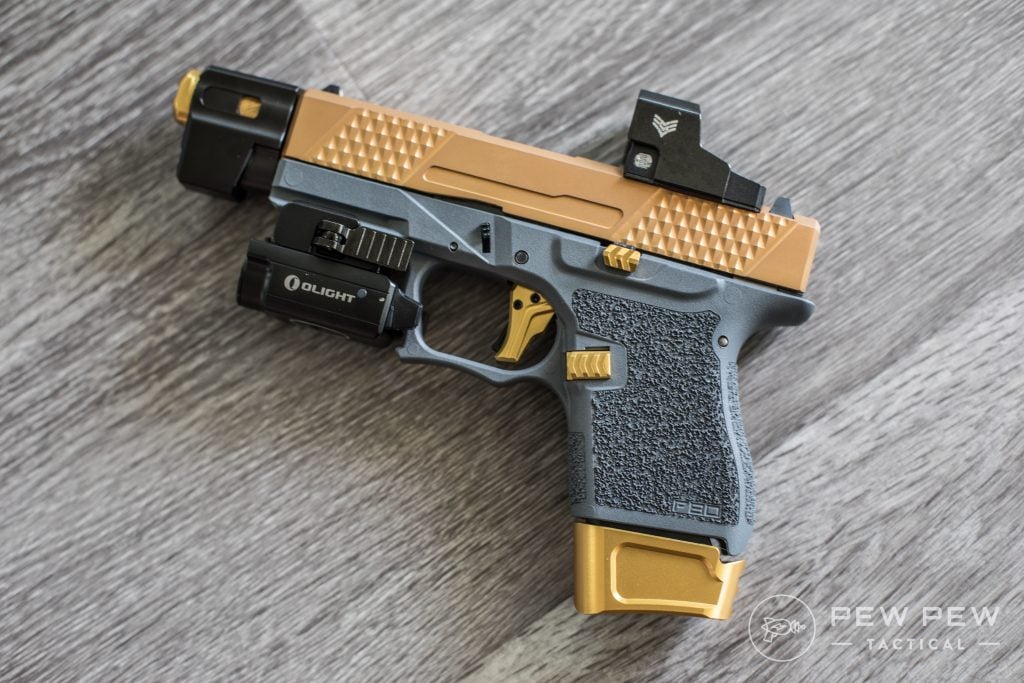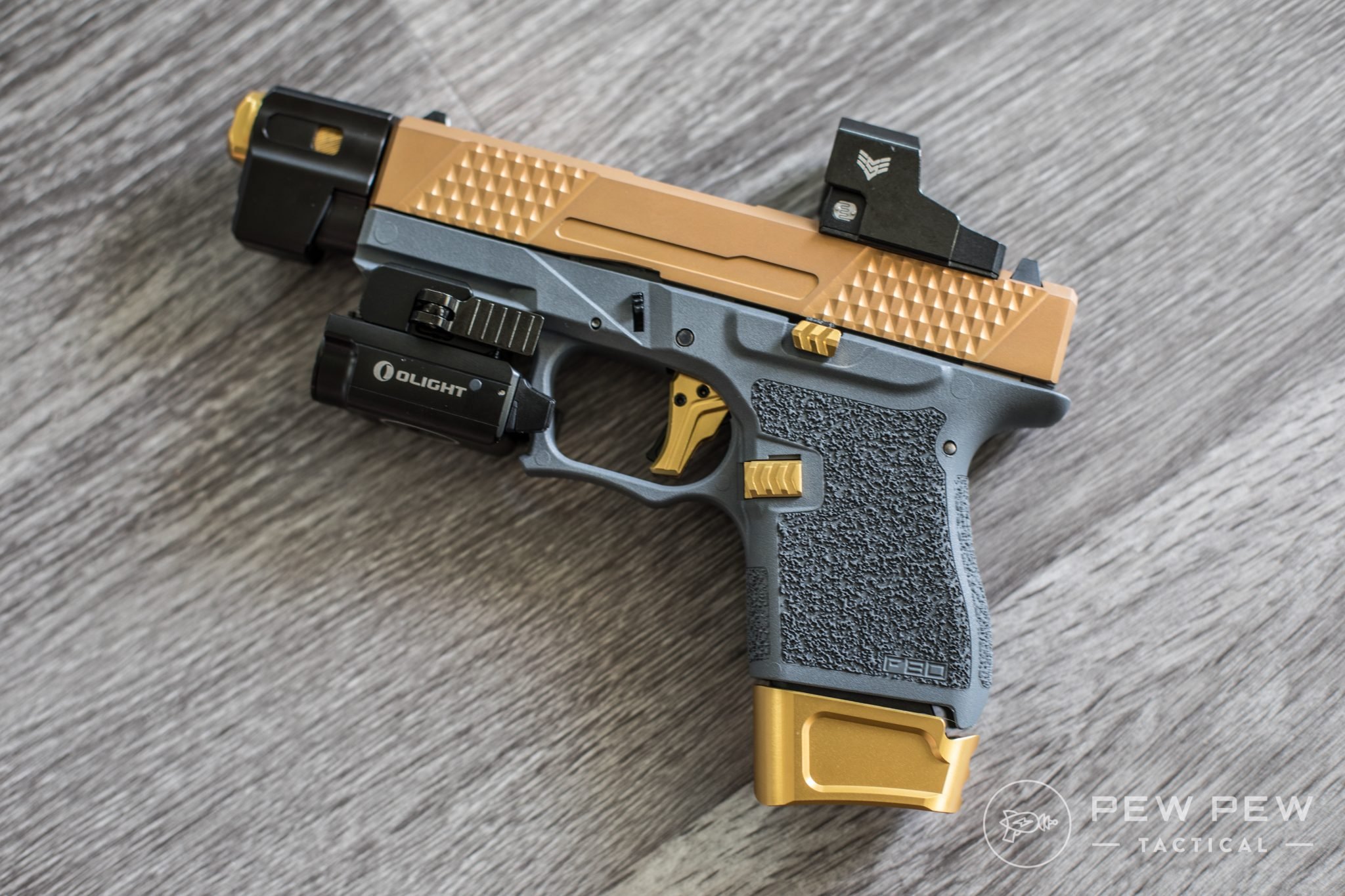 Final Thoughts
While functionality and durability come into play when shopping around for a new slide, it's also about your preferences.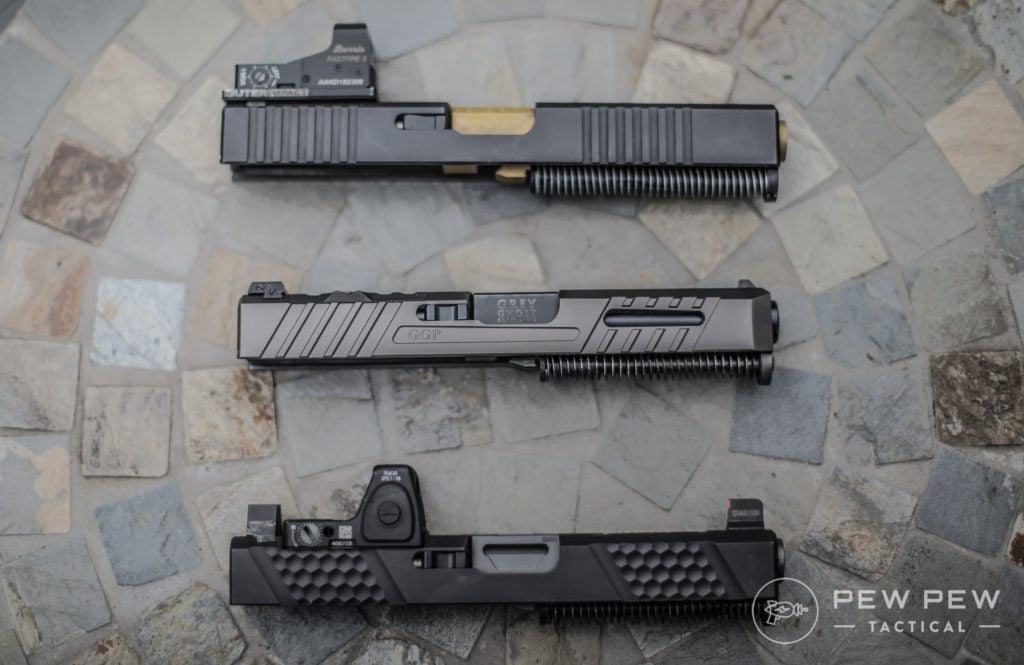 Keep in mind that the list is far from comprehensive. These just happen to be some of the more popular aftermarket Glock slides and ones that we've put a lot of rounds downrange.
Anthing we missed?  Looking to fully upgrade your Glock?  Check out Best Glock Upgrades for our favorite triggers, barrels, sights, and more.