---
The Glock 19 has been a staple of concealed carry for a long time, achieving high marks for its compact size, good capacity, and outstanding reliability.
But when Sig recently released the P365 XMacro Comp, we got the idea they were gunning for the championship.
Bearing that in mind, I pitted these two heavyweights against one another to see who would come out on top.
So follow along as we look at specs, features, ergonomics, range performance, and a whole lot more to determine who is the ultimate concealed carry champion…
Both camps have enormous followings; who will you cheer for?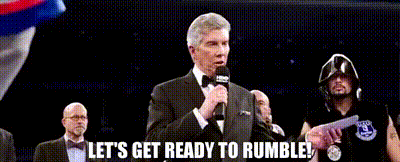 Table of Contents
Loading…
Glock 19 vs. Sig Sauer P365 XMacro Comp: Fair Comparison?
You might say this isn't a fair comparison out of the box…and you'd be right.
So, I altered a few things to make it the closest match-up possible.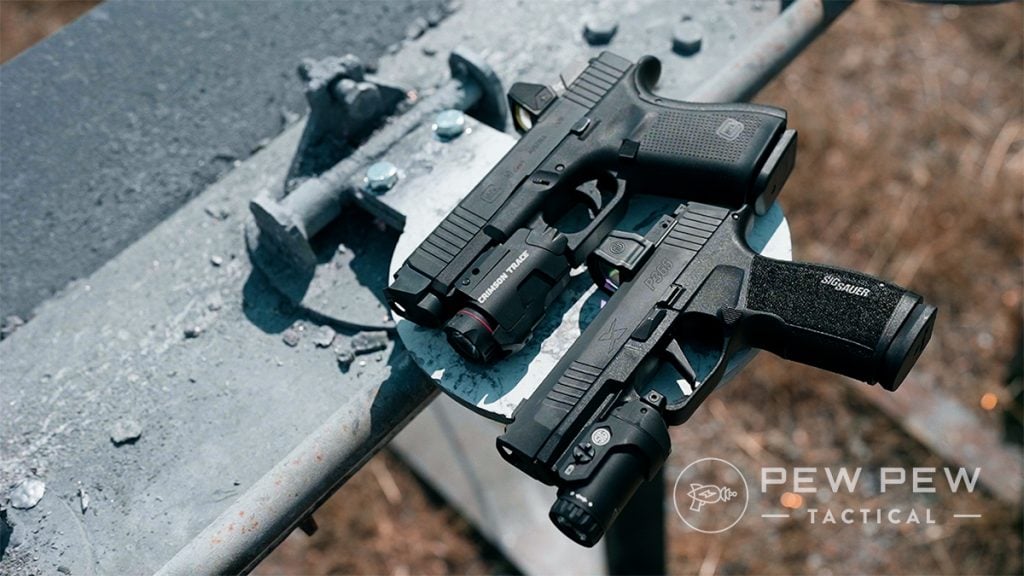 Since the XMacro Comp already has an integral compensator, I added a Radian Afterburner Compensator and Ramjet Barrel to my Gen 5 Glock G19 MOS.
As both pistols support a red dot, I ran the Romeo Zero Elite on the Sig and a Crimson Trace RAD on the Glock.
For this comparison, I chose a few categories I could compare the two firearms and test them to determine which one offered more.
At times, there was a clear victor, but other times…it was tougher to call. At least one bout was a straight-up draw.
To address my partiality…I have carried and shot models from both companies for years and have enjoyed products from each of these firearms giants.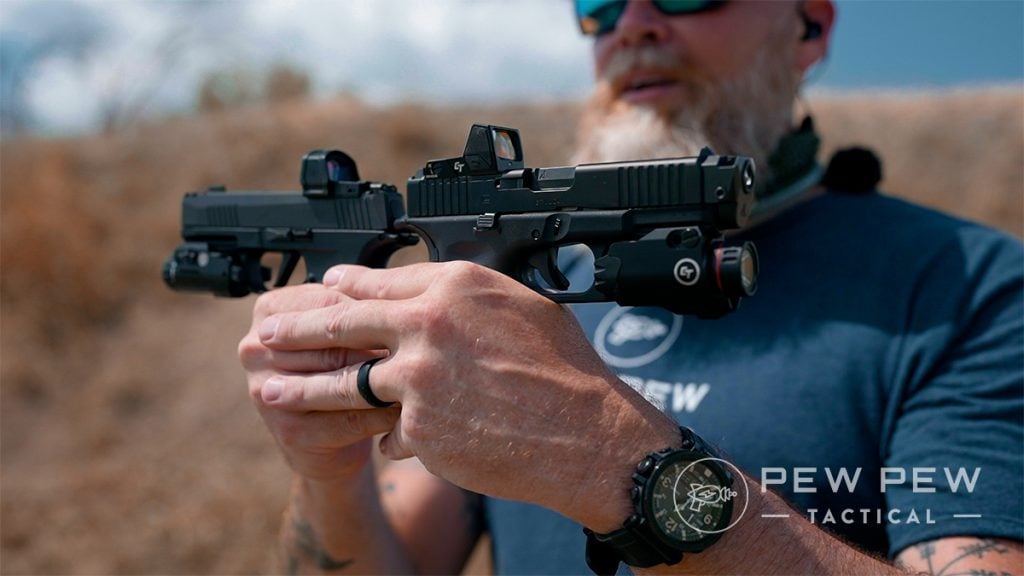 That said, I left feelings aside and ran both of these models side-by-side in an effort to see how each performed in the chosen categories. The results are simply my opinion.
Now, let's dig into the specs…
Glock 19 and P365 XMacro Specs
| | |
| --- | --- |
| Glock 19 | Sig Sauer P365 XMacro Comp |
| Caliber: 9mm | Caliber: 9mm |
| Capacity: 15+1 | Capacity: 17+1 |
| Action: Semi | Action: Semi |
| Length: 7.36" | Length: 6.6" |
| Barrel Length: 4.02" | Barrel Length: 3.1" |
| Height: 5" | Height: 5.2" |
| Width:1.26" | Width:1.1" |
| Weight: 23.63 oz. | Weight: 21.5 oz. |
Source: Glock / Sig Sauer
Now into battle, we ride…keep reading as we run through each category to determine a victor…
Reliability
The G19's reliability has been proven for many years — a Glock version has been around since 1988.
Many law enforcement agencies and military units have fielded the weapon around the globe.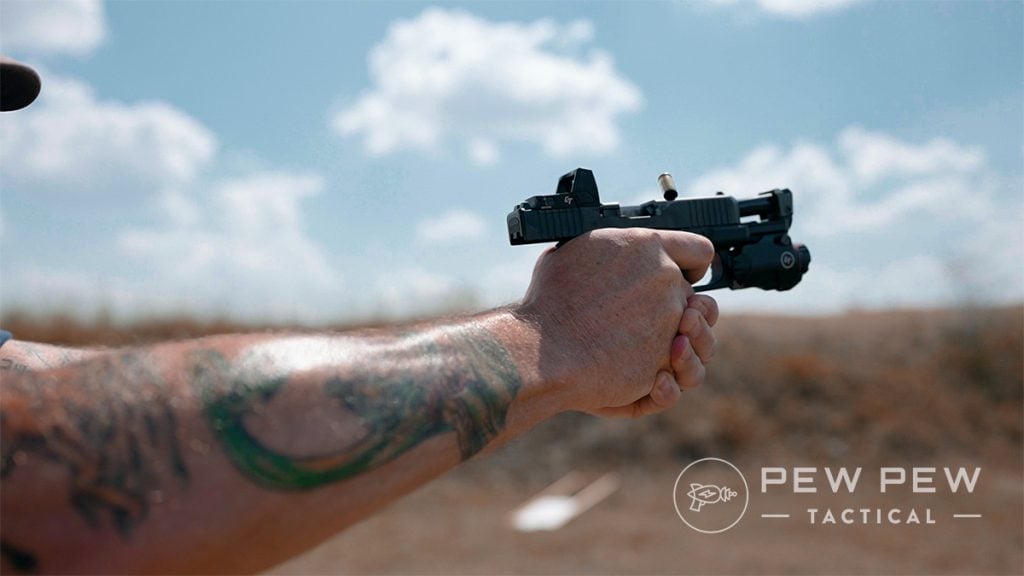 The XMacro hails from the P365 series, and while that might lend some strength to its reliability overall, this gun is somewhat of a departure because of its integral compensator.
That said, I have experienced nearly flawless performance from both guns during testing.
With the scales nearly even in that regard, the Glock takes this round because of its long track record.
Winner: Glock
Ergonomics
Glock has not been the most ergonomic gun, but they have tried to improve the platform over the generations.
For my big hands, shooting a Glock without an extended backstrap is a recipe for slide bite.
The grip is square-ish and a bit thick, measuring 1.26 inches wide and over 2 inches from the backstrap to the front. For me, the length of the grip is just enough to accommodate all my fingers though my pinky crowds the magazine a bit.
The XMacro has a square-ish grip, too though a more svelte overall size, with a thinner grip (1.1 inches) and accommodating beavertail. Its grip is also slightly longer, giving my pinky room without crowding.
The distance from the backstrap to the trigger is pretty close in both guns, though there is more bulk on the Glock and the Sig makes up some distance with the forward-angled trigger bow.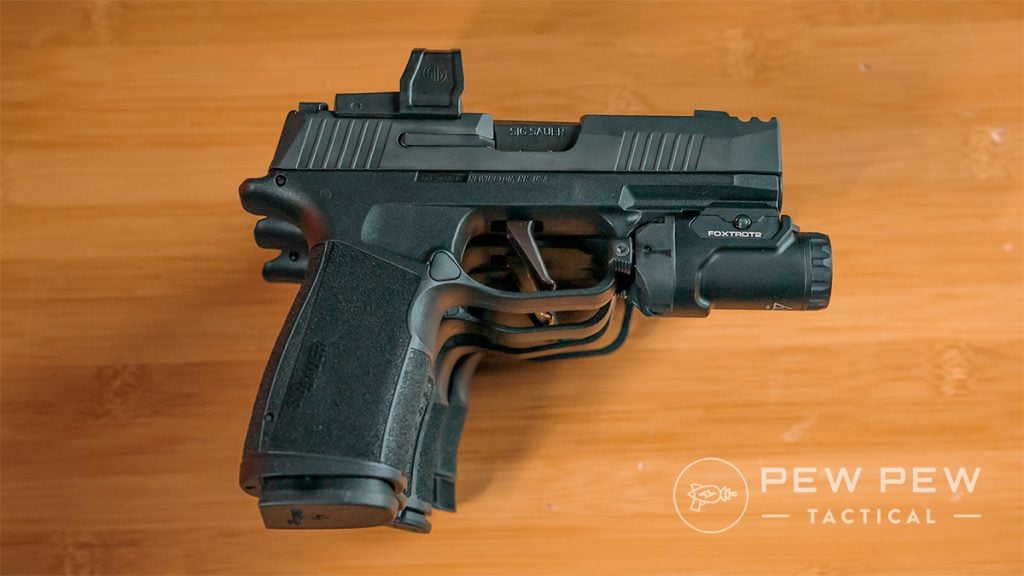 Both guns are well textured, and I appreciated the inclusion of forward and rear serrations for manipulation.
Winner: Sig Sauer
Accuracy
To determine accuracy, I carefully shot 2- and 3-shot groups from 7 yards using the same ammo in each gun.
I also used red dots on both. The use of red dots may have favored the Sig because the Glock had an advantage in sight radius or the distance between the front and rear sight.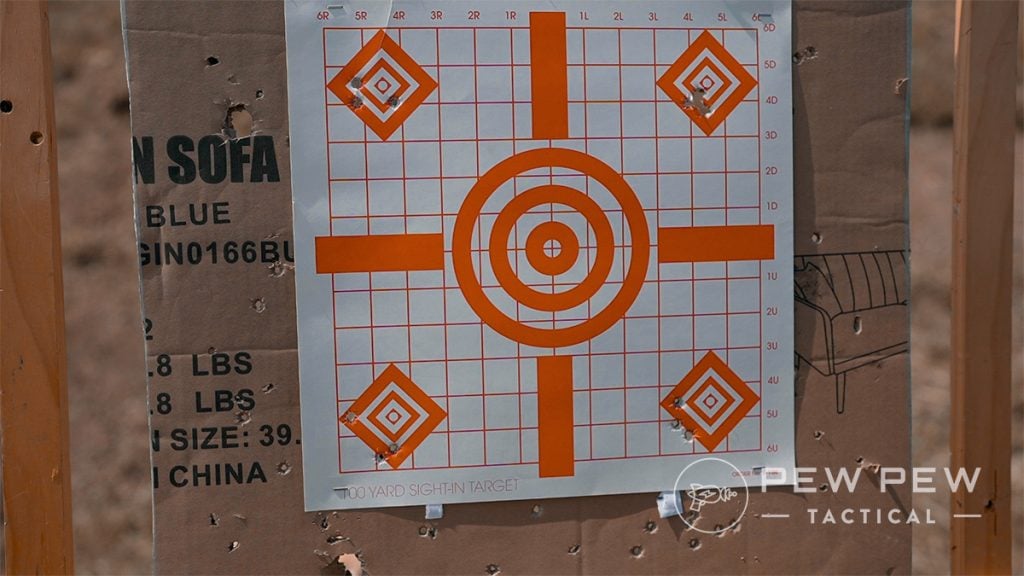 Regardless, I believe the longer barrel in the Glock resulted in slightly better accuracy.
The XMacro groups were bigger than 1 inch on average, and the Glock's groups were 1 inch or less.
Winner: Glock
Customization
An entire segment of the gun industry is dedicated to customizing Glocks. Notably, black was the only choice for a long time, though things changed with the release of the 19X, which came in an FDE color.
That said, there isn't a great deal of customization available from the factory other than choosing your sights.
Most Glock customization consists of adding aftermarket parts, accessories, and upgrades.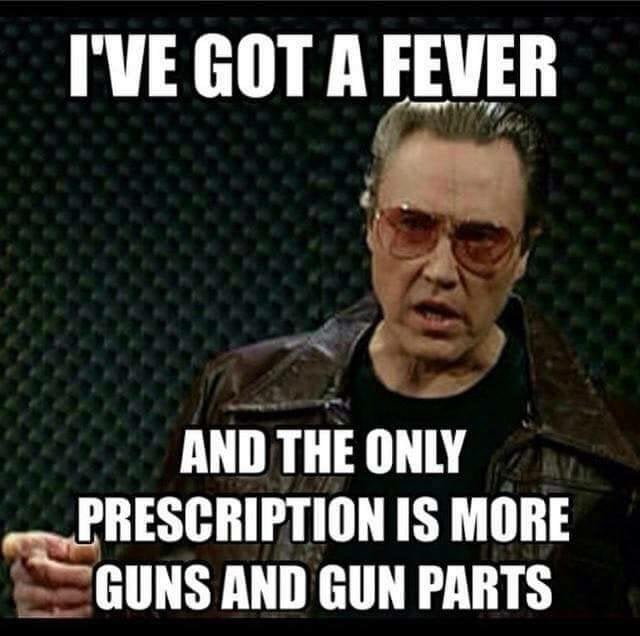 On the other hand, Sig doubled down with modularity in the P365 series. Besides the options available at Sig Custom Works, shoppers can build a completely custom P365 with a builder on Sig's website.
There are a plethora of options for frames, slides, triggers, colors, and coatings, not to mention the Fire Control Units (FCU) they sell, allowing you to "roll your own."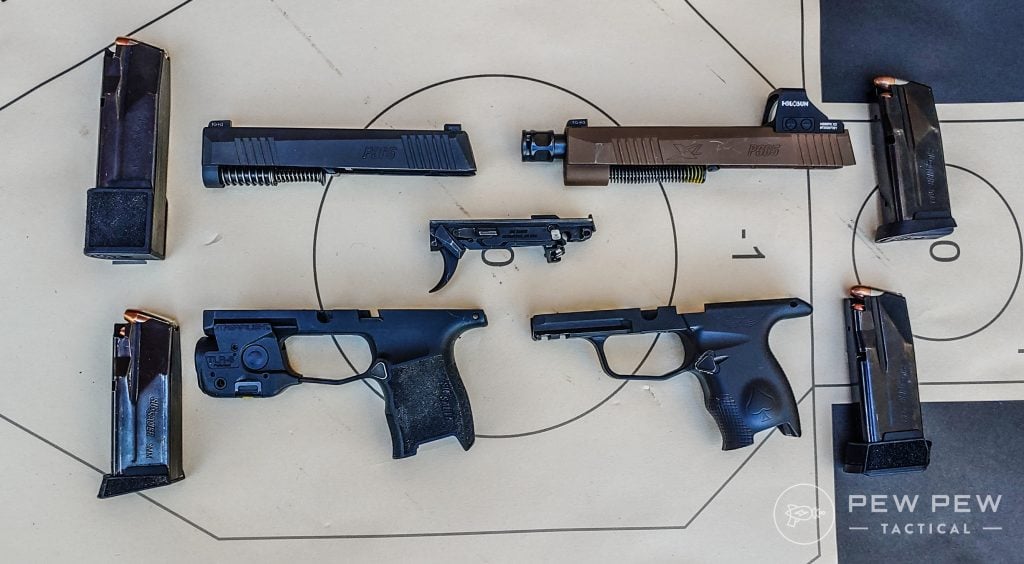 I confirmed with Sig the XMacro components will ultimately populate this builder as well.
While there is no doubt an enormous aftermarket for customizing Glocks, this round goes to Sig, who offers much more variety to the customer upfront.
Winner: Sig Sauer
Capacity
This category isn't too much of a contest. The Glock 19 has a capacity of 15+1, but the Sig comes in strong with a capacity of 17+1.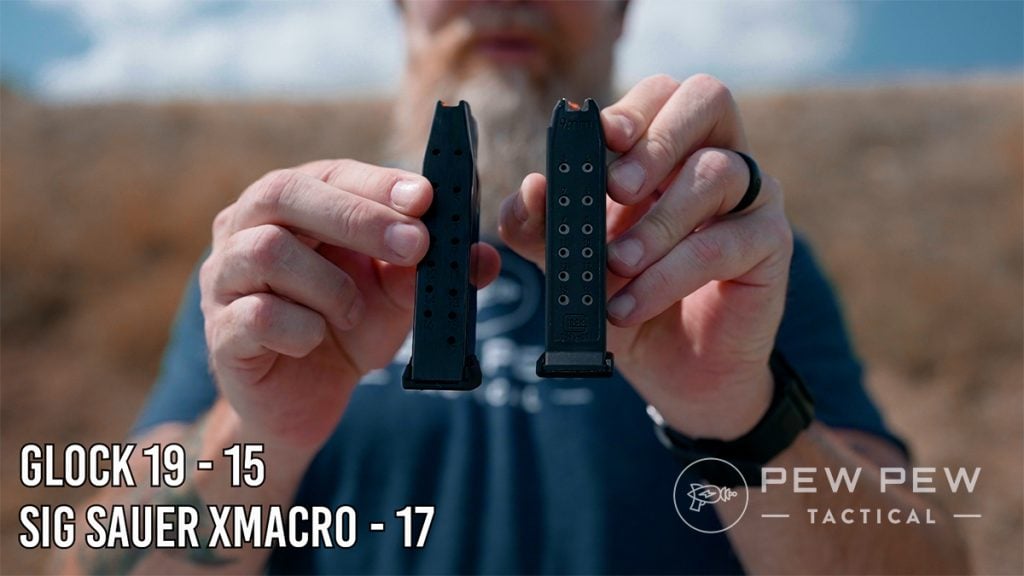 Winner: Sig Sauer
Features
Red Dot Capability
There are several benefits to having a red dot, so I'm pleased that both the Glock and the Sig are optics capable. However, that makes this round even.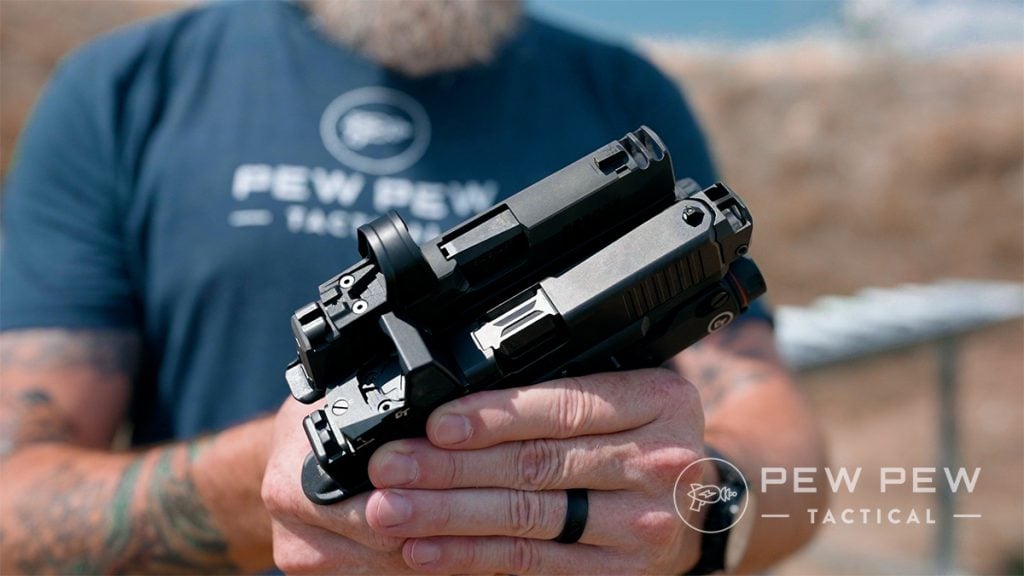 Winner: Draw
Trigger
Glock triggers are often fussed about, but I think they are fine for a striker-fired gun. I think the Gen 5 Glock trigger is definitely the best they've made.
However, Sig's trigger has a couple of advantages in my mind. First, it doesn't have a trigger safety, so the surface is smooth and consistent.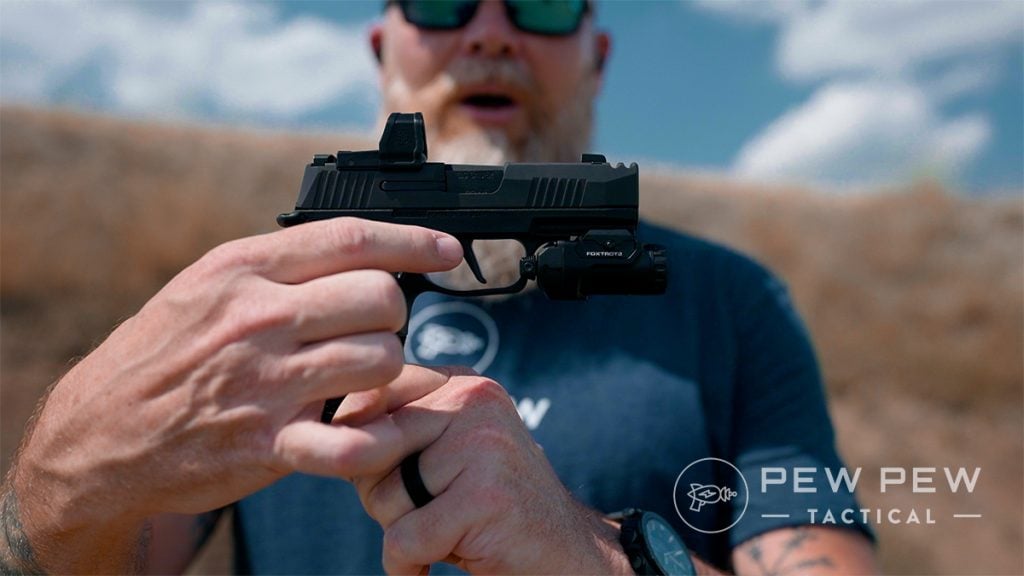 This may seem like a strange preference, but if we hold to the fact that our trigger finger discipline (and adherence to other rules) are best practices, I believe this makes a trigger safety redundant.
I prefer the flat trigger bow of the XMacro, as well as the forward angle.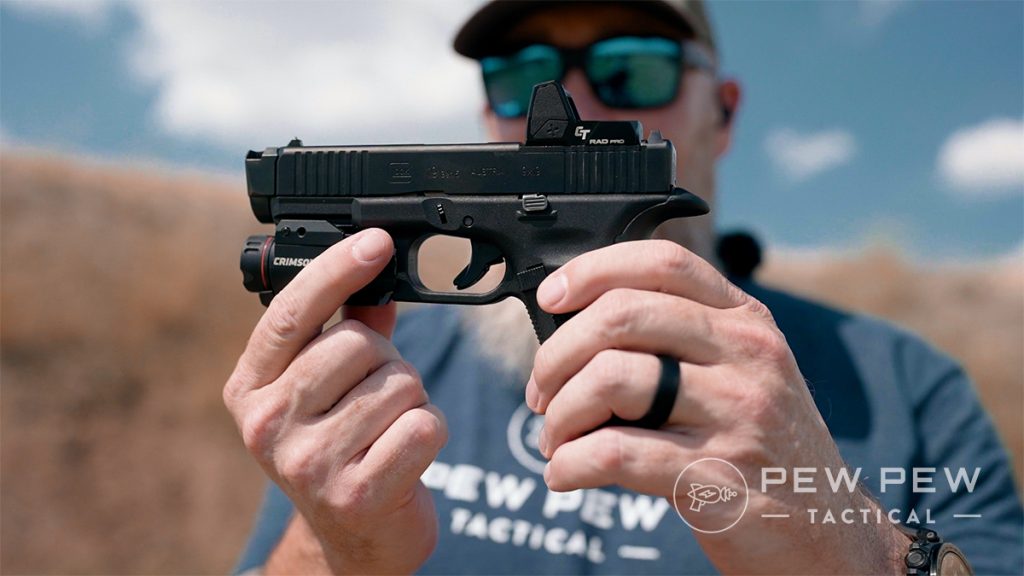 Incidentally, the press, travel, wall, break, and reset of both triggers felt fairly similar overall though the Glock has a much louder break.
Winner: Sig Sauer
Compensator
I had no idea what to expect when it came down to testing the felt recoil mitigation both compensators offer. When I tested each gun separately before, I recalled a significant difference allowing faster follow-up shots.
I was uncertain if the greater mass of the Glock with the Afterburner or the smaller Sig with integral comp would rule the day.
The only way to compare was to load up magazines and fire both in controlled pairs.
While both compensators absolutely worked well on both guns, the Glock with the Radian Afterburner was a little bit quicker to target on recovery from recoil.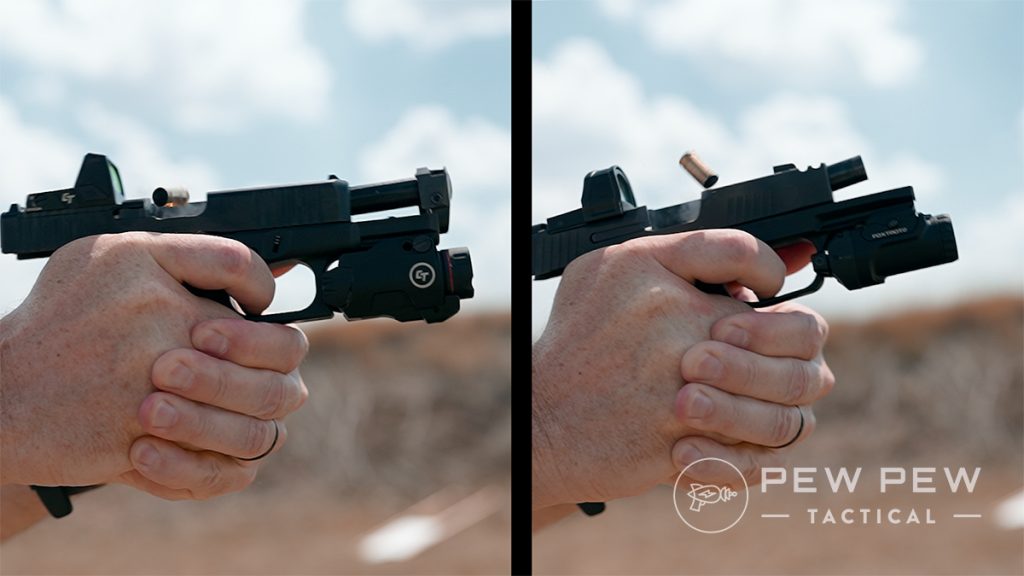 We recorded some slow-motion footage of this, but it might be hard to tell the difference without personally feeling and seeing each sight picture.
Winner: Glock
Bang for Your Buck
Pricing for the Gen 5 G19 MOS is around $620. In order to make it competitive with the Sig, we added a the Radian package, which costs between $370 and $390. That means, in total, Glock sits at $990+.
On the other hand, Sig Sauer's P365 XMacro Comp comes in at $799.
Need I say more?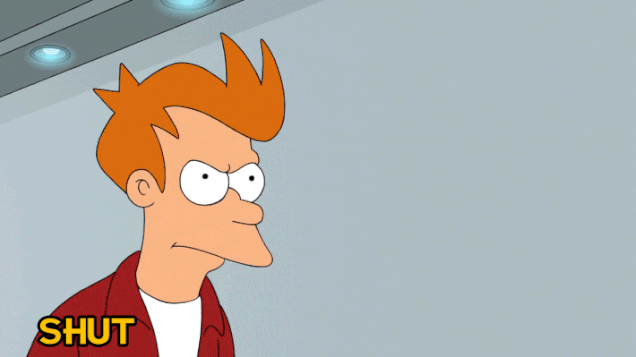 Winner: Sig Sauer
Concealed Carry
From the outset, the G19 is just bigger than the XMacro. Perhaps most important — it's thicker.
The grip is slightly shorter on the Glock, and that's an advantage, but the difference in width between the two guns (XMacro is .16 inches thinner) makes the Sig hug closer to the body for concealment.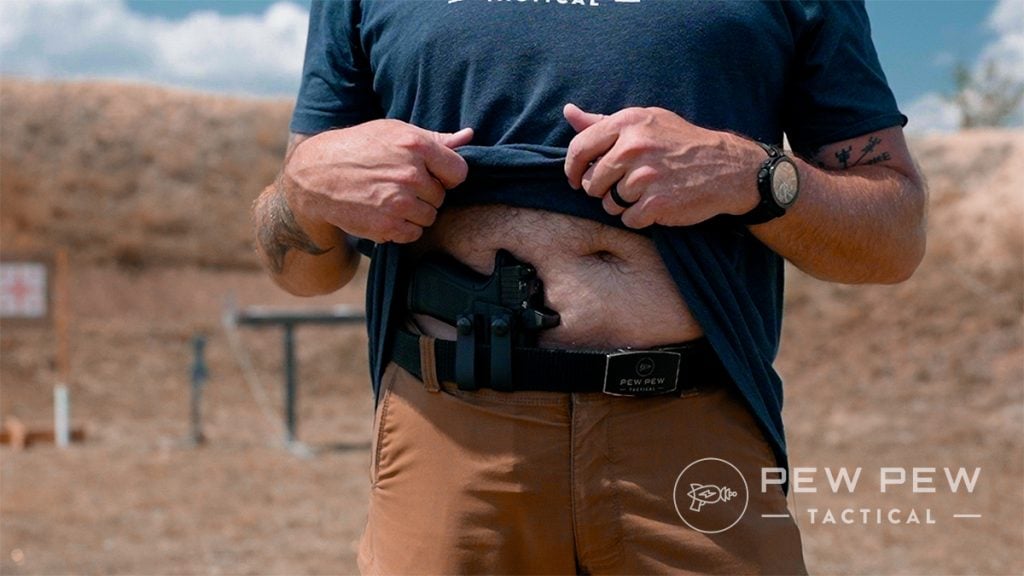 Using a PHLster Floodlight IWB holster, I wore both guns and turned different angles while carrying in the appendix position.
On me, the Sig had less printing than the Glock when I moved around.
It's noteworthy that the Floodlight was a little big for the XMacro, so the overall footprint could be trimmed down even more with a model-specific holster.
Winner: Sig Sauer
Final Verdict
I had a pretty good idea which way some of the rounds would go, but a few actually surprised me.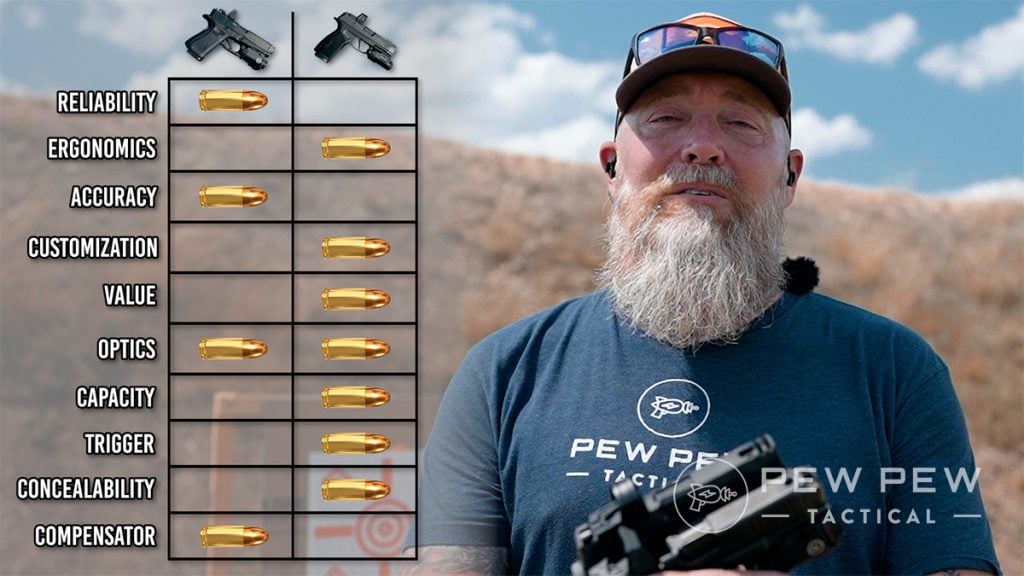 Out of 10 categories, the G19 won two, while the XMacro won seven, and one was a draw. For this contest, the Sig Sauer XMacro came out on top.
Keep in mind I am in no way saying the Glock 19 isn't a good choice for concealed carry; it is!
I simply believe the XMacro offers more in a few different categories.
Which is better — Sig or Glock? Let us know in the comments below. Also, check out the 12 Best Concealed Carry Guns for even more CCW options!