Editor's Note: Once in a while, my readers surprise me by sending something very personal and yet extremely helpful for others.
One of the e-mails that really made an impression was Susan's. In it she shares not only her family's story but a lifetime's worth of survival experience and knowledge – all very telling for what's to come.
I strongly believe that true stories as gripping and meaningful as hers do not reach as many people as they should. Here's what she had to say:
"I will offer what my grandparents, who are my survivalist heroes, taught me. They were homesteaders in northern Manitoba and Alberta in Canada – one of the more inhospitable environments you could find anywhere!
And yet… they brought themselves and their families through some really terrible hardships, and today we are thriving thanks to their courage, faith, and incredible self-sacrificing fortitude.
What I learned from them first and foremost was to have the right attitude:  faith and courage – faith that would get them through, no matter what, and the courage to meet any challenge and be strong enough to stand up to it.
Related: 10 Things Not To Do When The Next Great Depression Strikes
They were stoic beyond belief! Never complained about how hard life was. They took care of their families before even themselves, they were frugal and saved every single penny so their families would not only survive, but thrive.
They made sure their children had a good school education as well as many practical skills to provide for themselves and better their lives. They were creative and resilient.
My dad's grandfather and his wife moved to Northern Manitoba from Ukraine in the early 1900s. They were one of only two settlers in that entire Northern region.
Wintertime temperatures were often -30 to -40 degrees and with the wind-chill could be -100 degrees. The first winter, since they came with almost nothing but a few simple tools, they dug a hole in the ground and lived in that. The earth and snow are an amazing insulator.
They had to clear a minimum of 10 acres of northern bush land covered in birch trees every year in order to maintain their land title. So they worked hard, harder than we can even imagine… Very hard labor but it strengthened their bodies.
They had no medical insurance and no medicine except their food. They foraged for wild berries and mushrooms, grew gardens and hunted. They ate as well as they could, wasted nothing, and stayed healthy.
There was no room in their hearts or minds for disease to take hold of their bodies. They all lived a long time, well into their 90s.
My mother's parents who homesteaded in Alberta had 5 years in a row of failed crops. There is only one very short growing season every year thee – just a few months – so for failed crops there are no second chances.
They hunted and fished when they could, but they had four children to feed and some years with the failure of the crops, and poor game resources due to drought.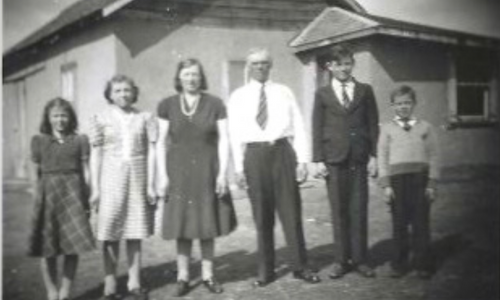 My mom told me all they had for the entire family was a couple of dried chickens that had to last all winter with the berries they had picked and dried in the summer.
Related: 15 Strange Meals People Ate During The Great Depression
During the fifth year of this hardship, my grandfather committed suicide. According to his friends, this was not because he was sick or depressed, or would abandon his family, but just the opposite: because he knew his family could survive if my grandmother would receive a widower's pension from the government.
They were self-sacrificing for their families, beyond anything we can imagine. Every winter they had to cut a pile of firewood that was several times the size of their log house in order to fuel their big iron stove for the winter.
Even after children had grown up and moved away, my grandmother continued to work hard growing and tending a 3-acre garden and preserving the produce for the winter.
She never had electricity or running water or plumbing, nor a car or truck, and lived on her homestead alone into her eighties.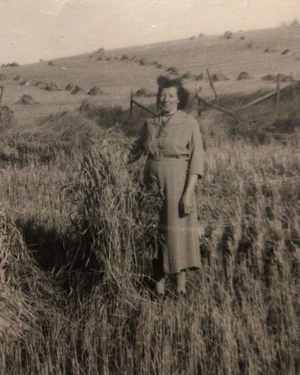 She did not drive and never learned to speak English.
She saved all of her money – every single penny she could – to leave to her children.
She actually had saved $100,000 by 1981 (the time of her passing), which my mom inherited. That was a lot of money even at that time.
My share of it when my mom passed away paid for my 4 years of tuition at acupuncture college, and gave me a debt-free start to my acupuncture practice.
My father's parents (Gido and Baba, as we called them) moved from their Alberta homestead to the city of Edmonton, and my dad went to university and studied to become a doctor. He had to pay his own way through 5 years of university studies.
When he wasn't studying or working to pay for his studies, he and his father constructed a beautifully-crafted, and very solid, 2-bedroom house with a garage, from scratch, one that my grandparents lived in until their transition from bodily to spiritual life. There was a huge garden that filled the entire backyard and they ate well from that.
They paid for the house materials with income my grandfather earned working for the Canadian Pacific railway during the Depression years, and they built two very nice studio suites in the basement of their self-built home that they then rented for income. This also provided an income for my Baba, even after her husband passed away.
They were super talented and resourceful and actually did better through the Depression than most. Pretty good for a couple of homesteaders, one who was orphaned in Ukraine at the age of 12, speaking no English, coming by herself on a ship, and immigrating to Canada at the age of 16.
Though I did not inherit all the multiplicity of talents and skills my survivalist ancestors possessed, I did inherit their attitude: the ability to take on whatever comes, undaunted and courageous, stoic, creative and resourceful, respectful of life, family and nature.
Because of their hard work and many sacrifices, I have a good and successful life. I make everything I do count for something good, just like they taught me. By doing that, I honor their sacrifices and hopefully can inspire others.
I have learned the lessons of hard work, and am not afraid of hard physical labor, even in the heat of a Tucson summer. I have good health even at 63 years of age and do not rely on medicine of any kind, but only good food and the belief that anything can be healed because the body can heal without medicine; my spirit and a good attitude are enough.
Like my father, I am a doctor, but a doctor of Eastern medicine, and I utilize esoteric teachings about the spiritual/metaphysical laws that govern creation. That knowledge is worth its weight in gold. As beautiful as gold is, you cannot eat it or dig a hole with it or heal diseases or pain with it. I have learned to garden and love the plants that nourish me.
I did learn some basic fishing and hunting skills from my dad – from age 3 to 13 he took me with him camping, hunting and canoeing. I can hike a considerable distance with a pack for many days if needed.
Hopefully, I could take these rudimentary skills and, with the right attitude they taught me, hone them to overcome whatever may come, and inspire others to do the same.
I am deeply indebted for all they taught me, and feel concern for the younger generations of people around me, should our infrastructure and support systems collapse suddenly. I mostly worry for them because they do not have a good and respectful attitude towards life.
They cannot discern truth from lies. They are neither innately smart, nor well-educated in using abstract concepts, nor practical skills or even face to face communication, and social skills.
They use borrowed and internet-conditioned unoriginal thought and language, and do not express their own ideas, but ideas that are fed to them through communication and mind-numbing and dumbing internet control technology.
They know nothing about healing and health that is grounded in reality. They cannot discern danger. They seem like robotic automatons compared to the autonomous and independent, vibrant, strong, alive people my grandparents were. This situation does not bode well for their future."