The AK-47 is easily the world's most famous rifle.
It's likely the second most popular centerfire rifle in the United States and has undoubtedly earned a top spot in the gun hall of fame.
AK-47, or more likely AKM, clones are everywhere. Despite this, the AK is stuck in a tricky spot in terms of modernization and accessorization.
It wasn't built with modifications in mind and isn't blessed with modularity like the AR-15.
While not as easy as tossing an optic on an AR, adding one to an AK can be done with relative ease. However, you have to get a little creative when it comes to getting everything set up right.
Summary of Our Top Picks
Table of Contents
Loading…
Scoping an AK
There are a few ways to go about mounting an optic on your AK that we will cover.
The best way is how the Russians originally intended — using the side rail, provided your gun has one.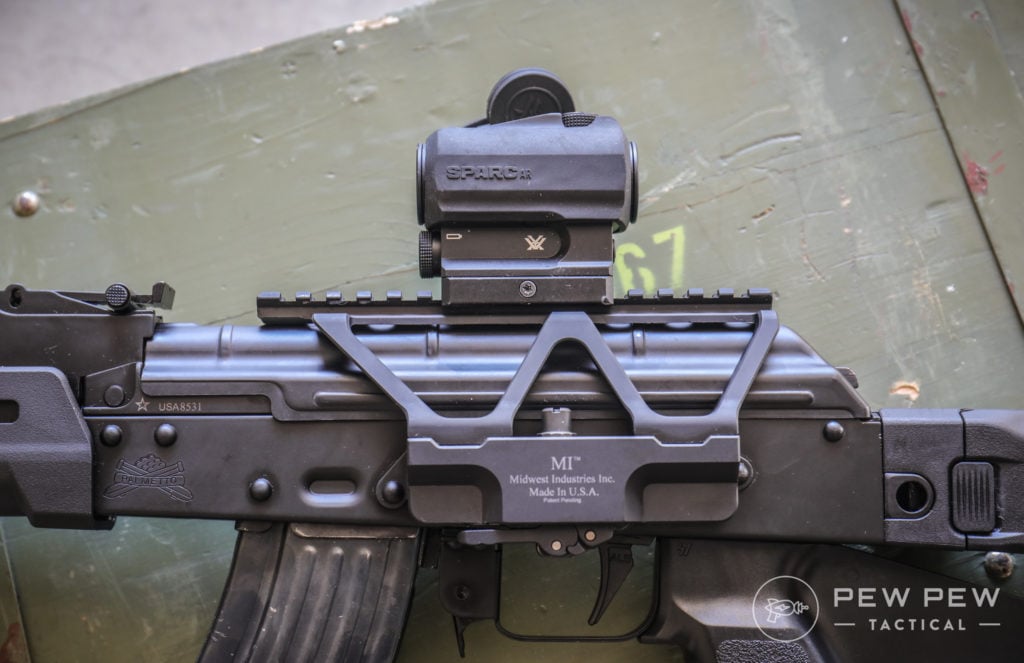 Side rails serve as an attachment point for a scope mount. Since the rail is attached to the receiver itself, it is generally better at holding zero than other mounting solutions. Midwest Industries and RS Regulate both offer excellent options for side rail scope mounts.
The second option is a dust cover mounted optic rail.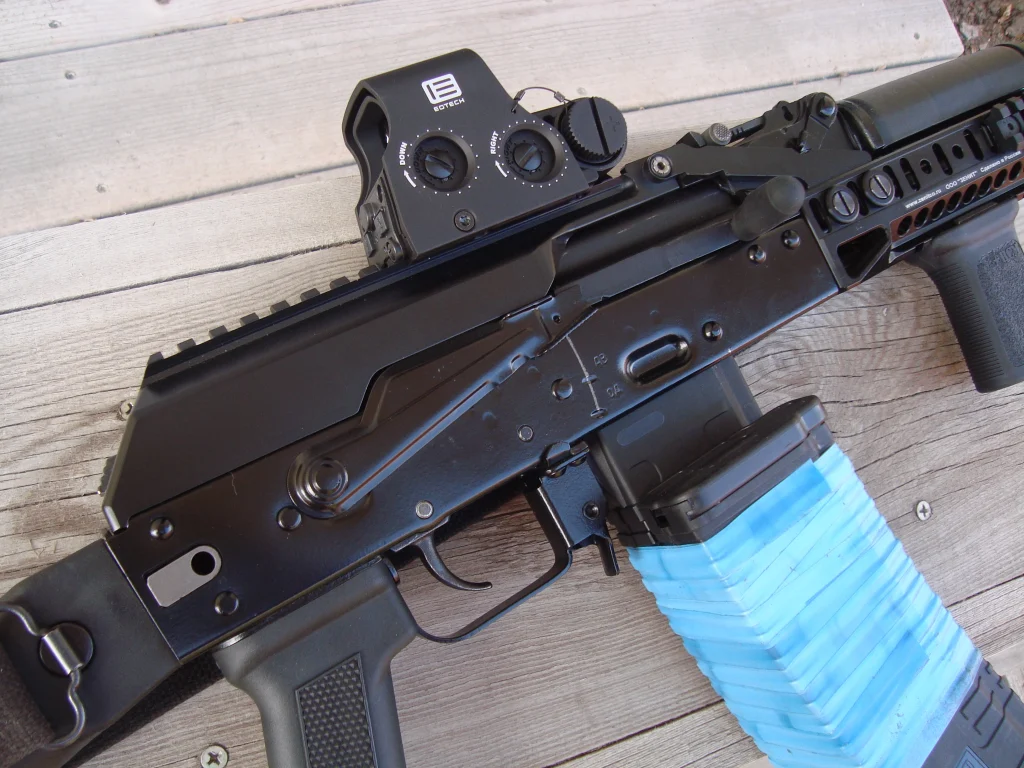 These range from total pieces of crap to okay — they work…kind of. The difficulty with these is that the dust cover dismounts so easily and doesn't return to the same exact spot each time. Going with a reputable and tested mount, like the TWS Dog Leg Rail, is the play if you want to take this route.
Lastly, we have handguard mounts.
These place the optic on a Picatinny rail that sits right above the gas tube. When you go with a handguard mounting option, ensure the handguard and rail are designed to be used with optics.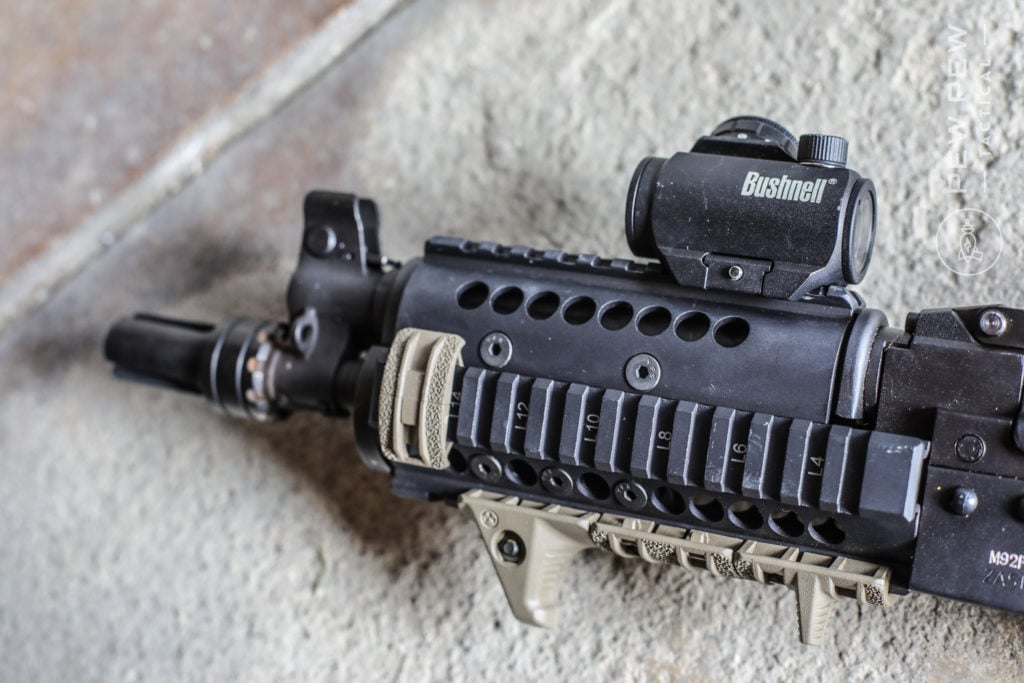 This requires a quality handguard. If it is a cheaper handguard that doesn't fit tight, it's likely to move a little, and this will affect your zero. These mounts typically limit you to reflex sights or long eye relief scopes.
The Best AK Scopes
Now that we have the various means and methods to mount optics, let's talk about some of the best optics out there for AKs. I've tried to bring in a wide variety of optics that occupy all the numerous genres of modern tactical optics and hit various price points along the way.
1. POSP 4×32
I had to include an old-school option in the form of the POSP scope. The POSP is based on the old SVD Dragunov optic but modified slightly to work with 7.62×39 ballistics instead of 7.62x54R.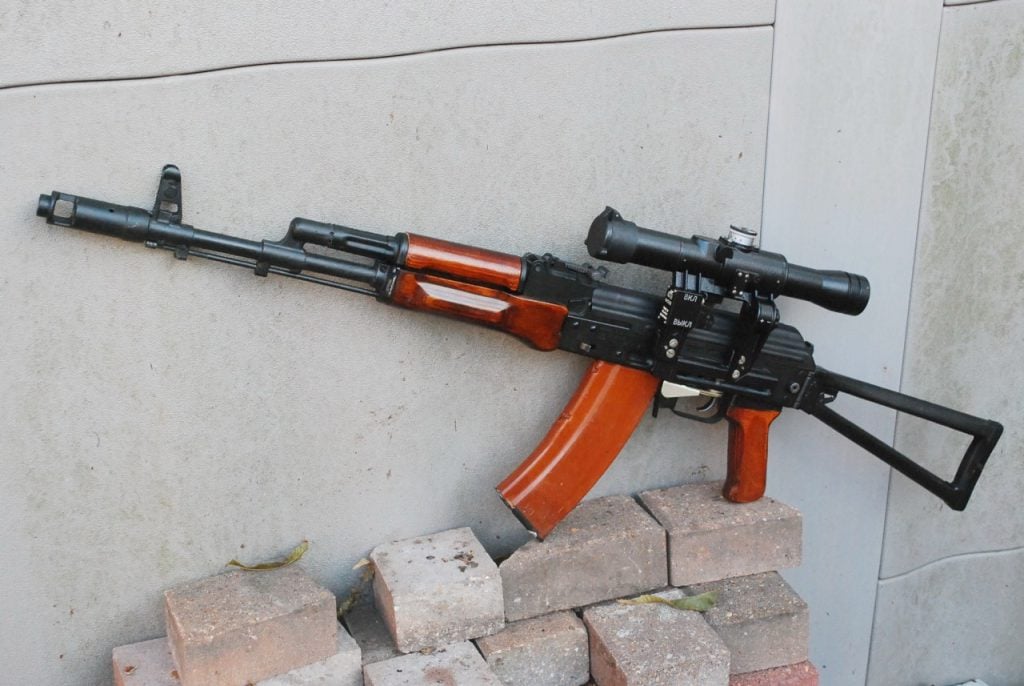 This optic comes fitted with a side scope amount already, so it's a plug-and-play option for mounting to your AK.
The POSP scopes are a bit of an old design but are robust optics nonetheless. Four power magnification is plenty for dealing with the 7.62×39 round. While the scope is large, it does boast an impressive field of view.
You might expect it to be rough because it is Russian, but the glass is pretty clear. The Simonov-style reticle is fairly clear and easy to use.
A built-in range finder goes out to 400 yards and uses the typical height of a man to measure range. The chevron serves as the main aiming point for a 100-yard zero. The two chevrons below show the drop out to 200 and 300 meters.
A single battery powers the reticle illumination, which is admittedly lackluster. The illumination is adequate in lower light or indoors, but you may find it lacking in bright outdoor environments. An etched reticle ensures that astigmatisms won't cause an issue.
Sure it's a bit big, and a bit heavy, but the POSP gives you that classic Russian feel. It's simple, and like the AK, simple is good.
2. Primary Arms SLx 3x32mm Gen 3
Primary Arms delivers some awesome optics at a very nice price point, and their SLx 3x prism scope is an excellent option for your AK.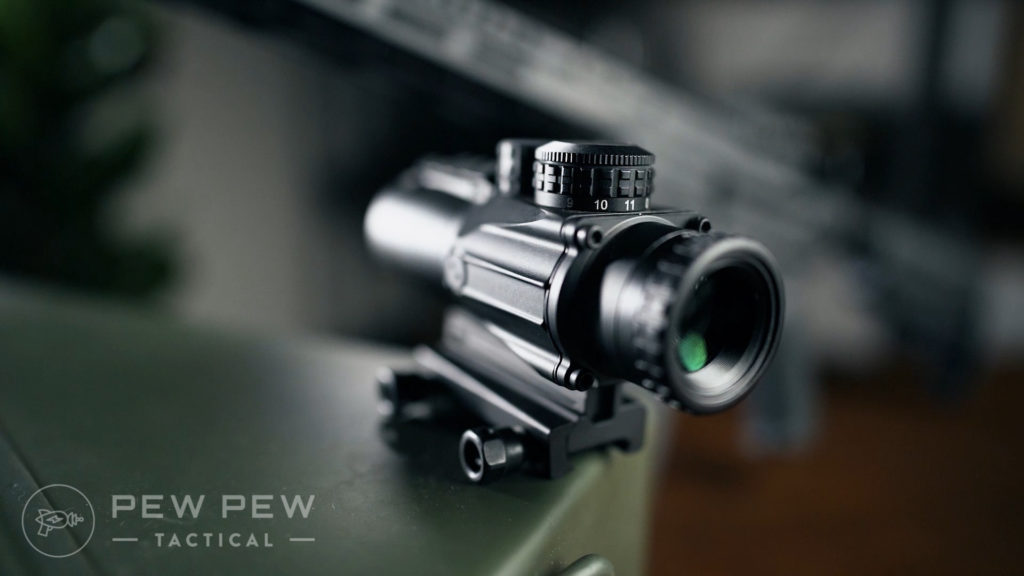 There are several different models, including one with a 7.62x39mm/.300 Blackout reticle. The reticle uses a bullet drop compensator to allow you to adjust for drop out to 600 yards.
Their ACCS-CQB reticle is also excellent for close range and makes it easy to quickly get on target. It is a fixed 3-power scope, and the eye box is very generous and easy to get behind.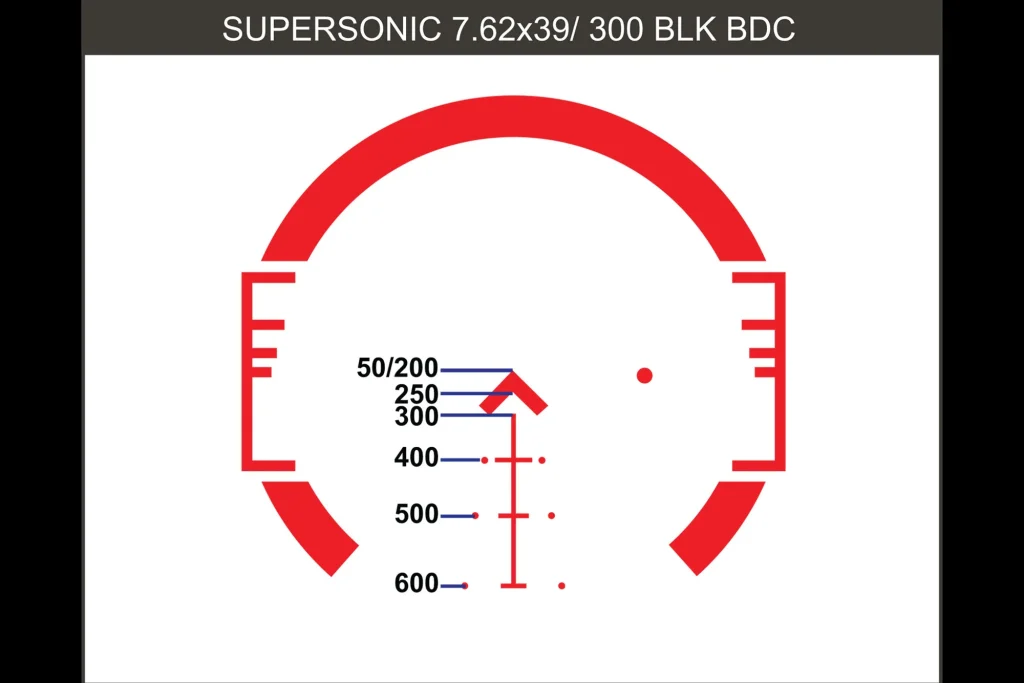 If you are concerned about close-quarters use, a rail across the top offers you space to mount a mini red dot. In terms of illumination, you get a daylight-bright option that's eye-catching and easy to see. An etched reticle ensures that you still have a visible reticle, even in the event of battery failure.
One of the downsides is that a side rail might make the optic sit a little higher than necessary, so you might need a stock with a cheek riser to obtain a solid cheek weld.
3. Holosun HS512C
Big, beefy, robust, and affordable describe the Holosun HS512C reflex sight.
A big square window and enclosed emitter give this brick of an optic an extra level of durability. The built-in quick detach mount makes it easy to attach to any scope base or mount.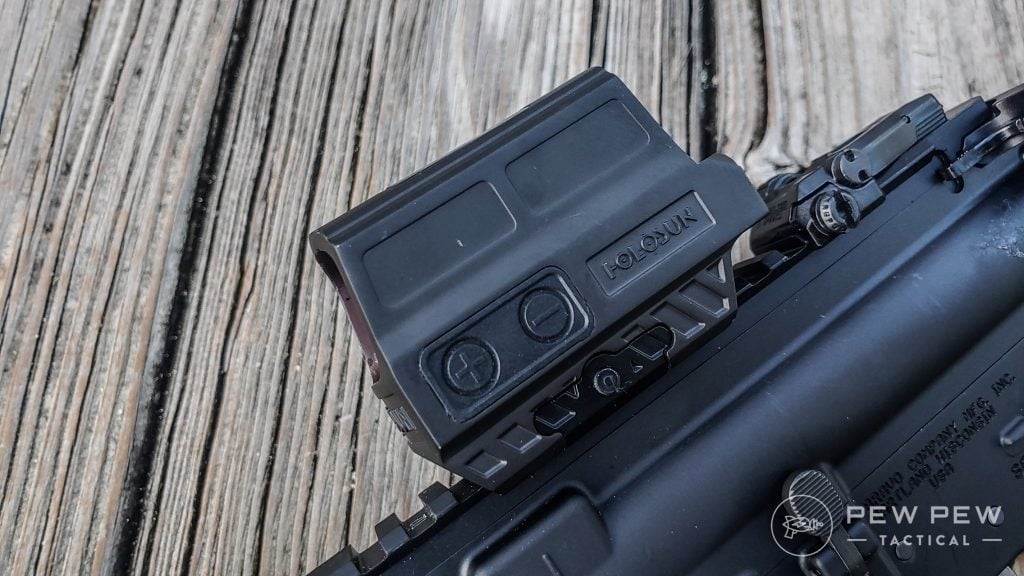 The HS512C is non-magnified and offers shooters three different reticle options. You can use a 2 MOA dot, a 65 MOA ring, or a combination of the dot and the ring. This reticle is eye-catching, easy to use, and can be used for ranging, mechanical offset compensation, and elevation compensation.
This optic comes outfitted with backup solar panels that operate as a failsafe for the battery. It is enough to power it to the highest level when used outdoors.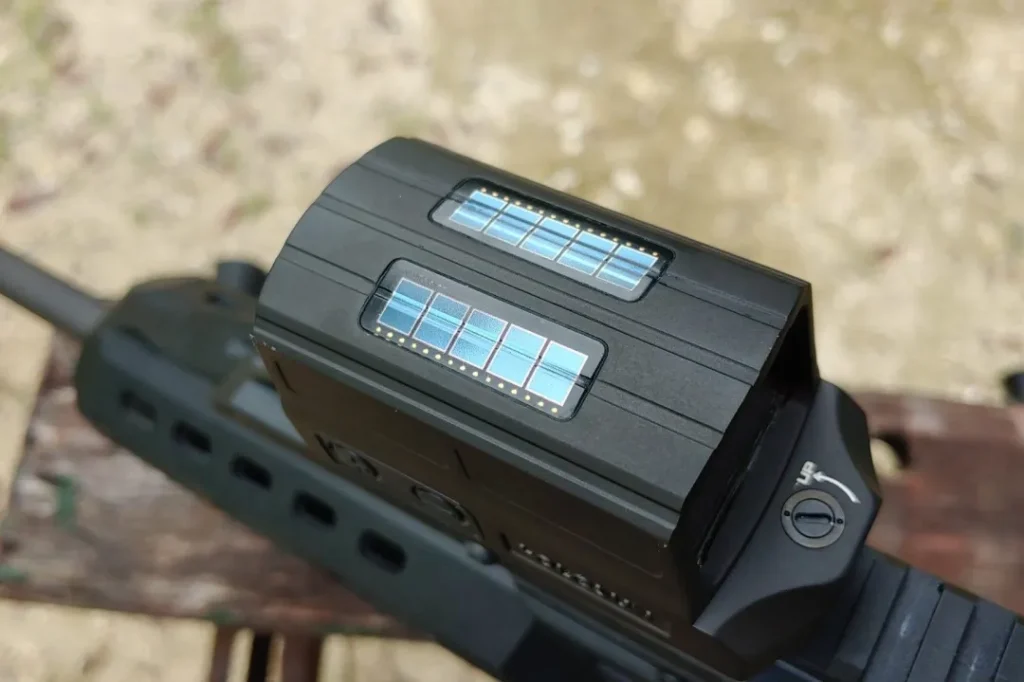 Looking through the optic, you will see the glass is nice and clear, with just a slight blue tint. The reticle is fairly crisp and looks great through the lens. With ten daylight settings and two for night vision, you'll find the right combination for your needs.
One of the big downsides to the HS512C will be the AR height mount. It's not too bad, but it might result in more of a chin weld on an AK rather than a cheek weld.
4. Aimpoint T-2
I think the Aimpoint T-2 is the perfect red dot option for an AK for a number of reasons. First, it's Aimpoint — one of the most trusted optic manufacturers ever that makes some of the best red dots on the planet.
Second, it has a wide variety of mounts available for it. Many of these options allow you to mount the sight extremely low. With a handguard mount, it can even co-witness with the proper mounting plate.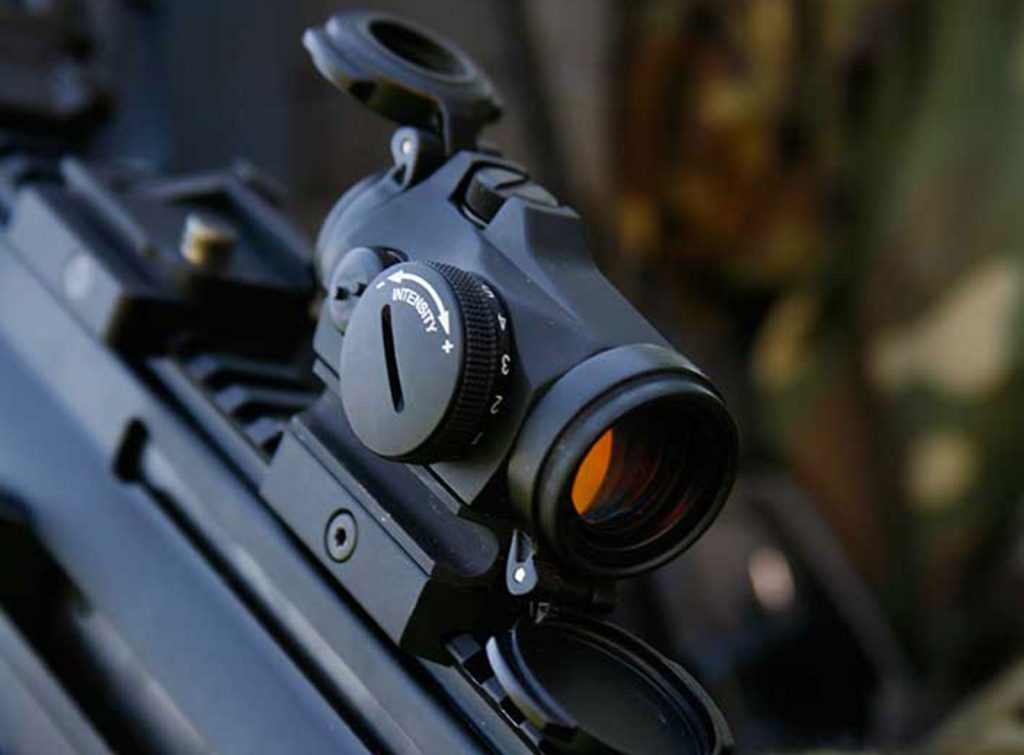 The T-2 falls into Aimpoint's micro-sized optics. It has a small footprint and is super lightweight. AKs can be a little chunky, and anywhere you can trim some size here and there, it's worth it.
With its 50,000-hour battery life, you can leave the optic on and forget about it for about five years. The 12 settings accommodate both daylight-bright use and night vision in any lighting conditions.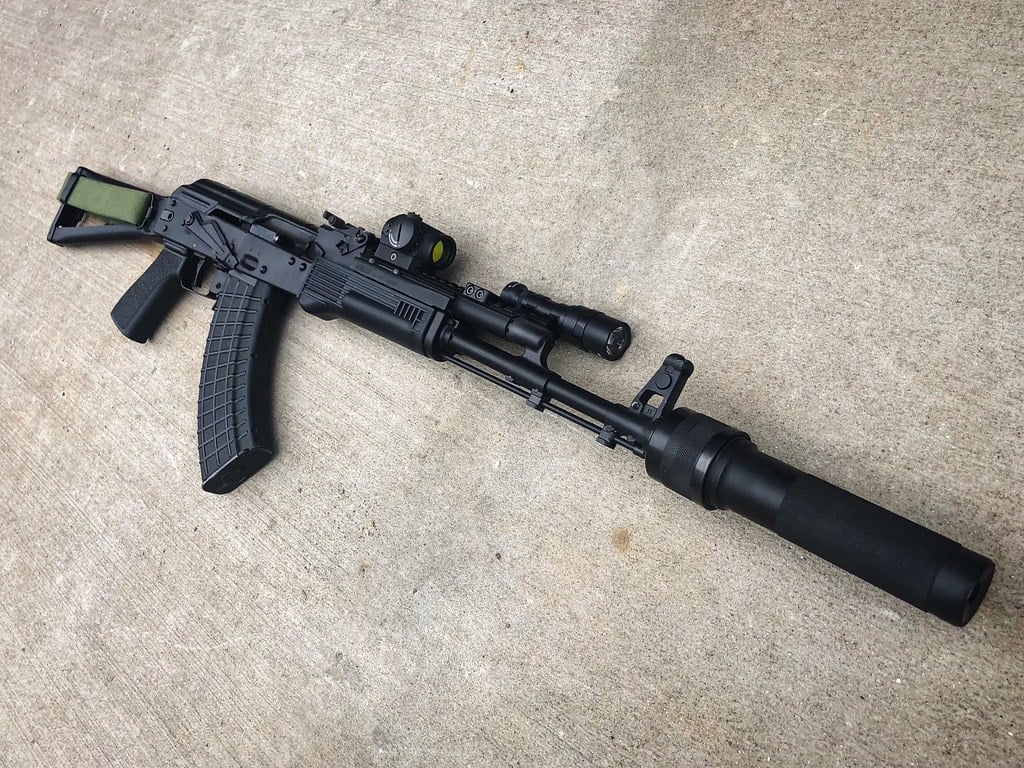 The Aimpoint T-2 is an absolute beast and is a tank of a red dot. Durability won't be a concern, as it can take any abuse thrown its way. It's tough to point out any downsides with the exception of the optic's high price point.
At around $750, it can be tough to justify. However, when you want the best, be prepared to spend the money.
5. Vortex Razor HD Gen 2-E 1-6×24
Low power variable optics (LPVOs) are extremely versatile optics. The 7.62×39 cartridge is made for 300-meter ranges, but that is a good bit further than most people picture, and an LPVO can help you get there.
With the shorter range of 7.62×39 versus 5.56, the AK can benefit more from a second focal plane reticle than a first focal plane reticle. With this in mind, the Vortex Razor HD Gen 2-E 1-6×24 is probably one of the best second focal plane LPVOs on the market.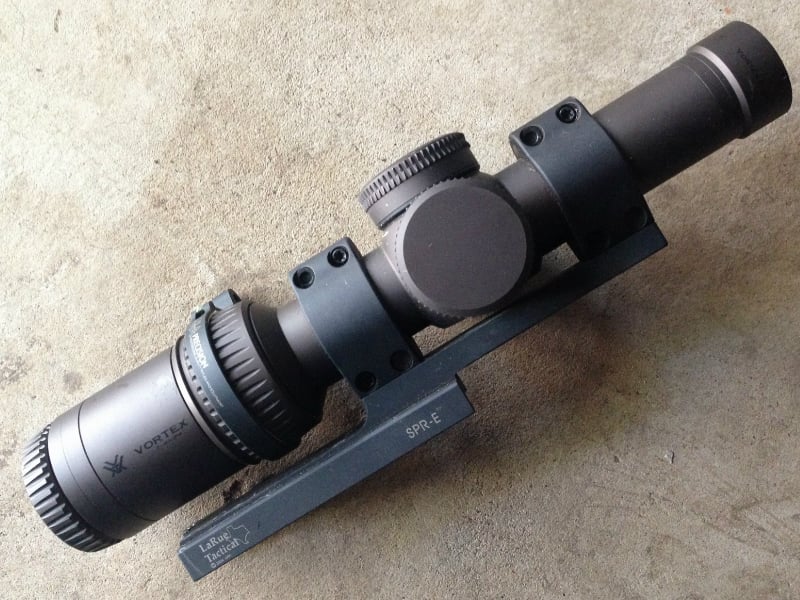 This model of the Vortex Razor HD comes in several reticle setups, and the VMR-2 MOA pairs well with the 7.62×39 round and its sharp drop beyond 200 yards. Since the second focal plane reticle remains the same size through your various magnification ranges, the center illuminated dot is always big and easy to acquire.
Windage and elevation compensation dots on the reticle allow for quick and easy adjustments. The Vortex Razor HD has crystal clear glass that is nearly unbeatable at its price point.
An RS Regulate optic mount would be perfect paring for Vortex Razor HD for those wanting to reach out and touch a target at the max range of the AK platform.
6. Trijicon RMR
If you have a shorter AK or want your rifle to be as compact and light as possible, the Trijicon RMR offers you a miniature red dot optic that's almost as small as they get.
The RMR is one of the most popular options for handgun red dots but is also a good option for long guns designed for close-quarter's use.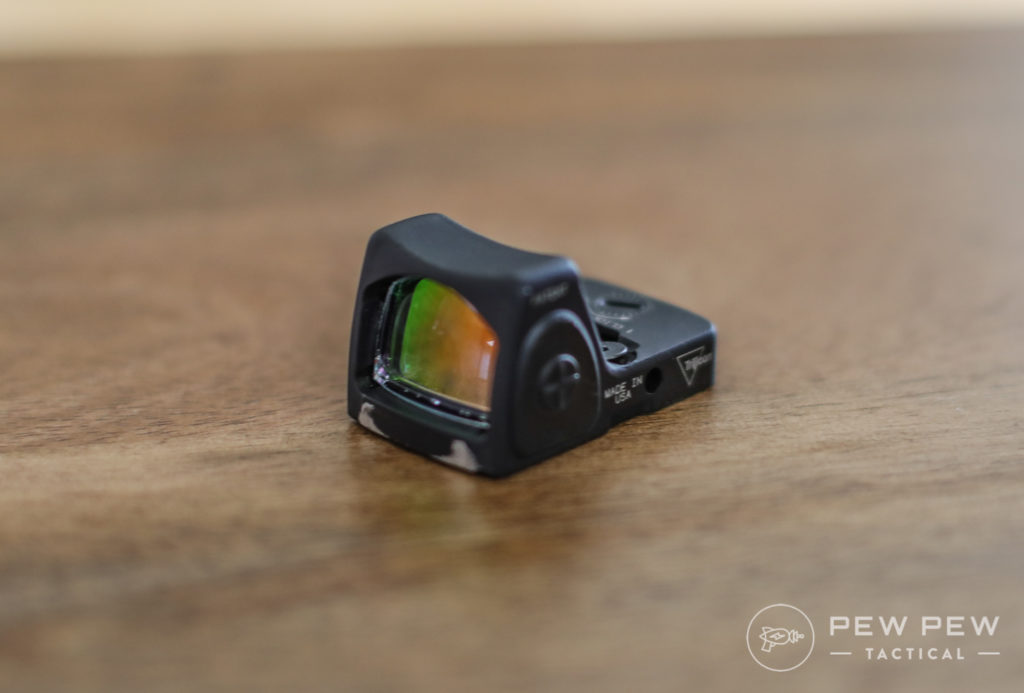 Trijicon produces the RMR with a variety of different dot sizes. I prefer the 3.25 MOA dot, but 6 and 9 MOA dots are also available.
The dot is super crisp and easy to see. Trijicon knocks it out of the park in terms of both clarity and brightness. Whether under night vision or in the desert sun, you will have no problem seeing the RMR.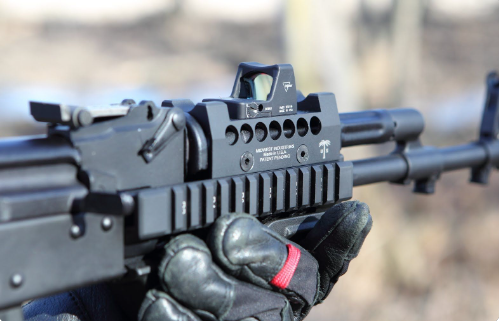 The Trijicon RMR is arguably the toughest micro red dot on the market — it will absorb all the hate, heat, and recoil an AK can toss at it. The small footprint lets it sit very low and can easily be co-witnessed.
While pricey, the Trijicon RMR is durable and well-proven by its dozens of military contracts and services worldwide.
Best Optic for Cowitnessing
What do you think of the Trijicon RMR? Rate it below!
7. Swampfox Tomahawk 1-4X Guerilla Cross MOA
If you want a slightly cheaper LPVO that's still very capable, the Swampfox Tomahawk might be worth a look.
Swampfox offers a variety of optics at a great price point that will satisfy the needs of most recreational shooters.
The Tomahawk 1-4X is a compact, lightweight LPVO that works well with AK. The Guerilla Cross MOA design makes calculating drop along the reticle easy.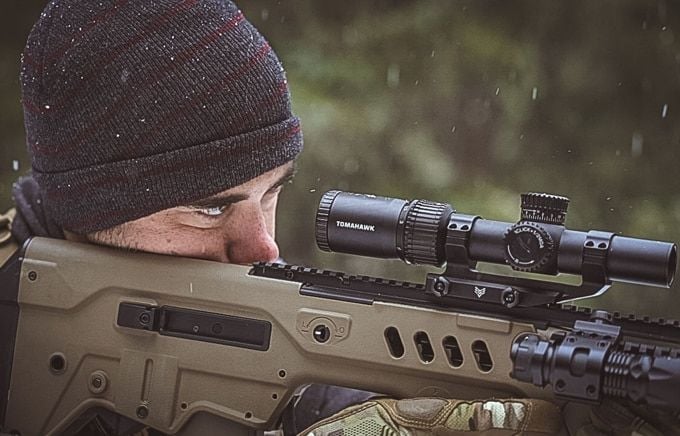 That reticle is a huge three-quarter illuminated circle with an illuminated cross in the center. Below that sits a non-illuminated MOA ladder for bullet drop compensation. It's super easy to use and mounts well with a solid side rail mount.
A generous eye box and eye relief make the Tomahawk easy to use at 1X, almost as easy as a red dot. The 1X setting is a true 1X, and you won't get that fish eye effect you see with some other budget-grade optics.
If you aren't looking for extreme-duty use optics, the Swampfox Tomahawk is a great budget-friendly LPVO to make your AK a little easier to shoot.
Final Thoughts
The AK platform is a product of its time. It's a 75-year-old design, and it shows when it comes to modern customization.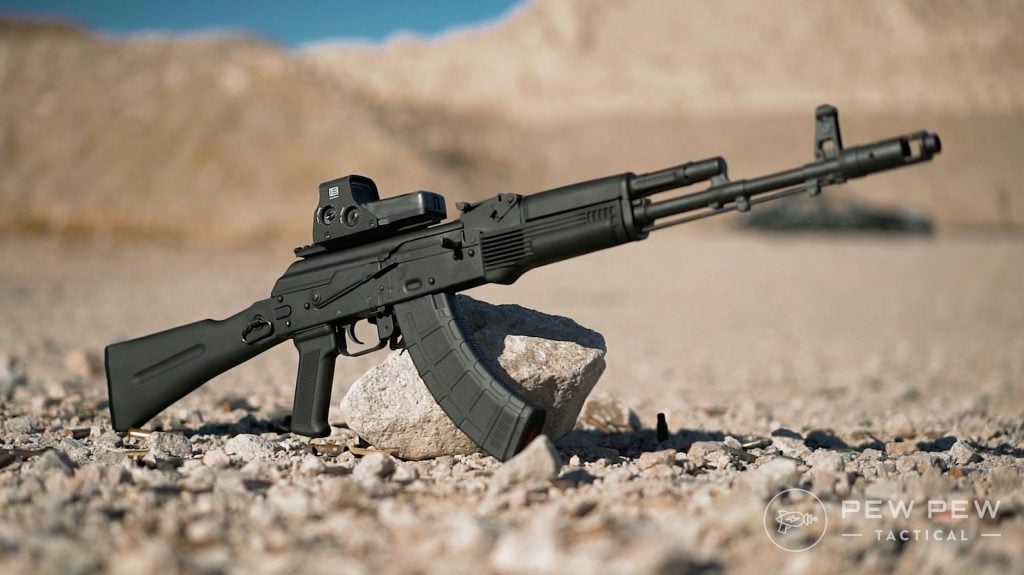 I doubt Mikhail Kalashnikov ever pictured his AKs decked out with optics, lights, and rails, but it's 2022, and iron sights aren't the meta anymore.
But luckily, where the is a will, there is a way, and manufacturers have made it possible to help bring the AK into the 21st century.
What kind of optics do you run on your AK? Let us know in the comments below! Looking to further modernize your AK? Check out our article on the 10 Best AK-47 Upgrades.