Ever dream about carrying your Glock with you everywhere?
We get it…your Glock 19 is the go-to concealed carry weapon for many.
It's also the standard sidearm for tons of law enforcement agencies and military organizations around the world.
But if you want to carry your Glock with you, you need a holster.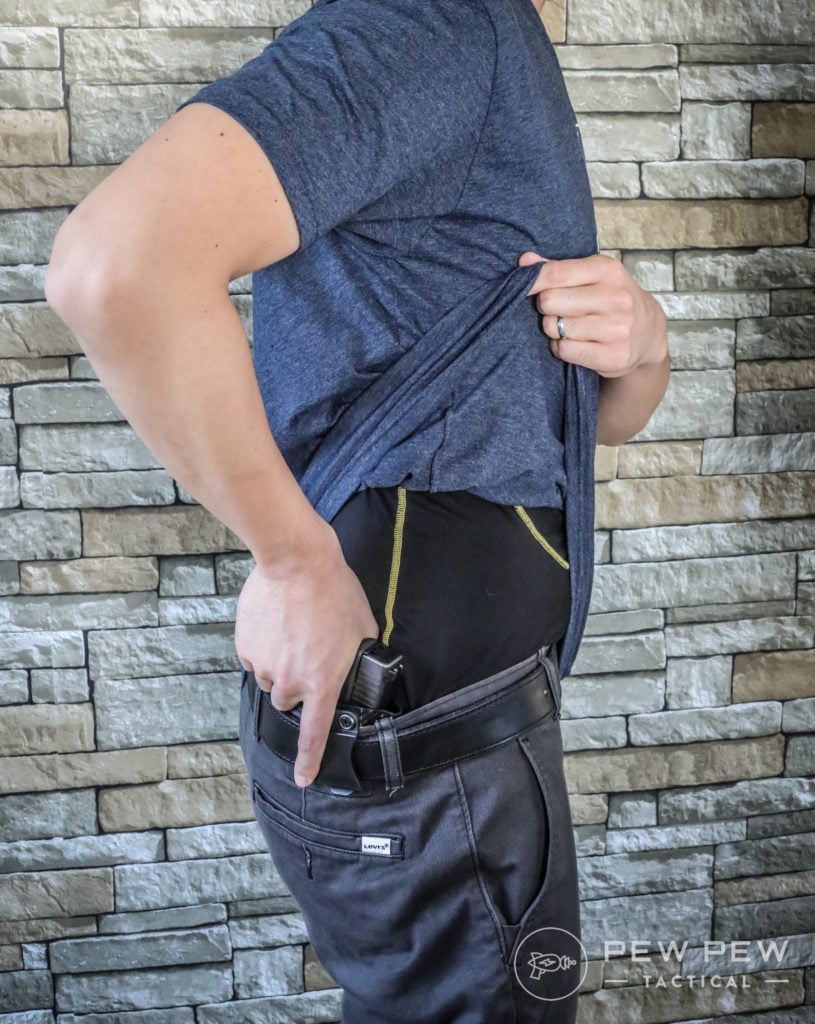 The Glock 19's popularity means there's a huge market of compatible holsters for you to choose from.
Unfortunately, all those options can make it difficult to figure out what's a good holster at a good price that fits your individual needs.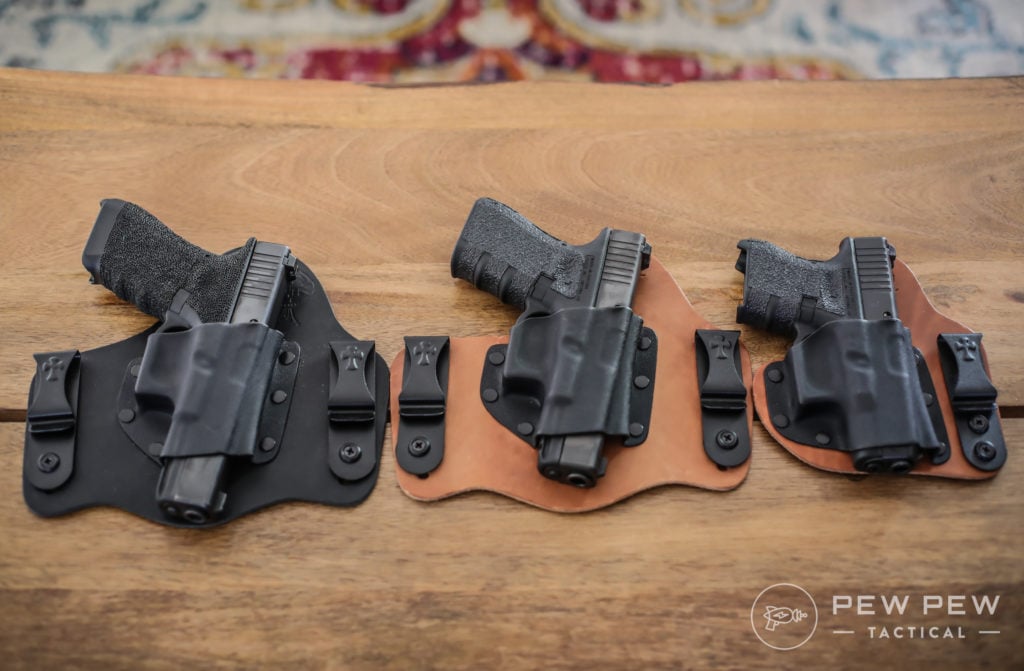 Fortunately, you've got me.
In this guide, I'll tell you what features any holster needs to have, give you the rundown on the various holster types out there, and finally give you my recommendations for holsters in each category.
Summary of Our Top Picks
Table of Contents
Loading…
Choosing a Good Holster
Your holster's most basic job is obviously to hold your firearm when you're not using it. But it also needs to protect your firearm — both from being dropped and from bumps and scrapes.
It also prevents accidental discharge and allows you to quickly draw your firearm when the situation calls for it…whether that's in competition or a defensive situation.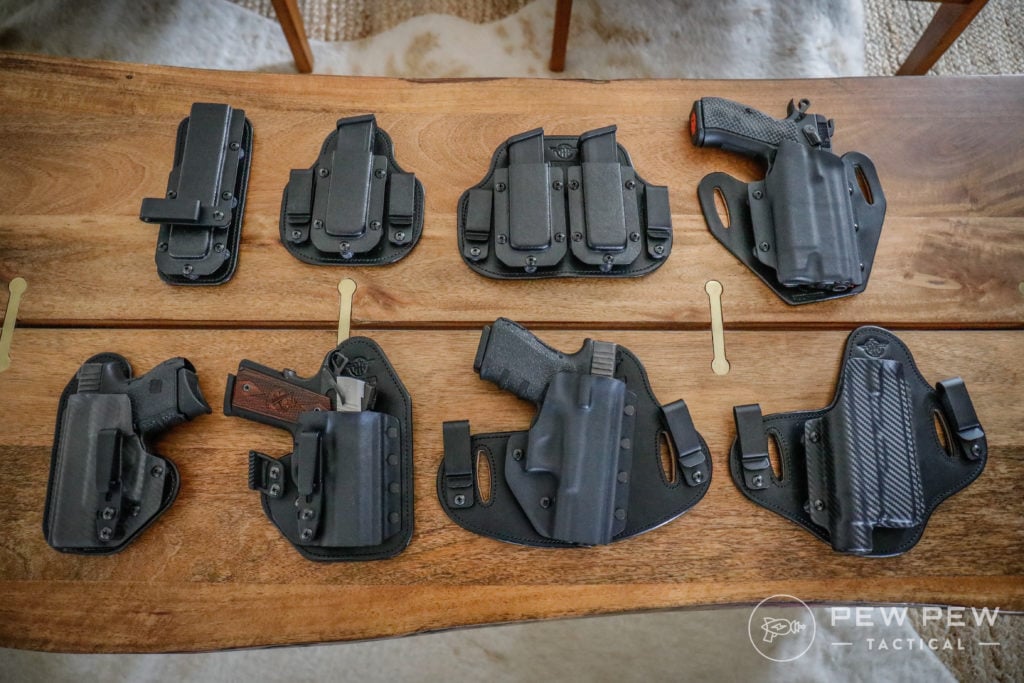 So how do you make sure that a holster can do all that?
Well, look for one with these qualities:
Comfort
Don't underestimate how important comfort is.
It may seem secondary compared to the other qualities we'll discuss, but if you're not comfortable in your holster, you probably won't wear it.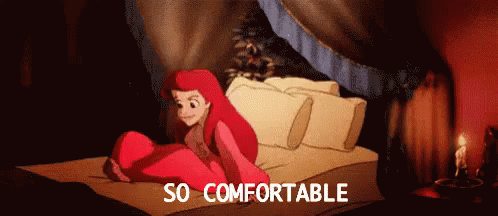 If you don't wear your holster, you'll still be in the position of needing to buy a holster for your Glock 19, plus you'll have wasted money on a useless holster that just sits around taking up space.
And, if your home is anything like mine, you don't need any more useless stuff sitting around taking up space.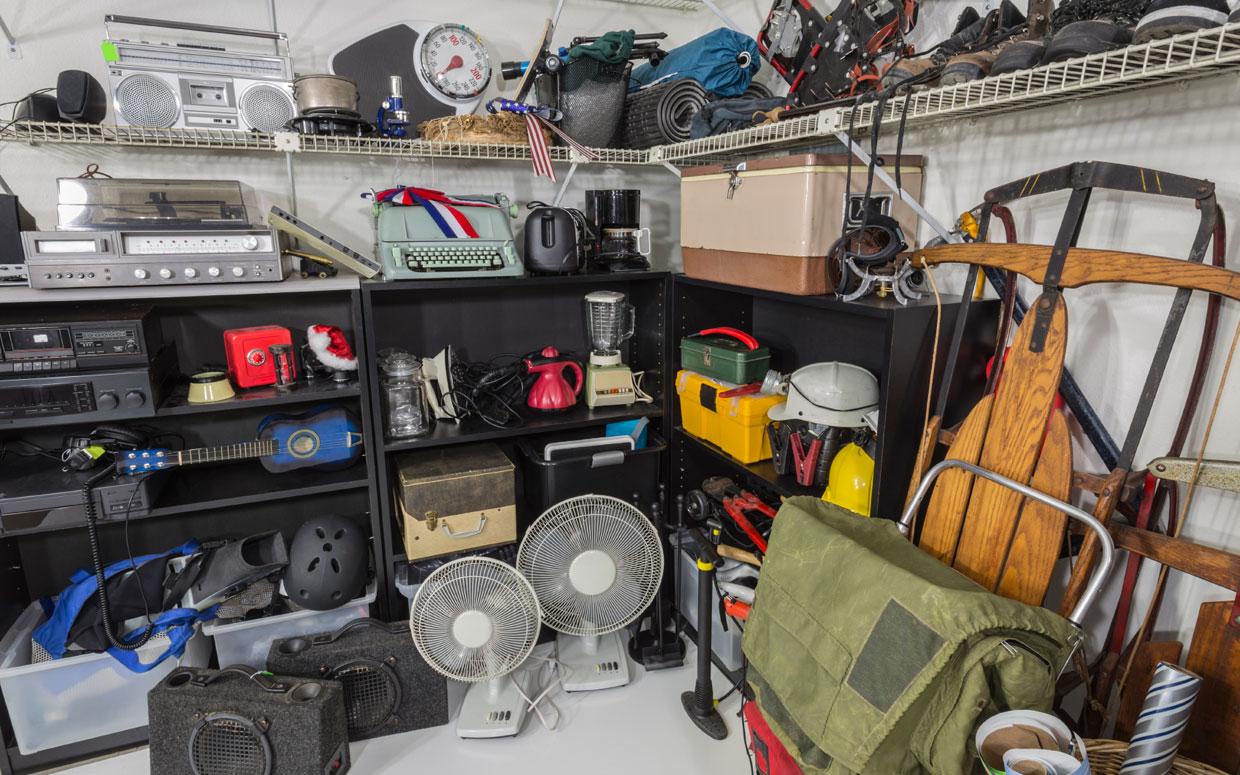 So, like anything else you wear, try on a potential holster before you buy it, if at all possible. If you can't try it on, at least make sure you can return it in case you don't like it.
When trying on a holster, imitate the normal motions you go through during the day.
Make sure the holster doesn't twist or rub. A little bit of rubbing may seem like it's not a big deal, but over time it can lead to irritation, bruises, and blisters.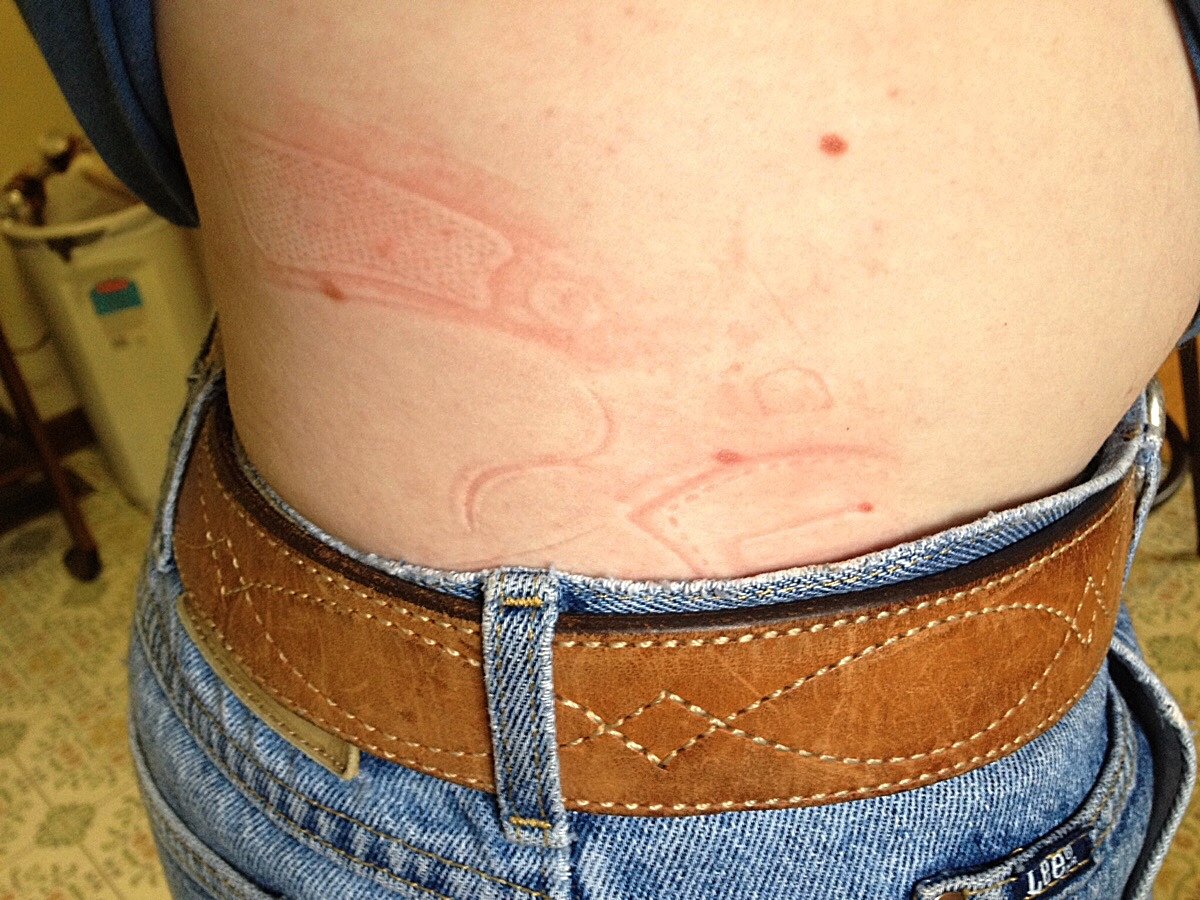 If your holster isn't comfortable on your skin, you'll need to wear a barrier between your holster and your skin or opt for a different holster entirely.
Rubbing from holsters made of hard materials will lead to more irritation, and an undershirt may not be enough to prevent it.
You also want to make sure that your holster won't slip or shift.
Protection
Holsters constructed from durable and protective materials shield your Glock 19 against bumps and abrasion.
Most holsters are made of leather, nylon, or a polymer like Kydex, which all offer plenty of protection.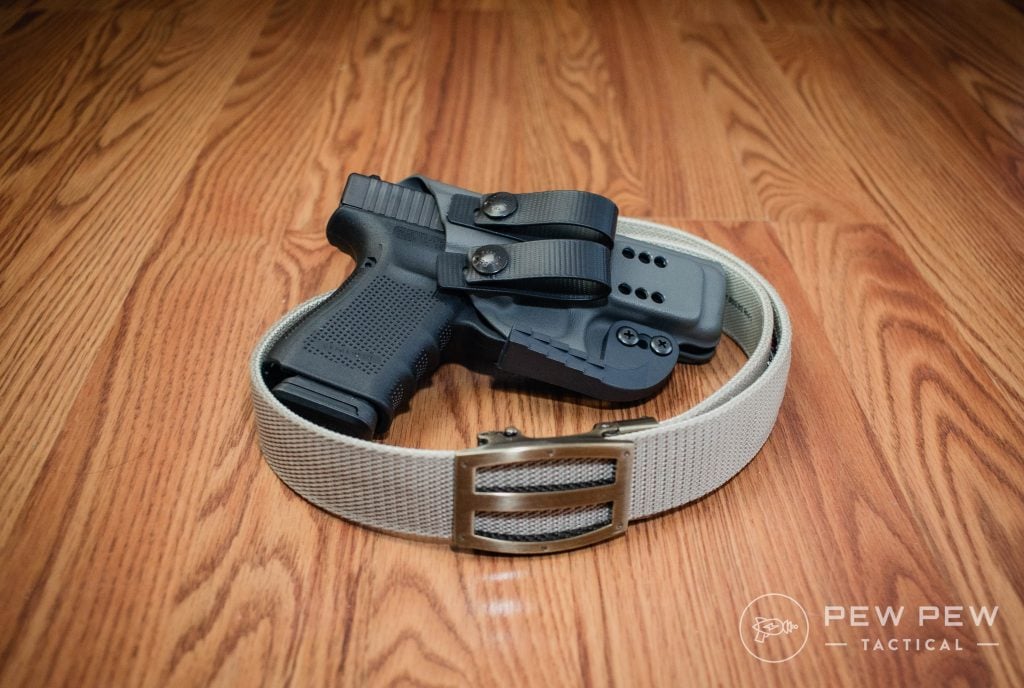 Retention
Retention just means that your holster won't allow your gun to fall out of it.
The go-to litmus test for retention is simply turning the holster upside down. If your gun stays firmly in place, you've got plenty of retention.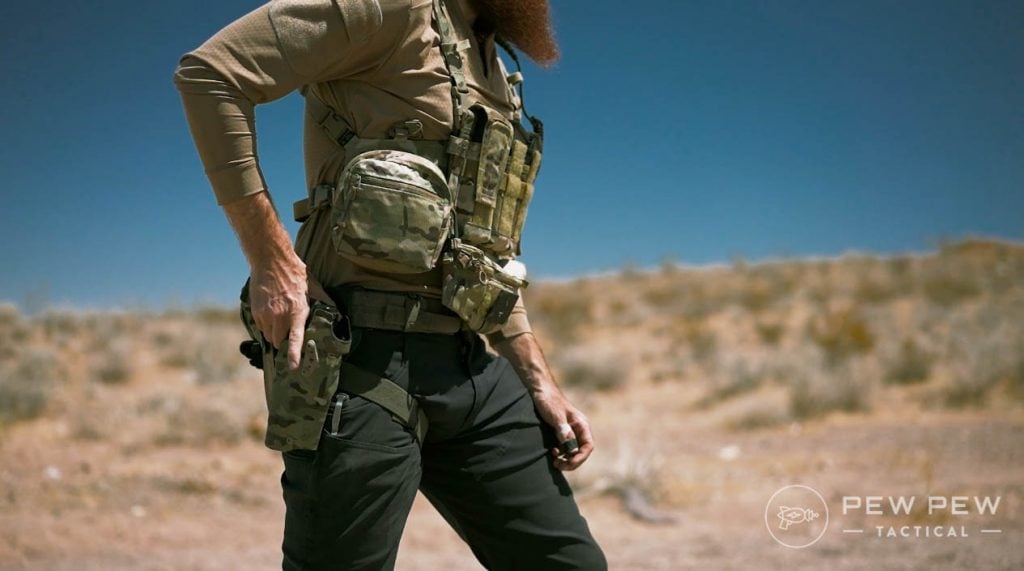 Yes, I know most of you probably won't be doing cartwheels or headstands in your holster, but what if you're in an altercation and get knocked down?
The last thing you want is for your gun to slip out of your holster where your assailant can grab it before you recover.
Even outside of a defensive situation, you don't want your gun to fall out while doing normal daily activities, like running, getting in and out of a vehicle, or dropping your pants to go to the bathroom.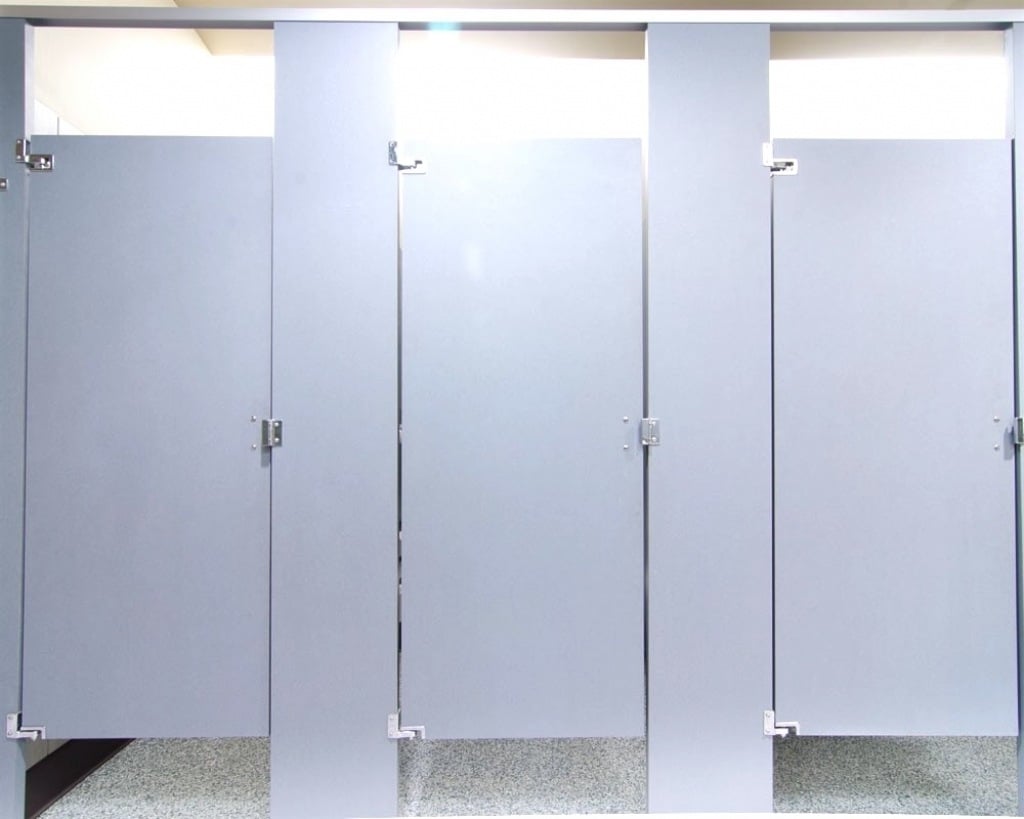 (And for more help navigating the last situation, check out our guide Using the Bathroom While Carrying Concealed.)
Holsters use an active retention system, a passive retention system, or both at once.
An active retention system means that the user has to take steps to engage and disengage the retention system.
Common examples of active retention are thumb breaks or straps that the user must release before they can pull their weapon from the holster.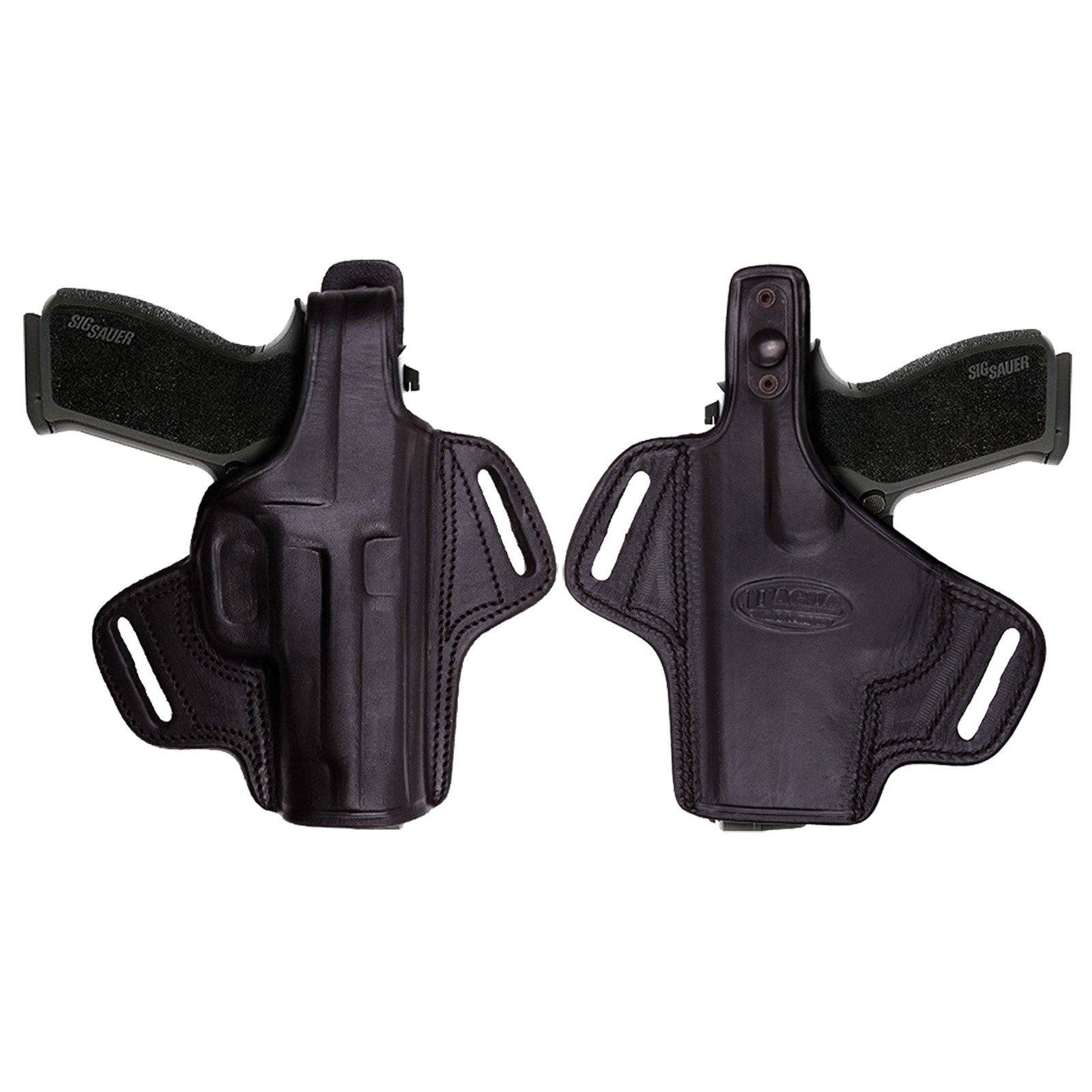 A passive retention system means the scabbard of the holster (the part that actually holds the gun) fits snugly around the gun and is molded to the shape of the gun.
This increases surface area contact, which combines to keep the gun firmly in place using friction.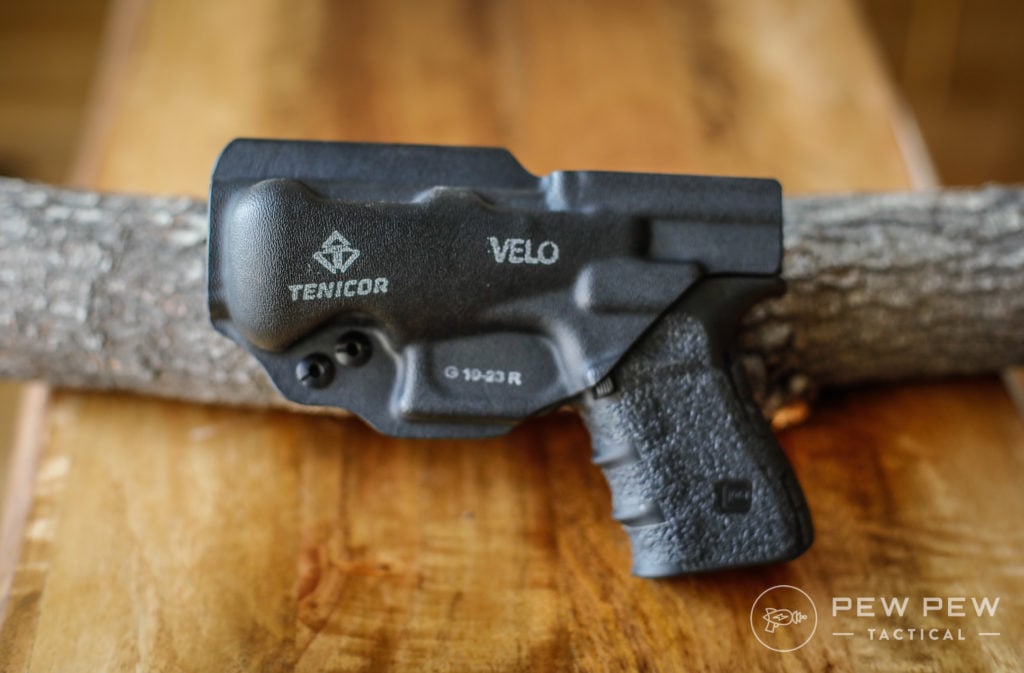 Typically, passive retention holsters use screws that allow you to adjust how tightly the scabbard fits around the gun, allowing the user to adjust the level of friction and, by extension, the level of retention.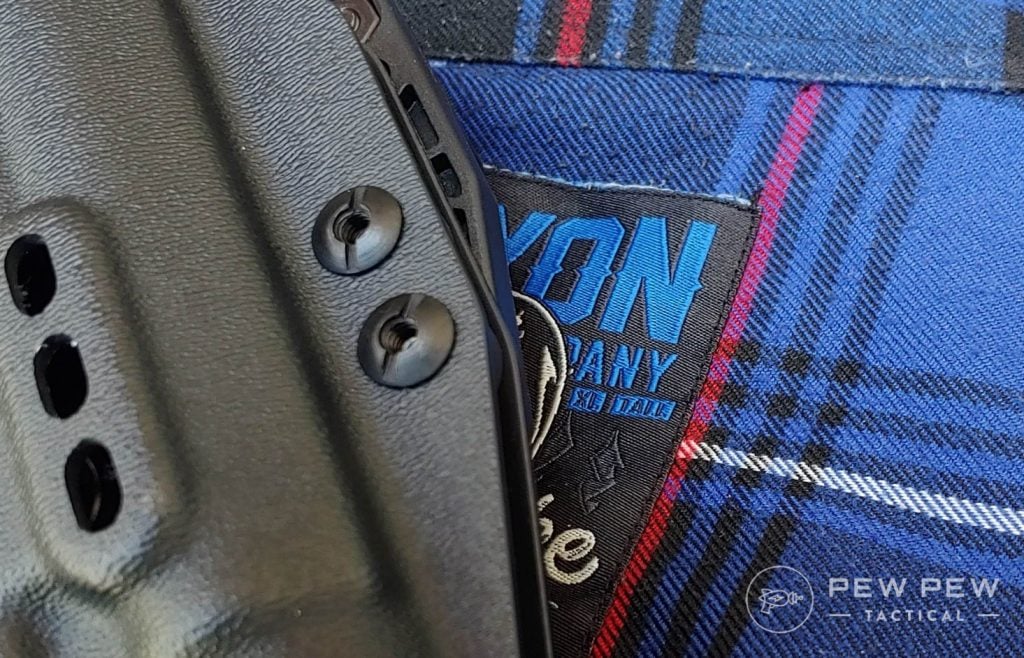 Just remember that while retention is absolutely important, you also need to be able to draw your firearm quickly.
Passive systems typically allow quicker access. But there's a wide range of active retention holsters available as well.
Concealment
This is exactly what it sounds like…how visible is the holster when you wear it?
It's difficult to talk about concealability briefly since holster type, shape, and material –in addition to the wearer's build and clothing choices — all impact that.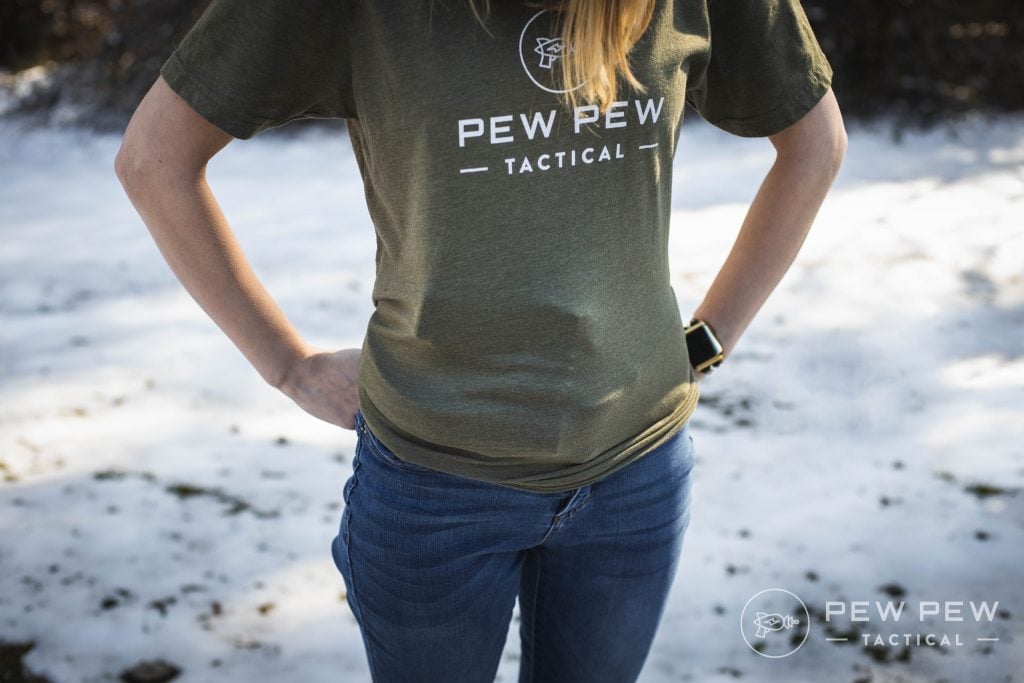 You'll also want to try a variety of different holster types to get an idea of what's most easily concealed on your unique body type and under the clothes that you like to wear.
If you only plan on carrying openly, you may not need to worry about concealability.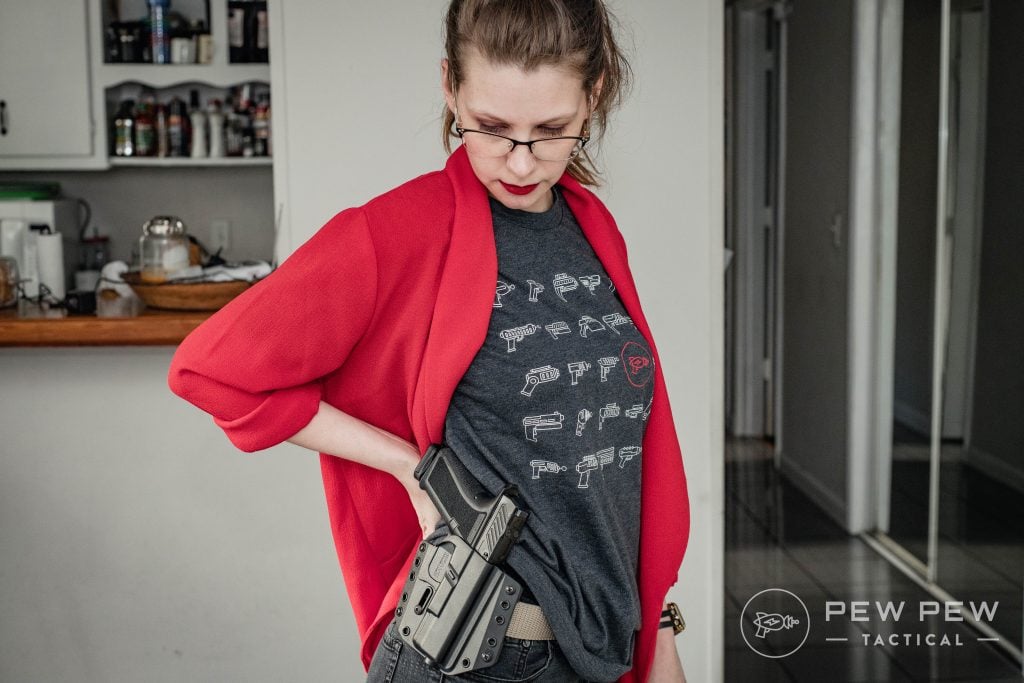 Still, it's nice to know that you already have a concealable holster should you ever decide that you want to carry concealed after all.
On the other hand, I don't want to rob you of an excuse to buy another holster. You do you.
Trigger Coverage
This is another factor that's pretty self-explanatory — your holster needs to cover your Glock 19's trigger to stop the accidental discharge.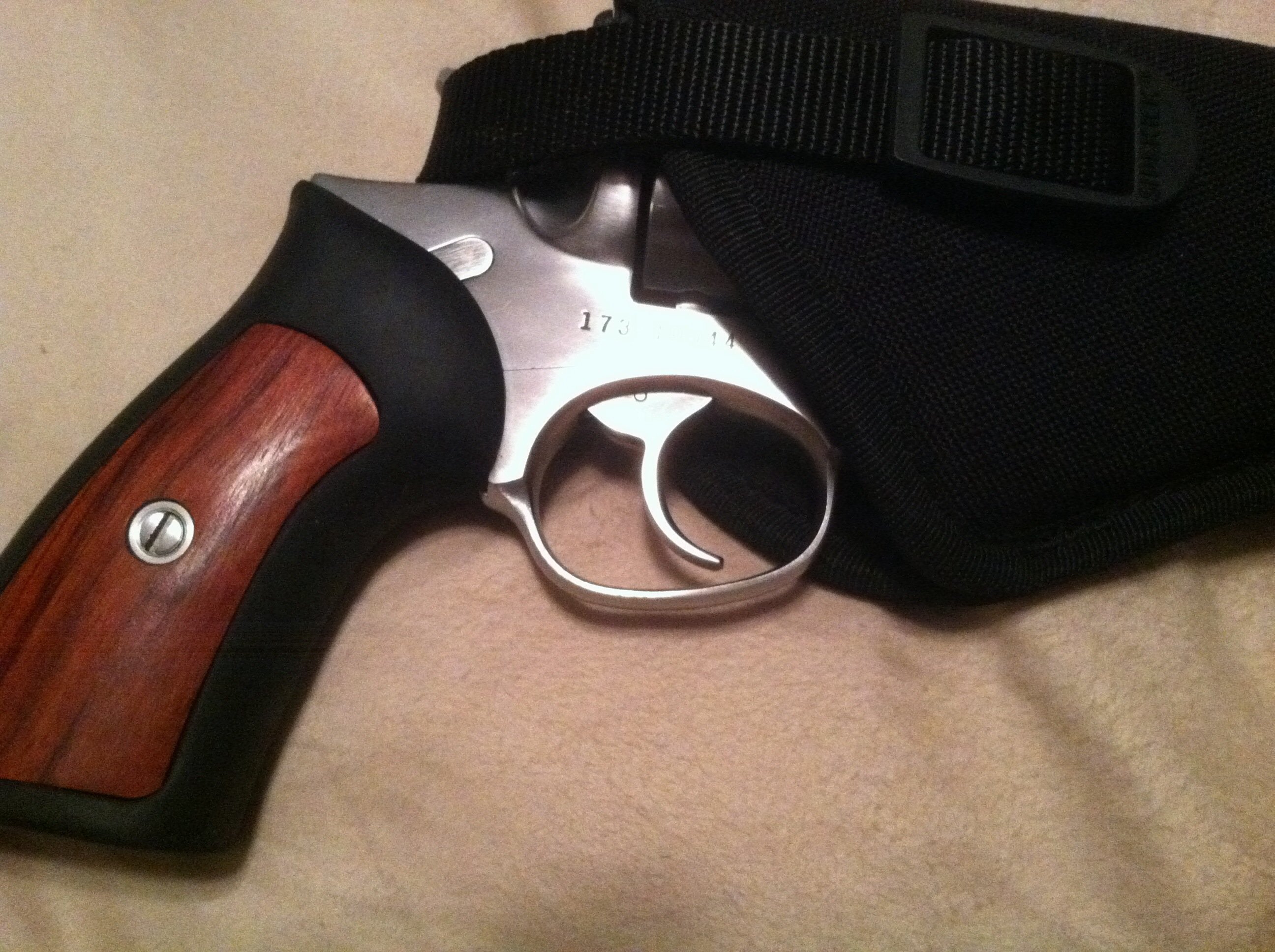 Not all holsters do this, but there's no reason to risk it.
Positive Grip
This simply means that you should be able to draw your gun with one hand with a ready-to-shoot combat grip regardless of position and even in close quarters.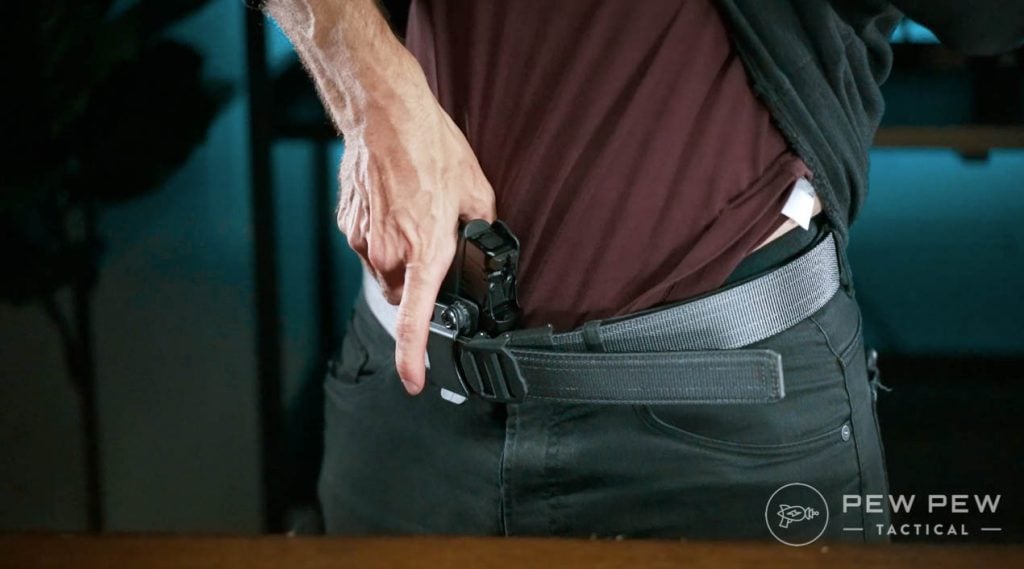 The holster needs to make this efficient, but you can't expect it to carry the full burden here. You also need to consistently drill to make sure that you can do this reliably.
Holster Types
Now you know what you need from a holster, so let's move on to holster types.
Outside the Waistband
Once again, we have something that is exactly what it sounds like.
Outside the waistband (OWB), holsters attach to your waistband or belt and are carried on the outside of it.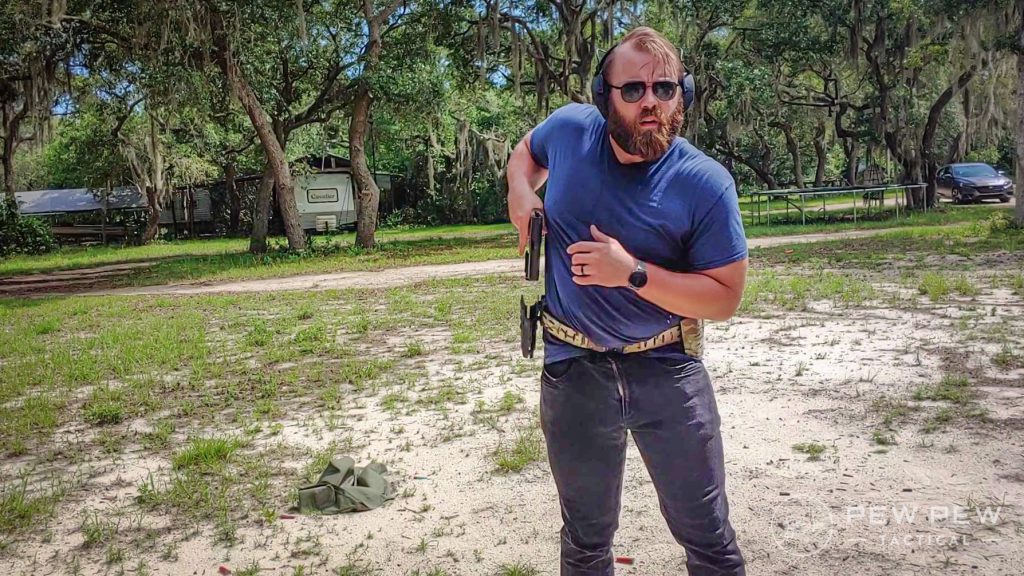 This is a very visible style, so it's usually what people think of when they think of a holster, but it's actually not a particularly popular holster, precisely because it's so visible.
Their positioning makes them difficult to hide under clothing because they either peek out from under them or print (show a visible bulge).
On the other hand, OWB holsters tend to be quite comfortable and position your firearm where it can be quickly and easily accessed.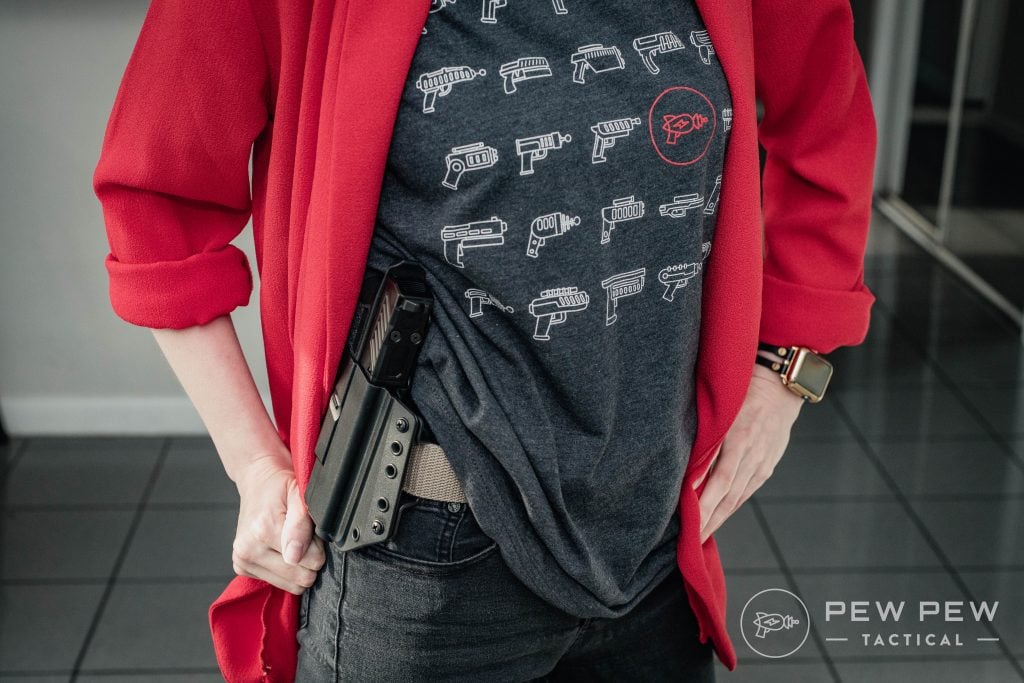 Inside the Waistband
And inside the waistband (IWB), holsters are similar, but they sit — you guessed it; inside of your waistband.
They're probably the most popular holster type for concealed carry since they are easily hidden under clothing.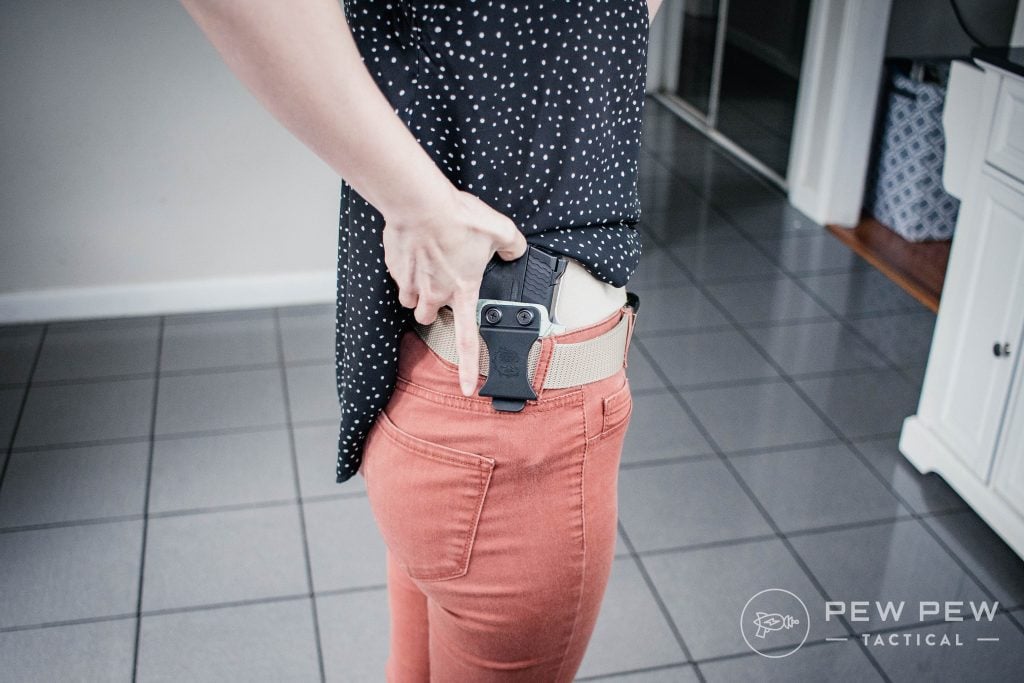 The cost is that they can be uncomfortable (though an undershirt goes a long way in helping this), and establishing a positive grip is more difficult.
Shoulder
If you've seen just about any movie about spies or law enforcement, then you've almost certainly seen a shoulder holster.
They're actually a popular choice among plainclothes law enforcement in real life, too — but not so much among civilians.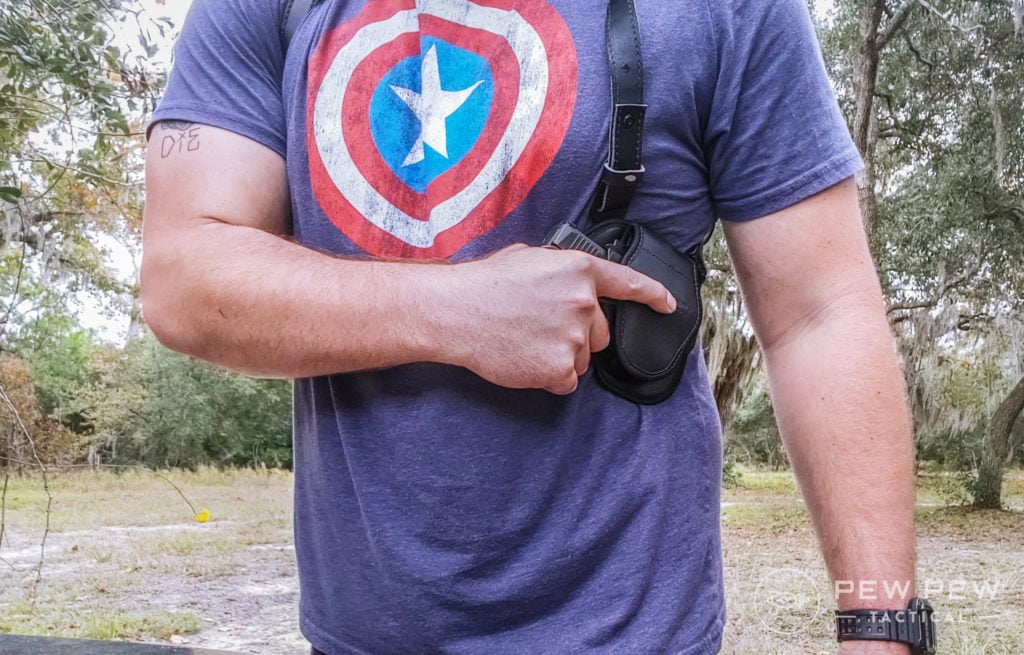 They're easily concealed under a jacket, but that obviously means that you have to keep your jacket on as long as you want to keep your firearm concealed.
They also conceal well under loose shirts, but this makes it more difficult to access your gun, especially if your shirt is tucked in.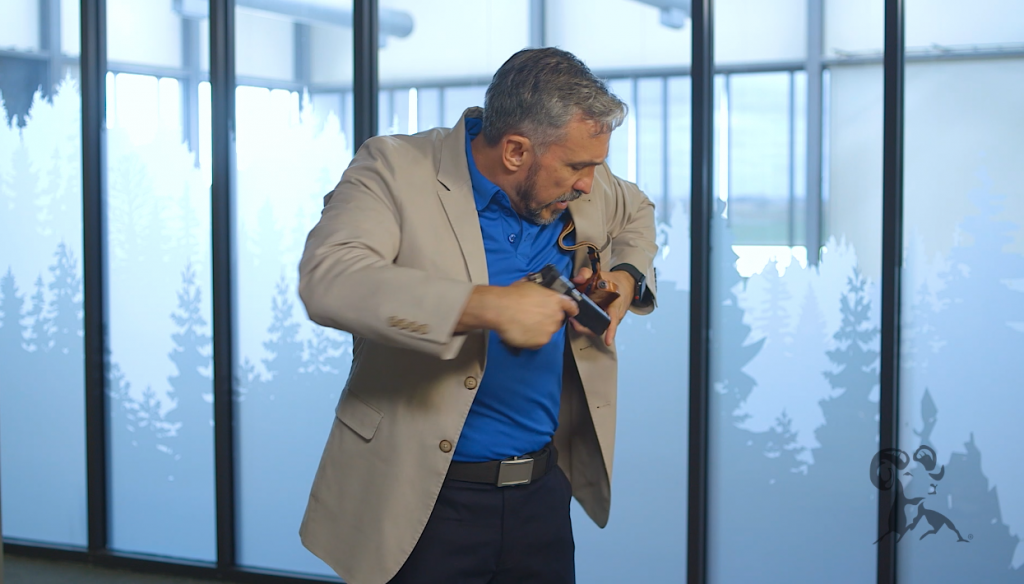 Ankle
Ankle holsters aren't usually the first choice for concealed carry, since they can be uncomfortable.
They also don't position the gun ideally for quick, easy access, but they are popular for carrying backup guns.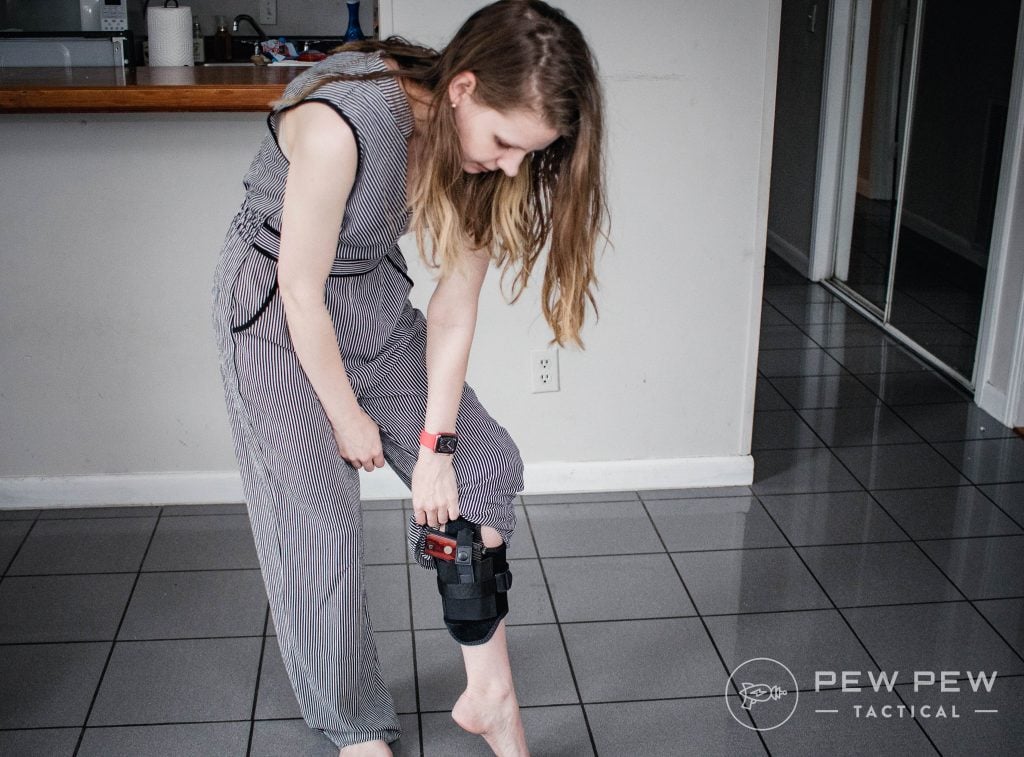 Women-Specific Holsters
Now, women can wear any of the holster types we've discussed, but unless indicated otherwise, the vast majority of holsters are designed with men's bodies in mind. That means they may not be as comfortable on functional when worn by a woman.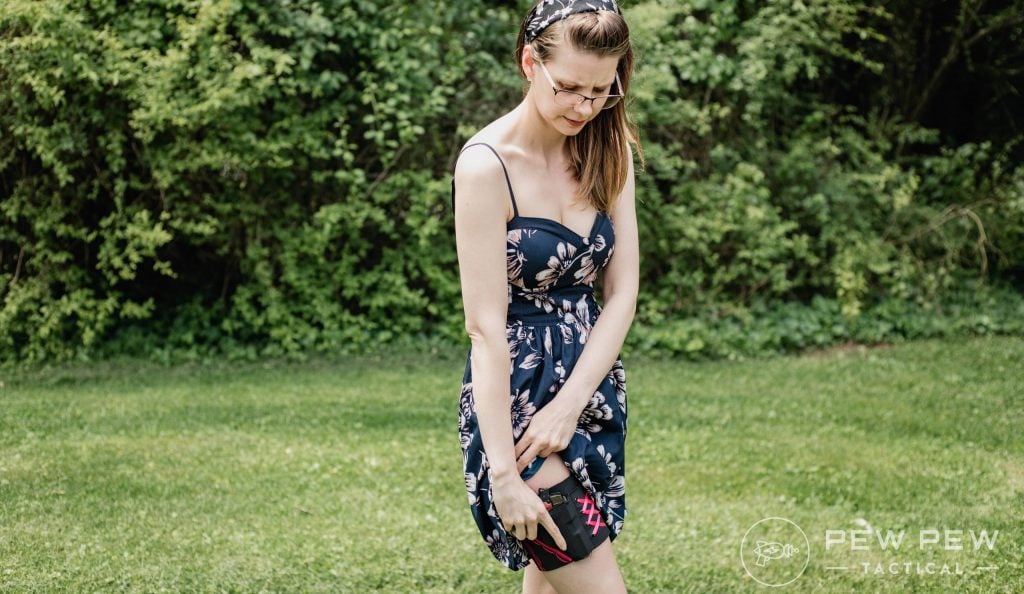 You may not have encountered any problems with non-women-specific holsters, but if you do, you can find holsters of all of the above types that are actually designed for women.
There are also holster types that are generally women-specific, like thigh holsters, carry purses, and purse holsters.
For a more comprehensive look at women's concealed carry, check out our Guide to Carrying for Women.
Best Glock 19 Holsters
You asked for it, and we listened — here's our rundown of some of the best holsters for your Glock 19. We've rounded up a few of each type, so you'll have plenty of options to choose from.
Now, without further ado, our favorite Glock 19 holsters!
OWB Holsters
1. PHLster Floodlight OWB
PHLster is well known in the gun world as being a holster company with a solid reputation and a data-driven approach to holster making.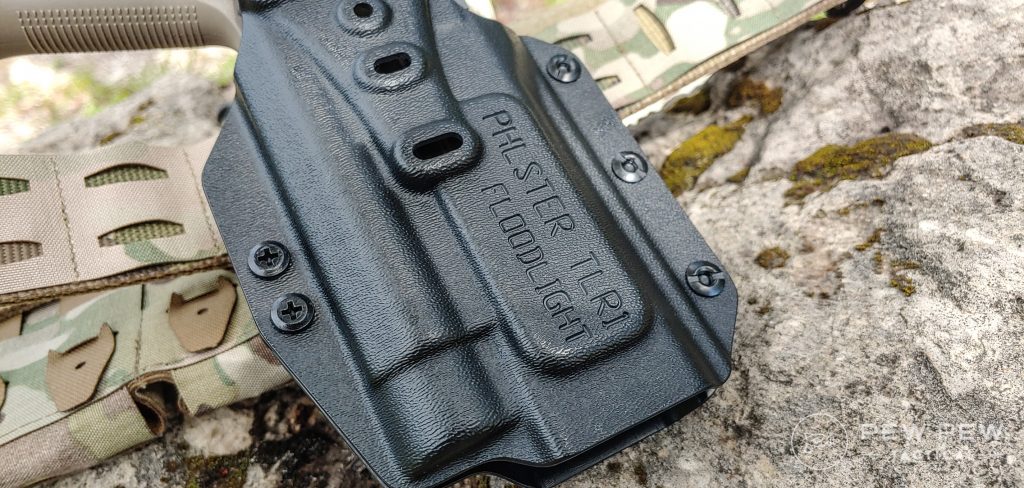 The Floodlight OWB is no exception. Bringing an option to those that prefer a light-equipped pistol, PHLster advertises the Floodlight OWB for range-use and similar applications.
Best Light-Bearing OWB Holster
It offers models for either Streamlight TLR-1 or Surefire X300U equipped pistols.
If you rock a light and need a solid OWB holster to accommodate, PHLster is it.
2. Fobus Tactical GLT19
The Fobus Tactical GLT19 offers a low profile for an OWB holster. So, it's a great option if you want to practice concealed carry but aren't a fan of IWB holsters.
It's made of Kydex to offer complete protection and trigger coverage with a paddle-style back to keep the holster in place.
The GLT19 brings a blended retention system with a safety strap and fits Glock 19s with laser sights as well.
3. Gould & Goodrich B803 Three Slot Pancake Holster
For a more classic look, go with the G&G B803 Three Slot Pancake Holster.
It's made of genuine, vegetable-dyed leather, but is also molded to more securely fit your Glock.
The B803 is available in both left and right-handed versions and can be positioned straight or canted.
IWB Holsters
4. Rounded Gear IWB Kydex Holster
It's no secret that Rounded Gear (formerly Concealment Express) holsters are popular here at Pew Pew Tactical.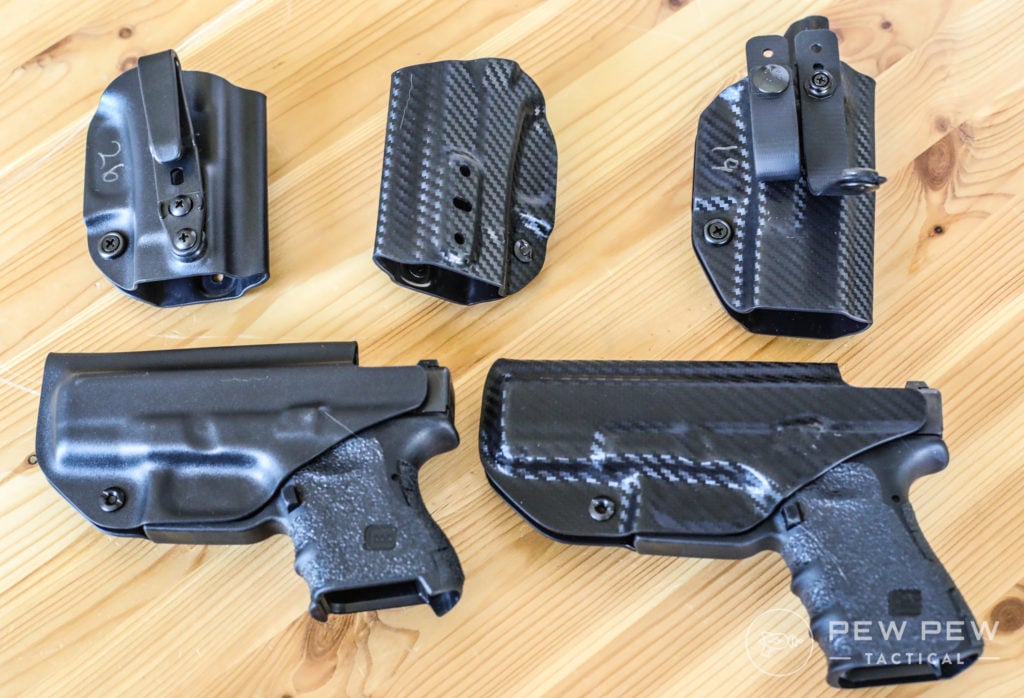 This one, in particular, is lightweight, comfortable, and secure, both in how it attaches to your waistband and in how it retains your gun.
The durable Kydex provides excellent protection.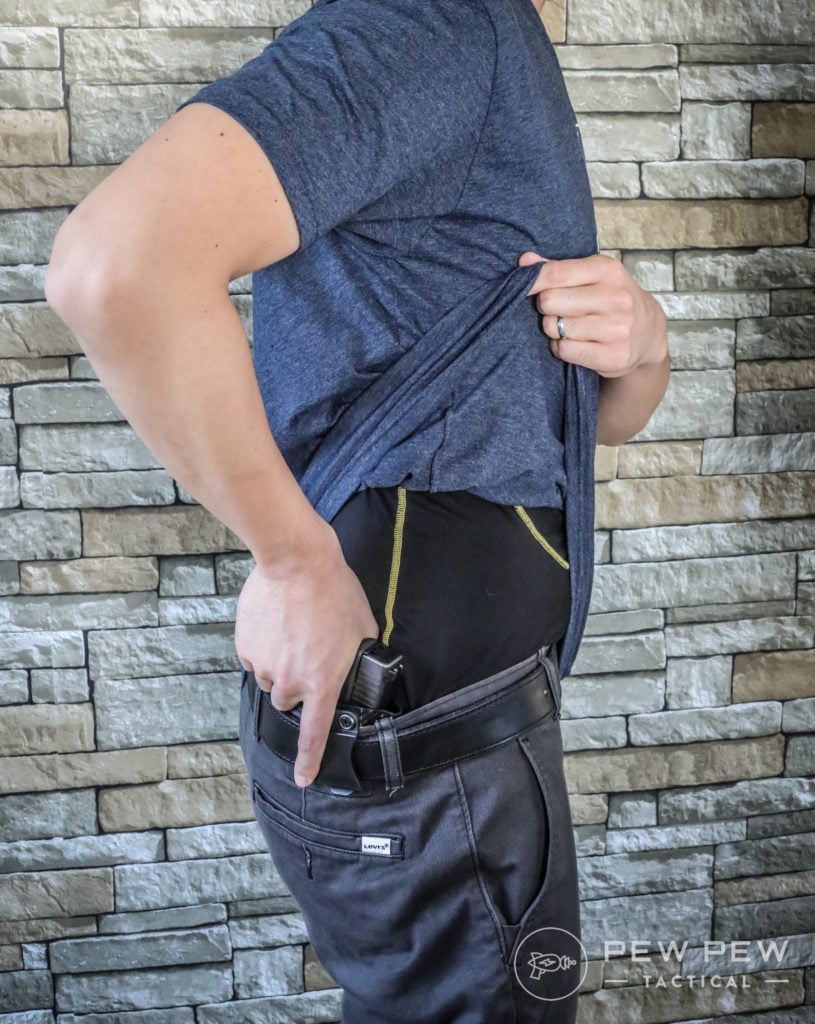 It's great for a variety of carry positions, but does especially well for appendix carry.
Best Affordable G19 Holster
Check out Eric's more complete review of Concealment Express holsters for more info, pics, and videos of them in action.
5. Tenicor Holsters
If you know you want to carry appendix carry and require the most thought-out holster…check out Tenicor's Velo.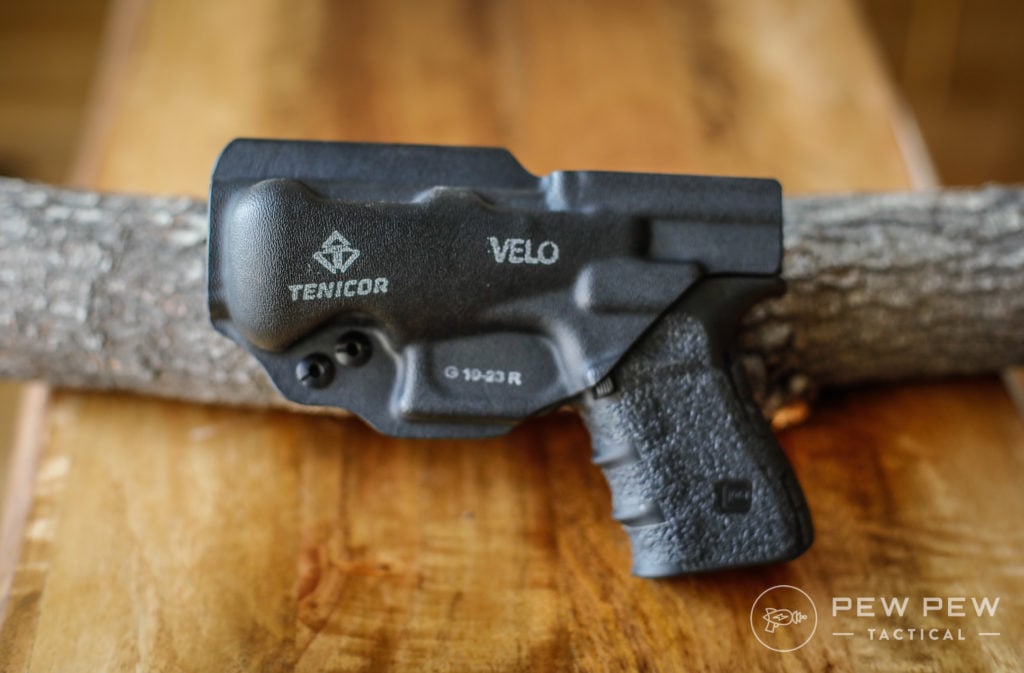 They shaped the Kydex into something more anatomically pleasing. And it really does feel better.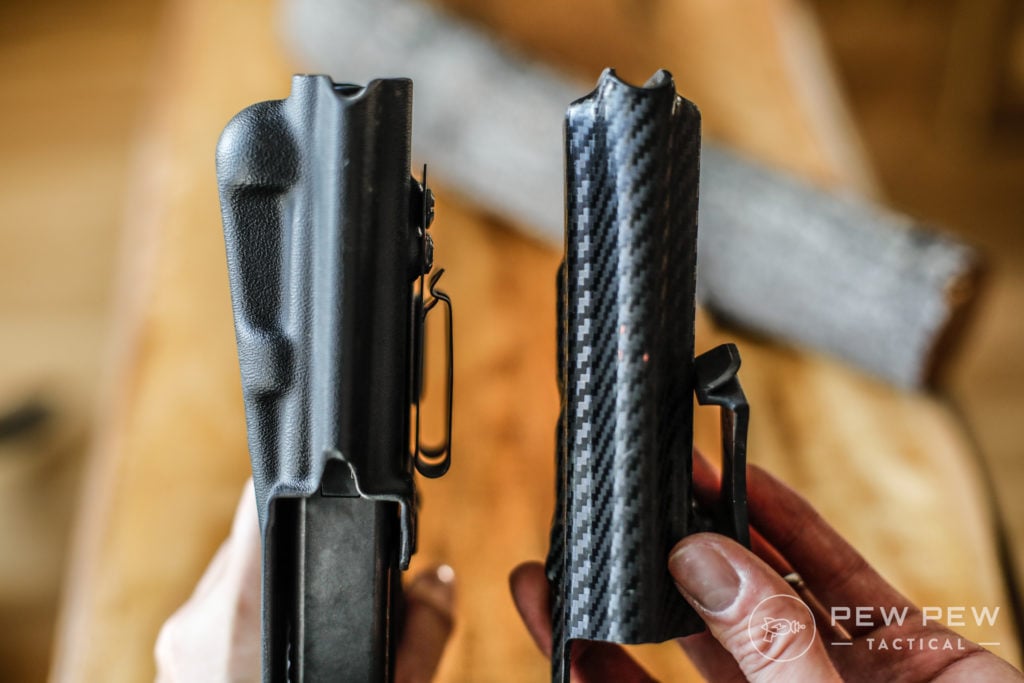 Plus the size for their light-bearing Sagax Lux model isn't too much larger.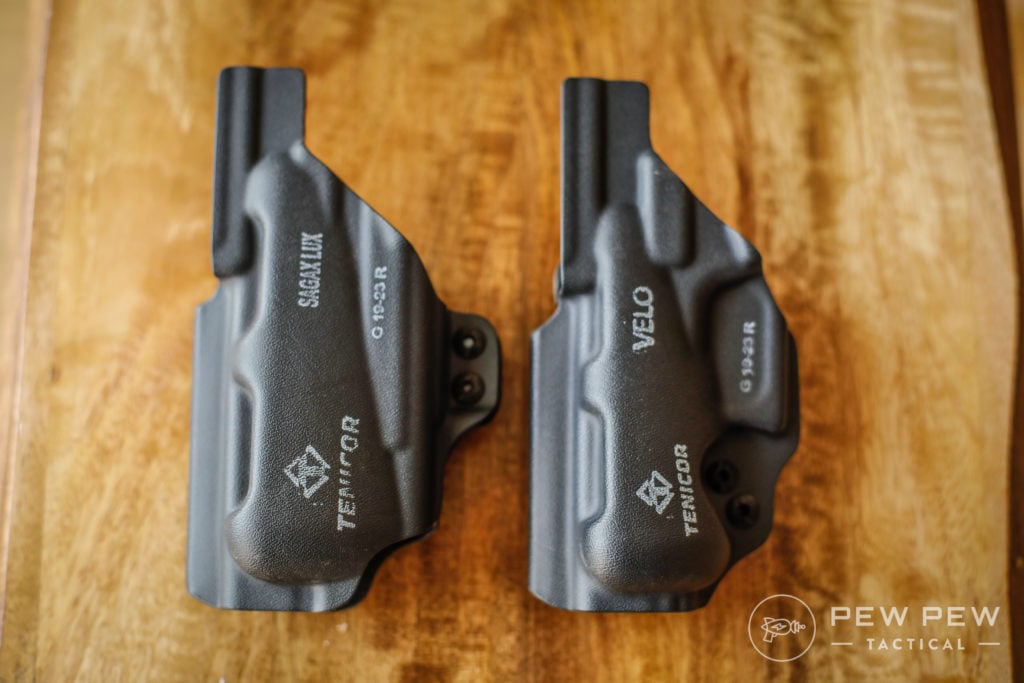 Their standard T1 clip is also SUPER retentive — takes longer to put on, but it's not coming off unless you want it to. Other more standard options are available too.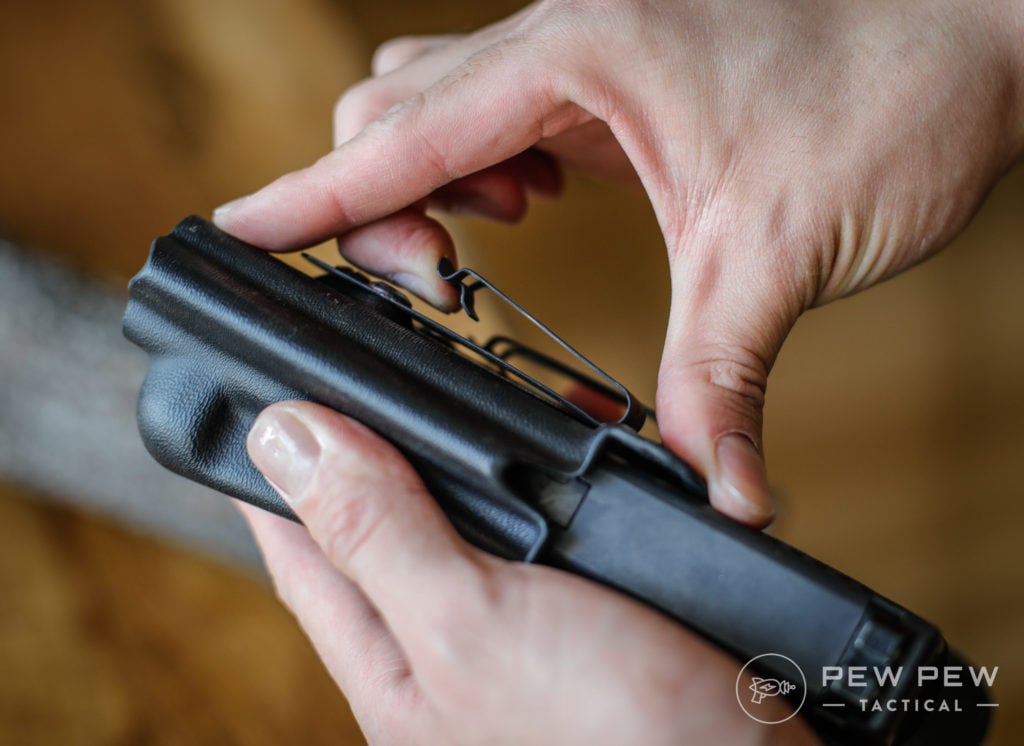 And of course…it's super fast on the draw.
The only downside is the price compared to other pure Kydex. But if you carry for a living and want something super comfortable in the appendix…
6. Crossbreed SuperTuck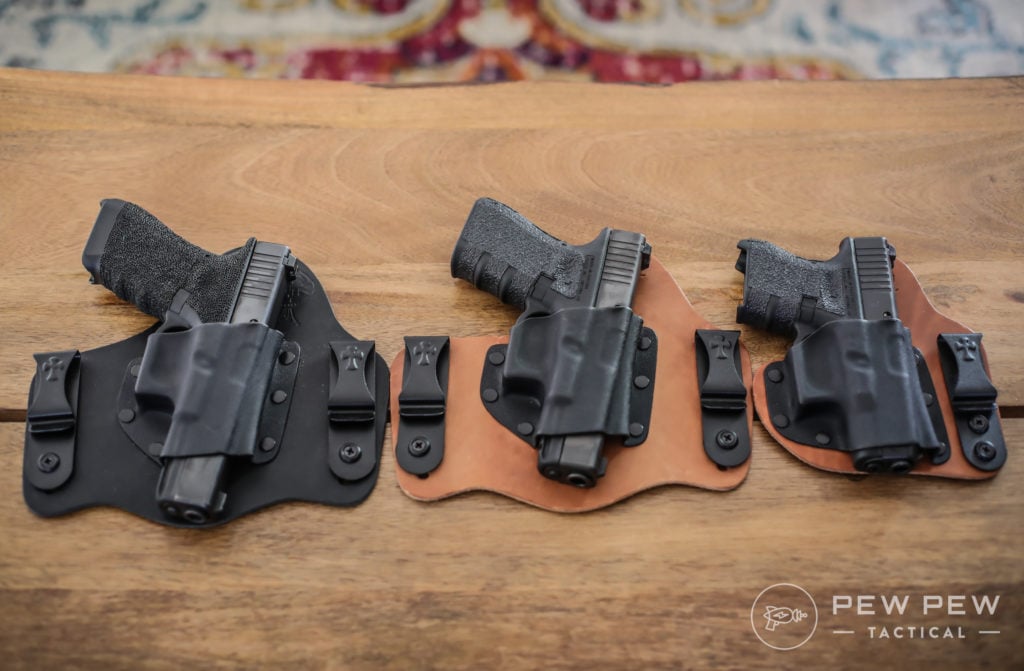 Crossbreed's SuperTuck is another excellent Kydex IWB holster, but this one is a "hybrid" with a soft leather backing for improved comfort.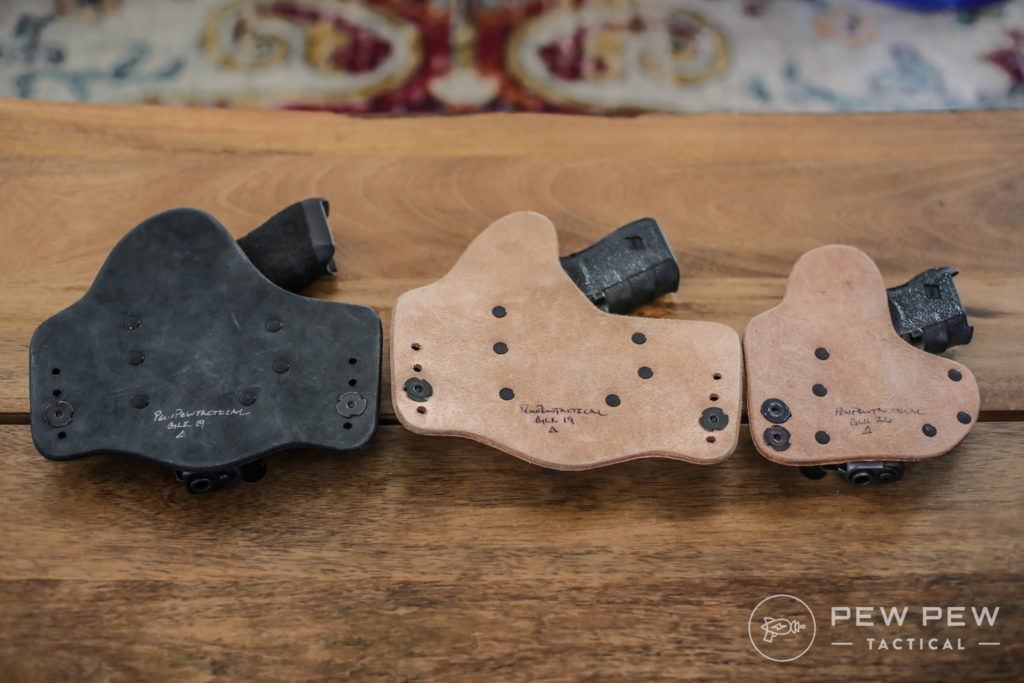 It can be comfortably worn with a tucked or untucked shirt and is supposed to be positioned towards the rear of your draw side.
Another one of our favorites.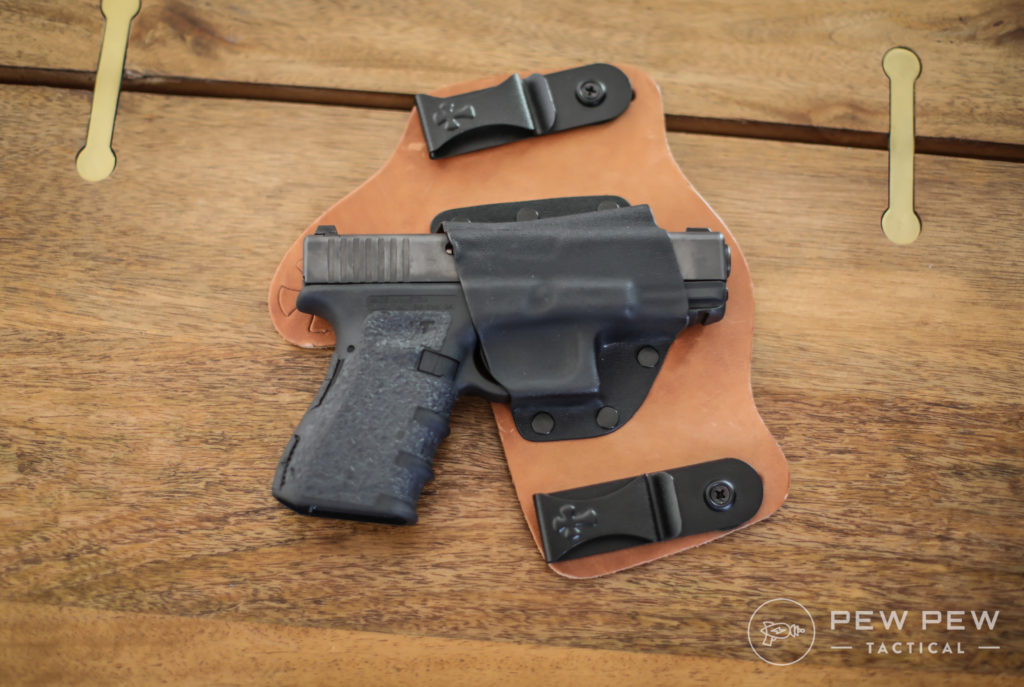 Plus, the belt clips are powder-coated to protect your belt and allow for adjustable cant and ride height.
7. Alien Gear Cloak Tuck 3.5
As the name might tell you, the Cloak Tuck 3.5 is a holster with a lot of iteration and development behind it.
We have a complete hands-on review of the 3.0 version, and we liked it a LOT.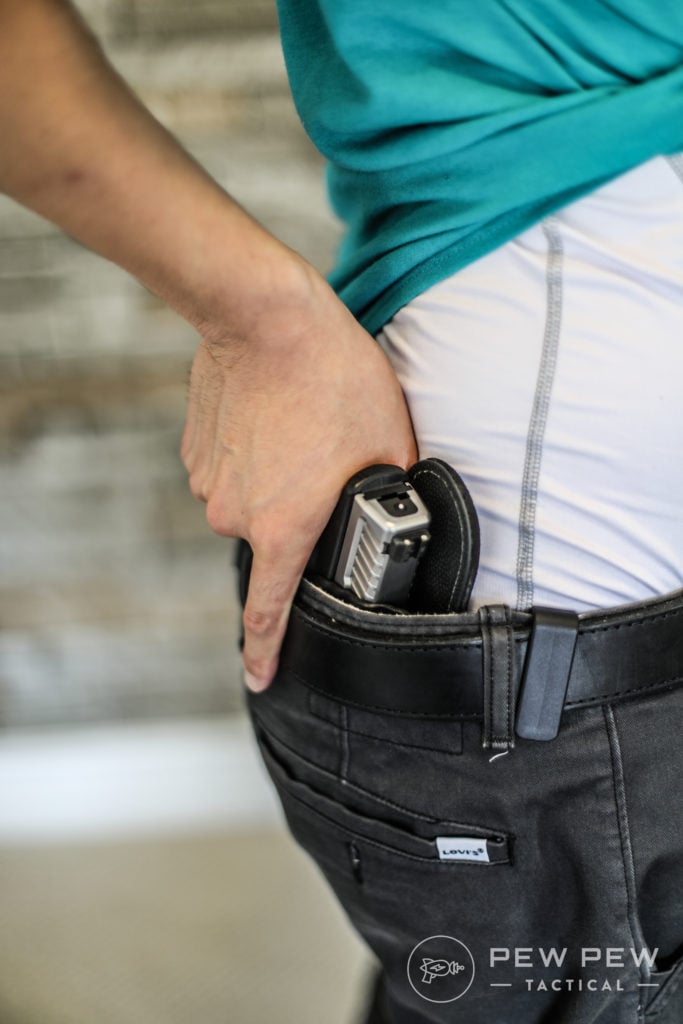 The 3.5 version is even better, with improved retention options and better connections to the belt.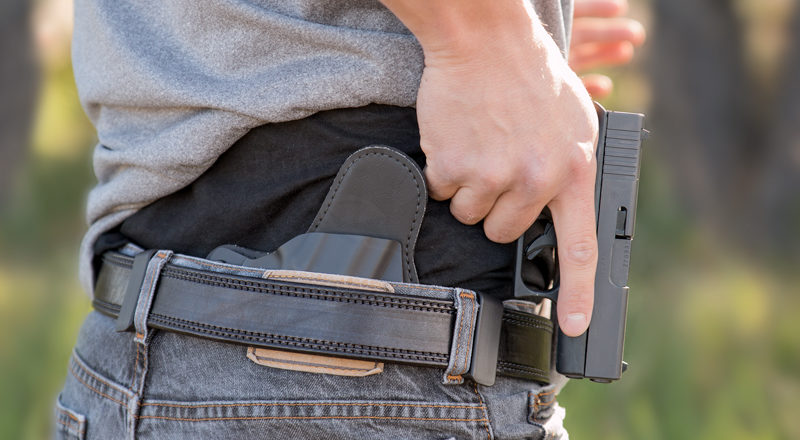 Plus, all of the awesome things we loved in the 3.0, such as a cooling neoprene backing, hardshell holster front, and high backing to prevent the handgun from digging into your side, and it's available for a HUGE range of guns — not JUST the Glock 19.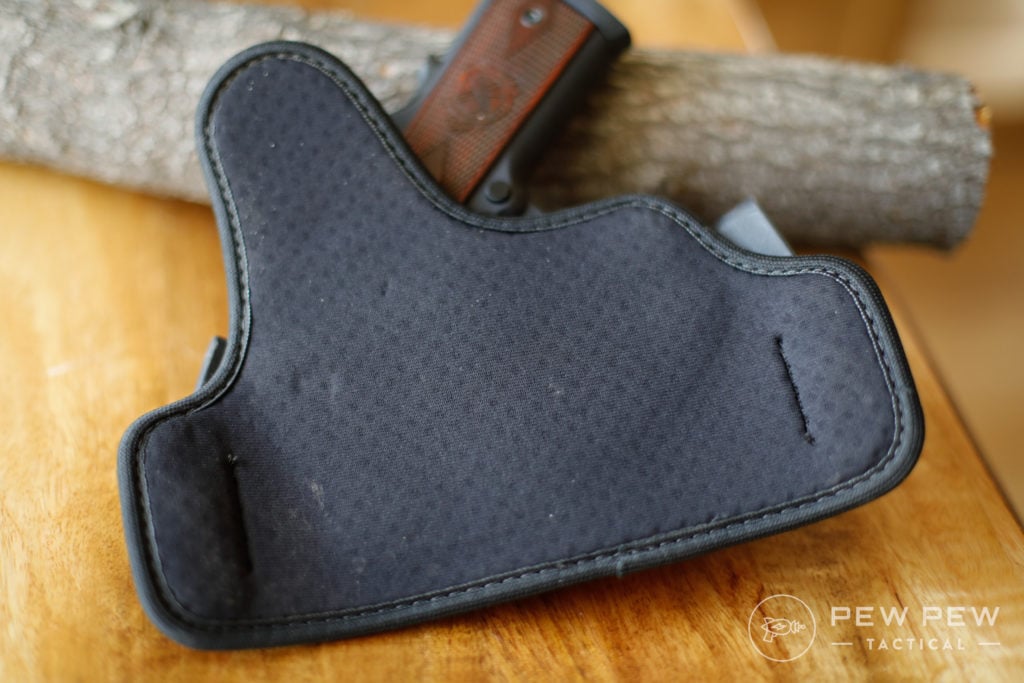 A great starter (or ender) into the IWB world.
Our current favorite hybrid holster uses Amish leather that makes it super comfy.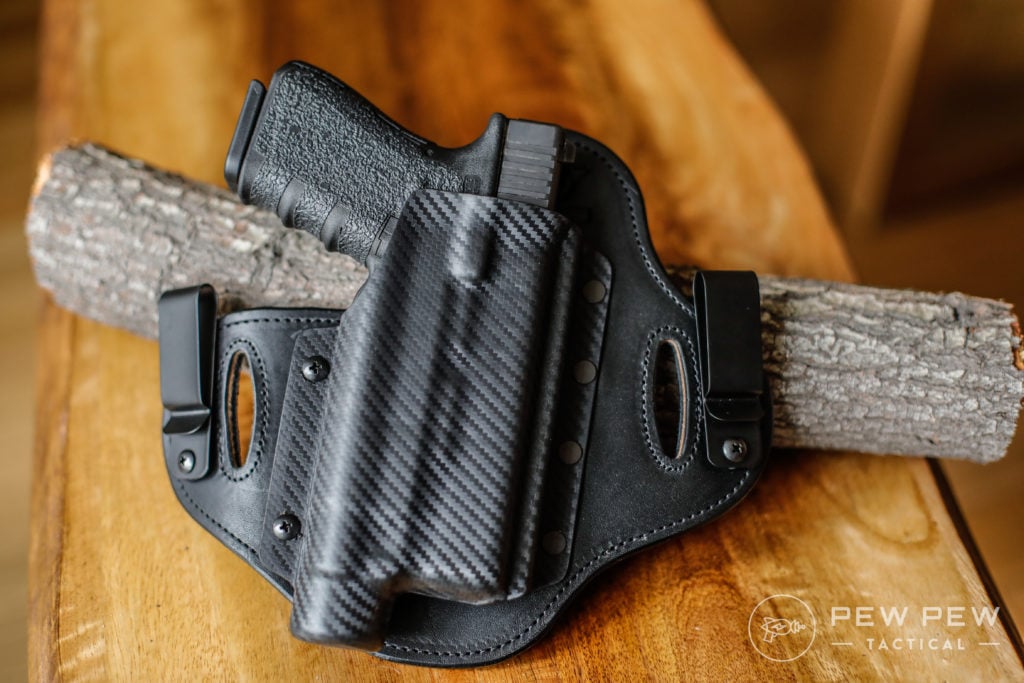 Especially when paired with the suede backer.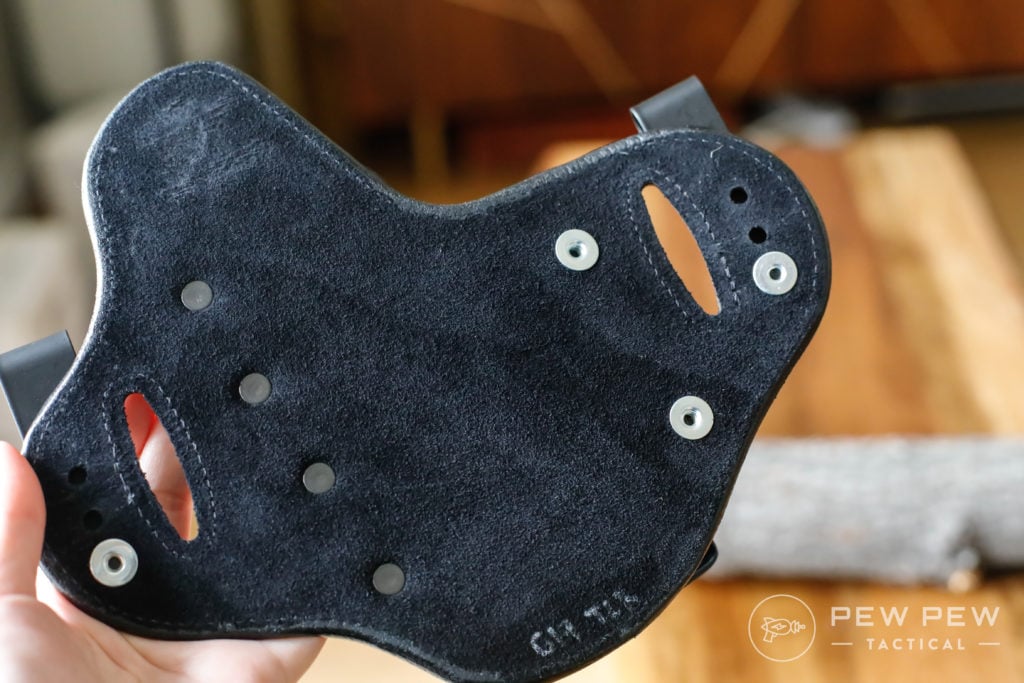 They have plenty of options for the G19 such as a single clip (for appendix carry) to a double-clip if you want more comfort in the 4-5 o'clock arena. Or you just want a laser/light.
Check out our full review of Hidden Hybrid where we'll cover everything you might need to know.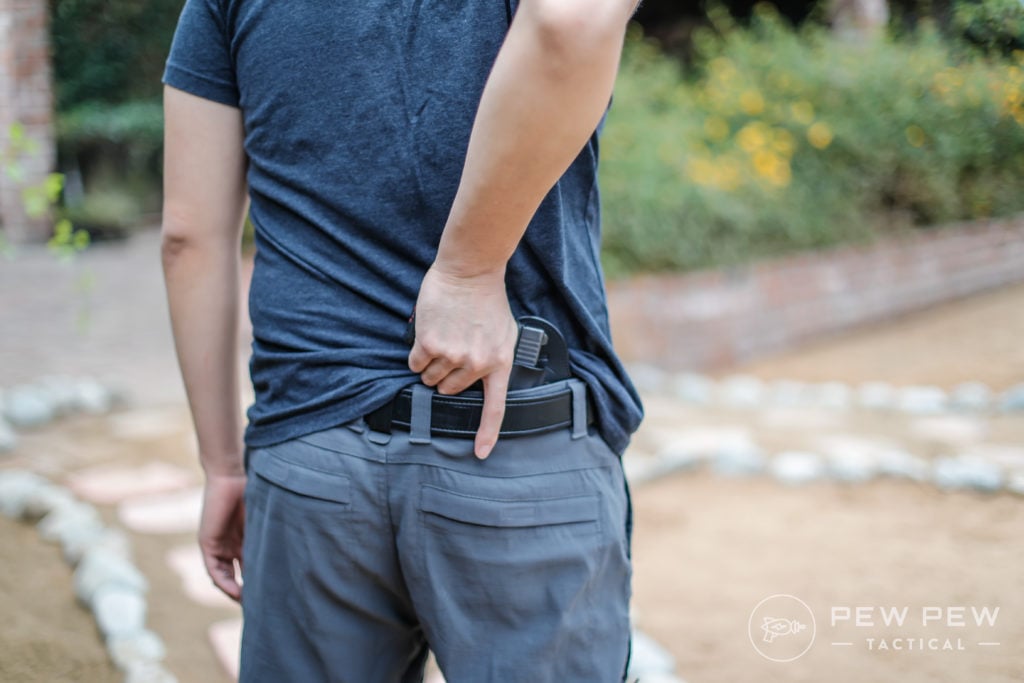 Our Editor's pick for the comfiest hybrid G19 holster we've tried so far.
What's your take on Hidden Hybrid Holsters? Rate them below.
9. PHLster Floodlight IWB
PHLster is back on this list, but this time with its IWB holster.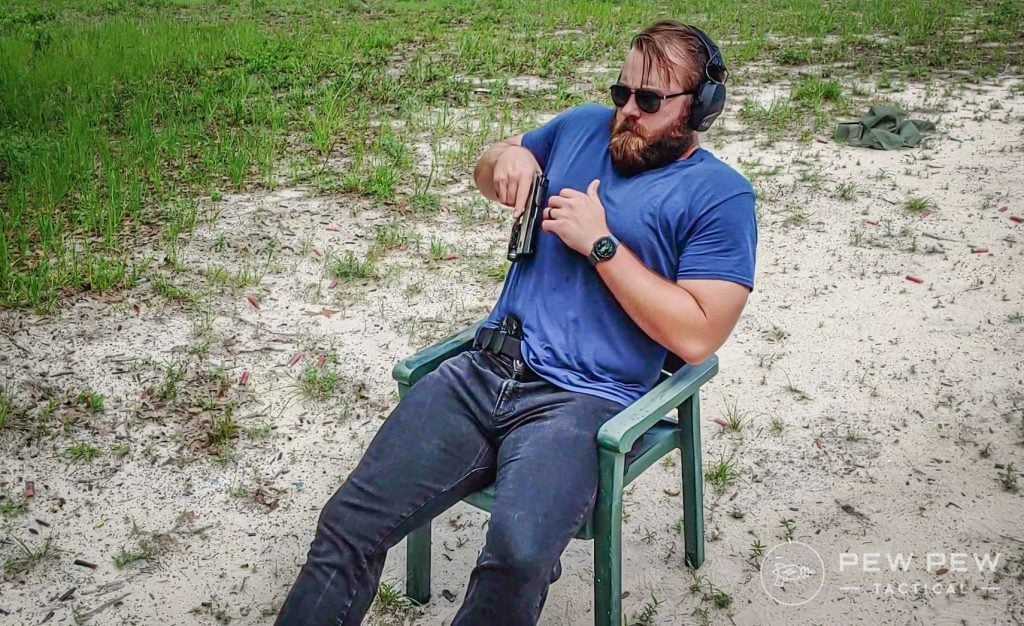 Offering a Kydex design that accommodates lights, the Floodlight works well in both the AIWB and IWB positions.
This holster provides a safe, accessible holster with all the modularity and adjustments you could ever need.
Shoulder Holsters
10. Galco Gunleather Classic Lite Shoulder Holster
The Classic Lite Shoulder Holster is exactly what you imagine when you think of a shoulder holster.
It's made of soft leather for a classic look and comfortable fit and is available for either left or right-handed draw.
A mag holster and gear loop are on the side opposite your gun holster to add utility and keep the holster balanced.
A snap closure keeps your gun securely in place.
Ankle Holsters
11. Uncle Mike's Nylon Ankle Holster
This is probably one of the most widely recommended ankle holsters.
It's comfortable, with an adjustable velcro wrap that allows it to fit on a variety of leg sizes, while a breathable elastic calf garter keeps the holster securely in place.
A velcro closure retention strap keeps your gun secure.
The holster is also padded to make it more comfortable. All that said, carrying a G19 on your ankle will take a special effort as this gun isn't really made for deep concealment. We recommend a smaller Glock (like the G43 or G26) to make this one work.
Women Specific Holsters
12. Can Can Concealment Shebang Garter Holster
Garter holsters aren't my favorite option for concealed carry, but I have been known to wear one when I'm in a dress or a skirt.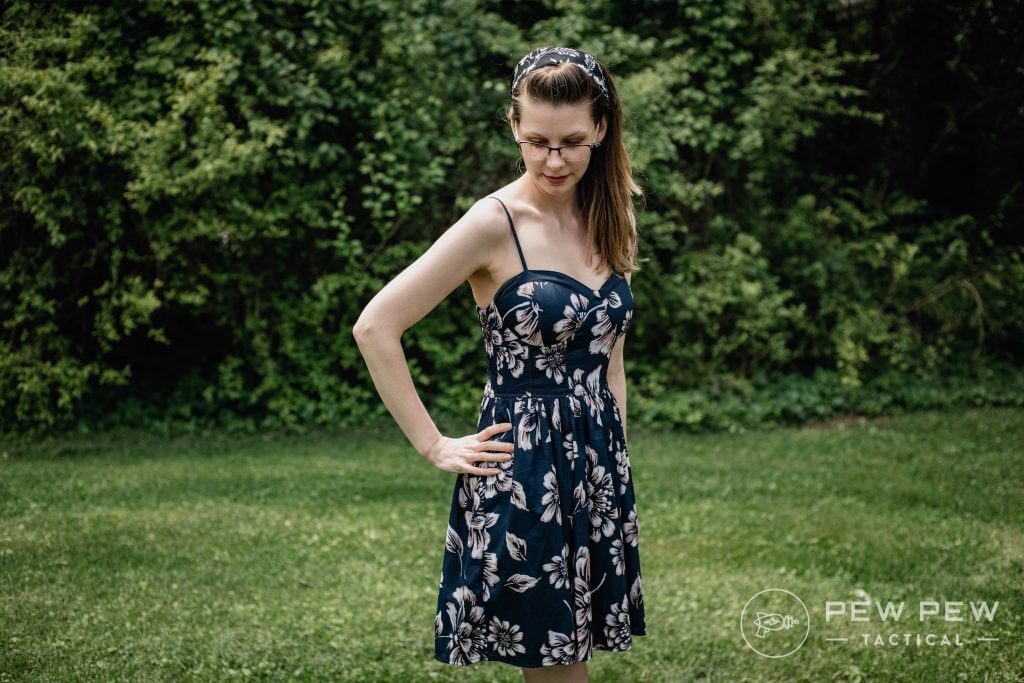 I've tried a few different ones, but the Can Can Concealment Garter Holster is the best I've used by far.
Constructed from military-grade elastic, it offers a hypoallergenic Non-Slip Tacti-Grip to hold itself in place.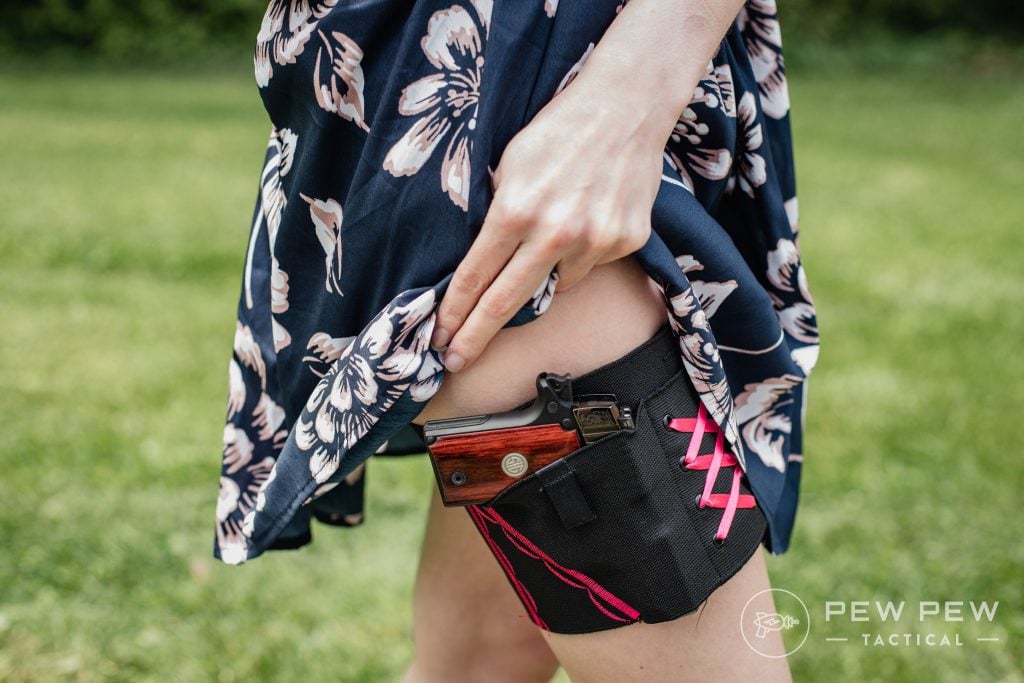 But for even more security, you can use it with the Can Can Concealment Garter Belt. That holster won't move at all!
The holster also comes in four sizes, each with three rows of hook and eye closures, so you'll be able to get a secure fit for your particular leg size.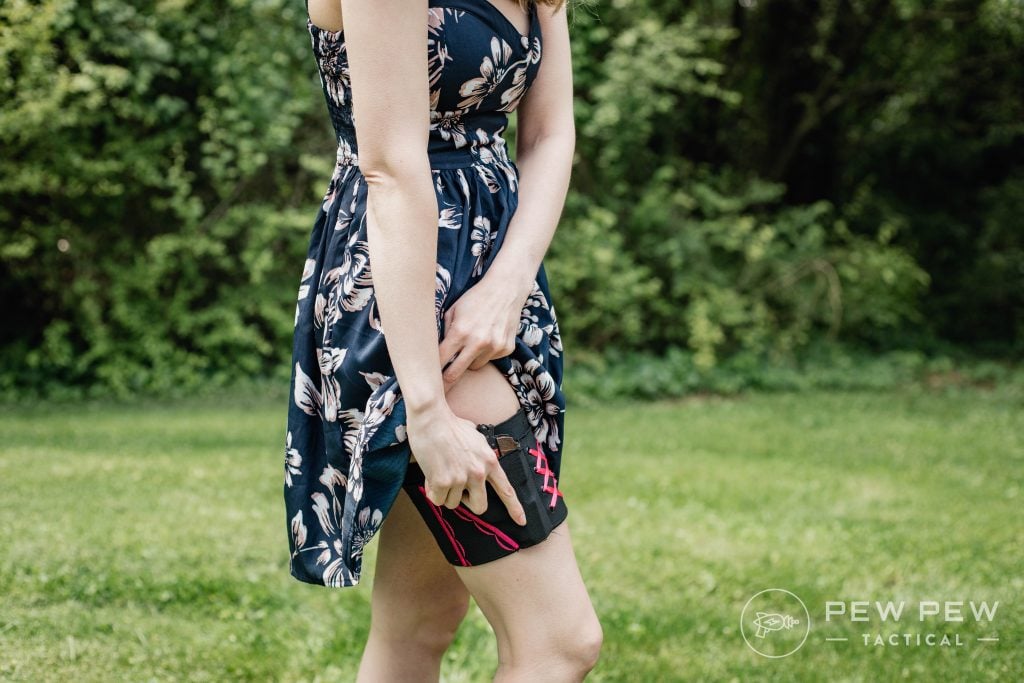 The holster also has tabs on either side of the gun pocket to make it easier to re-holster your weapon. Also, rare earth metal magnets offer two spots for a gun and a spare mag, each in its own respective pocket.
Like the ankle holster above, keep in mind that this holster may not work for everyone. Again, the G19 is a bigger gun and some women might find it too big to carry in a thigh holster like this.
So, you might want to step down to a smaller Glock to really make this setup shine!
Final Thoughts
You can't go wrong with any of these holsters. But, to find the one that works best for you, try on and handle a variety.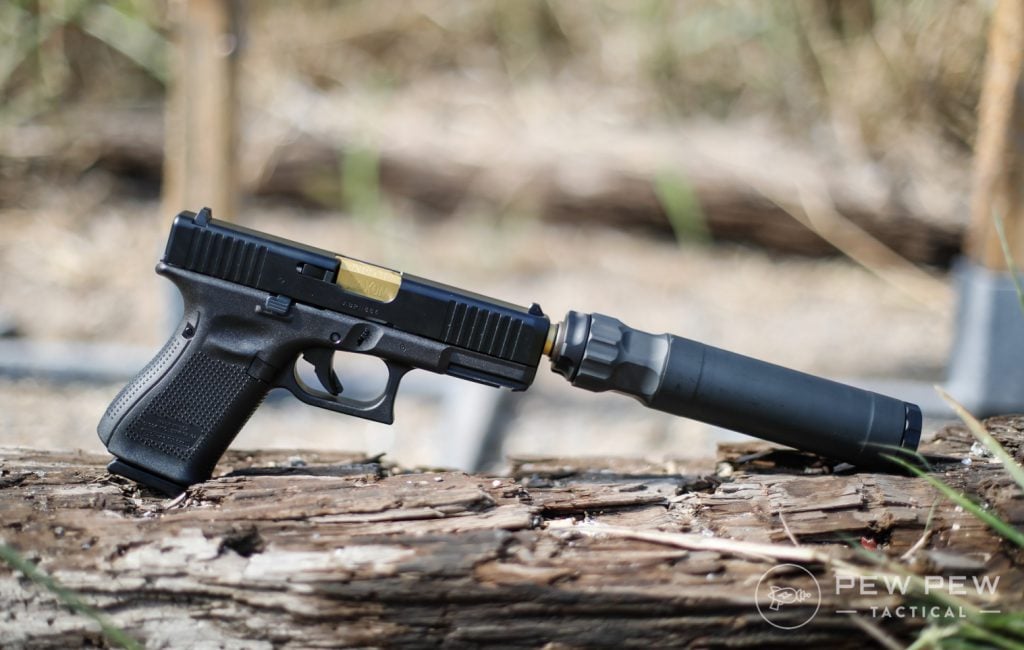 Whichever holster or holsters you go with, you'll also need to be sure to drill to get yourself familiar with the holster. Also, continue to practice as long as you continue to use the holster to keep up your muscle memory.
Include drills that practice both drawing and holstering your Glock 19 and, if applicable, your spare magazine or magazines.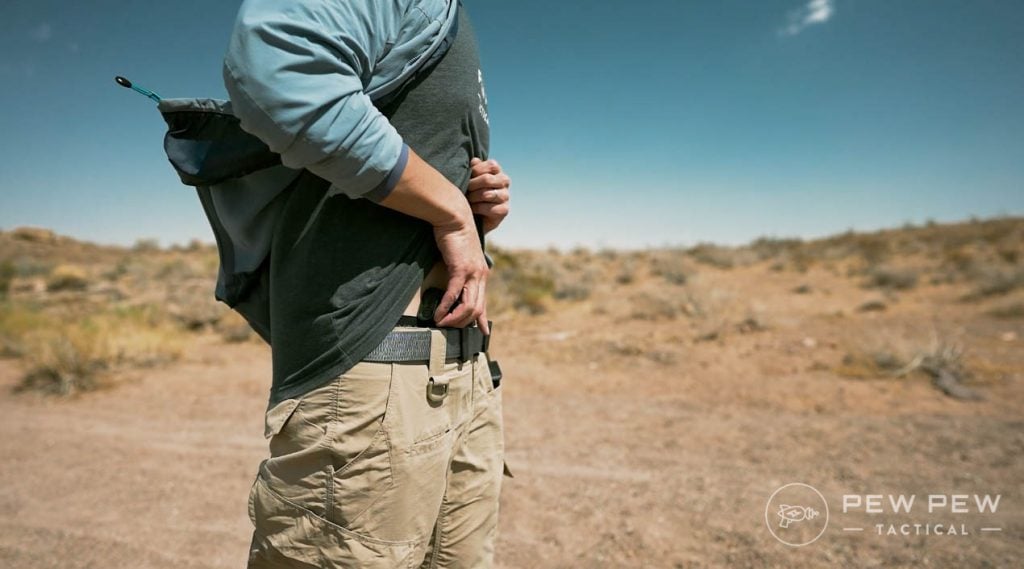 Our go-to affordable Kydex option is Concealment Express.
While our current favorite comfortable option is Hidden Hybrid.
So what holster did you choose to carry your Glock 19? Do you use one on our list, or have another favorite? Check out our master list of Best Concealed Carry Holsters.