Thinking about mounting a laser sight on your handgun?
It's a great way to improve your accuracy, especially when squeezing off a round or two on the fly. Plus, they're fun to operate and look really cool.
Lasers can be very helpful in different scenarios.
We've tested out a few different options and put them together, so you don't have to shop around — get ready for the light show!
Summary of Our Top Picks
Table of Contents
Loading…
Best Handgun Lasers
1. Crimson Trace Lasergrips Series
If you're looking for a laser sight that is easy to use and won't make concealed carry a hassle, then Lasergrips by Crimson Trace ($200-$500) might be perfect for you.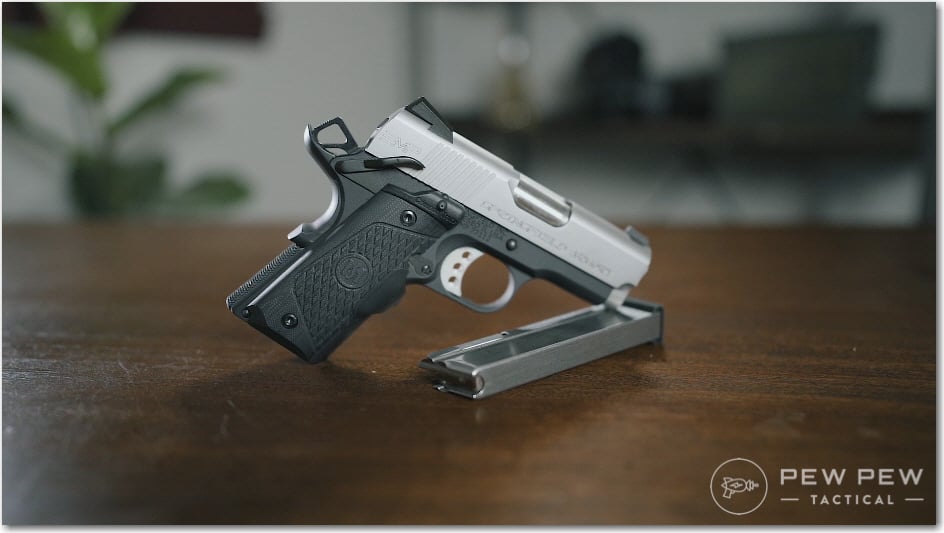 Unlike most laser sights that mount under the barrel, the Lasergrips sight mounts to the rear of your grip and projects the beam from the base of the slide.
One of the coolest things about the Lasergrips sight is that you don't have to worry about fumbling with pressure switches in strange places to activate the laser. 
All you need to do is hold the grip of your gun naturally, and the beam switches on automatically.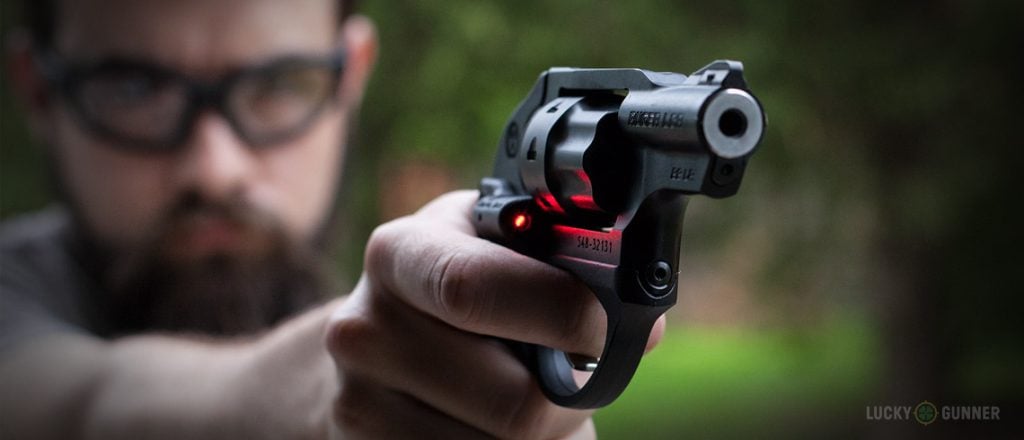 The Lasergrips sight is designed to fit snugly onto your grip, where it is pinned into place. Because of how it mounts to the gun, there's no way that a one-size-fits-all model would work.
Fortunately, Crimson Trace has made 85 models, each compatible with a specific type of handgun.
Along with some of the most common handguns like 1911s and Glocks, there are also a number of different revolver models that support Lasergrips as well.
What do you think about Crimson Trace's options?
2. Streamlight TLR-8
If beefing up home defense is your top priority, then the Streamlight TLR-8 is right for you. It can deliver pinpoint accuracy in tactical situations without completely shattering your budget.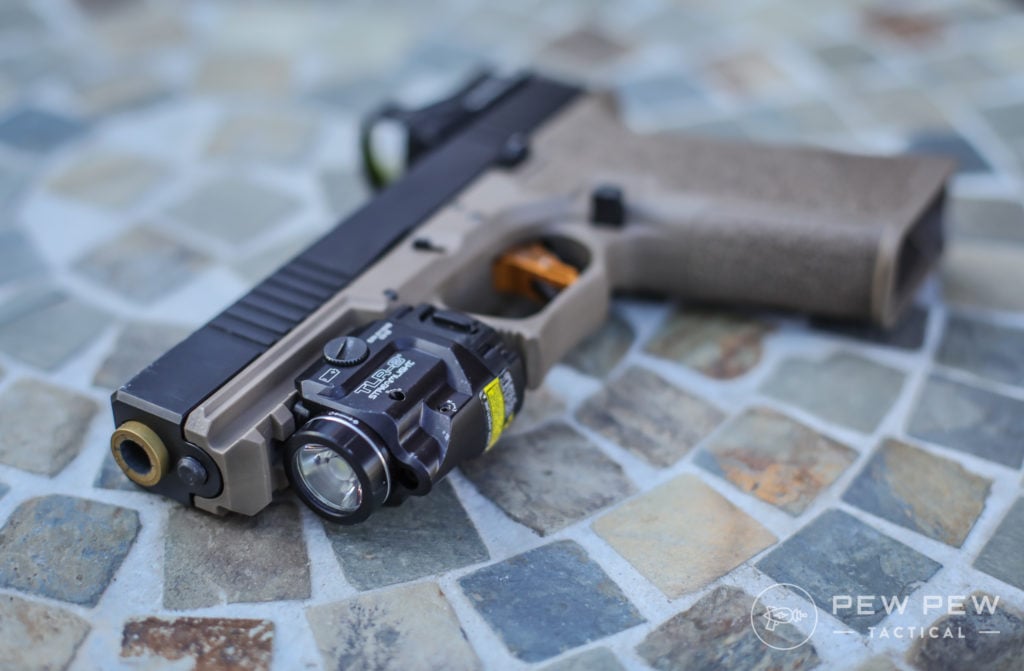 There's a common misconception that laser sights help you see better in the dark.
While they certainly make it easier to aim in low-light situations, if you can't make out your target with iron signs, a laser sight isn't going to make it any brighter. And this is precisely why you'd want the TLR-8 for home defense.
What makes this laser sight special is its ability to give the shooter the best of both worlds.
You get a LED white light that kicks out 500 lumens as well as a coaxial red or green laser. And you have the choice of switching between the white light and the laser, or you can use them together in the same situation.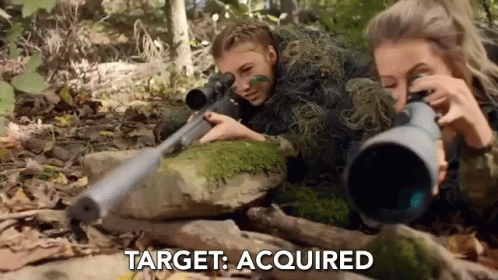 With the TLR-8, you're able to not only improve your aiming and target acquisition, but you can also use the white light to distinguish between friend and foe.
The sight comes with a key kit that makes it compatible with a variety of different handguns, and it also fits on the Picatinny rail as well.
3. Crimson Trace Rail Master Pro
The Crimson Trace CMR-207G Rail Master Pro is a flashlight/laser combo with a couple of great features that make it ideal for lights-out work.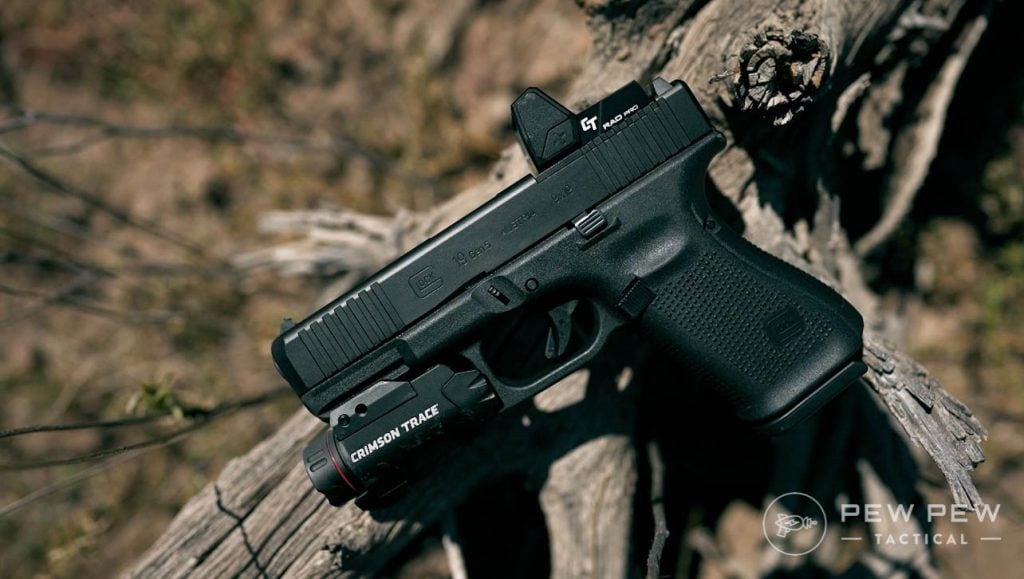 First, it has two paddle switches in the rear accessible from either side of the trigger guard.
A quick stab would turn the light on, and holding the button down would allow momentary control of the 400-lumen beam.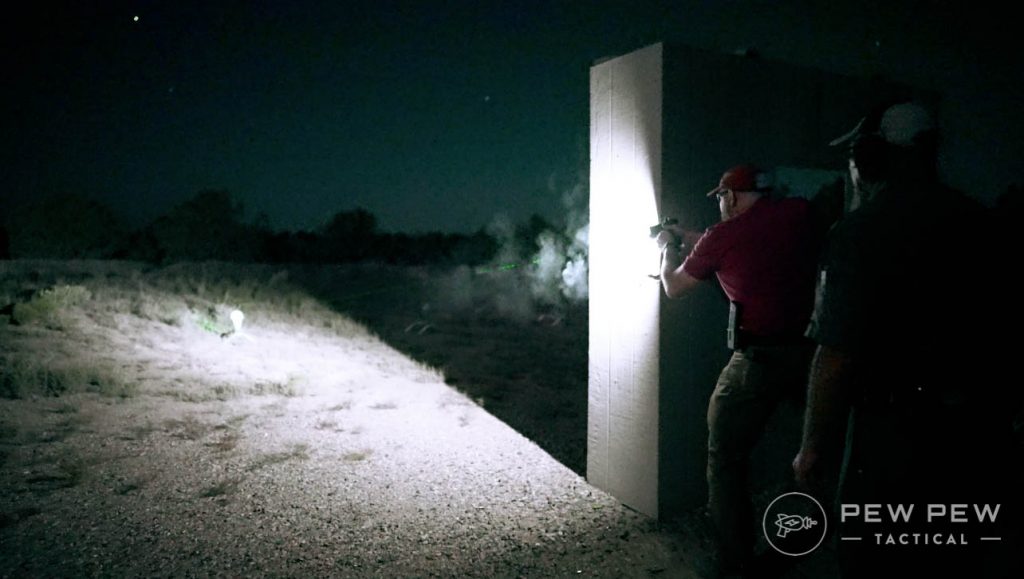 That might be fun enough for some, but the Rail Master Pro also has a laser (red or green, depending on your preference).
This allows you to do some solid nightwork while also staying on target. We found this model to be pretty easy to use and a great alternative to the Streamlight if you need to save a few extra bucks.
Runner Up Light/Laser Combo
4. LaserMax Guide Rod Lasers
If you're looking for something that's lightweight and completely out of the way, LaserMax's Guide Rod Lasers are able to give you pinpoint accuracy without any of the unnecessary bulk.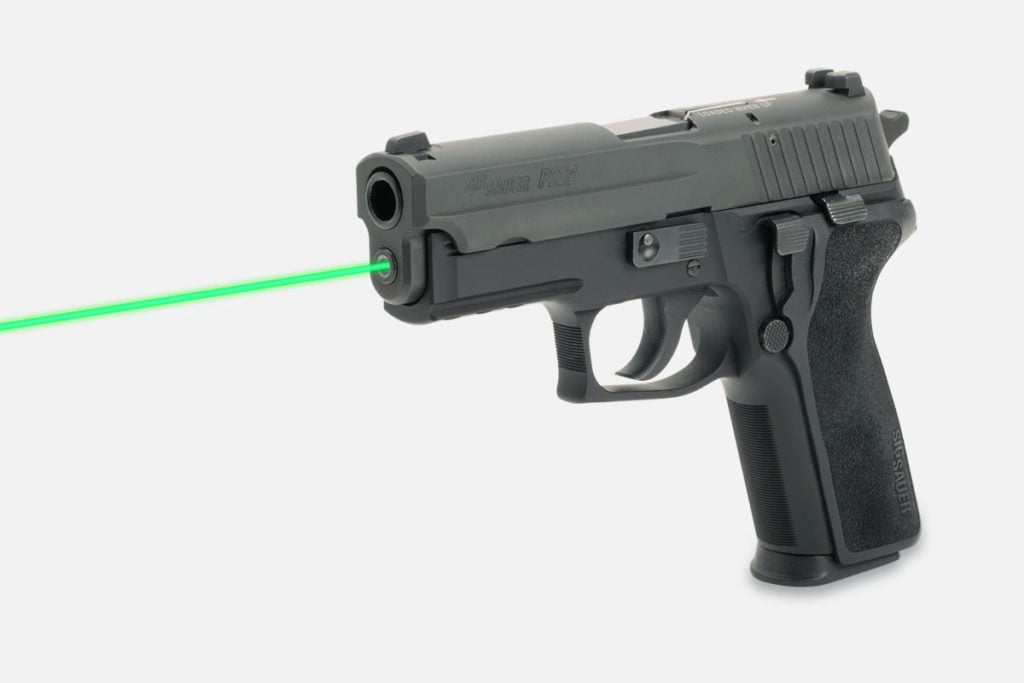 LaserMax's laser system is nothing new — it's been around for quite some time and continues to be one of the best internal laser systems out there.
Conventional laser sights are mounted to the handgun, usually on a rail system.
Guide rod lasers, however, are installed directly into the gun by swapping the factory guide rod with a fully-functioning version that's capable of projecting a laser beam.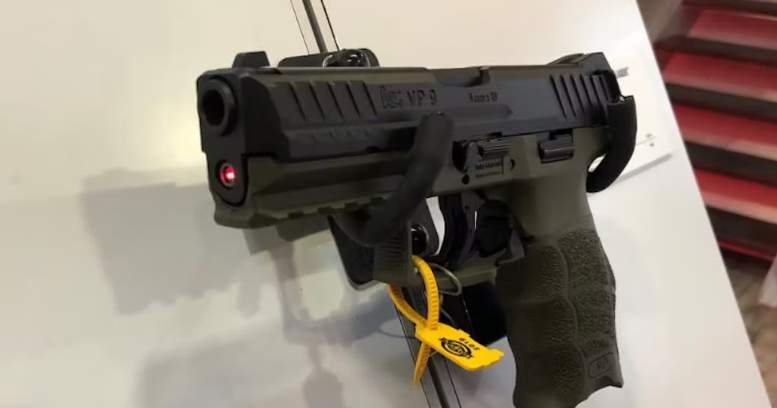 The sight comes with an additional takedown lever and spring. And in case you're wondering, activating your guide rod laser is simple and easy. All you have to do is push the takedown lever to activate and deactivate the laser.
The biggest advantage of the internal sight system comes with holstering your gun.
Because there are no objects being mounted to the outside of the gun, don't have to worry about any special type of holsters when using the guide rod laser system.
LaserMax makes models for various guns, including Berettas, Sig Sauers, and Glocks. With each model, you get the choice to pick between a red and a green laser.
5. SureFire M400 Ultra Light/Laser Combo
If you want the best, look no further than the Surefire X400 Ultra.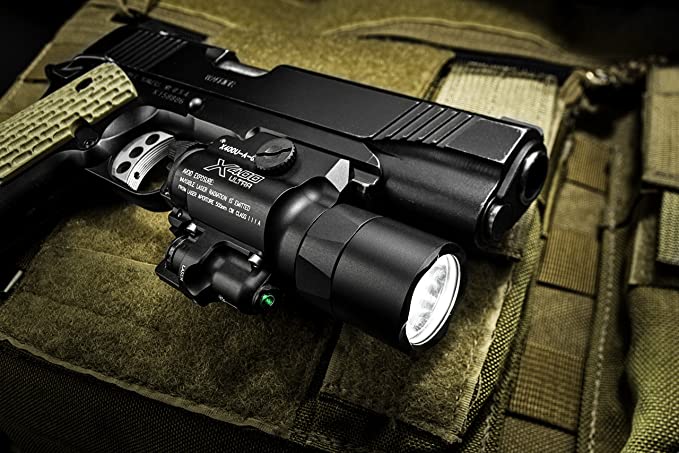 The X400U is available with either a 5-milliwatt, high-visibility red or green laser. Speaking of high visibility, the light on this unit is an eye-scorching 1000 lumens with a precision TIR lens that produces a tight beam.
A standard Picatinny mount means the X400U can mount to almost any weapon. The high-grade aluminum housing and recoil-proof design mean the SureFire is ready for even the most extreme duty use.
Why Mount a Laser On Your Pistol?
These days, laser sights are sleek, compact, and more powerful than ever.
And since they work great with open and concealed carry pistols, the real question is: why haven't you considered one yet?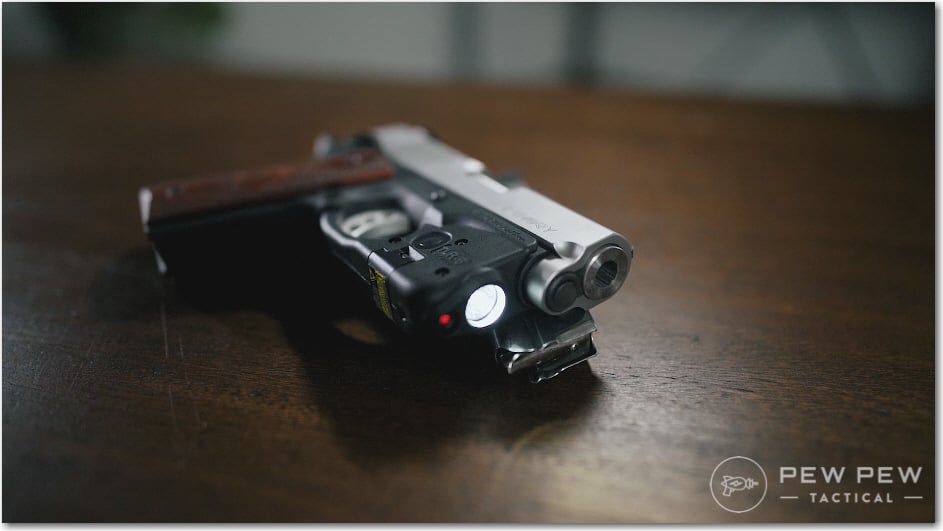 Here are some reasons to consider one of these on your pistol:
Lasers help with zeroing on the target, especially in situations where you can't see your sights clearly.

They make shooting easier for people with eye-dominance issues.

The visual feedback provided by lasers after each shot reduces accuracy problems from mashing the trigger.

They allow for easier target acquisition from awkward shooting positions or from behind cover.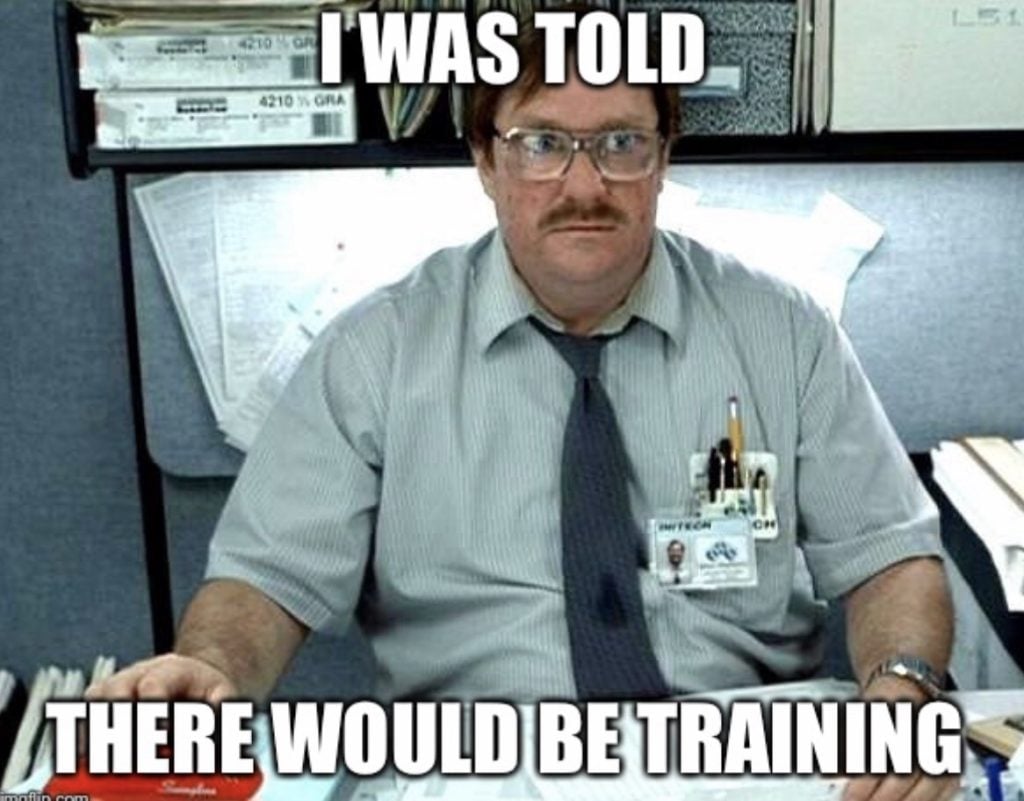 With that said, laser sights should never be a crutch for poor marksmanship.
If you're new to the world of handguns, you still need to become comfortable with your gun and learn how to properly aim it and manage recoil — with and without the laser sight.
Final Thoughts
Selecting the right one to suit your needs means finding a system that you're comfortable with using that doesn't throw the balance or weight distribution of your gun off.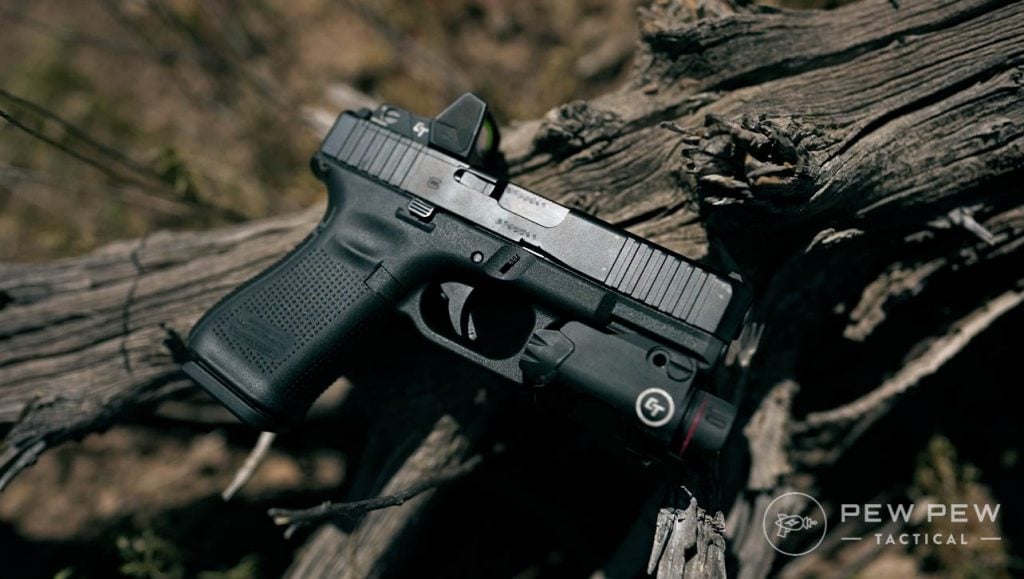 You'll also want a sight that's easy to switch on and off — because having to fumble around to find the on/off switch during a tense situation is the last thing you want to worry about.
Now that we've touched on different sights for your pistol, which one do you fancy getting for your gun? Let us know in the comments below and if you're looking for a light, check out our Best Pistol Lights.