This year, the Offgrid staff will be attending the 2023 Overland Expo, and we are excited to get a preview of the 2023 Ultimate Overland Vehicle. Overland Expo is cranking things up a notch with a heavily modified Lexus LX600. Designed to keep a group of four comfortable and happy off the beaten path for up to a week, this luxury SUV/trailer combo seems more akin to a mobile penthouse than an overlanding rig. Mule Expedition Outfitters spent hundreds of hours making sure no stone was left unturned, and the results are remarkable. Chosen for its 3.6 turbocharged V6, GA-F body on frame platform, and a myriad of offroad capabilities, the LX600 was a potent overlanding vehicle before adding all the extras.
Front End
The LX600's front has been heavily modified with the ARB Summit MKII front bumper, behind which is the new SOLO Series 12.5 winch from Comeup. A pair of ARB's new Intensity IQ lights provide illumination, and the Summit MKII supports Midland Radio's new Bull Bar Antenna, which enhances Midland's MXT-575 GMRS radio mounted inside the cabin. Attached to the roof is the first-ever Prinsu roof rack for the LX600. It holds the Armadillo A2 rooftop tent as well as the Peregrine 270 awning, both from 23 ZERO. Built in along the side are camp and scene lighting, courstesy of Vision X's Overland Area Lights.
To increase the off-road capability of the LX600, suspension components from Total Chaos and Radflo have been included. Total Chaos developed upper and lower control arms and rear links, and stock shocks and struts have been replaced by Radflo's 2.5 diameter Remote Reservoir shocks and coilovers. This makes suspension height more than 2.5 inches taller than stock with much greater travel. Elevated suspension height allows 33/12.5R17 Kenda Klever R/T tires to be mounted around 17-inch, satin black compression wheels from ICON Dynamics. Off-road trail navigation is managed by the onX Offroad Trail Maps app, which is running through Apple CarPlay on the LX600's 12.3-inch touchscreen.
Rear End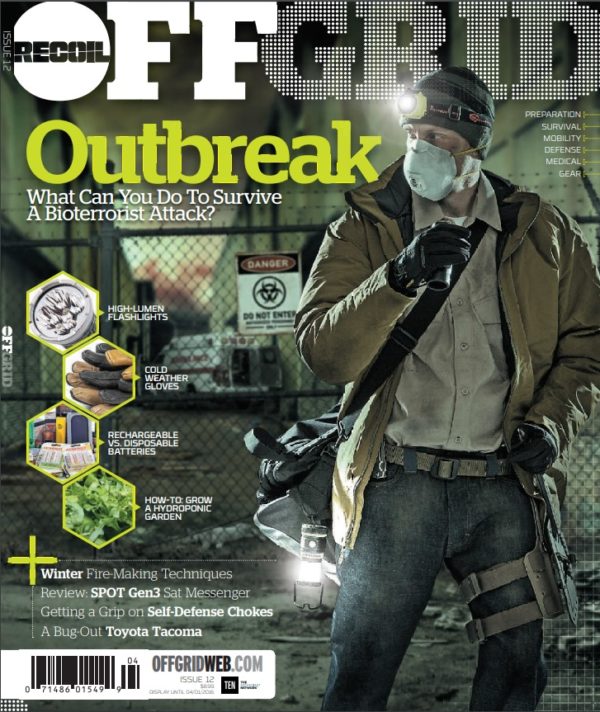 Subscribe Today and Save!
In the rear, an all-new dual swing-out rear bumper from CBI Offroad is used to mount the truck's full-size spare tire on one arm and a five-gallon jerry can with a set of traction boards on the other. When the bumper is swung open and the rear hatch is lifted there is Goose Gear's new Ultimate Chef Package for LX600, which includes a CFX3 45 fridge from Dometic. Meals prepared using the Ultimate Chef Package can be enjoyed on Tactical Tables and Chairs from Helinox, and additional water for drinking and cleaning is stored in two of Dometic's Go Hydration Water Jug and Water Faucet.
Housing the rig's auxiliary power management system, the Smart BMS CL 12/100, from Victron Energy, is a custom box crafted by MULE Expedition Outfitters. An Optima Batteries Yellowtop DH7 battery mounted under the hood gets the LX's 3.5-liter V6 cranked and running, and the twin-turbo six's deep rumble emanates from the first-ever MagnaFlow Overland Series Cat-Back Performance Exhaust System.
The official tool kit of the Ultimate Overland Vehicle is the Off Road Tool Bag with Tool Roll from BOXO USA, and Forrest Tool's Max Tool Kit is on hand in case off-road recovery requires a shovel. In the case of an injury or medical emergency,  there's a Self-Reliance Medical OTK 1450 First-Aid Kit onboard. Adding Off Grid Trailers Pando 2.0 makes the Ultimate Overland Vehicle even more versatile by not having to squeeze a sleeping quarters into the limited space of the vehicle itself.
Compare the features of the 2023 Ultimate Overland Vehicle to some of the other rigs that debuted in Overland Expo the previous year.
---
Prepare Now:
Disclosure: These links are affiliate links. Caribou Media Group earns a commission from qualifying purchases. Thank you!
---
STAY SAFE: Download a Free copy of the OFFGRID Outbreak Issue
In issue 12, Offgrid Magazine took a hard look at what you should be aware of in the event of a viral outbreak. We're now offering a free digital copy of the OffGrid Outbreak issue when you subscribe to the OffGrid email newsletter. Sign up and get your free digital copy